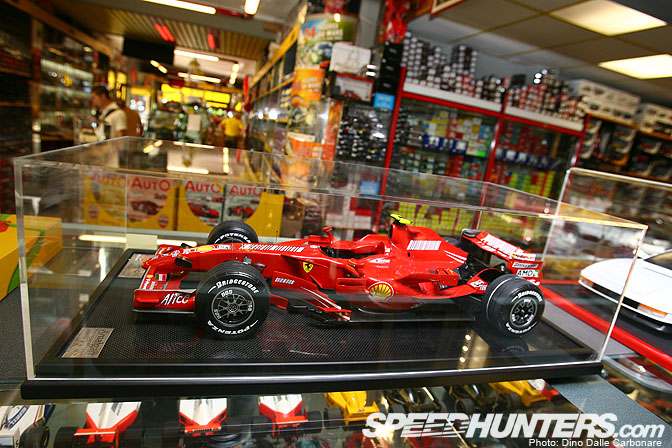 I'm sure a lot of you folks collect die-casts of varying forms and would be interested to take a quick tour of a model shop located in Maranello, Italy no?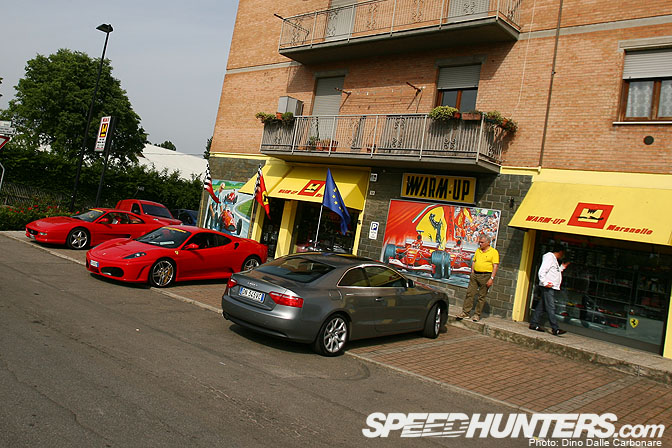 "Warm-Up" is located right across the parking lot from the Ferrari Museum, some 200 odd meters from the factory. Maranello appears to be a bit of a holy pilgrimage for hardcore Ferrari fans so it only makes sense a shop like this exists in the town.
One of the first things you'll notice on walking up to the shop are these two Ferrari rental cars, which you can rent in blocks of ten minutes. I suppose it's a way for the fans to get the full Ferrari experience right? Come to Maranello and drive a super car…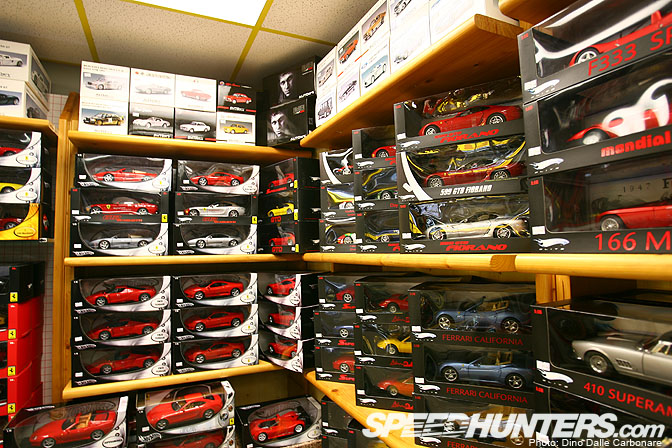 This is one of the larger die cast shops I've had the pleasure to visit.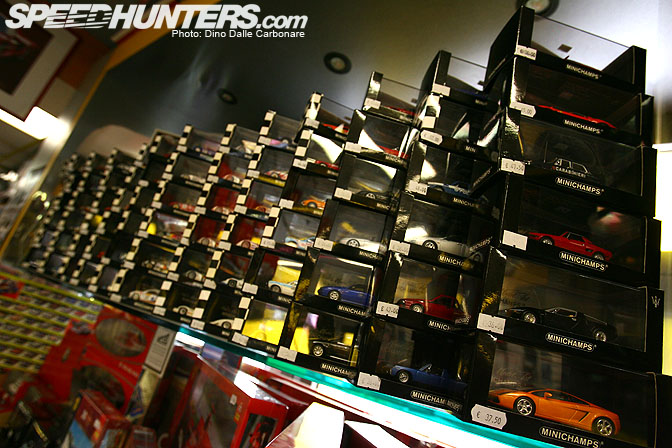 It contains all manner of mainstream production and race car 1/43 models with a bit of a slant towards Italian machines.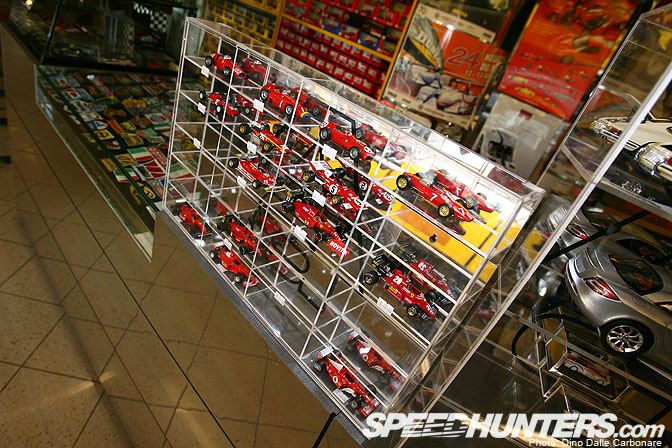 There are plenty of low volume F1 Ferrari collectables too.
These super large scale (1/6?) scale models are pretty stunning.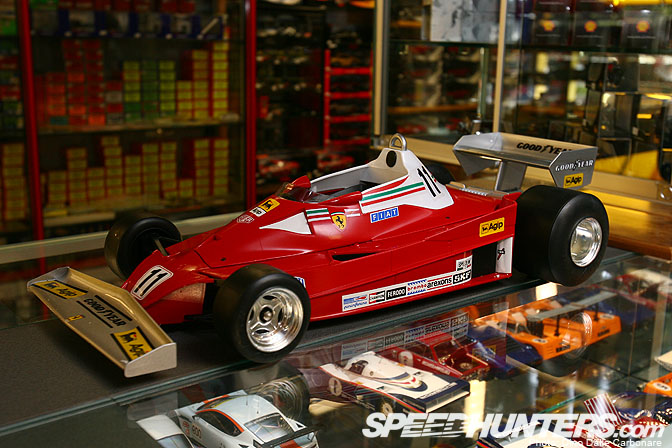 They are the ultimate collectable miniatures and cost as much as a well worn S13. But if you are a proper tifosi you are going to have to have this model aren't you?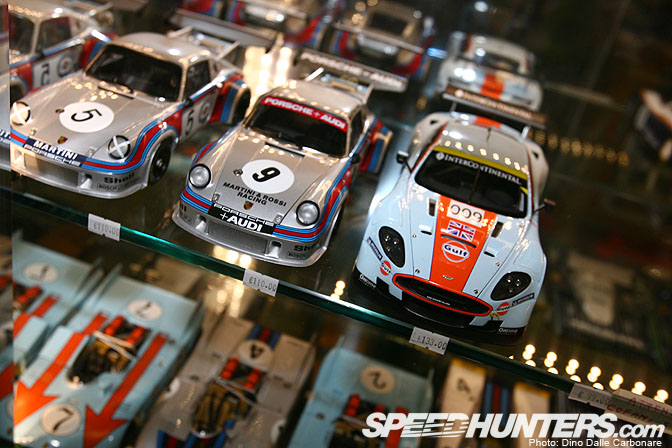 I always marvel at how expensive some of these models cost… but there are still people like me who just have to buy these collectables. It's one reason I've switched to 1/43 scale. They are far more affordable than these high detail 1/18 models.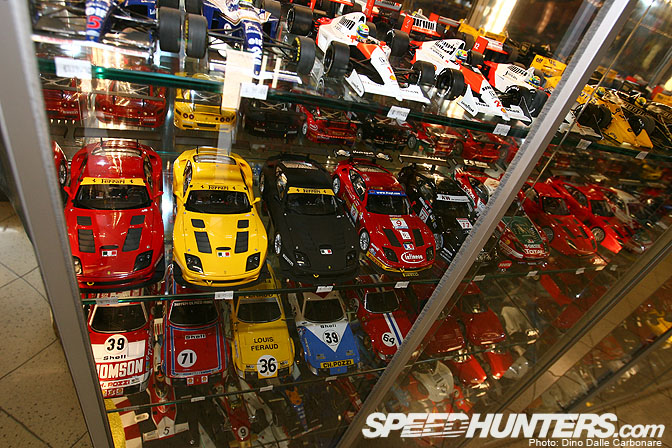 I'd like to know, if someone made a $150 high detail 1/18 drift model would you buy one? Surely there must be as many hardcore drift enthusiasts as there are sports car fans by now.
Every style of race car is catered to…. except drift machines that is.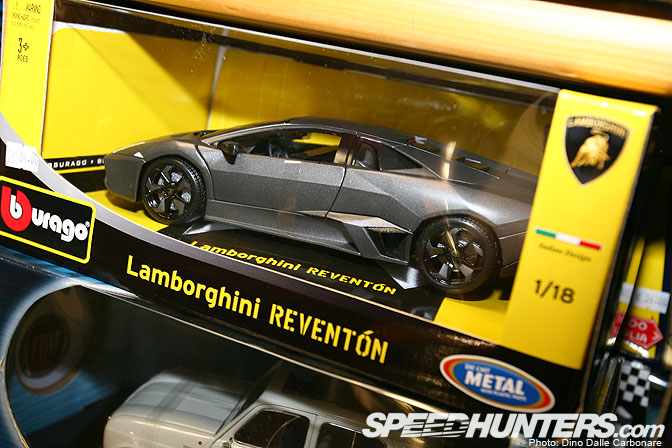 This Reventon model just doesn't manage to capture the hardcore essence of the original item IMO.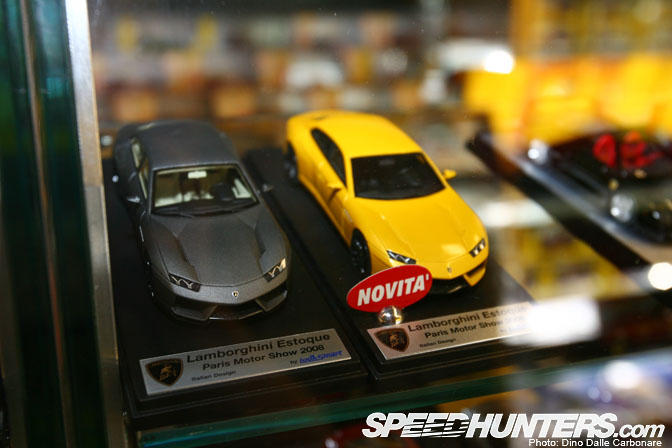 The Estoque model seems more successful. Not that I've seen the original!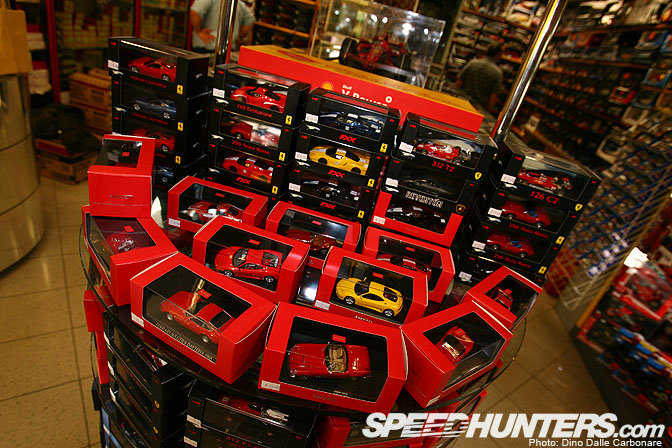 I always have my eye open for a Group 5 model.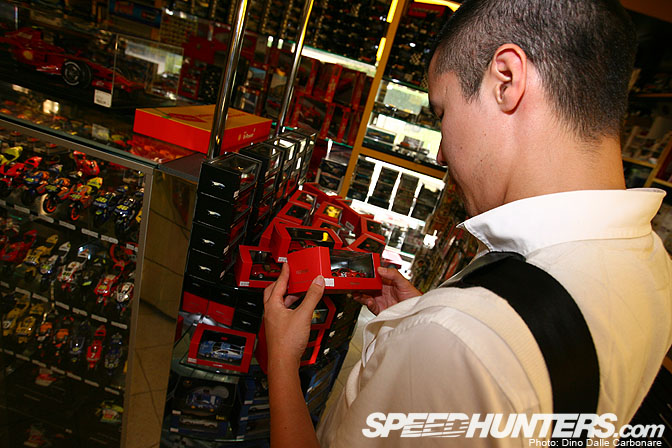 And I found one that I don't own… a NART Ferrari 512 BB LM… I managed to put the box down though without pulling out the credit card… a close call!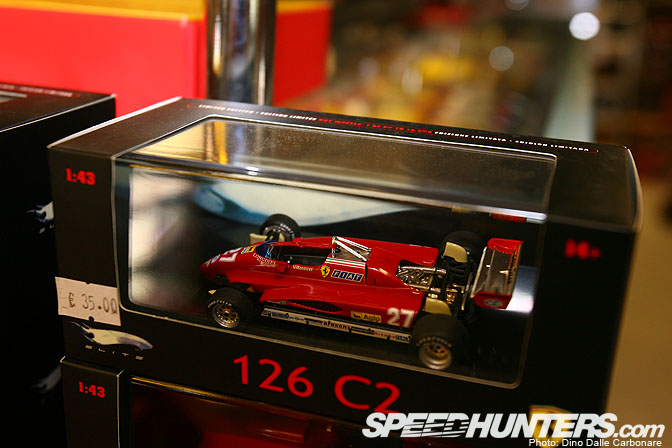 It's amazing how detailed the latest generation of 1/43 models are. The medium has really pushed forward in recent years. Look at the scale detail on this 126 C2… Stunning.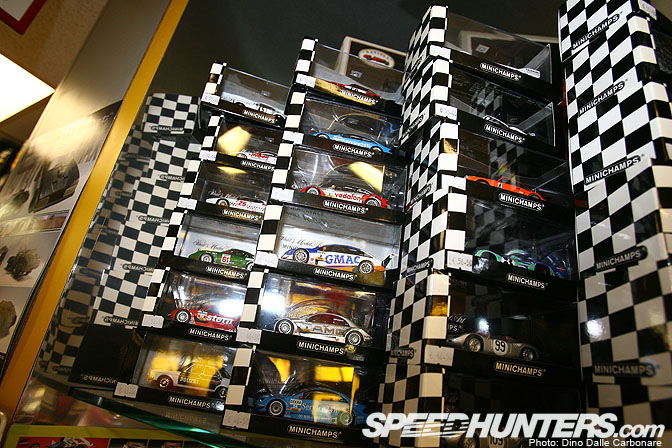 A nice mix of DTM and vintage sports car models.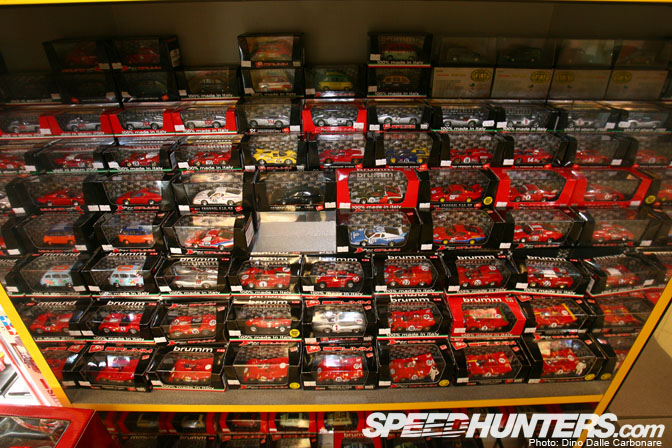 Ferraris and yet more Ferraris. Check out all the 512BB LMs!… I didn't buy any of these though as they are a different brand to the one car I already have and thus don't match.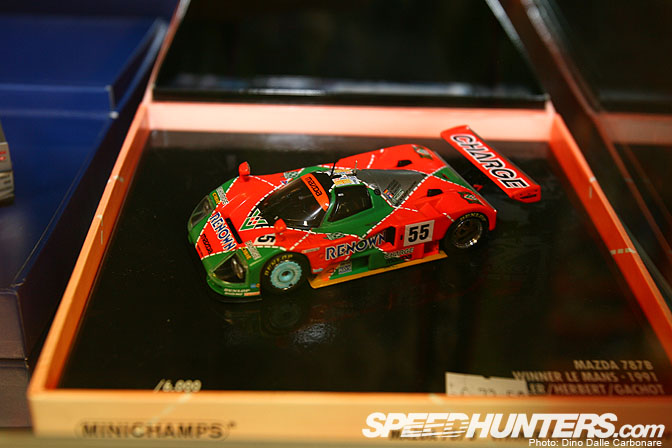 Japanese racing is represented by this Minichamps 787B…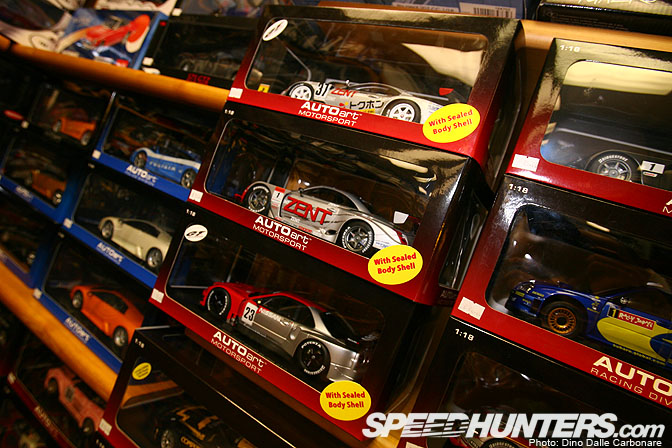 Curiously there was a reasonable selection of JCTC/Super GT cars. I wonder if anyone in Italy knows what these cars are…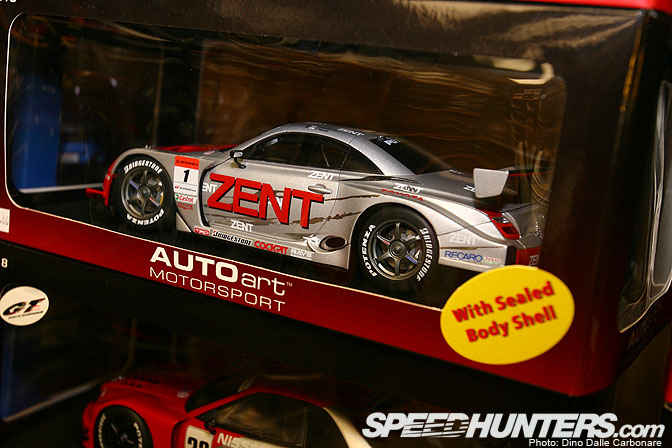 Or perhaps they only know them from video games.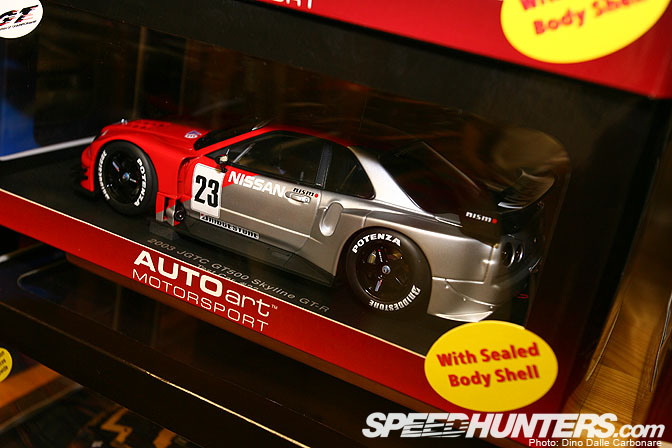 The later is likely true! This R34 is pretty desirable.
Well it seems like most well stocked die cast shops you are doing to go into in any country seem to have similar types of models. It's more a question of which ones have that rare hard-to-find gem that you are going to be unable to leave the shop without!
See anything you would have bought on the spot here?
:R