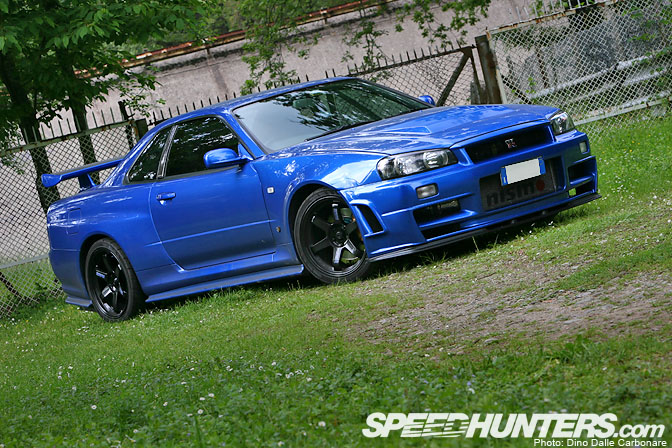 During our visit to the old Monza banking last month, Rod and I were met by a couple of friends of mine who were kind enough to bring their prized possessions along. Seeing Skyline GT-R's in Italy is one of those things that just doesn't happen. As far as I know there are only a handful of them, so actually seeing two BNR34s together is simply unheard of. The UK-spec Bayside Blue above belongs to Carlo, who has owned it for a few years now and has just gone tuning-crazy with it. On top of the full Nismo Z-tune conversion the car also sports a Sunline Racing carbon hood and a set of black TE37s. Carlo has always strived to fit the best possible parts to his "sanyon," even importing the Advan Neova AD07 from Japan! Under the hood the stock engine has been mated to HKS GT2530 turbochargers along with a very long list of other upgrades allowing it develop more than 600 HP! All the work and mapping was taken care of the recently established Garage Cadalora, who to bike fans out there is a name that should sound familiar.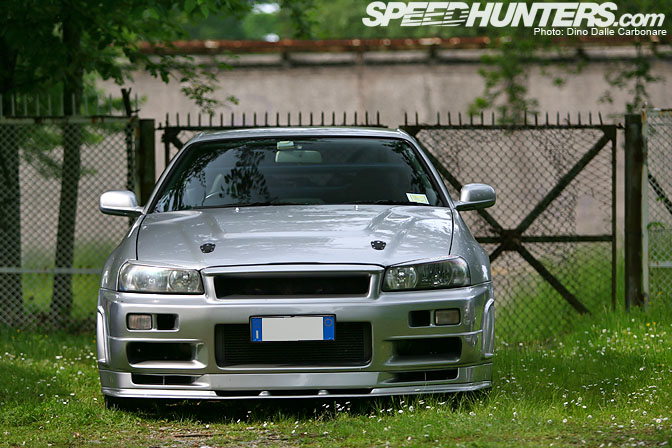 Paolo's silver V-spec was recently imported directly from Japan and will no doubt be subjected to some serious tuning. Exterior wise the car is already fitted with a Nismo front bumper and skirts, an aero hood and a set of Blitz wheels.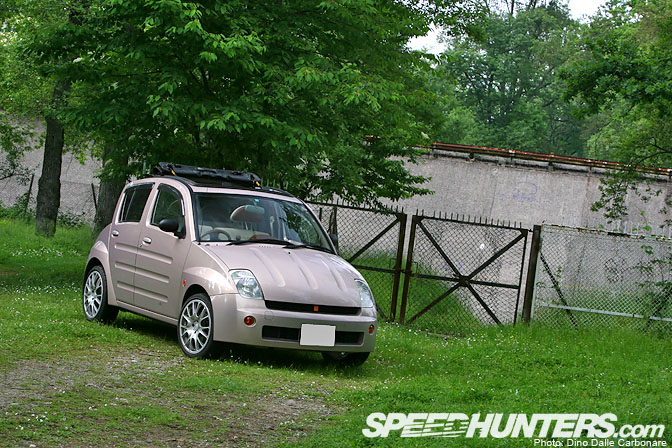 Gian from UK Garage of Milano showed up with probably the rarest car in Italy, a Will Vi which he imported from the UK. Based on an old-gen Vitz this little Will sports a 1.3L engine mated to a column shifted automatic transmission and what can only be described as "unique" styling. Gian likes to drive cars that get people scratching their heads in confusion, something the Will does on a daily basis around the streets of Milano!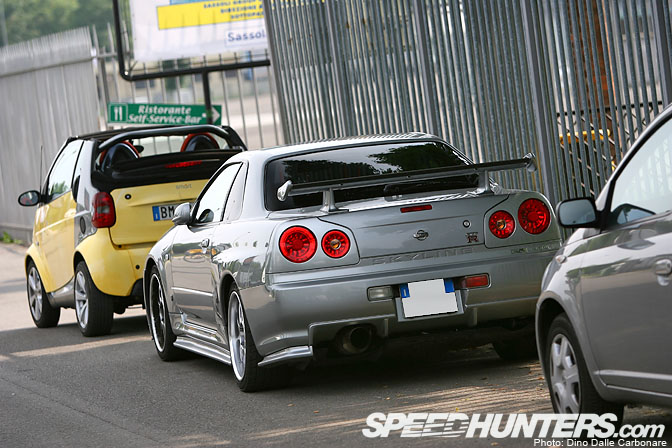 We stopped at the Monza bar for a little drink leaving the cars parked along the street where they certainly didn't blend in with the surrounding vehicles.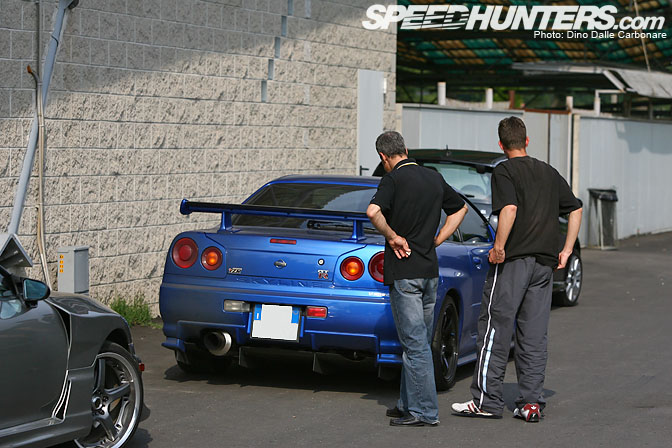 Carlo's GT-R was attracting an amazing amount of attention.  From this angle you can see the massive Hasemi carbon diffuser fins.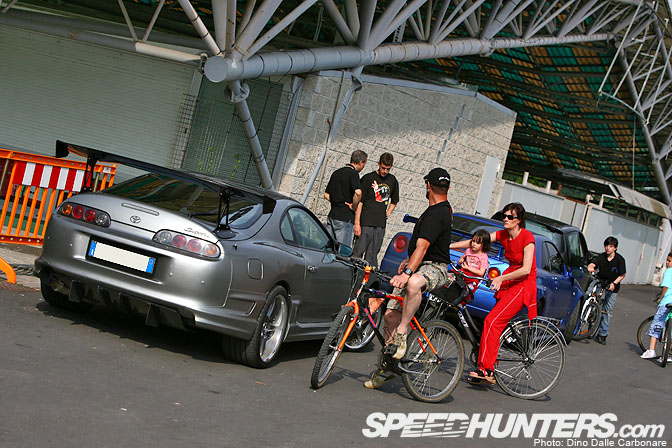 Even families out for a bike ride through the Monza park were stopping for a second look!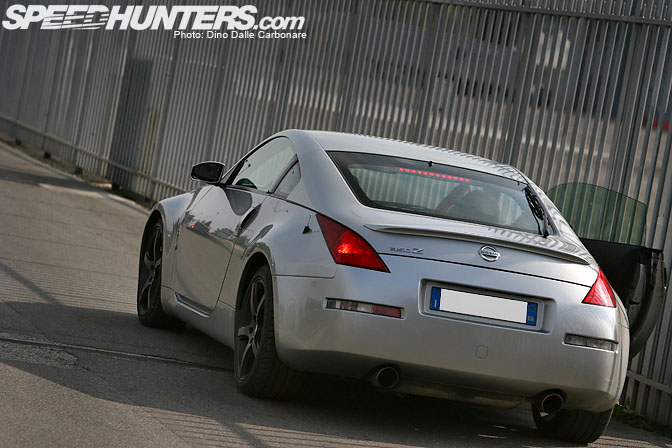 This Z33 owner was driving by when he saw Paolo's silver Skyline parked on the side of the road. He quickly stopped and got out to have a look…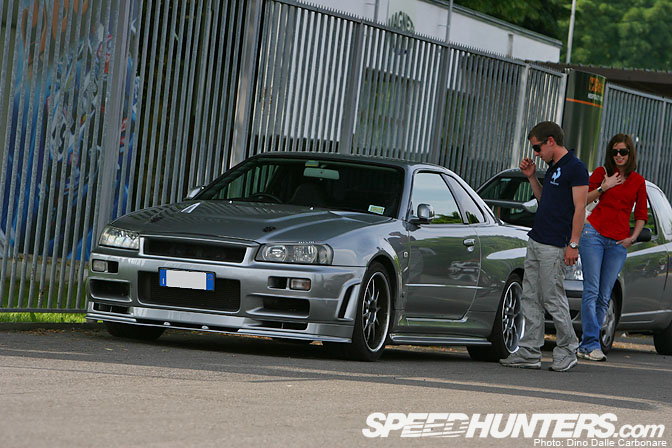 …he told us he couldn't believe his eyes as he had never seen one before.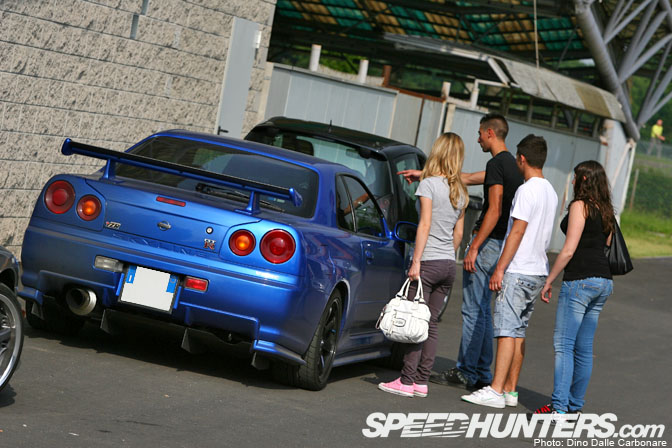 It's with enthusiasts like this that the JDM spirit can be faithfully transported into other countries. We applaud guys like Carlo and Paolo for making that extra effort needed to own cars like this in Italy. Believe me, it is not easy!
 Speedhunters in Italy Features
- Dino Dalle Carbonare