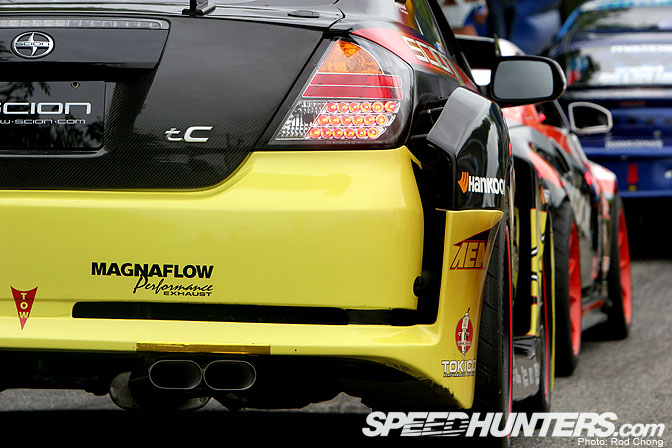 The day before I was scheduled to fly from the west coast paradise that is Vancouver out to New Jersey, I had a look at the photographic equipment we have locked up in a storage room at the Need for Speed studio… To my surprise, I found a bunch of professional camera lenses stashed away in a knapsack… These lenses are normally used to capture gaming textures, but as of this weekend, have been appropriated for the purpose of international Speedhunting! :>
With my new telephoto camera weapons at hand, I was ready to hit the FD event at Wall Speedway in New Jersey.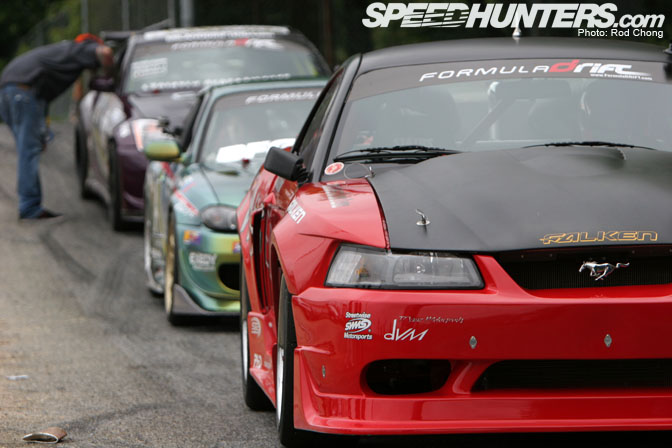 For my first New Jersey report, I thought it would be interesting to paint a little vignette moment from the pre-grid staging area, at Wall Speedway.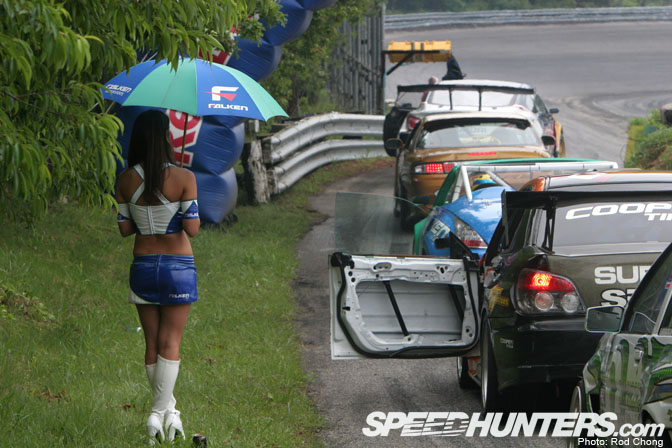 It's here the cars line up before blasting out on track for the practice and qualifying sessions.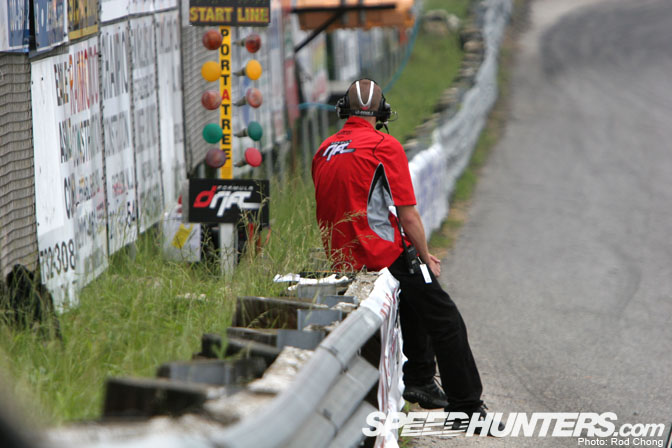 The proceedings are controlled by Doug Andrus. He's the one who signals the cars to enter the track and lines them up on the start line.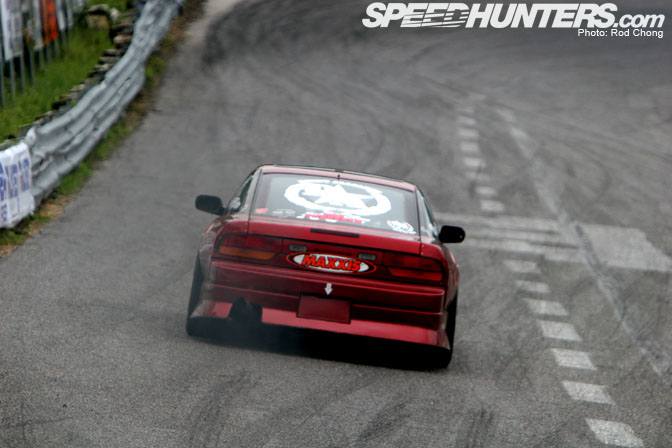 It's from this point cars accelerate down the short straight to the first drift initiation. In this photo, John Wagner bangs up through the gears as he prepares to ride the barrier around Wall Stadium's fearsome banking.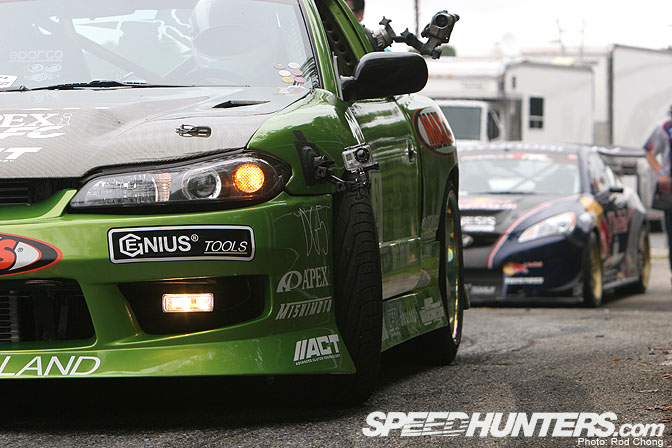 Looking back up the other way, we can see Joon Maeng's S13.5 at the start of the queue. This picture also highlights a pet peeve of mine about Formula D events… the cars have all manner of cameras stuck all over them!…. To my skewed brain, this spoils the look of some of the coolest competition cars on the planet. Most other types of racing don't allow this, but for some reason it's a feature of Formula D… anyway don't mind me… I'm a purist…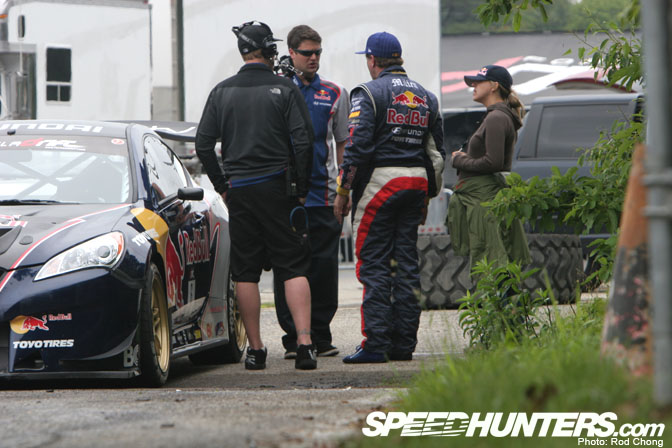 Behind Joon we see Rhys Millen having a conversation with some members of his team. In looking at this photo, I'm noticing that the "Millen" word on the back of his suit is written in a similar gothic font to what the Drift Alliance use for their names… I wonder who thought of the look first?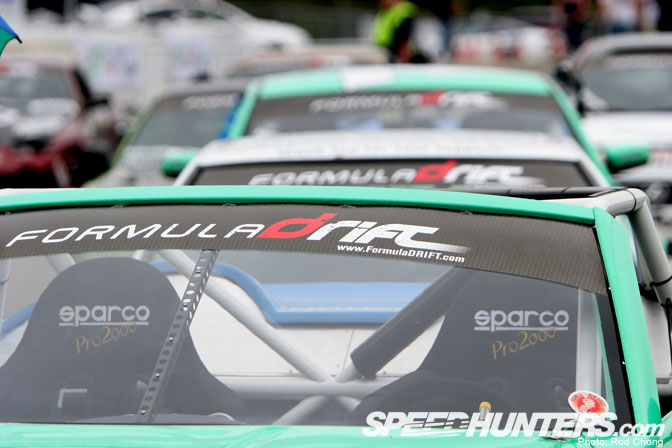 I love pre-grids and parc ferme areas, with their unattended race cars…. More is more right? So many cool race cars in one spot make me dizzy!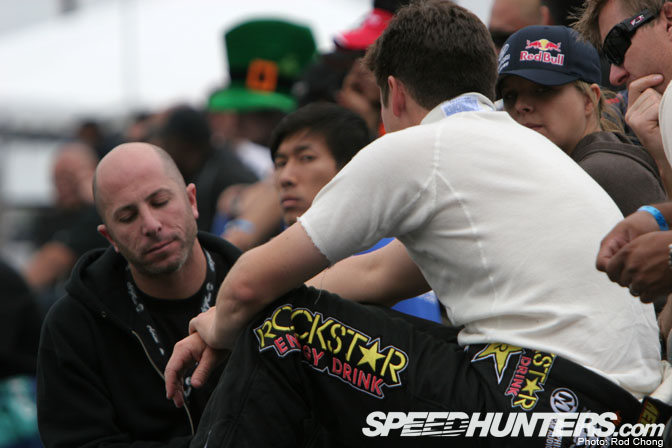 Nearby, the various teams and drivers are crowded on to a reserved bleacher. It's been set up for them to watch each other's runs.
After not qualifying for the NJ event, Tanner and his boss, Stefan Papadakis are likely having a deep conversation here…. I decided it was best to steer clear…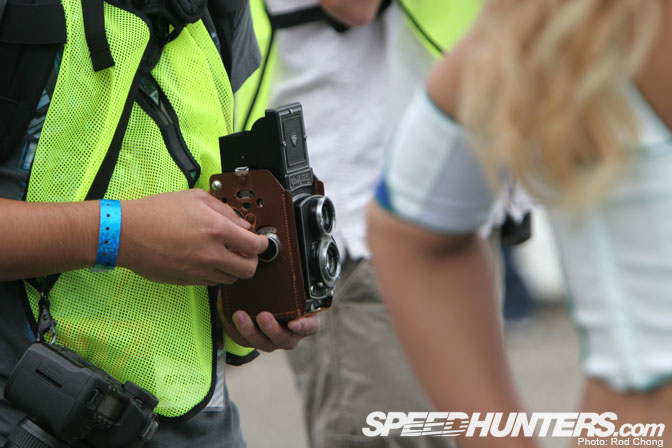 Has anyone noticed there's a bit of an arms racing going on, to see who can make the coolest drift videos? Perhaps the same deal is happening with drift photography too…. after innovating a 35MM drift photo shoot at Formula D Long Beach in April, Linhbergh Nguyen brought out some proper heavly camera artilery to New Jersey…. a 1952 vintage camera!…. In this photo he's shooting some of the Falken Girls… I'm quite interested to see how these photos turn out.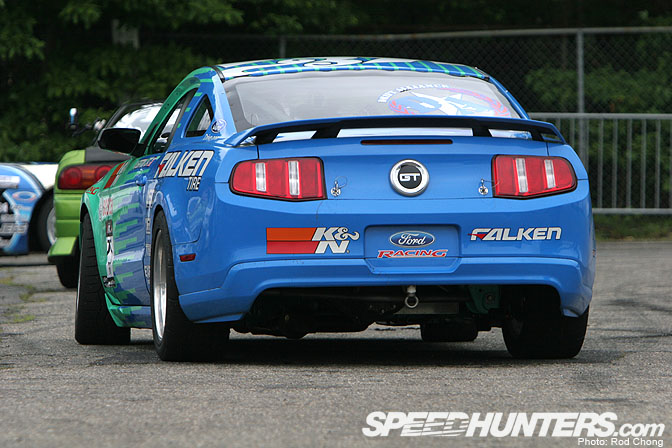 JR waits his turn…..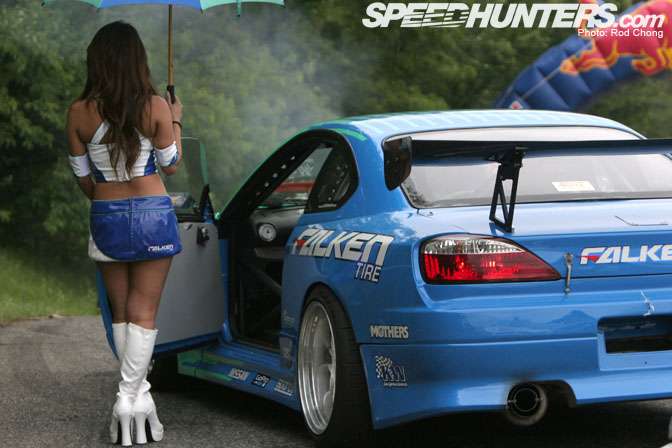 Meanwhile further down the line Falken Girl, Eri Moriyama and her accompanying drift car (or is it the other way around?) are almost ready….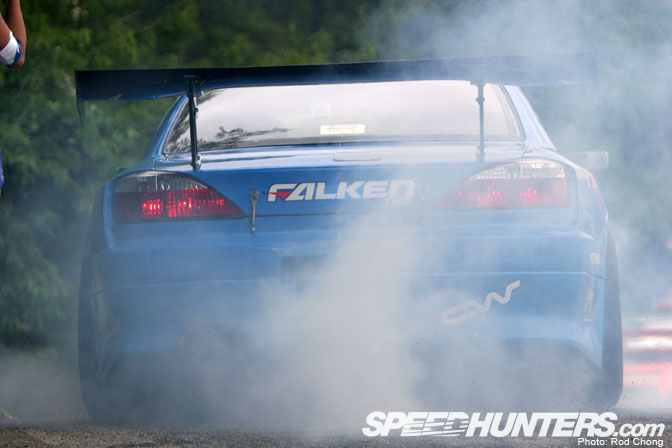 … for some tire warming action…. Go Calvin!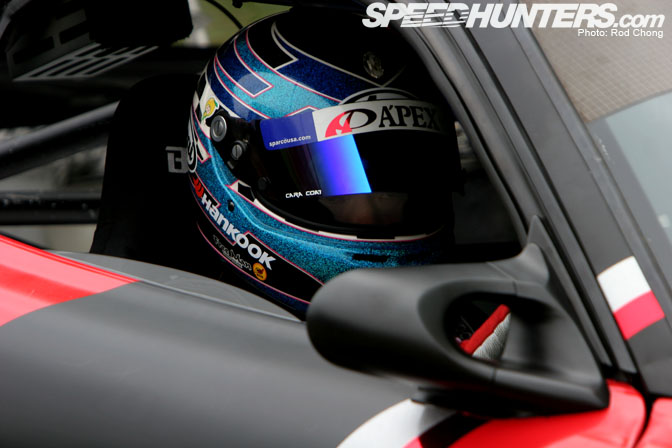 Walking up and down the line of cars with a camera is a good opportunity to check out the drivers… Ryuji Miki didn't seem to notice me.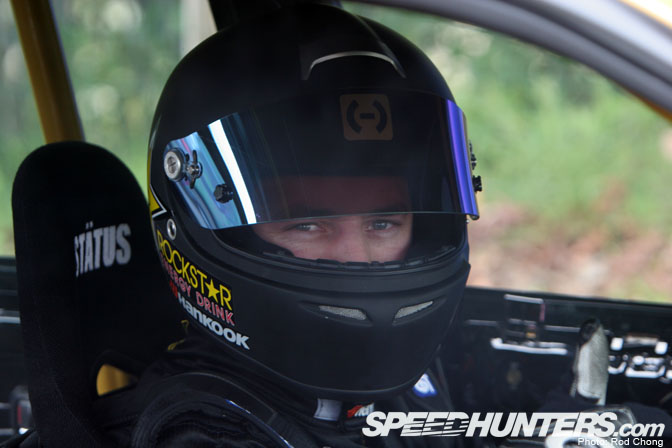 But Irish drifter Eric O'Sullivan was in a much more friendly mood….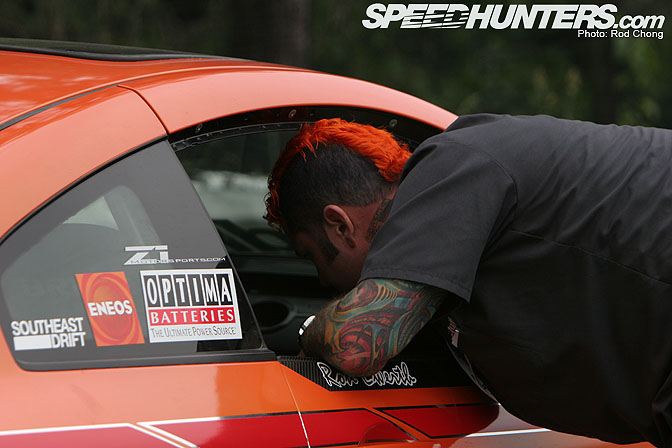 It's only in drifting where you are going to see racing engineers who look like they should be in rock bands!… It's one reason I think this scene is so vibrant and interesting.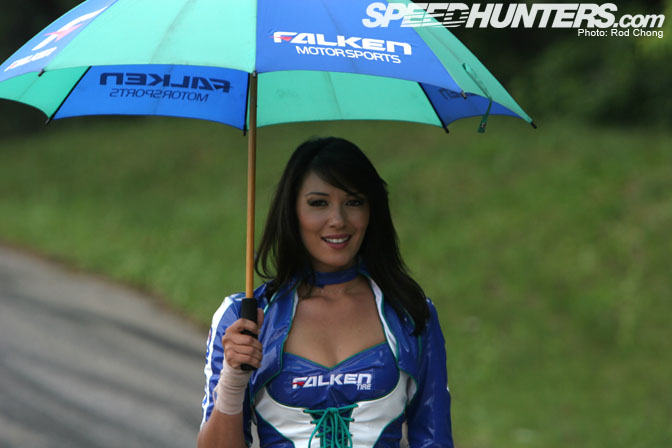 Falken Girl, MJ Castillo has changed her hair colour from the blonde… You can see her latin styles coming out now… you like the new look?…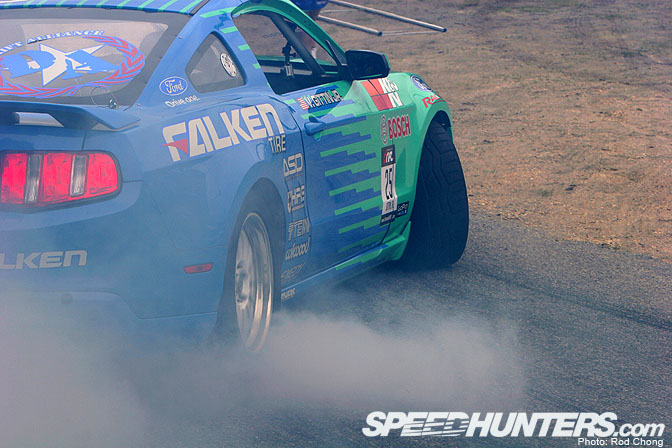 JR puts some heat into his Falkens….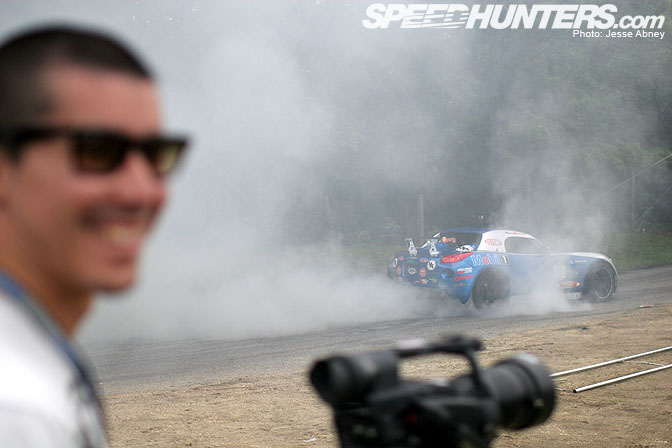 Cars and smoke… it's a good thing right? Always brings a smile to my face :>
 More soon!
:Rod