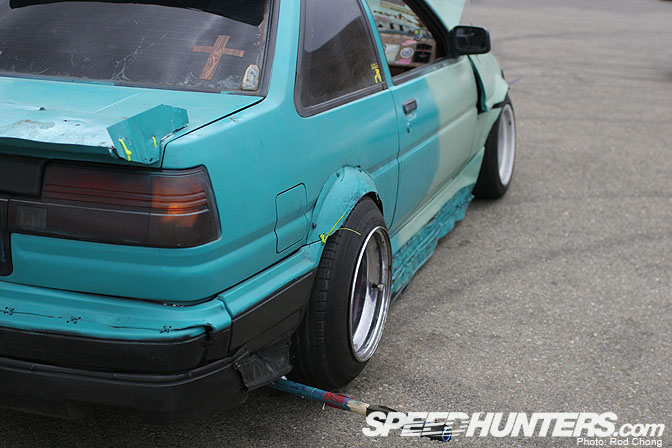 Ok, let's quickly look at day two of my visit to Willow Springs for Red Line Time Attack. We were primarily at the event to shoot HD footage of Chris Rado's Scion tC but I did pick up my still camera from time to time in order to document my own automotive observations from the event.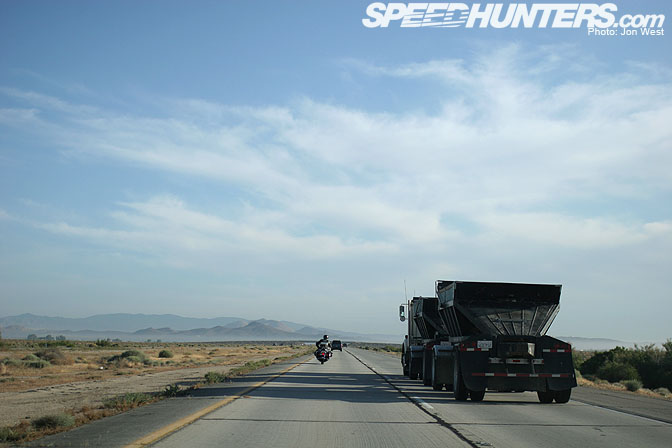 The day started out with a quick blast down the freeway from our hotel in Palmdale up to Willow Springs. The experience of the California desert is all about open space and big sky…. two things which quite appeal to me.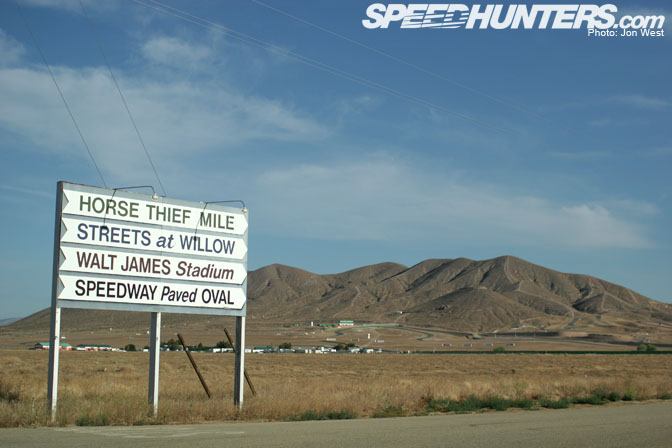 As you drive in to Willow Springs, you can see the ribbon of tarmac snaking its way up the hillside. To the right you can also make out the Horse Thief Mile circuit, often used for local drift events.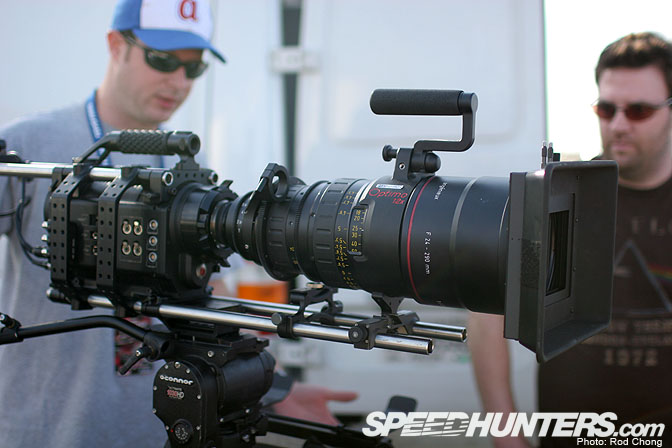 The Spitfire Films crew had the Red cameras ready to go by the time we arrived. You need a decent telephoto setup to get good shots at Willow Springs and Spitfire Films weren't messing around with their equipment! That lens is out of control…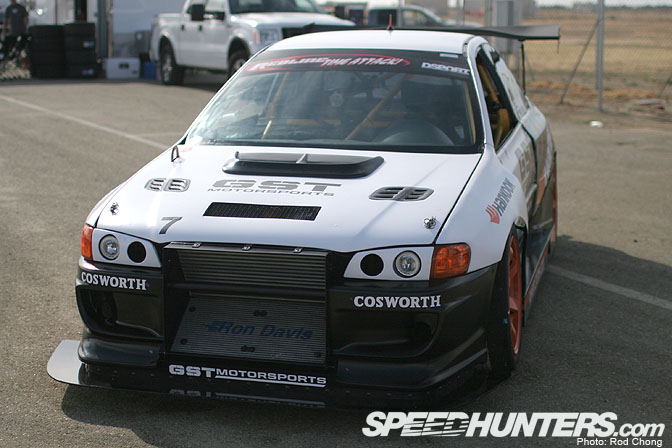 I didn't shoot any action photos this weekend, as that job was best left to Mike Garrett, but I did take the time to wander about the Red Line Time Attack paddock to check out the various cars. Like Mike mentioned already, the GST Motorsports Subaru was sitting pretty with its new Hankook livery. I like the flat white look! The exposed V Mount radiator setup also looks the business.
This car does appear to have a LOT of frontal area though… surely that must be hurting its potential?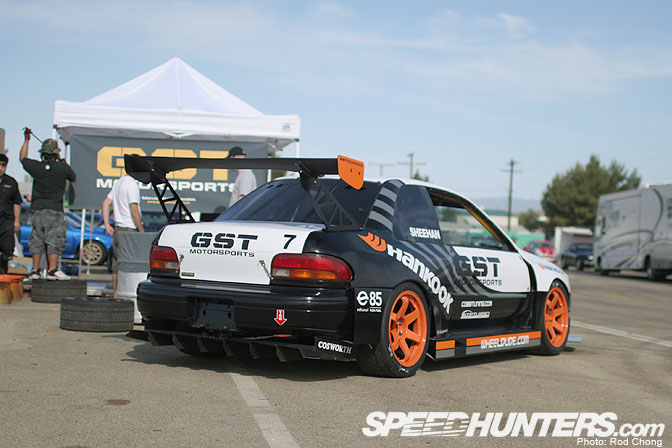 The view from the rear.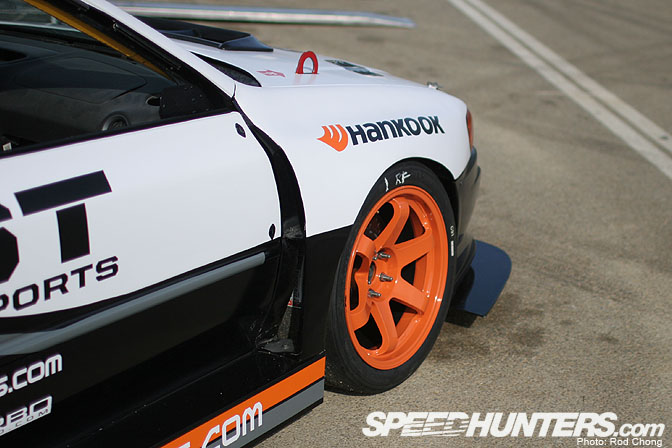 We'll need to do a feature on this car one of these days.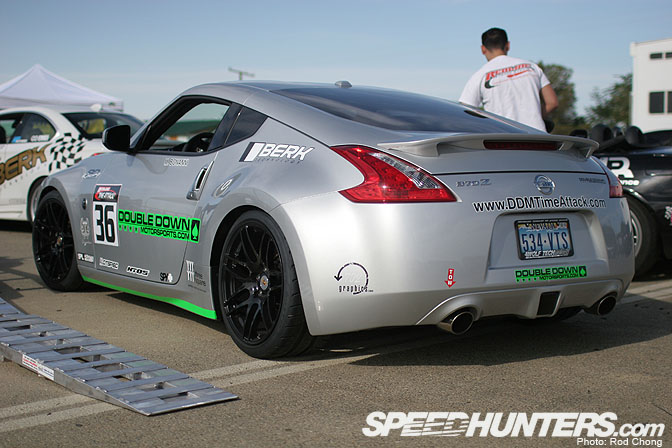 This track tuned 370Z also caught my eye. IMO the Z34 chassis looks pretty good with a change of stance and rims. I've already forgotten about the unusual head and taillight designs too.. What about you? Are you used to the look of the 370Z by now?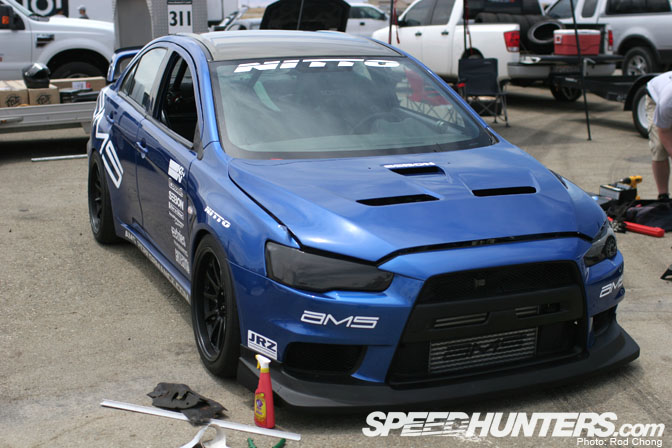 Here's Ryan Gates' AMS Evo X. This is the second time I've seen this car, but both times it's stood out from the crowd for me.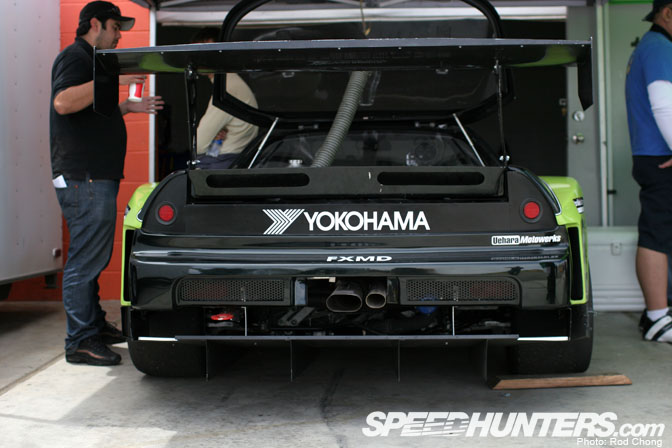 Surely the children will all mount wings up this high on their street cars by this time next year no? :>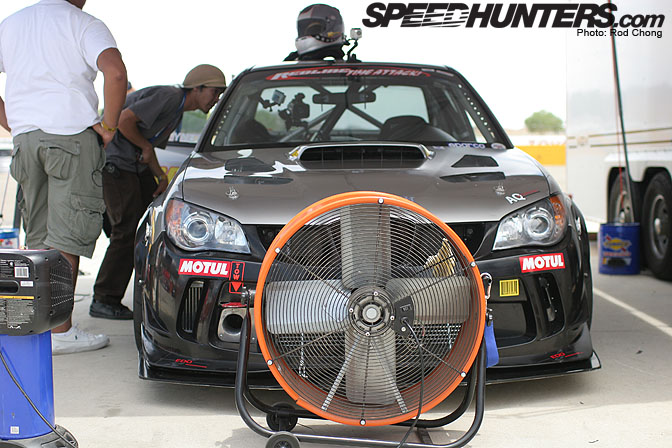 Here's a shot of the Harman Motive STI. It's quite an impressive machine. Without knowing more about the details of the car, I can't tell how it's different from an unlimited class machine. It seems to be a rather full on build.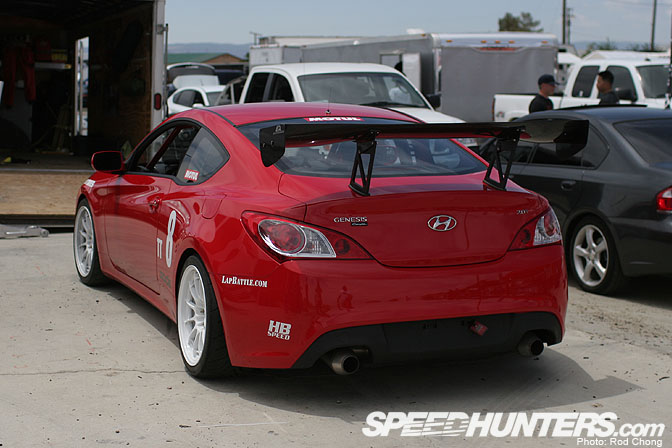 I'm still deciding if I like the Hyundai Genesis or not. It certainly has potential, although the car does look rather long and thin if you stare at it for any length of time…. it's a bit like a G35 if you know what I mean. At any rate, the Genesis certainly looks like it belongs at events like Red Line Time Attack. I'm sure Hyundai will be happy with that, as they strive to gain creditiblity in the scene.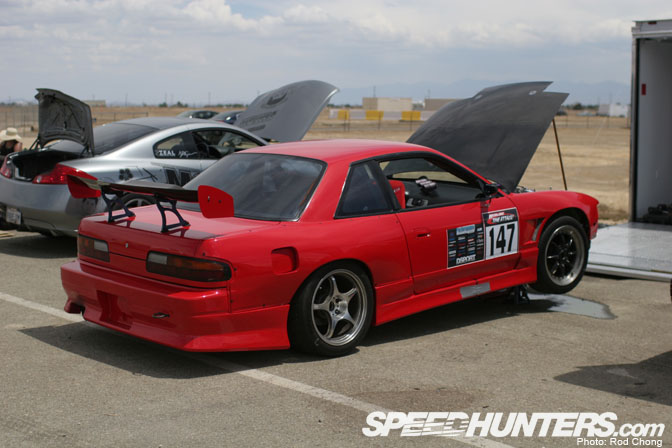 Grip tuned s13? Or a drift car being grip driven for the day?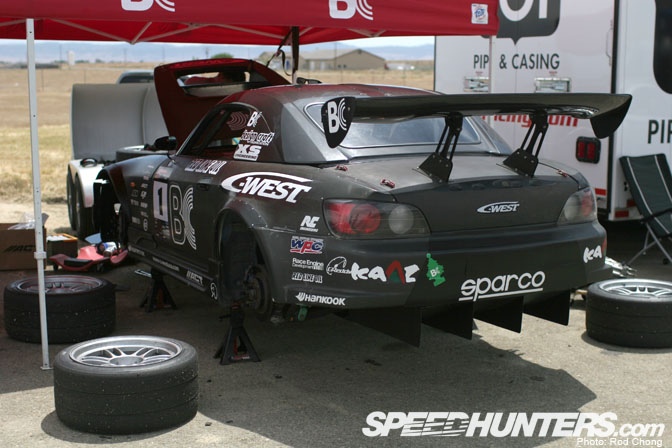 The BC S2000 was mighty fast all weekend but suffering from chronic overheating problems and blew a head gasket before the final session. They were trying to resolve this problem in the week prior to the Redline event, but have yet to crack the issue. Hopefully the car will be fully sussed out before the next round.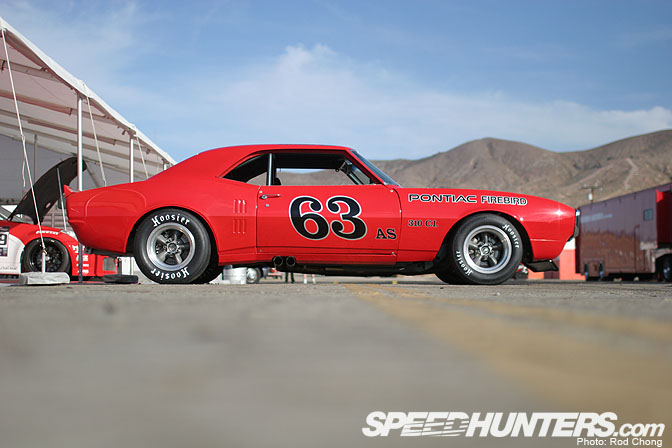 I couldn't help myself and kept taking photos of the Firebird…. This car is just so beautiful, it's painful!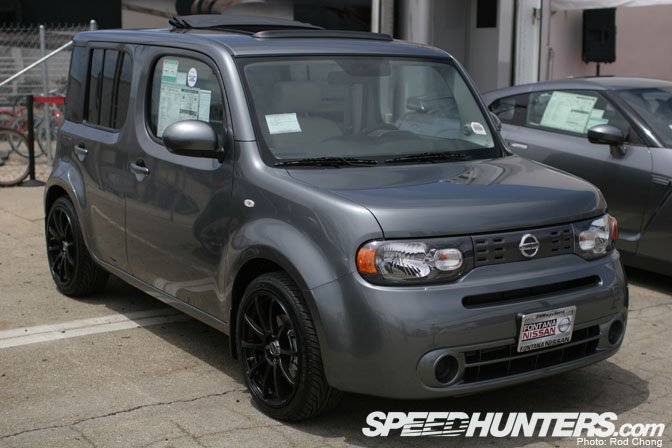 Beside the Firebird, Fontana Nissan also had a few new cars on display. I took some time to have a good look at The Cube.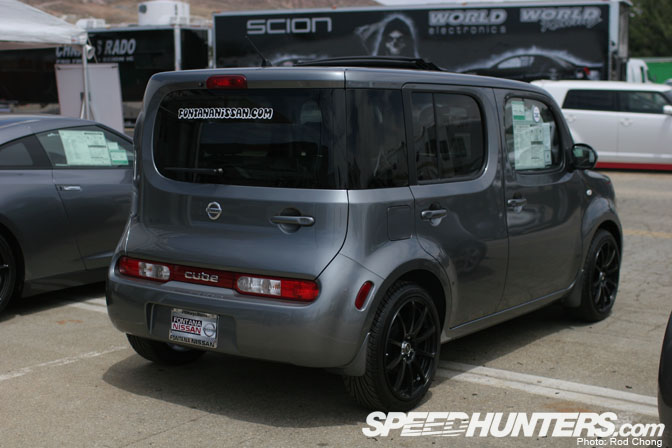 All the Cube needs is a strong ride height adjustment, some deep offset wheels, stretched tires and you'll be in business.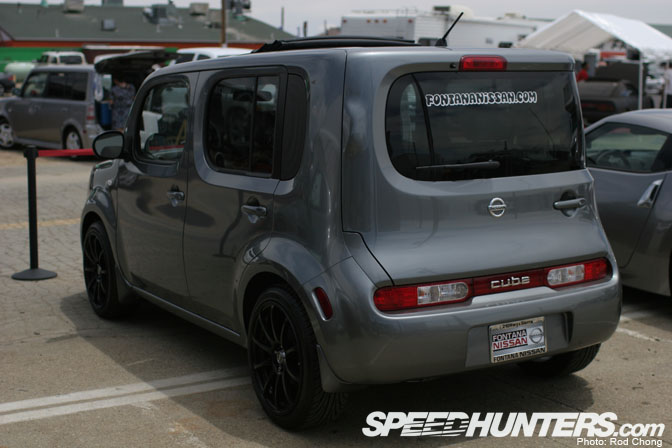 What do you think? I quite like this car.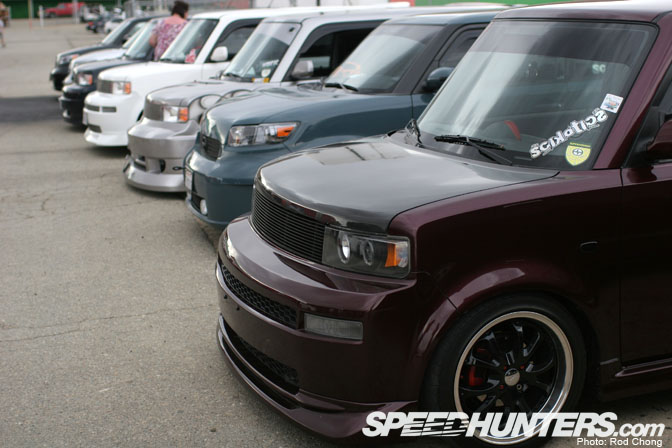 There was a group of Scion owners hanging out in front of Chris Rado's trailer all weekend. I didn't realize that this brand had such a strong culture surrounding it. Perhaps Scion should take notice that these owners all drive xBs when they think about the replacement for the tC.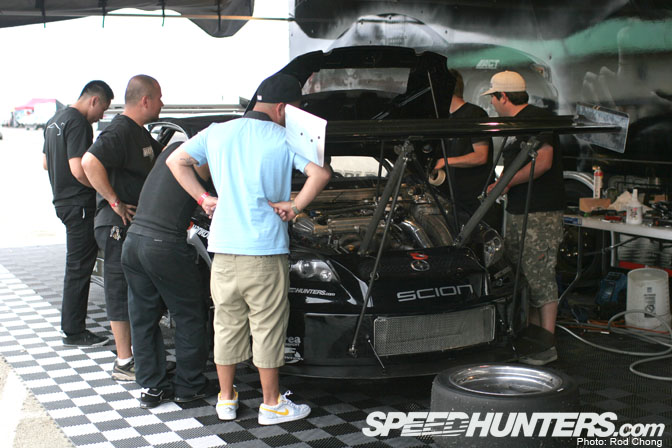 Speaking of tCs, on Saturday there was a big group of people working on Chris' car throughout the day. The head gasket blew on the mule motor, so a change of engine would be needed in order to have the car ready for Sunday's time attack sessions.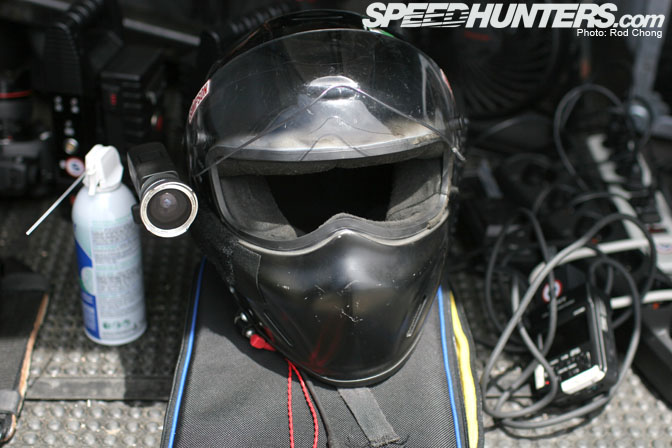 We were ready with all our camera mounts, including Chris' helmet-cam but unfortunately we really didn't get much shooting done. I was starting to get a bit worried tbh.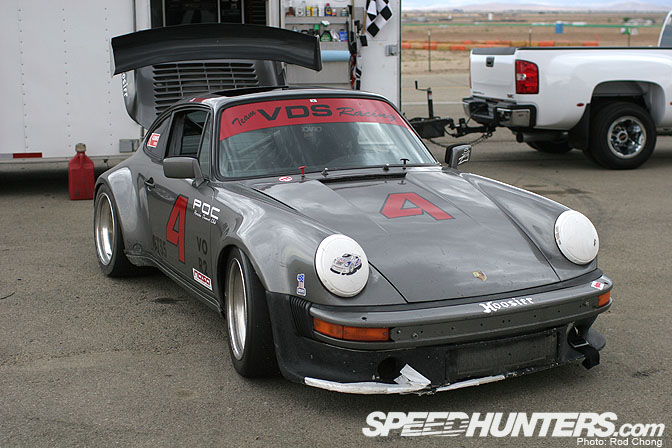 Meanwhile over on the Streets of Willow Springs Circuit, the Porsche Owners Club had their own track day going on.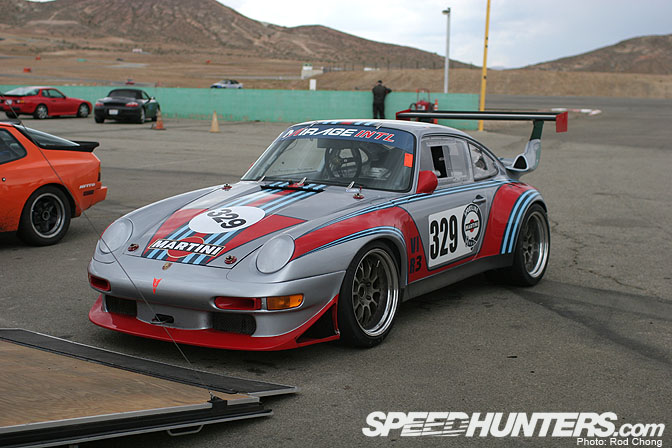 This Martini liveried 993 caught my eye…. They are attempting to depict the early '70s 911 RSR look although I'm not 100% sure if it's working or not.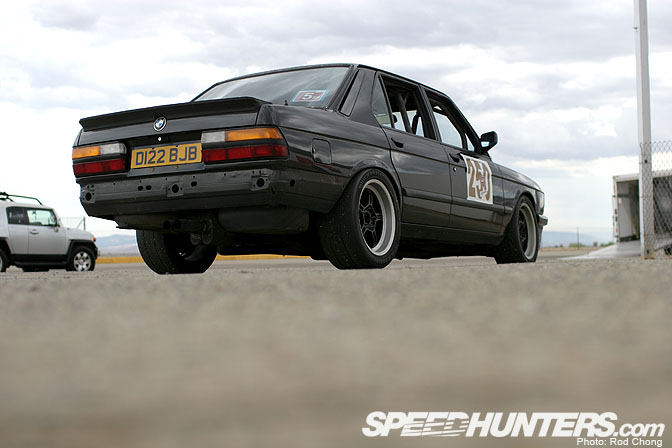 This track day, old school BMW caught my eye. Interestingly, the owner has converted it to BMW V8 power.This is a common set up for drift BMWs in mainland Europe but not so much in the states.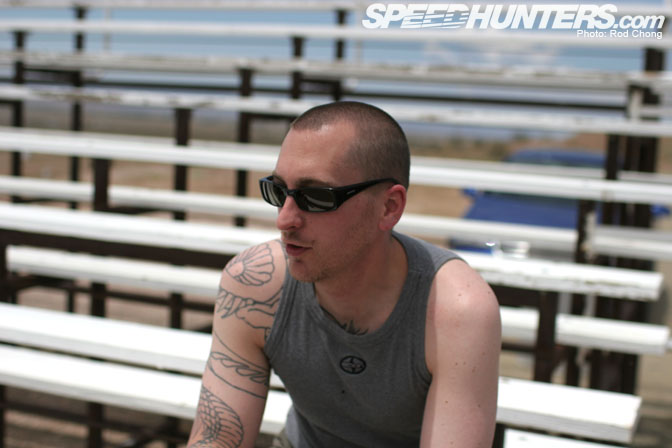 I made my way up to the top of the circuit and bumped into the Twins Turbo crew. This particular twin is Marc, doing his best attempt to get a sunburn. You can't tell from the photo, but the temperature was around 95 degrees farenheight around this time.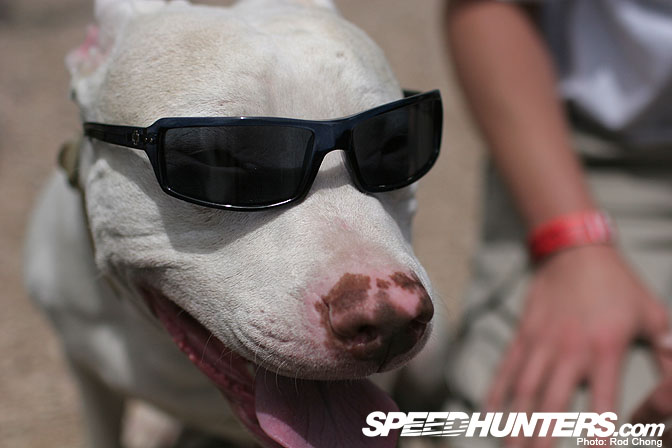 Say hello to the Twins Turbo shop pet, Monster Dog. He wasn't really enjoying the heat too much…. or the sound of racing engines for that matter. Poor guy!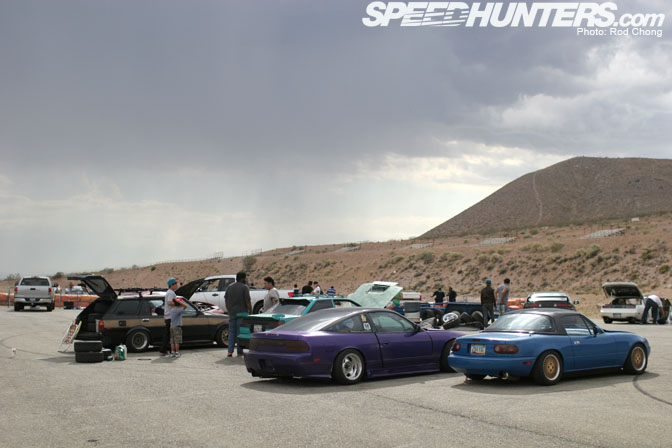 There wasn't much happening on the main track so the Twins and I strolled over to the Balcony course to have a look at the Just Drift event.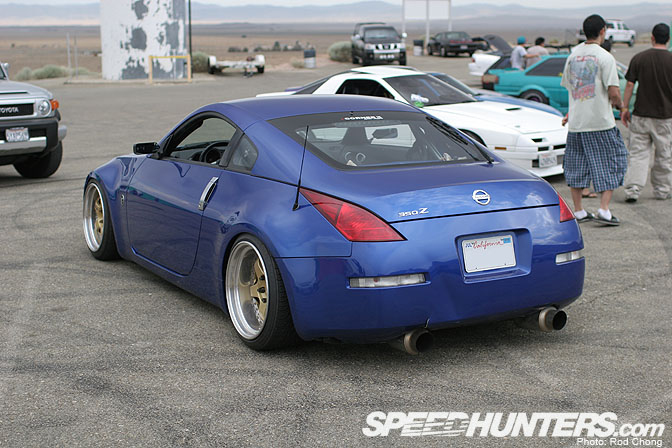 This super low 350Z immediately caught our eye.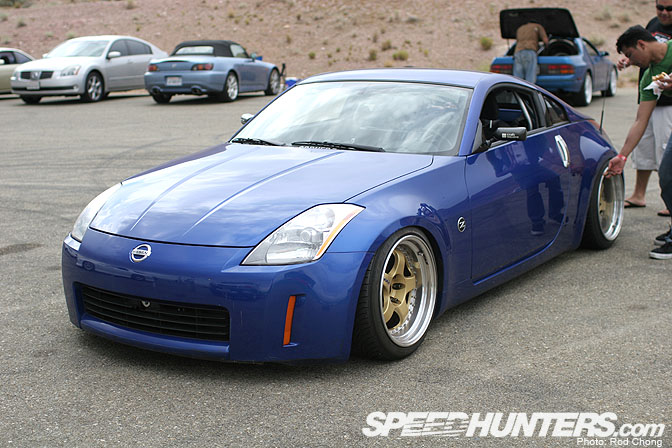 I like this style, no body-kit, just aggressive stance and tight wheels. Notice the guy in the picture checking wheel clearance. Eric from the Twins Turbo questioned just how ideal the suspension geometry was on such a low slung machine, but he did like how the owner had completely gutted out the interior. There is a certain hardcore quality to a stripped-out late model car, which you just have to admire.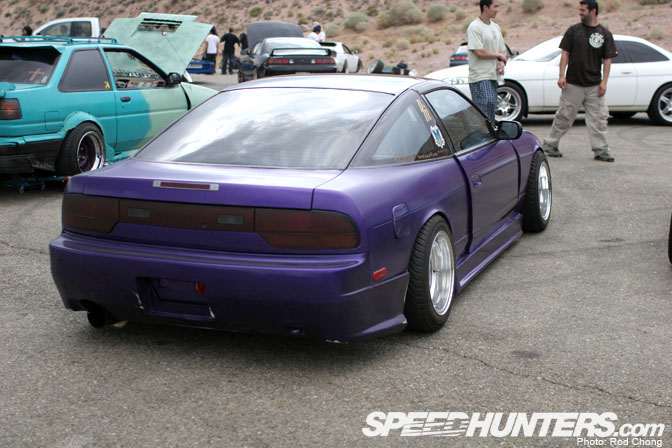 Small wheels, deep dish wheels on a drift spec S13. We know the style… but…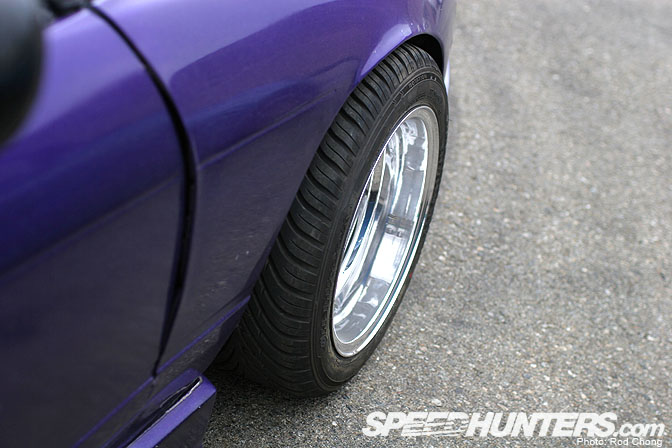 … what caught my attention was the thread pattern on the tire. These look like all season radials. Less traction is better or?…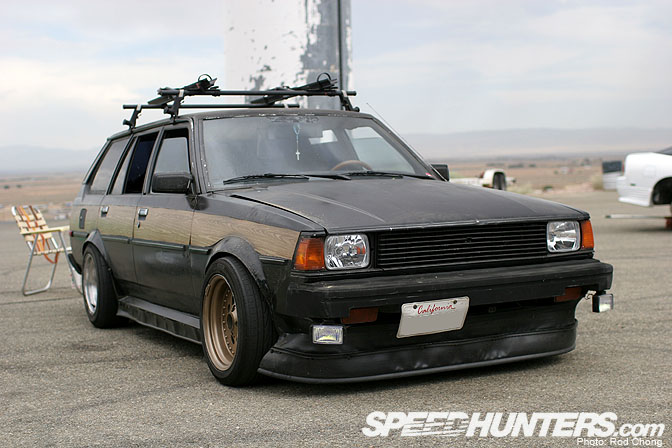 You like this Woody Corolla wagon? What pleases me about cars like this, is that they exude a sense of fun and character. I personally like when car builders don't take themselves too seriously.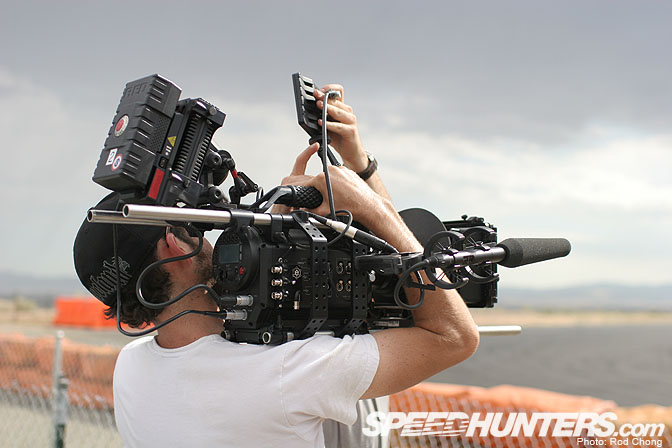 Will Roegge decided to do a bit of hand held with a Red camera of the drifting…. doesn't look that comfortable though does it?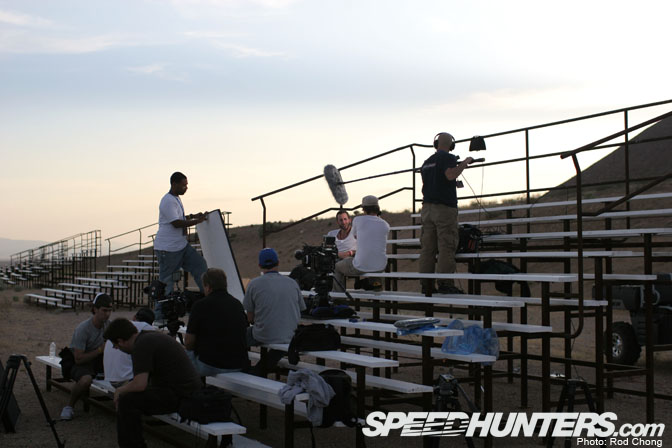 We ended the day at the track with an extended interview with Rado, on the bleachers which overlook the Balcony course. In this shot, the skateboard film-maker, Jon West is interviewing Chris for his own set of NFS short films.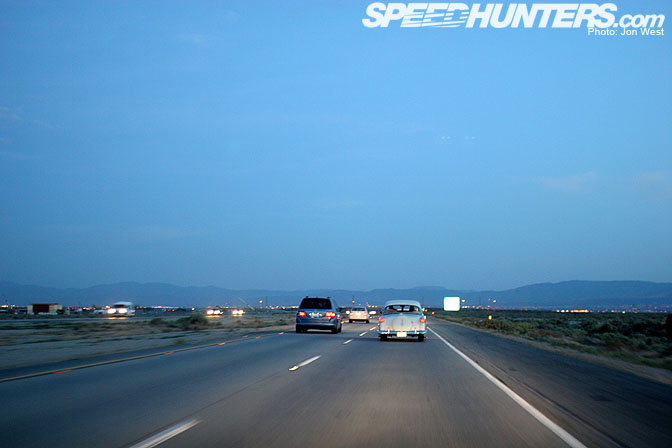 On our return journey to the hotel we journeyed again through the horizontal vastness of the California desert.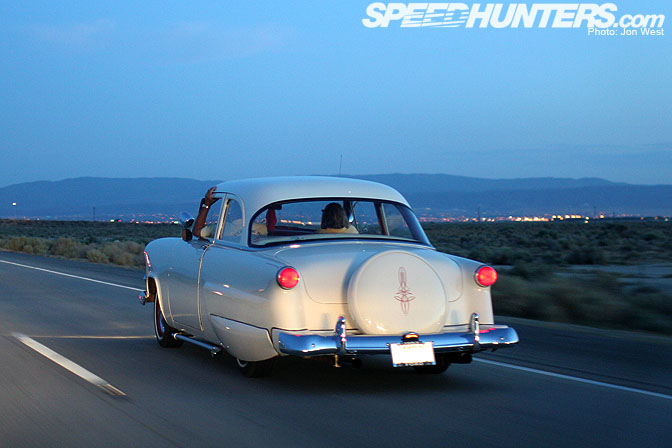 There is a certain romance to the experience of this open landscape…. this feeling was driven home when we past a caravan of Hot Rods, Customs and Muscle cars.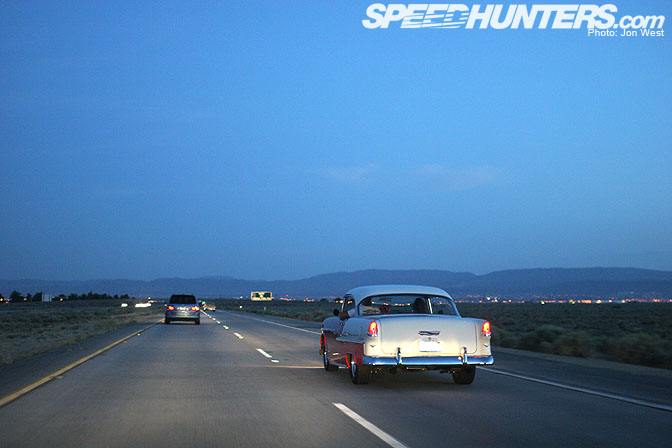 This is the USA that some foreigners like me are attracted to.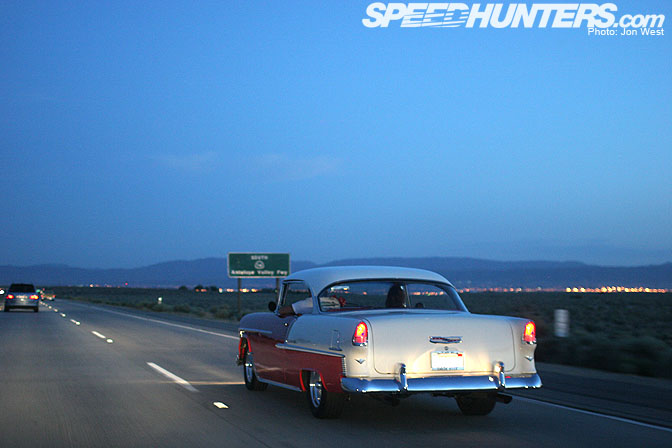 It's Americana at it's best really isn't it? If I could be the guy in this '55 Chevy I surely would jump in, no questions asked.
:R
Red Line Time Attack/Just Drift Willow Springs coverage on Speedhunters