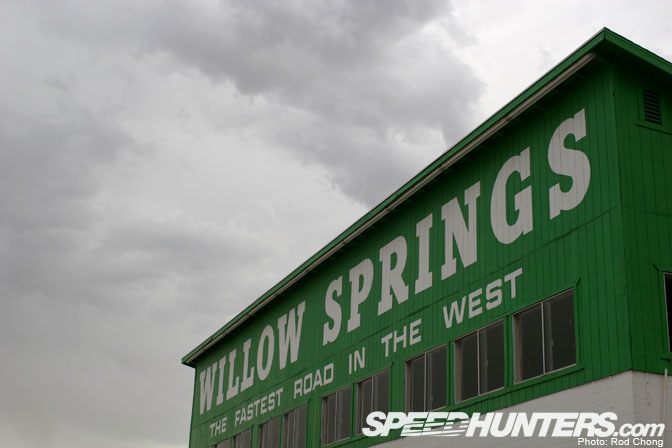 Erg…. feeling a bit foggy today… I just had a pretty intense three days out in the desert shooting the final round of the NFS Drivers Films project with Chris Rado… it was also a great chance for me to see both Red Line Time Attack and Just Drift events up close and personal.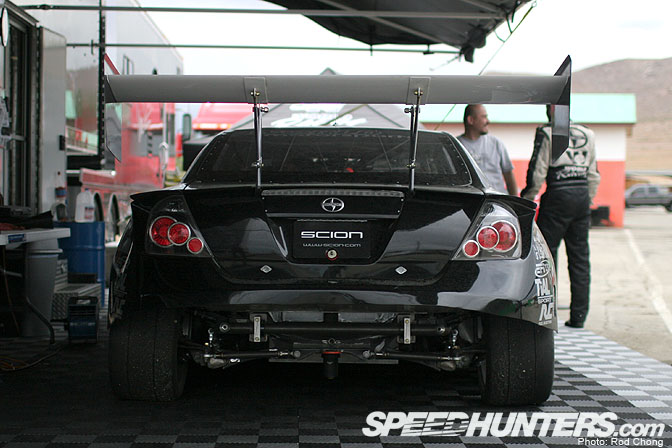 Upon arriving at the track on Friday, the first item of business was to meet up with Chris, to check out our muse for the weekend: his updated Scion tC Time Attack monster.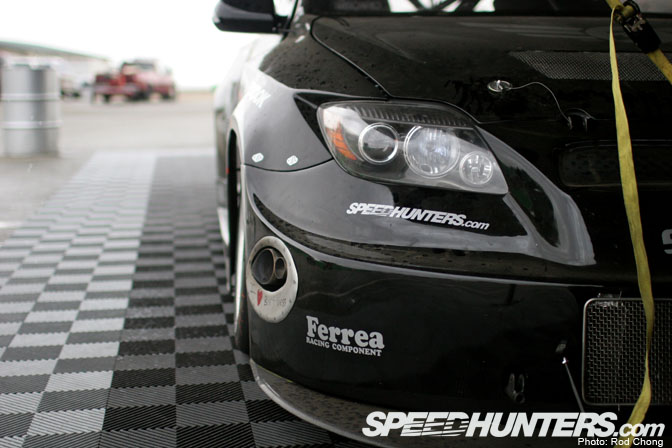 You'll recall that we featured the in-progress build of this wild front drive car in April, so I was eager to see how the completed machine turned out. BTW tx for repping Speedhunters Chris!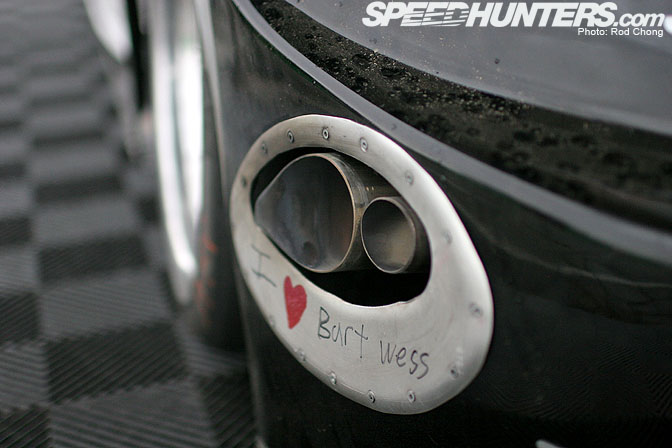 I'm sure there is a story here hahaha….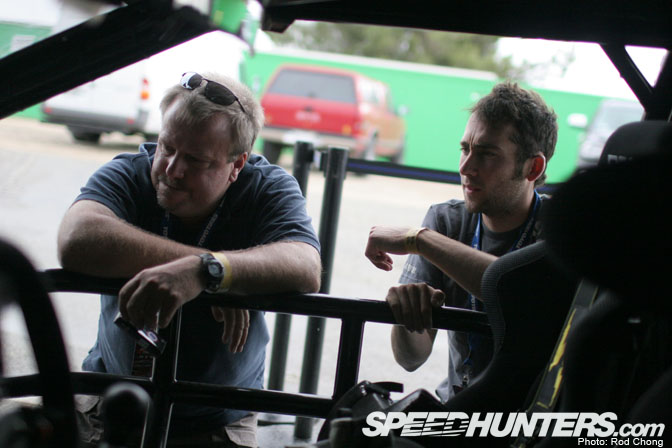 Tom from Spitfire Films and Will Roegge immediately got down to business prepping the car for our in-car cameras… Here they are eyeballing the rollcage of Rado's tC, looking for mount points…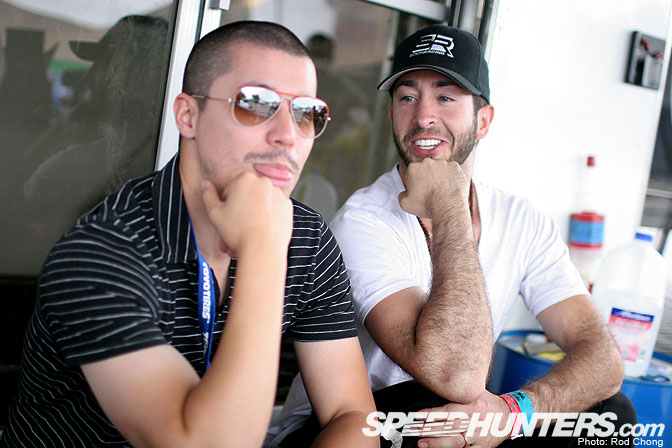 I'm sure that Rado is eyeballing my hairless Asian forearms hahaha…. Now if only I could grow facial hair like him… all would be good.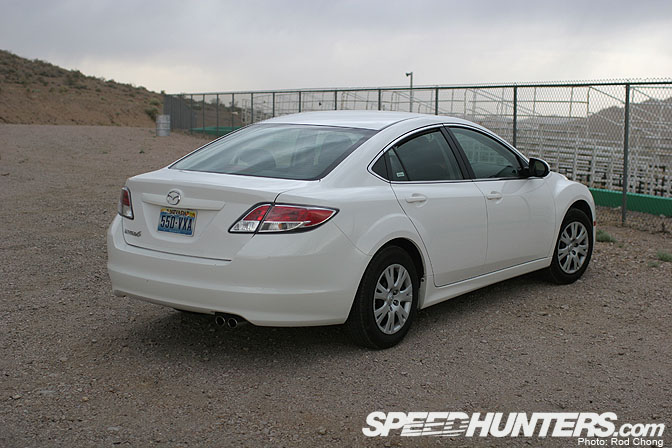 After exchanging pleasantries with the World Racing crew, we thought it would be a good idea to take our rental Mazda 6 around the track to scout camera locations….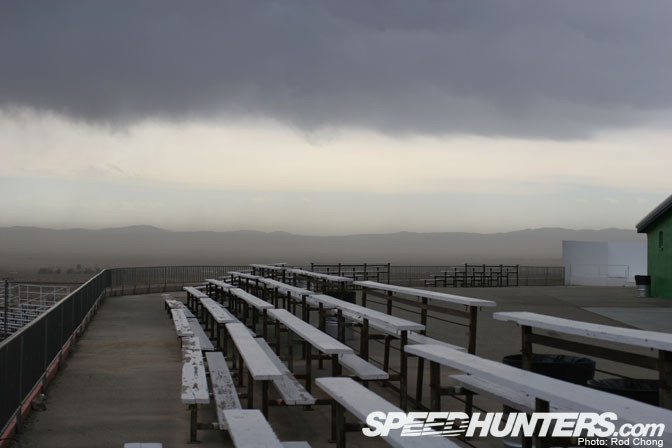 The sky around the track was quite dramatic and cast a stormy feeling onto the already empty and somewhat desolate desert locale….. Rain clouds loamed above us….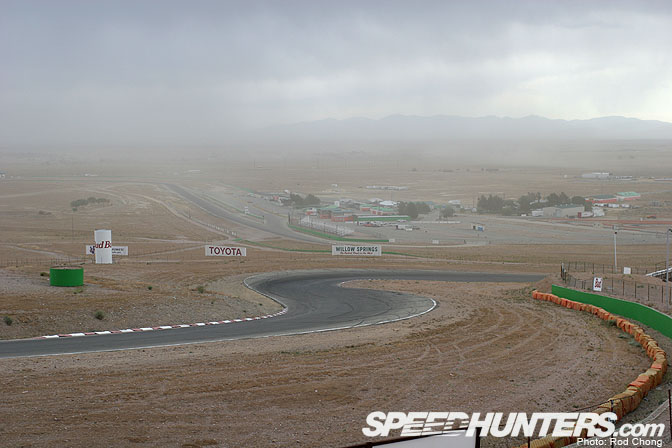 For those of you who have never visited California before, this is what Willow Springs looks like… it's basically a ribbon of tarmac threading its way up the side of a barren desert hillside. It's quite dramatic, especially if these types of stark landscapes are foreign to your normal day to day viewpoint.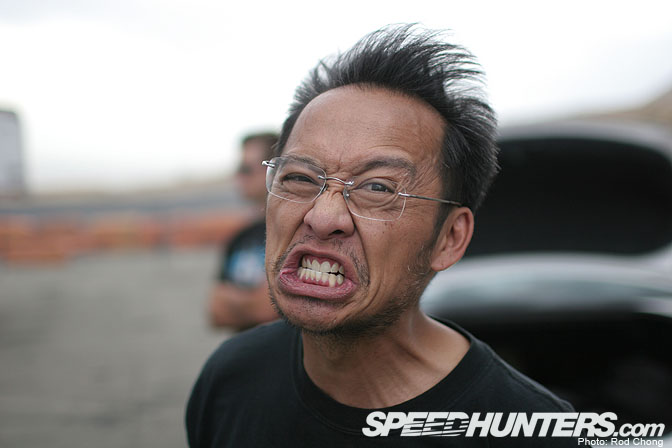 On the Balcony Track area, we ran into a familiar face… the mad scientist Ron Bergenholtz.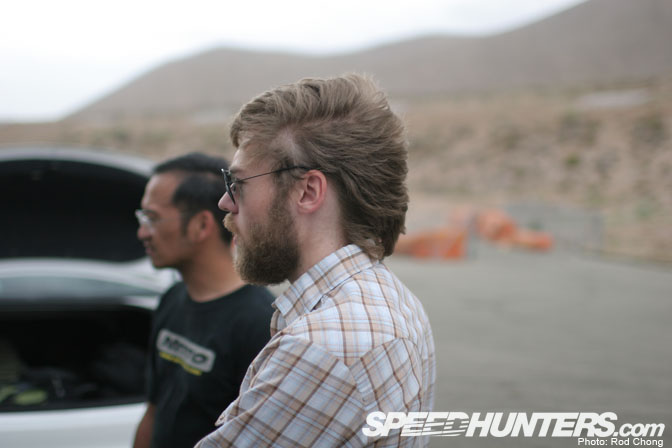 He was with some of the Super Street crew getting ready for a photo shoot. This is Sean Klingelhoefer staring at…..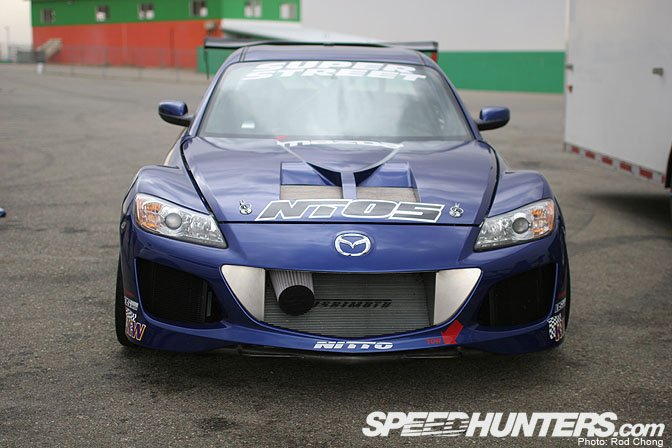 … the completed Bergenholtz Racing RX8….Note the Super Street logo… no doubt it's placed there for the shoot.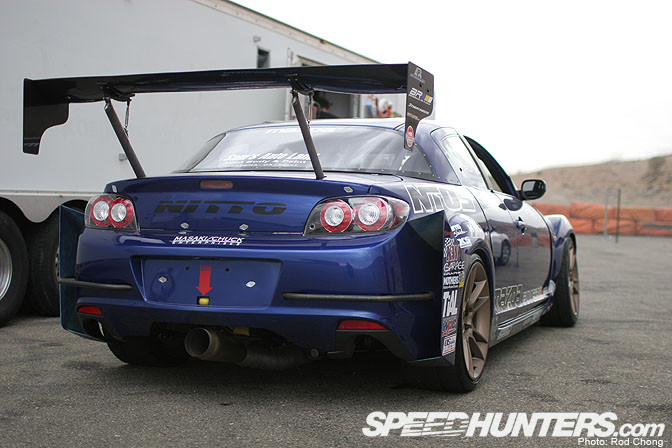 The RX8 is going to be making its competition debut next weekend in New Jersey…. I can't wait to see this car scrapping on the walls…. We'll see if the shock absorbing rear bars really work!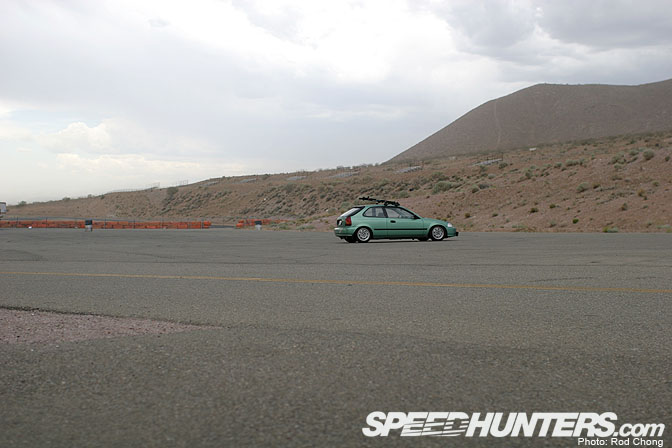 Ahh the loneliness of the desert…. If I'm not mistaken, this is Sean from Super Street's car…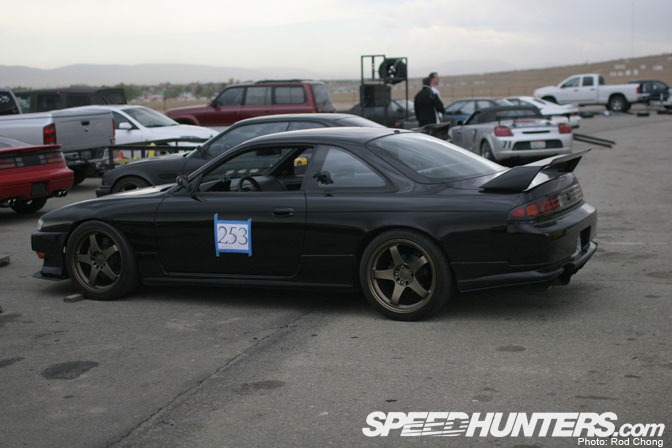 From our vantage point at the top of the Willow Springs Balcony we could see there was some track action happening at the Streets of Willow Springs track… so we tooled down the hill to have a look.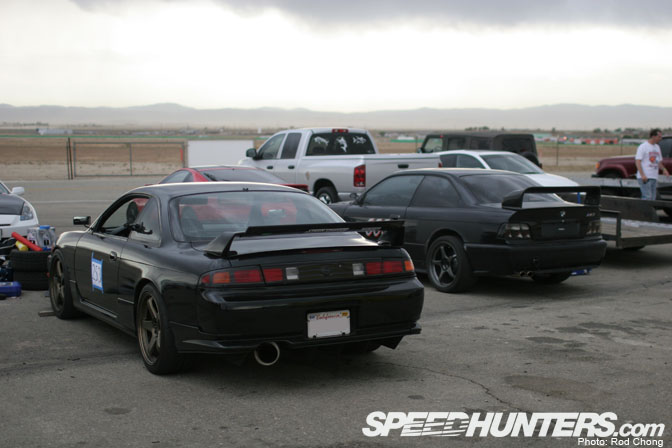 There were quite a few grip tuned street cars hammering around the course… even on a Friday afternoon…. It was refreshing to see this non-drift s14… Also check out how the rear fenders on the BMW have been cut out… perhaps some flares will be mounted soon…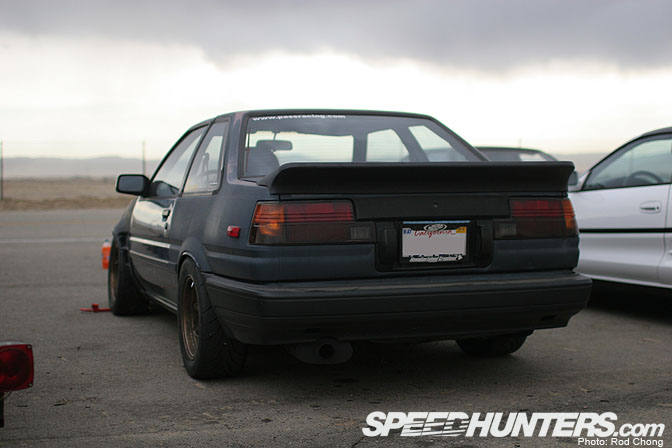 A few grip AE86s were parked up next to the circuit…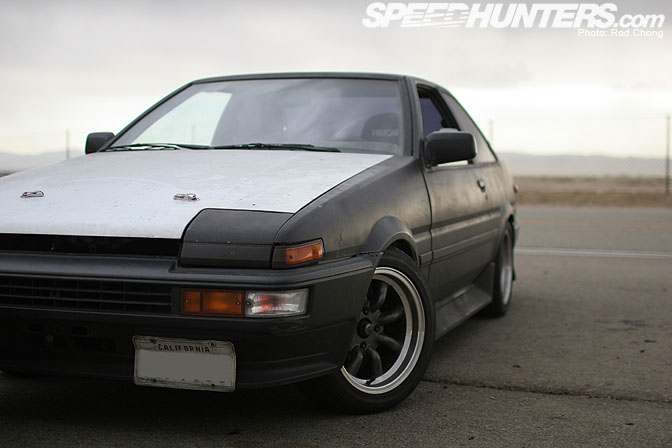 Nothing too crazy… but it's nice to see these cars being used for something other than drifting.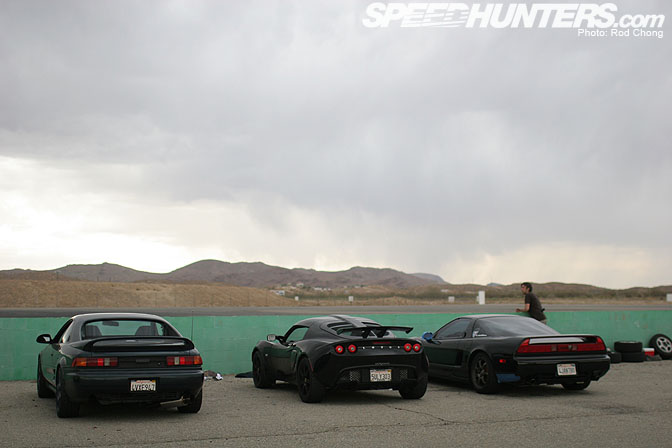 Three choices of mid engined cars. Which would you take?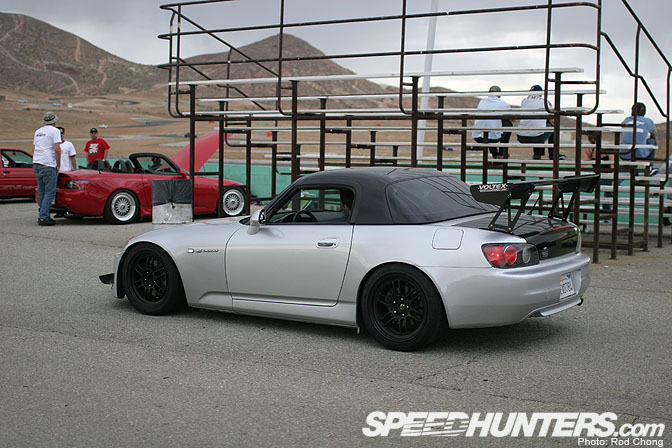 Track day S2000s are a time a dozen these days… none the less it's always a pleasure to see nice examples in the flesh.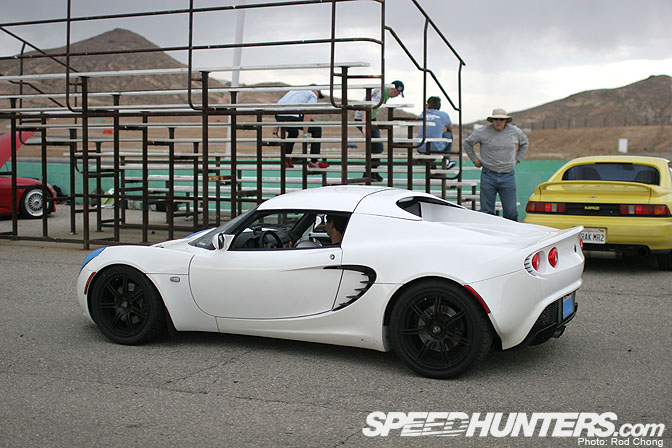 White paint with black wheels… a perfect combination in my books.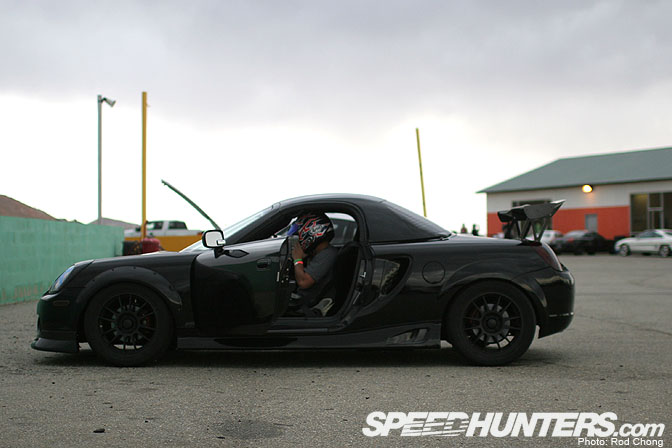 Black on black is also always a good choice too. I do believe that Lindbergh shot this MR-S a while back… Looks great.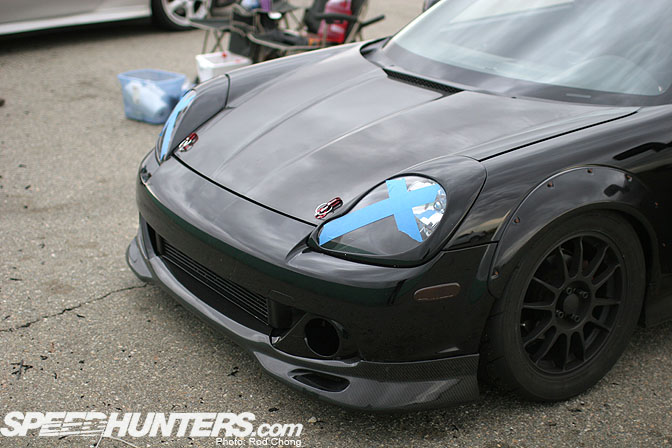 Very clean…. even right after coming off the dusty Streets of Willow Springs.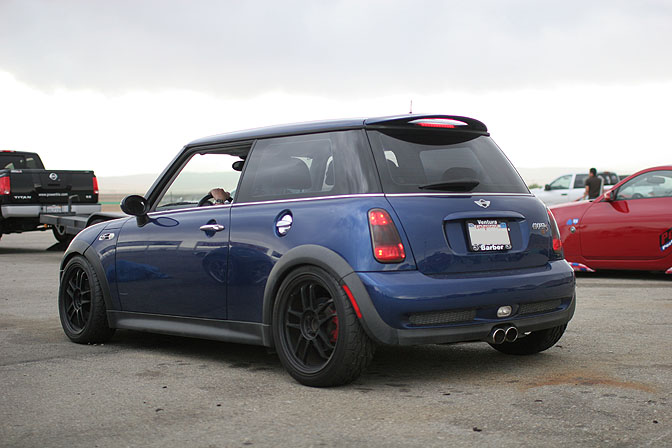 Cool Mini… nothing too crazy, but this is a real car being used for hot lapping. I personally enjoy seeing and showcasing these types of machine.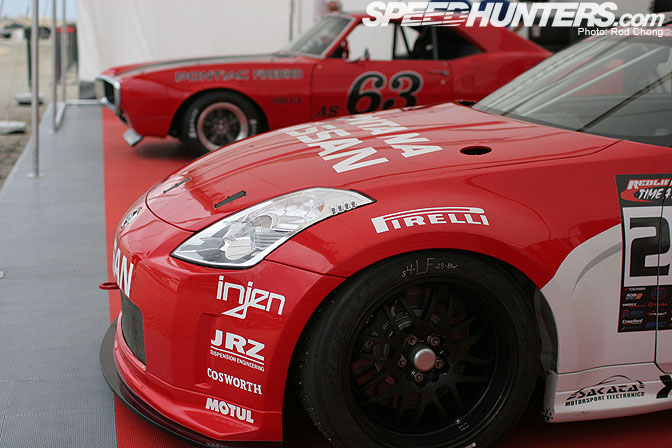 So heading back over to the main paddock area… I had a look at the Fontana Nissan setup. Their 350Z is pretty nice… but my eye was immediately drawn to the Firebird in the background…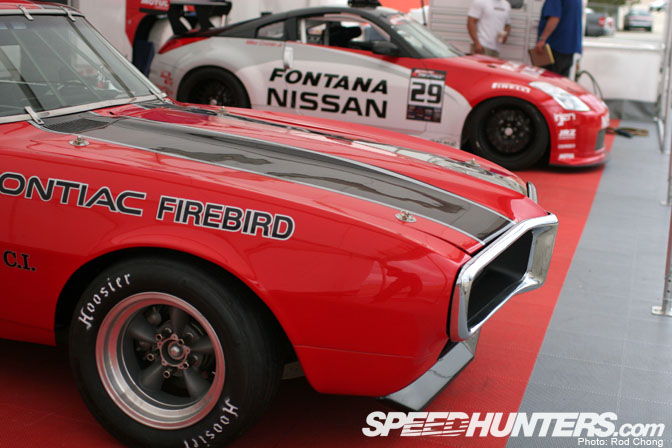 Which would you choose?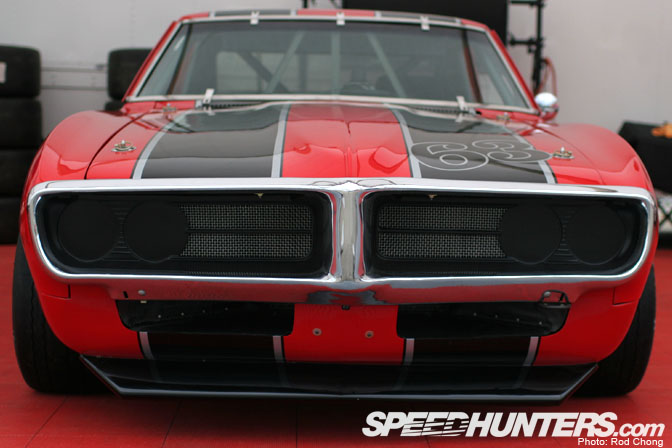 To me, this was one of the coolest cars at the event… even though it was only present for a bit of fun during the Saturday practice sessions. I just love the look of OG Trans Am racers!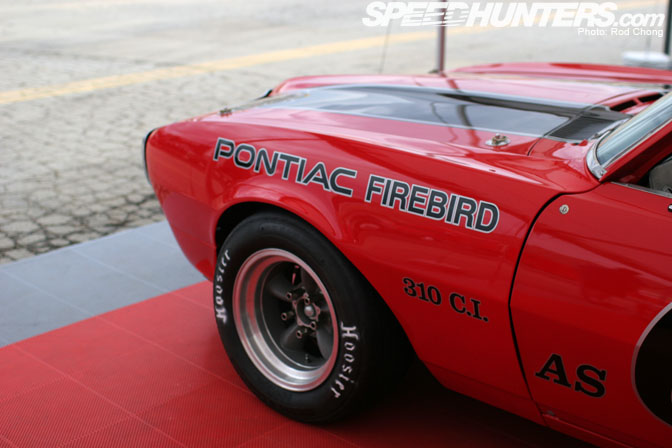 A Firebird is so much more less obvious than a Camaro don't you think?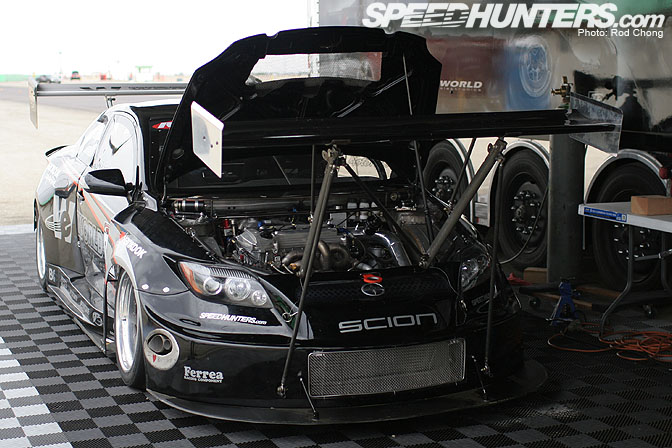 By the time I got back to Chris' pit area they had mounted up the "Fwing"…. madness!!! it looks just plain crazy…. Also note just how LOW the car is now sitting.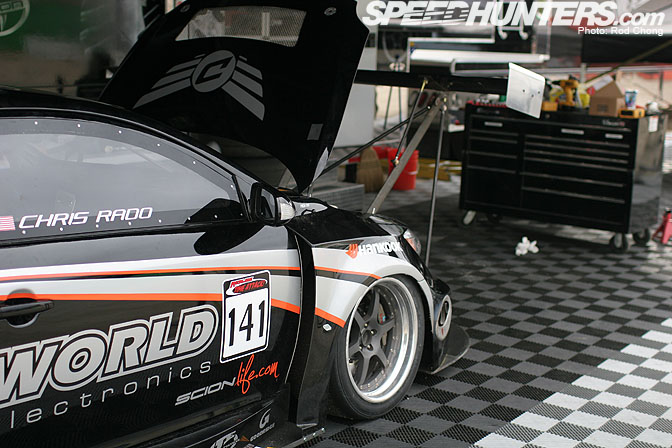 Reminds me a bit of the tall front wings which were used in F1 during the 1968 season before they got banned…… Chris was pretty enthusiastic after trying the fwing out…. it developed a huge amount of grip for the front drive car and helps him put down all the power (the engine is capable of 1000 bhp!)… he was pretty confident he was going to be breaking some records over the course of the weekend.
Next up… day two of my California Desert adventures at Red Line Time Attack.
Talk soon….
:Rod
Red Line Time Attack/Just Drift Willow Springs coverage on Speedhunters