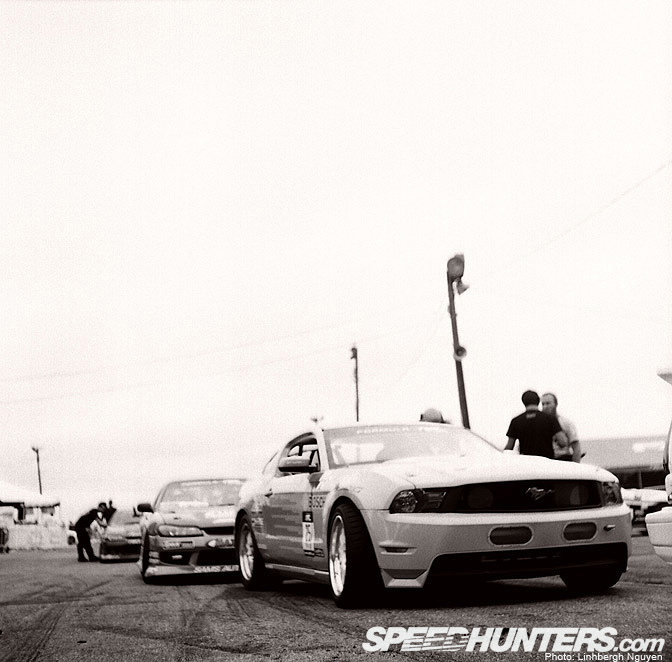 Even though this photo was taken just this past weekend, it has that
nostalgic feeling of from a by gone era. That feel of those old drag
strip photos from the 1950s and 60s. That was an age when health and
safety departments did not intervene into every single aspect of life.
Drivers walked away from their pony machines reeking of race fuel,
asbestos, cigarettes, and alcohol. It was a hard life, but hard a life
totally worth living. These days, motorsports are completely different, safety is the number one priority in every aspect of motorsport. The corporatized
world of modern racing has shed its image of manly unshaven men in
dirty, ripped up blue jeans, leather jackets, and a scrunched up pack
of cigarettes in their chest pockets. It has replace those things with
ultra clean cars, ultra clean racing suits, ultra clean racing trailers
and staff facilities. It's no longer rock star world, but a world of
glamour and prestige.
So here are some photos shot from two
different film cameras to try to bring back some of those nostalgic
feelings to our modern world of clean, and organized motorsport.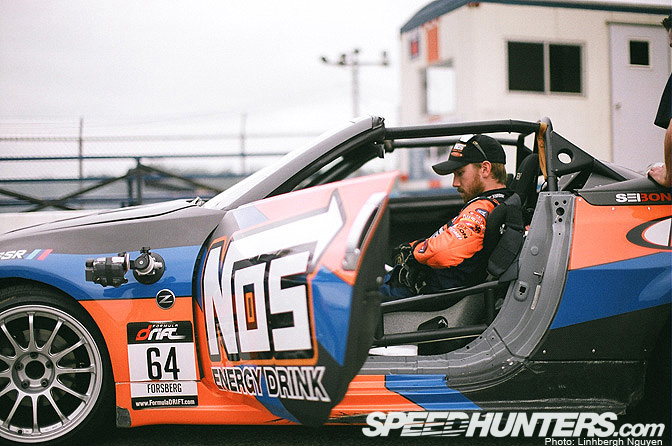 Chris Forsberg straps himself in. He may be unshaven, but he still definitely looks clean (and as is the car)!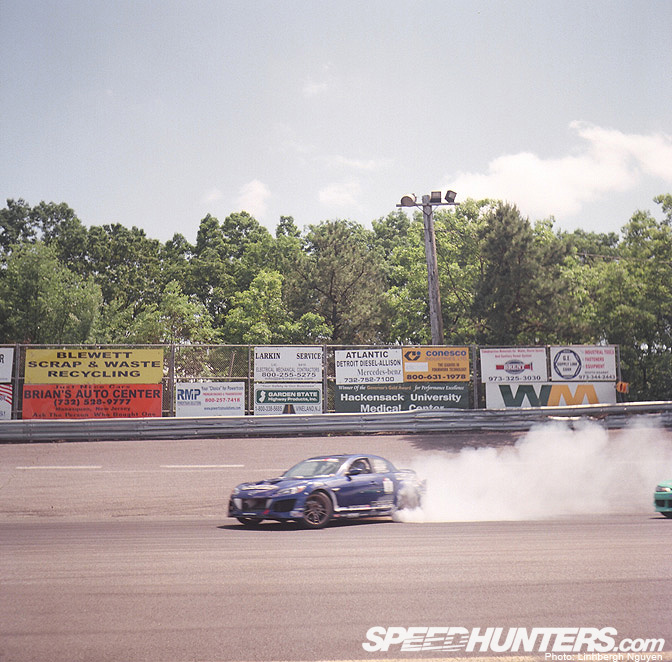 Justin Pawlak in his new Bergenholtz RX-8 with Calvin Wan not too far behind.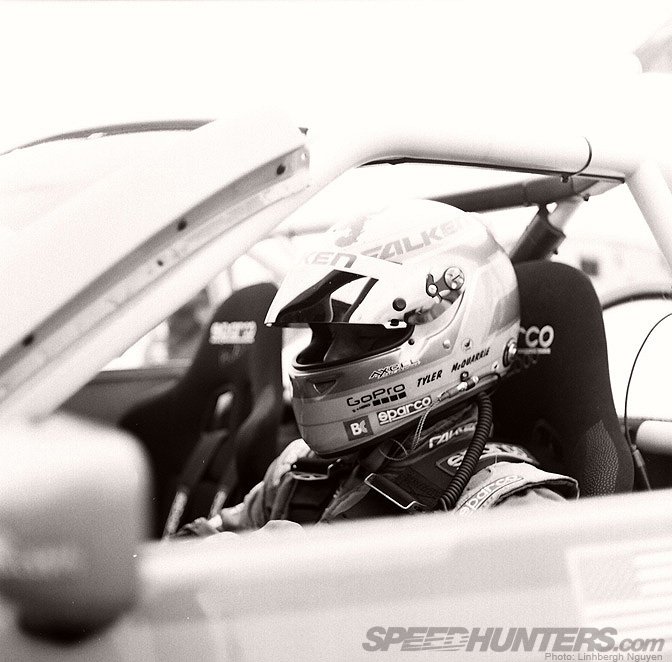 Tyler McQuarrie
in his moment of silence and concentration before the top 16. I
absolutely love the feeling of this photo. It has such a deep story
even for such a simple photo for such a simple act in some one's life.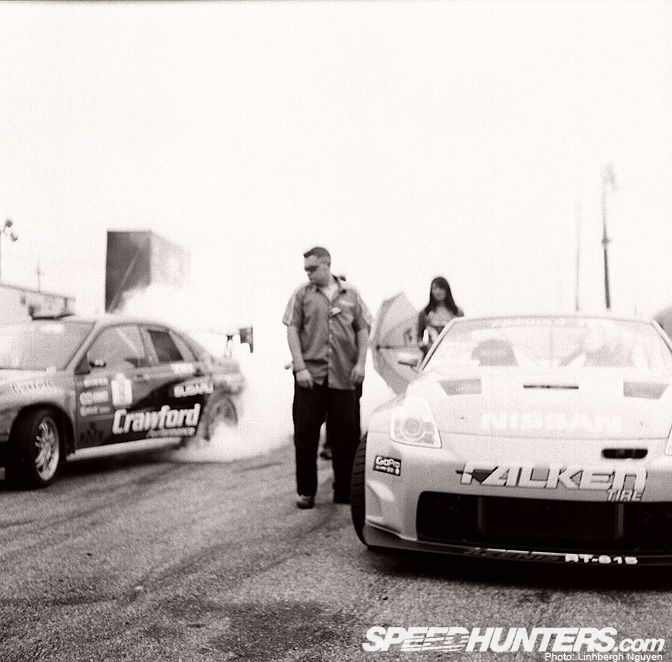 The best part of this photo is the Falken girl, MJ Castillo, using her umbrella to shield herself from Stephan Verdier's tire shards that are flying back at her.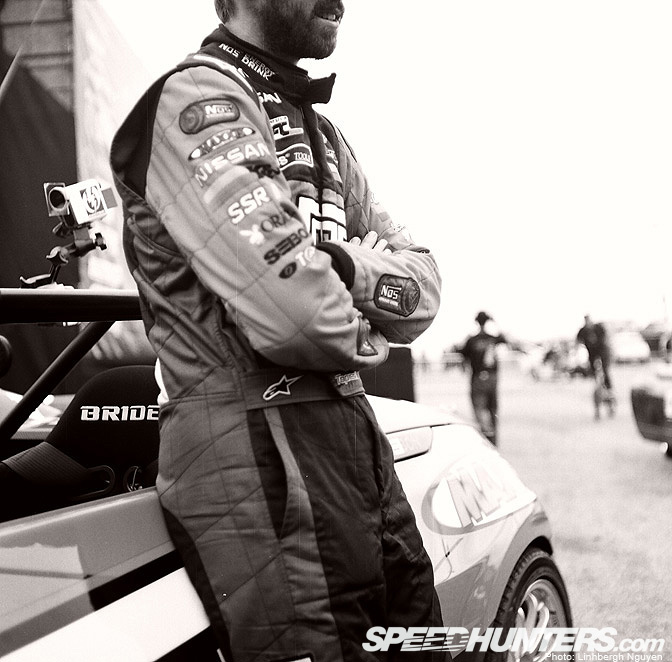 I am somehow drawn upon these shots of quiet reflection. Chris Forsberg had just a second of quiet time before he got raided with a camera crew for interviews!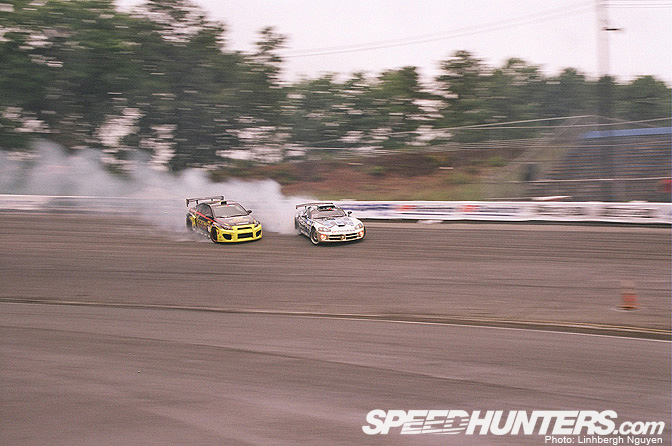 Two monster drift cars dancing in tandem with each other. Whenever I
see a panning shot of two drift cars in perfect focus, like this one, I
notice there's a bit of gracefulness in the sport. It really is a
beautiful thing.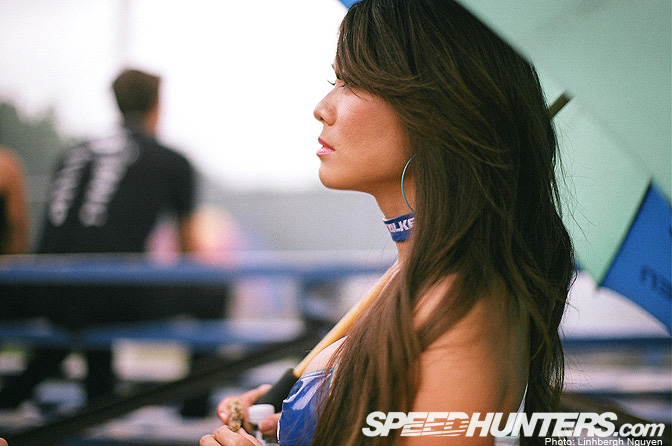 A quiet moment of reflection for Eri Moriyama. Really, what goes on in these girls' heads at these events?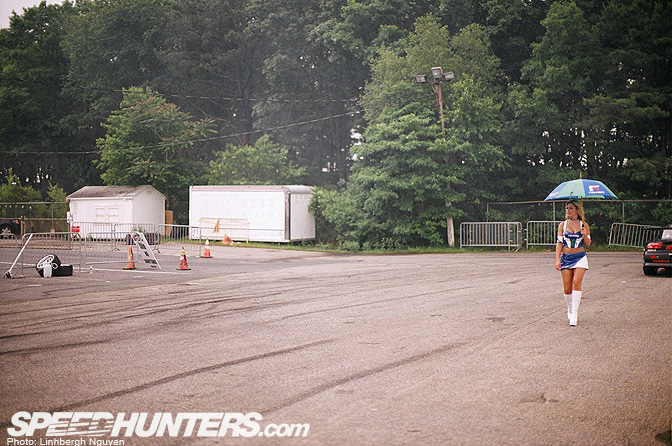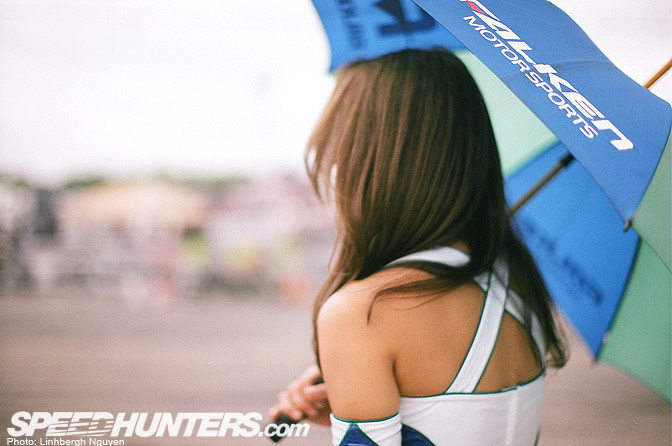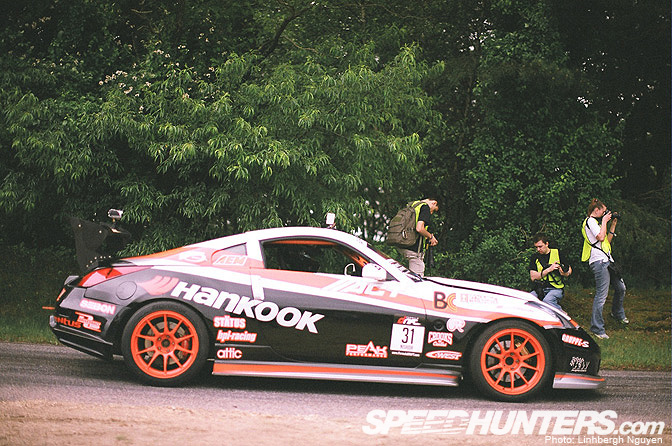 Next to the Falken livery, the Hankook livery has to be one of the best and most iconic in the professional rice world.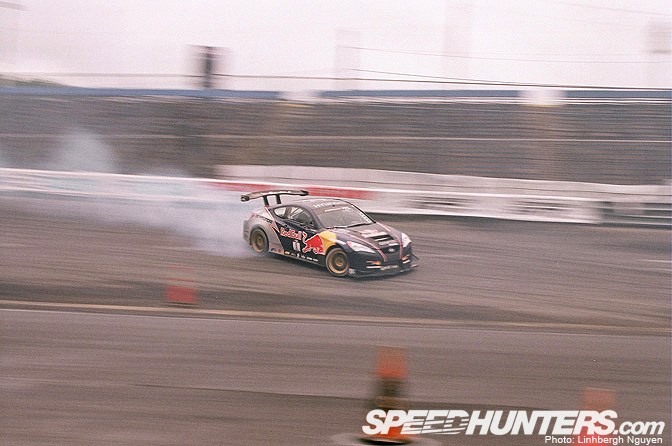 When Rhys Millen
first introduced his 2009 drift car, I was one of the many that totally
disliked this car. But as I attended FD events throughout the start of
the season, I've come to the conclusion that this car is really one of
the best looking on the grid. It's not a hot and sexy ricetastic slam-mobile like Matt Powers' S14, but it does hold its own, quite purposeful, magic and appeal.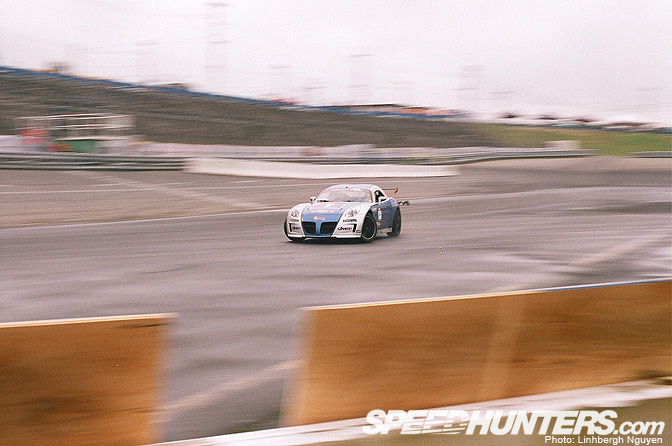 There's something quite intangible about this pan of Ryan Tuerck's Solitice. What voodoo is in the film grain that makes it so magical?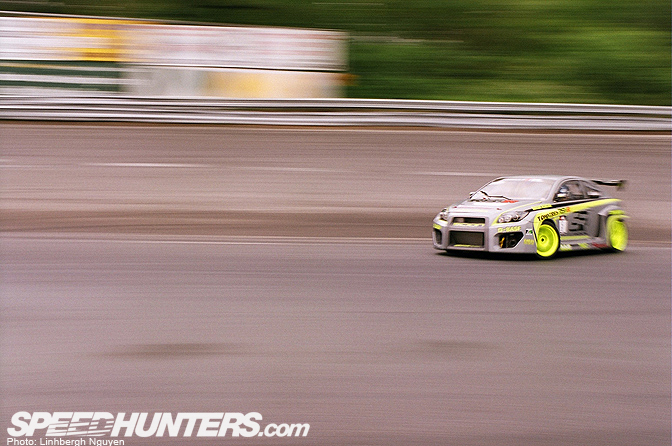 This slow pan of Ken Gushi makes it seem that all of time is frozen.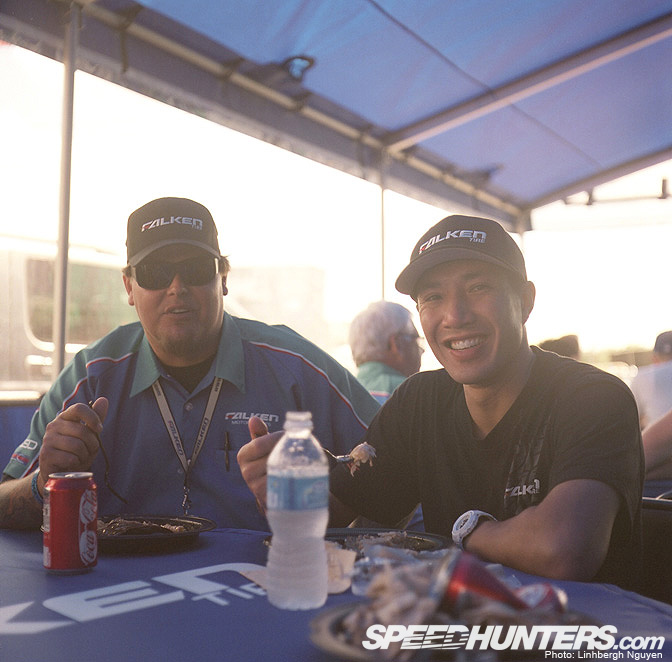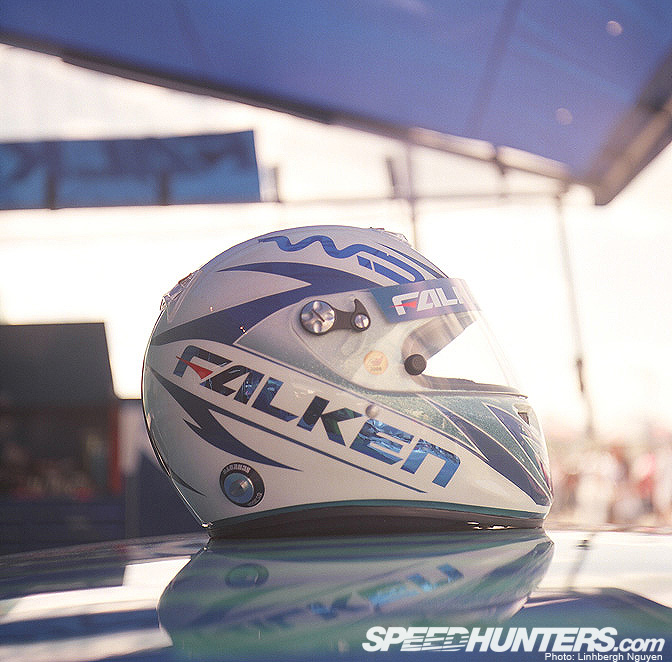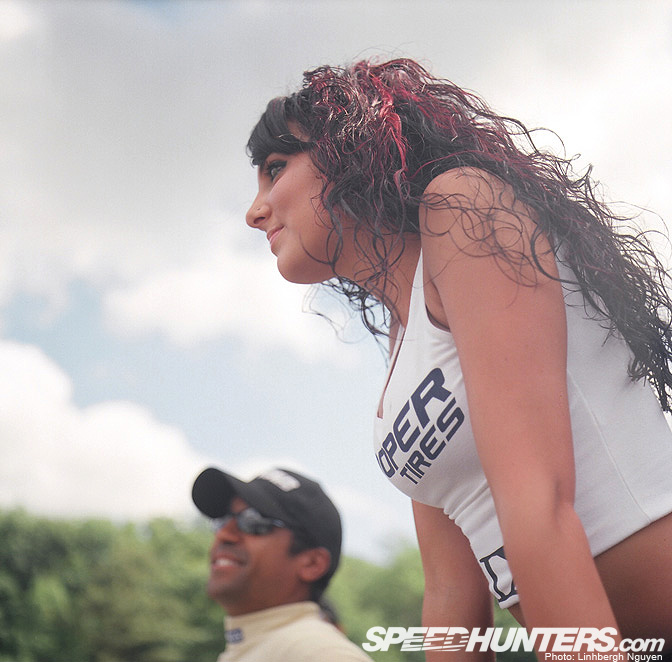 One of the Cooper Tires girls taking a break on the podium stage while
hanging out with driver of the Cooper Tires Mustang, Tony Brakohiapa.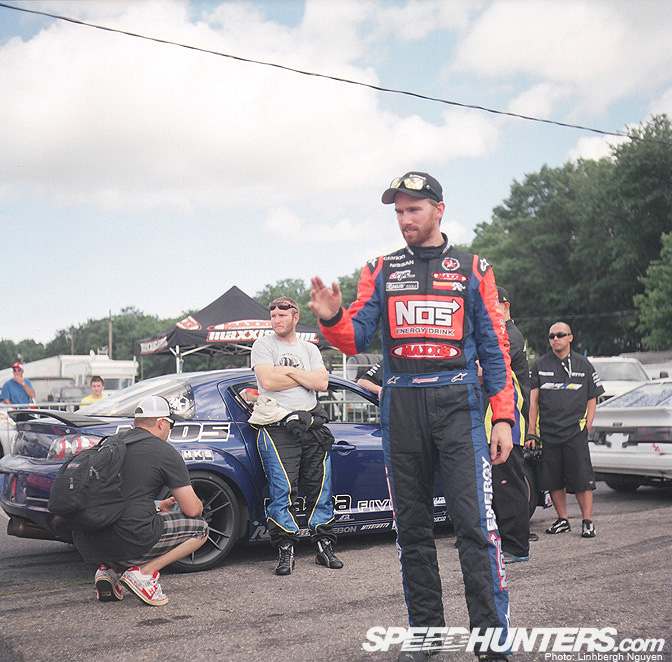 "I am Chris Forsberg, peace be with you."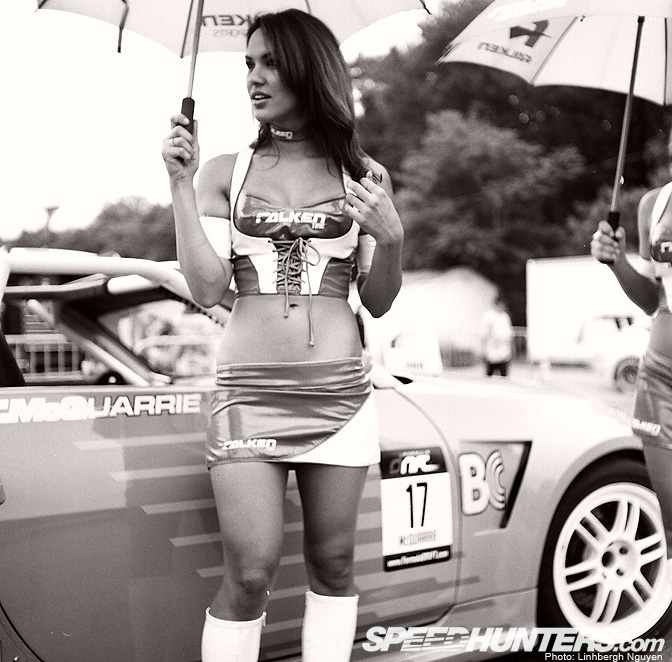 Falken Girl CJ Gibson hanging out in the pits while dodging tire shrapnel the best she could.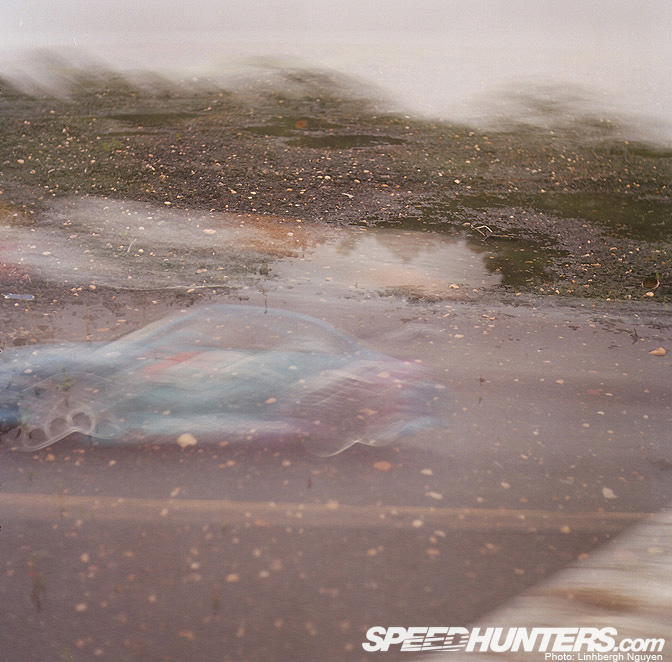 No this is not a messed up shot. It is a double exposure! One shot of the ground, another of Casper Canul's
S13 flying by. I was absolutely ecstatic when I saw the developed print
of this shot. It has such a painterly, and almost impressionistic,
quality to it.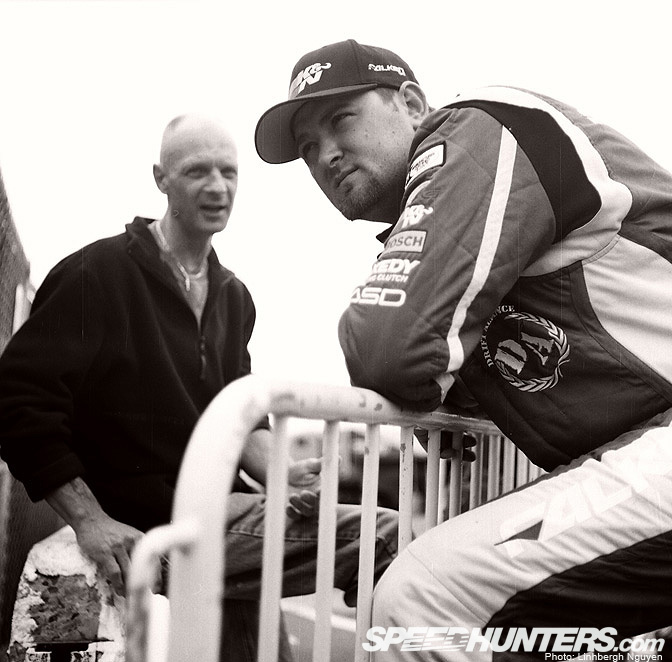 Vaughn Gittin' Jr. watching how the other drivers fair in qualifying.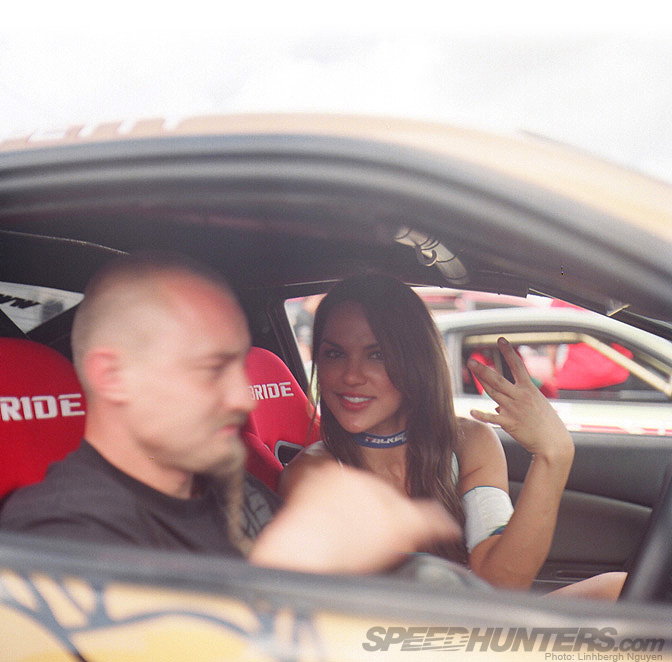 Here is CJ again but in Ross Petti's Boso
Garage S15 while waiting for the top 16 introductions to start. She
must be a Vulcan of some sort doing such strange hand signals.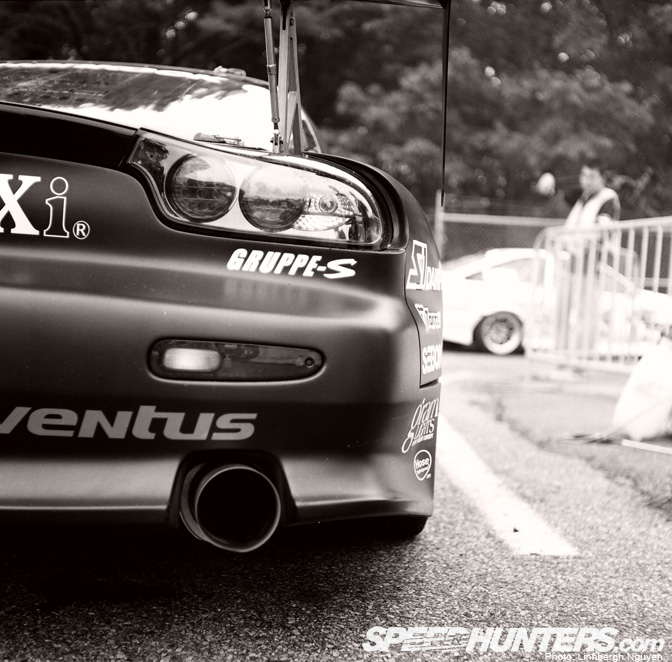 Ruji Miki's RX-7 on the grid.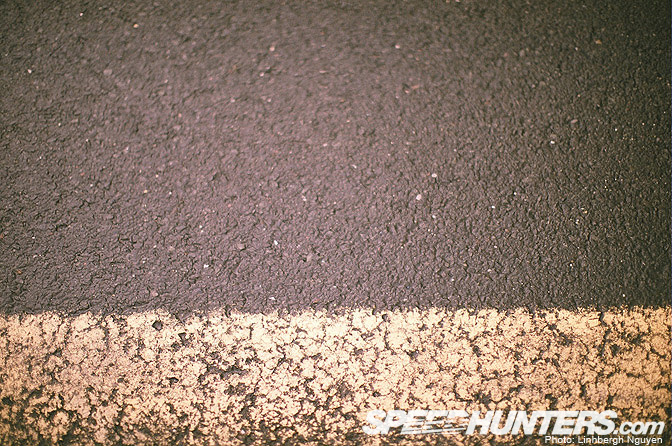 I close this piece with a shot of concrete road. This is the reason why
we've fallen in love with drifting and can not get enough of it; be it
pro events, grassroots events, or even street drifting. Everyone knows
that drifting was born in the mountain roads of Japan. But those very
concrete roads have influenced everything we hold dear to this sport.
What everything boils down to is how the cars and the drivers react to
the road. Tire compounds, tire temperature, tire pressures, suspension
settings, and chassis stiffening, are all things to help cope with this
very piece of concrete. It's amazing to think we, as spectators, rarely
ever think about the importance of the surface that the very cars we
drool over and burn tires on. We barely even give it a second though,
but the very fiber out our being as gear-heads revolve around this
notion of pavement. It is something to definitely think about it.

Photo nerd stuff: These shots were shot with my 35mm Canon EOS A2, and also my newly acquired Rolleicord Twin Reflex Lens camera. I used Fuji Color 100 for the 35mm. As for the Rolleicord, I sued two rolls of Kodak Porta 160, as well as a roll of Kodak Pro T-Max 400 black and white. Walking around the event with a TLR
camera garnered a LOT of looks and compliments from both the event
spectators, to the event staff, to the media guys in the pits. If any
of you media guys are reading this, next time, dust off those old film
cameras and bring them out to these events! Certain things cannot be
forgotten. The magic that film cameras produce is one of them.
-Linhbergh Nguyen