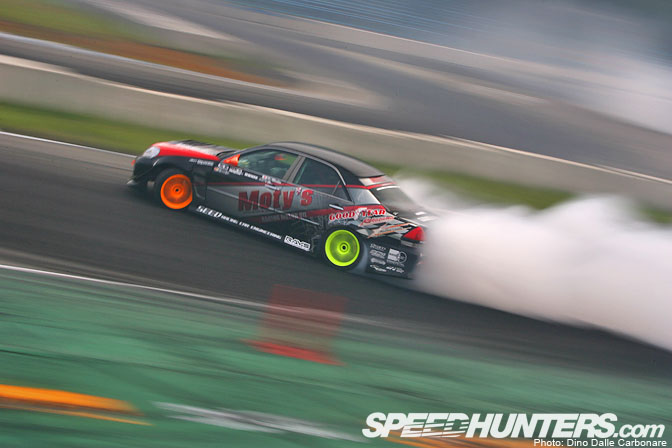 The Street Legal action over in Ebisu kicked off very early on Saturday morning, which meant I needed to get on the road by a frankly absurd 4 am to make my way up to Fukushima in time. What I like about covering both days of a D1 event is that you get to see a far broader selection of cars, not just the seeded and top qualifiers.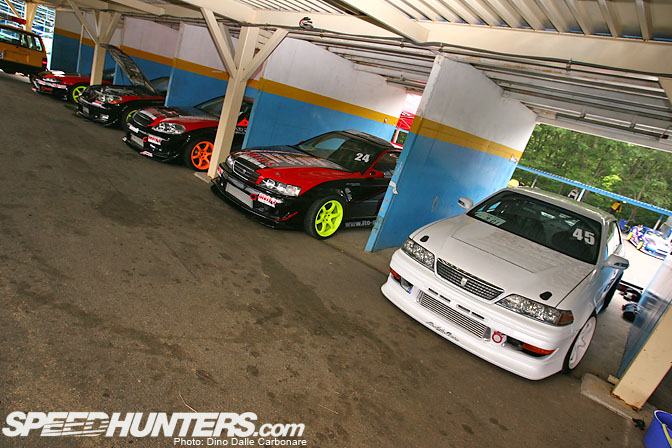 Kazama Auto with Moty's had the biggest team at Round 2, with a total of five cars, the white JZX100 being the only one not to have the black/red Moty's Oil livery.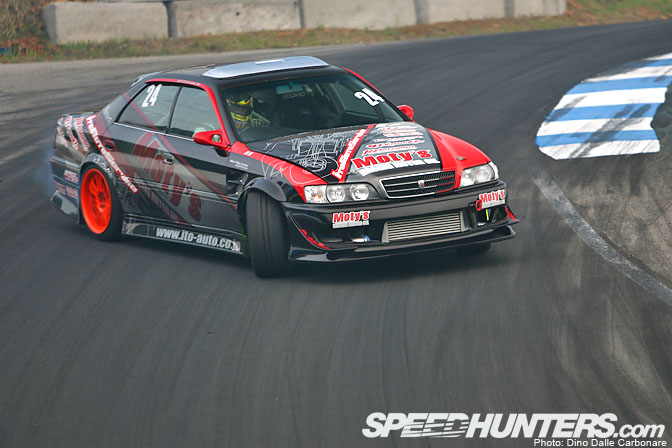 We already saw this Kazama/Moty's JZX100 at the Nikko Queen Contest. Ito-san was driving very well throughout the week-end, just look at that angle as he comes down into the main "straight."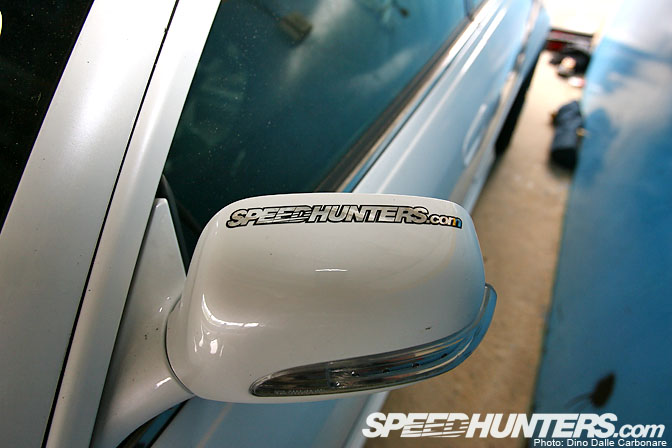 Speedhunters is quickly getting known in Japan, so I made sure to keep our friends supplied with the cool chrome dev.speedhunters.com stickers!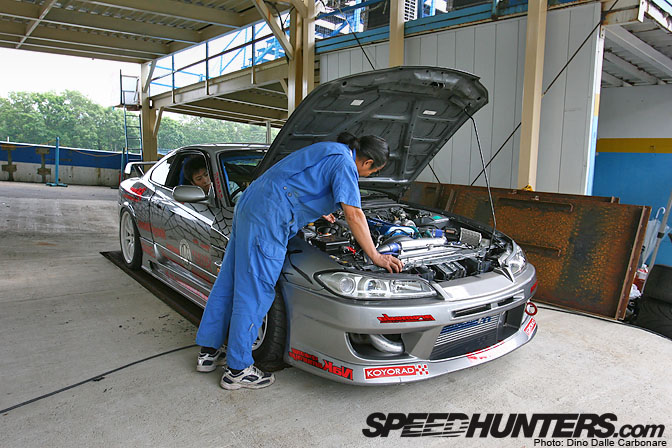 Street Legal requires cars to be road registered and pass a normal "shaken" test. Each car had to be driven into the test area where the guys from Stardust Factory made sure all the requirements were met. Here is Nakamura getting his S15 inspected.
The speed cars fly past the pit wall and towards the main judged corner never cease to amaze me.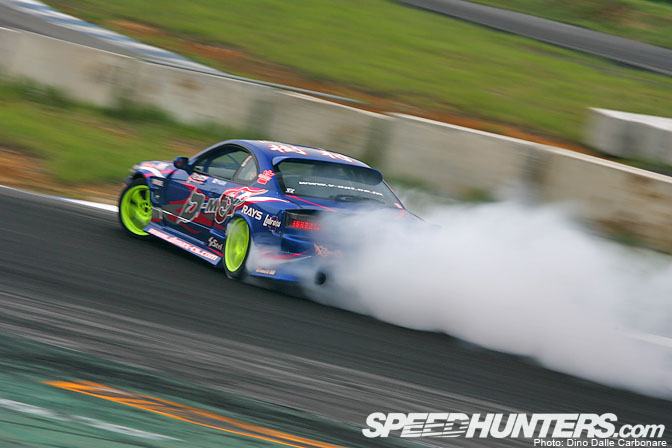 Nakamura was just not holding back even through the Saturday morning qualifying. It was third-gear smokers all the way!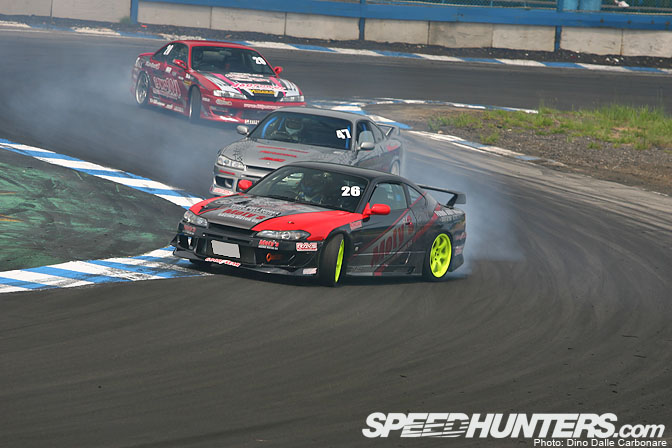 Nice triplet of Silvias led by Fujino-san, another car wearing the Speedhunters sticker on the side mirrors!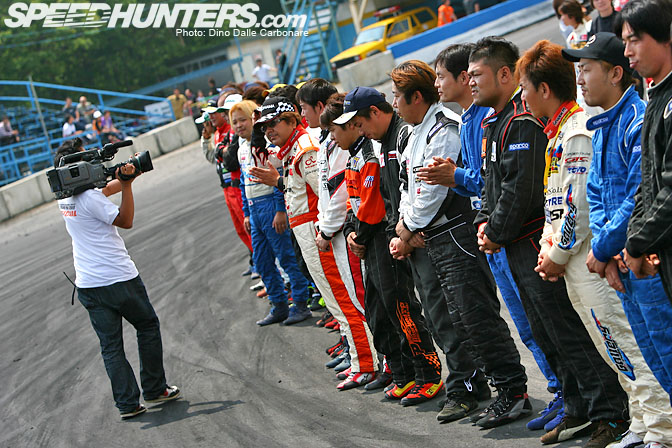 The selection of drivers that would make it through to the main Sunday competition was called out by the judges. You can see Okamura from Yashio Factory in the middle there, one of a few D1-GP drivers still competing in the Street Legal class.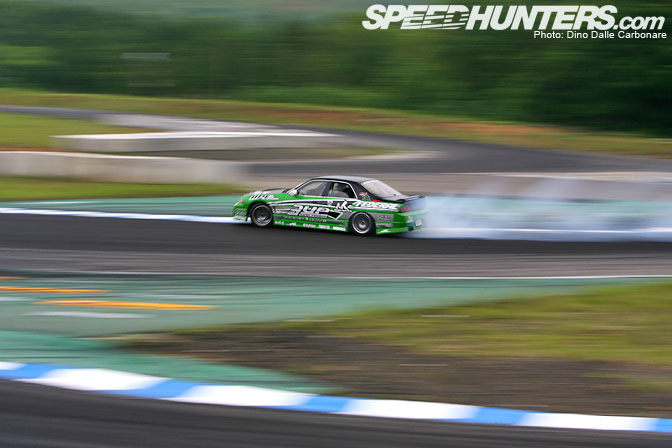 This was the first time I got to see Mikami Masami's ECR33 sporting the Federal livery, a very nice looking car, and not just because it's a Skyline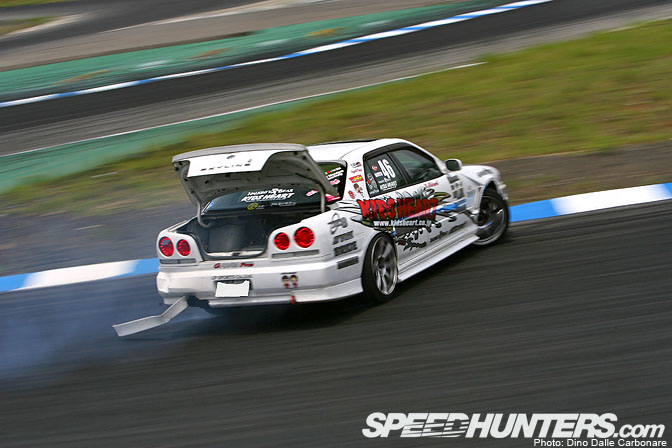 Rie Shinmi in the Kids Heart 4-door ER34 had a spot of back luck. She ended up having to go out right after a little bit of rain and ended up going into the barriers rear-end first. She kept going but the drying conditions were tough to deal with, so failed to make it through to the next stage. Better luck next time!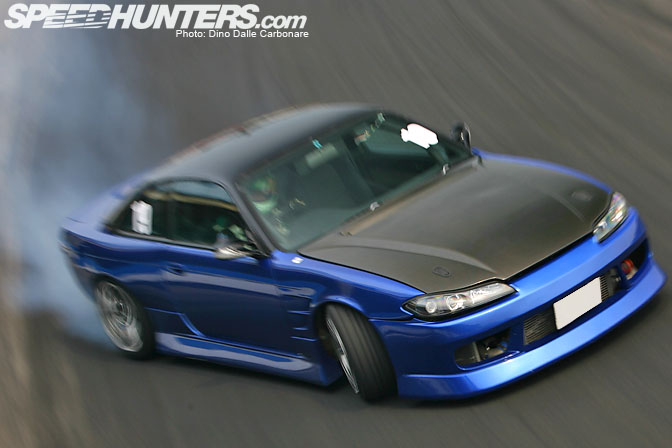 It's difficult not like Daisuke Tanaka's S14, or should I say S14.5? Nice subtle Vertex wide-body courtesy of T&E.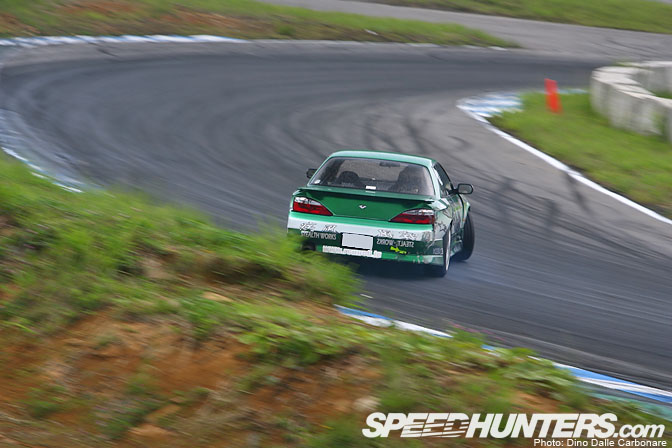 Here is another "modernized" Silvia, this time the S13 of Miyuki Kitsume. The car is sporting an S15 front end and S15 rear lights, not to sure what to call it, an S13.75 maybe? Hehe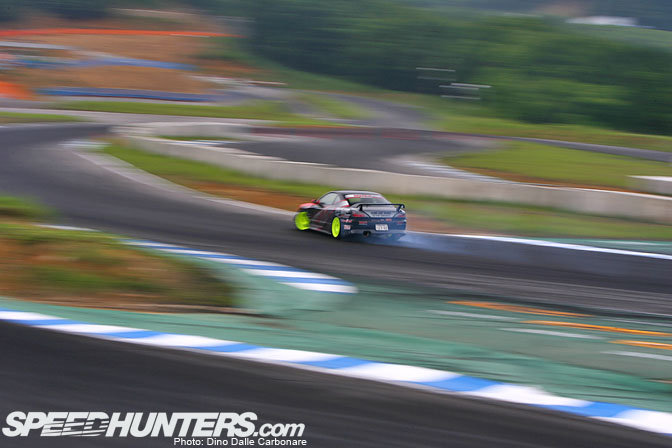 You can really see how Ebisu Minami snakes around on itself with this wide pan of the Kazama/Moty's Silvia.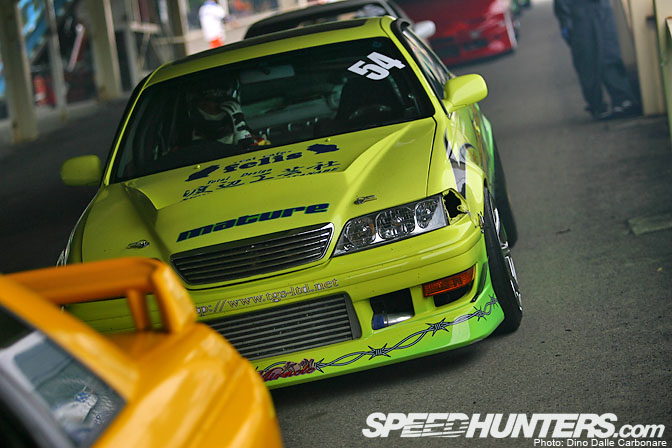 There was a total of five groups on Saturday, meaning cars began to line up in the pits as the previous session was far from finished. Don't you just love the look of Sudou-san's green JZX100?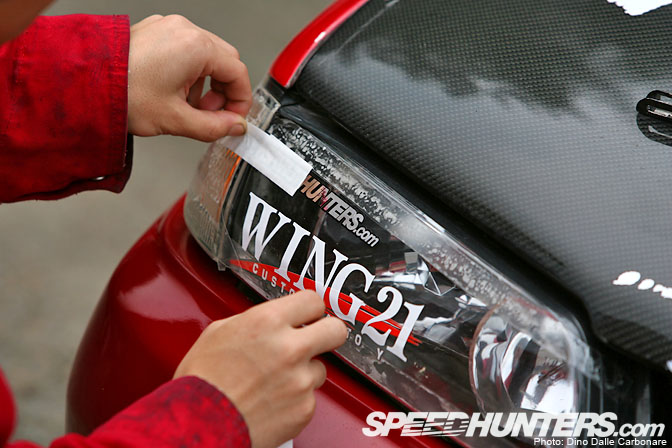 Nice position for this dev.speedhunters.com sticker, right?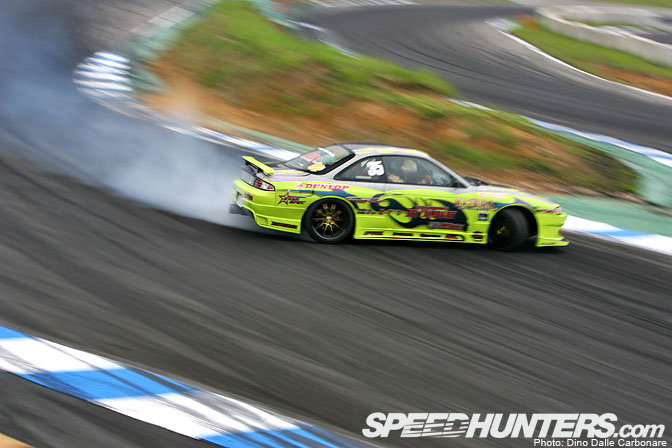 Kawakami's Maziora colored S14 came into the judged corner with a bad line on this run, ending up spinning right in front of the judges.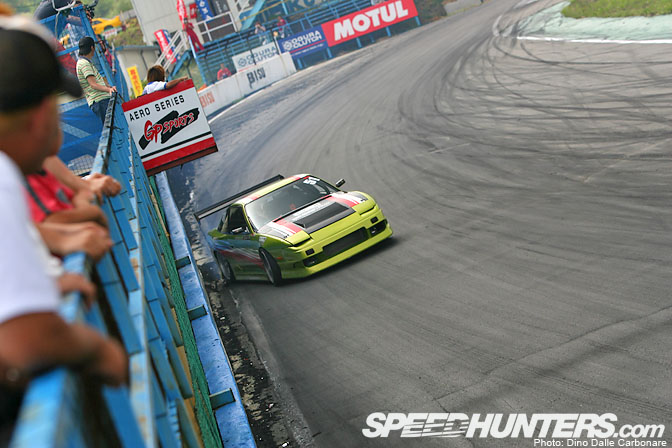 Most of the people in the stands were eagerly awaiting cars to brush the wall at Minami, some came very close on Saturday, others a bit too close!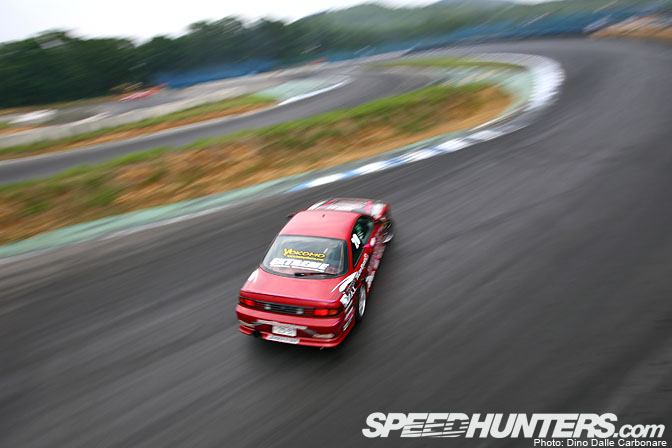 This gives a good perspective of what the drivers are looking at when heading towards the judges. Most of them give the side-break a pull roundabout here.
I have seen Matsui come a long way in his drift career. He is actually a mechanic at Il Salotto in Tokyo, a Porsche and BMW tuning garage, but when he is not working on cars he drifts. A few years back he used to compete in D1-GP with the Il Salotto Spit•ze SR20 powered BMW 3-series, as well as with his green S15 in the Street Legal series.  Now he has moved onto the Guild-N-One Supra sporting a Celica headlight conversion. I think we will need to take a closer look at this car soon!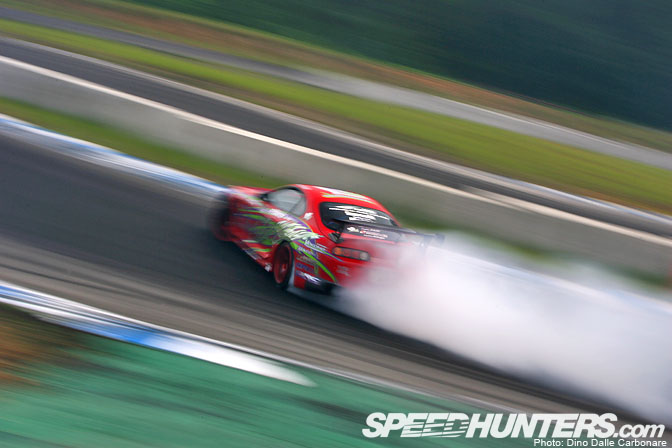 Thanks to a T88 turbine, 600PS and over 70 kgm of torque these kind of smoke trails are no problem for the Supra's 2JZ.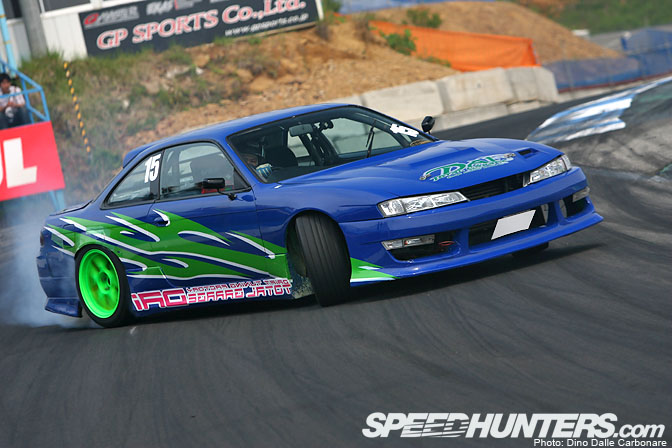 Don't miss the final part of the coverage from Ebisu as we take a look at the action from Sunday, not to mention a little surprise show that was held on Saturday night!
- Dino Dalle Carbonare