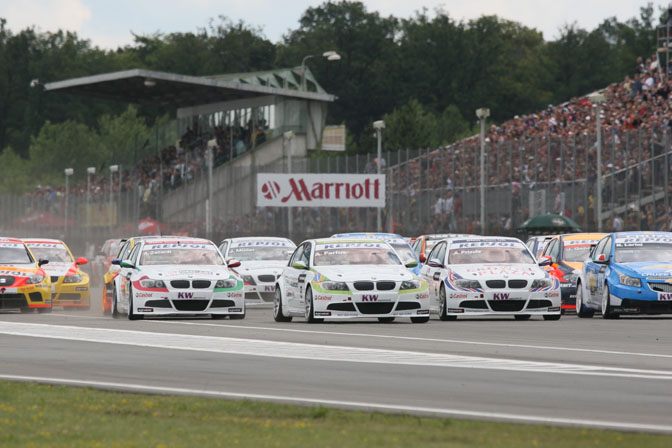 BMW continued their winning streak at the last round of the World Touring Car Championship in Brno last weekend.
Alessandro Zanardi won the first race of the weekend after starting from third on the grid. The ex IndyCar champion was helped to the win by one of the strangest maneuvers I've seen on a track in a long time.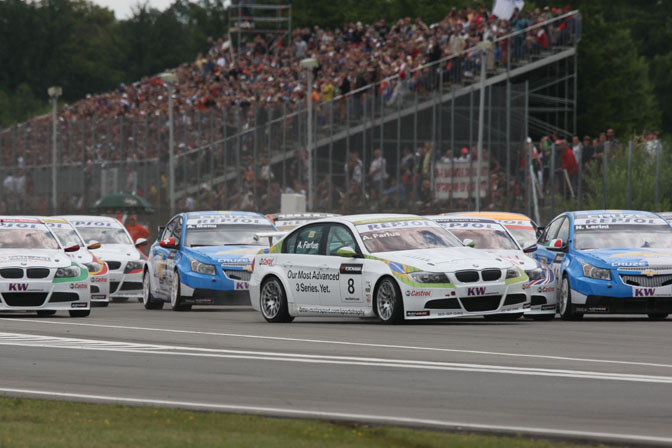 Augusto Farfus led from Pole, but as the leaders braked for the 1st corner, Farfus turned  across the track, wiping out the three works Chevrolets, along with BMW Team mate Andy Priaulx and SEAT's Jordi Gene.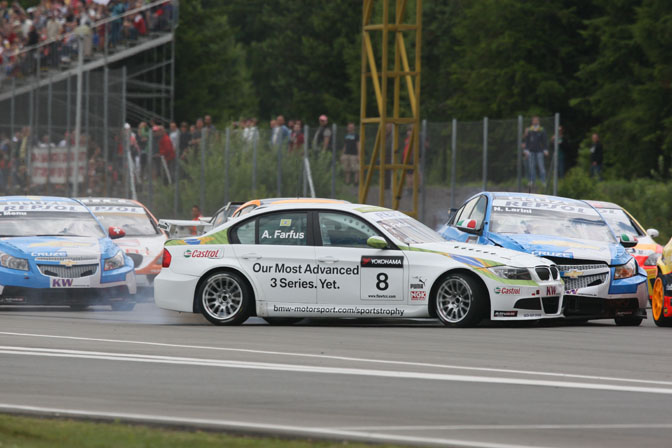 As you can imagine, Farfus was far from popular in the paddock, including within his own team.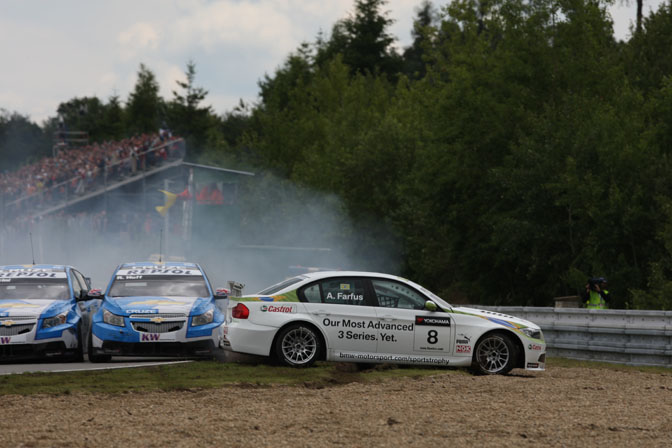 With the Safety car out, Gabriele Tarquini led from Zanardi and current champion, Yvan Muller.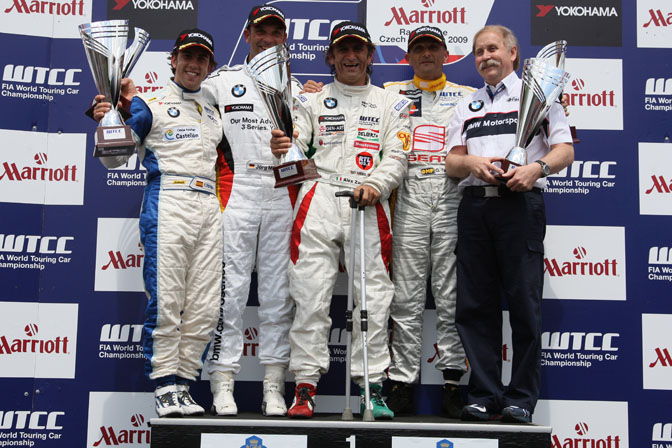 Once the Safety car returned to the pits Zanardi took the lead. Jörg Müller (BMW)  finishes 2nd after a fantastic drive up the leaderboard with Tarquini in 3rd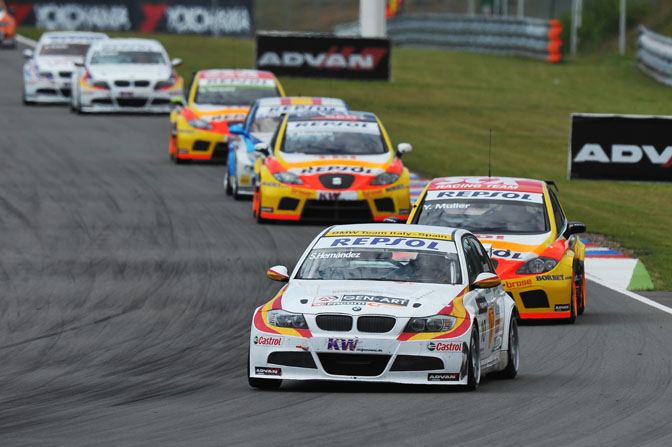 BMW works new-boy, Sergio Herandez won his first WTCC later in the afternoon. Hernandez joined the team at the beginning of the season after some good performances with the independent ProTeam entry last year.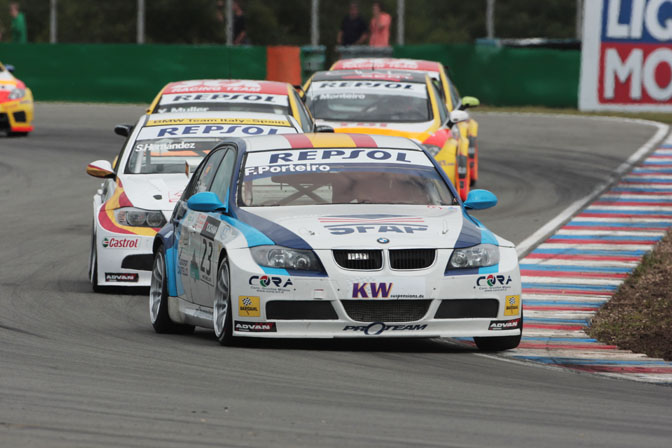 Hernandez and fellow Spaniard, Felix Porteiro fought for the lead early on, but Hernandez took command and continued to the flag.  Yvan Muller finished 2nd in his SEAT Leon from team mate Tiago Monteiro. Porteiro finished fourth, winning the independents class.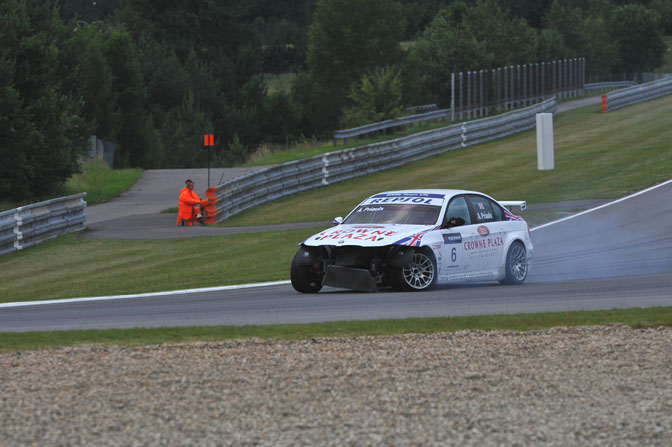 Andy Priaulx managed 8th place. The team having rebuilt his car from the 1st lap crash (above) with Farfus. Farfus retired after the 1st lap after being hit by another car….revenge?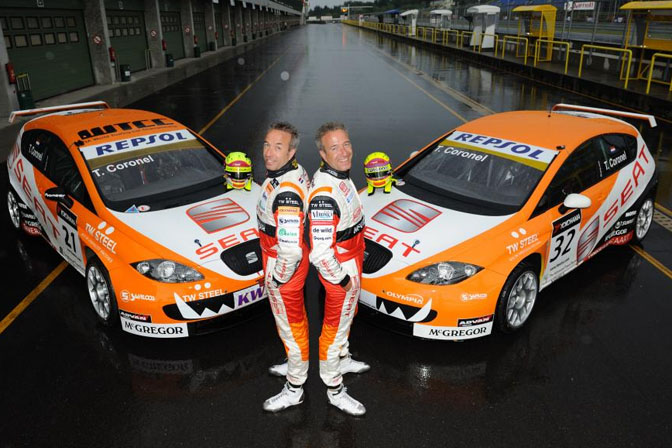 Independent runner, Tom Coronel was joined by his twin brother, Tim for this event. Tim (right) has pleny of racing experience and the pair had matching cars and race suits. I bet commentator, Martin Haven loved that….
In other WTCC news, James Thompson has been announced as  a new driver for the Lada team. The ex BTCC champion will pilot the new Lada Priora which will make its debut shortly. Thompson is going to busy this summer as he also races in the BTCC with Team Dynamics and Danish Touring Car Championship in a Honda Accord.
The FIA also confirmed new regulations for 2011. Following problems governing Petrol and Diesel cars in the WTCC the championship will change to a Petrol 1.6Litre Turbo formula. The current S2000 cars will be allowed to compete in 2011, but are likely to be handicapped. The 'S1600' engine will also be used in rallying from 2011 enabling manufacturers to be able to compete in both series with reduced cost.
Personally, I would rather they went bigger and more powerful, but in this economic climate, it probably makes sense.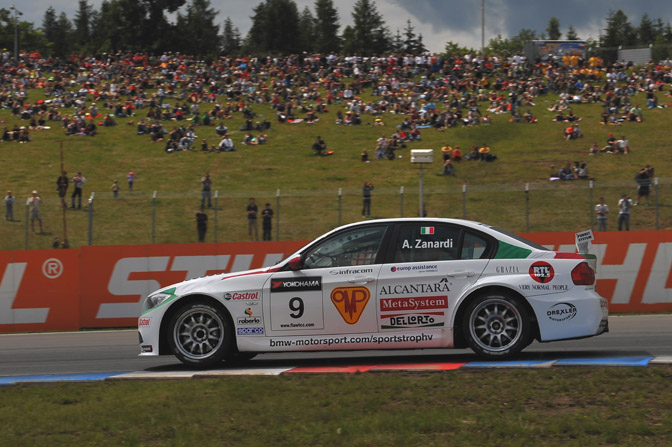 Next round of the WTCC is next weekend in Porto, Portugal. Yvan Muller continues to lead Gabriel Tarquini and Farfus in the Championship.
-Andy Blackmore
Images: SEAT, FIA WTCC