I spent the whole day at the Tokyo Big Sight Exhibition center yesterday walking the halls of the biggest exotic and luxury oriented event of the year, the Tokyo Special Import Car Show. Being a high-end Japanese show I was sure I was going to see my fair share of tuned supercars and pimped out rides, modified in countless different styles. Needless to say, I wasn't disappointed.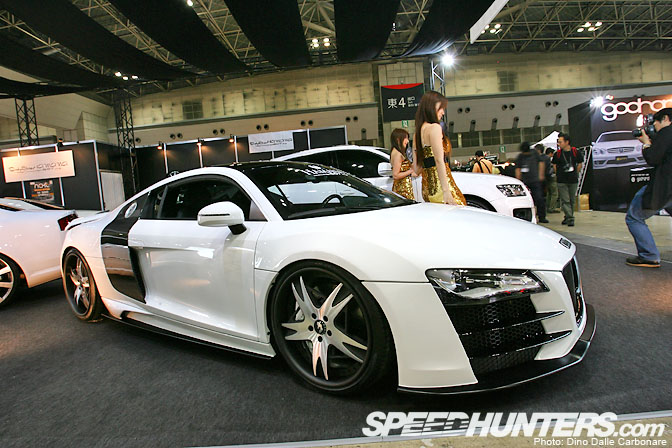 Audi R8's were a bit scarce but I found this example by Body Shop Hamana, sporting a front end resembling that of the V12 diesel R8 Concept.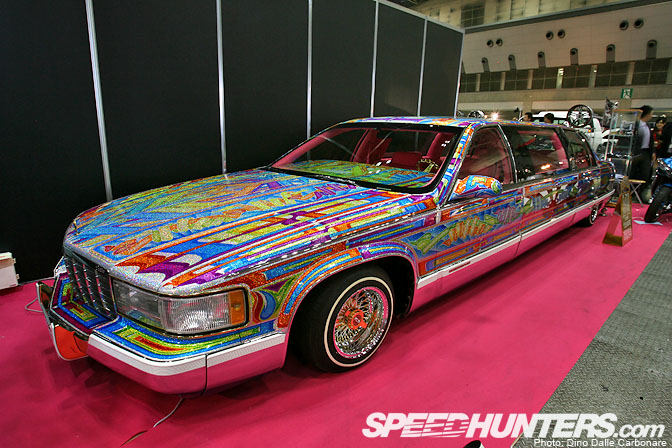 What to say here, it was long, colorful and very pink inside!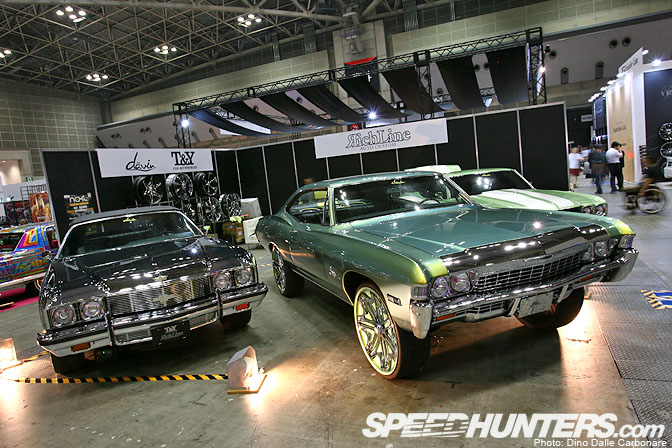 I'm not sure what to call this style, it's not something you see very often here in Japan, but these two high-riding 70's classics were getting some curious looks throughout the day. I've only every seen this kind of thing on rap videos and on youtube and honestly still don't get it!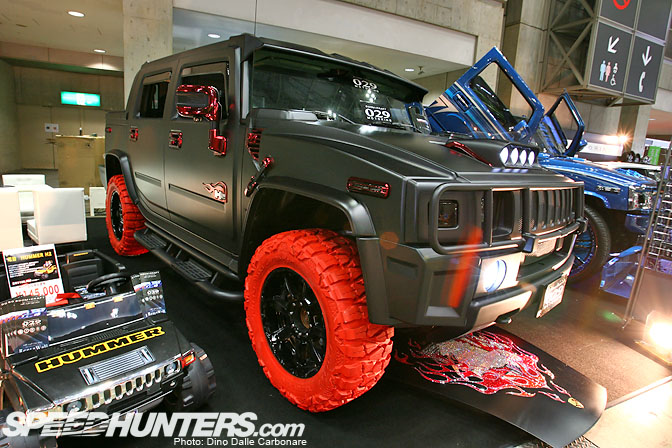 Black on red! This H2 was fitted with red Nitto offroad tires, matching the red anodized details on the body, well sort of. Apologies for the massive glare but had lights pointing into the lens all day yesterday, I even knocked one over by mistake at one point.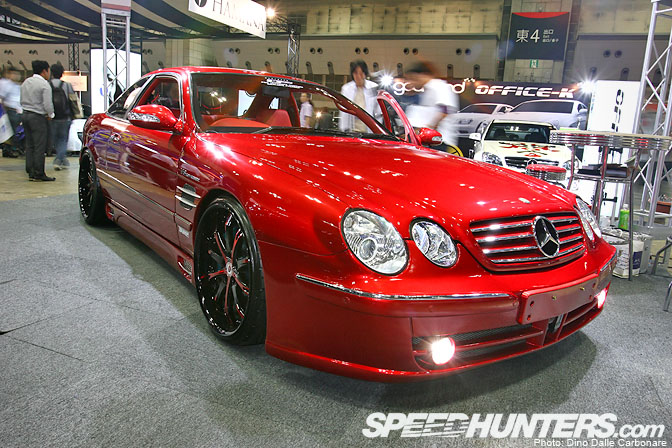 One look at this Benz and I knew something was up…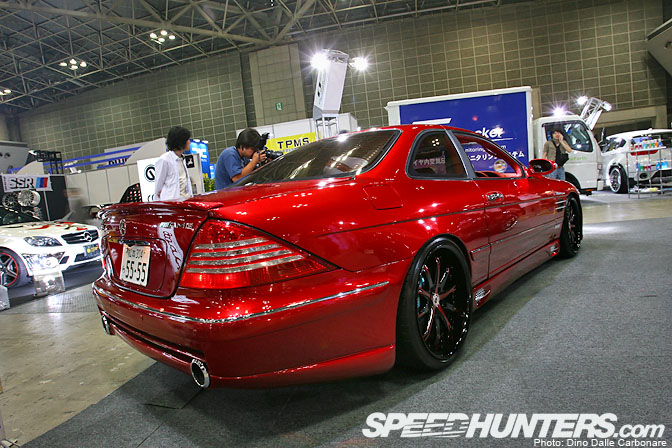 …the front end looked authentic enough but I can spot a JZZ30 roofline a mile away! The Mercedes conversion was also done at the rear…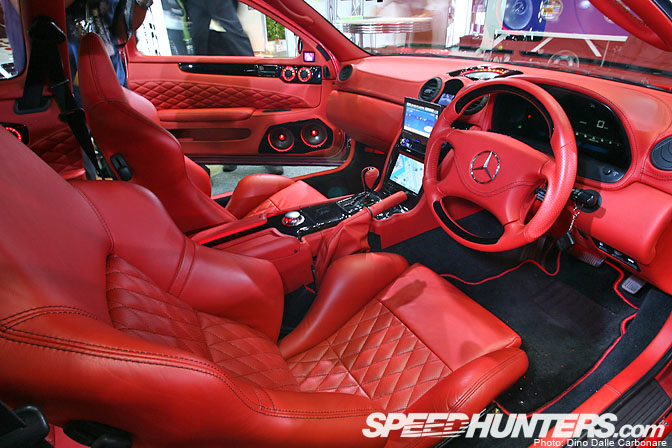 …while the interior was the work of Obayashi Factory, the absolute leaders of top-quality interior pimping in Japan. Check out the BMW iDrive commander right behind the shifter!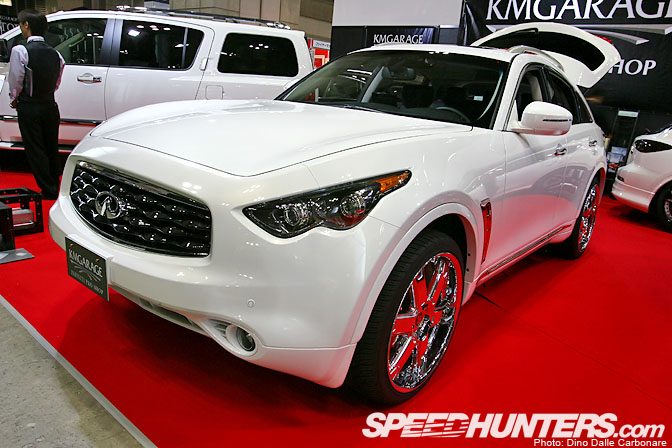 This Infiniti FX classifies as a re-import, making it twice as cool in Japan. You see, these sporty SUV's are built in Utsunomiya at the Nissan Tochigi plant, shipped to the US and Canada and then re-brought back to Japan by companies like KM Garage. The Toyota FJ Cruiser is probably one of the most popular and affordable re-imports while the Infiniti EX is one of the newest cars to be brought back to the motherland, although a bit pointless as it's actually sold here now as a Skyline Crossover (I can't believed they used the sacred Skyline name!!!) If they ever bring the FX to Japan it will probably become the Fuga Crossover LOL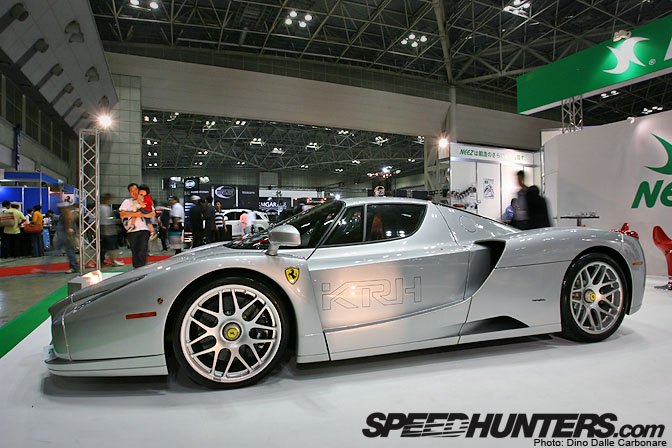 I have been covering this show for years now and I knew I wasn't going to get disappointed by the guys at Neez Wheels. This silver Enzo demo car was sporting a set of their Eurocross 7 model for center wheel-nut applications.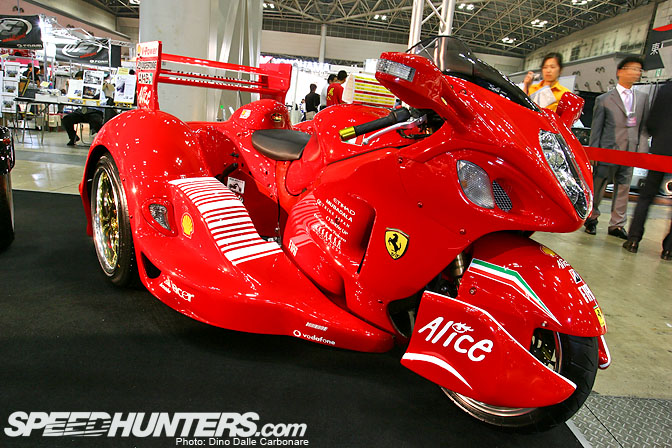 And while on the subject of "Ferraris", what do you guys thing about this Hayabusa-based trike built by Trike Japan? I couldn't believe my eyes when I saw it from a distance!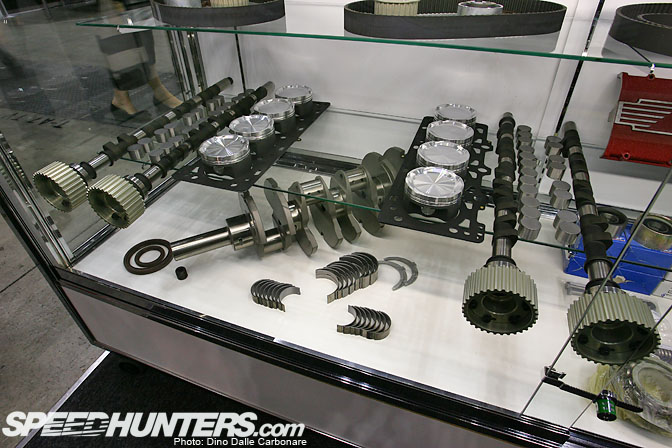 Toda Racing was at the show to promote its new engine kit for the Ferrari 355. It's all based around the fully balanced flat-plane crank, forged high compression pistons, special cams and lifters.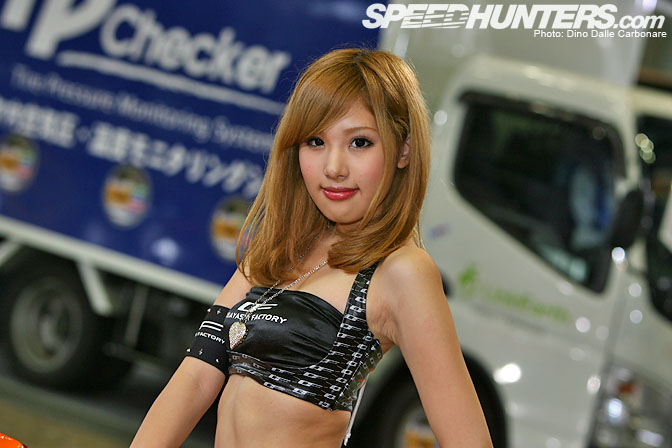 What Japanese tuning show would be complete without a heavy dose of JDM eye candy. More to come…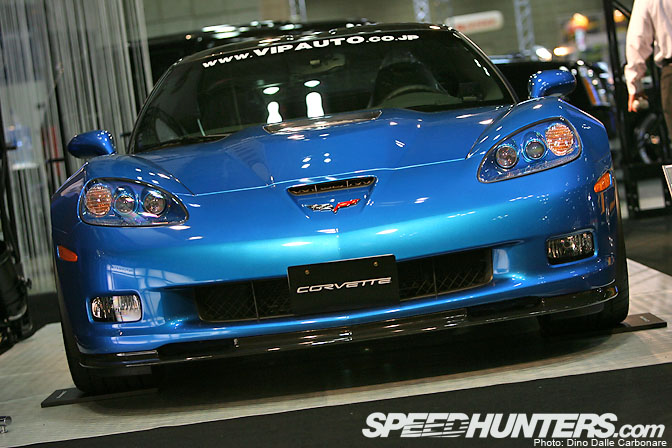 This is the first ZR1 I see in Japan, on display at the VIP Auto stand. Was interested to find out what it would sell for but the price hasn't been decided yet.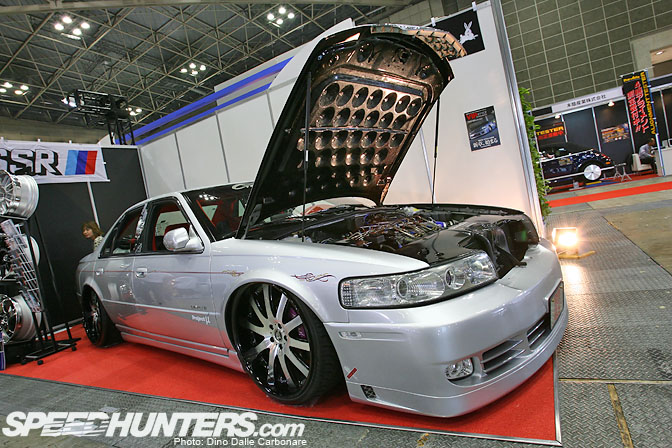 Very extreme wheel fitment on this Seville, which under the curious looking hood, was sporting a complex direct nitrous oxide injection system.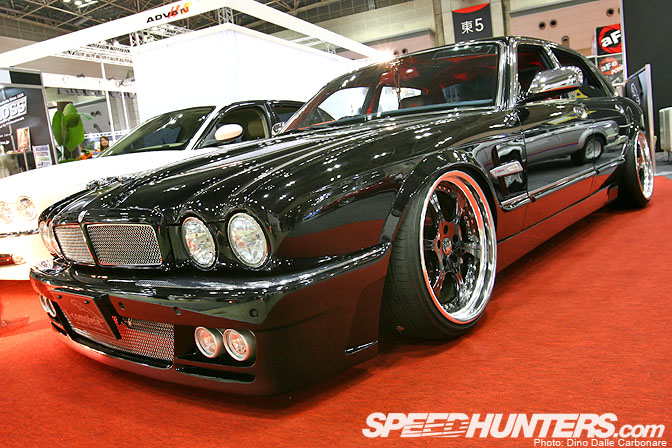 Osaka-based J-complete brought the X300 Mike posted a rear shot of the other day. I couldn't believe how low this thing sat, by far the coolest Jag around!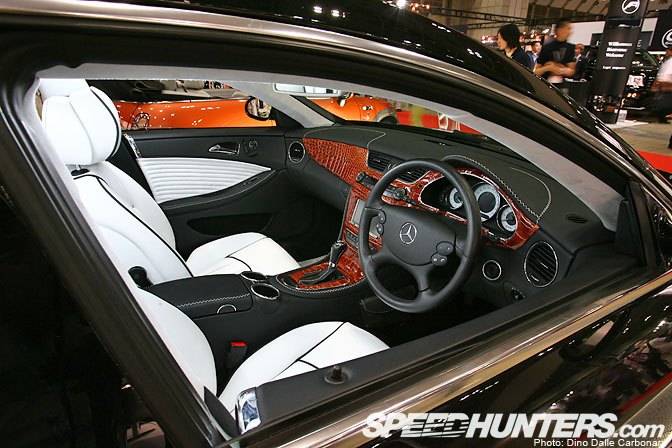 What would a luxury car be without an equally luxurious interior. Not sure how long those white seats will stay that white though!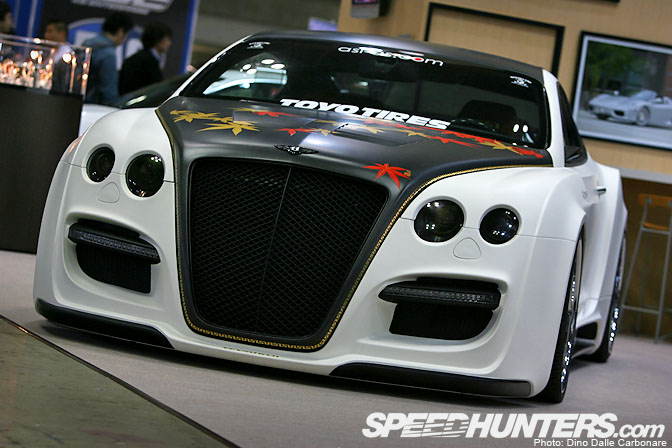 This Tetsu-GTR from ASI has really done the rounds at car shows over the last year but I just had to grab some more shots of it.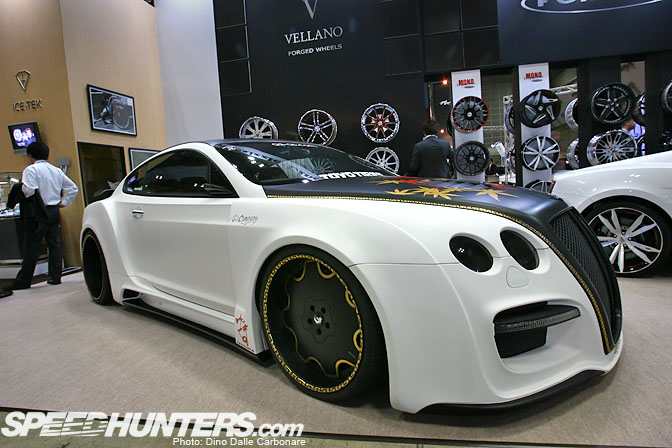 Has a pretty defined profile thanks to the matte white paint, not too sure what Bently purists would say about it hehe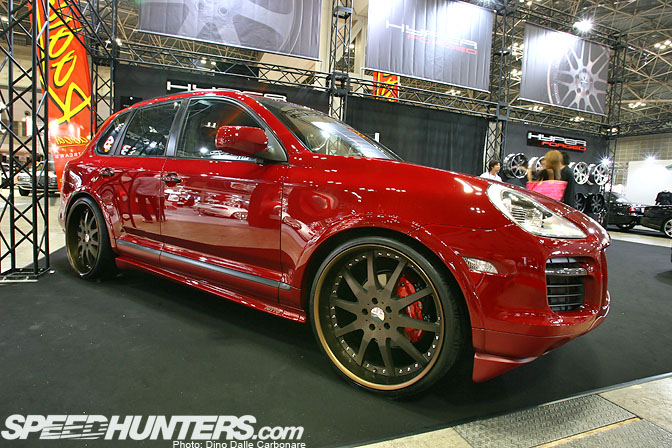 The Porsche Cayenne is an extremely popular ride in Tokyo, so it's not surprising the show floor was packed with them. However the Hyper Forged demo car was by far the most original, doing away with over the top body kits and settling for a clean, lowered look, topped off with a set of 209R forged bronze wheels. I liked how the center section had a coarse raw-metal look and feel, while the rim part was glossy and reflective. Kind of reminded me of the Volk CE28Ns on my BNR34!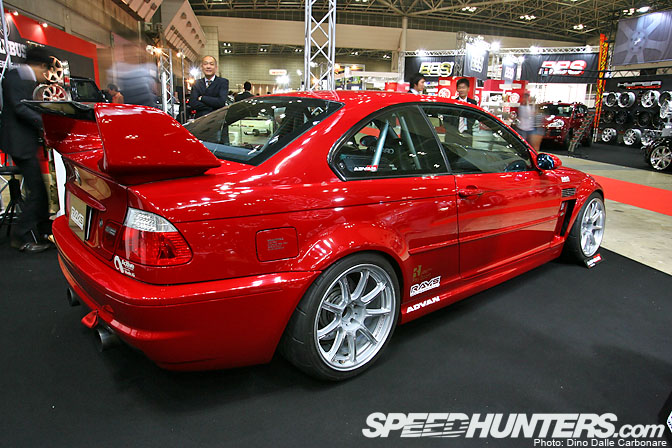 This Studie/Base! E46 M3 at Rays Wheels really caught my attention. I loved the aggressive look of the body and how well it sat on the new Rays 57 Motorsport wheels. There is much more to come from the Tokyo Big Sight Exhibition Hall, so don't miss the next dose of tuned luxury and exotics.
– Dino Dalle Carbonare