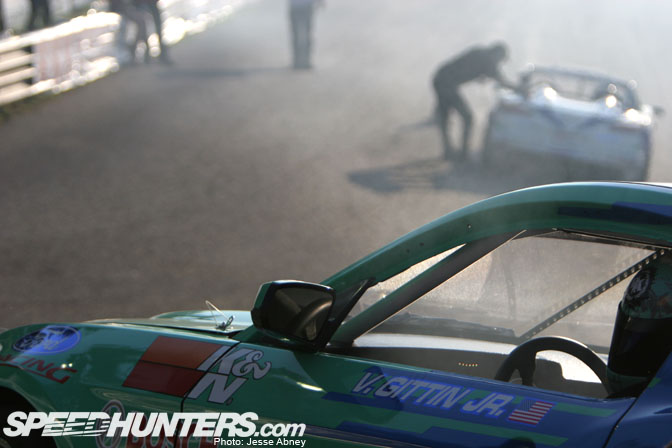 This past weekend was one of great fruition for the Falken Tire Drift Team. This is the group that got into drifting before D1GP ever graced the shores of America or Formula D was founded.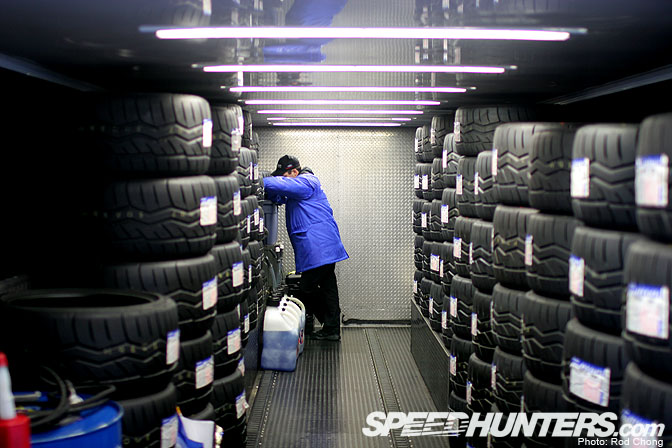 These are the people who have supported North American drifting from day one and have stuck with it through and through. They aren't in it to "try out the youth market" or "reach a new demographic" and then abandon ship if if the direction of the wind shifts a few degrees. Not at all. Drifting is something that is part of Falken's DNA, through and through.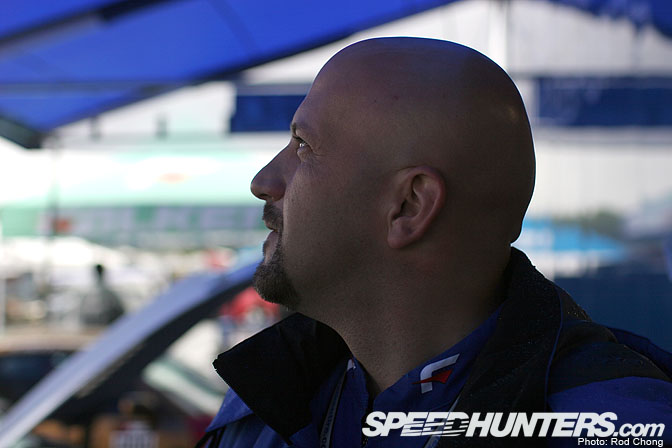 A lot of the credit for this vision has to go to Nick Fousekis. He's stuck with the Falken Tire drift program through thick and thin. They've tried a few different approaches over the years, and it seems now that the program is finally coming to fruition.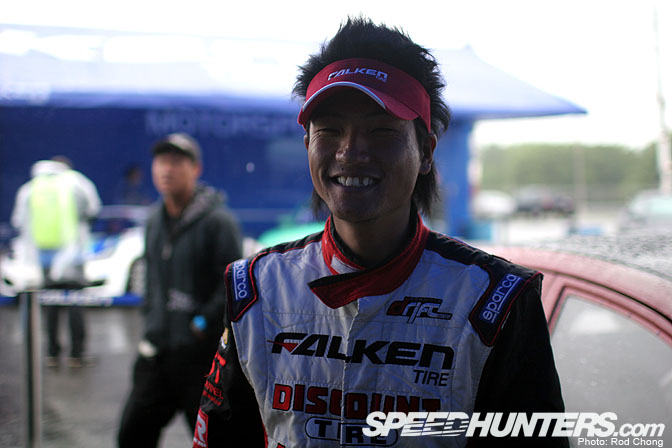 I wandered about the Falken setup last Friday… I was doing my best to keep out of the rain so it was a good moment to gather some behind the scenes photos of the team… BTW I think that Dai is possibly one of the most cheerful people in the world. He always seems to be in a good mood.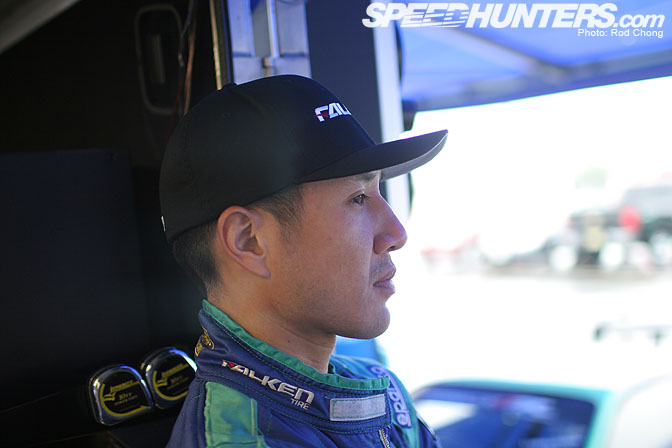 Calvin looks pensive in this shot as he considers the weekend ahead.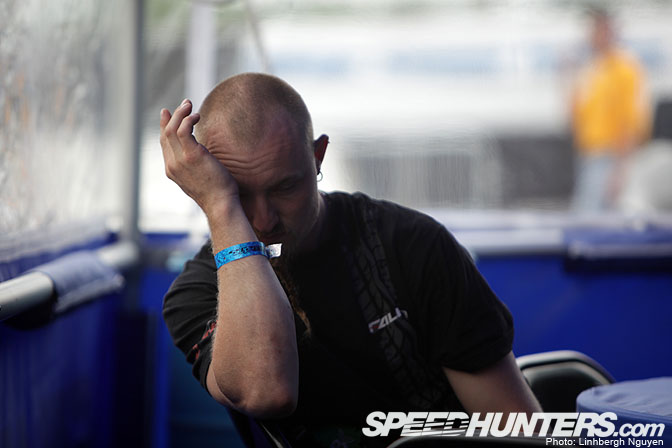 I like this shot of a sleepy Ross Petty. If you think that he now trailers his semi-works S15 across the country, it's perfectly understandable he's looking a little tired.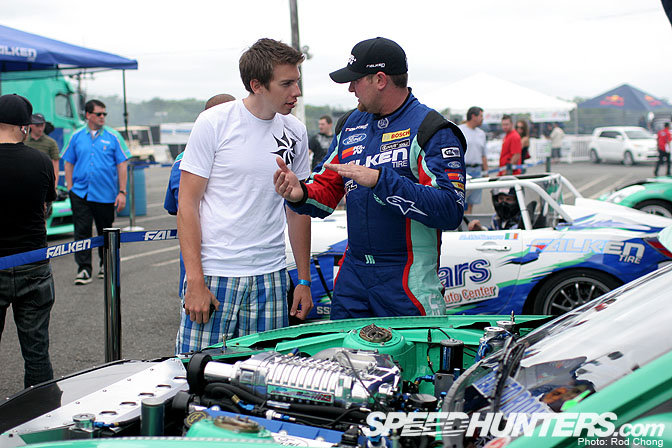 Moving on to Saturday…. I arranged for Tommy Milner, the driver of the ALMS BMW M3 GT2 for Rahal Letterman Racing to come to New Jersey to check out some professional drifting, US style. JR was kind enough to take the tme to show Tommy around his new 2010 Mustang. They look like they're sharing driving techniques in this shot….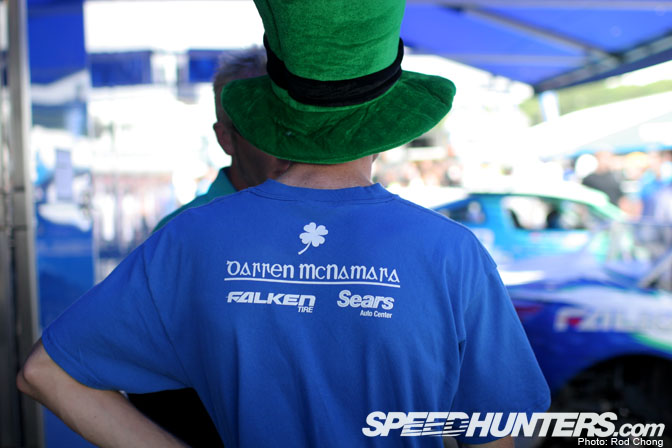 This weekend I got to know Darren McNamara a bit as we spent at least 3 or 4 hours playing Need for Speed Shift together…. turns out he's quite the video game master.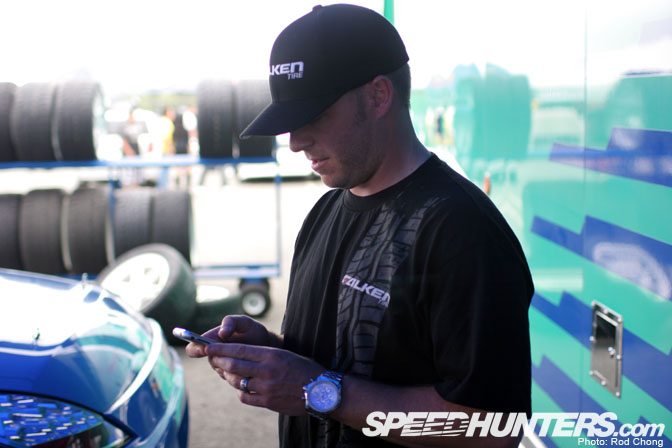 Mind you, this guy, Tyler McQuarrie, is a deft hand with video games too…. Here he's playing with his iPhone…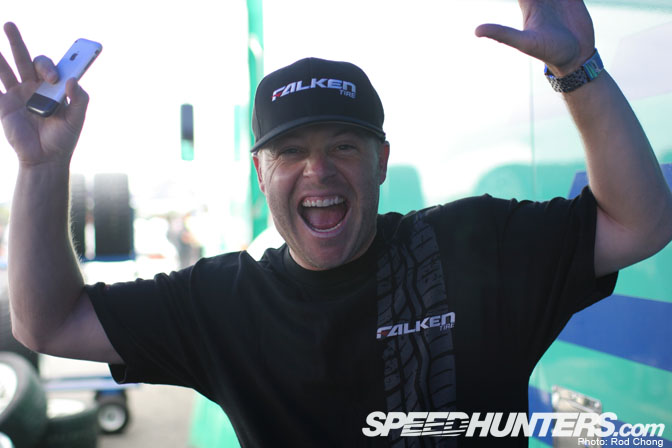 And here he is acting up for the camera…. calm down there son!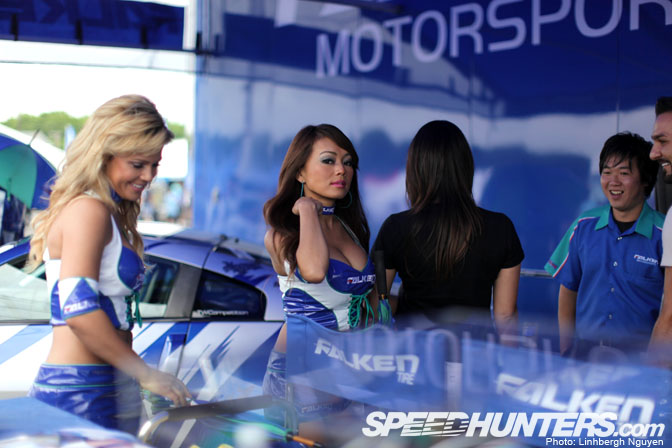 Linhbergh and I tend to prefer to shoot the Falken girls when they aren't necessarily posing for the cameras. Perhaps you see past the model personas a little bit in these moments. What is Eri thinking?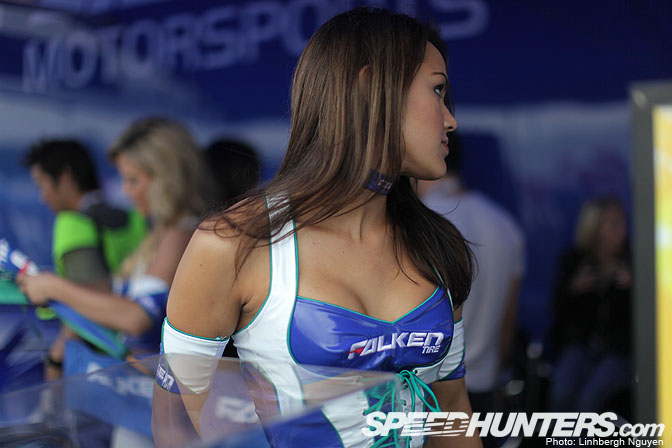 CJ.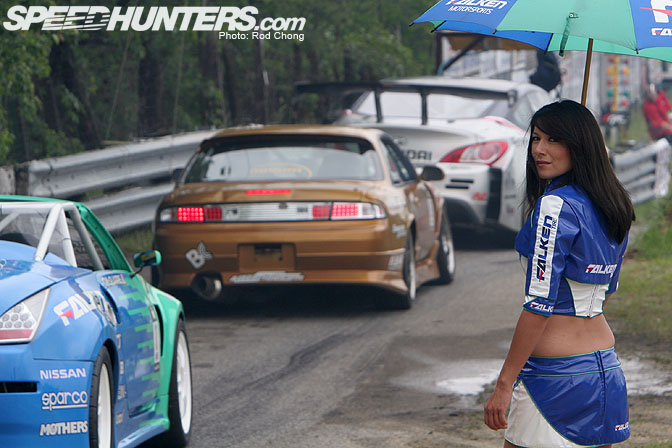 Mary…. a moment after I took this snap she broke out into a smile… which is lovely and all but I also like to see behind the smiles. That may be just me though.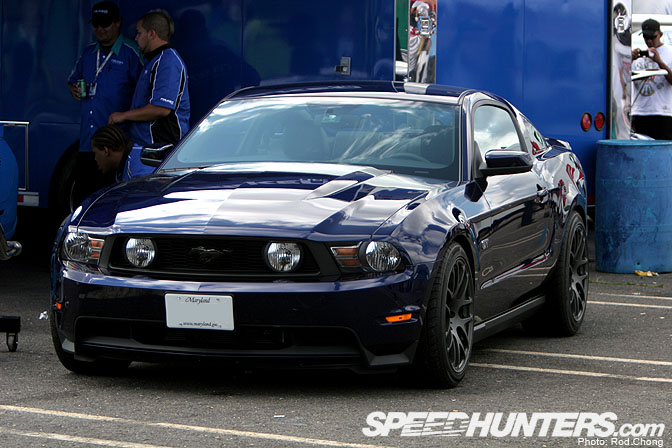 This is Vaugh Gittin JR's new ride…. looks good with a bit of work on stance and wheels! I like the dark blue that Ford have chosen for a lot of their communication around this exciting car.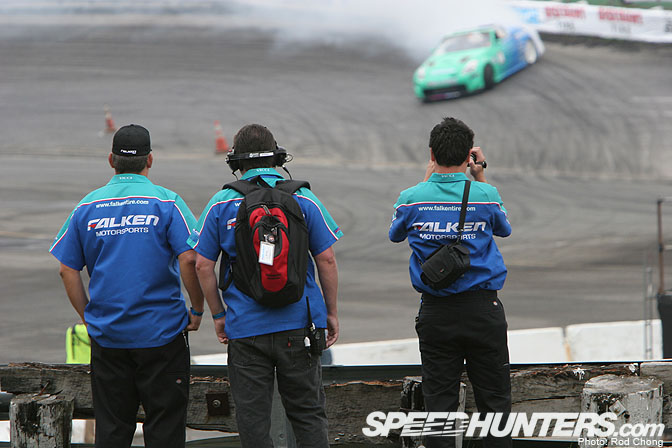 Normally, when a Falken car is on course you'll see quite a few team personnel trackside. Some of them are acting as spotters while others are involved with data acquisition. You'll notice the guy on the right is taping Tyler's run which resulted in a number two qualification slot.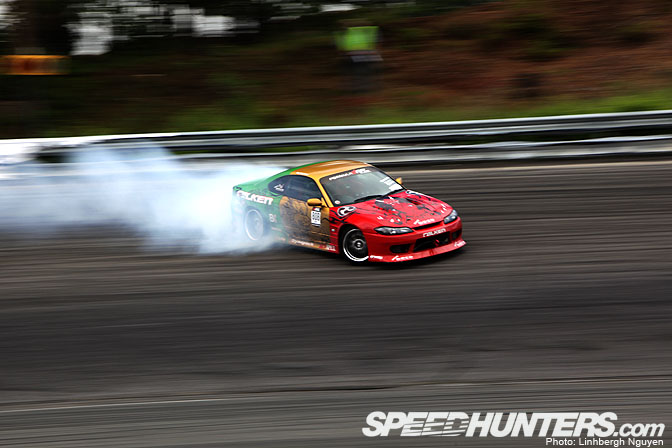 Ross Petty certainly has one of the nicest S15s in the US. Wouldn't you agree?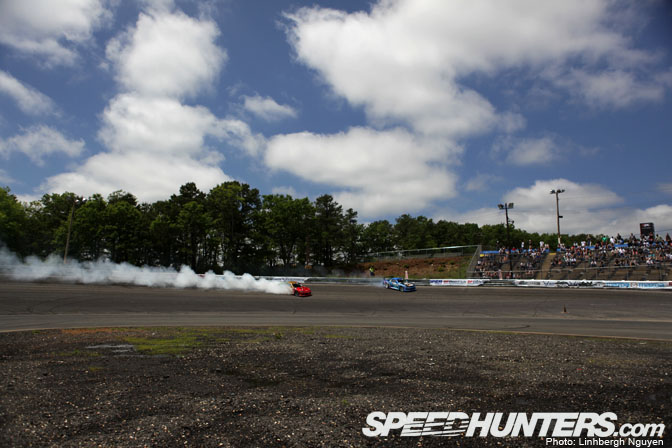 He also showed up Casper Canul big time on the banking… compare the amount of smoke from the two cars!
Ross was looking pretty strong against Casper but suffered technical problems during the top16 battle against Ken Gushi and was eliminated.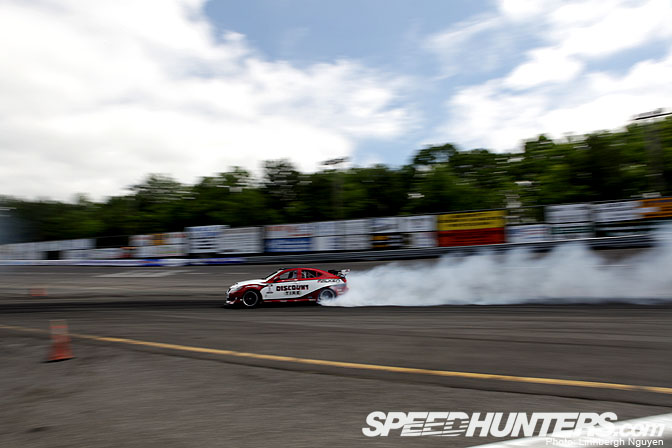 Daijiro didn't have the best of weekends. Although he must have been reasonably pleased with his 8th qualifying slot, he spun in his opening round against Taka Aono and had to watch the rest of the day from the sidelines.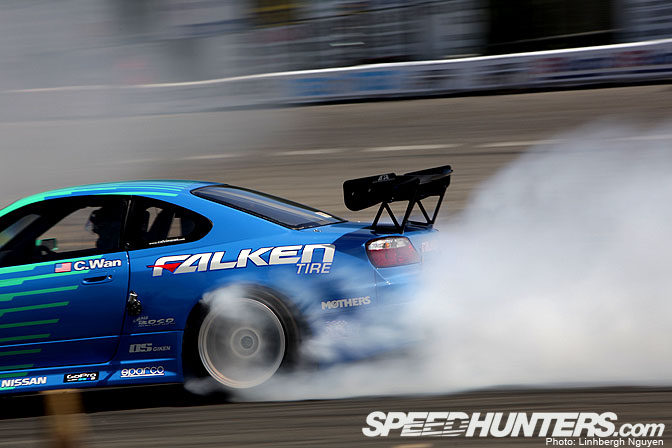 Smoke factory by Calvin Wan. Calvin had an immense battle with Justin Pawlak in his new RX8 which went to two One More Times… unfortunately for him, the judges narrowly ruled in favour of his opponent.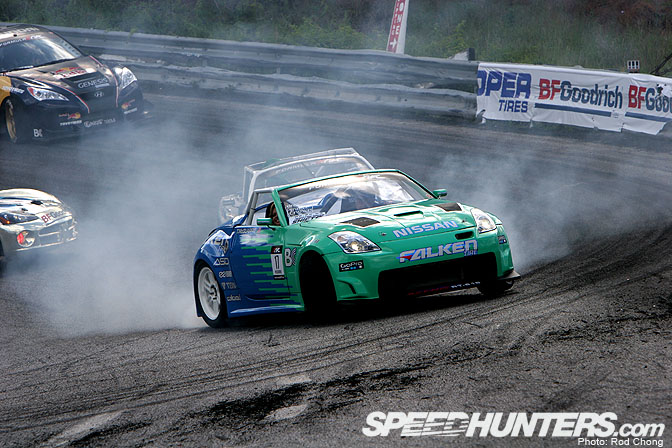 A quick snap of Tyler's V8 350Z from the mayhem that is the Formula Drift Top 16 opening ceremony.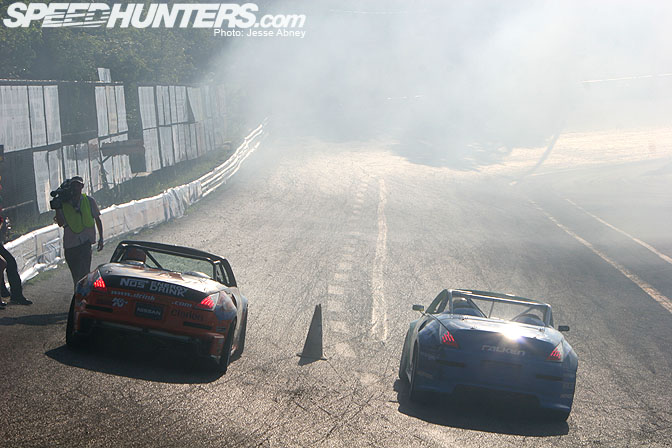 The batte of the V8 350Z Roadsters! This shot was taken after the first run was completed… you can see the smoke from the first battle hanging in the air, thick and smelly…. Tyler was able to advance. It seems like his ASD-built car is currently developing more traction than Forsberg's NOS Energy Drink sponsored Z33.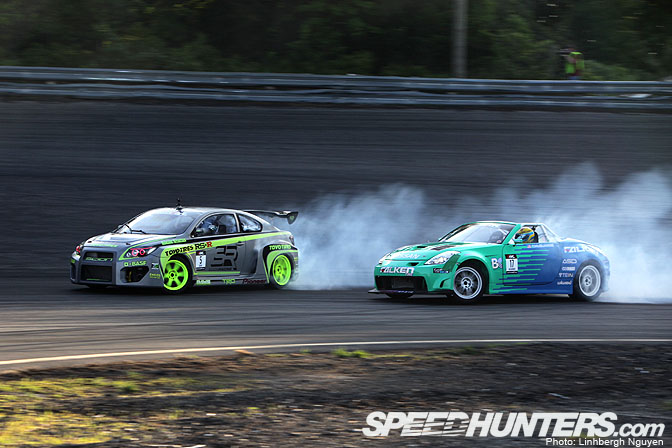 Let's look at this sequence together to understand the importance of traction in drifting. It's Tyler McQuarrie vs Ken Gushi. The winner of this round will take the final podium spot.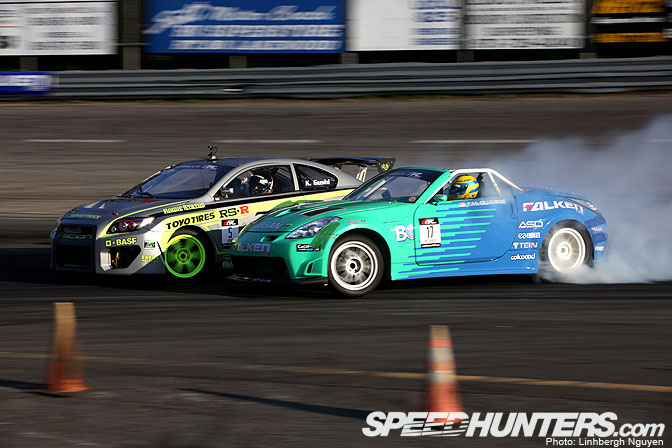 A few seconds later and look at how Tyler has pulled right up against Ken.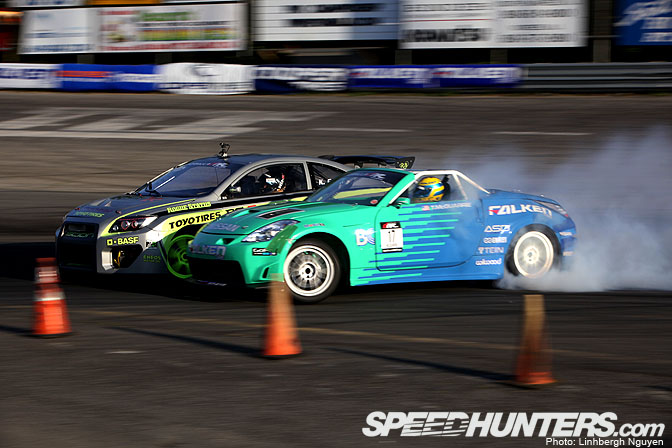 All the while, Tyler's 350Z is developing a lot more tire smoke that Ken's Scion.
A perfect example of showing up your opponent….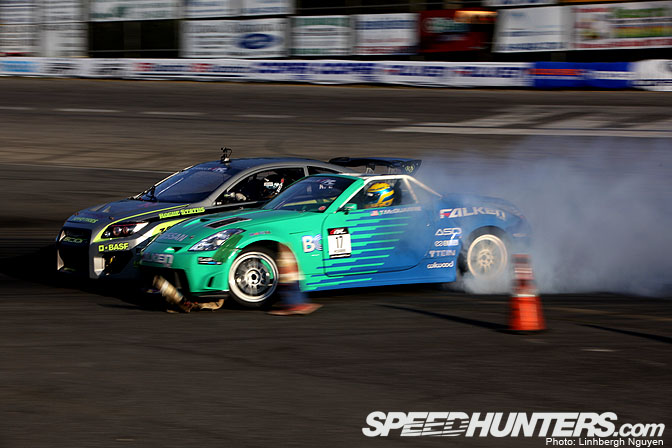 Crack!… he takes out a pylon in the process….. talk about aggression at play!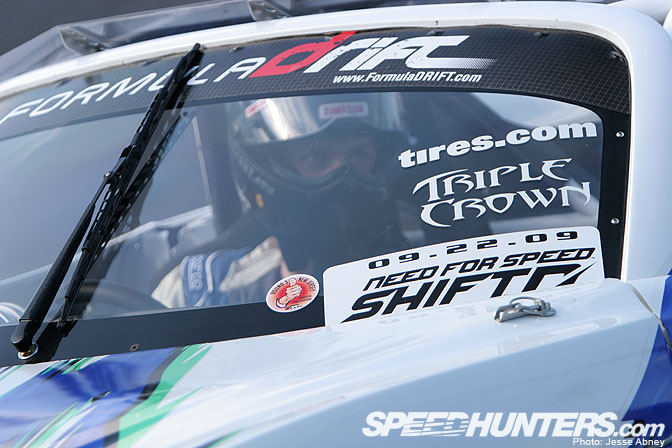 Anyway enough about Tyler…. this is the man of the moment! Darren McNamara….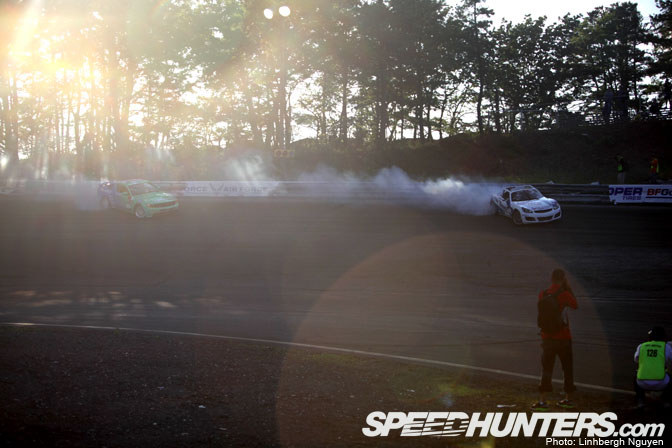 Darren told me they have done a lot of work on the car to develop more traction and it shows. In the final against his teammate Vaughn Gittin JR, he pulls away with ease.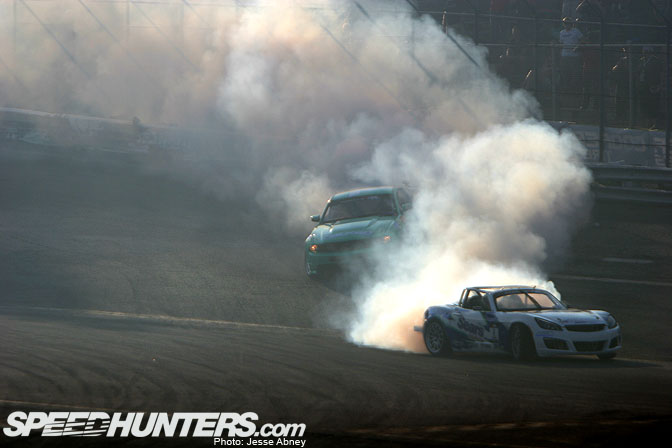 JR didn't have an answer to the Darren's V8 powered Saturn Sky. This is a car in its second year of development though, so I'm sure the Mustang will get there eventually.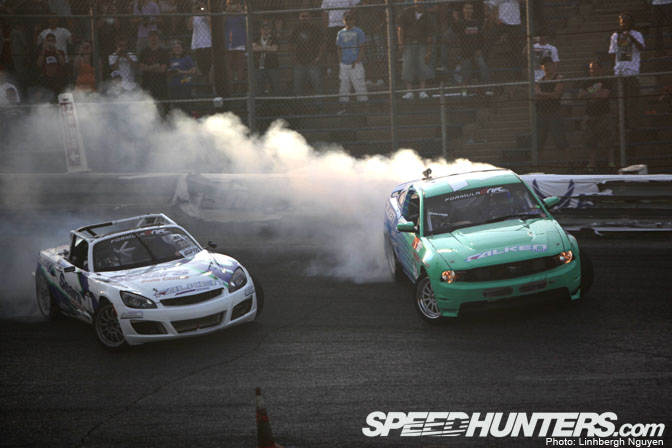 On the other hand look how close the Sky is to the Mustang…. Darren was on fire all weekend. His aggression was perfectly controlled by his precision.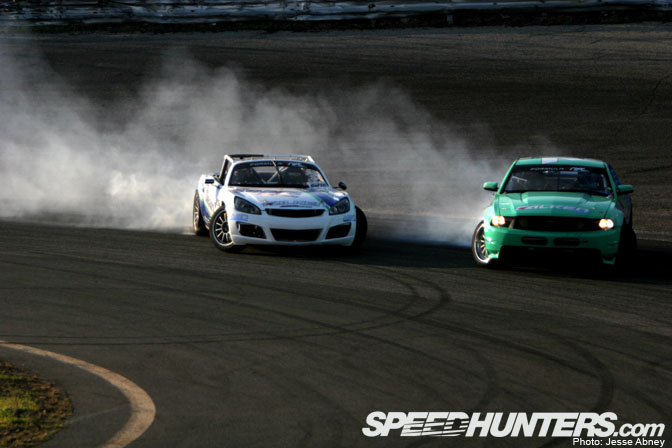 Into the next corner and he is completely with JR….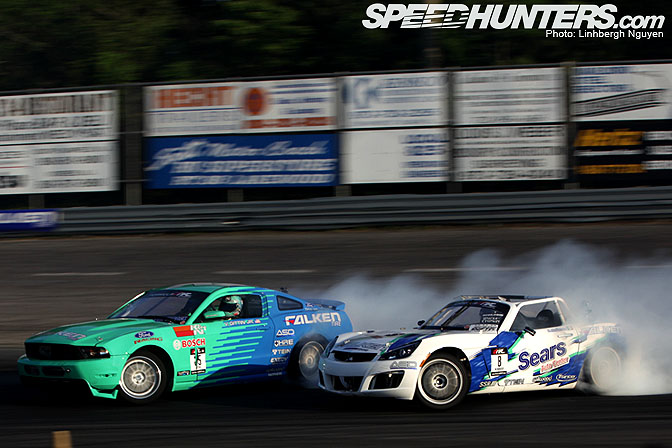 And as they accelerate to the finish line… again no problem. This victory was his.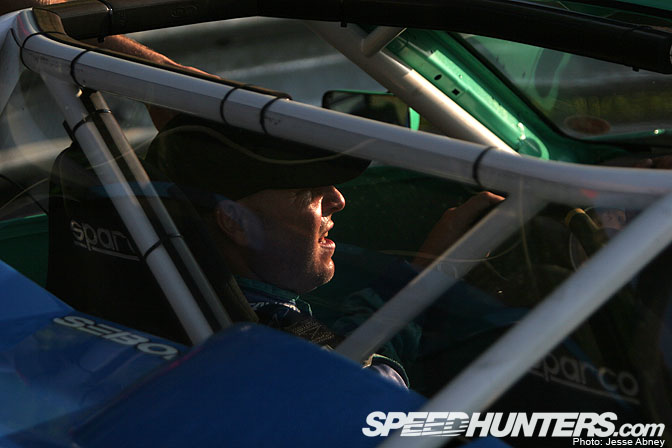 I like this photo… Tyler knows he has taken third already and is waiting for the final battle to finish so he can join his teammates for their victory celebration in front of the crowd.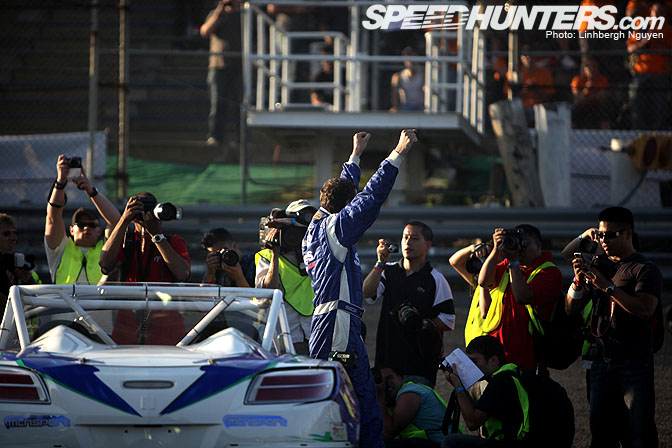 The moment that Darren is announced as the winner.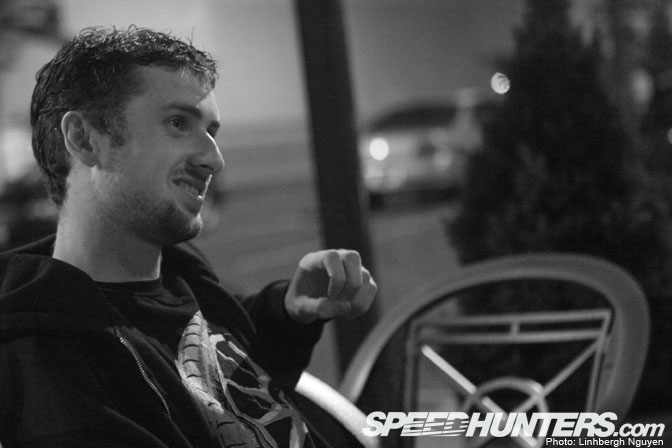 Darren is now leading the championship and looks like a strong contender for the overall championship.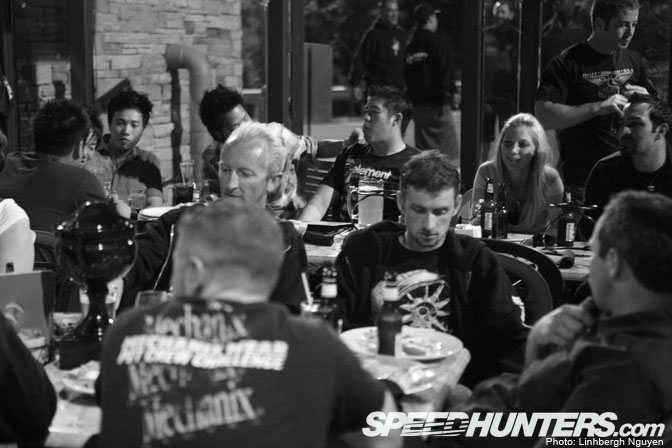 The winner sits down with his friends, family and the team (plus a few Speedhunters)…. to reflect on his day and soak up the moment.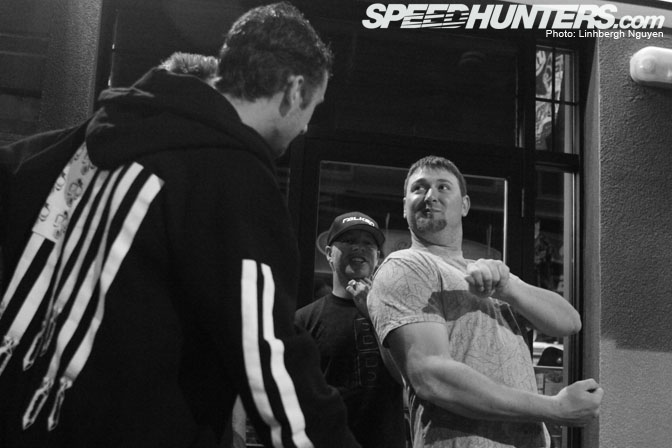 JR takes a moment to descibe to Tyler and Darren what it's like to drive behind them. He was completely blinded by their smoke and had to drive several turns with only his muscle memory to guide him around the course…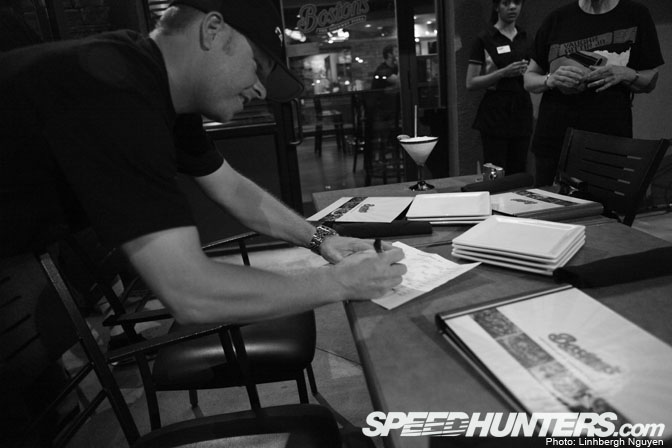 I was shooting video beside team boss Nick Fousekis for part of the competition and noticed that he keeps a top 32 chart which he uses to track the competion.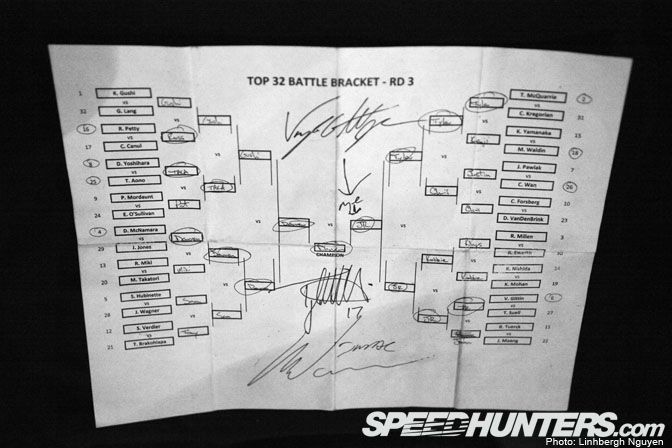 He asked Darren, Vaughn and Tyler to sign the chart… no doubt this will be framed and mounted back at Falken Tire's Fontana offices!
Congrats to the team and Darren McNamara for his first Formula Drift victory!
And now a bit of trivia: what do Darren's Sky, Vaughn's Mustang and Tyler's 350Z have in common other than their Falken connection?
:R