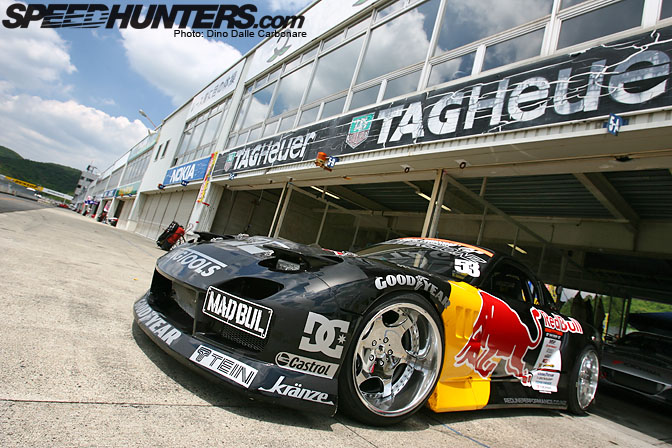 Over the last month or so we have seen two drifters from abroad come to Japan and compete in the D1 Grand Prix. First up it was Federico Sceriffo, the Italian driver who was showing off his stuff at the Odaiba exhibition rounds in May and this time over in Okayama we got another surprise.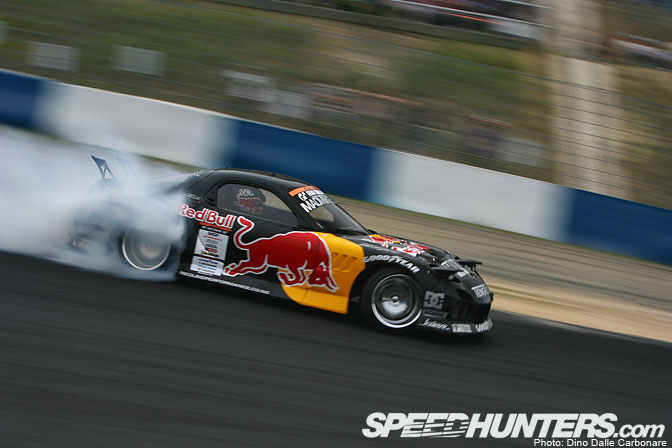 Back at Ebisu for the opening round of the 2009 Championship I had heard that Mad Mike was planning on coming over to Japan and competing in D1. The idea was to ship the car over in time for the Okayama twin-round week-end, one that would give Mike plenty of exposure and time out on track.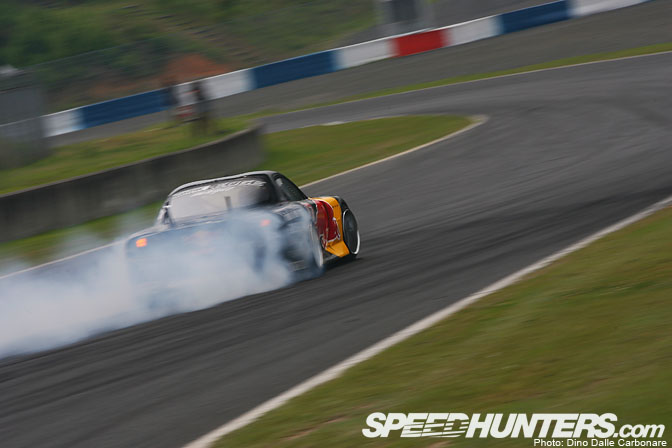 Of course the car in question is the 4-rotor FD3S you see here, a car we have looked at before on Speedhunters and one we all love and admire. When I arrived at the circuit early on Saturday morning Mike was in the first group to go out for a quick practice. In no time the tranquility of the Okayama-ken mountains was ripped to shreds with the roar of modified engines, and one sound in particular, which stood well above the others in terms of both volume and quality. I have heard a 4-rotor motor before, quite a few years ago when I shot and took a ride in the Scoot RX-7, so wasn't expecting to hear anything my ears hadn't sampled before. Oh boy was I wrong! With the Scoot RX-7 being a more road oriented machine with plenty of silencers to quieten things down, the quad-rotor in the Red Bull FD is a true "race-engine" and has an extraordinary soundtrack to back it up! It sounds like a mix between a high-revving bike engine and an F1 motor, all rolled into one and sped up on fast forward!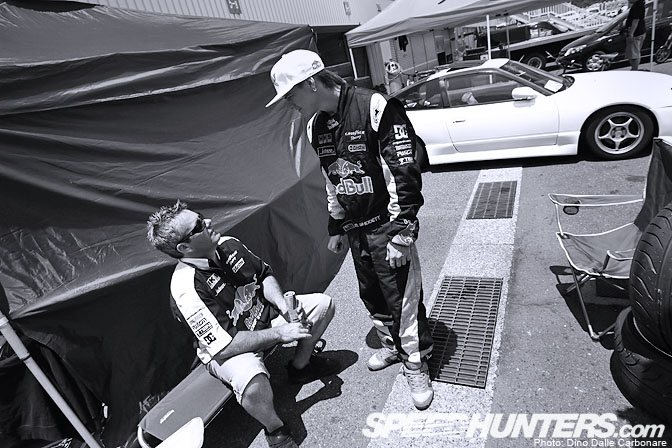 Despite Mike making it to Okayama, the week-end quickly turned into a bit of a nightmare with things going wrong right from the start during the Friday practice. After getting to grips with the fast and unique layout of the track Mike began to get some proper runs down tapping into those 530 horses the engine develops. All of a sudden the HKS gearbox broke and Mike lost 4th and 5th. With this close ratio box 4th is the gear to use when powering through the judged corner so Mike was in big trouble. The team managed to fit a replacement transmission, but all they could find on such short notice was a stock FD 'box. They stayed up well into the wee hours fitting it to the car. This would have to do for Saturday.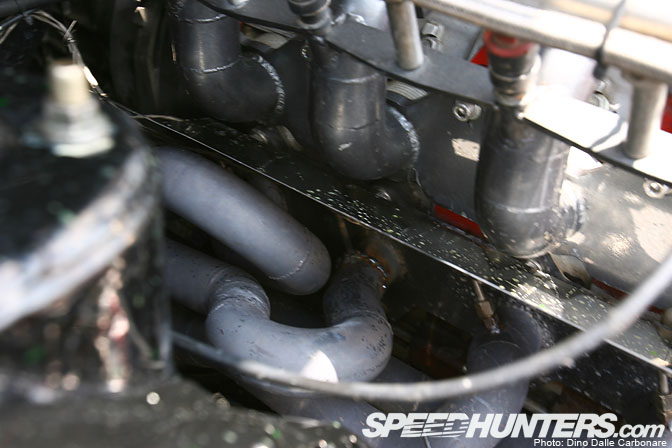 After only 4 laps into his first practice session Mike's FD developed further problems, as 3rd, 5th and reverse broke in the new gearbox. With 4th being the only gear he could use, and far taller than the 4th in the HKS box they removed the rear spoiler and upped rear tire pressure to 65psi to help the car slide easier. After a few more runs the engine suddenly lost power. A quick look under the hood and it was discovered that the exhaust manifold had cracked in half. Ian, who can be seen chatting to Mike two pictures up, needed to find a wealding machine quick but nobody had one at the circuit. Luckily one of the teams competing in D1 called up their friend who has a garage close to the circuit and had him open up early. The car was quickly loaded up on the transporter and rushed off so Ian could do a quick patch up job on the manifold. If you look close enough you can see some fresh seams that seal the crack.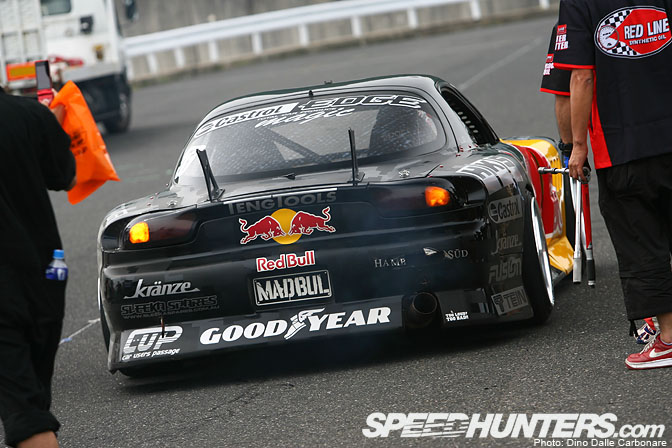 The car was rushed back to the circuit, unloaded, fitted with a fresh set of tires….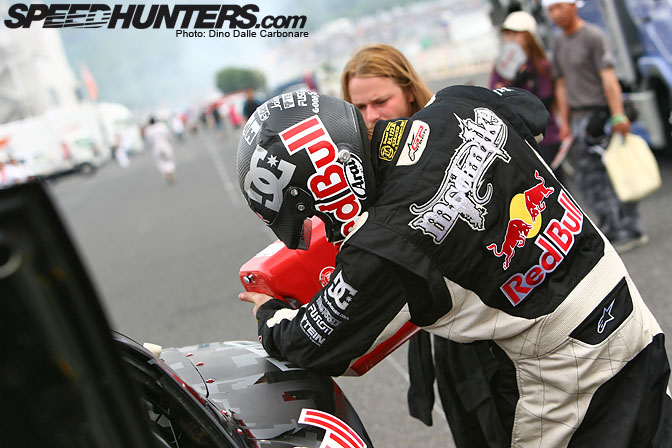 …and filled up (Mike took care of that).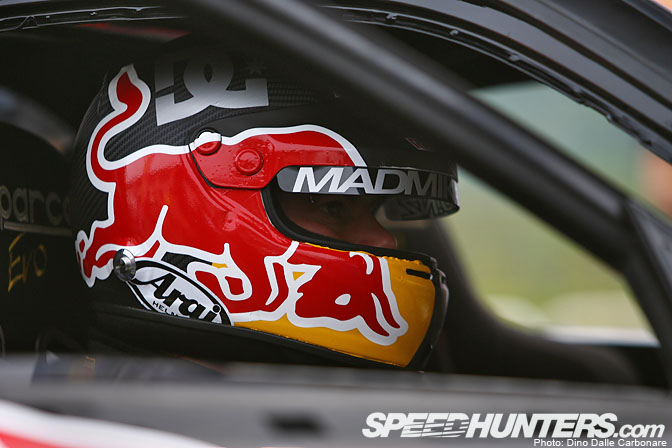 Mike couldn't believe they had done it, as they managed to get in line in the pits one minute before cut-off!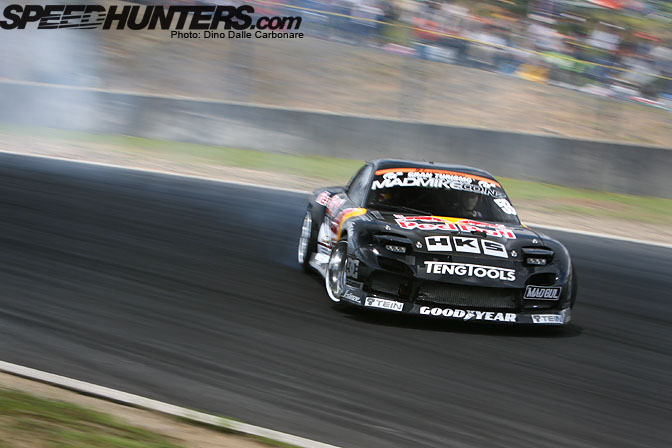 Mike went out trying to do the best he could. He was forced to use 4th gear in front of the judges and had to clutch-kick continuously to keep the slide going. The lack of wing and high tire pressure meant his speed was lower than what it should have been. He was 1 point short from qualifying, but even if he had the tsuiso battles would have been very difficult without the right gearing. Ian mentioned they had broken more stuff at this round in Okayama than in the last year combined! Despite the endless string of bad luck Mike still looked on the bright side, he was happy he finally got to compete in D1-GP, he enjoyed the atmosphere and greately appreciated the high level of skills all drivers exhibited. Tsuchiya and company liked the Mike's lines and aggressive throttle control so it wasn't all bad. Mike will be at the next twin-round up in Ebisu at the end of August, let's hope he and the team are a bit more lucky!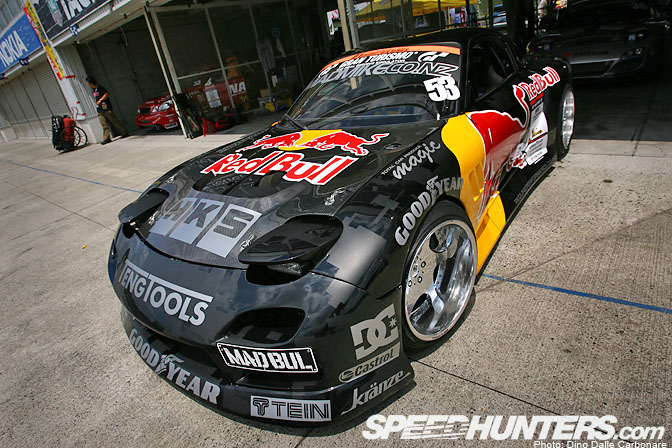 While the pit was empty during the scorching hot lunch break I went to take a closer look at the Red Bull sponsored RX-7.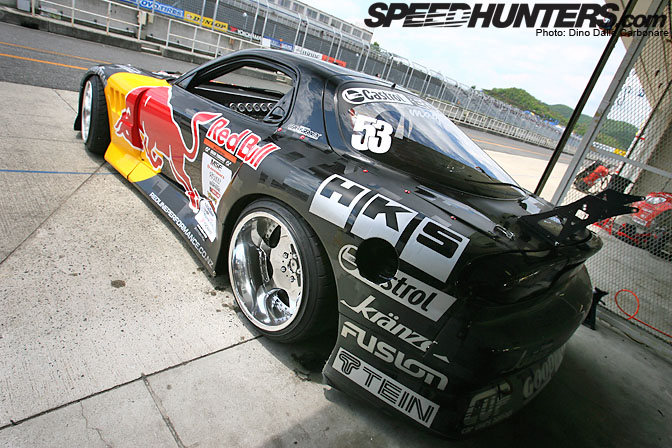 This car looks more JDM than half of the top cars in D1, and as Mike was telling me he was getting compliments from a lot of D1 people on how it sits.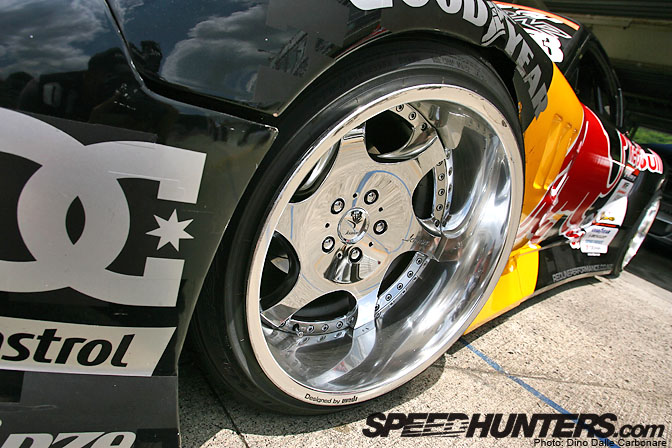 This car is the definition of stance! Just look at the lip on those Weds Kränze Bazreias!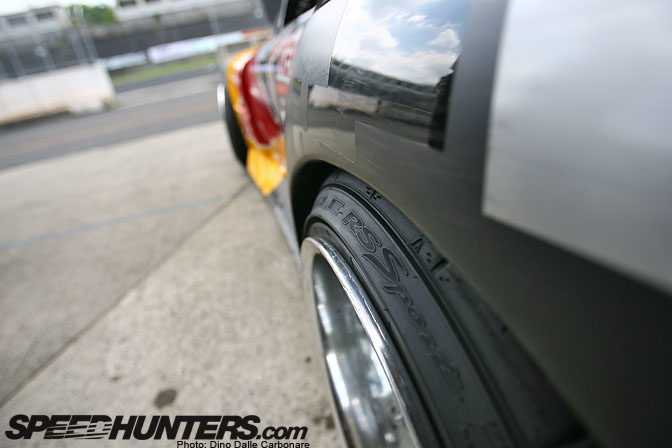 It's all about offset, and Mike's car has plenty of it at all four corners. And how about the tire fitment, that is 265 wide rubber stretched over a 12J wide rim!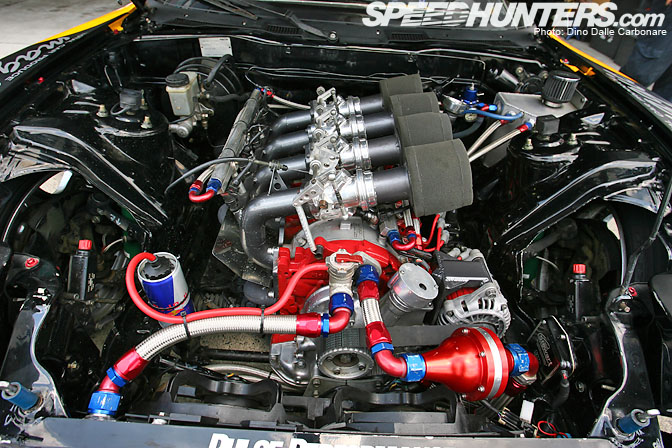 No matter where you look, Mike's FD is as extreme as it gets. That glorious peripherally ported, 4-rotor engine is a marvel to look at. You simply need to stand there and take it all in, like a modern art sculpture, trying to figure out how it all works.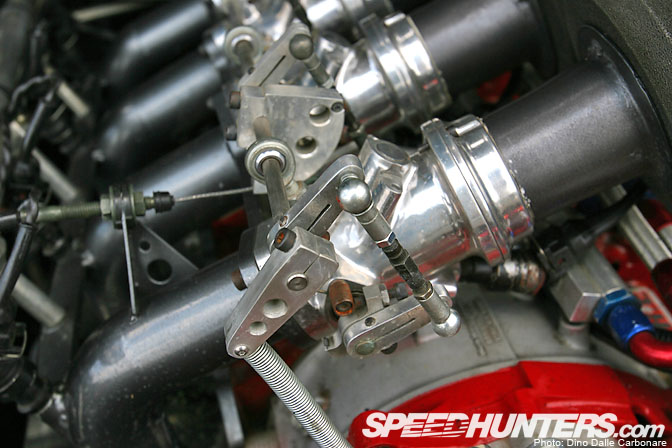 I couldn't believe the complexity of the quad mechanical throttles, all custom built for this set up.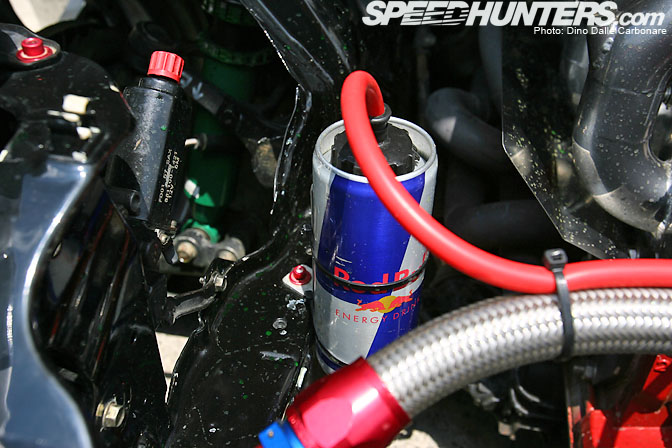 And just in case you didn't notice, the RX-7 is sponsored by Red Bull!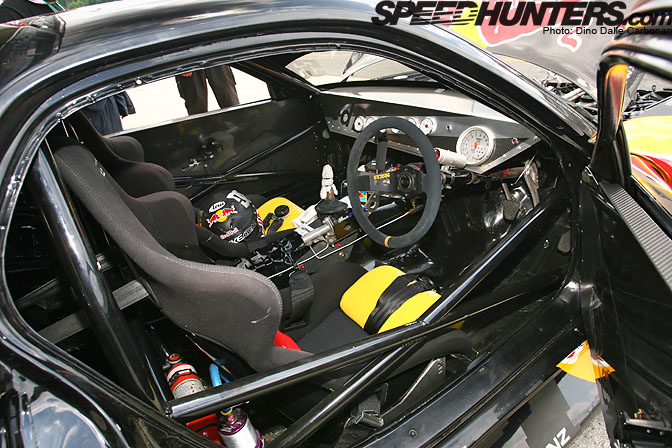 The interior is pure race car, the stock dash has been thrown out and a custom one built in its place. This houses all of the gauges and instrumentation. Helping keep Mike safe and of course boost torsional rigidity is the beefy roll-cage.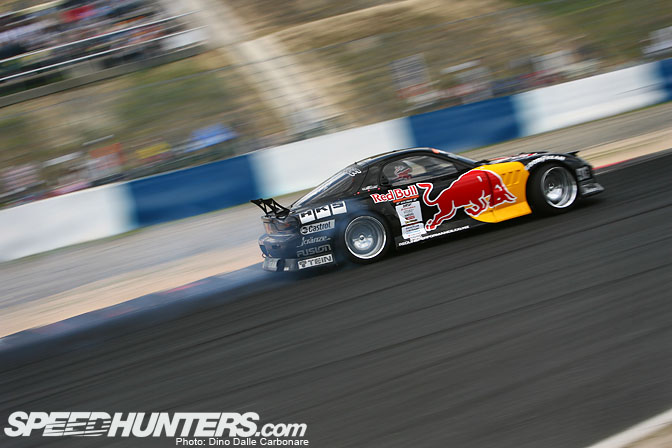 After covering D1 pretty much since it all got started I have to say that this sudden influx of foreign talent is injecting a great deal of energy into the series. I can't wait to see what Mike will be able to do in Ebisu, let's just hope luck will be on his side next time he comes over to Japan!
- Dino Dalle Carbonare