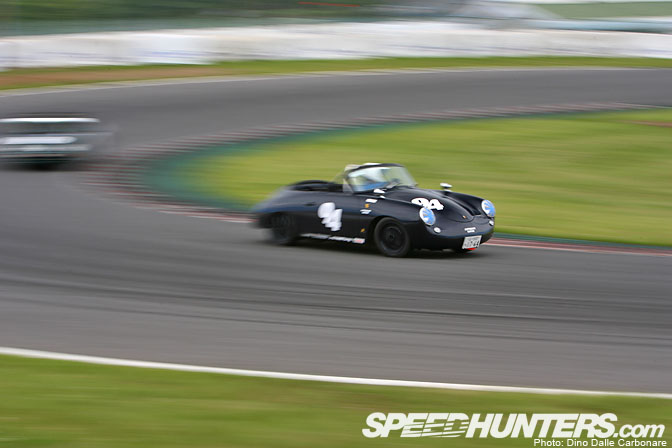 While walking through the paddock the other day at the InterClub Historic Car Race I couldn't help but be amazed at the broad selection of cars.  It felt great seeing the owners actually use them on track like they were designed to. And despite this being a friendly race series, some out there were taking it pretty seriously, which made for some great footage!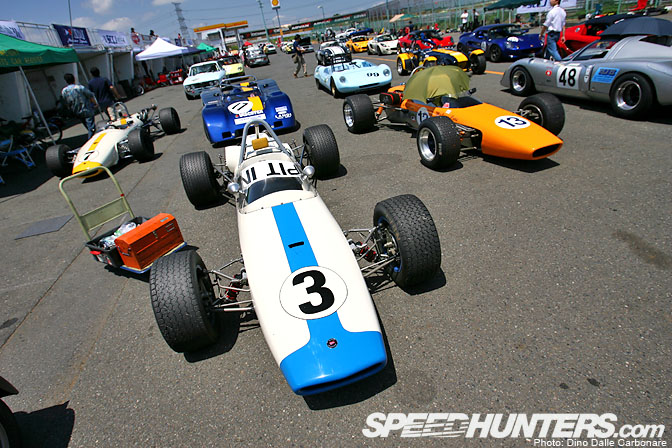 Now this little selection here is something I was just not expecting. Vintage Formula 1 cars, and a few other racers, mixing it up with street going machines. Isn't that the coolest thing ever!?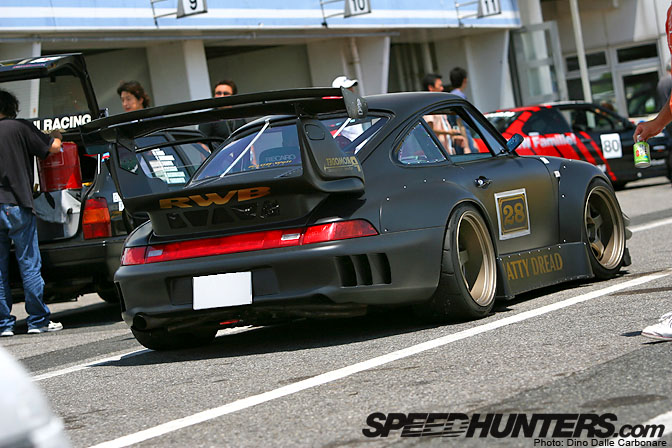 Oh yes, the Rauh Welt 993 everyone liked from the first post. This is a privately owned car and one of the meanest looking Porsches on the day.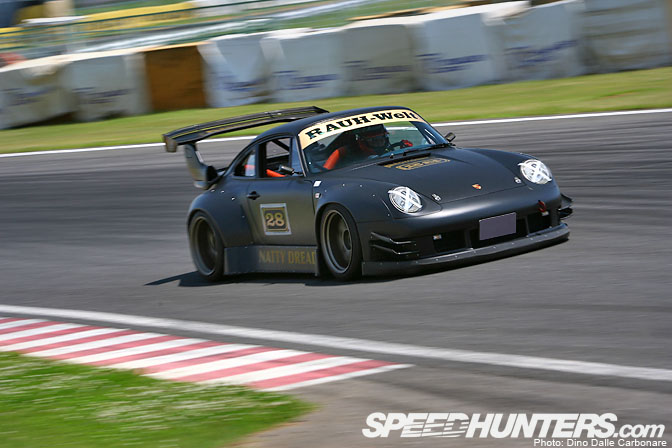 It looked amazing out on tack with that massive rear wing extending over the roof-line.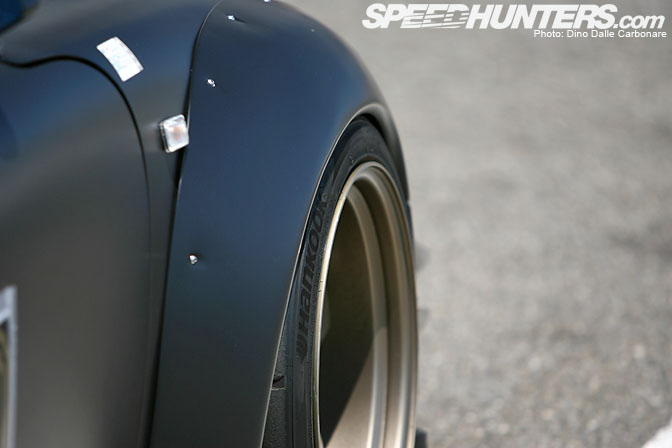 We love our tight wheel fitments here at Speedhunters, I couldn't even get my pinkie in between the semi-slick Hankooks and the front overfenders of the 993!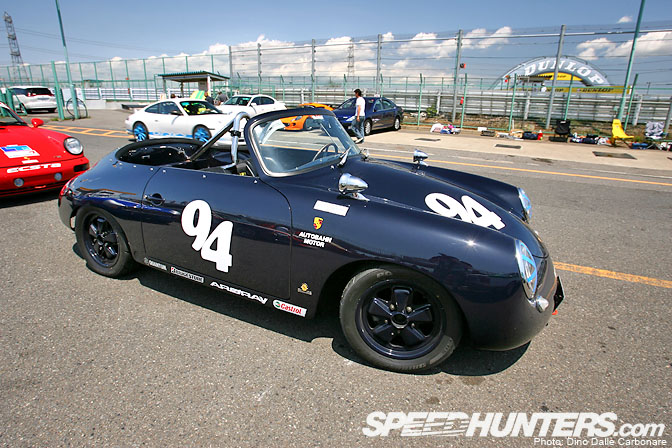 The Porsche interior shot I posted in Part 1 of the InterClub coverage belongs to this car, a 956B Super 90 GT riding on race suspension and color matched wheels.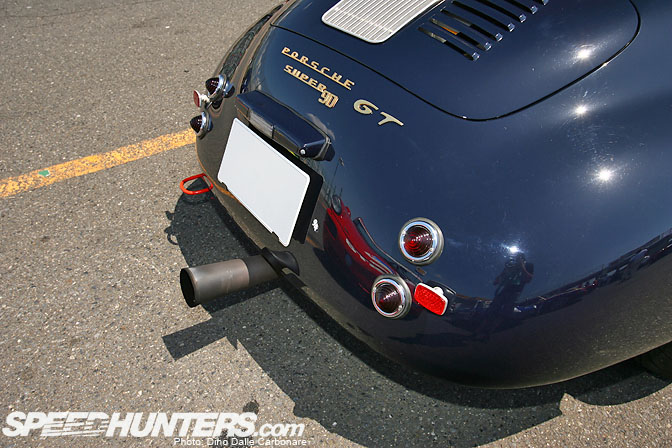 Now I'm pretty sure this can't be too road legal, but it looked very menacing and made the little 1.6L flat-4 sound great out on track.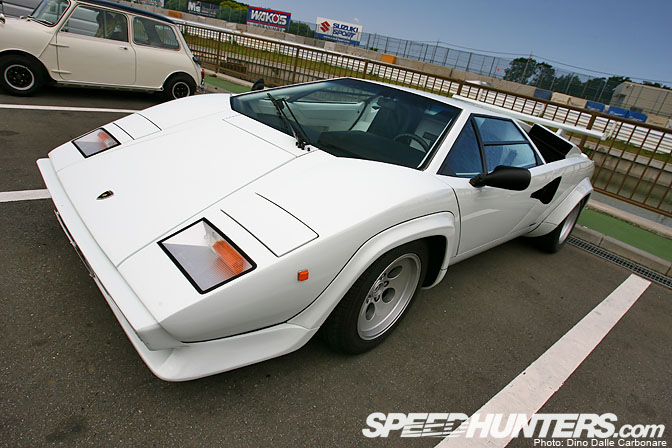 With our recent visit to the Lamborghini Museum in Italy I was very surprised to see this Countach 5000QV in the car park at Tsukuba…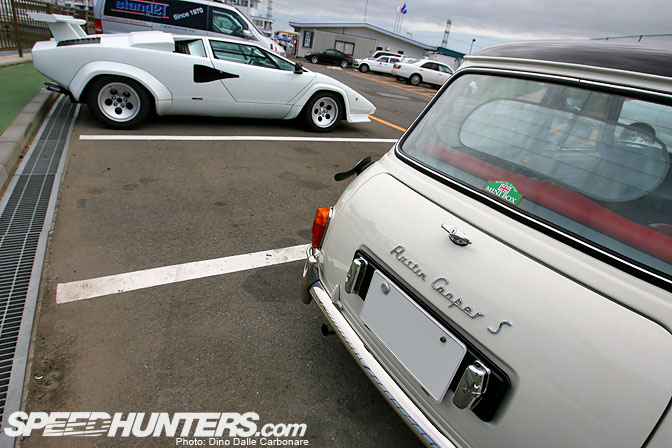 …parked next to an original Austin Cooper S! See what I mean about the mix of cars?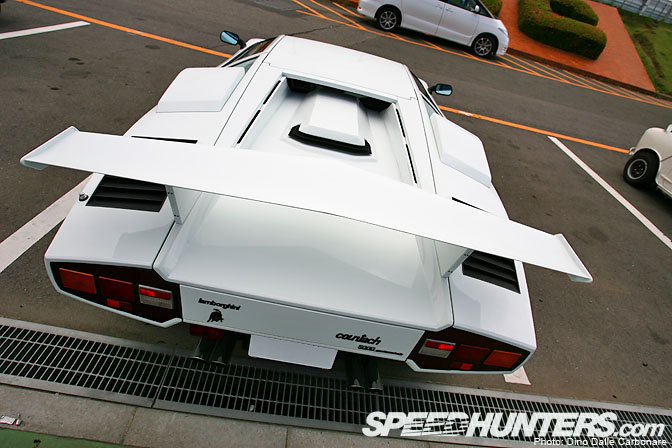 It was in perfect condition with only 20,000 something km on the clock. Just look at it from this angle, it sits so low and sleek and that wing is just outrageous. Funnily enough, the Countach is surprisingly compact by today's standards.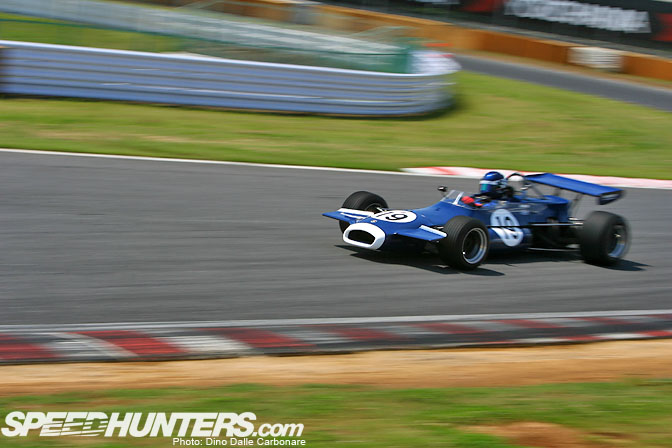 The historic race cars had their own little race, here is the Brabham 35 from 1971 powering out of the first corner. It took quite a while for the owner to track the car down, buying it from a private collector here in Japan. There were FIA pre-race certification stickers on the front and the interior. This car is powered by a Cosworth engine and had cool details like rear in-board disc brakes.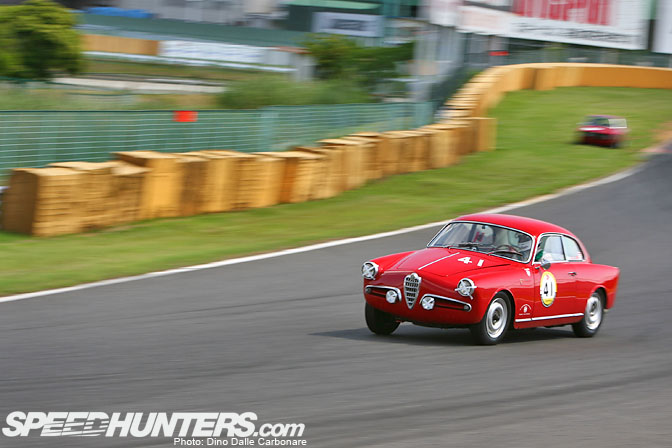 Just look at the kind of cars Alfa Romeo used to make. I really fell for this late 50's Giulietta Sprint Veloce, a 1.3L powered, Bertone-designed beauty. The driver was really throwing it around!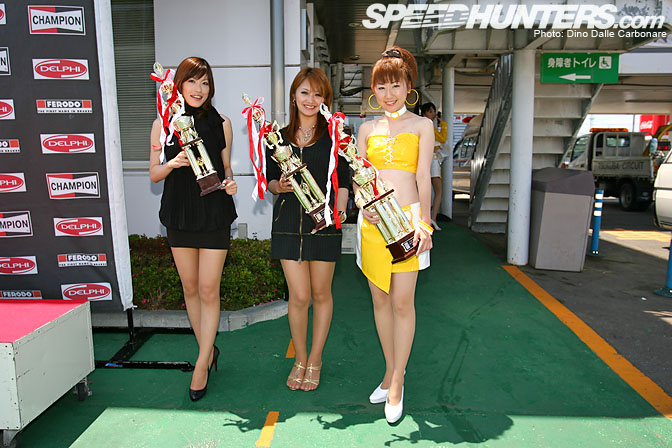 No event would be complete without some lovely ladies, who were handing the trophies over to the winners on the podium.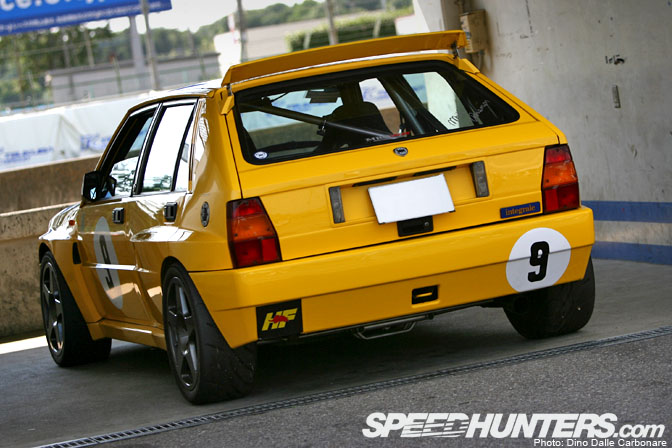 Nick-named "Il Deltone" in Italy (the big Delta), this last generation Integrale was looking particularly aggressive just sitting in a dark pit garage. Look at the fitment of the O.Z. wheels, spot on!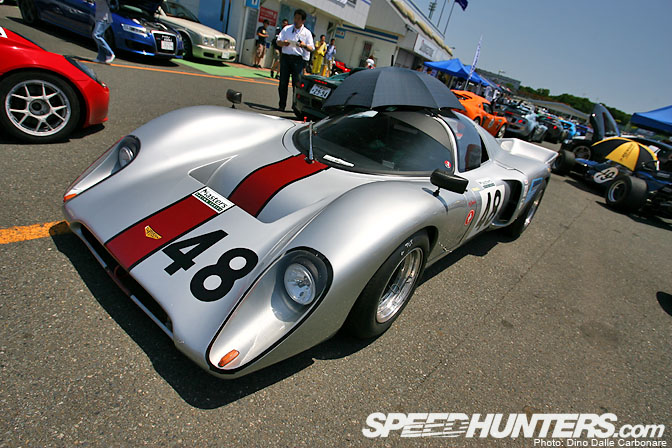 Few close up shots of the rather compact Chevron B16.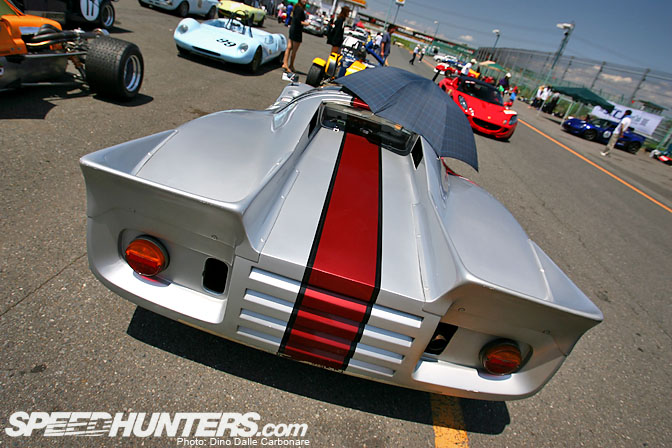 This is actually the first time I have seen one of these British race cars up close. Surprisingly enough, Chevron has been re-making the B16 since 2006, in the same way it was built back in 1969/70. In fact they are using 5 of the same engineers that were making these racers back in the factory in Bolton. The cars can be specified with the old Cosworth FVC or BMW 2L engines and Hewland FT200 transmission.  For more info check out the Chevron website.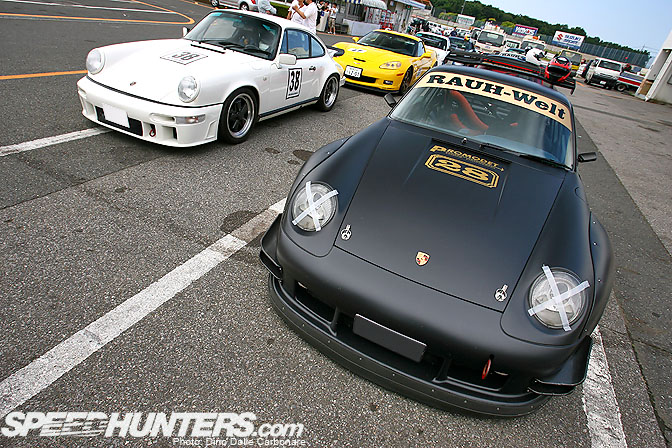 Yes I'm beginning to have a thing for Rauh-Welt cars. The matte back 993 was joined by that rather simple looking white 930…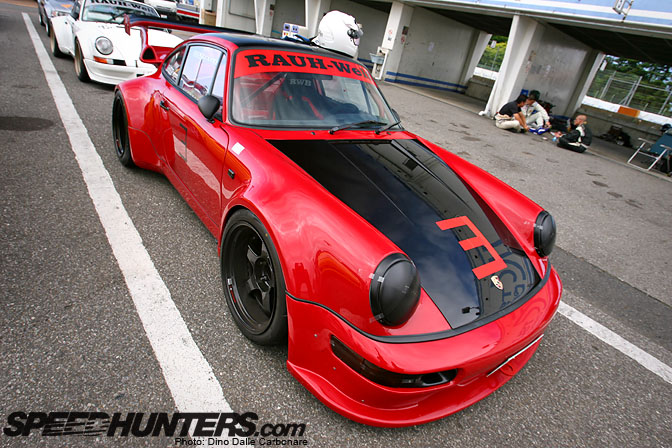 …as well as this firey-red example. I'm a great fan of black on red detailing for cars and this thing just takes it to the limit.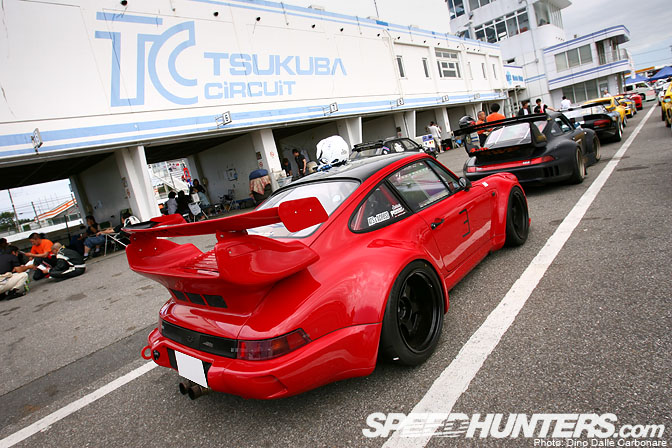 What was I saying about good stances before? Rauh-Welt should be given a prize for setting cars up like this. Absolutely loved this thing!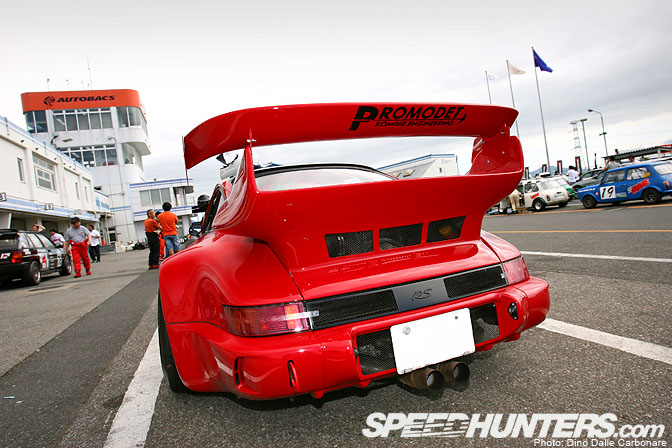 And where would you be without a spolier-on-a-spoiler! That center exit exhaust was seriously loud, but again this is a perfectly road-legal car. Gotta love Japan!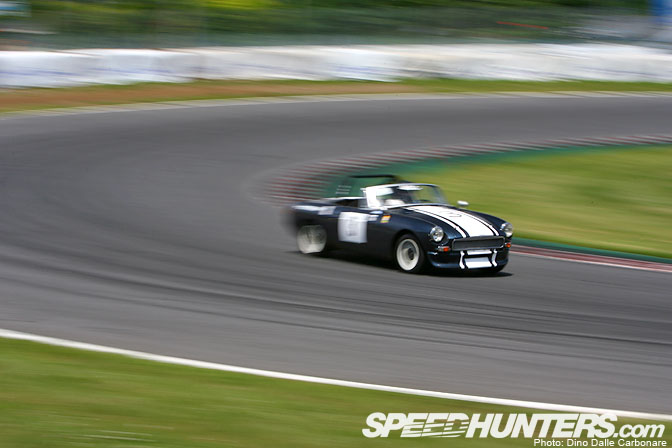 Despite having spent a great deal of my life in the UK I never really got into MGs. However at Tsukuba I began to appreciate the brand more, especially seeing them slightly modified for track use like this convertible one blasting out of the in-field hair-pin.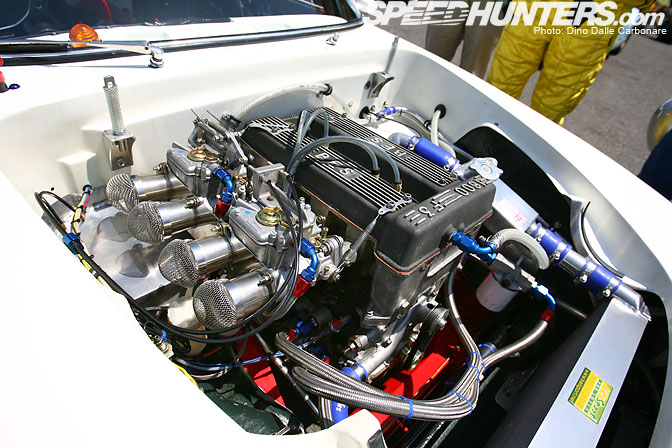 There was a crowd admiring this modified 1.6L twin-cam engine fitted to a Lotus Elan. Looks like a lot of work went into it. Check out the thickness of that radiator, I need one of those on my GT-R!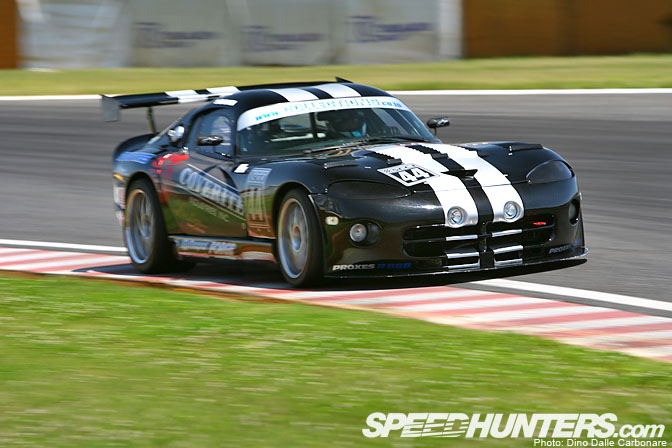 I thought I was back in Adria covering the FIA GT2 race for as second, as the blaring V10-powered Viper came screaming past me. Don't miss the third part of our look at the InterClub Historic Car Race, were more rare classics battle it out against each other.
InterClub Historic Car Race coverage
– Dino Dalle Carbonare