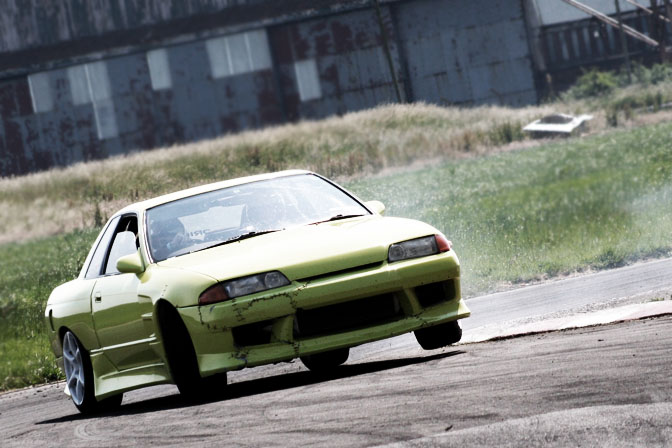 Well, here's my first blog post for Speedhunters, I should really have started with an introduction but I haven't got around to scanning some of the old photos I want to use for that so I'll start here instead. So in short, my name is Bryn Alban, I'm a keen amateur drifter from Wales, UK and I've been following the drift scene for around 5 years now. My day job is a 3D Vehicle Artist which is how I've gotten to know Rod. I'm currently working at Slightly Mad Studios on the upcoming Need For Speed: Shift title. I'm a complete and utter car nut, a qualified graduate engineer in Automotive Engineering Design and I'm an enthusiastic car builder, I'll fill you guys in with some of the projects I've worked on over the last few years in a later post. For this post I'll concentrate on my second drift day on a real circuit.  Llandow was home to the K-Drift practice day last Wednesday and this was to be my first drift day since February because I managed to blow the gearbox up at the last event! The shot above shows one of my three-wheeling entries into the busstop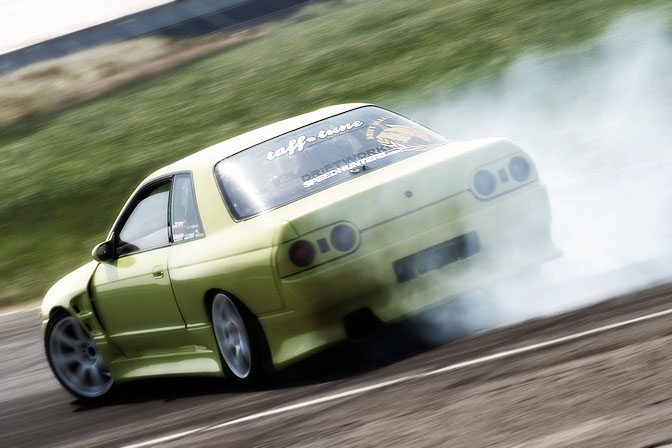 Llandow is a good technical circuit with the first part of the lap being a tight 2nd gear busstop after a long initiation into a 90degree left hander, the end of the lap opens up into a long 3rd gear right hander and then out to the final 4th gear right hander. Unfortunately for me my handbrake wasn't working which made the initiation into the first corner rather hit or miss and I'd blown a turbo gasket meaning I couldn't hit 3rd gear either so I was rather hampered by the car. In the shot above you can just about make out the Speedhunters and Drift Alliance stickers on the rear screen, you've got to represent!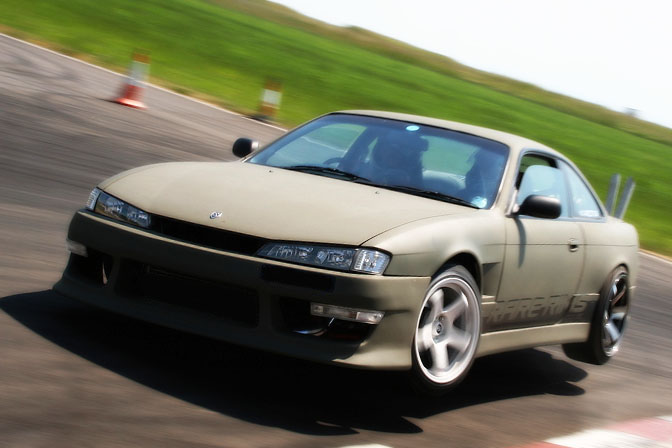 Llandows first corner is somewhat daunting with its high curbs that sit just a few feet away from an armco that protects the control tower. Some cars got closer than others and some cars got some decent air time, the shot above is a classic example.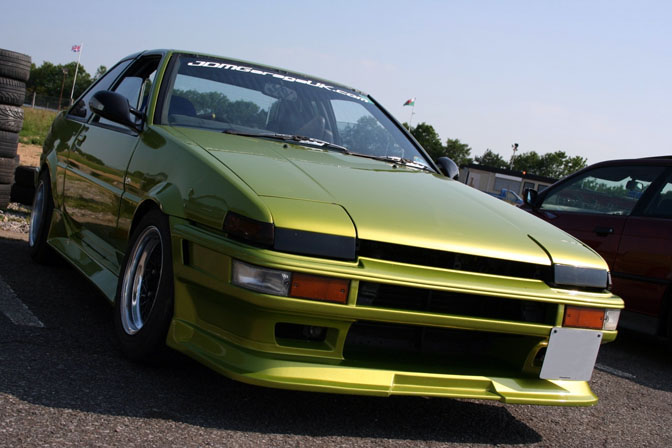 There was a good mix of cars in attendance. This clean looking and rather unusual coloured AE86 was the only Corolla in attendance but the scream of its 4AG made it one of the nicest sounding cars of the day.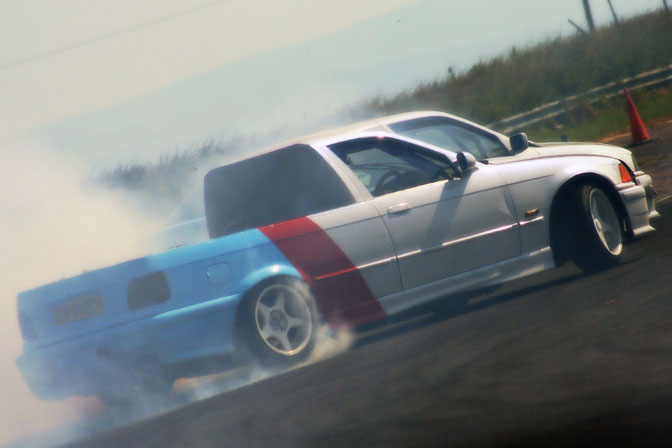 The Somerset based team; Team Church were in attendance with their multitude of BMWs, they had an E30, an E36 compact and an E36 Touring/pickup, all of which were painted in the same white, red and blue colour combination. Seeing them out there twinning towards the end of the day was a spectacle.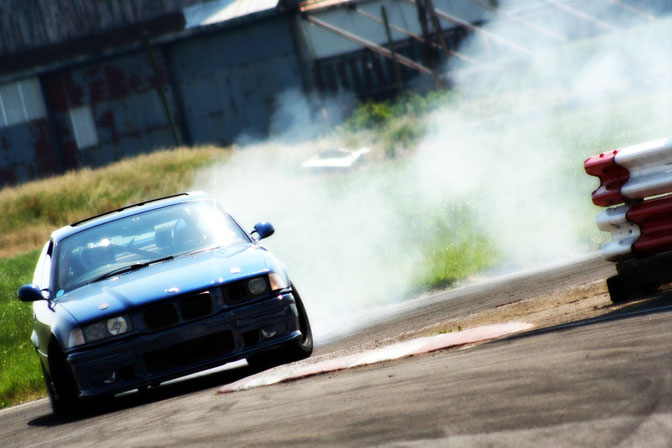 My fellow Nightwalker teammate Gareth Power (Goose) in his savage sounding E36 M3 was putting some good runs together all day with some long entries and some smokey runs.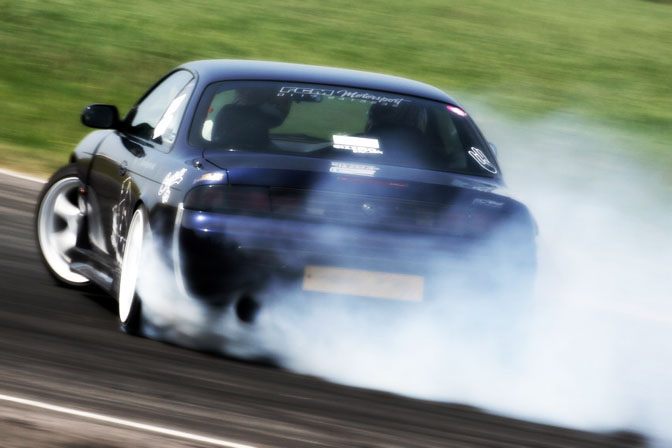 No drift day is complete without an S14 of some description. This one was a nice clean example tearing up the tarmac and churning out plenty of smoke.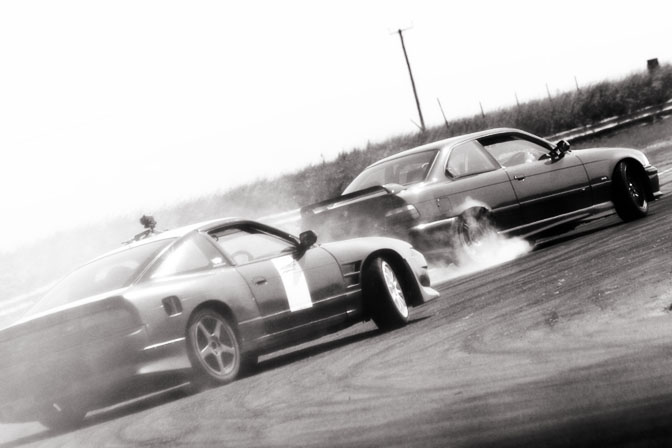 Here's a nice shot of two of the Nightwalkers twin drifting during the afternoon sessions. I jumped in as passenger with Goose in his M3 while another two Nightwalkers, Ian Williams (Foot) and Daniel Brown (Browny)chased us around Llandow.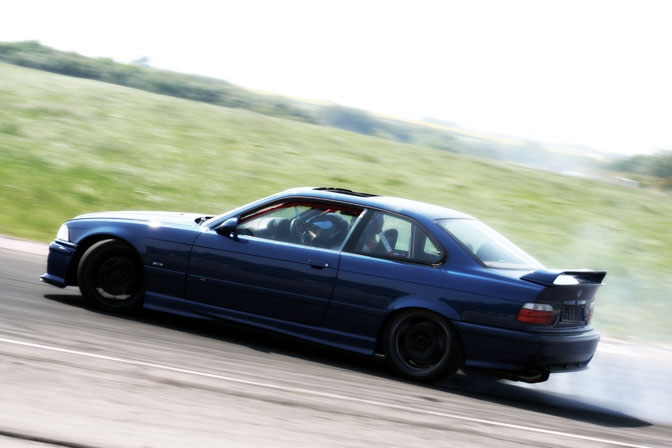 Another shot of Gooses M3, this time exiting the Devils Elbow.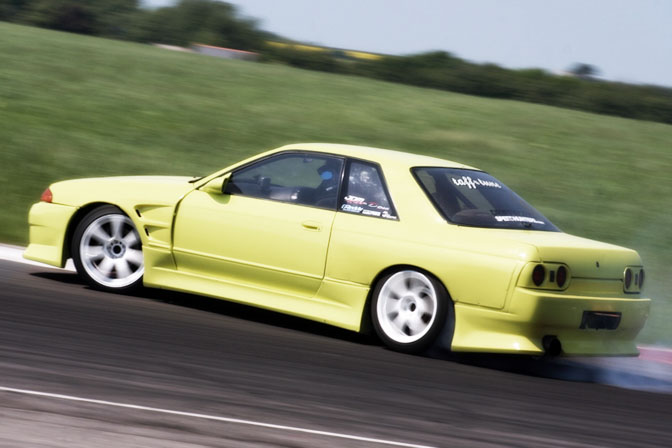 I'll close with this shot of me taking my dad out for a few runs. He's asked me recently "do you think I'm too old for this?" He's in his 60's and loves every minute of it!
Hopefully I'll have some more similar reports from the grassroots of British drifting as and when I can make it to a practice day or event. Hopefully next time my car will be a bit more reliable!
Thanks to Alex at K-Drift for organising the day
Bryn Alban
Images courtesy of Craig Mason from Nightwalkers