Following on from the two Mercedes Benz S-Classes we saw the other day I wanted to take a look at a couple of more rides from Junction Produce. A true VIP car, "or "bippu" if you are going to pronounce á la Japanese, may well be a slightly older JDM sedan, but like most stuff in life things change and evolve so it wouldn't be right to ignore cars like the new LS Lexus you see here.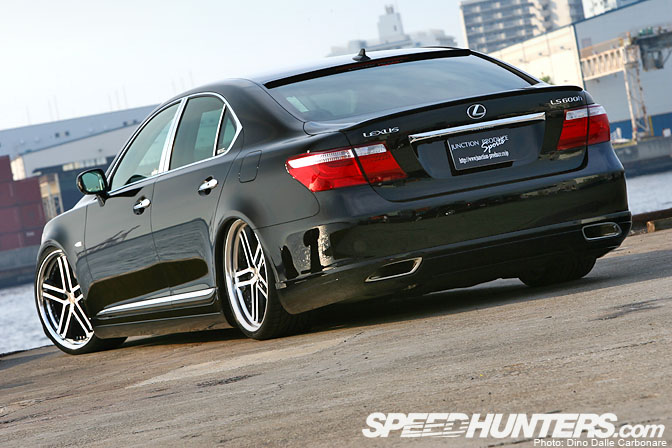 Taketomi-san, the president of Junction Produce, has taken the opportunity to launch a new styling concept with the LS. The "Sports" line-up, takes VIP styling into the new millenium by offering smoother and more modern lines.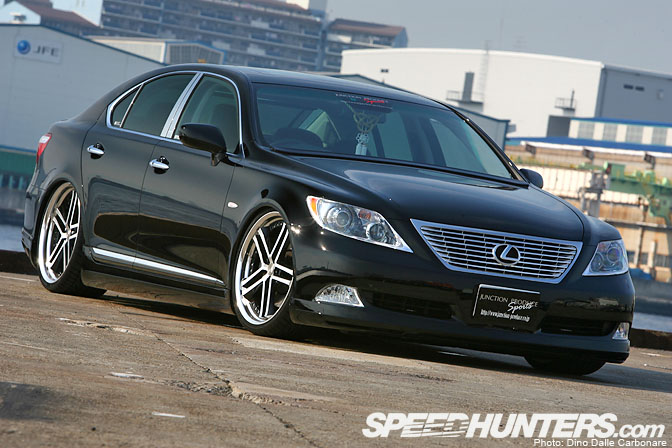 The car we took to the port of Osaka for a shoot was wearing the full 6-piece kit, which consists of the front half-bumper spoiler, chunkier side steps, rear bumper lower insert and a series of spoilers, one for the trunk and roof as well as one for the hood.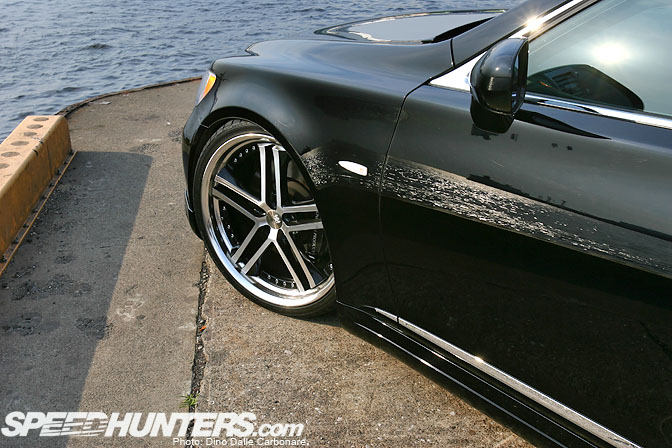 Dropping a car to the ground is one of the most important things on a VIP sedan, something that on the LS is achieved by a simple electronic device which overrides the height adjustment on the air-suspension.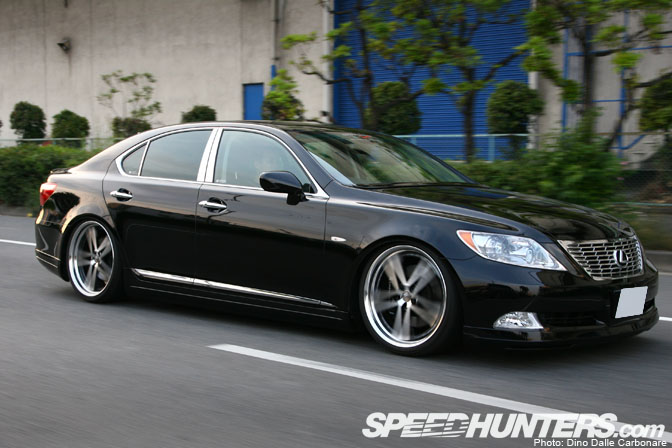 On the road the LS looks smooth and very grown up.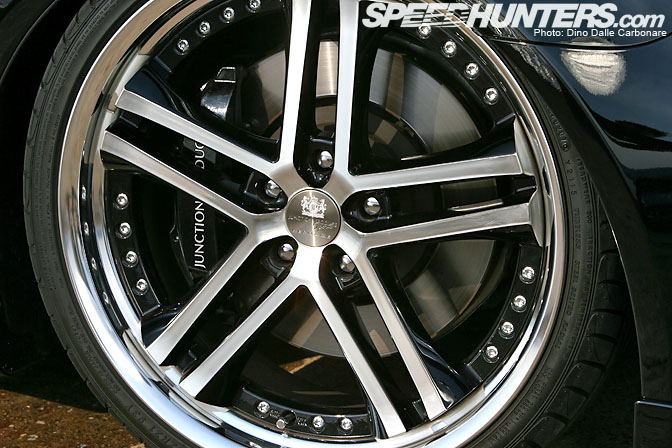 Wheel choice is extremely important on a car like this and the 2-piece Junction Produce Sport Heritage 21-inch rims suit the car rather well. A more aggressive offset would have even better, nothing a set of spacers can't fix!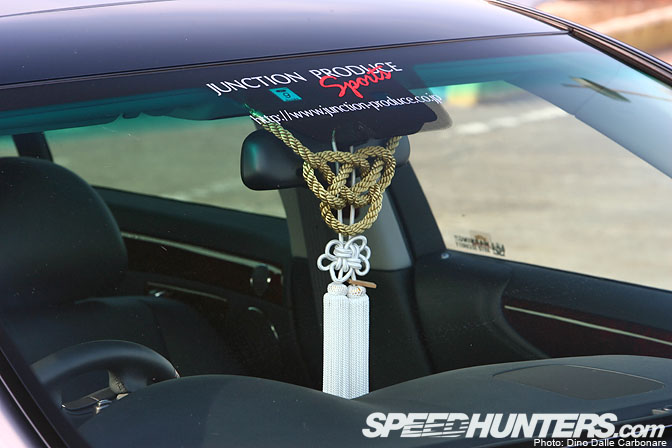 What would a bippu car be without a Fusa! This is a Junction Produce accessory which is offered in two different styles, one with an "agemaki" knot or one wit a "kiku" knot as you see above. The white Fusa is taken from an ancient South Osaka festival and is hanged along side the "Kintsuna" (gold rope) and is meant to ward off bad spirits.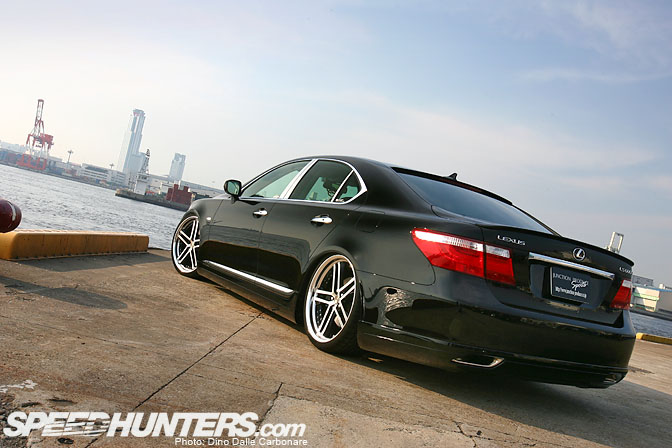 It takes a while for the air suspension to drop all the way to its lowest position, but worth the wait as slammed cars always look good in pictures!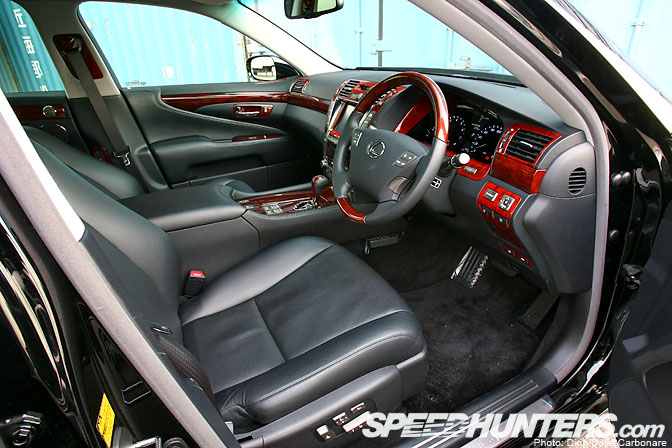 The interior is dressed up with a 13-piece Junction Produce wood trim kit. You can see the suspension heigh adjuster module fitted along the transmission tunnel.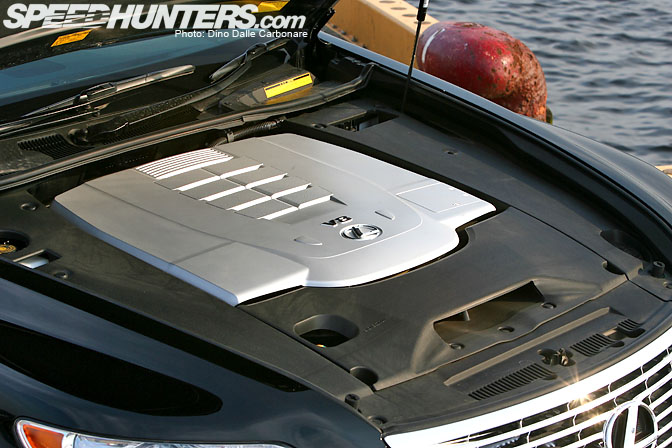 Despite the LS600h badge on the trunk, this is actually an LS460!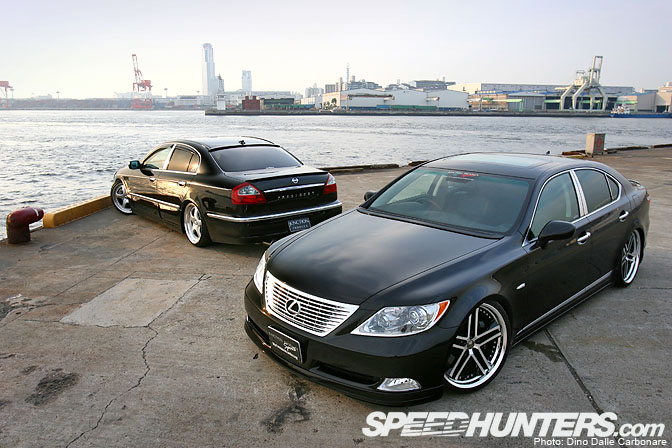 So what do you guys think of this contemporary take on VIP tuning? I quite like the smoothness of the Junction Produce Sport style. Next up we will take a look at the Nissan President above and have a quick chat with Taketomi-san. Stay tuned for more on Junction Produce!
- Dino Dalle Carbonare