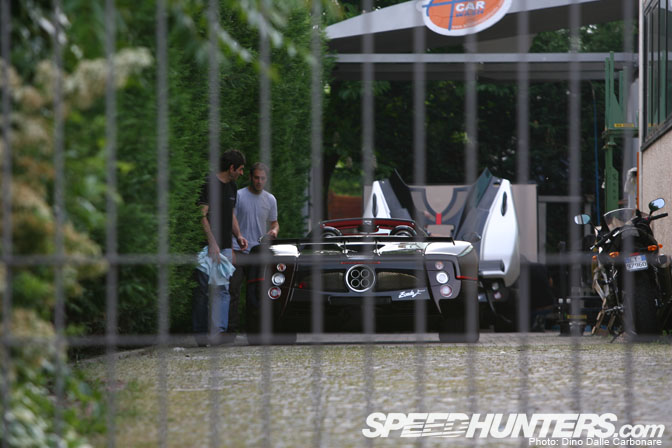 It's just over a month ago now that Dino and I parted ways in Italy to return to our respective countries. In relative terms, it wasn't that long ago, but for me it seems like a lifetime away. A lot has happened since then… So it's a bit strange now to be staring at these photos of the Pagani factory, trying to bring myself back to the immediate experience of the place….Hmmm… perhaps I didn't get enough sleep last night… blech…
Anyway… let's get this story going… Our main purpose in visiting Italy last month was to shoot a film with the Vitaphone Racing Maserati MC12 at the FIA GT Adria race… but I figured that it would be a good idea to massage the rather extensive Need for Speed automotive rolodex and set up some Speedhunting stories too. Pagani have always been rather friendly and collaborative with us and with one email we were in the door. Amazingly enough, they agreed to give fellow Speedhunter Dino Dalle Carbonare and I an extensive four hour tour of the factory along with complete open photographic access. Crazy!
The Pagani facility is situated in a small, non-descript industrial park… On initial approach, it's nothing particularly interesting, but as soon as you arrive at the factory and peer through the security gate, you can see this is no ordinary setup. What goes on inside the Pagani building is truly special.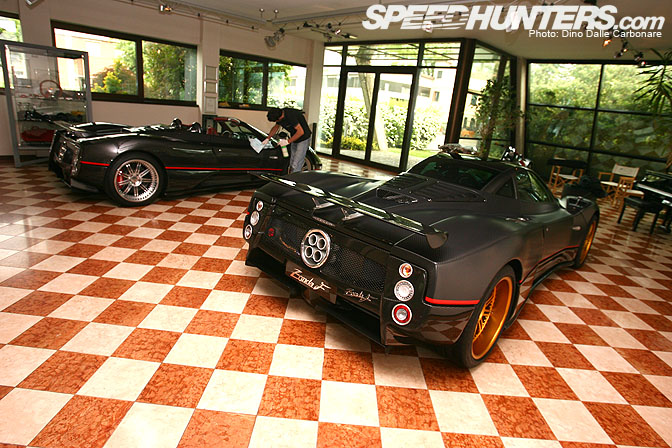 Navigating past the gate, we found ourselves in the main showroom. Now, this is the first time I've ever had the pleasure of seeing a Zonda in real life. I've seen the cars many times on Top Gear and have also sampled the car in pre-release versions of Need for Speed SHIFT.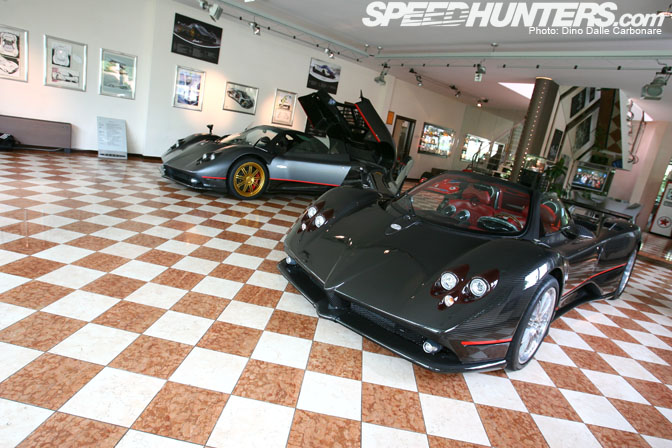 So you can imagine my delight at being greeted by not one but two of these hardcore supercars….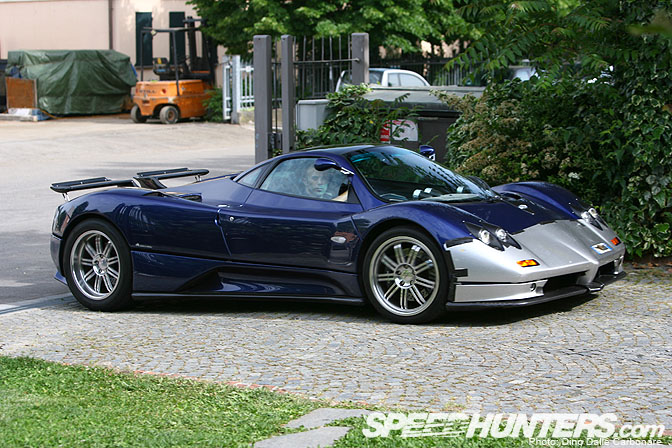 As I watched a customer car coming through the gates, our Pagani host arrived and we were taken into the factory area.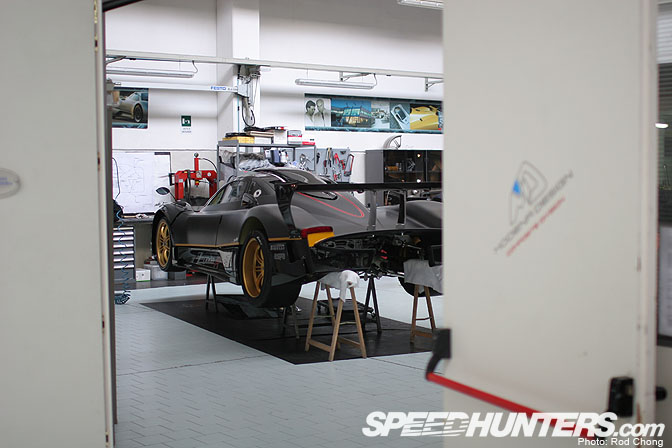 The first port of call was the main assembly area.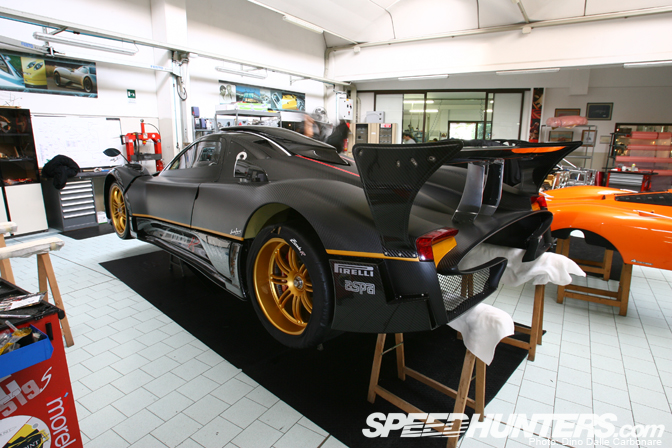 This is basically a large, open room in which each car is hand-assembled by a small group of technicians. Here we have Zonda R chassis number two taking shape.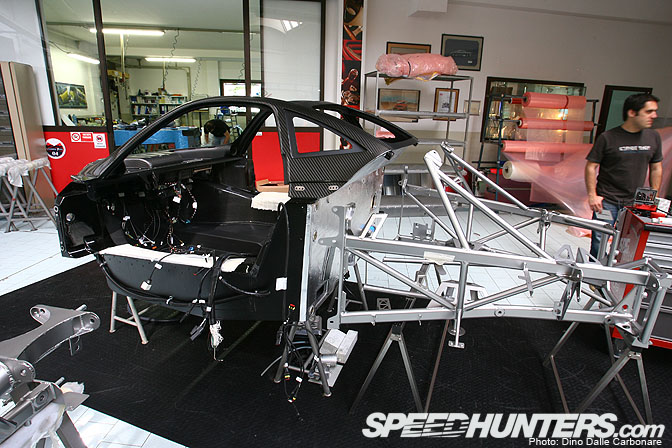 On the other end of the room was this new model Zonda Cinque in an early stage of assembly. The Cinque is an extremely limited run of five chassis, said to be a street-legal cross between the Zonda R and F models.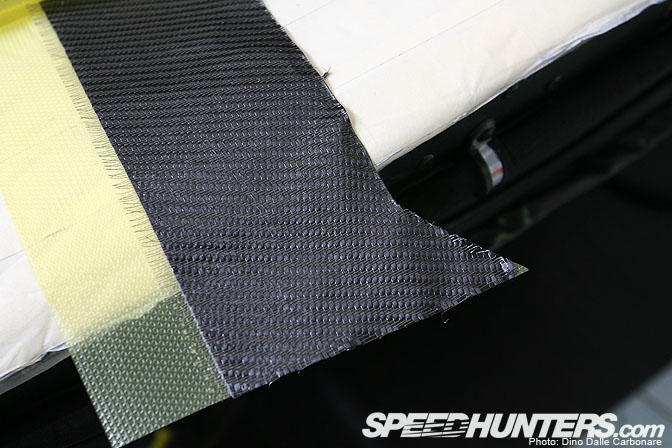 Pagani is quite proud of the new carbon fiber weave developed for this car. It includes a layer of titanium strands imbedded into the material, resulting in greater strength and reduced weight. The material looks pretty difficult to work with, as the titanium threads are sharp. I poked my finger just holding this piece of dry weave!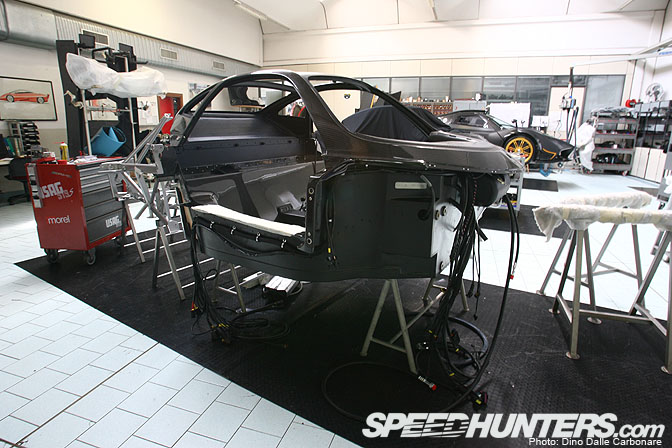 This Cinque has a pretty long road ahead of it before it will be ready to drive. Each car takes several months to hand assemble, with approximately ten cars completed per year.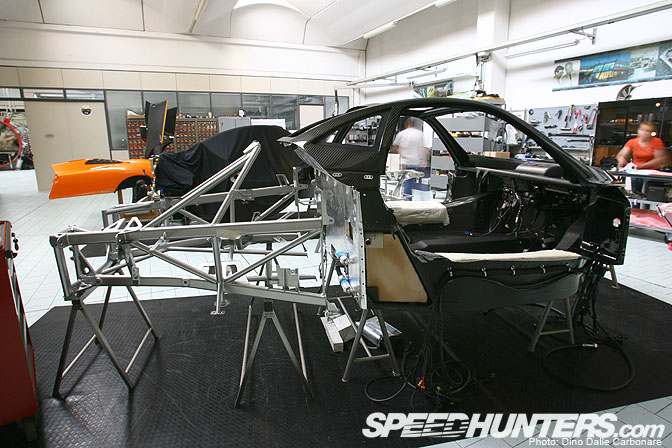 This shot shows how the Zonda is comprised of a center carbon fiber monocoque mated to a rear tube chassis assembly.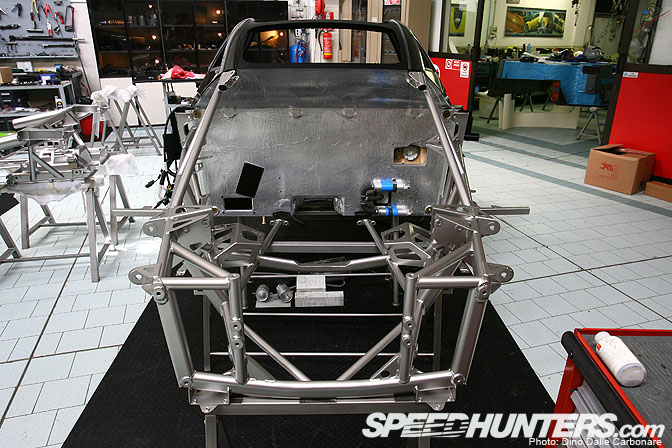 It's quite incredible that Pagani have allowed us to photograph these unfinished cars, isn't it? Hats off to them for being so open.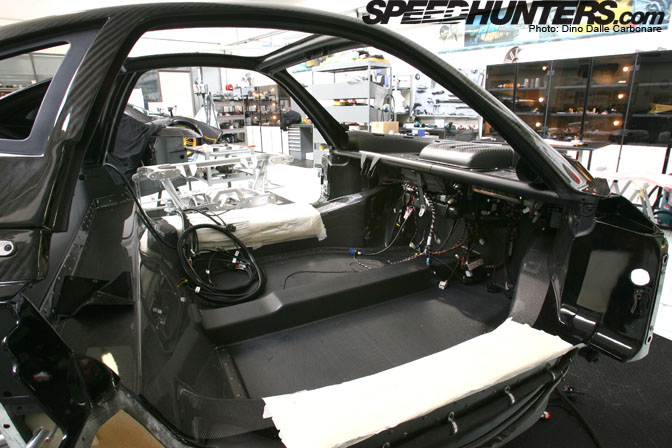 Looks like the car is still in a preliminary stage of wiring.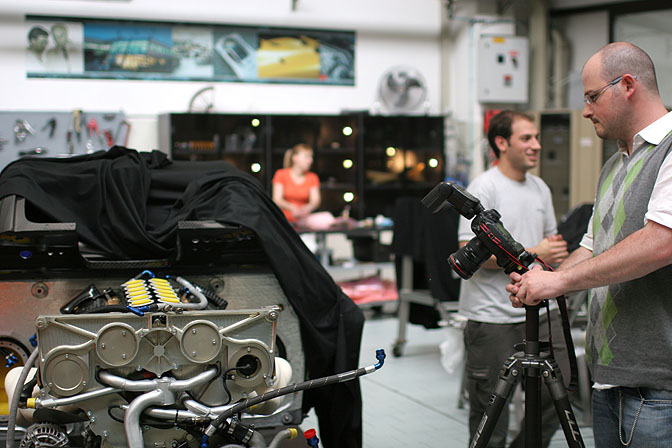 BTW, both Dino and myself made a point of dressing a little more formally for this appointment. We had to look reasonably professional for such an important photo shoot!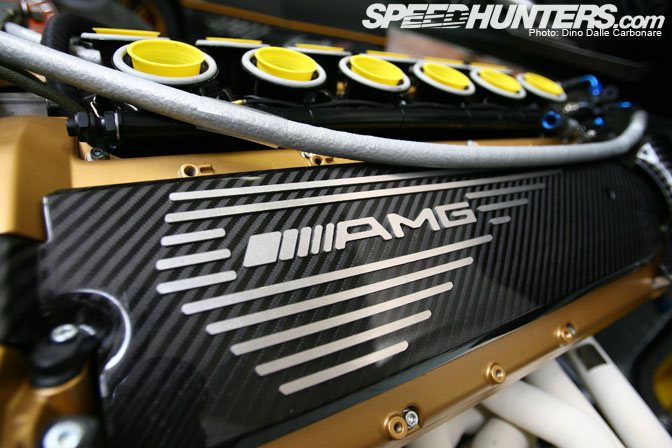 Check out the design on the valve cover…. beautiful.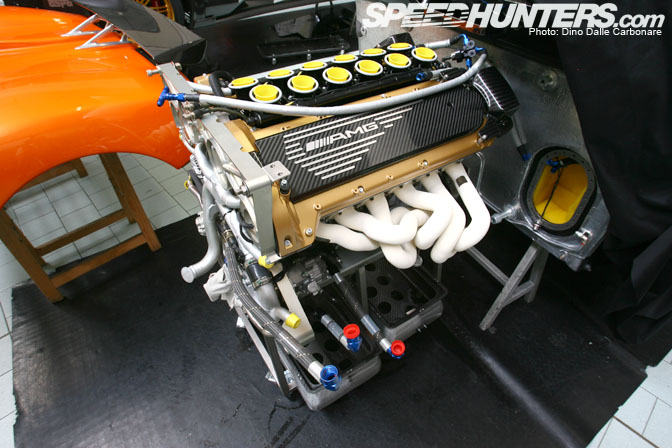 Here's the AMG Mercedes sourced V12 engine.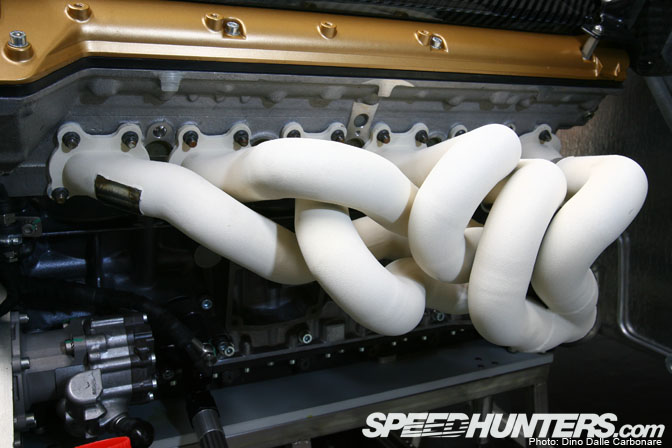 A nice close-up shot of the engine's headers… Dino and I were looking at each other during the whole factory tour as if to say "OMG I can't beleive they are letting us photograph this!"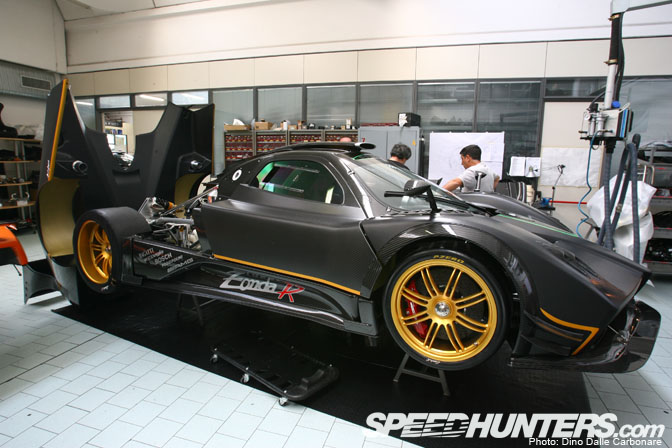 Mind you, I was doing my best not to come across like an over-enthusiastic school boy… It was pretty hard to contain myself when looking at the Zonda R though. Just look at this thing!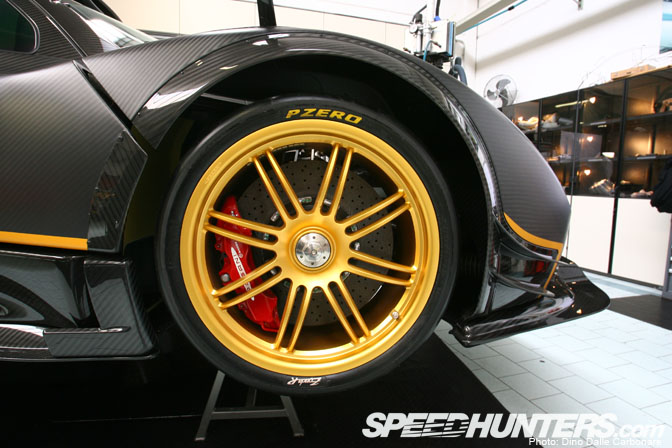 The rims are forged magnesium. Trick.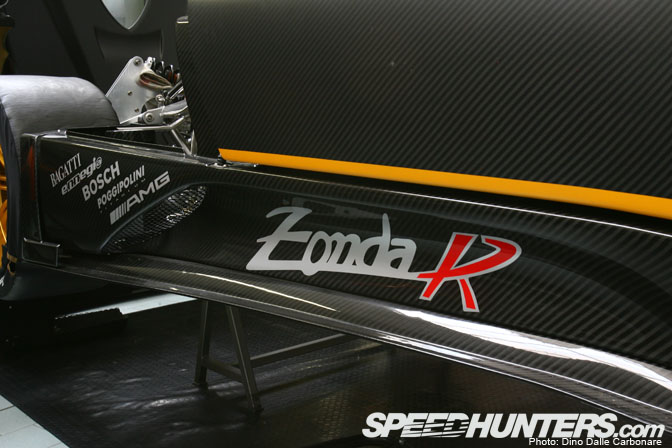 May this car ever be free of paint.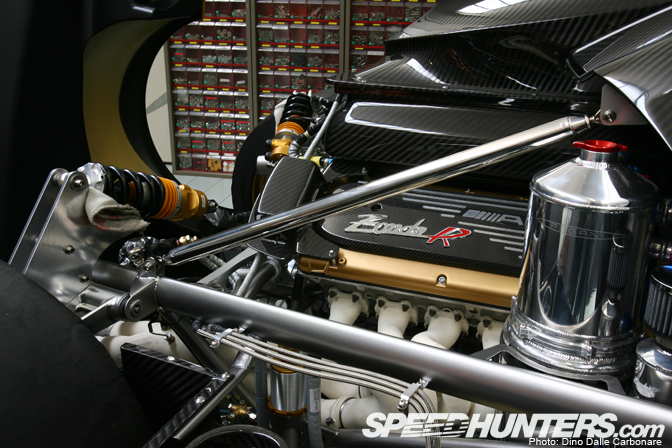 A nice detail shot of the Zonda R's engine bay.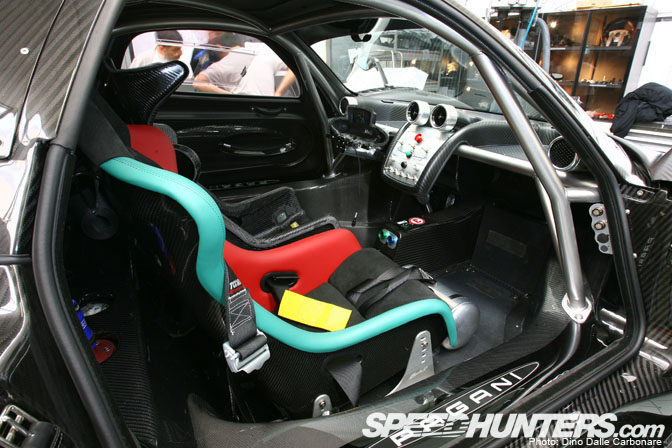 The cockpit. Although similar in looks to the normal Zonda, the R model only shares around 10% of its parts with the road legal version of the car.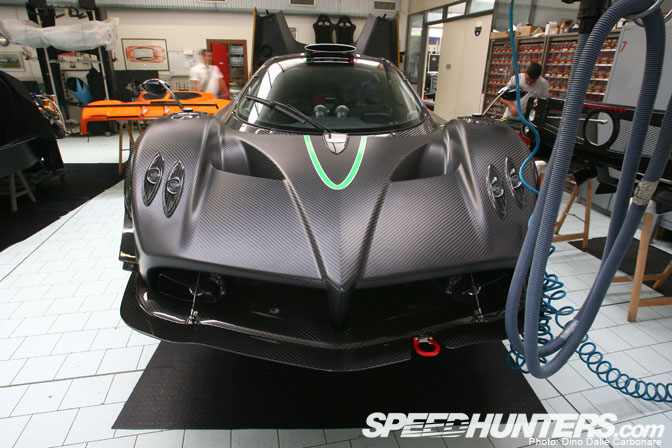 Together with the Ferrari FXX this is probably one of the most extreme track day cars in the world. I do wonder what kind of mechanical support would be needed to run one of these beasts at a private track day… would you need a team of engineers just to keep it running? Ferrari's approach with the FXX is to not let you keep your machine — you show up and drive it with their technicians on hand to keep the car going. With the Zonda R, this is not the case — it's up to you (one of ten lucky people to buy one of these cars) to tune and maintain the car. I suppose if you can afford one of these rare cars, then this wouldn't be an issue.
Let's just hope these cars get used on the tracks and don't just end up stored in warehouses as investment opportunities.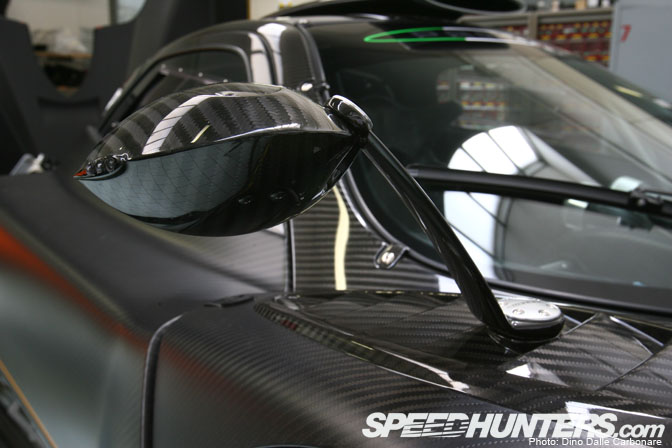 Part of the Pagani philosophy is that every single part of the car must be a work of art. This modus operandi is nowhere more evident than in the R's mirrors.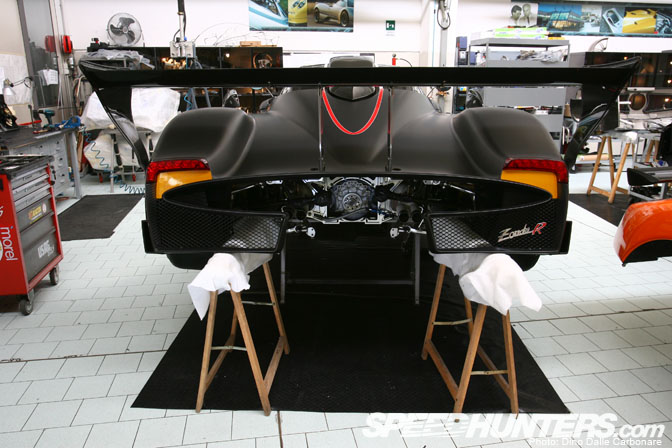 We asked the mechanics to mock up the rear body on the R to get a sense of the overall lines of the car. I just love this machine. It looks like a Group C racer.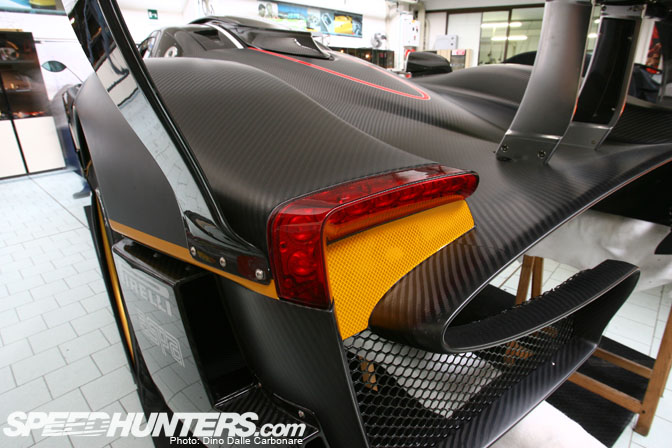 Here we can examine the tail lamp assembly.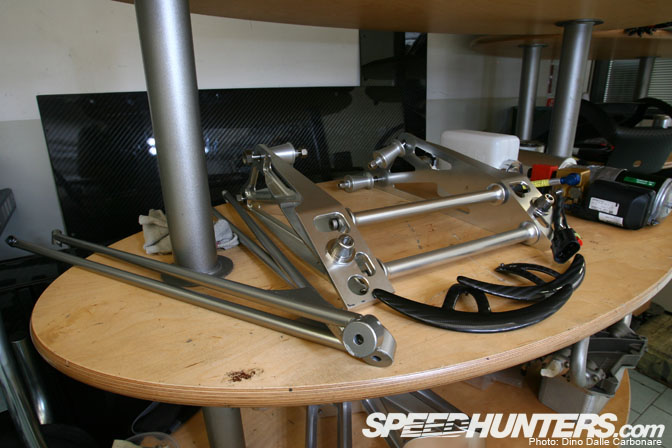 A shelving unit behind the Zonda R houses parts for it.
These are the shifter paddles for the steering wheel. They weigh almost nothing…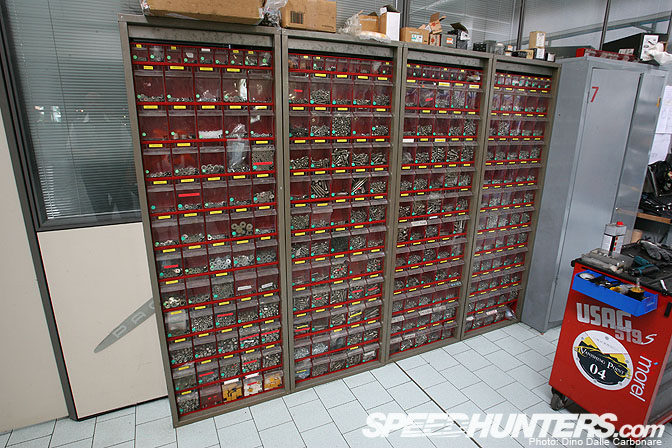 Beside the car, all the necessary nuts and bolts for assembly are housed…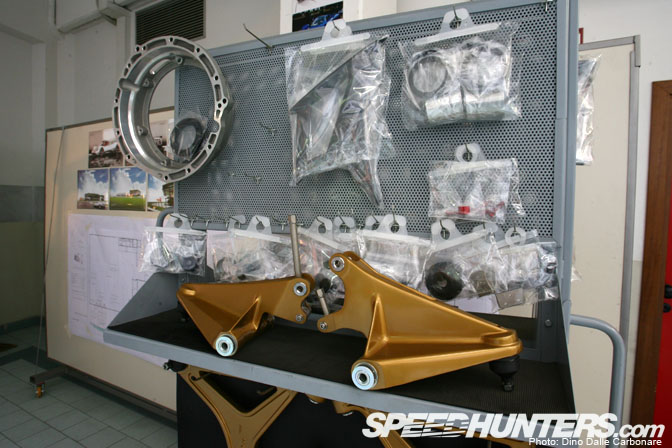 … and engine bay and suspension parts stand ready for final assembly.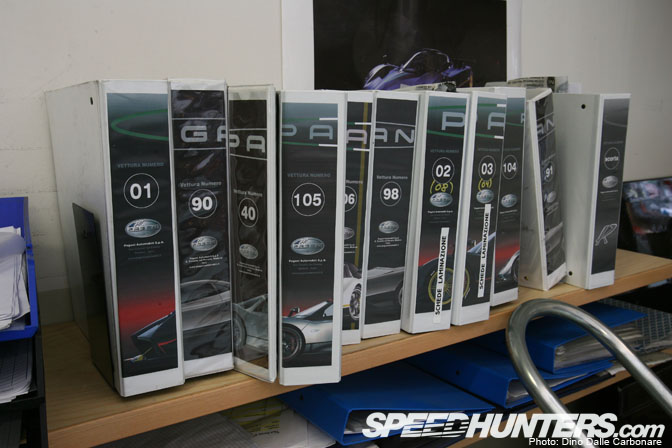 Each car has has an assembly book attached to it. It contains a record of each step necessary for the buildup of each car. As the builders proceed through each section of the car's assembly they check and sign off each step. This ensures that each car is assembled to a clear cut, exacting standard. This hand-built process is how super cars used to be built in the Modena area at such factories as Lamborghini and Ferrari… these companies have moved on to assembly line processes, but Pagani still carries on with the traditional method; a blend of the high tech and the hand crafted.
K I hope you Speedhunters readers appreciate having this kind of access… I still can't beleive that we were allowed to shoot these photos! Perhaps it was all a dream?
:>
Part two coming soon.
:Rod