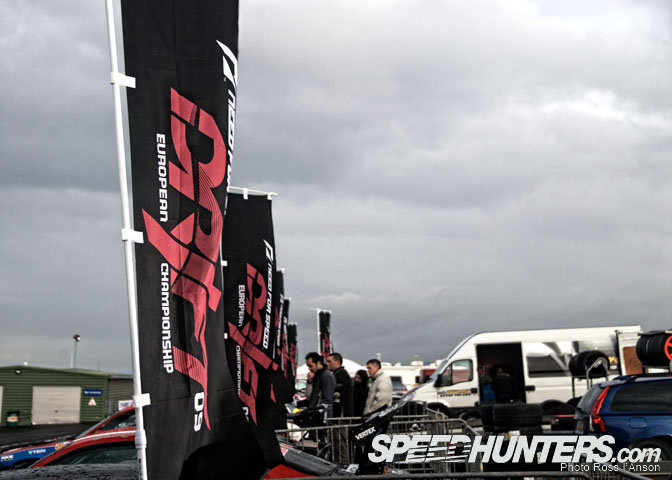 Knockhill.. a place where you can have a years worth of weather in 24 hours,  for practice yesterday it served up rain ,hail, and heavy fog.. today for NFS-EDC round 2 we were greeted with blue sky's and the threat of sun burn.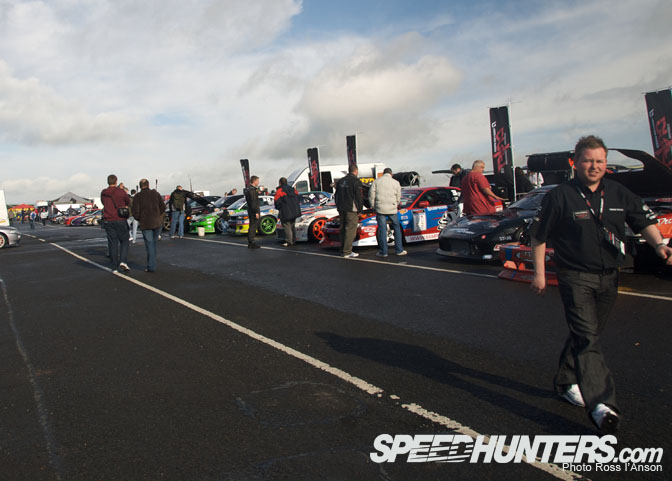 The teams and drivers started arriving around 7am getting ready for the 9am practice session,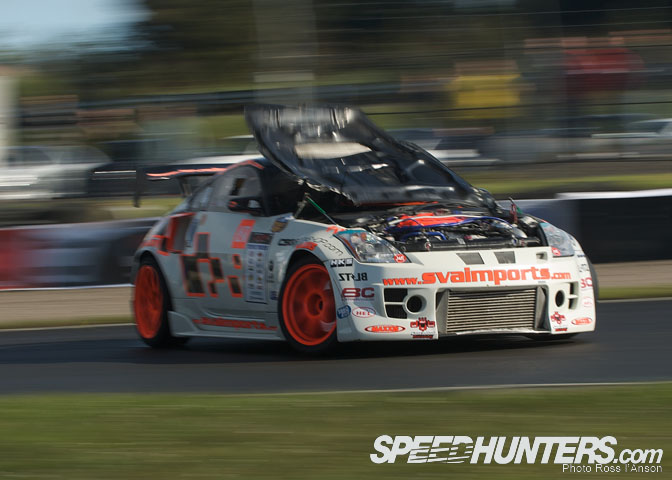 as practice got underway the track was still damp from the night before catching one or two drivers out at they searched for grip, however it wasn't just the lack of grip that caused Mark Luney problems just as he initiated for turn 1 at around 100mph, his bonnet broke loose and slammed against the windscreen! Mark showing massive skill seamed to take it all in his stride and brought the car to a stop without drama.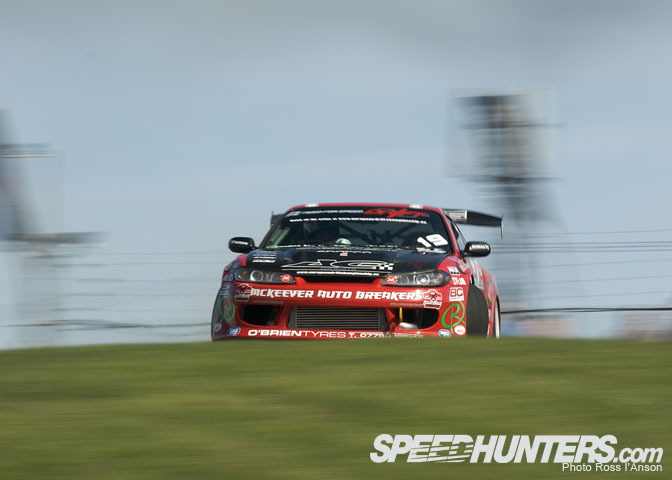 As the track dried out the speeds picked up dramatically showing just how spectacular Knockhill is for drift,
Plunging over blind turn 1 and down the hill in the dry was totally different to the previous days wet practice session, with much higher speeds involved the margin for error was greatly reduced,
just a small clip of the inside curb can easily rip off a bumper as Declan Hicks found out.
As the top 16 Battles commenced it soon became clear that this was going to be a event to remember, Ian Harrison was having technical problems with his R32 so was competing  in a borrowed S13 totally un-phased by the new machinery soon advanced to the top 8.
as did Ceiron Camron after a spectacular save against Gary Huges,
running wide at 90mph at the bottom of the hill Camron came so close to spinning off into the gravel  but some how managed to pull back together to advance to the top 8.
Ian was drawn against Phil Morrison for the top 8 it was a close fought battle but Morrison eventually took the win.
As did James Russel in the DCY skyline.
Camron fell to a hard charging Mark Luney.
Brett castle and Peter barber had a close  battle, brett cutting in a little too close to the clipping point at turn 3 tore the front bumper off and  showered Peters RX7 in bits of S14, too close to call the battle went "one more time" with Peter advancing to the finals.
So onto the battle of the day Peter Barber and Mark Luney, this was nothing short of epic! running so close together it was almost if they were joined together..
NFS-EDC at  its best Peter drove out of his skin to hold off Luney and advance to the finals.
Phil Morrison had made a very uncharacteristic mistake against James Russel earlier on and found himself up against Luney for the 3rd place run off, a even more uncharacteristic spin in turn 1 saw Luney take 3rd place.
Knockhill always Produces pleasant surprises and this round was no exception, i would not have bet on a Russel Barber final but as history proves i should stick to taking photographs and not event prediction, Barber eventually taking the win against Russel  with a 6-4.
So there we have it 1st Peter Barber 2nd James Russel and 3rd Mark Luney, NFS-EDC Knockhill 2009 was without doubt one of the best rounds i have attended, amazing place amazing driving and a great result! it all looks good for round 3 at Silverstone at the end of the month.
Ross IAnson.