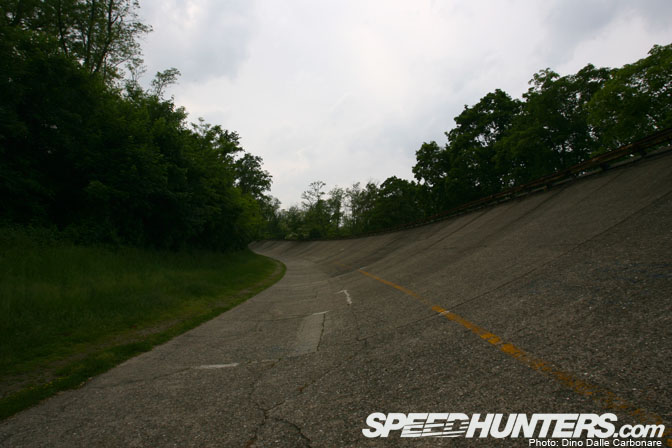 It's hard to believe that  Dino and I have been in Italy almost a week, and our journey is starting to wind down… As I type this blog post, I'm sitting in a hotel next to Monza circuit….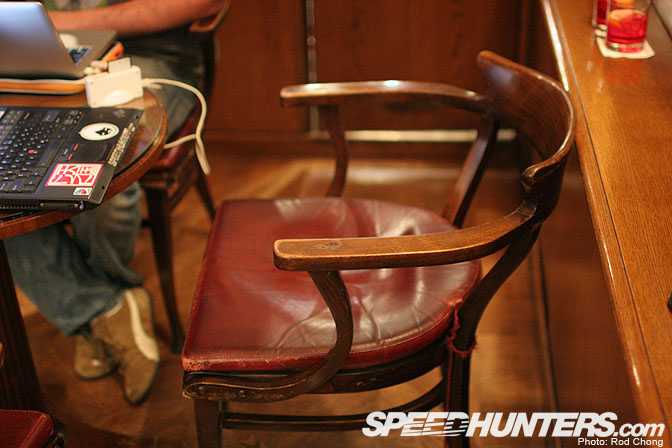 The bar man tells me that this chair I'm sitting on was occupied by a certain Michael Schumacher three years ago…. perhaps if I sit here long enough I'll absorb some of his greatness…. or not hahaha…. Anyway, let's have a look back through the past few days of Speedhunting in Italy….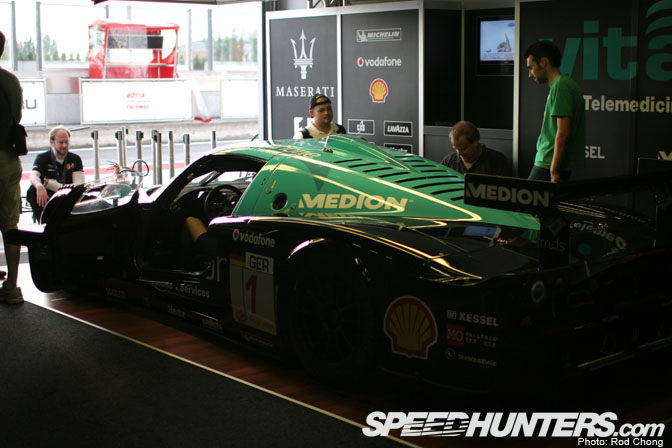 We spent three days at Adria Circuit working with the Maserati Vitaphone racing team to produce the third of our NFS Drivers Film shoots…. let me tell you it was emotional bliss for me just to be able to stand next to this car…. what a big beast of a GT racer it is!….
Those of you in the US drift scene will notice drift film maker Will Roegge in the green shirt.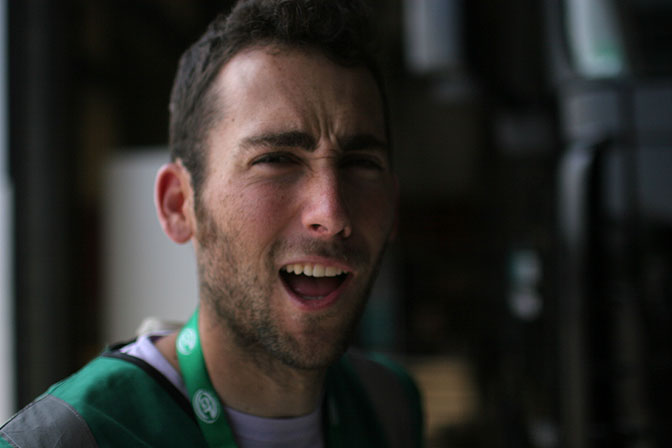 We thought it would be cool to transport Will across the Atlantic to film some top line European GT racing… I can't wait to see his video footage!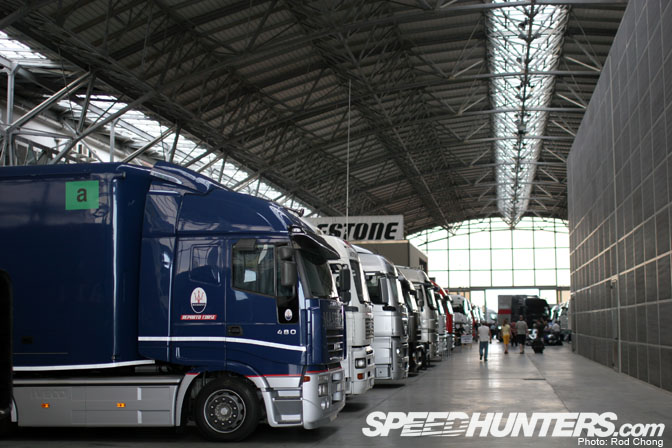 I have to say, Adria is quite a fine factility. I was a little skeptical when I first saw how small the track is, but after spending a few days at the circuit, I'm totally convinced. It's a great place to spectate as you can see almost all the corners from any trackside position… It's also a fantastic location to work at too, as the paddock area is covered by a huge dome…. Quite impressive.
In fact, this race was one of the most comfortable events I've had the pleasure to attend…. Not only was the hot sun kept at bay by the dome, but Maserati let us set up camp in the blue rig on the left of this photo.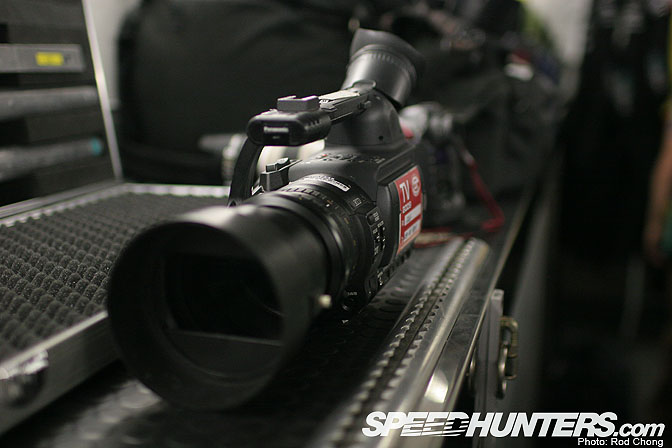 It was a great place to dump all our camera gear in between track sessions… this is the camera that I use to shoot all the Speedhunters videos.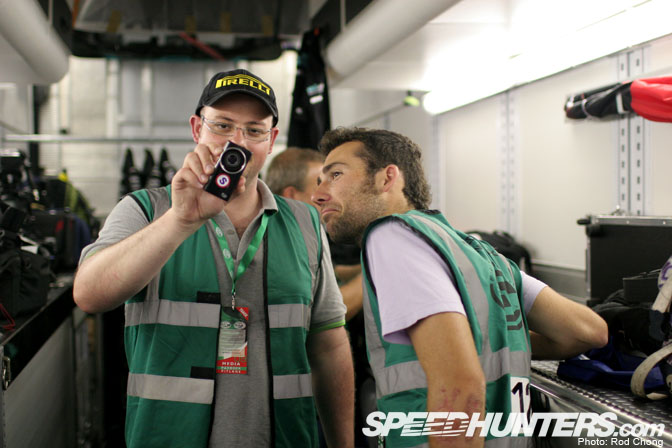 We hooked up Dino with a Flip cam so he could try his hand at shooting some video footage. I'm not sure if Will Roegge on the right likes or dislikes what he's seeing… :>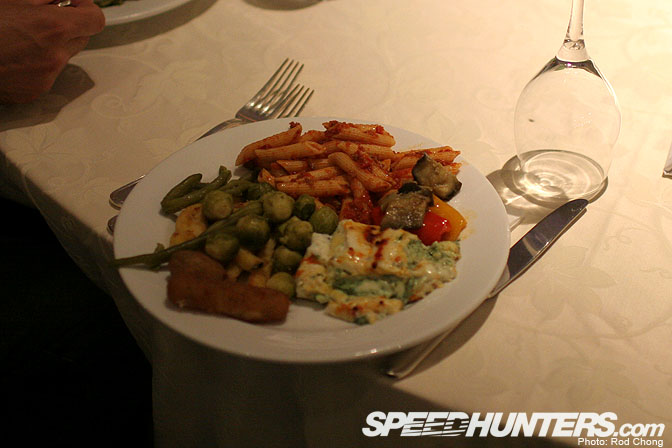 I feelI need to say something about the food we got to enjoy at Adria circuit…. I ate some of the best Italian food I've ever had in my entire life there!…. Fine dining is not something that one would normally associate with race tracks, but the Italians have a special way of doing things don't they?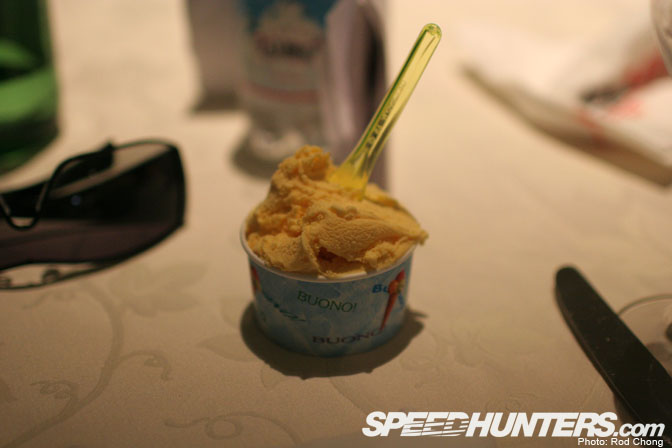 Our lunch of course was finished with some fresh gelato… mmmmmm….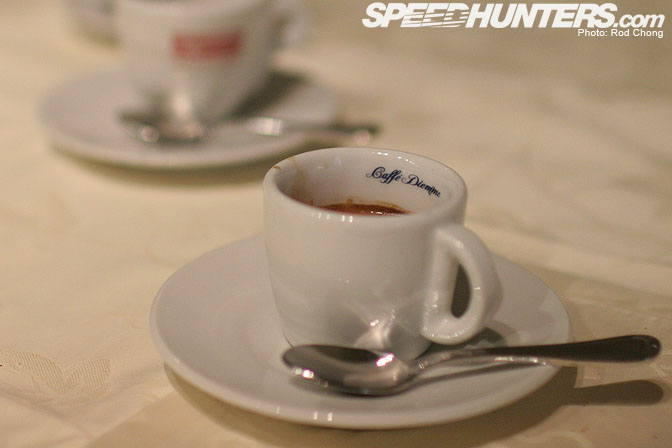 … and the most incredible espresso that money can buy…. Only in Italy are these things possible!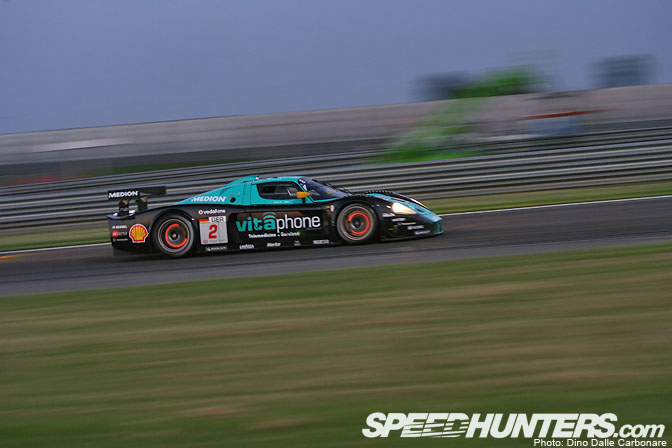 With our bellies full and our veins throbbing with caffeine it was time to hit the track to shoot video for the new NFS Drivers Film project and Speedhunters…. We have some amazing footage in the can now, which I can't wait to start hacking up in Final Cut Pro with our editor Riley back in Vancouver…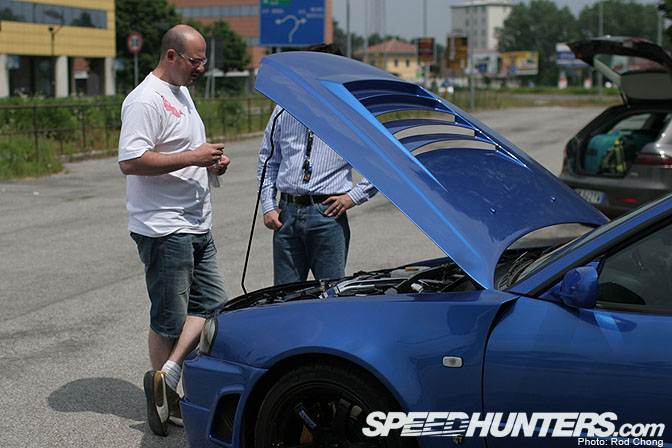 This morning, Dino and I said goodbye to the film crew and set off to the outfskirts of Milan to meet up with a few Italian JDM enthusiasts…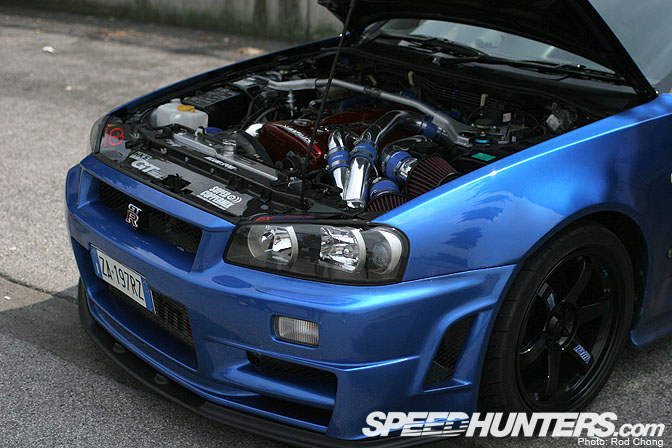 I was particulary impressed with this V-spec R34 Skyline owned by Carlo Bolognino.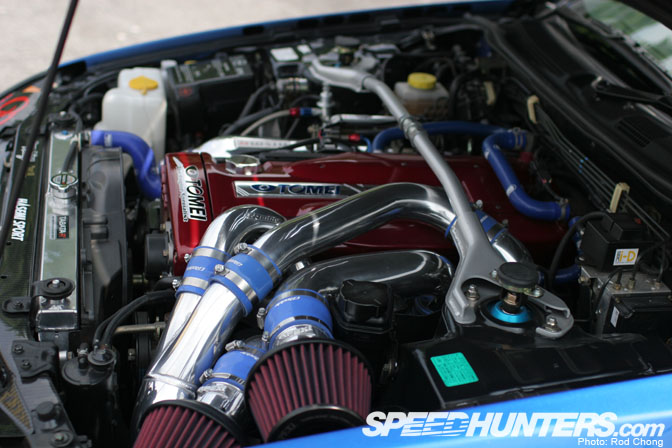 The engine was so clean you could eat off of it…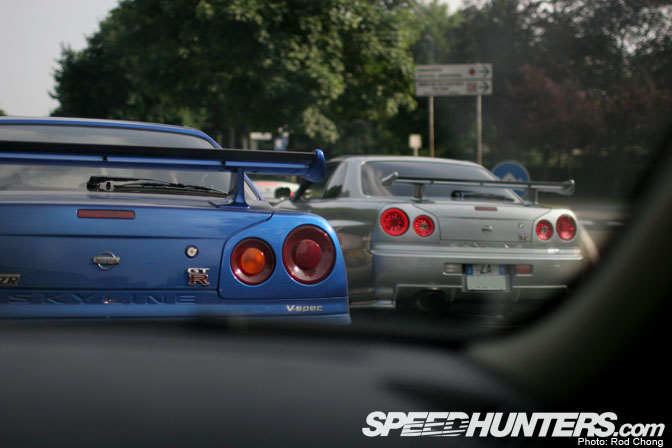 After a rather scary performance drive with Carlo we all set off to Monza circuit……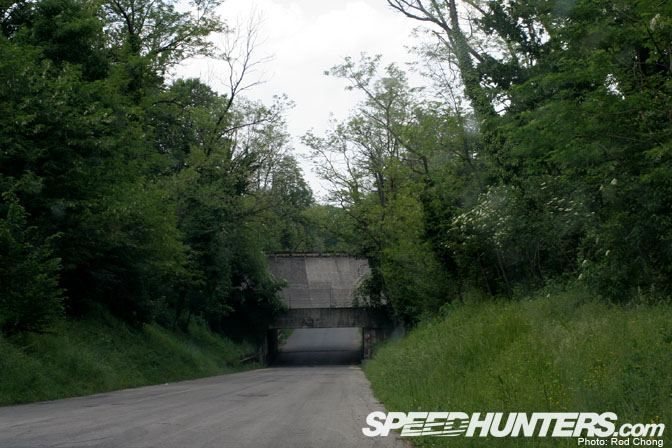 … we were on a sacred pilgrimage to visit one of the most hallowed Temples of Speed on the planet… The Monza Banking… We drove down some access roads in the middle of Monza Circuit and saw this concrete structure looming over the road… Wow….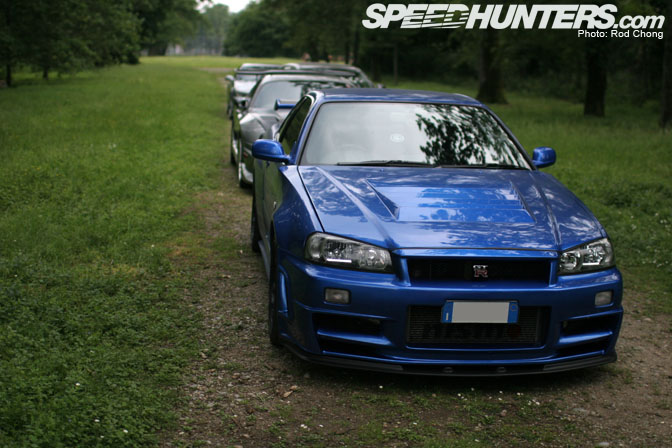 Unable to access the banking, we drove down a pathway into the adjacent forest….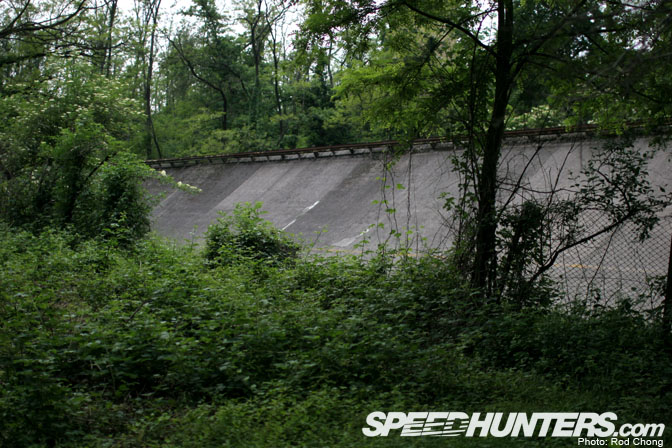 The banking appeared through the trees, loaming over us… what a stunning sight this was…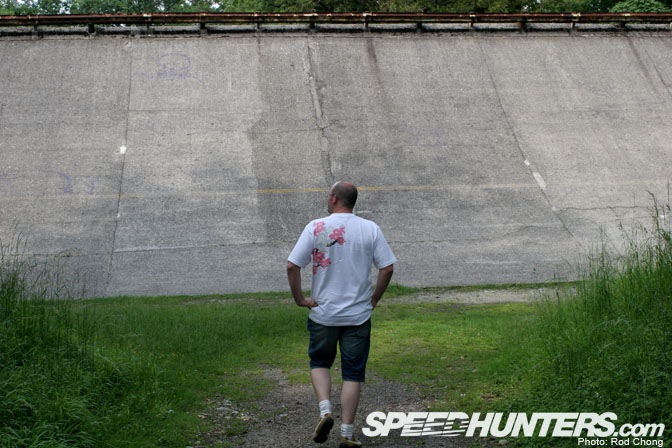 Here Dino beholds the banking for the first time.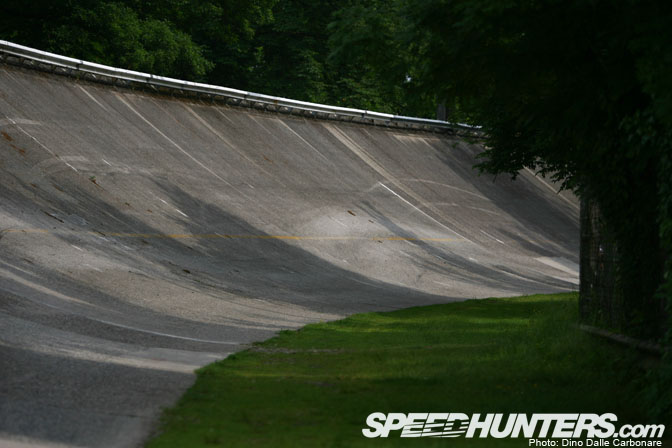 Words cannot express the feeling of this sacred place, so I'll let you look at the photo for the time being….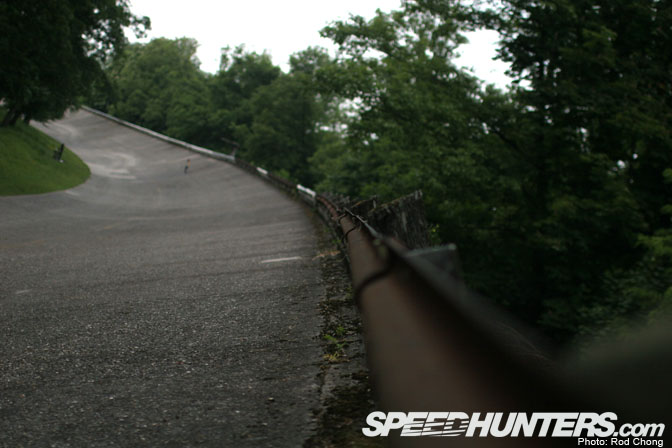 I'll follow up with a more detailed Temple of Speed story in the coming week or so.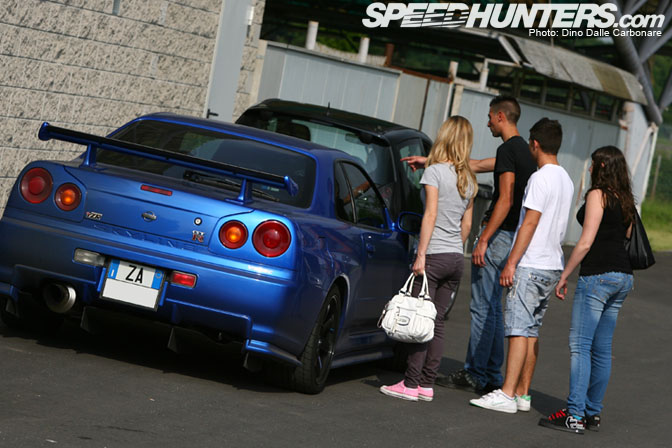 After our moment of worship at the Monza banking, we parked up the JDM cars at a cafe in the center of the circuit… it was pretty fun to watch what a commotion these things stirred up… I think many of the young people present, knew the R34s from video games but had never seen one in real life…. Dino and I had a chuckle watching them gawk at the cars.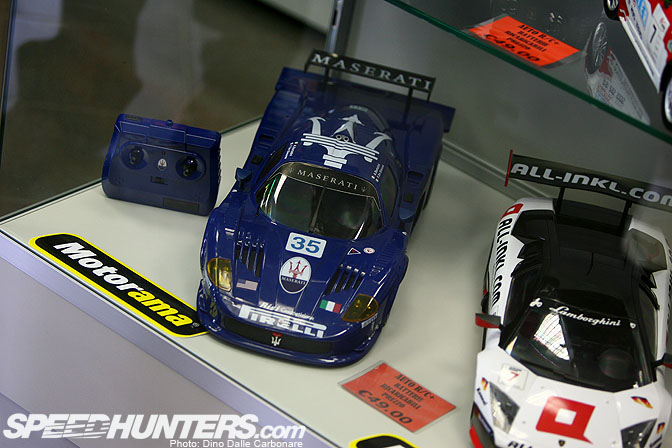 Me being me… I had to have a look at the Monza model shop…. They seemed to carry a lot of product from this brand called Motorama…. I like this huge 1/8 scale MC12 RC Toy…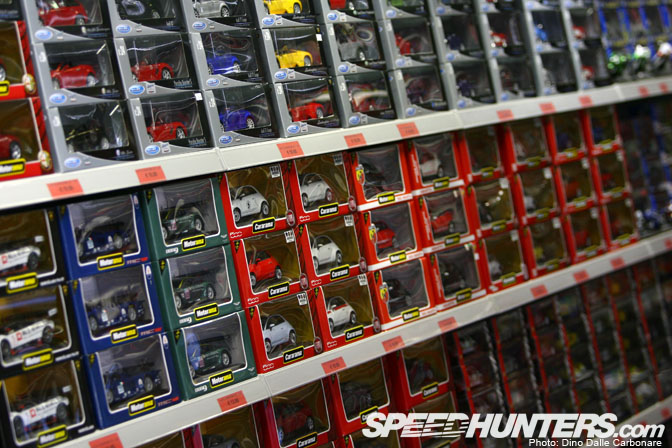 Argh… more 1/43 goodness!!!… I can report that I did NOT manage to leave the shop without spending any money,  but it was only 5 Euros… It seems like Motorama is pretty friendly on the wallet!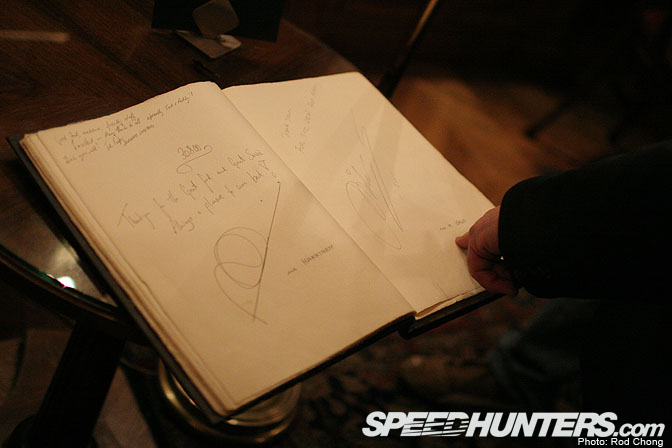 So this brings us back to this evening where Dino and I are sitting at the bar in our Monza hotel, typing away on our respective Italian Speedhunting stories….
Now it turns out this hotel is very popular with F1 drivers. The barman was very happy to pull out the guest book for us to check out.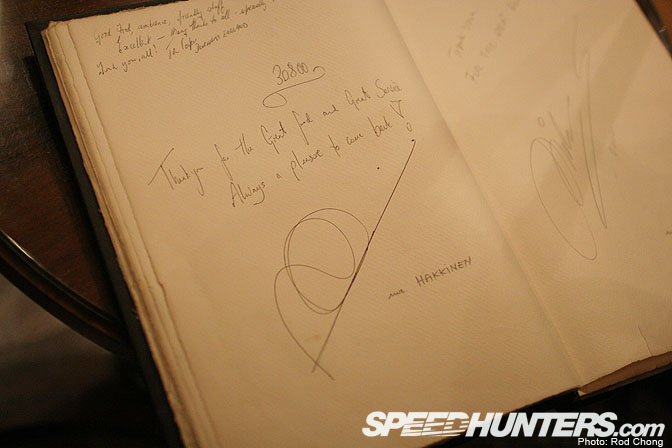 Isn't that a great signature?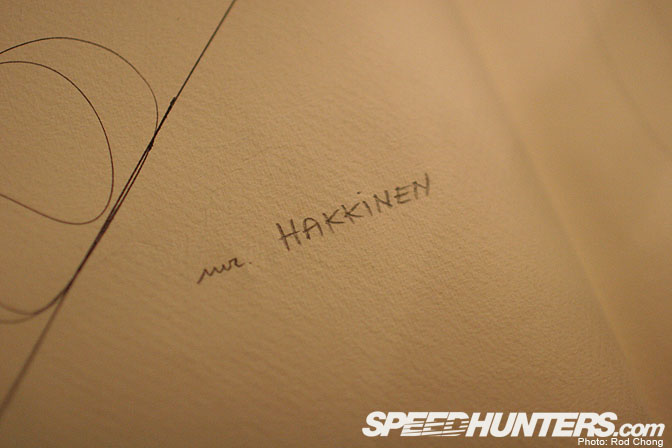 Pretty cool no?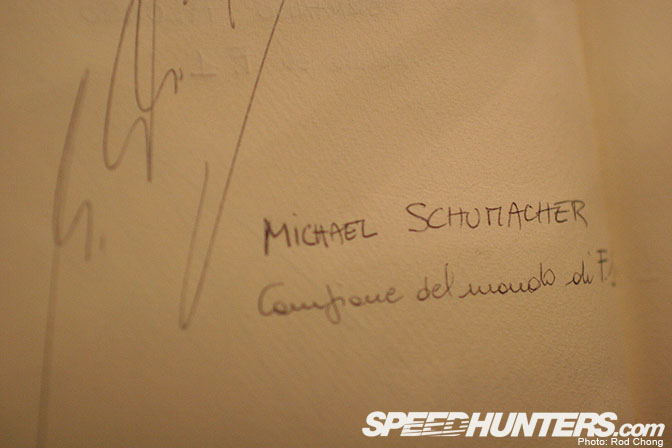 Or perhaps this one is more interesting to you?
Sitting here I can feel the echo's of automotive racing history all around me, and have only scratched the surface of what Italy has to offer to us Speedhunters. It will take many trips here to fully explore this universe… Italy is not
only one of great cultures of the world, but it boasts
one of the most inspirational and passionate automotive cultures too. If you love cars, then you must come here!
IDM FTW!
:R