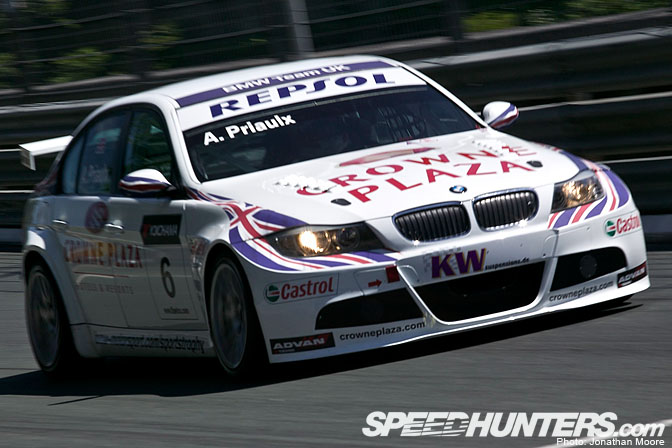 Everything said rain for this weekend. Last year, as the final WTCC race finished, I don't think I had ever been so soaked through. Pau sits in its own little ecosystem, perched as it is just north of the Pyrenees, right down in the south-west reaches of France, and the weather seems to do what it likes. Rain and thunderstorms were forecast so, of course… we had blazing sunshine. One thing that hasn't changed from last year though is the strength of the BMWs: Andy Priaulx lines up on pole for tomorrow's race.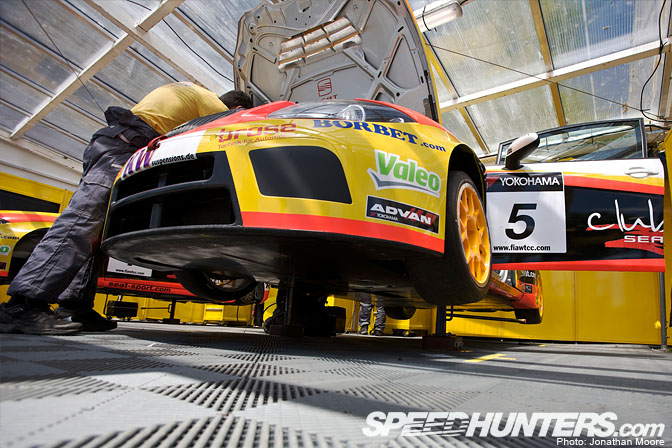 And the SEATs? Well, things are not looking at all good for them. The top works SEAT doesn't feature until Rickard Rydell in 15th place! He's followed by a train of the other TDi Leons.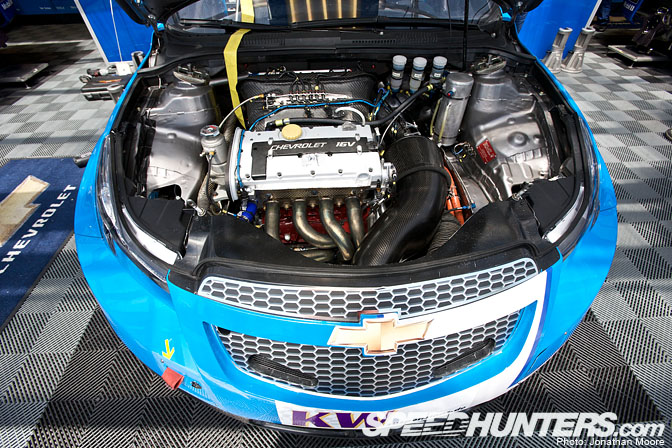 Chevy grunt is proving its worth. Despite breaking out a new car this year, the Cruze, top Brit engineering firm RML has again produced a winner: witness the double victory last time out. Chevys line up 5th-7th.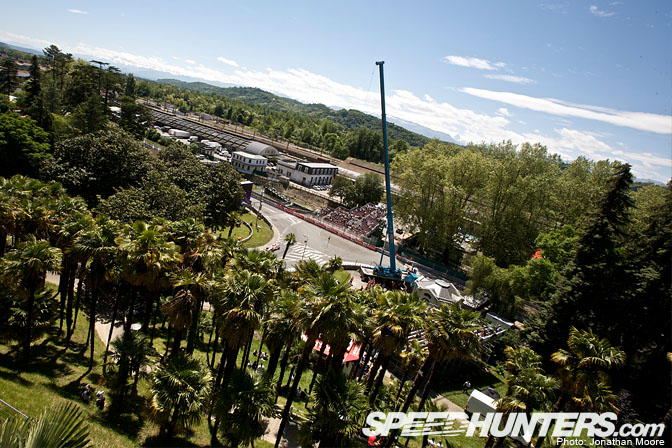 Pau is an amazing venue: the track is hidden right in the middle of the town, and runs around the Parc Beaumont, next to the main train station. The mountains provide a spectacular backdrop – and they're still snow-capped even this late in the year.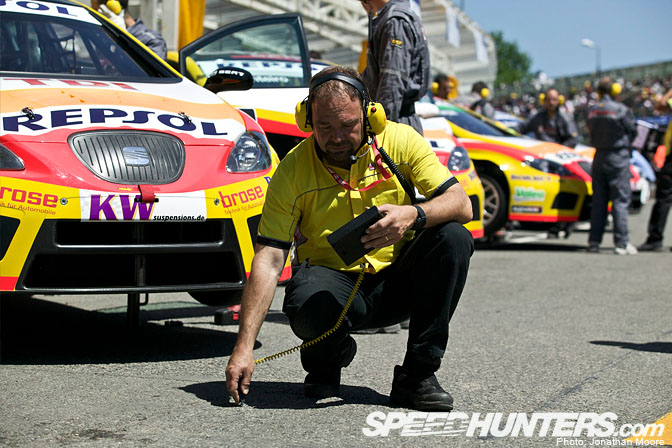 The temperatures caught everyone by surprise I think. Tyres take a beating around here: against walls if nothing else.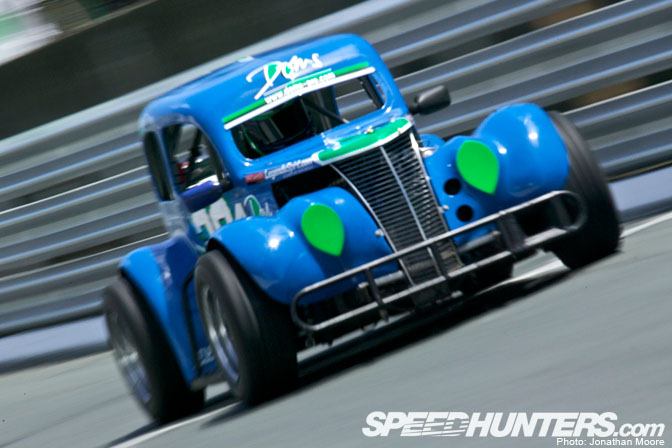 There's a decent package of support races: various single seaters and Clios are here this year, plus the insane Mit-Jet 'Legends' cars. These midgets have insanely big engines squeezed in, and fire round the track with scary speed. I'll have a hunt around the support paddock tomorrow.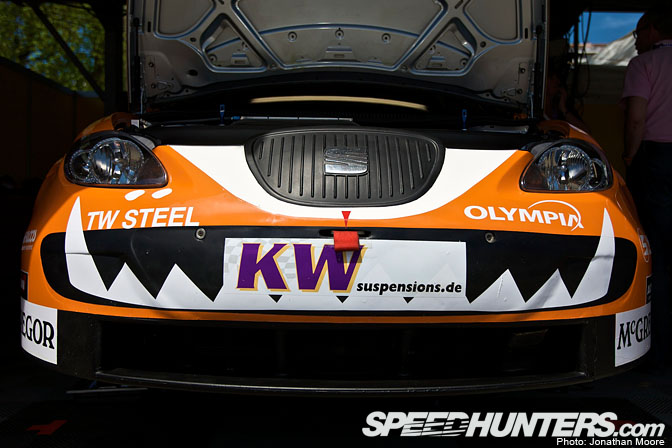 So, if you want a successful SEAT you look to Tom Coronel's independent car, up in third place as the flag fell in the top 10 shoot out. Pretty impressive: Tom always goes well on street circuits. Maybe I'll see him again this year in the Aragon Brasserie this evening!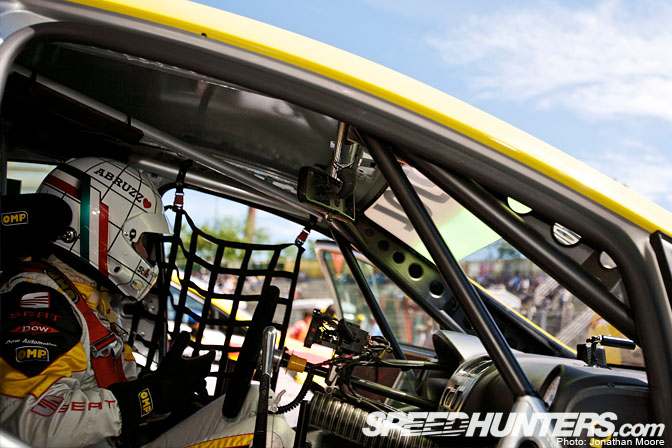 Gabriele Tarquini will be looking to salvage something from the weekend, but it's going to be tough from 17th place. Making up places for the reverse grid second race is his only real chance.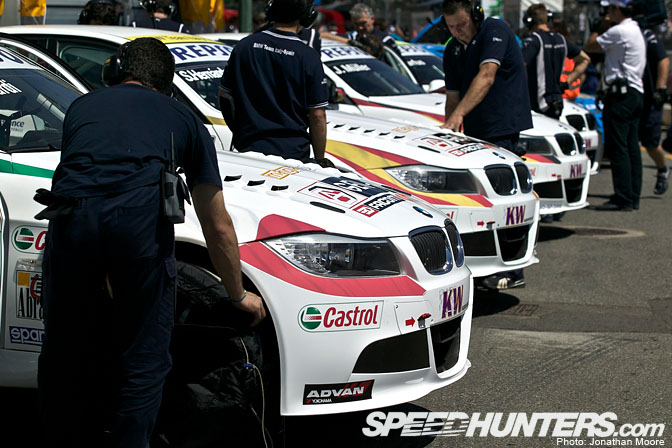 Whereas the BMWs are sitting pretty. There are 10 of them here, and eight of them are in the top 12, including two independent runners.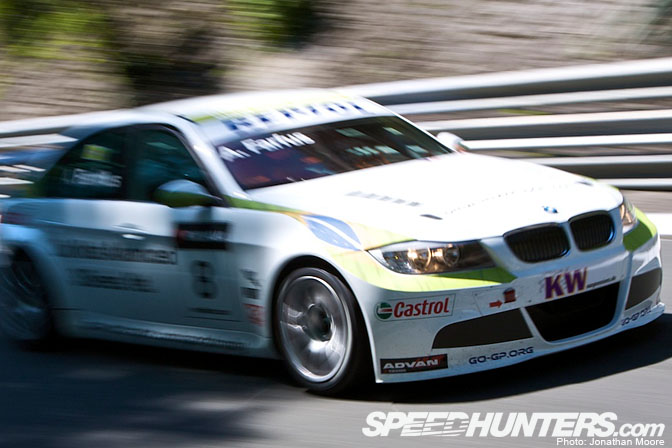 Brazilian Augusto Farfus lines up second for race one. This time he kept his car in one piece: last year he barrel rolled at the tough Foch chicane and turned flattened his 320.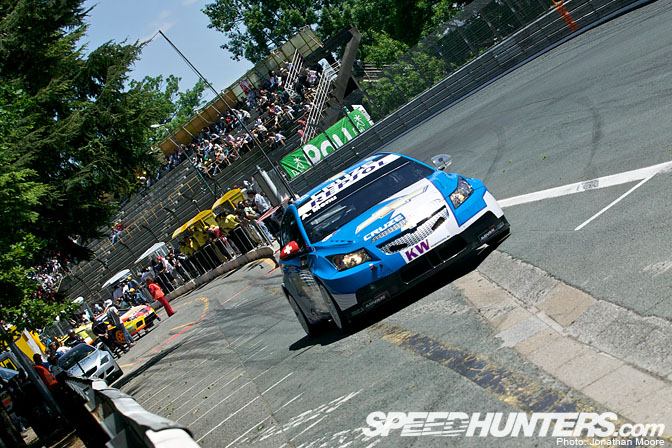 The whole track uses regular public roads, and even coming out of the pitlane is pretty fraught: you drop down across a pretty severe kerb just to get onto the racing line.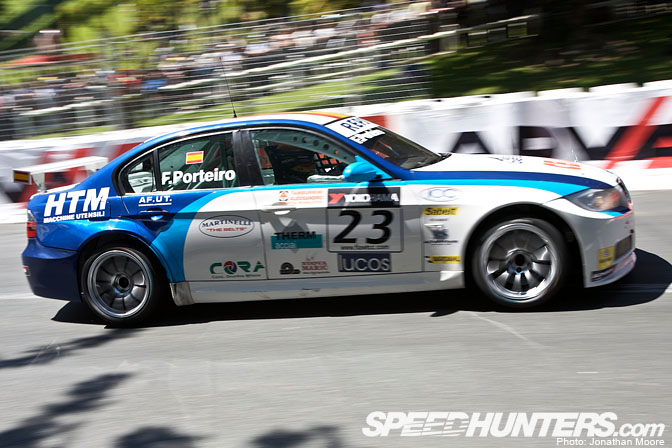 BMW independent Felix Porteiro is still smarting after losing his factory drive. Another good result for him here in eight place, ahead of his old team…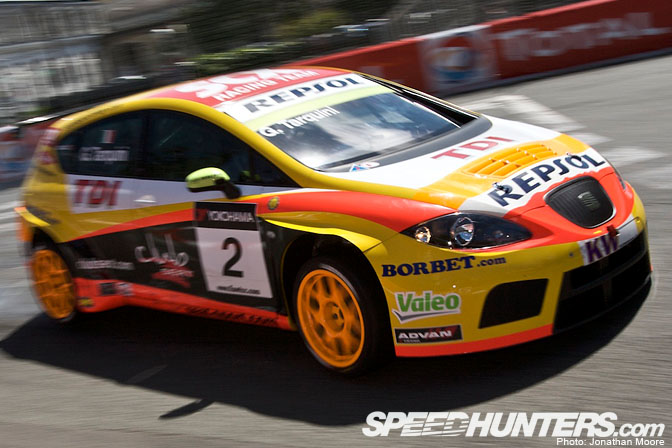 This is the first corner at Pau: a tight hairpin at the railway station. The SEATs just couldn't carry the speed through here: they were either sliding wide or locking up. Their problem is that this is followed by a long uphill drag and then three more hairpins before the track races back downhill.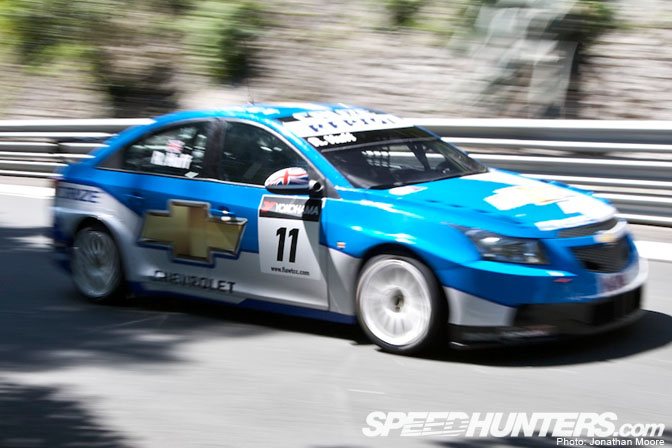 Robert Huff is the leading Chevy in fifth: his two team mates line up behind him.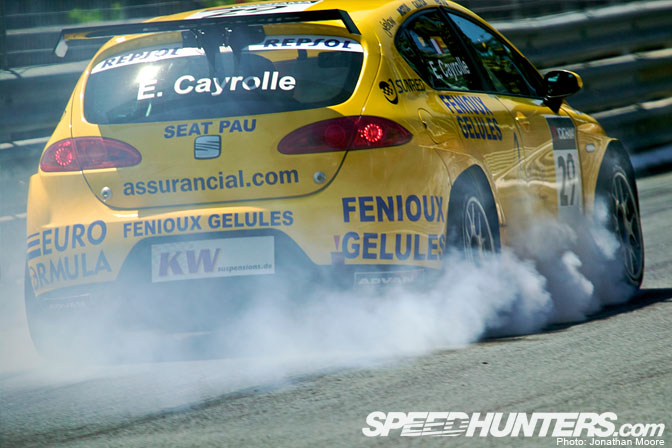 Another example of SEAT problems: here an indy Leon has a massive lock-up at the first turn. He disappeared in a cloud of smoke and headed up the escape road.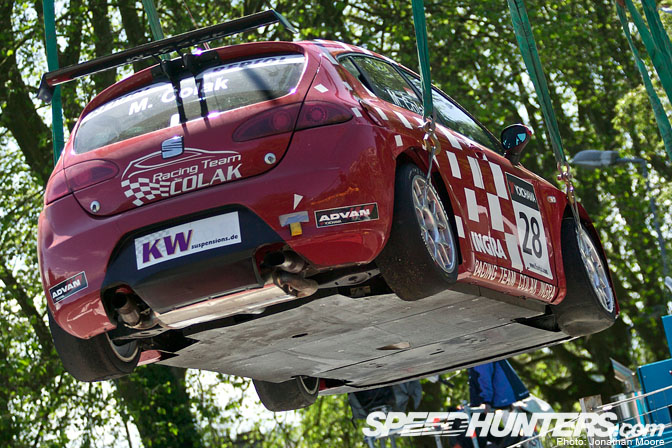 And another… Croatian driver Marin Colak ended off completely off the road and was craned to safety: but not before he'd set the 13th fastest time – ahead of all the factory TDi Leons.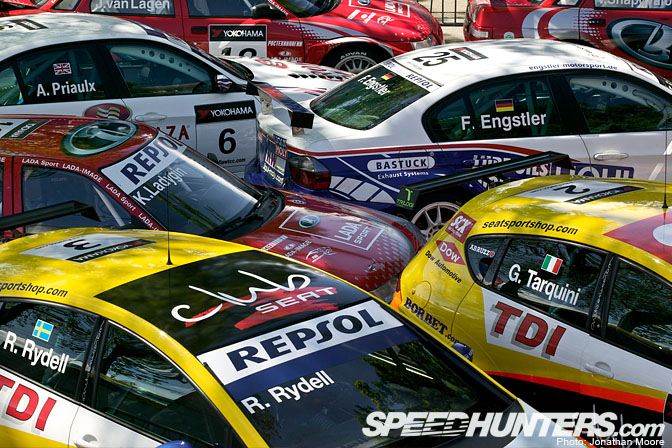 All the cars are moved to Parc Ferme after quallies for inspection: it's a tight paddock at Pau, so the cars are crammed in.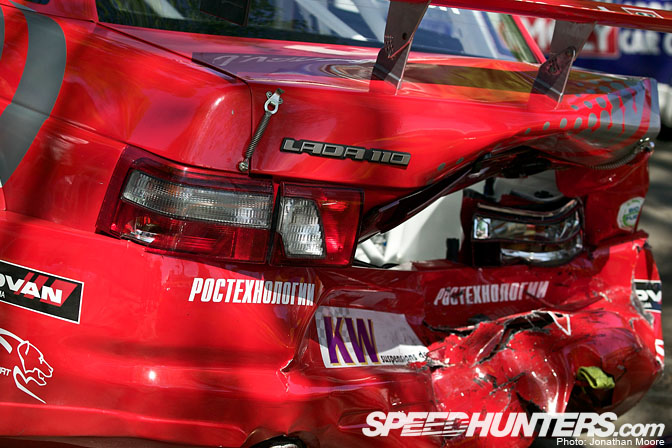 As usual Pau has claimed it's victims. Tom Boardman's SEAT took off its right rear wheel; various other cars came back with bumps and scrapes; and this Lada looked like it's been hit with a tank shell… There's going to be a lot of work in the pit garages overnight, for sure. God knows what the weather will do: again, rain is forecast… The smell of merguez is now luring me away for a bit, before the final support races later this evening: always impressive, always messy… Here's to the WTCC races tomorrow!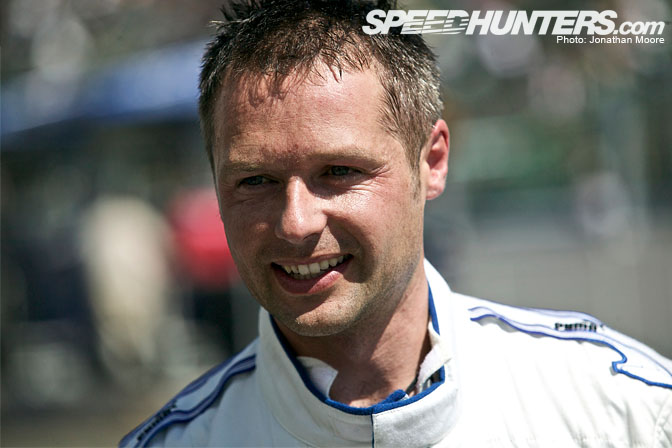 Pau Qualifying Result
1 Andy Priaulx (BMW 320si) 1m22.462s
2 Augusto Farfus (BMW 320si) 1m22.473s
3 Tom Coronel (SEAT Leon) 1m22.917s
4 Jorg Muller (BMW 320si) 1m23.051s
5 Robert Huff (Chevrolet Cruze) 1m23.097s
6 Alain Menu (Chevrolet Cruze) 1m23.128s
7 Nicola Larini (Chevrolet Cruze) 1m23.282s
8  Sergio Hernandez (BMW 320si) 1m23.649s
9 Felix Porteiro (BMW 320si) 1m24.176s
10 Franz Engstler (BMW 320si) 1m24.442s
Jonathan Moore