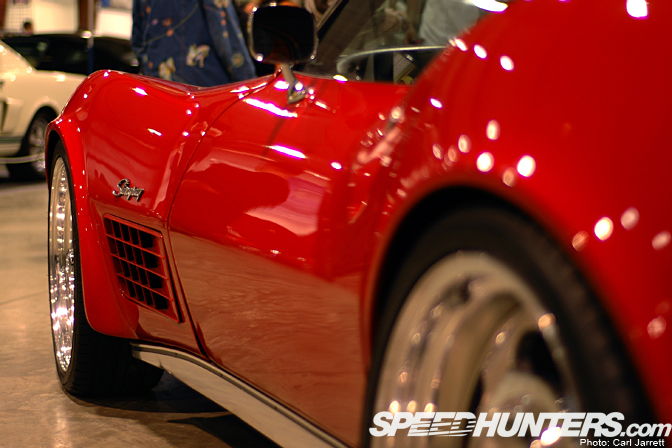 I went to this show here in Vancouver about a week ago, and I'm afraid to admit, I was a little underwhelmed! I mean, there was lots of great cars, but really nothing that exciting, I guess thats what going to the big shows like SEMA and NAIAS do to you, take the edge off the excitement of anything lesser. Anyways, there were still some interesting cars there, and I'm going to take you on a short journey through some of the images from the show.
The above image is a fairly stock Corvette Stingray from the 70's (can't remember actual year), but what set it apart for me was that stance! 20" wheels (maybe a bit too big for my tastes) but great offset, it really works on this car! I've always been a fan of old Vette's, and new ones too, but this really gives it a fresh look.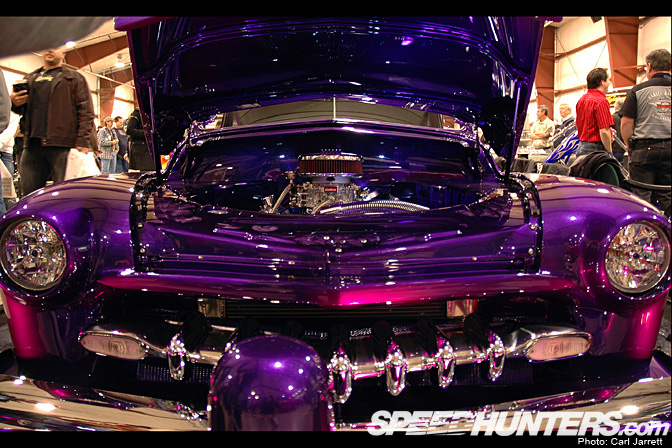 I've seen this '51 Merc lead sled once before at a show, and it was just as impressive this time. I've always loved the old '49-'51 Mercury's and this one takes the cake, at least at this show it did. The paint was so rich and vibrant, and absolutely immaculate, beautiful detailing over the entire car with a nice perfectly executed chopped top.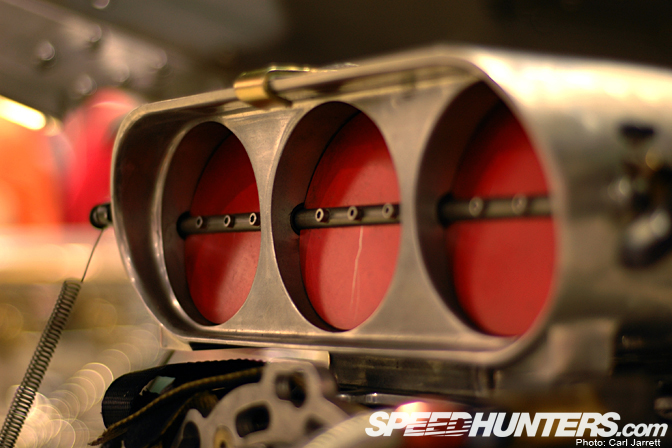 A wicked shot of some vintage metal sitting atop a alcohol big block funny car, just loved how this pic came out.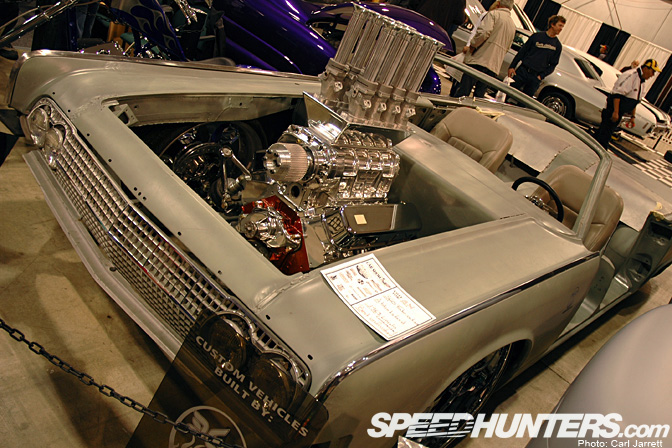 The wildest big stinkin' Lincoln Continental I've seen, check out the stack injection, I wonder if that'll make it through to the end of the build. The '63 Conti is nice, but I'll take a '65 in black thank you very much.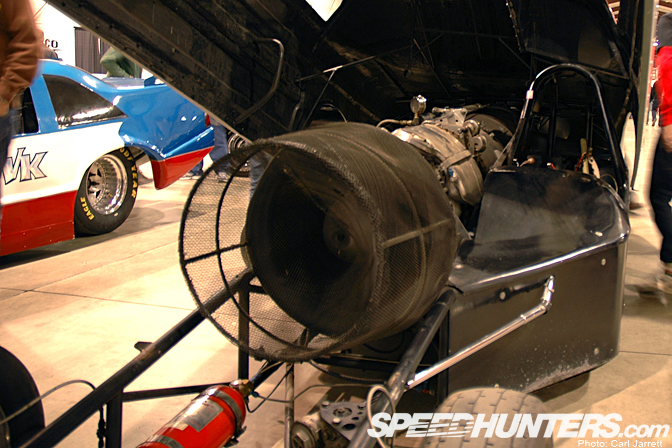 Ok, talk about wild, how about a jet powered funny car? Really looks like attaching a driver to this machine was an afterthough, doncha think?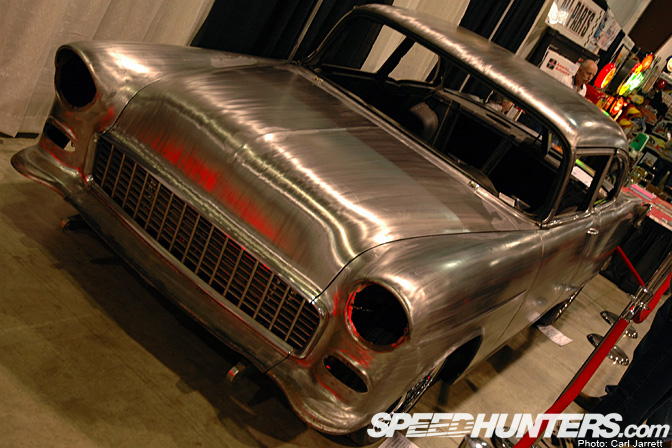 My dad would have loved this one, '55 Chev just beginning its life as a hot rod.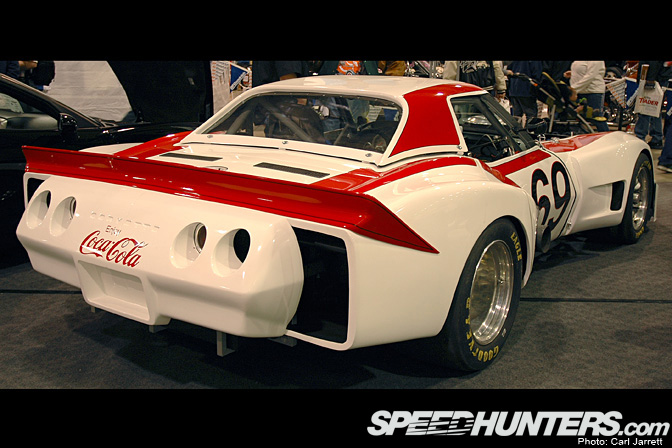 Now for the coolest car (in my humble opinion) at the show, a vintage Corvette racer, looks like it came from the late 60's/early 70's era of sports car racers, anyone have any more info on when and where this car may have raced?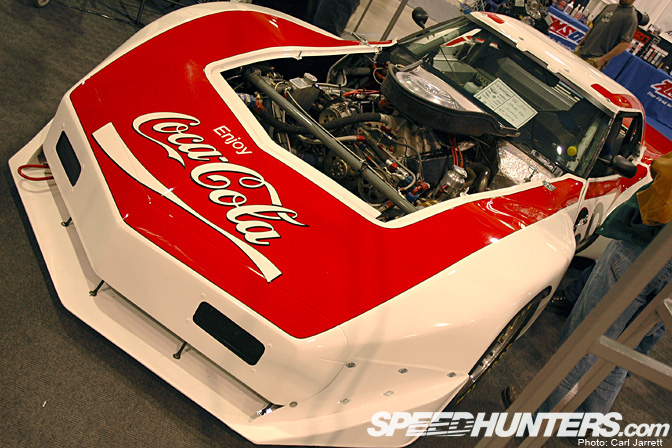 This car certainly had presence, its what I really love about cars, when they have character like this. Showroom stock and pristine clean? Booooring.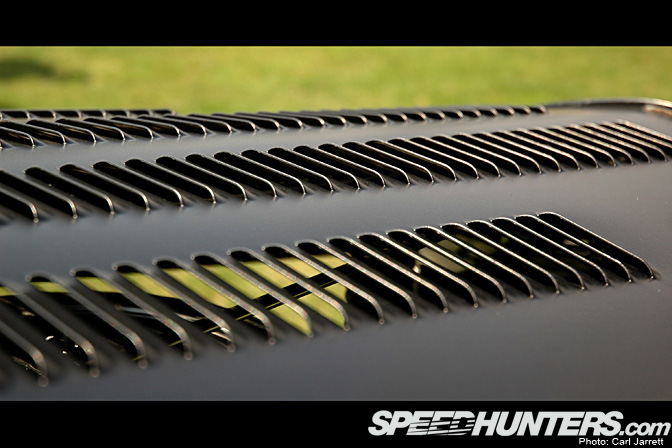 Last shot was one that I thought turned out interestingly, hood louvers from a flat black 32 high-boy… imagine having to do metal work like this with your hands, with tools from the early 1900's?
Wallpapers anyone?
- Carl Jarrett