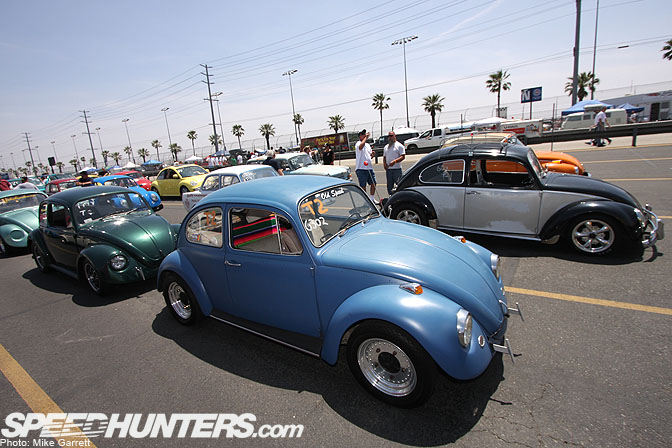 Last Friday we kicked off our VW (and friends) month and we lucked out because this weekend one of the most important VW events in the world was held – the Southern California Bug-In 34. Anyone with a passing knowledge of air-cooled VW's knows that while the cars may have been born in Germany, they were perfected in Southern California. Before anyone had even heard of a Honda Civic, early "import tuners" were building Volkswagens that could spank V8's in the quarter mile and look badass while doing it. In the early days of the SoCal VW scene, there was no event bigger than the "Bug-Ins", which were held at the historic Orange County International Raceway.
From 1968 to 1983, 31 Bug-In events were held at OCIR, but they ended in when the dragstrip was closed and taken over by suburban sprawl. To get an idea of the international following of that the Bug-In has, last year I bought a Japanese book dedicated to the history event. They even hold Bug-Ins in Europe! Although the original Bug-Ins ended before I was born, my dad would always tell stories of him and his friends going to the events, racing their cars and competing in the contest where people would face off to see who could remove and reinstall a VW engine faster.
In 2005, the Bug-In finally returned to Southern California – this time at dragstrip at Autoclub Speedway in Fontana.   Yesterday, people from all over the world descended on Autoclub Speedway for Bug-In 34 and we figured this event would make a fantastic addition to our VW features this month.
There's really couldn't be a better place to take in the roots of VW tuning culture…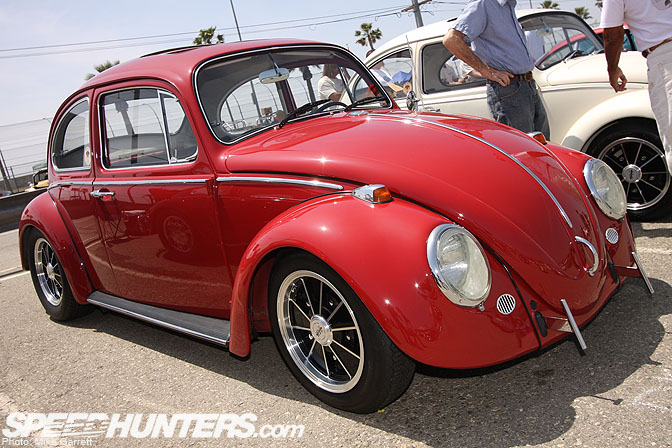 The term "Cal-Look" is thrown around quite a bit, but this red car is a textbook example of the traditional Cal-Look Bug. For starters we have a lowered (but not slammed) stance, single color paintjob, period-correct BRM wheels, and removed bumpers replaced with pushbars. Traditional Cal-Look cars lack roof racks and other body accessories and always back up their clean looks with impressive ET's in the quarter-mile.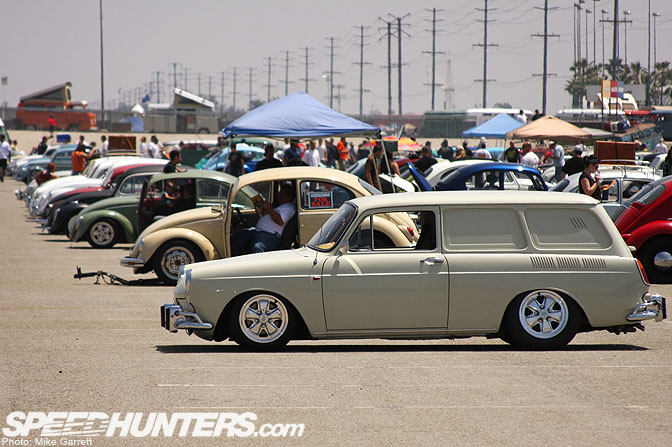 The event may be called "Bug-In", but all types of VW's are welcomed, including Transporters, Ghias, and Type III's like this Squareback that's been converted into a panel wagon.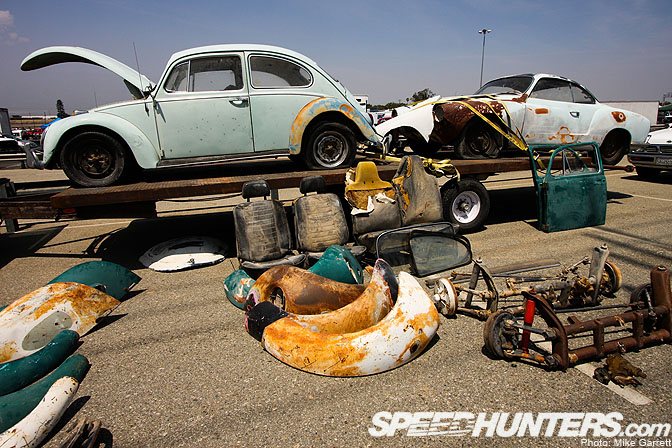 Like most VW events, the swap meet is a very popular part of Bug-In. You'll find everything from rusty original parts, new resto parts, and of course project cars.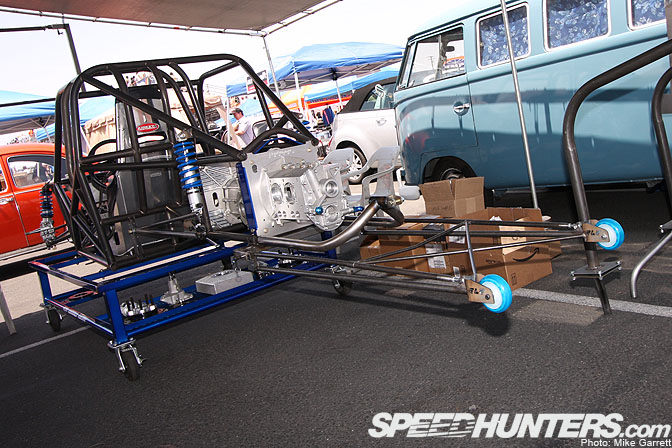 A lot of VW aftermarket companies were also showing high-end racing parts, including this nearly complete drag chassis. If you've ever watched a fast VW leave the line, then you'll know why those heavy duty wheelie bars are there.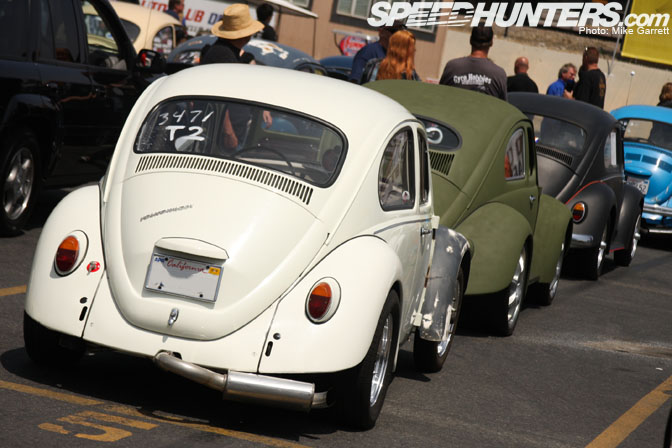 Speaking of the quarter-mile, the drags were by far the most popular part of the event. The staging lanes were packed with all sorts of VW's and VW-powered vehicles ranging from street cars like these…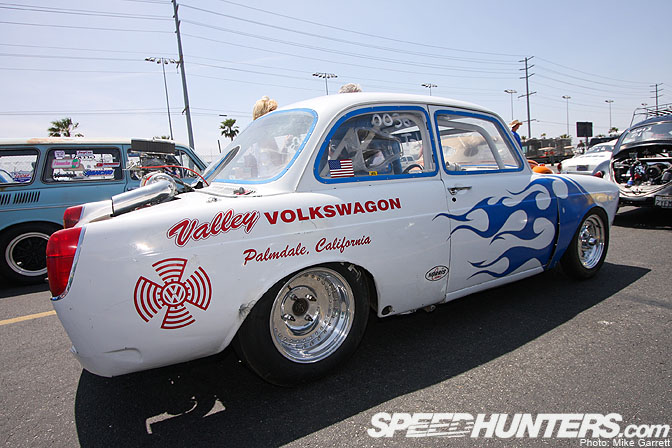 …to full competition drag cars like this Notchback.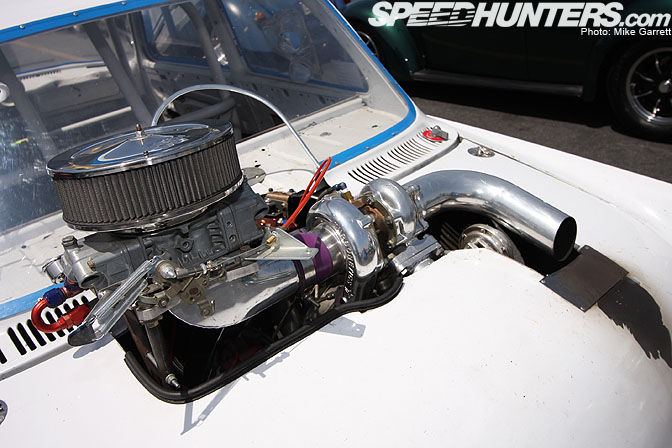 Like a lot of the really fast cars that were taking to the track, the Notch was sporting big turbo power. In this case it was literally ripping out of the decklid.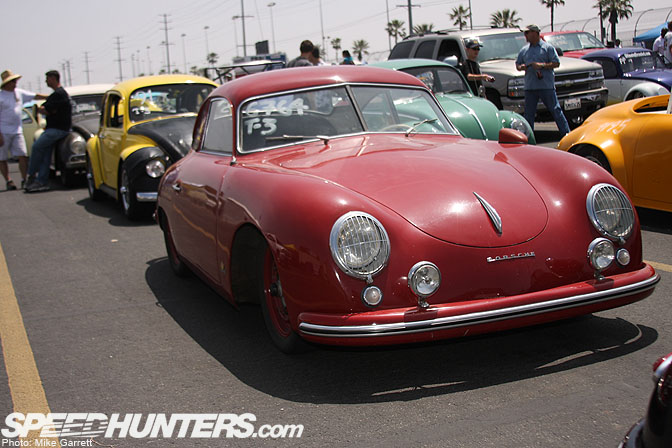 A few early Porsches could be found spread amongst the VW's, including this gorgeous 356 was taking part in the drag race action. You can say what you want, but I love the "sunken battleship" wheel fitment of the 356.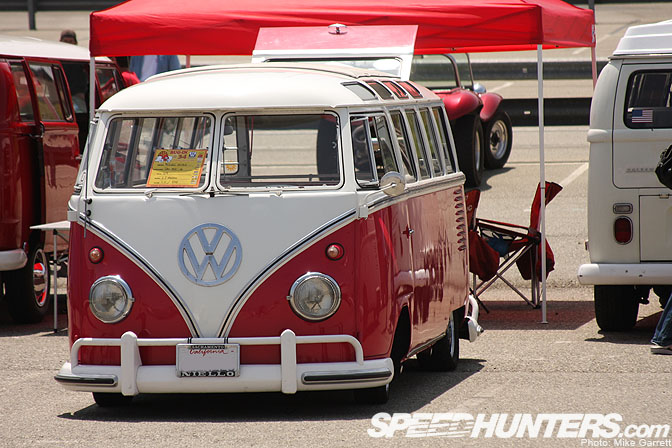 There were some nice buses around, but not quite as many as I was expecting. In a lot of cases the Type II's can be found at their own separate events.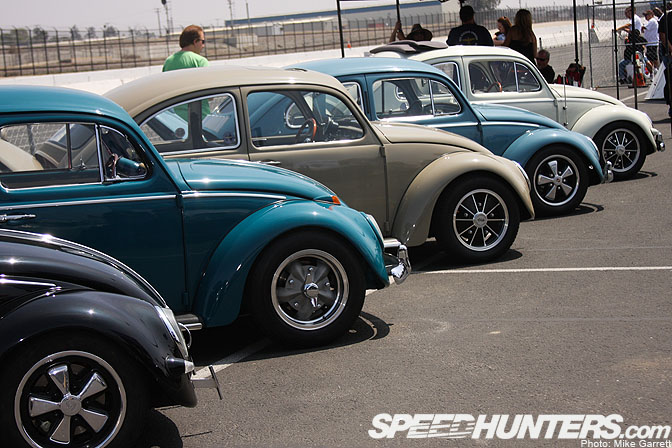 These traditional Cal-Lookers belong to members of the Orange County-based Der Kleiner Panzers, which is probably the most well-known aircooled VW club in the world.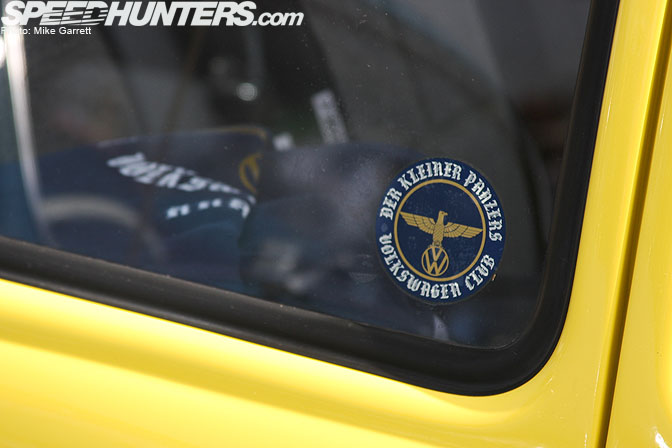 DKP has been around since the mid 1960's and is now in it's third generation. To join DKP, one's car must adhere to traditional Cal-Look standards and have the go to live up to the DKP name.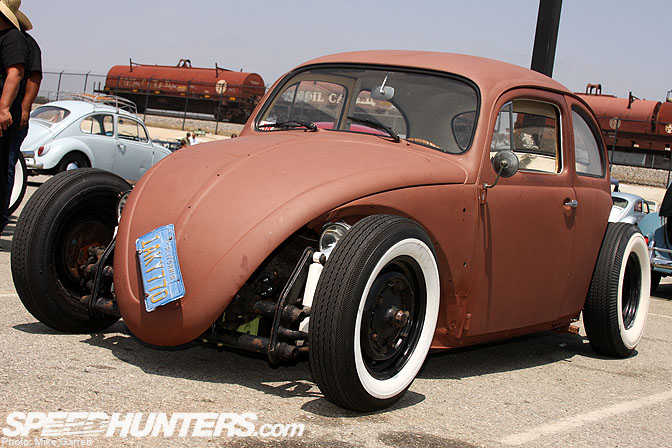 On the opposite side of the spectrum from the traditional Cal-Lookers are Volksrods like this car. There were a handful of these cars at the Bug-In. I'll have a bit more on them later.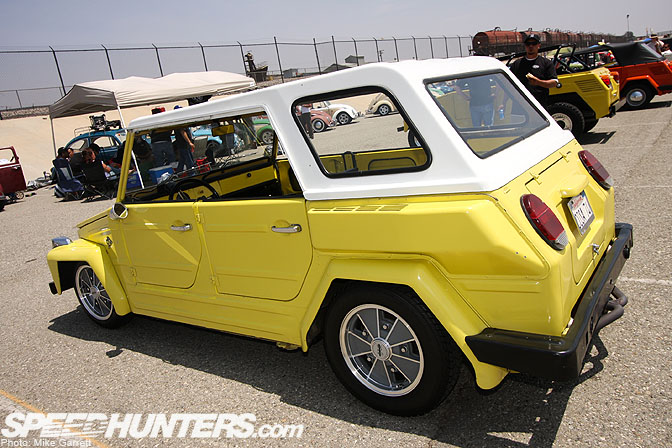 How about a VW Thing with the Cal-Look touch? Very cool.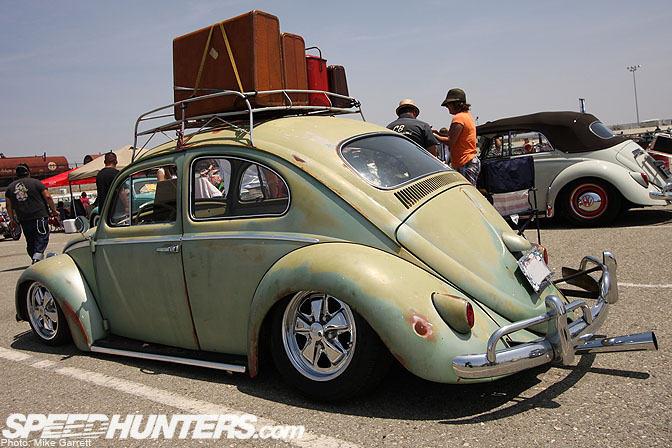 The slammed, rusted, and accessorized look is the latest addition to the long line of VW styling trends. Some of the race junkies and resto-heads may scoff at this style, but you can't deny the appeal. I'm guessing this kind of car would be the most popular among the Speedhunters readership? I wonder what kind of reaction a car like this would get at one of the original Bug-In events in the '70s?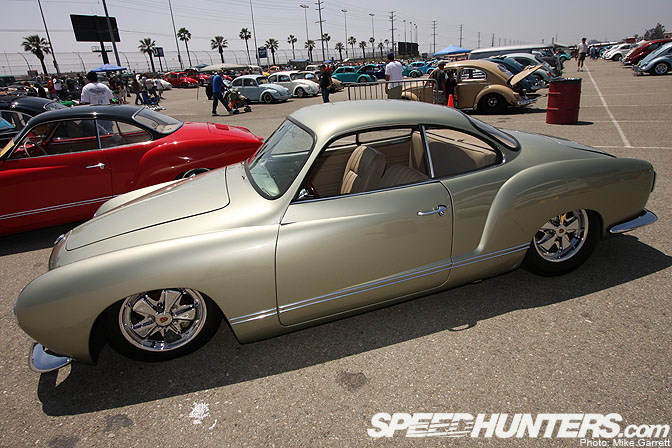 This Karmann Ghia looked absolutely stunning dropped low on a set of polished Porsche Alloys. It's hard to resist the urge to pick up an aircooled VW after seeing cars like this…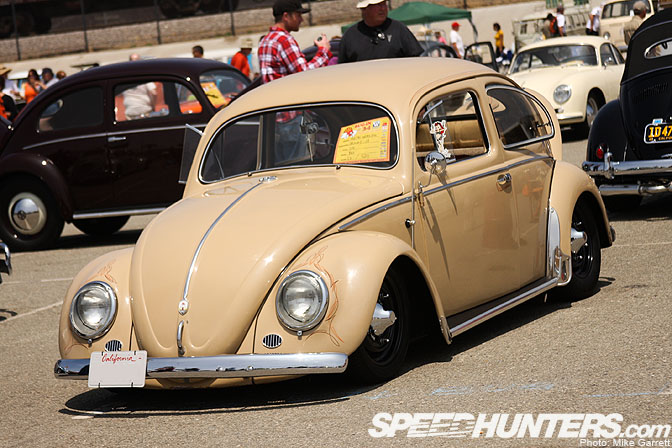 We always talk about the "low and wide" on Speedhunters, but what about the "low and narrow"? It's quote common for vintage VW owners to narrow their car's front beams for maximum lowness. I think I'll call this the "anti-flush".
More from Bug-In 34 soon.
-Mike Garrett