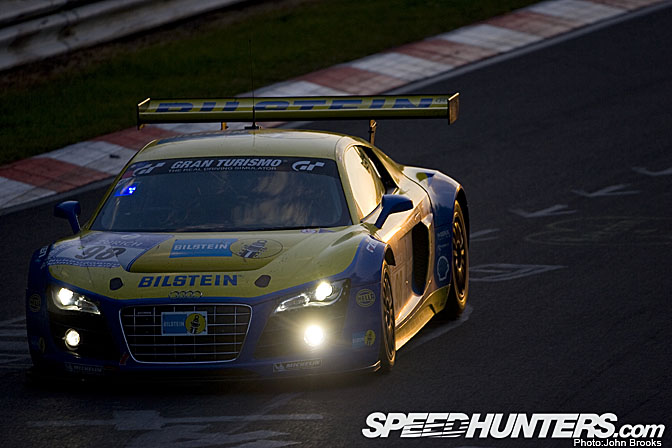 May has been designated as VW Audi month here on SpeedHunters so as both of these brands had a factory presence at last week's Nurburgring 24 Hours it is appropriate to have a look at what they brung to run. Of course there were a few privateer cars too, so let's throw those into the mix as well.
One of the sensations of the race was the four car entry from Audi and their fabulous R8 LMS. Above is one of the Phoenix Racing entries, driven by Hans-Joachim Stuck Jnr., Emanuele Pirro, Frank Biela and Marcel Fassler. That line up can boast 12 Le Mans wins between them, but their experience seemed to attract all manner of bad luck with an early stop and go penalty (3 minutes for H-JS passing others under yellow flags) then after climbing back up the order there were issues with the power steering and finally a gearbox change early on Sunday. Nevertheless they did not give up and managed to finish the race in 12th place overall.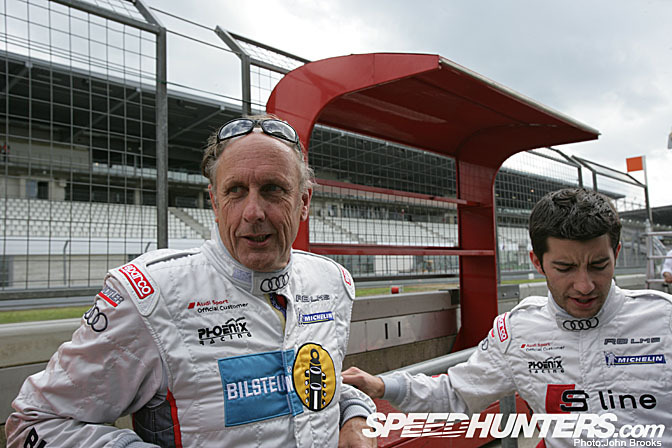 Hans-Joachim Stuck Jnr. is an icon in sportscar racing both sides of the Atlantic. The family really does have racing as a major part of their DNA. His father Hans was a Grand Prix driver both before and after the Second World War, being a regular in the legendary "Silver Arrows" Auto Union team. He was also known as Berg Koenig (King of the Mountains) for his domination of the European Hill Climb scene. Stuck's son, Johannes, was racing against him in this year's Nurburgring 24 Hours, being a werks pilot for Alpina.
Stuck is very popular with the fans and with those on the inside of the sport, he won the first 24 hour race at Nurburgring back in 1970 and has taken two further wins subsequently. He has two Le Mans wins to his credit and competed in 82 Grand Prix. His car control in the wet is the stuff of legends, as is his ability to yodel while on a podium and at 58 remains a link to the wild era of the 70's………he probably has a few years of competition left in him, his father did not retire till he was over 60, still winning hill climbs at that age.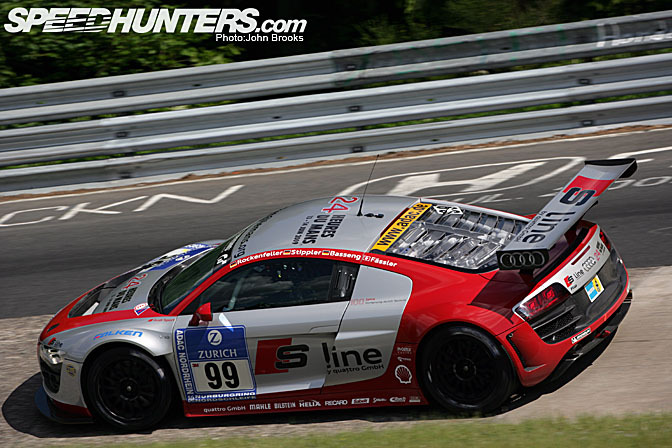 Leading the charge for Audi and at the top of the field for several hours was the other Phoenix Racing R8 LMS. This was in the hands of Marc Basseng, Frank Stippler, Mike Rockenfeller and once again Marcel Fassler. However around 11.20 on Sunday morning the car suddenly stopped in the Karussell with a transmission problem, the team set to work and replaced the right rear suspension and a driveshaft but this cost six laps and any chance of victory. So 5th place was the best that could be achieved.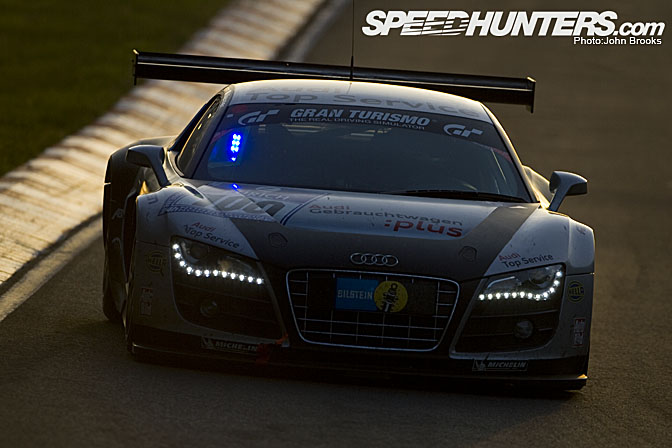 The "DTM" car of Timo Scheider, Mattais Ekstrom and Marco Werner never really figured in the event, getting hit in the rear at the start and then suffering an electrical failure caused by a defective spark plug. So their race effectively started down in 166th place and despite a few other issues with rear suspension and fuel system they soldiered on to finish 23rd.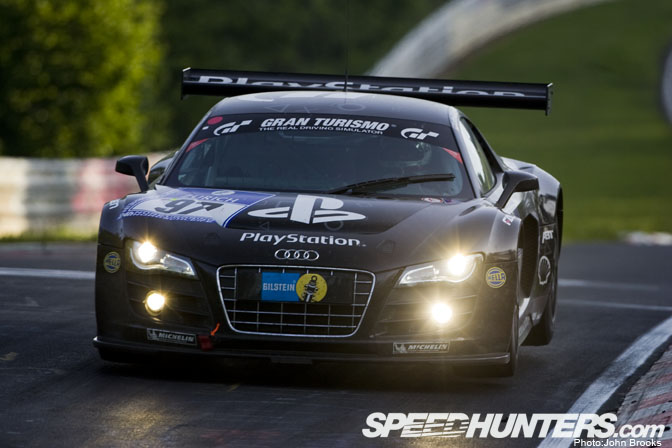 The most successful Audi, the Team Abt Sportsline car of Christian Abt, Jean-Francois Hemroulle, Pierre Kaffer and Lucas Luhr ended up second, just a lap down on the winner. To get all four Audis to the finish and to push Porsche all the way was a great achievement, the win could so easily have gone their way and the Manthey team knew it.
In terms of the development of the R8 LMS customer programme, considerable progress was made. Dr. Wolfgang Ulrich, head of Audi motorsport, said "We'll analyse the problems that occurred on the three other vehicles and feed the findings into the final version of the R8 LMS, which will be delivered to customers starting this fall. We now know that we've got a very good base."
Audi managed to get all their cars to the finish in this gruelling marathon, potential customers will have taken note.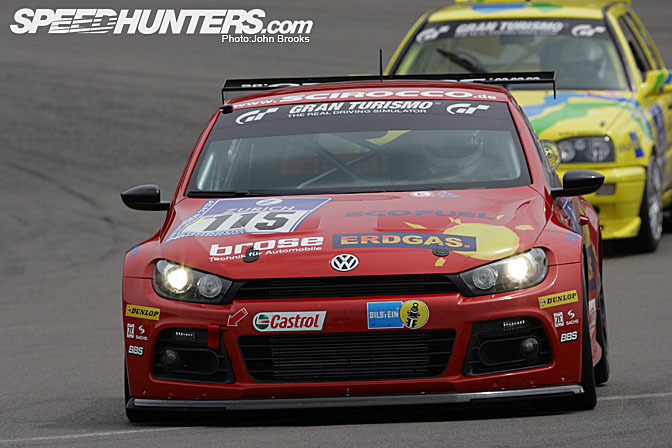 Volkswagen Motorsport entered five Scirocco GT24s in the race and by the time the flag fell it had much to celebrate, not one but two class wins. In terms of bragging rights VW were keen to win the AT class………alternative powertrains………….all the green stuff still has great appeal to the boys down in marketing even if the rest of us are just clinging on for dear life instead of worrying about the planet. Nevertheless this combination of new rechnology and matorsport is to be applauded.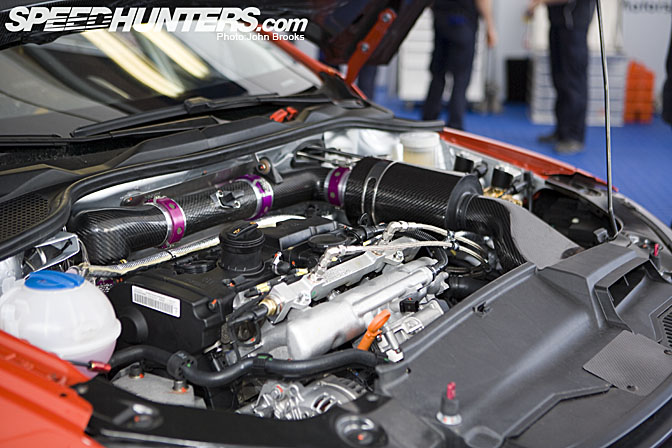 The two CNG (compressed natural gas) powered cars both finished…….in 17th and 101st overall. The class winner was driven by Vanina Ickx, Thomas Klenke, Peter Terting and Klaus Niedzwiedz and had a faultless run to the finish.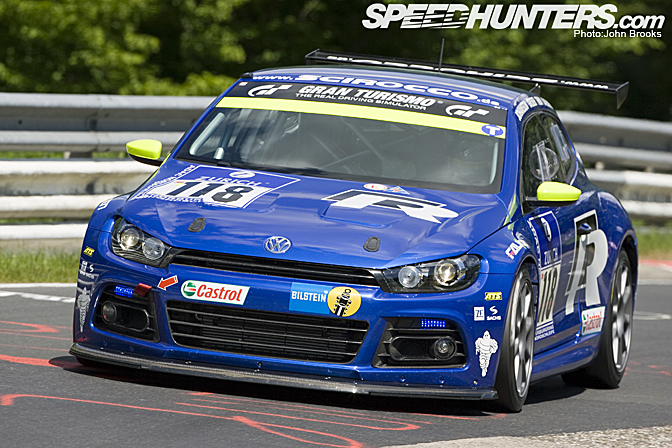 The other VW class winner was a normally powered Scirocco GT24 with Jimmy Johansson, Florian Gruber, Nicki Thiim and Martin Karthofer driving. They managed 15th overall and first in SP3T class (2 litre turbos).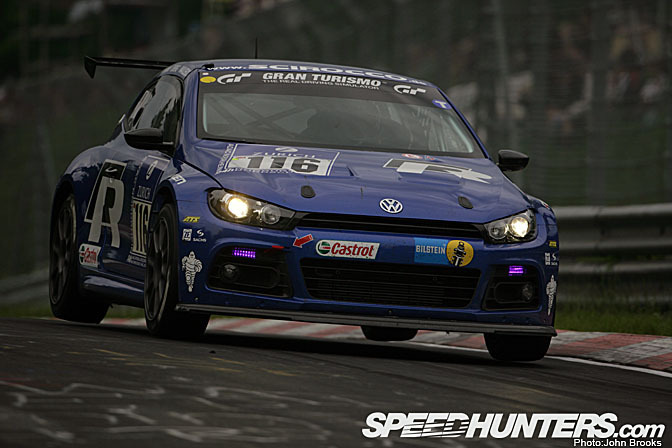 Five places further back was the second GT24.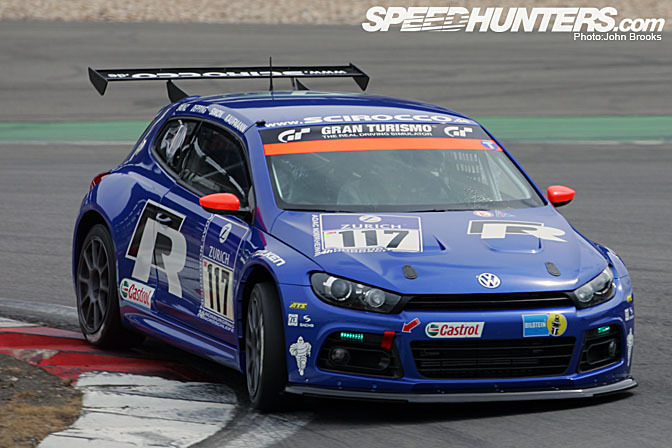 Only one of the five Sciroccos failed to finish, my old mate Wolfgang Kaufmann came flying over the crest on the way down to Pflanzgarten at around 200kph to find a stationary BMW in the way. He had the mother of all shunts and was luck to walk away but destroyed both cars. Pity as Wolfgang is one the good guys in the paddock, he never gives up and deserved a slice of good fortune.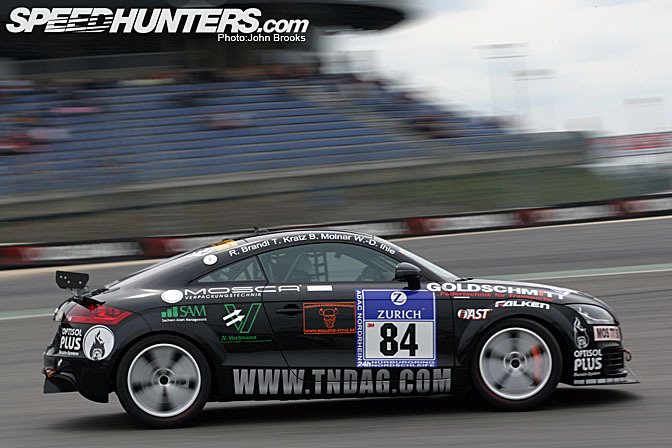 So much for the werks efforts. If the Nurburgring 24 Hours is anything, it is the collection of dreams that regular Joes (or perhaps Johannes) act out by bring their home made cars along and testing themseleves against one of the most difficult tracks in the world. Why? Well because it there. "Aqaba? It's only a matter of going." 
So in no particular order here's a quick look at the Audis and VWs that faced up to the big challenge. Number 84 an Audi TT S managed 10 hours and 59 laps before retiring.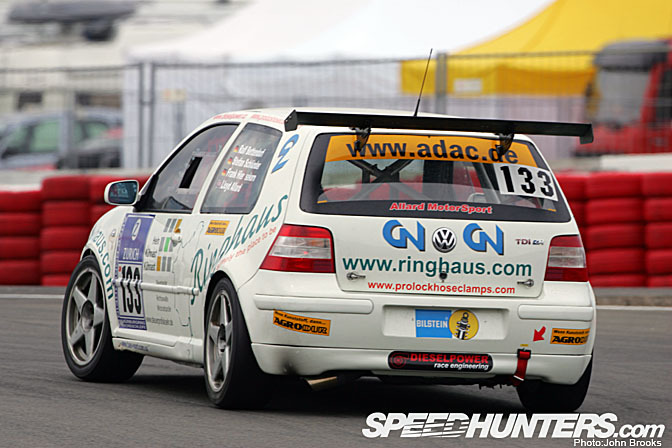 Another non finisher was this VW Golf MKIV Tdi.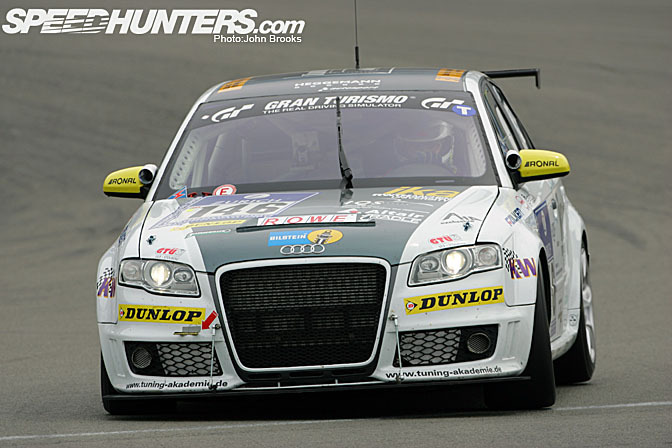 This Audi A4 Quattro did make it to the end, completing 109 laps and coming in 96th overall.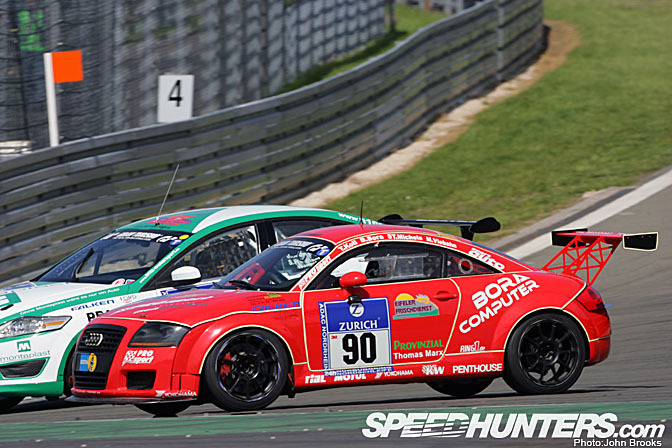 This Audi TT fell victim to an accident………..I saw coming back to the paddock in a bent state.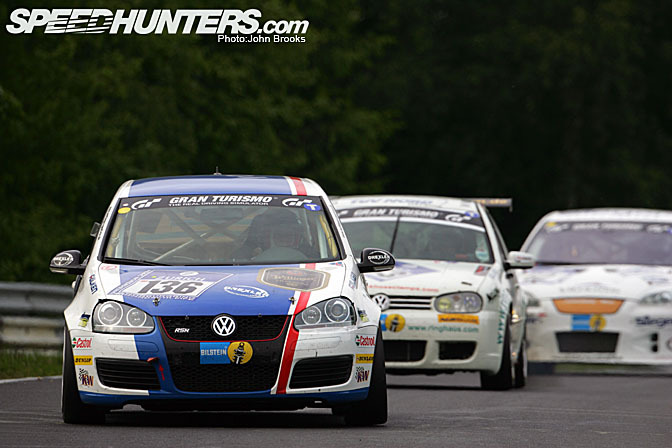 53rd overall and 4th in class was the VW Golf MKV Tdi.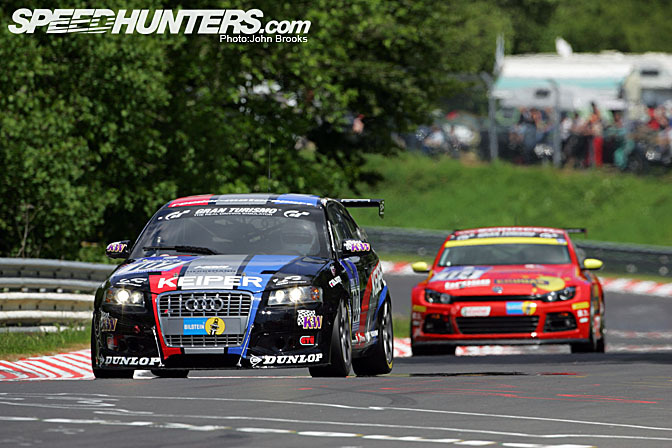 Fighting with the factory Sciroccos all the way for class honours was this Audi A3. 19th overall and second in class.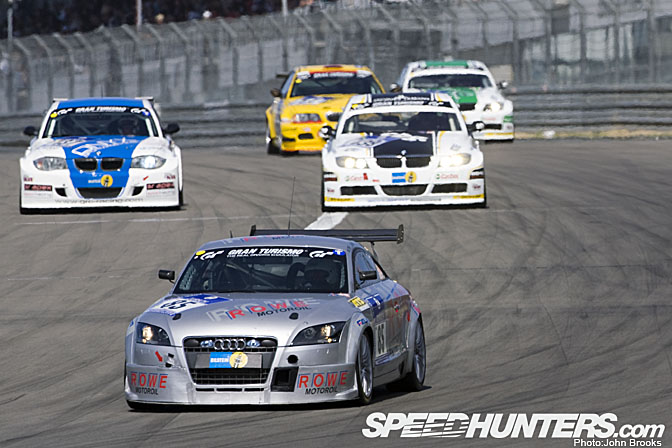 Another non-finisher was this Audi TT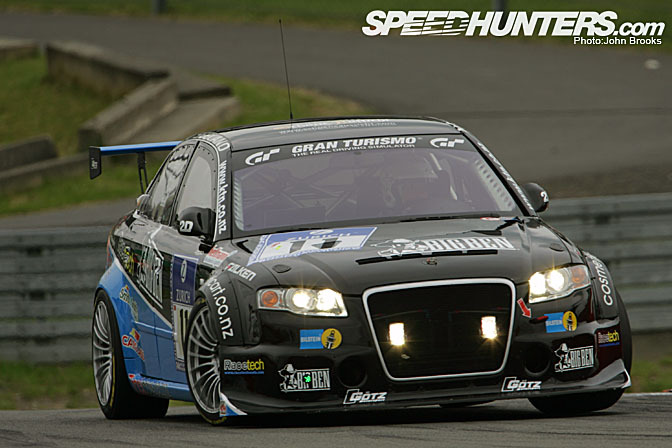 80th place for this Audi RS4.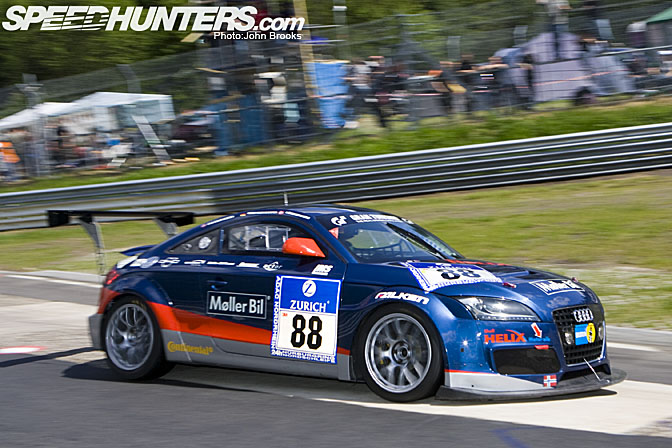 Another non-finish for this Audi TT.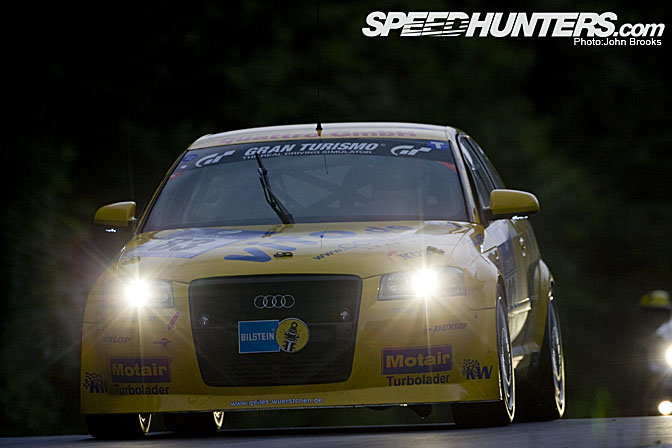 46th place…….Audi A3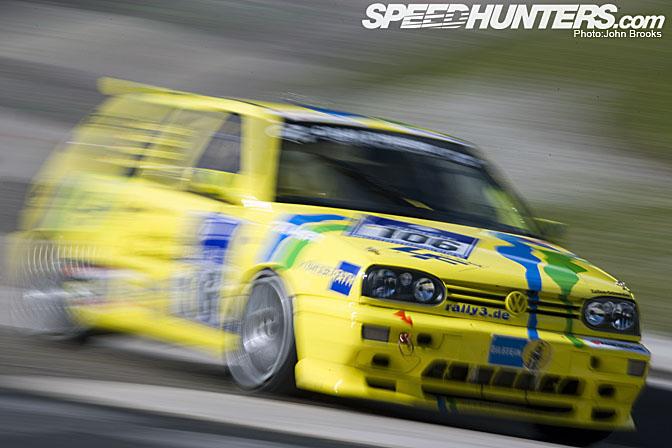 Out after 16 hours……..VW Golf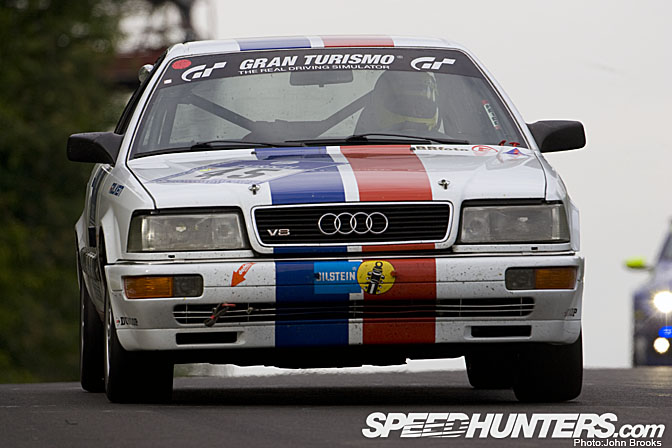 This old bus did finish in 95th position, a tribute to the build qualities of a 90s Audi V8.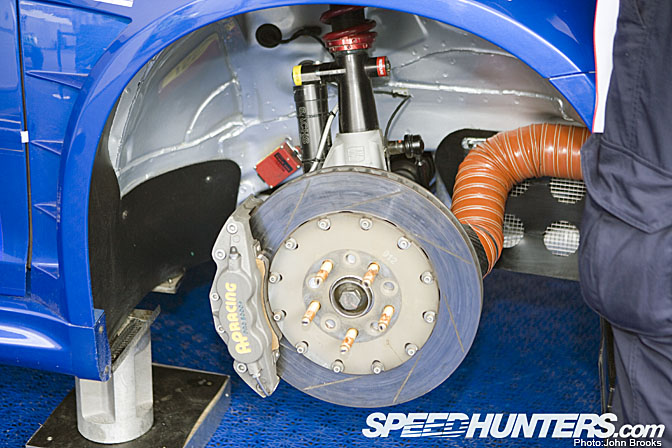 Just to prove that it is all one big happy family, SEAT stamps on the Scirocco's upright, presumably from the WTCC cars.
More to come……………….
John Brooks