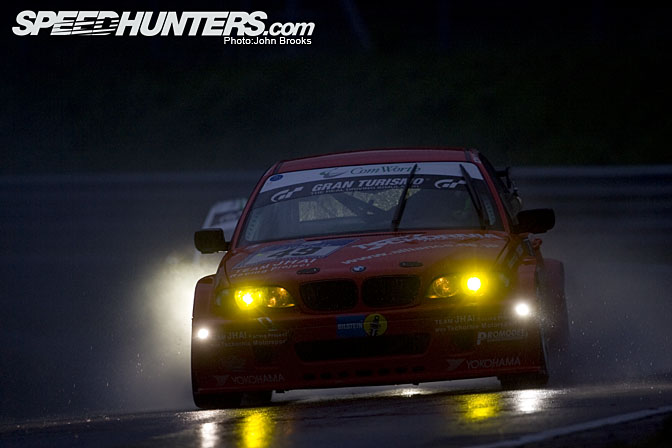 SpeedHunters has looked at the top ten qualifiers for the race but before the action starts in earnest it is I think appropriate to have a quick snapshot of some of the other cars that will be out on the track this weekend. 
The weather right now is beautiful, sunshine with a little breeze, almost perfect. Of course this being in the Eifel region, things can change almost in the blink of an eye. So just as a reminder to myself to pack the waterproofs here is the Japanese BMW M3 sailing along on Thursday night.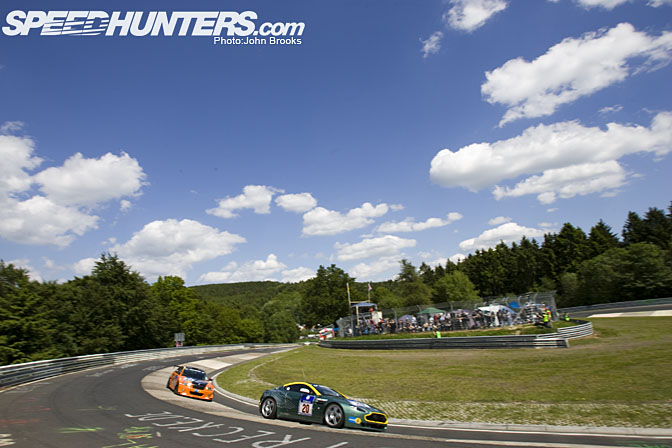 In complete contrast and a good representation of how things look right now we have an Aston Martin N24 entering the Caracciola-Karussell.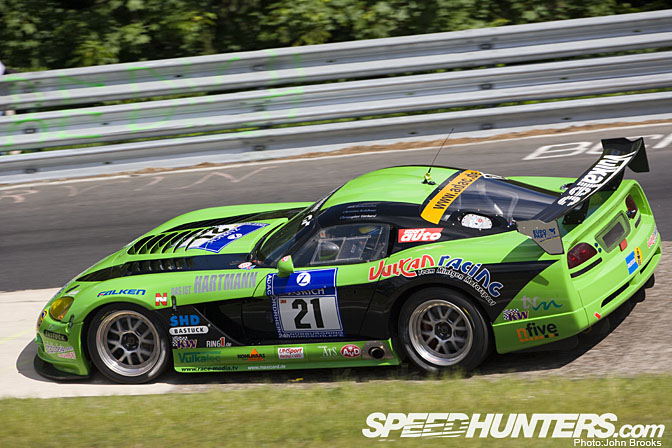 Not all cars are Porsches, BMWs or even Audis. Vulkan Racing bravely bring out their Dodge Viper GT3 to wrestle it around the Nordschleife.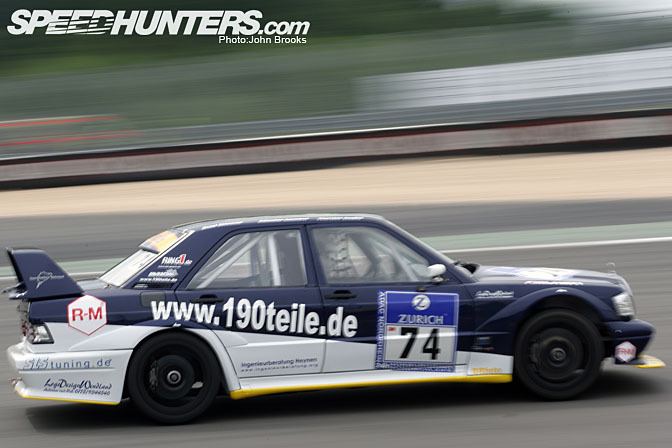 And not all cars are shall we say, current. A Mercedes Benz 190E EVO2 from the 1980's is probably not the most obvious weapon of choice but here it is, setting the 123rd best time during Thursday and Friday.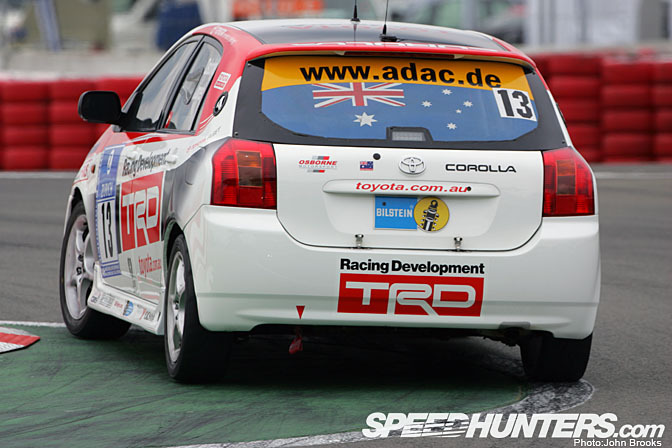 And other cars are based on pretty standard road models, it does not get more standard than a Toyota Corolla, this one all the way from Australia.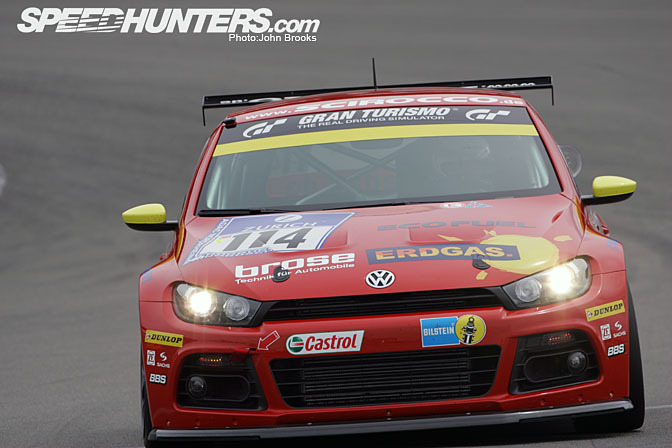 The President of Toyota is not the only senior executive from a motor manufacturer racing in the 24. Dr. Ulrich Hackenberg is Volkswagen's Technical Development Director and is here in a VW Scirocco GT24-CNG. This is powered by compressed natural gas version of a two litre petrol engine.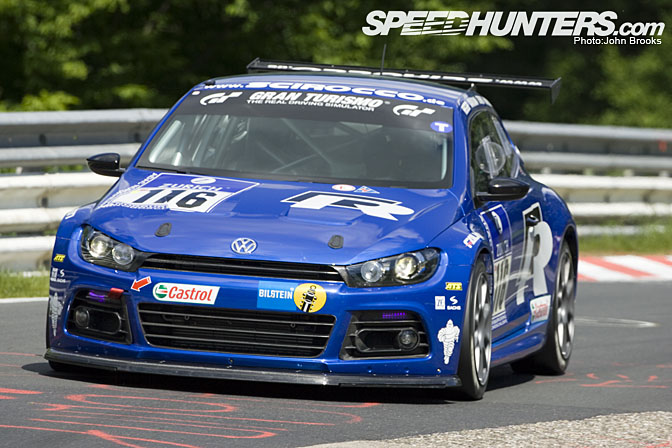 VW have three petrol engined Scirocco GT24s to join their CNG pair, making a significant effort in the Nurburgring 24 Hours, perhaps this will mark the start of a bigger involvement in motorsport from the German giant.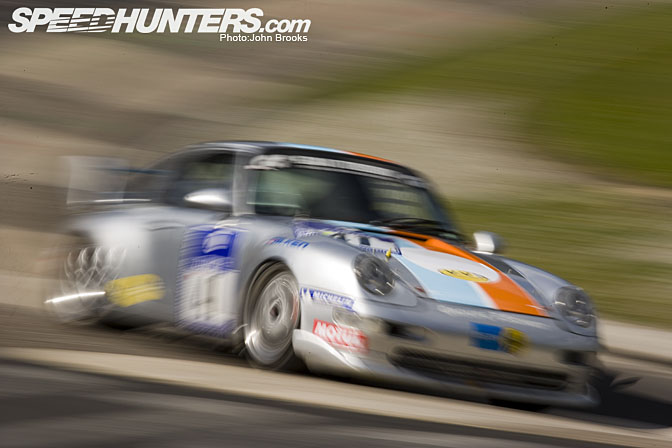 Far away from the factory ethos is this beautiful Porsche 993 Cup……………………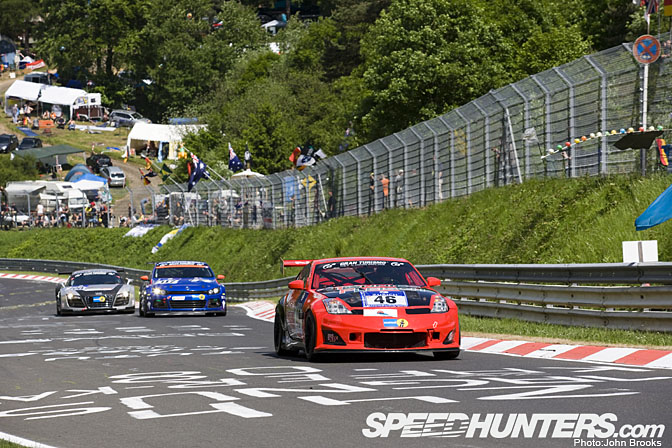 Out in the country, amongst the thousands camping is a Nissan 350Z, being chased by a Scirocco and an R8.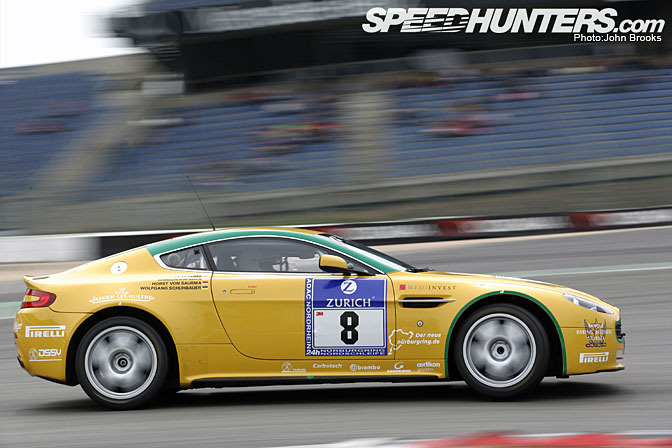 Another motor industry CEO, Dr Ulrich Bez, of Aston Martin in his V8 Vantage N24.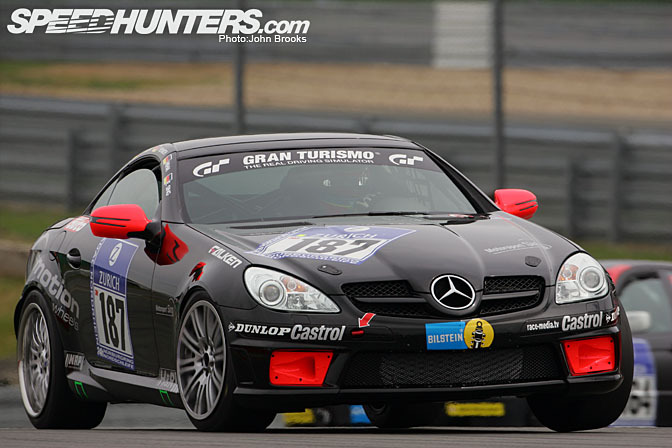 Executive express, Mercedes Benz SLK 350.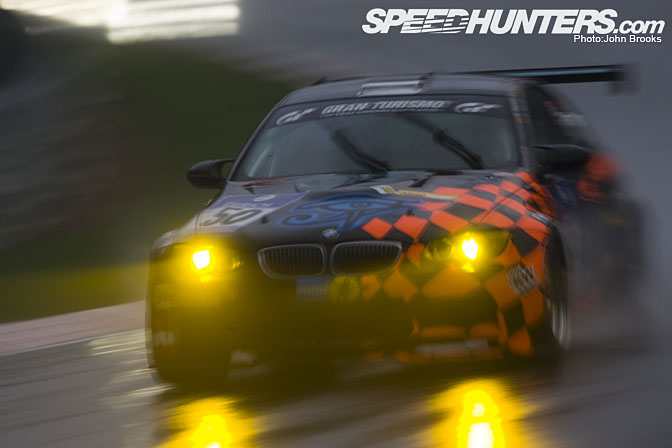 Back in the rain, a BMW M3 GTR.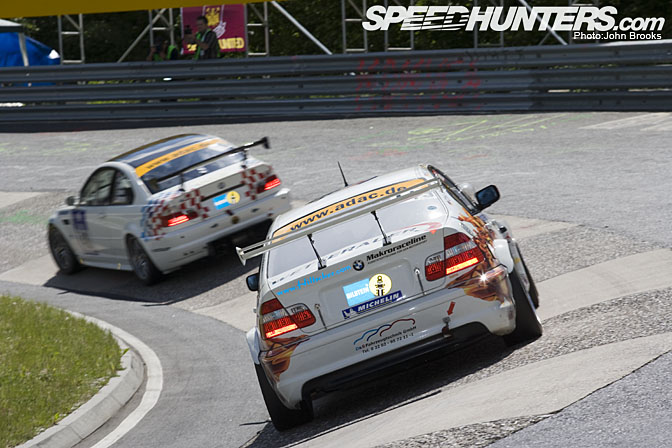 On to the banking, a pair of BMWs.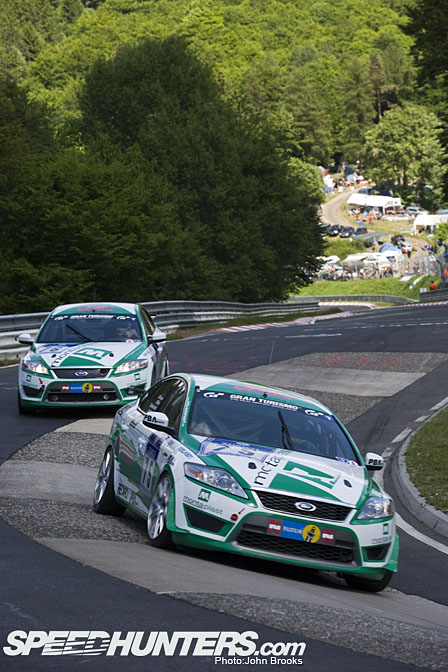 More humble origins, a local team runs two Ford Mondeos.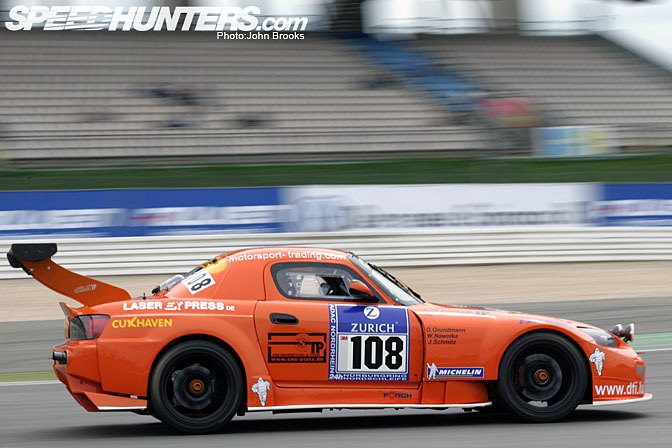 The wing on this Honda S2000 is not standard………………….I wonder if it works.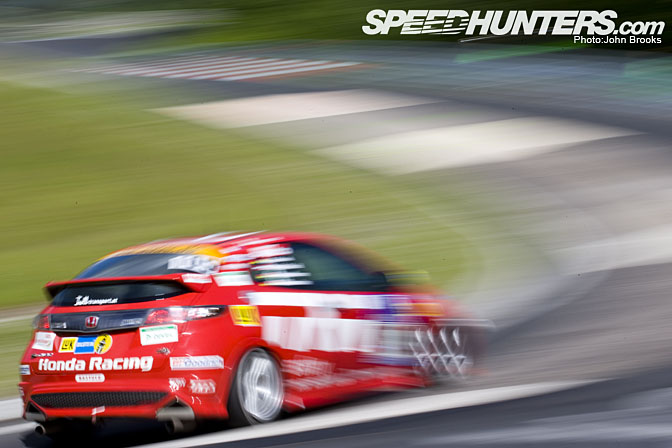 Honda Civic Type-R.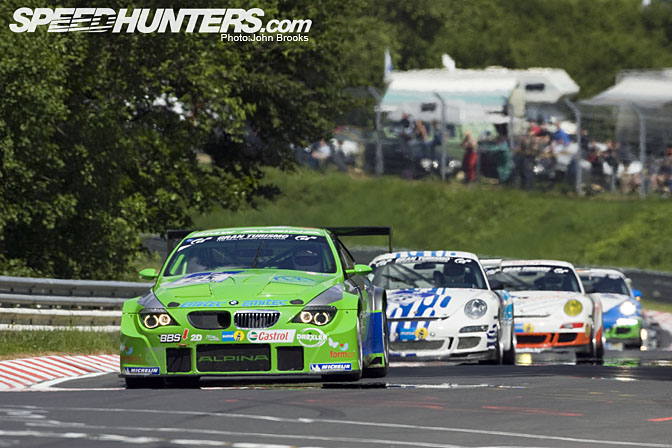 Up the hill, Porsches chase the Alpina B6.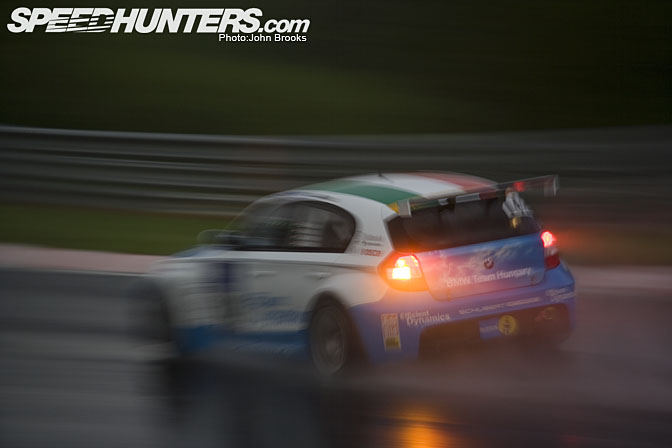 BMW Team Hungary's 120d.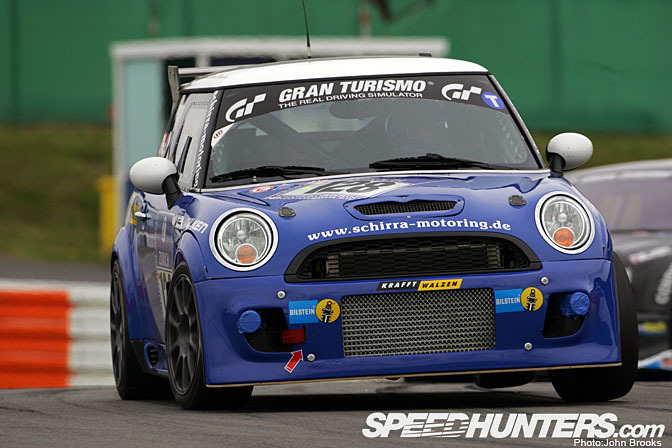 Only one Mini Cooper in the race.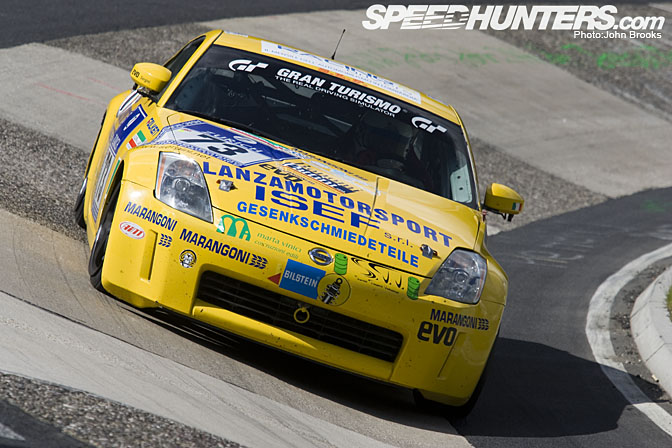 Former Ferrari Grand Prix star, Arturo Merzario, races this Nissan 350Z with a few Italian mates.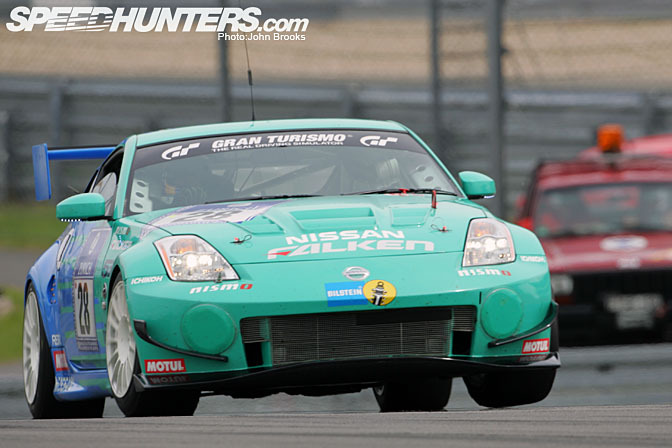 A full factory effort from Nissan with this Z33.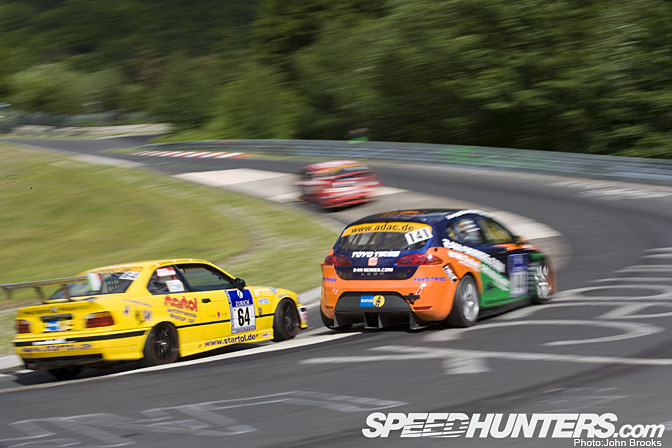 Heavy traffic, a narrow circuit, a big crowd, rain and sun……..yes it's the 2009 Nurburgring 24 Hours.
More later……………
John Brooks