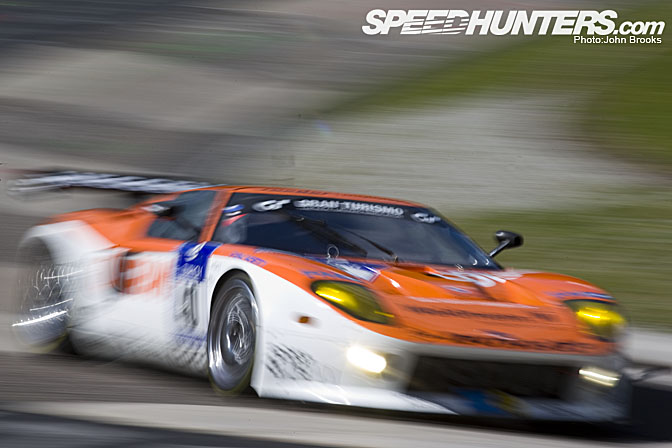 Two days of pounding round the Nurburgring in conditions that range from the sublime to the ridiculous have determined the grid for the 2009 Nurburgring 24 Hours that is due to start at four in the afternoon local time, tomorrow Saturday 23rd May. According to my information there will be an impressive 170 cars to start. After all the talk of Audi R8 LMS versus Manthey Porsche battle for pole it was great to see Thomas Mutsch post 8:36.536 in his Ford GT this afternoon. The car looks and sounds great………and obviously goes like stink to beat the fancied runners to the largely symbolic honour of pole position.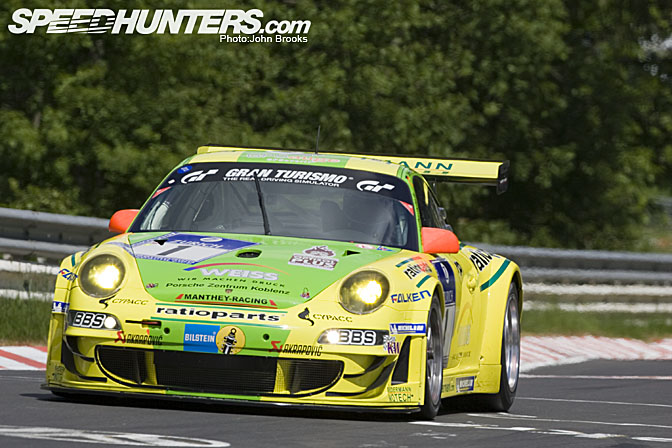 .191 of a second slower was Marc Lieb in the Manthey Racing Porsche 911 GT3 RSR, amazing considering the 25 kilometer length of the track. Marc was a little disappointed to be beaten for top spot, he is a racer after all. However he said to me that what really matters is who is ahead of the field at 4.00pm Sunday…….he seemed quietly confident.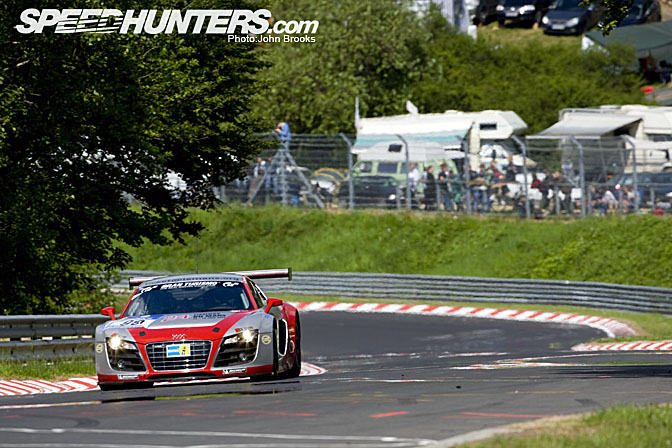 Third, a further .8 of a second adrift was Marc Bassang in the first of the Audi R8 LMS entries, this one for Phoenix Racing. He said that he got lucky with a largely clear lap on the Nordschleife part of the track allowing him to drive flat out. It certainly seemed that way from my vantage point at the Karussel.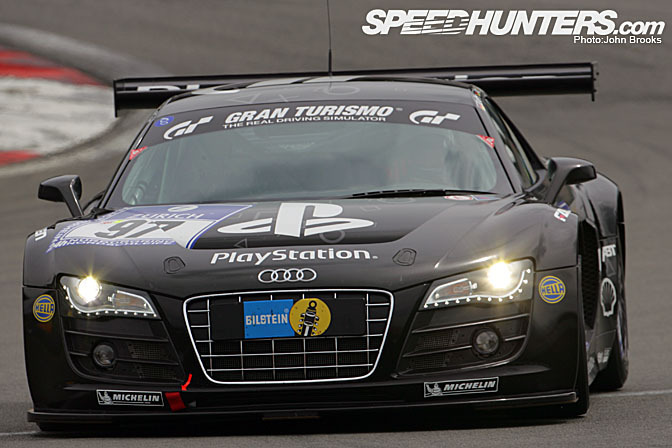 Just over half a second longer on his best lap was Lucas Luhr, whose Team Abt Sportsline Audi R8 LMS filled the fourth spot. He seemed pretty pleased as he posted the lap through heavy traffic at the end of the two session this afternoon.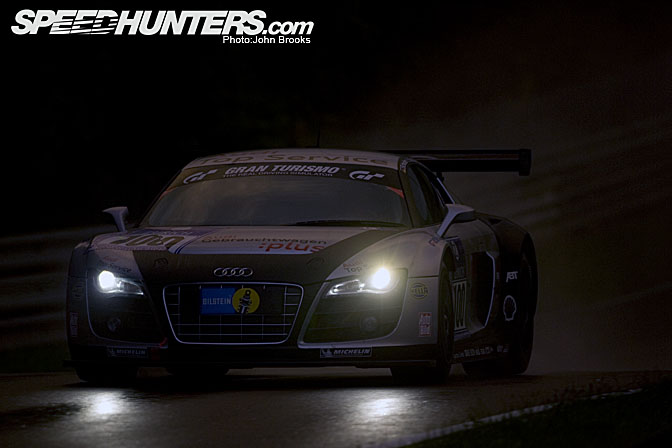 Next up was the third Audi to make the top ten, with Timo Scheider hustling round 2.5 seconds shy of pole. He is seen here last night in the murk at the Flugplatz, real Nordschleife weather that.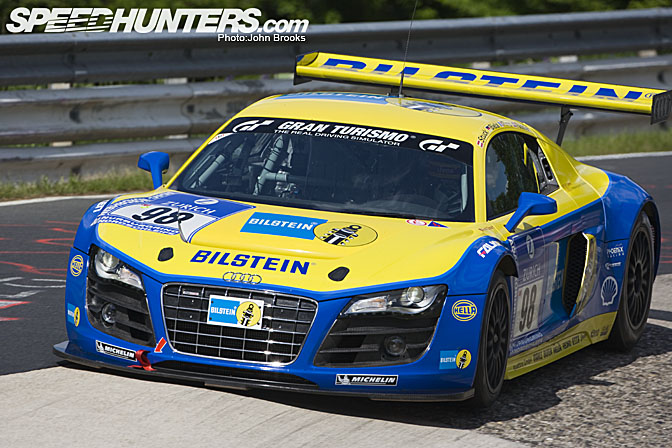 The final werks Audi rounded out the top six qualifiers with 58 years young Hans-Joachim Stuck Jnr. flying round in 8:39.618. Stuck took victory in the first running of the Nurburgring 24 Hours back in 1970, do not rule out the possibility that he will grab the same top spot on the podium some 39 years later, amazing.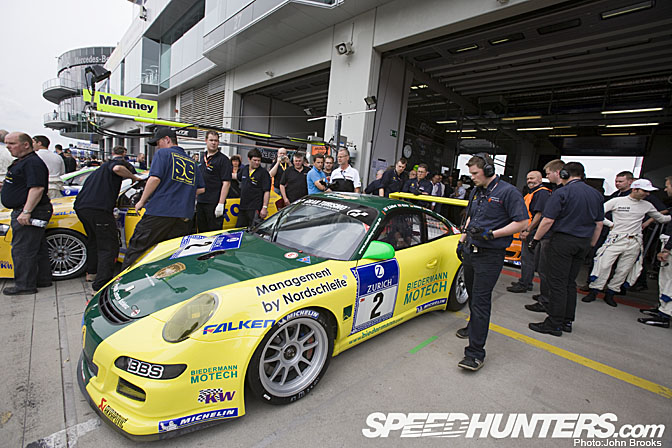 The next two spots were grabbed by the two other Manthey Porsches.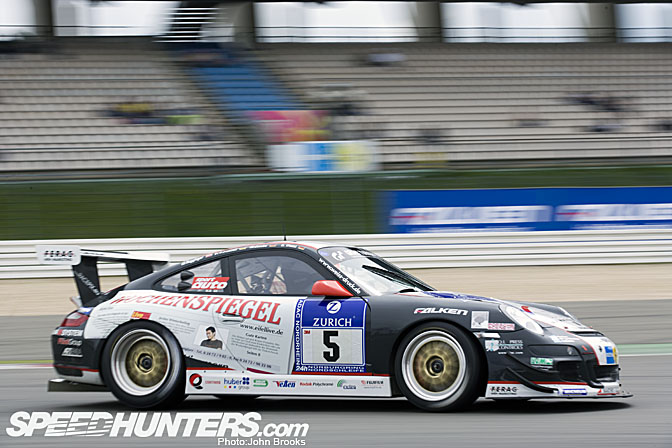 Both the 2 and 5 cars will be supporting the lead entry and are strong contenders for victory in their own right.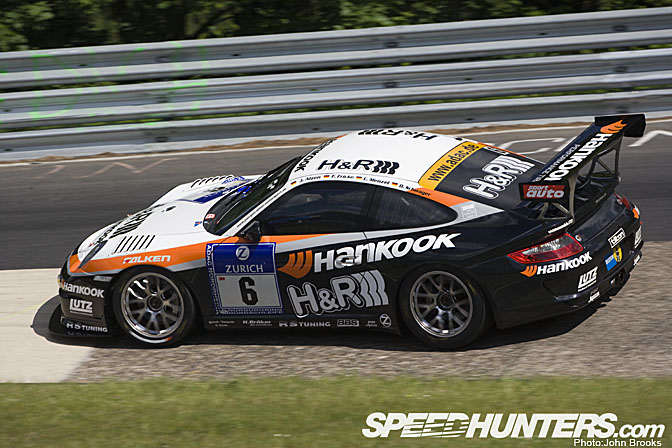 Best of the rest of the Porsche clan is the Hankook Racing effort of Jurgen Alzen.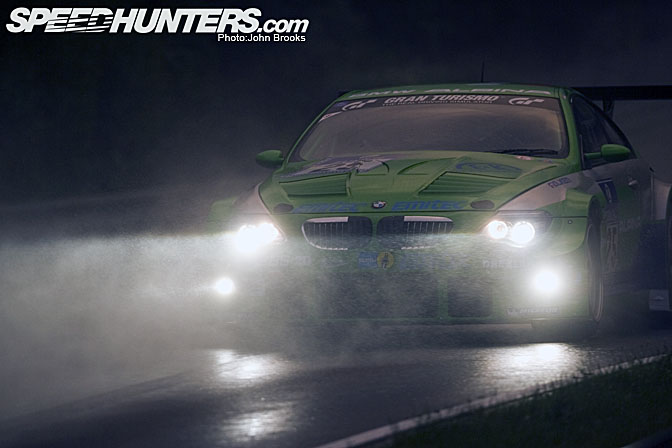 At number ten on the grid is the Alpina B6 GT3, here enjoying the deluge last night. Johannes Stuck, son of the sixth place qualifier, is on the drivers roster.
So there is a terrific race in prospect over this weekend, which you can pick up on the internet at Radio le Mans .com. Next year get yourselves to the circuit, you won't regret it.
-John Brooks