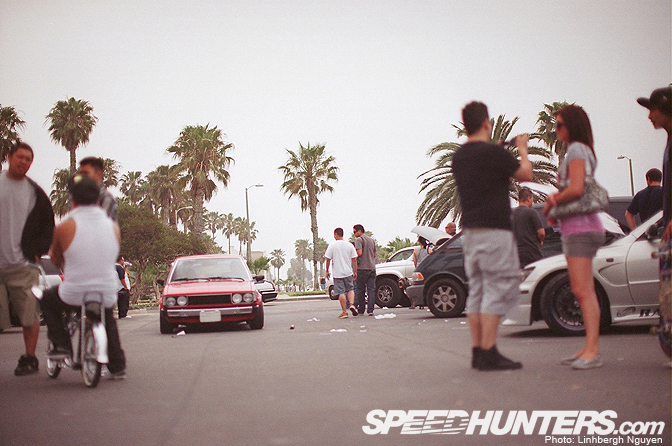 The game of "one-ups-manship" is a centuries old tradition. It is the
catalyst to inter-group competition. It can possibly lead to a groups
demise, or strengthen a group and become a spawning ground to new
trends, influence, inspiration and innovation. This age old tradition
continues on today. Remember when you were a little and that one kid
got that seriously sweet Transformers lunch box? You were raging with
jealously, but you totally wanted to show up the next week with a
Voltron lunch box. After a certain amount of begging to your parents,
and a trip to the store, you acquired your weapon of one-ups-manship.
It felt sweet to get those looks of jealously as you strolled into
school the following Monday strutting the power of the five combined
lions. The HellaFlush meet in Venice Beach, California, proved to be
the ultimate game of one-ups-manship.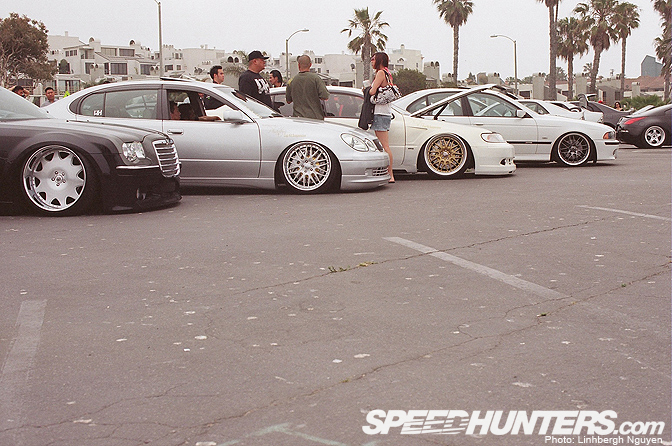 It was a game of who was more slammed and who could have the most
insane offsetted wheels fitted under their car. The Heavy Hitters cars
rolled pretty deep and hit the meet hard with their ridiculous wheel
fitments and stance.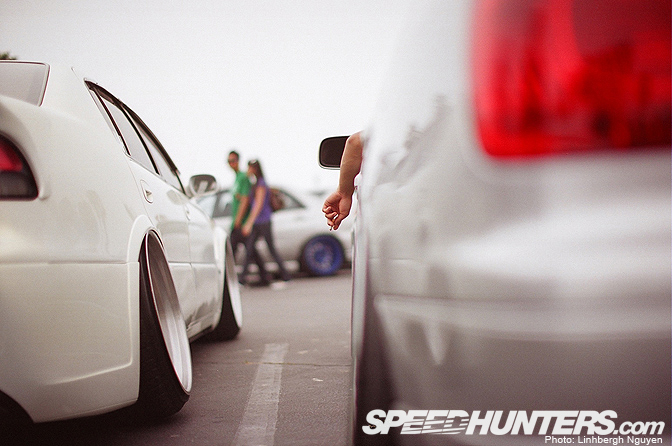 The life of a Heavy Hitter…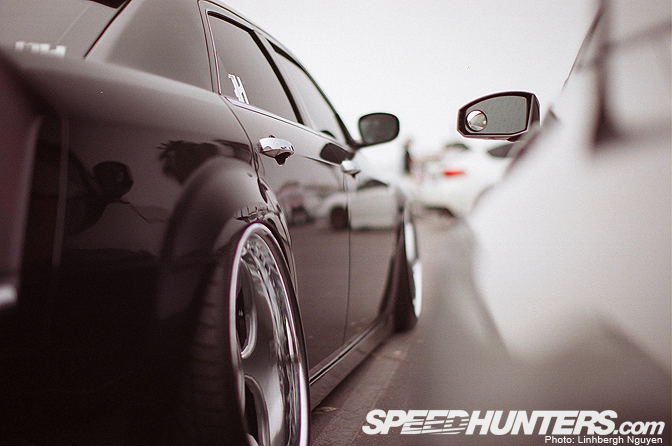 …looking hard, looking slammed, and of course, hella, hella flushness!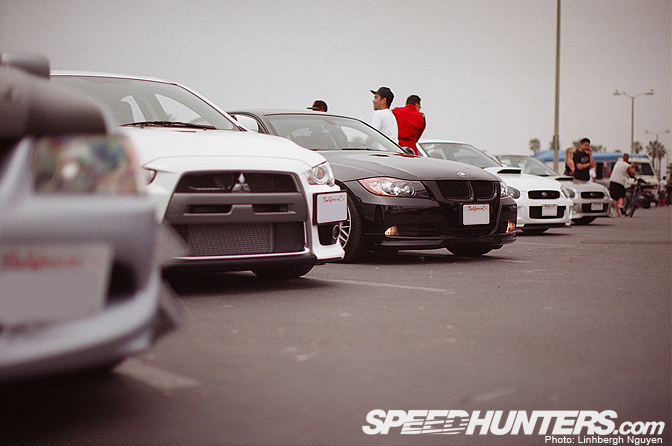 There was a fair share of Mitsubishi Evos, and Subaru Imprezas. Some
lived the motto of hella flush, whereas others did not. Hellaflush
riceness is a concept that is understood instantly, or not understood
at all. There is no gray area!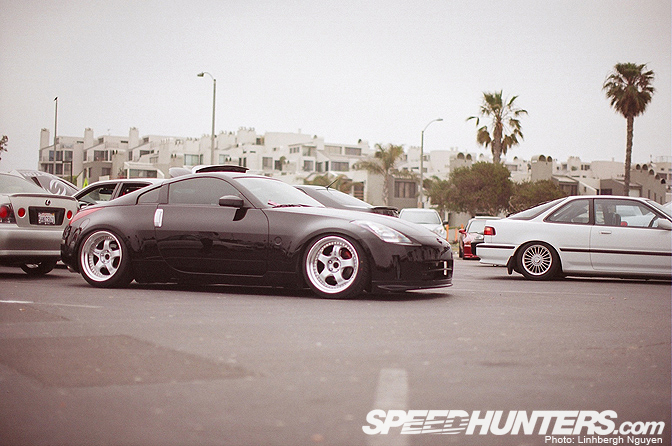 This Nissan 350z on Work Meisters was seriously low. Barely any daylight was under that car!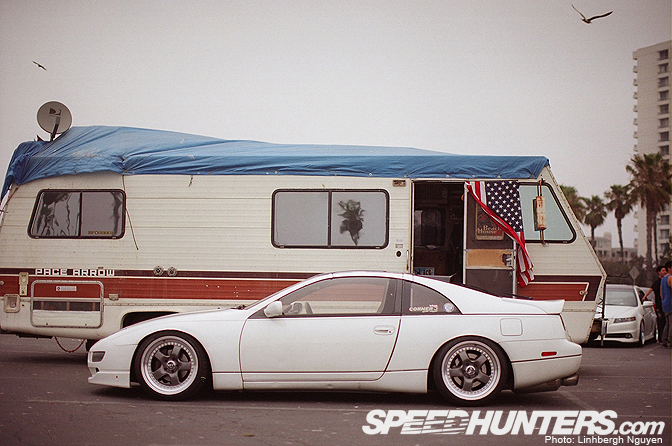 Nissan 300ZXs are, in my opinion, not that easy to make look good.
Character and presence are the two of the biggest qualities that I look
for in a car, and 300ZX has both of those qualities.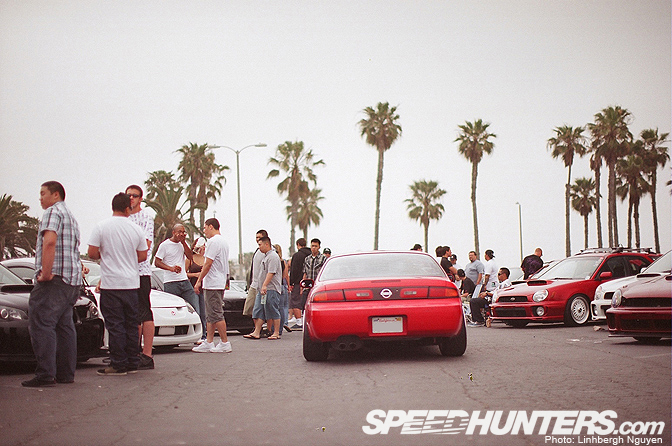 Ridiculously low? Check. Ridiculously aggressive wheels? Check. Insane camber? Check.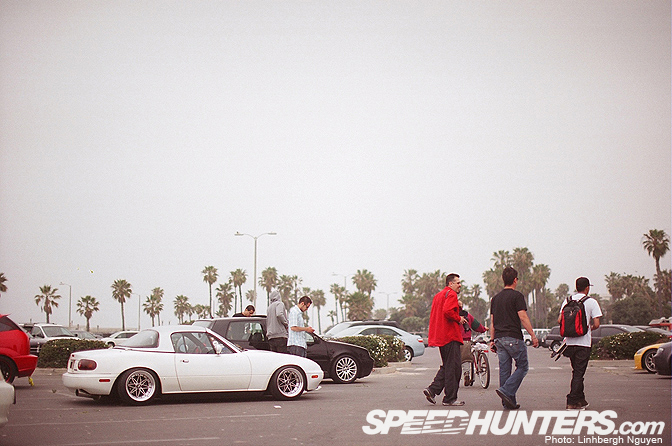 Here's a Miata that was beyond being hella flush. This little
roadster once rocked 15×8 zero offset Work Equip 01s, but now has 15×10
Work Equip 03s all the way around under stock fenders –insane and
insanely dope!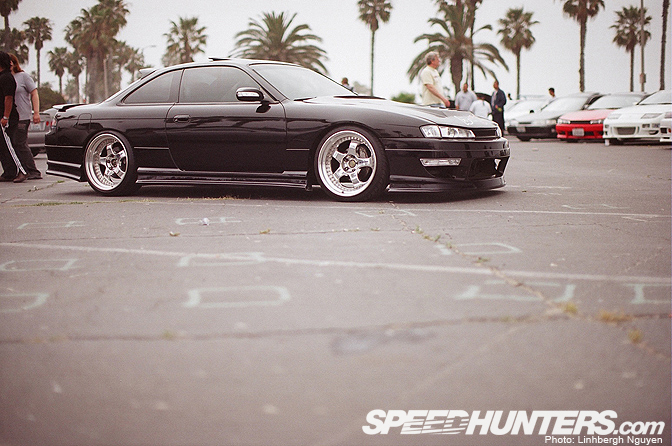 Here's a sweet, sweet kouki S14 rolling hard on some polished Work
Meisters. This sucker looks like melts ice caps and it eats any endangered species for fun.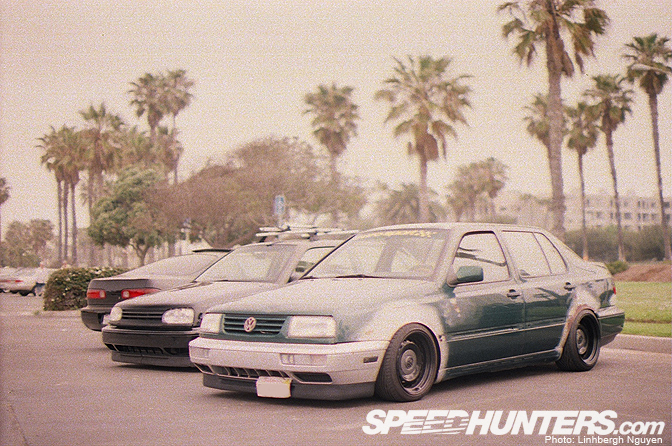 The meet was not only limited to flush Import cars. A fair share of
VWs, and Audis rolled up spreading about the word of flushness on a
global scale.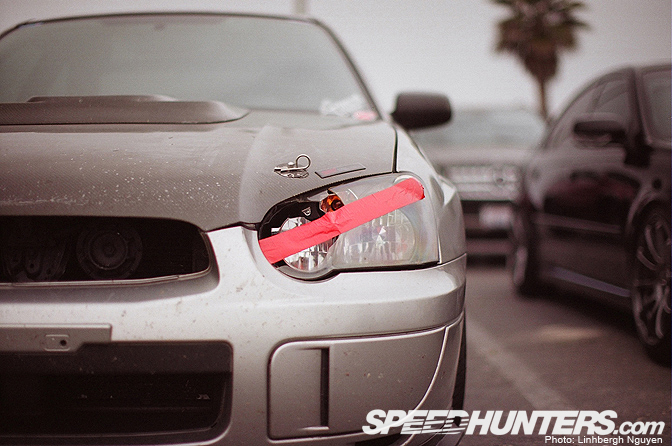 This is a great example of character. Without this broken headlamp, it
really would've just been another WRX in a sea of Subarus.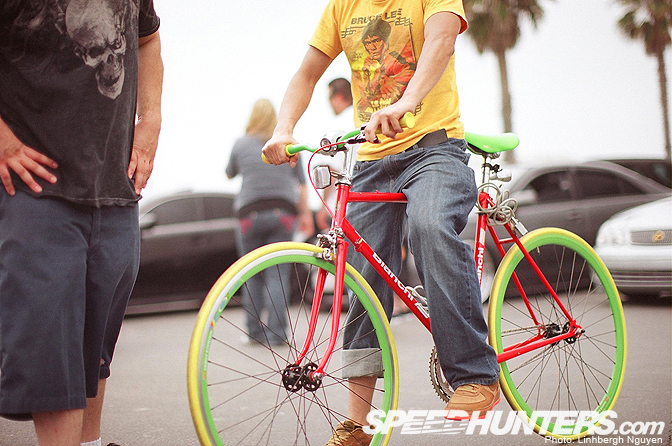 The fad of beach cruisers have been replace by these single gear road bikes. This is SoCal urban lifestyle!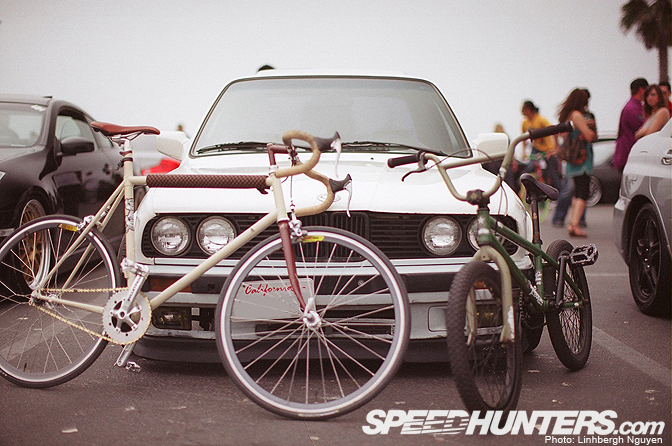 But really, what's a trip to the beach without riding around such
scenery in a bike. Plus, it proved to be a great mode of transportation
to view the meet. It was awesome to see slammed cars roll up with a
bunch of bikes racked up on it.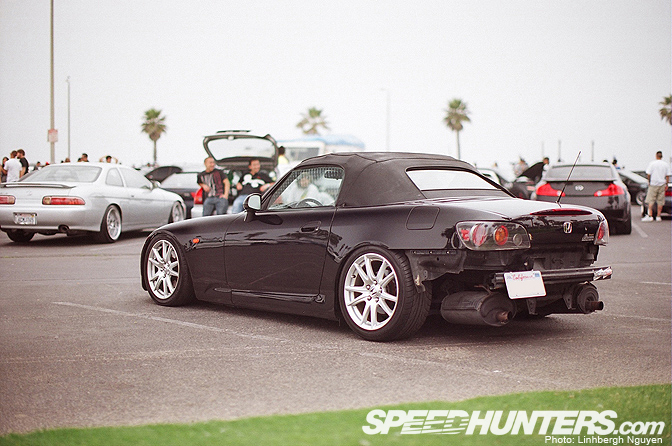 Call me insane, but this S2000 was my absolute favorite car in the
whole of the meet. This car oozes with character and presence. When I
first came up to this car, I just saw a pretty much stock car that has
been lowered –until I saw the back of the car…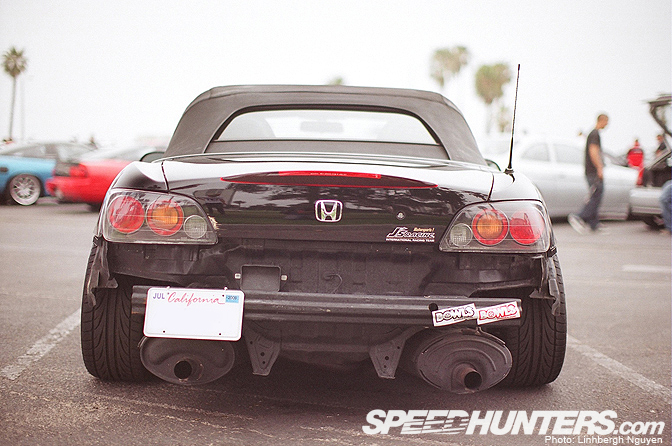 A basically stock S2000 lowered on stock wheels, with spacers, for
flushness, makes for a pretty standard S2000. But with the addition (or
should I say the lack of) of no rear bumper, it brings this car to a
whole new level. The owner got into an accident which damaged the rear
bumper, he then removed the bumper, noticed how hot it looked, and kept
it that way since.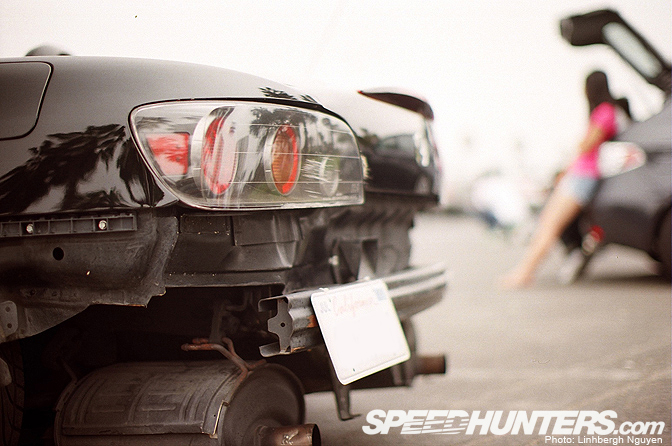 There's just something magical about a clean S2000 that has been been
grunged up. The zip tied license plate and stickers makes this car have
so much character. It makes you laugh out loud of the ridiculousness,
but you have to admit. This car looks amazing with the rear bumper
support and exhausts exposed to the world –it's almost like that peak
up that one girl's skirt in school oh-so-long ago. I love this car.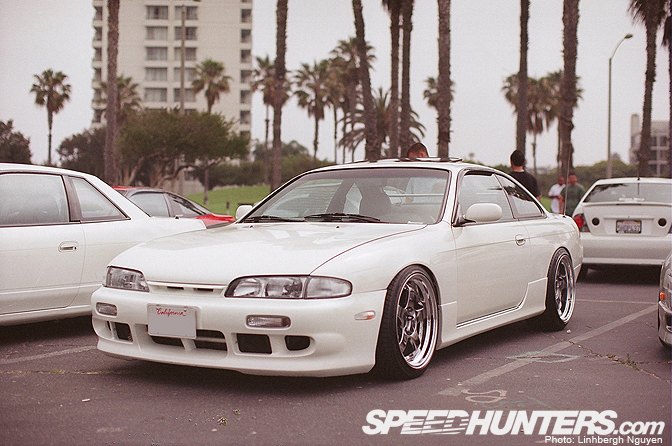 The recipe to make a car look cool is real simple: the right
combination of a good stance and wheels that fit well is really all
that is needed. This zenki S14 does it totally right.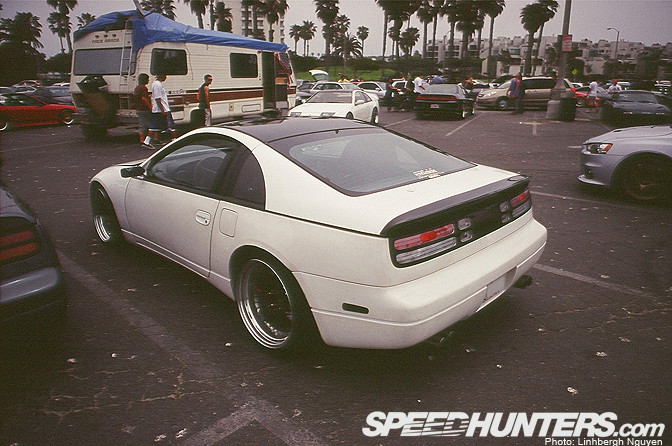 Here's another 300ZX doing it right.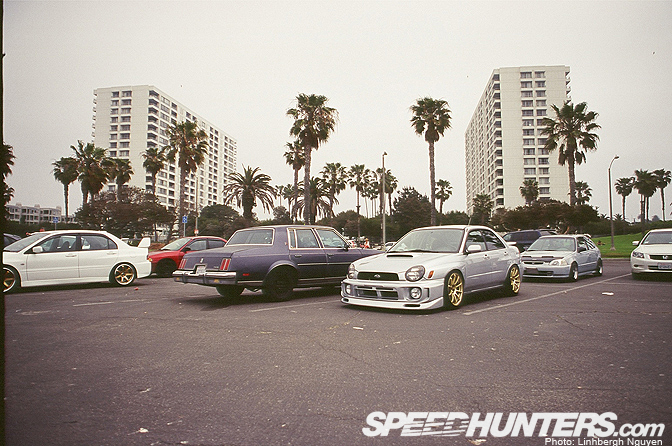 Is there a bit too much going on with this bug-eye'd WRX? I think it does, but somehow, just somehow, it works.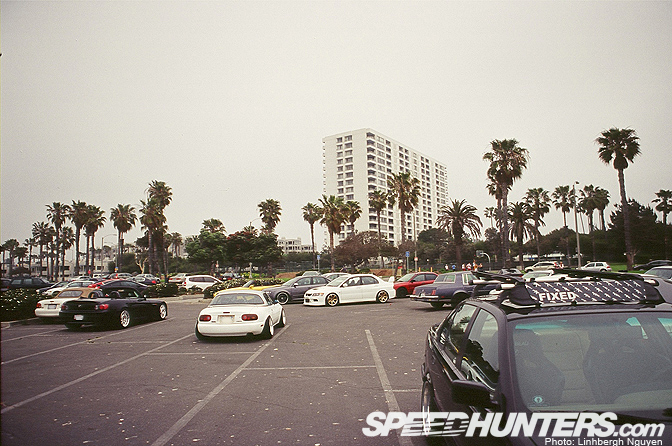 The turn out was amazing, all kinds of cars came out to represent their vision of "hella flushness."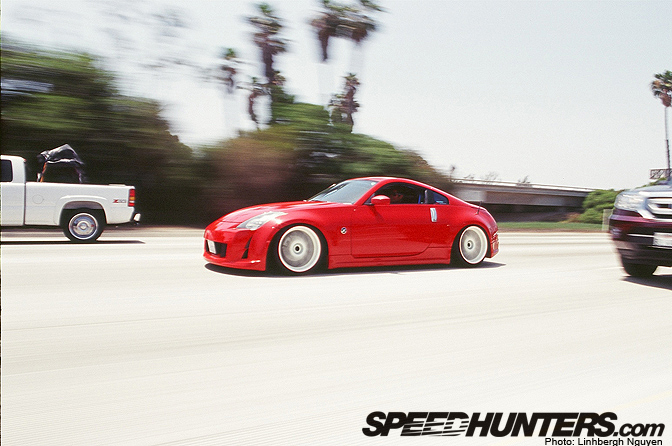 During the ride back home, I spotted this 350z which I saw earlier at
the meet. It really was the best 350z at the meet. The white wheels
with the red car made for a fantastic combination of character and road
presence. This Z just wanted to eat up any car in it's path!
Car
shows have been a bit dry lately in content –you see the same stuff
over and over again. So it takes a change in the guard to have a new
vision and pursue it. The guys at Fatlace and HellaFlush know exactly
what type of cars they love. Basically, anything slammed with
aggressive wheel fitment. It's refreshing to attend a meet where almost
every car is pure eye candy. It's also refreshing to see owners of all
makes and models, but with a similar vision in mind, converse with each
other, share ideas, and show the world their current weapon of
one-ups-manship. It makes you salivate on what someone will show up
with for the next meet. Minds will be blown.
For
you photo nerds out there, I shot this event exclusively with 35mm film. I've
had questions about what types of film I use and what film camera I
shoot such archaic mediums with. So, to answer those questions, I shot with a roll of
Fuji Film Color 125 and a roll of Kodak E200 Color Reversal (film made
for slide projectors) at this meet. My 35mm film camera is a Canon EOS A2. Also, I
never do any post-processing to shots from my film camera. Any
post-processing would, in my opinion, make the magic of film disappear
–graininess is amazing.
-Linhbergh Nguyen