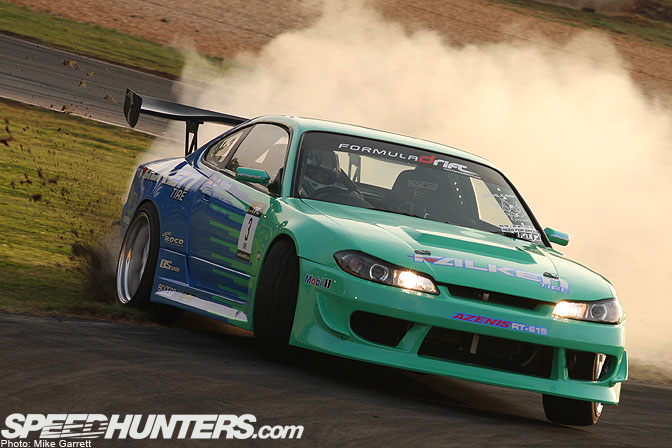 If you've been keeping an eye on the site over the past couple days, you've probably noticed my lack of posting. Well, there's a good reason for that. Yesterday I spent the day flying across the country to Atlanta for round two of Formula Drift and I spent today in the sticky heat at Road Atlanta shooting qualifying and practice. As usual, I'm covered in rubber and in bad need of a shower, but here's some pics and results from day one of FD Atlanta.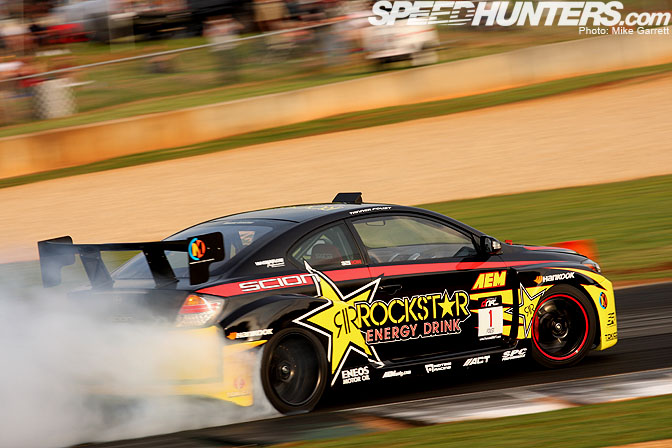 Tanner Foust took the top qualifying spot after laying down a pair of incredible runs. Despite only being Tanner's second event in the V8 Scion tC, the new car is as dialed in as it gets.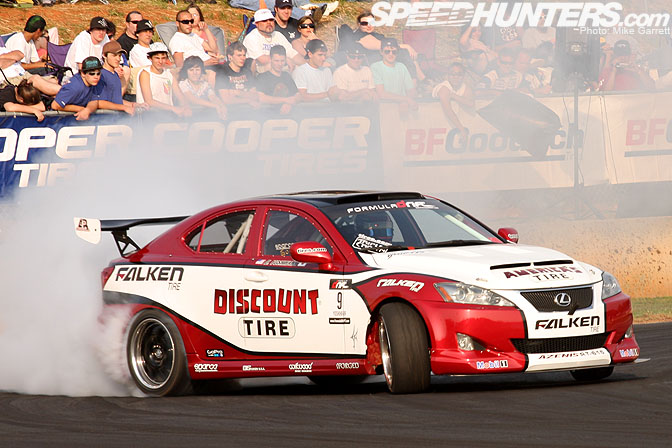 Dai Yoshihara struggled with his new Lexus IS350 in Long Beach, but it appears that he's mastered it now. Dai was able to qualify second with an 88-point run.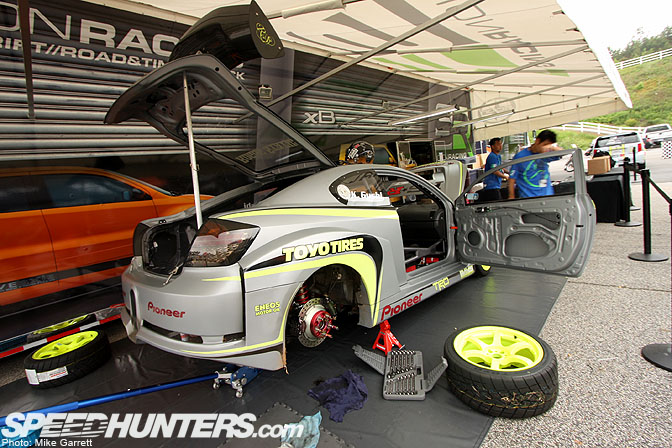 After a disappointing showing in Long Beach when he failed to make the Top 32, Ken Gushi was able to qualify 17th in the other Scion tC on the FD roster.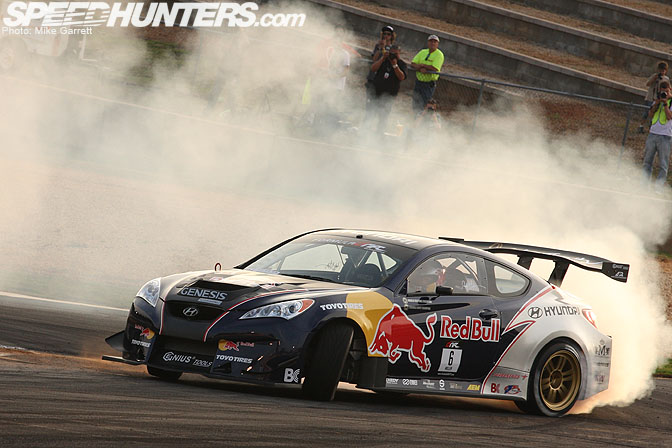 Rhys Millen qualified sixth in his second event driving the Hyundai Genesis Coupe. Perhaps his experience drifting the stock Genesis during his commercial shoot here at Road Atlanta helped out?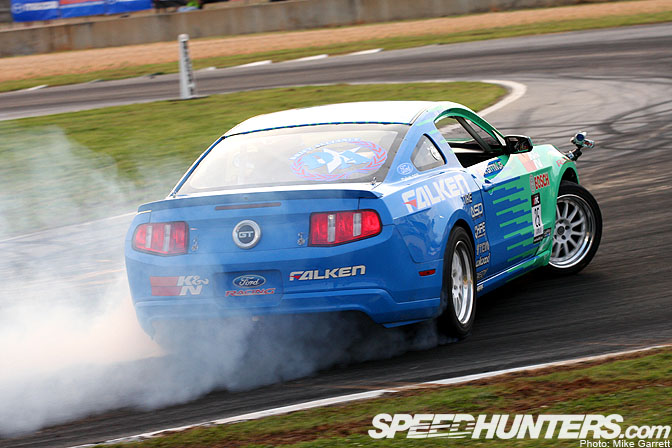 JR drove like…JR. A particularly aggressive qualifying run landed him and the Mustang GT in eighth overall.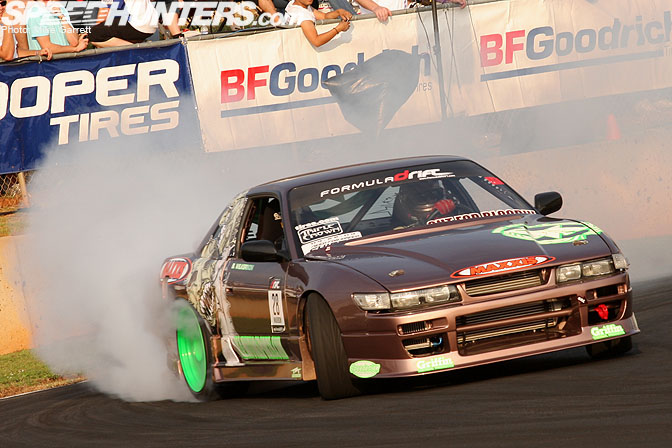 Former ProAm driver Brian Wilkerson was able to take the 22nd position in his "Zombie" S13. It was certainly one of the coolest looking cars on the track today.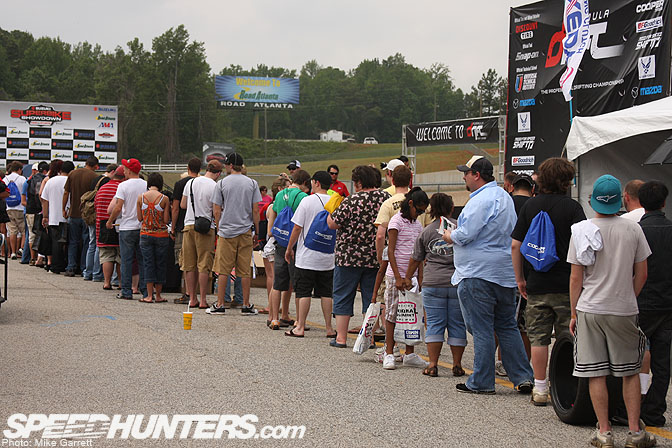 Fans form a huge line during the afternoon's driver autograph session. I imagine it'll be even crazier tomorrow.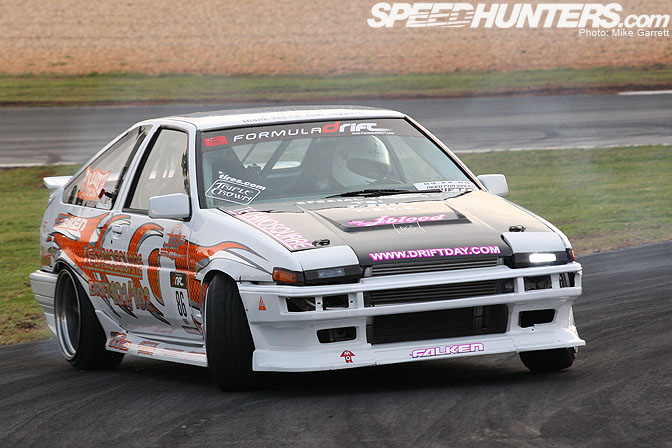 You may have heard the story about Taka Aono getting donations from hardcore AE86 and drift fans to help pay for the costly trip out to Atlanta. After some car trouble scored him a zero during his first qualifying run, everyone was afraid his weekend may have been ended prematurely. Fortunately Taka was able to come back during his "do or die" second run and secured a spot in the Top 32. Congrats Taka!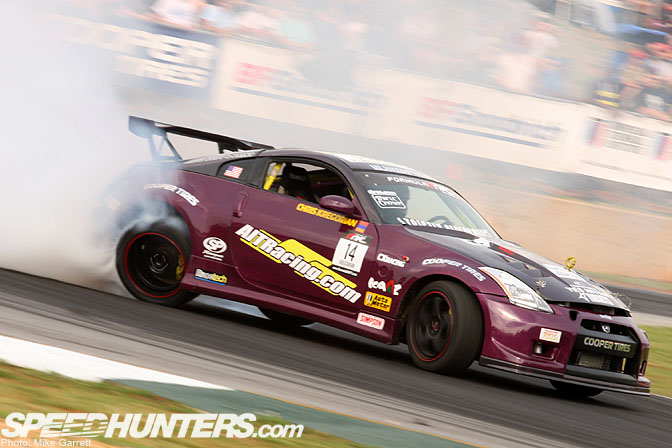 Hmmm… nice rear camber.
Here's the official qualifying results from Formula D -
1 T. Foust 1 88.5
2 D. Yoshihara 9 88.1
3 D. McNamara 8 87.8
4 R. Miki 26 87.5
5 S. Hubinette 77 86.7
6 R. Millen 6 86.5
7 S. Verdier 12 85.8
8 V. Gittin 25 85.3
9 R. Tuerck 44 80
10 J. Pawlak 13 79.8
11 R. Nishida 31 79.4
12 C. Forsberg 64 79.4
13 T. McQuarrie 17 78.8
14 R. Petty 808 74.55
15 J. Maeng 51 73.9
16 M. Takatori 23 73.8
17 K. Gushi 5 72.4
18 D. VanDenBrink 19 69
19 K. Yamanaka 7 67.7
20 M. Essa 101 61.75
21 C. Kregorian 14 61
22 B. Wilkerson 28 59.9
23 M. Waldin 24 59
24 C. Canul 30 58
25 T. Aono 86 57.9
26 T. Brakohiapa 18 57.3
27 T. Suell 777 56.9
28 J. Jones 29 54.2
29 J. Wagner 412 52.2
30 C. Rydquist 46 52
31 P. Mordaunt 90 48.5
32 C. Wan 3 43.5
Make sure you stay tuned to the Speedhunters Twitter feed tomorrow as I juggle shooting photos and posting live updates with results from the competition.
-Mike Garrett