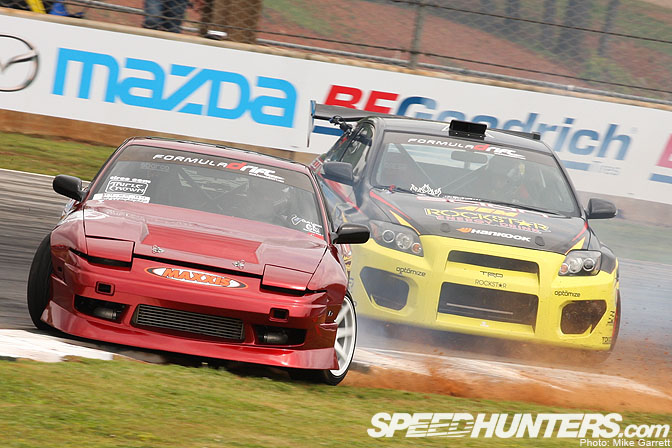 I just got back last night from my first ever trip to Road Atlanta for the second Formula D round of 2009, and now that I've had a bit of sleep to replenish myself let's take a look at some of the scenes from the event. Before I get to the drifting itself, I just wanted to say how nice the atmosphere is at Road Atlanta. As a first-timer, I enjoyed both the track's beautiful green scenery and the laid back "Southern Hospitality" that you feel there. The majority of the FD cars and drivers may be the same, but Formula D Atlanta has a completely different vibe than you feel at a place like Irwindale or Long Beach. You'll see some of what I'm talking about in this post.
In the photo up above you can see privateer driver John Wagner's S13 mixing it up with Tanner Foust's Scion during practice on Saturday afternoon. The S13 couldn't quite match the moves of Tanner's specialized tC, but it still made for a strikingly cool scene as John put the nose of the S13 into the dirt at the entrance of the first corner, with Tanner following close behind. It's also a nice way to show the contrast there is between the different cars in the Formula D series.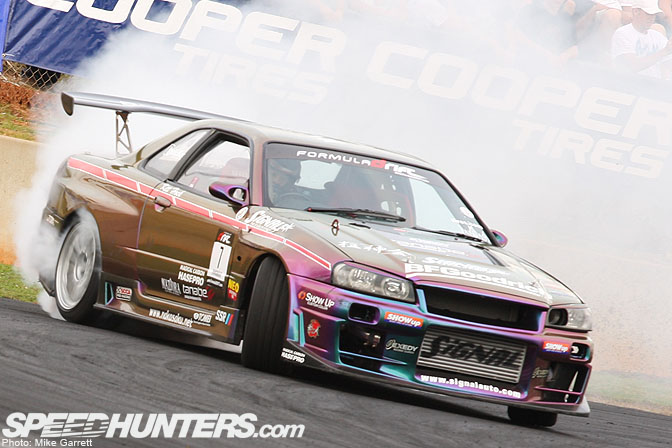 It was nice to see the old Signal Auto R34 in action again. There are few tuner cars in the United States that have more history than this one. It was once a record-setting grip car during the early days of US time attack scene and then was converted to a drift car and used in Formula D for a couple of seasons. The Maziora-colored Skyline now makes its home in the Atlanta area and sees action in local drift events.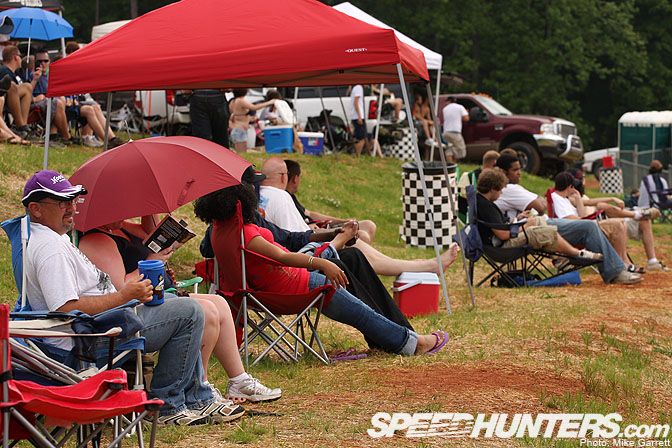 The spectator areas at FD Atlanta resemble a NASCAR infield more than a regular drift event. Tents, BBQ's, blankets, lawn chairs, and cold beer – one of the funnest events on the FD schedule for sure.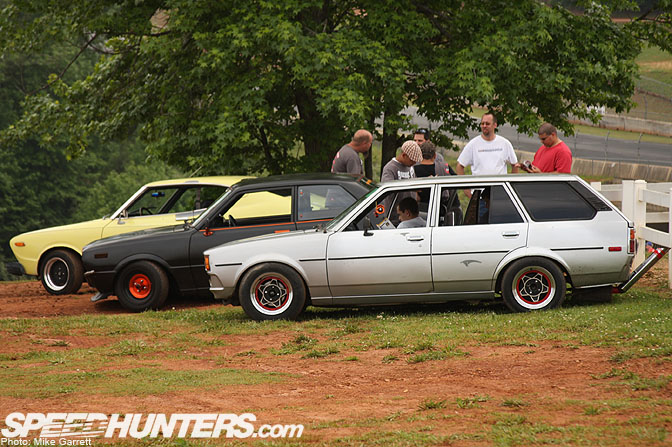 Spectator parking is also very laid back at Road Atlanta with cars scattered all over the grassy hills. I spotted this group of vintage Toyota owners hanging out on Friday afternoon.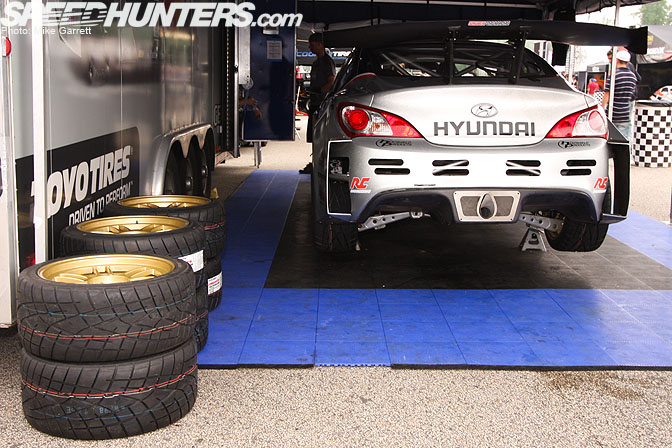 Rhys Millen's Hyundai Genesis was ready to go, this time with proper Hyundai power under the hood.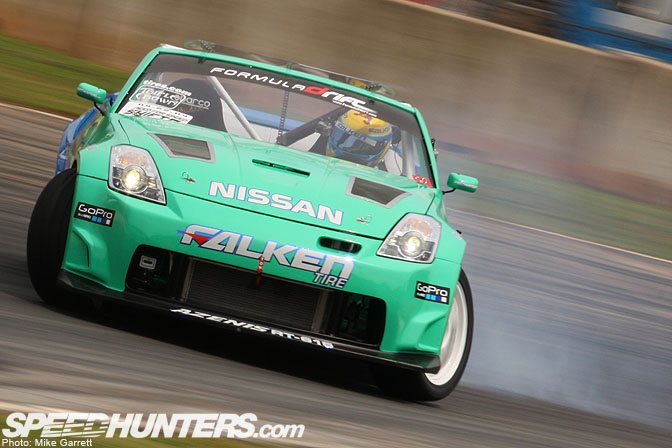 A lot of the new cars that debuted at Long Beach were fully adjusted and ready for Road Atlanta, including Tyler McQuarrie's 350Z convertible. As usual, I'll have more on Team Falken's Atlanta adventures in a separate post.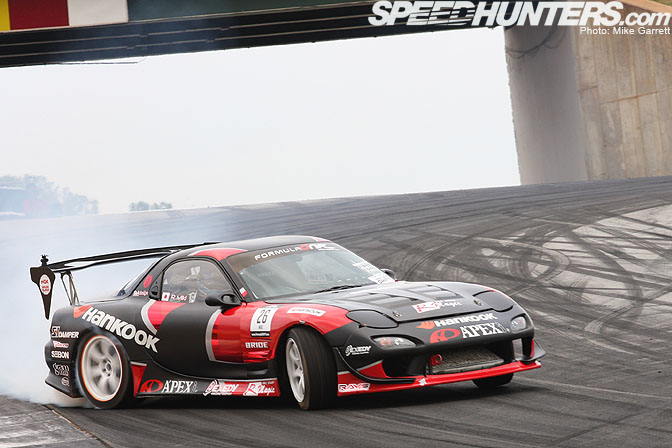 Ryuji Miki and his FD3S were back on form after a not-so-good showing last month in Long Beach. The freshly rebuilt RX7 was looking good and running even better.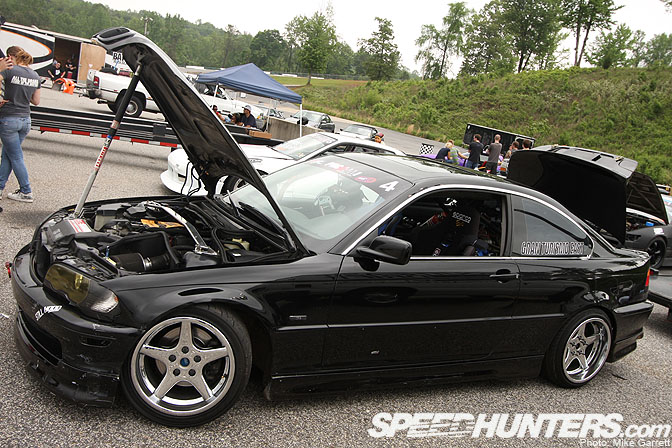 Speaking of looking good, here's Andy Sapp's sexy E46 BMW. This car was at Road Atlanta to take part in the small FD ProAm event that was held alongside the "big league" competition.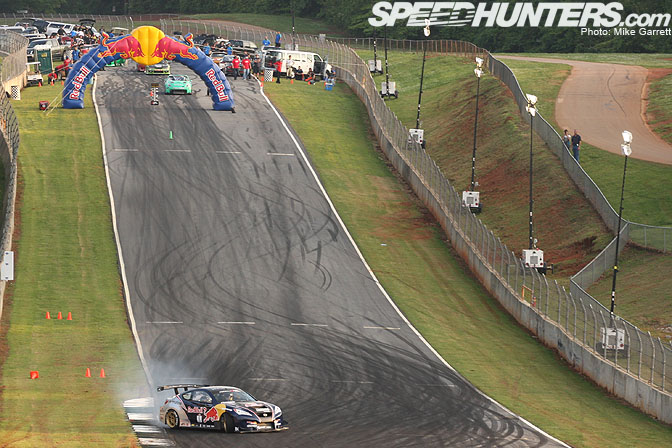 A view of the long and steep downhill straight leading into the first corner. Pictures and video don't really do it justice. Unless you've got a a vehicle of some sort, you can pretty much give up on climbing up there.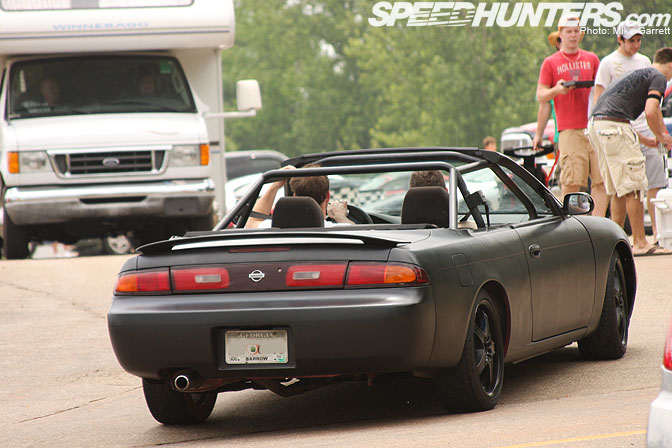 What do you think of this homemade S14 'vert that I spotted cruising through the parking lot. One of the funnest things for me was checking out the cars in the spectator lots.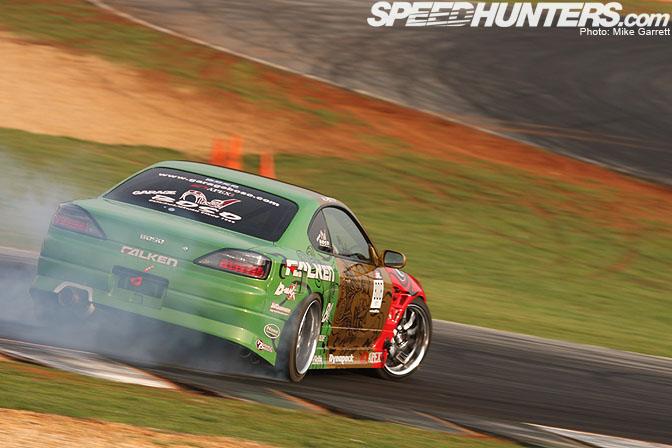 Ross Petty had no problem adjusting to the Atlanta course in his S15.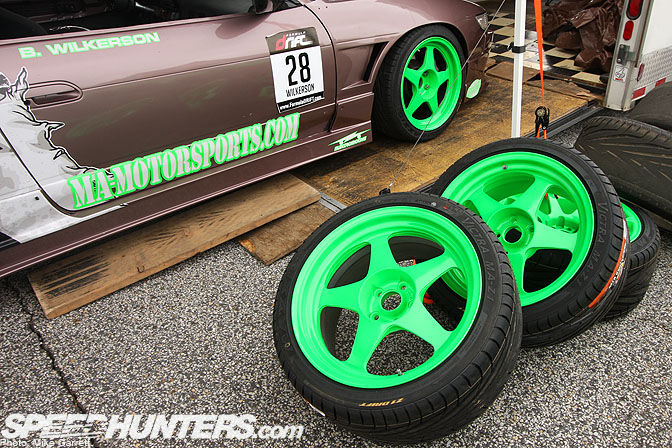 Brian Wilkerson's neon green Desmond Regamaster wheels can likely be seen from outer space.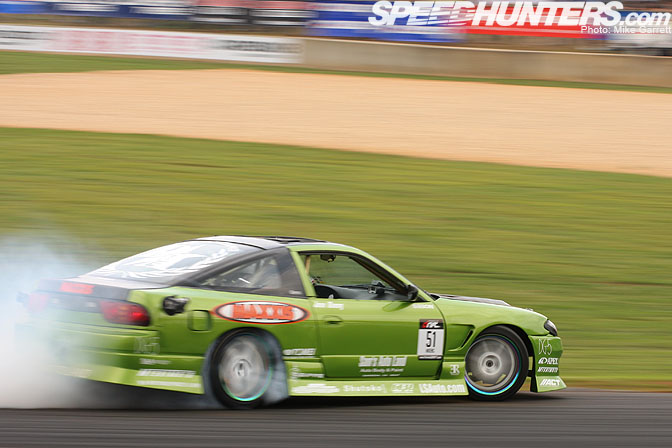 Joon Maeng had an incredible weekend at Road Atlanta. More on this later when I cover the actual competition portion of the event.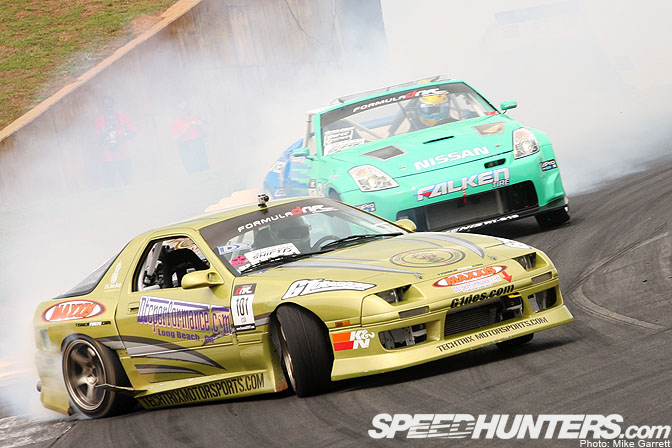 Newcomer Mike Essa brought his V8-powered FC all the way out from Los Angeles to run in Atlanta. The crowd was quite entertained by Mike's flying aero parts as he made his way through the course.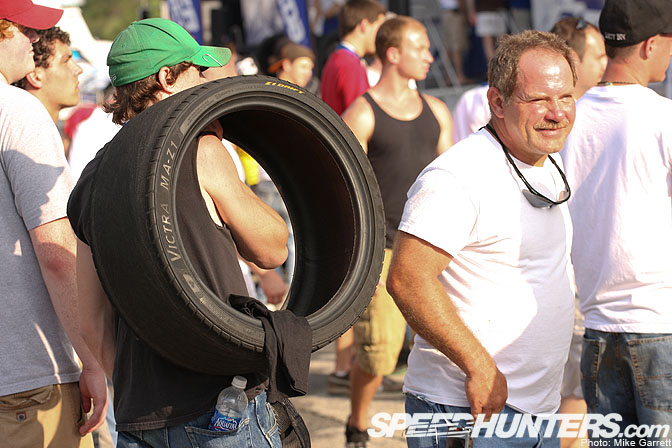 No matter what part of the country you are in, fans love taking home burnt up tires as souvenirs. Now if I could just figure out what they do with thes things after they get home…
More on the way from Formula Drift  Atlanta.
-Mike Garrett