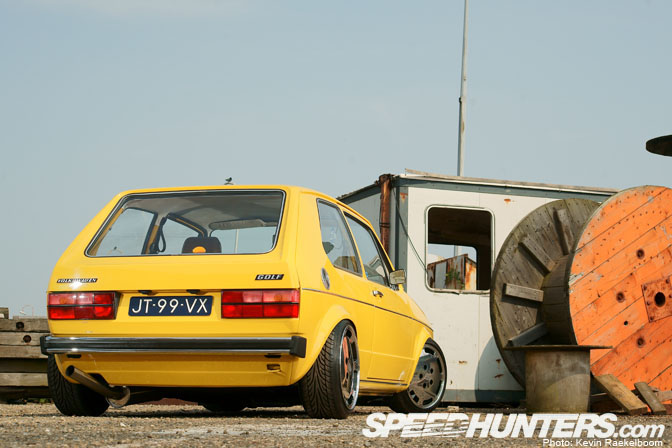 To start VAG month off I want to showcase this MK1, owned by Robert Jan from the Netherlands. Kevin already posted this orange Mk1, and although this yellow one looks similar from the outside, there are a lot of differences. I think that the focus on these particular Mk1s is all about clean style and not so much on crazy performance… of course there are exceptions, and I do plan to give you guys a taste of both worlds over the course of the month.
The car is 26 years old, so when Robert Jan bought it, he immediately took it apart and started a ground-up restoration. I've noticed that when builders in this scene choose a new color for their car they often choose an original VW color. It seems that inside the VW community, they never stray far from the factory originals! In the end, it was decided that car would be changed from red to yellow and it's an original color — used on the MK1 in 1976 and called 'raid gelb'.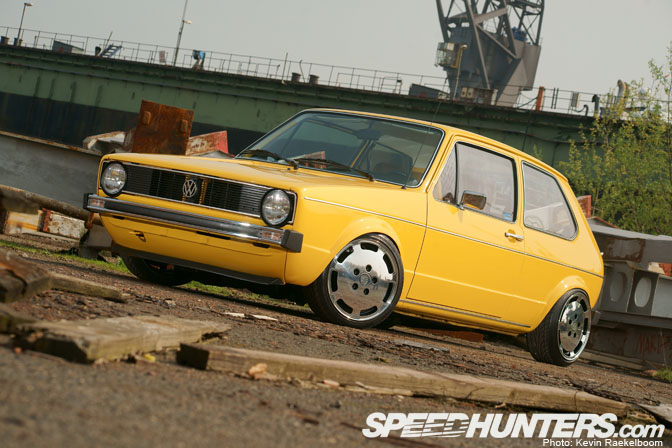 The stance is perfect thanks to an FK Automotive coil over suspension system. The Porsche wheels are a favorite amongst the MK1 community. This time, Robert chose the S4 version in 7j on the front and 8j in the rear. The tires are made by Dunlop and come in size 195/40/16.
Other parts that adorn the exterior are the chrome steel bumpers with the original rubber strips. The decorative strips on the car have all been chromed together with the mirrors.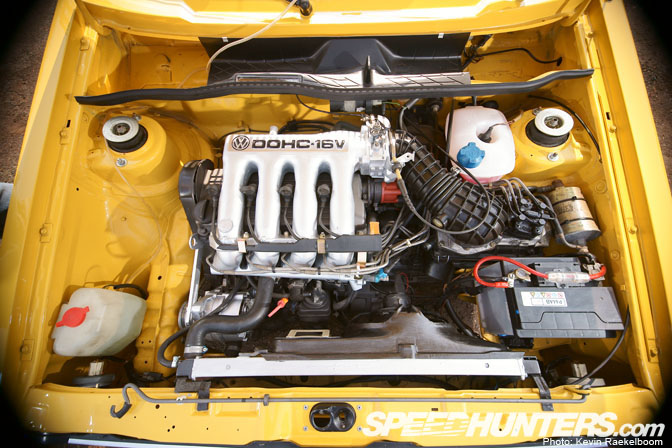 The original engine has been replaced with a more powerful one. It's a 1.8 liter 16v from an Scirocco that is mated to a 5-speed transmission from the same car.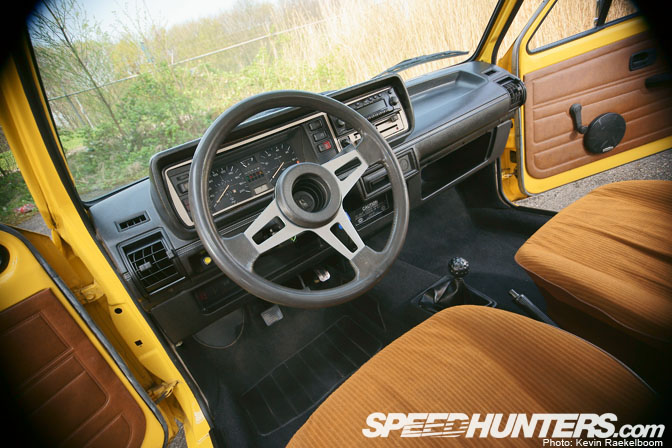 Inside the car we find this brown interior from an '76 MK1 with integrated headsupports. The dashboard came from an '82 Golf. The steering wheel is an OEM item called the Spucknapf. I think that a cool wooden Nardi steering wheel might look better –what do you guys think?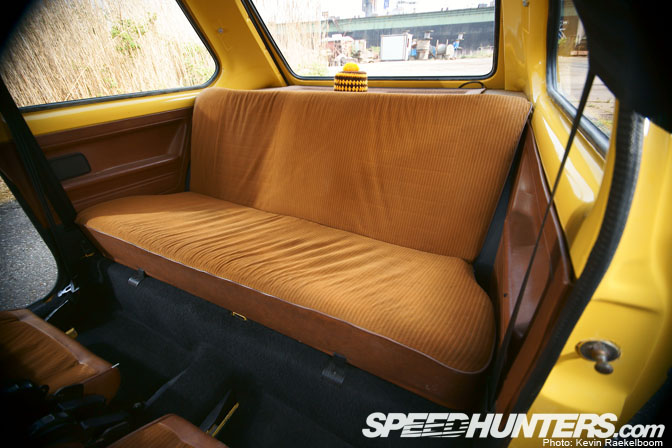 How comfy would this be?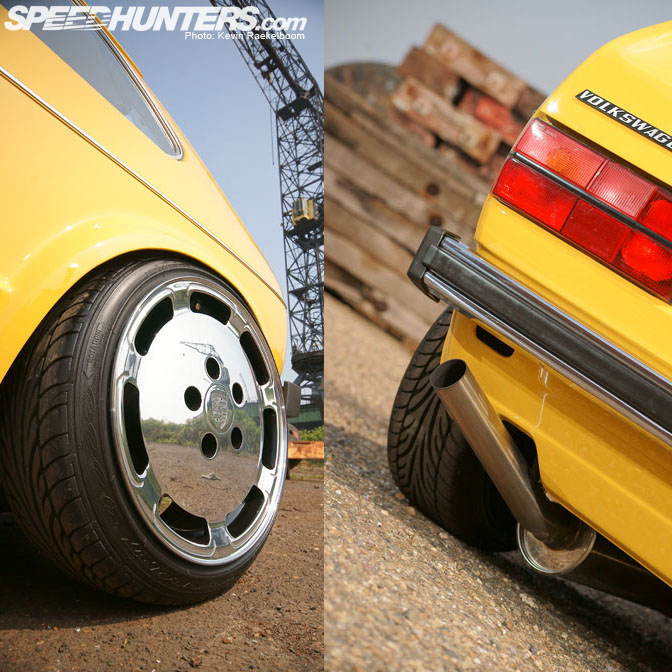 Proof that the wheels are neatly tucked inside the arches. The exhaust
is custom made and really complements the rear. I don't think it can
get any lower with all the speedbumps in Holland.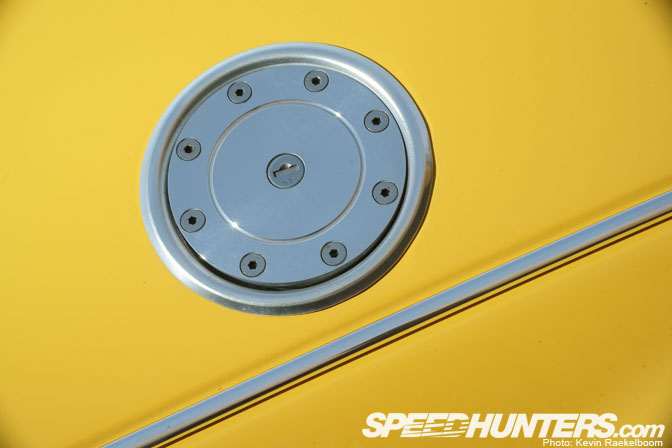 A custom fuel filler cap is one of those things that every car should have.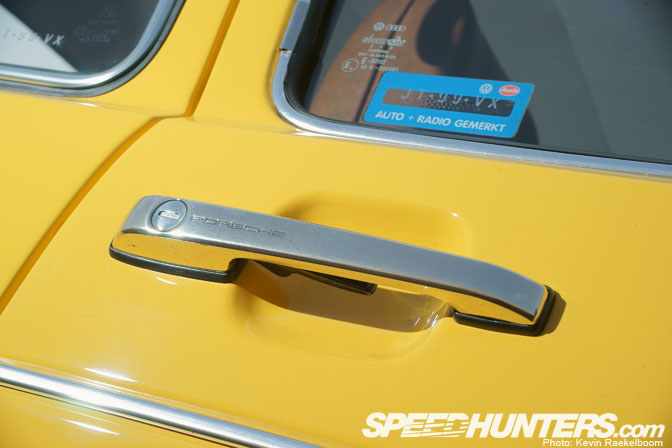 A nice touch are these original Porsche polished door handles.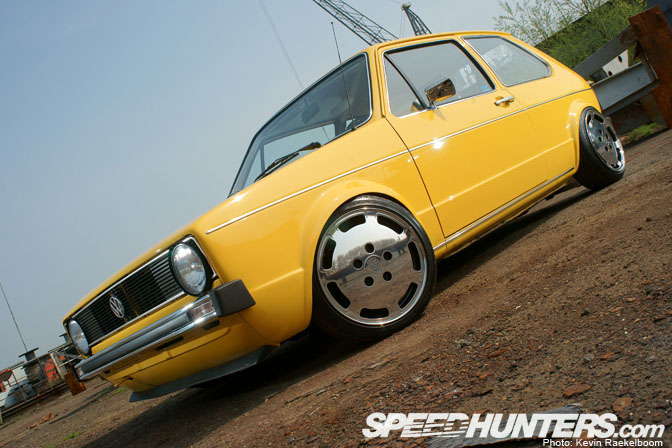 The build has taken Robert Jan 3 years and now that the car is finished he's going to focus on driving and enjoying it. He mentioned he will never sell this car.
I think he's done a great job with this car — and I hope he will start another project soon so we can feature it on Speedhunters!
-Jeroen Willemsen