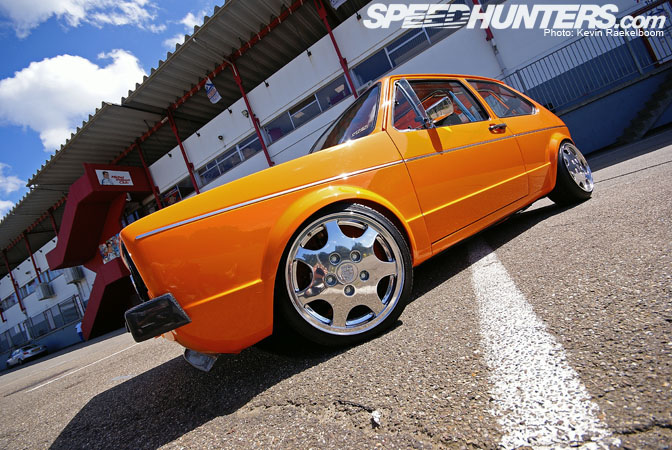 My first feature on Speedhunters… and I'm delighted to showcase this car! I love these kinds of projects and so does Frits, proud owner of this Vw Golf mk1. He bought his first VW Golf in 1992 and ten Golfs later he came in the possession of this car. It was sitting in a farmyard and hadn't even been started for three years. The rear window was nowhere to be found and it looked like there the neglected machine had become a home for some abandoned chickens. But, the chassis was suprisingly solid, so Frits bought the car.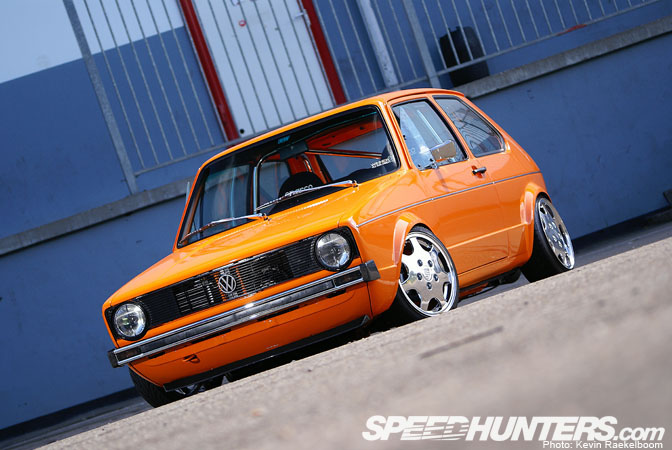 Over almost 2 years, Frits and 2 friends spend a lot of evenings, nights, weekends replacing all the front panels and cleaning up the engine bay and tailgate.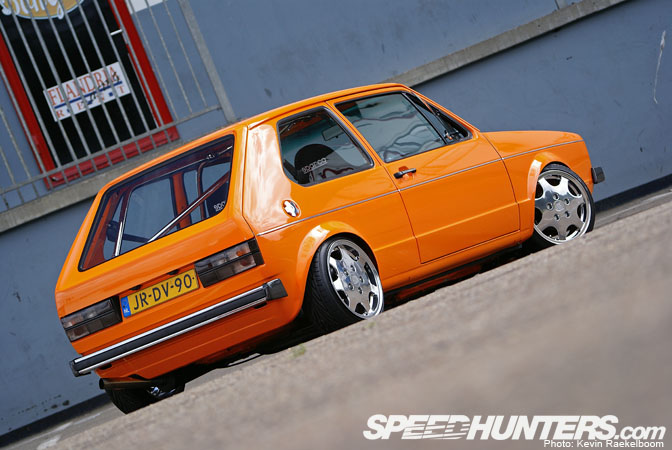 Frits decided to paint the car in bright 'Signal Orange', a color found on the 1970's Opel Kadetts.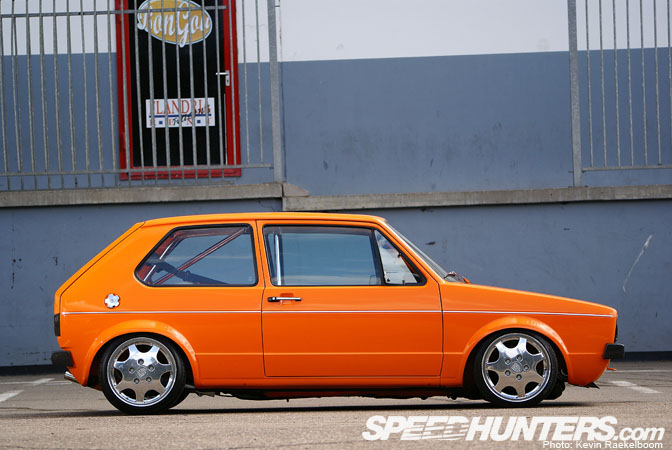 Altough the bodywork and general rebuild was done by Frits himself, he's the first to give credit to his engine builder.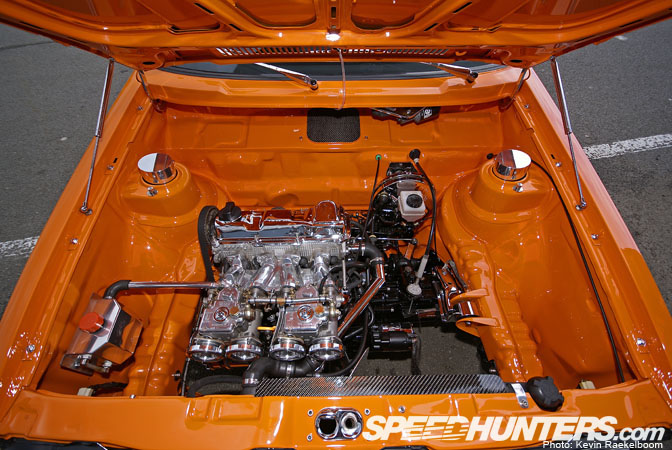 His friend Roger put the powerplant togheter that was good for 150bhp and around 200Nm of torque. The unit is based around a 2.0 litre 2E Block from a mk3 GTI fitted with a 'flowed to the max' crossflow cylinder head from a 2.0-litre mk4. The larger valves are from a BMW and the cam's a 288° Kent item. A barking Group A Supersprint manifold and system do their best to drown out the sound from those twin 45 Webers.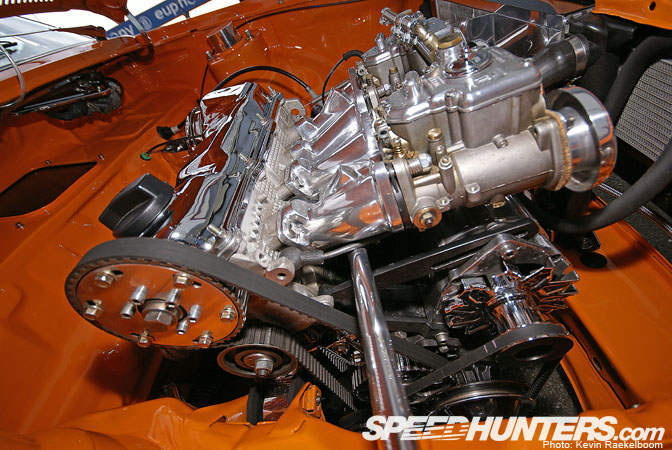 Adding a little bit of garnish, chromed parts and some carbon parts really make the engine complete.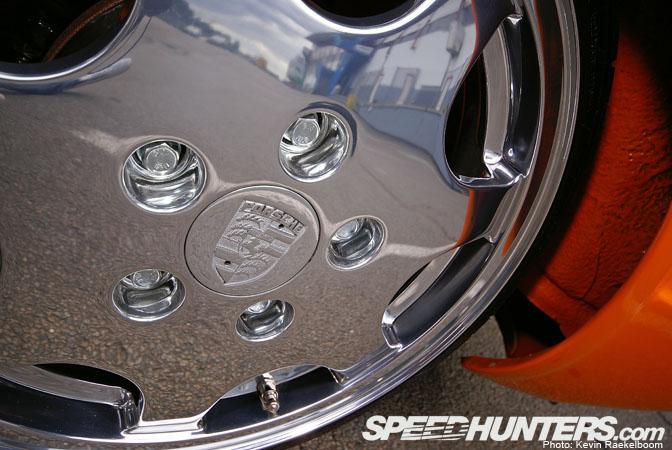 The original suspension changed place with Weitec coilovers. While the rusty original brakes were binned in favour of mk2 16V items all around. In the past few years, the mk1 has worn a few different set of wheels. Because Frits his girlfriend moans that he wastes too much money on wheels he decided to keep these polished Porsche D90 wheels. They are fitted with Toyo tires.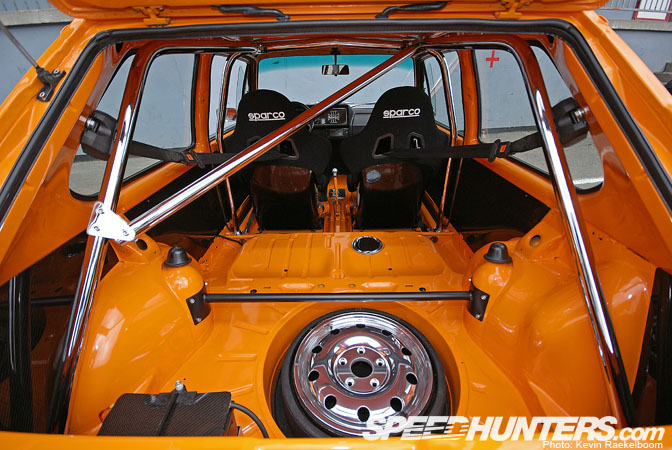 Looking around in the interior, we can't see very much. The back seat has been removed and a polished rollcage has been fitted in.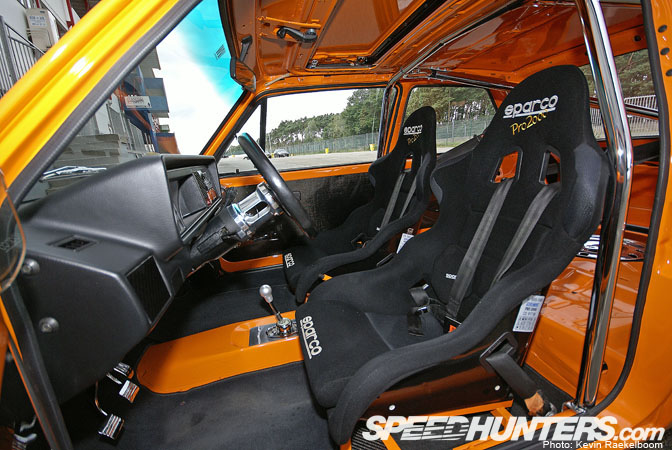 In the front we  find a pair of Sparco Pro 2000 bucket seats. The redundant heather vents and stereo have been blanked off with self-made carbon fibre parts.
Frits will change some more parts like Porsche brakes and maybe some other wheels, let's hope his girlfriend will be in a good mood that day!
Our May 2009 Desktop Calendar features Frits Golf and is available to download in the Desktops section
-Kevin Raekelboom