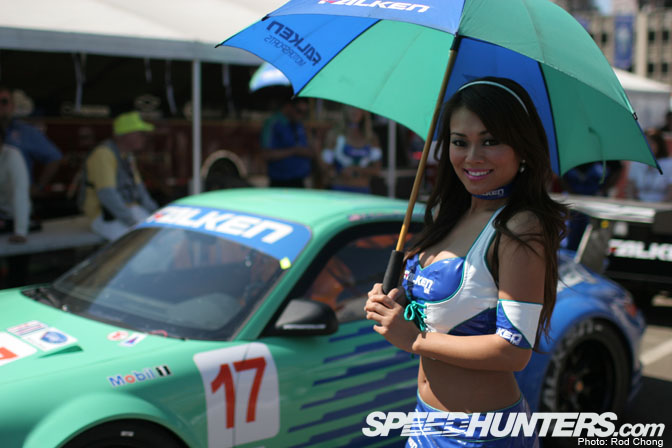 I spent a good portion of Saturday tooling around the Long Beach GP with Mike Garrett… it was great to catch up with him, but also not so good for Speedhunting as we ended up photographing very similar elements that day. I just had to give him a call to make sure we write about different things!… Anyway here goes…..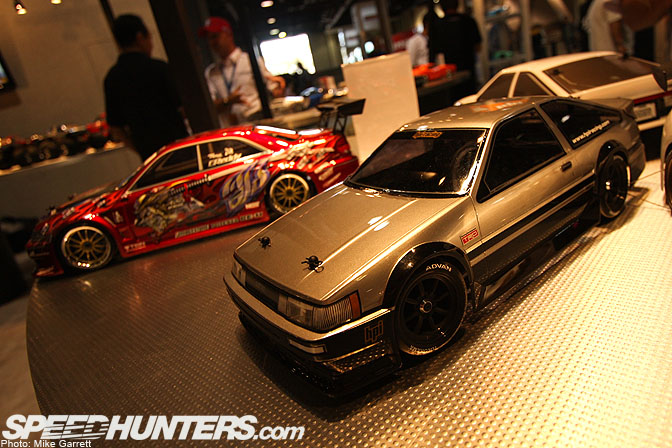 It seemed like someone would crank up the temperature each day of our stay in Long Beach. By 10:00 Saturday morning, the sun was already pretty harsh and burning so I decided to duck inside LBGP's own micro SEMA show: the Lifestyle Expo. It was a chance to cool off a bit and see what types of displays were on offer. …. My favourite booth, by far, was a fairly sizable RC car display called the Radio Control Motorsports Experience (RCME), which had separate sections for HPI, Tamiya and Kyosho.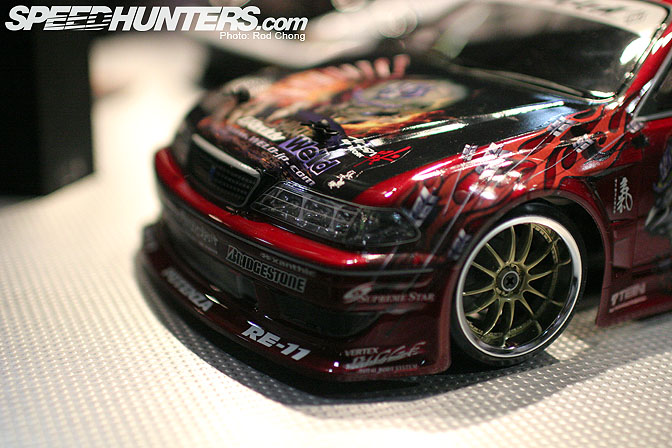 Of these three companies, it was pretty obvious to me that HPI had the best handle on the new school, youth automotive space. While the other companies had mainstream motorsports RC cars on display, it was HPI who were showing cool underground machines like the Weld JZX100. It's obvious to me that the good people at HPI "get it" if they are producing kits like this.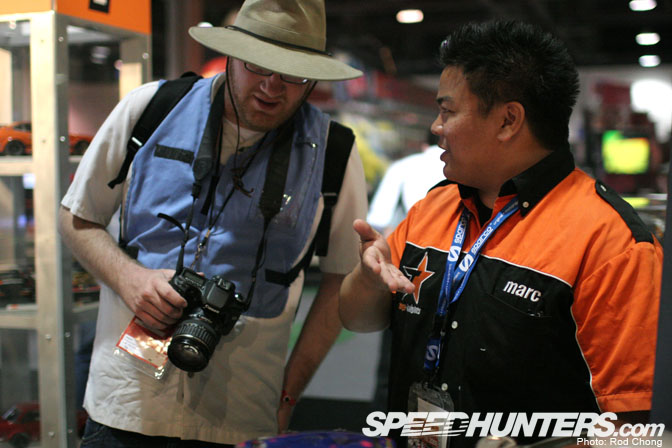 Mike Garrett swung by the HPI booth and we chatted for a while with a young chap named Marc Marquez….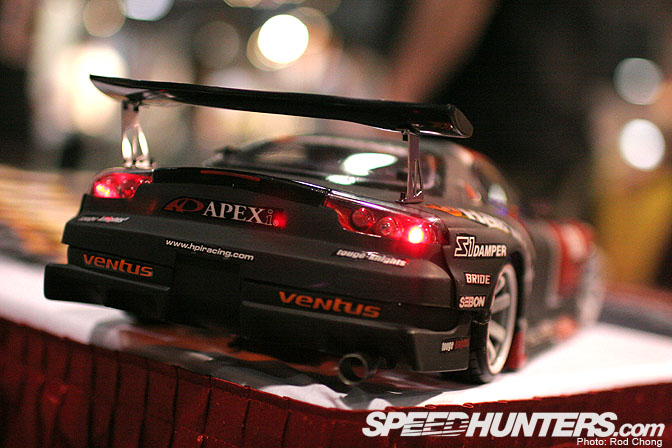 … He builds RC drift replicas like the new, rebuilt 2009 Hankook RX7. The attention to detail with this RC car is pretty staggering… I'll let Mike outline it in more detail in a separate post….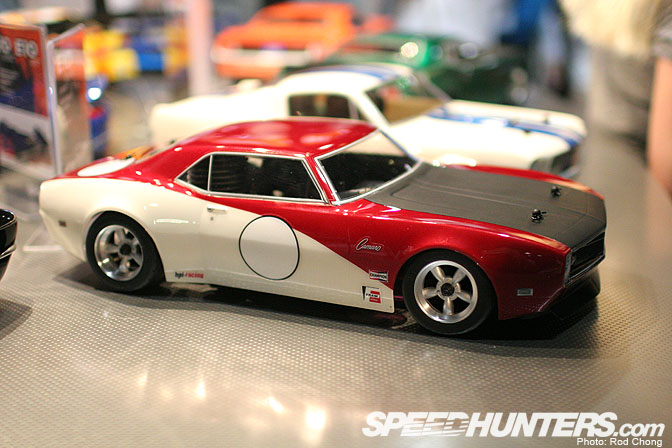 I have to give my respect to any company that pays this much attention to automotive style. This is a great rendition on a Trans Am theme.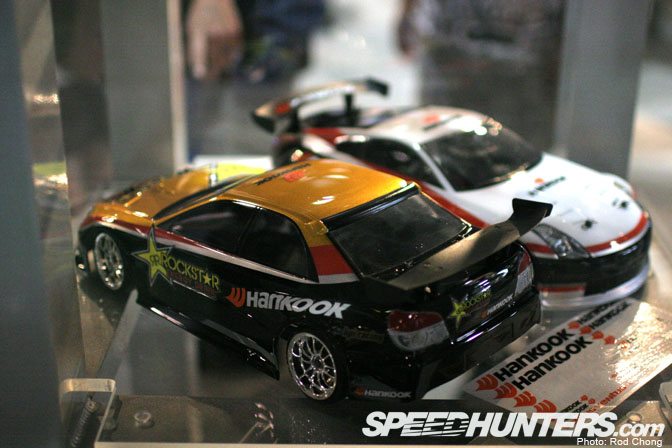 HPI marketing manager Rodney Wills told me an interesting fact about these two Hankook drift cars: the liveries were designed as RC cars first… it was only after the models were mocked up that the liveries were applied to the real life Hankook drift cars…. a great case of the tail wagging the dog. I love it!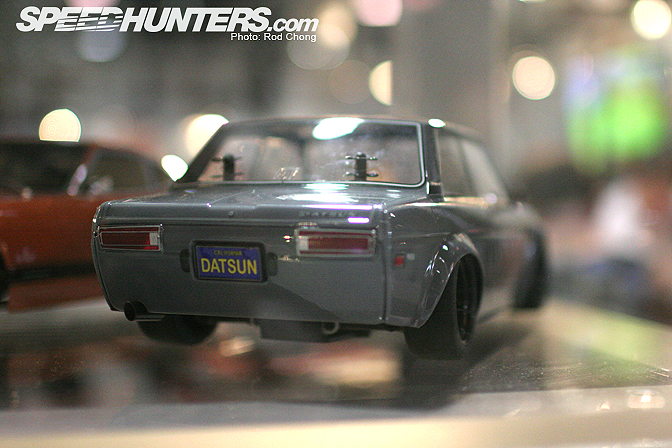 The Long Beach GP marked the soft launch of this new Datsun 510 kit from HPI.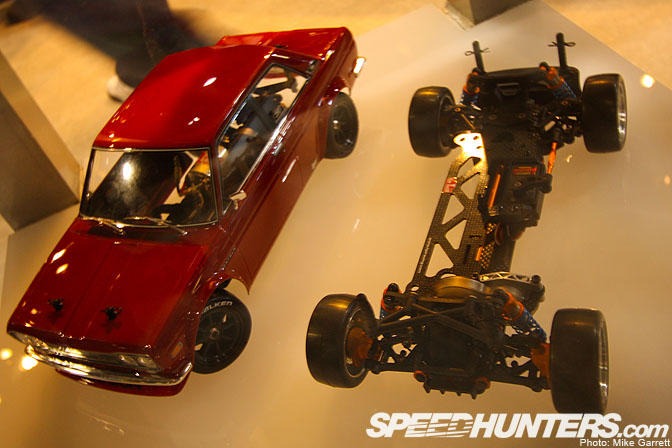 It completely reminds me of the types of tuned Japanese cars which used to roam the streets of Vancouver when I was a kid… So cool!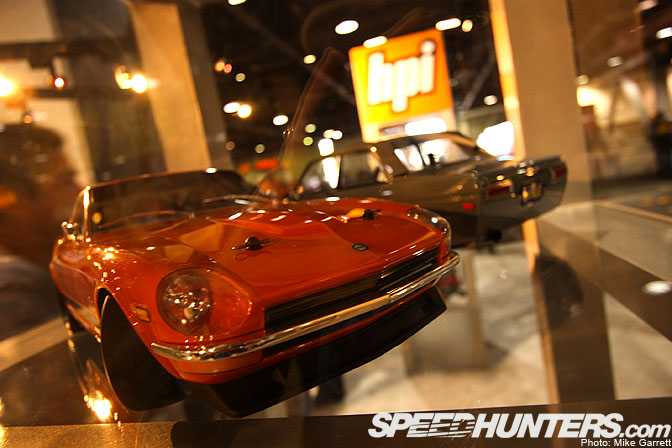 This 240 also carries the same style…. props to HPI for producing kits like this.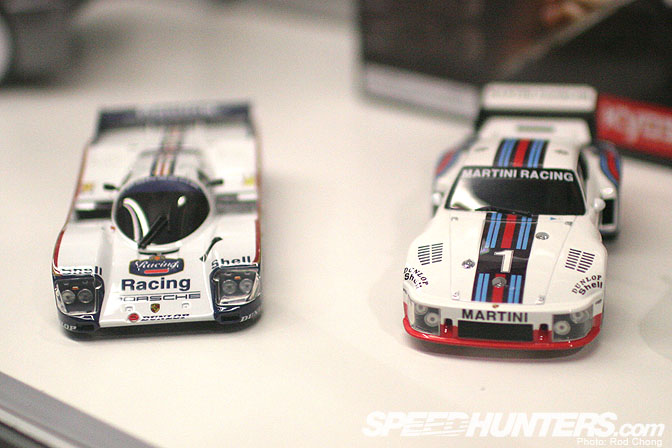 Kyosho on the other hand were pushing their 1/24 scale RC cars… I was magnetically drawn to these two Porsches, especially the 935/76 on the right.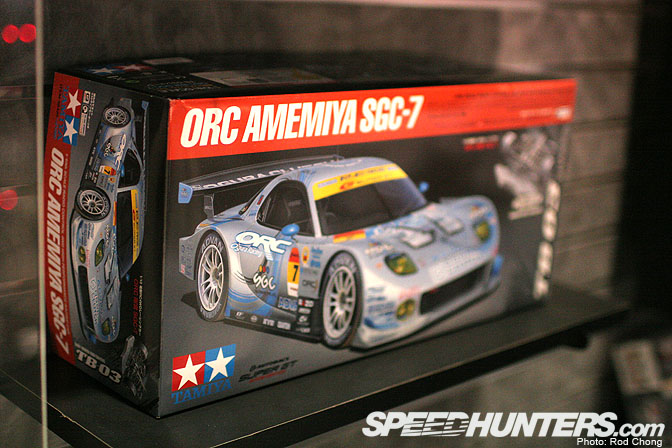 Tamiya had a little bit more of a Japanese motorsports theme going….. This GT300 spec Amemiya RX7 would be a welcome addition to my household…… well in a parallel reality anyway.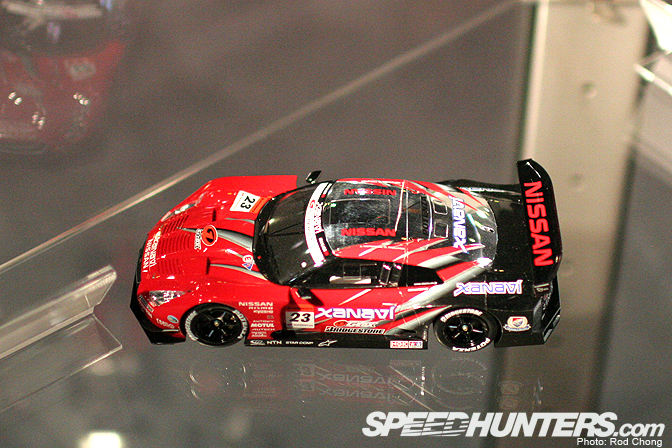 Back when I used to be a sponsored RC racer, 1/12 scale pan cars was the smallest thing going… and the bodies available for them tended to be quite distorted…. It's not so much of a problem these days though. The scale accuracy of these miniature RC cars is quite impressive.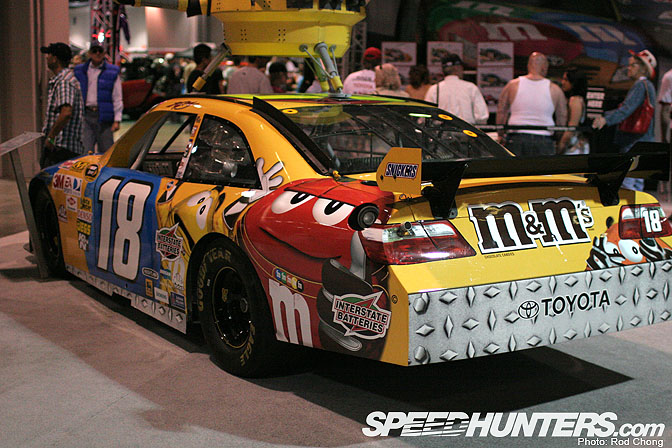 Toyota had a few of their race cars on display at the Expo… I was intrigued that this NASCAR machine was displayed next to….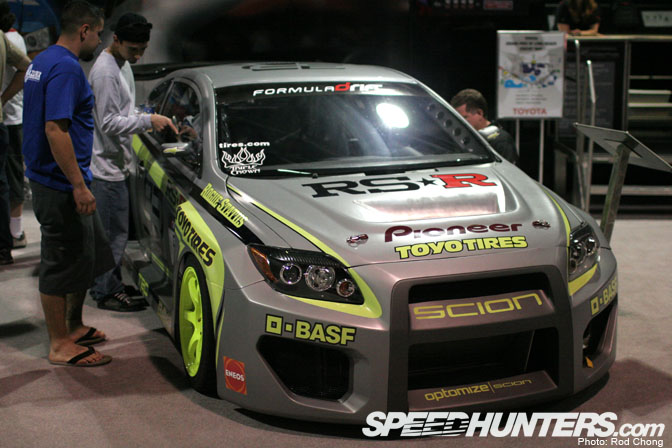 …Ken Gushi's drift Scion… it shows just how far drifting has developed in mainstream consciousness in the US…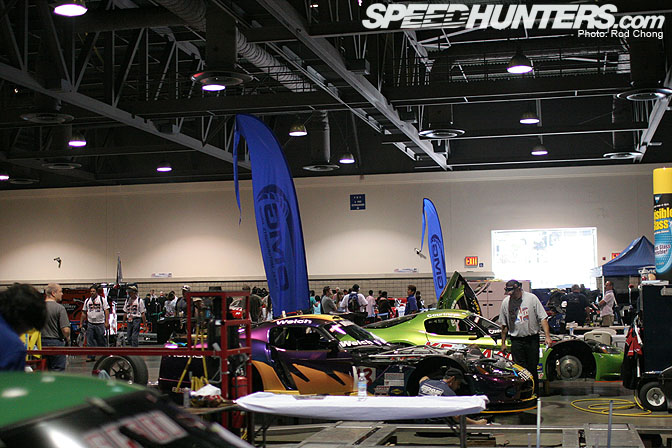 The Speed GT Challenge cars had their paddock area set up on one side of the convention hall. This was pretty cool although they should have started the cars up indoors!… Nonetheless, it was great to be able to watch the teams work on the cars up close and personal in the comfort of the great indoors.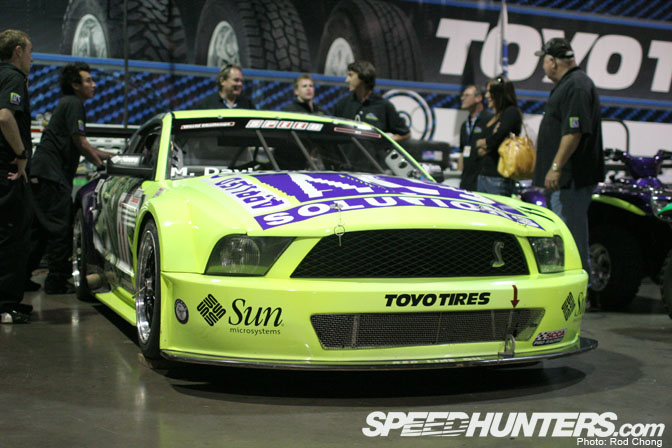 The Speed GT Challenge has a nice variety of cars racing in the series, including this low and mean Mustang.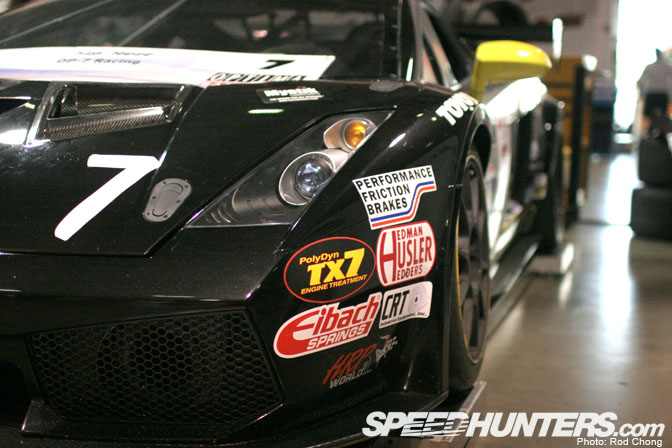 From what I can tell the cars are running to a GT3 spec and are a mix of Exotics, GTs, Touring and Pony cars.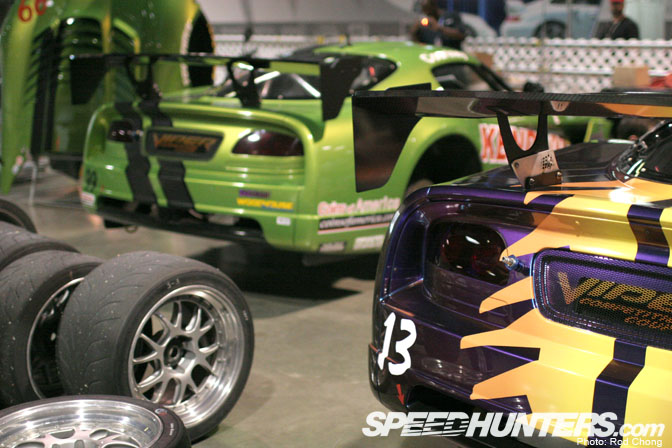 There are plenty of Viper Competition Coupes in the field….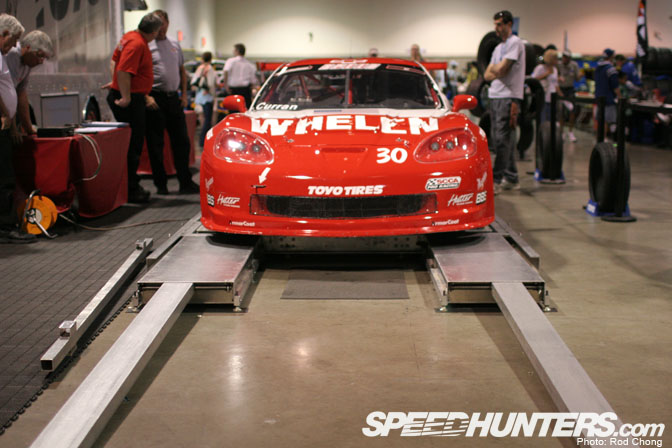 And their chief nemesis: the Vette….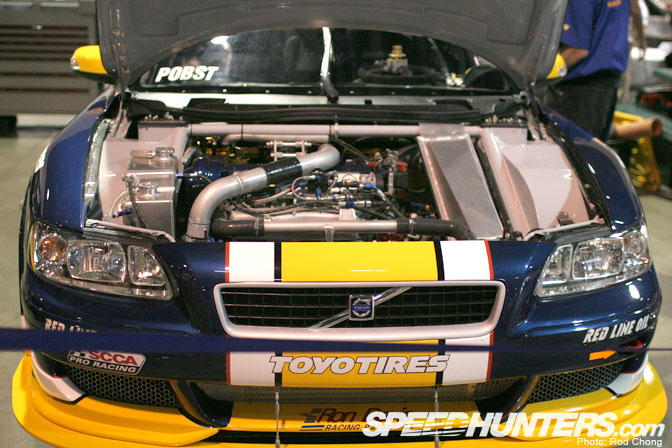 …. as well as these curiosities… two KPAX racing AWD Volvo S60s.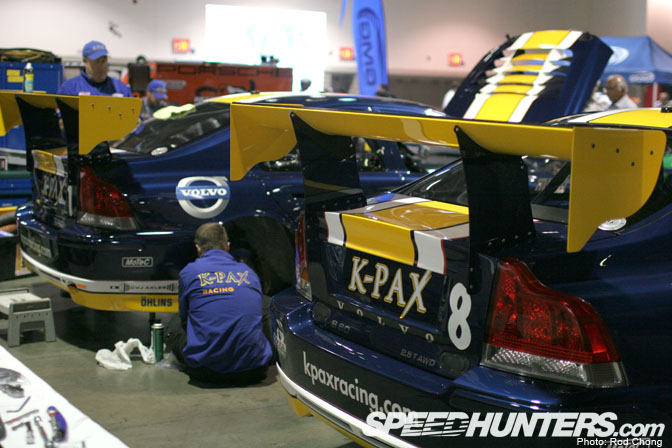 I overheard one of the mechanics talking to a spectator and they stated the cars are pushing out over 500 horsepower. Not too bad….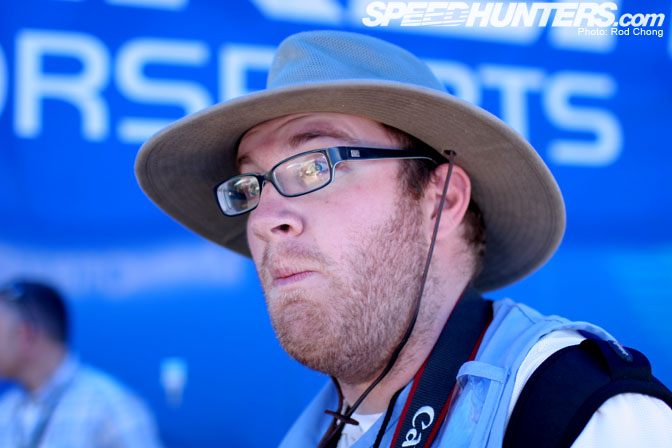 The Auto Otaku: US Edition.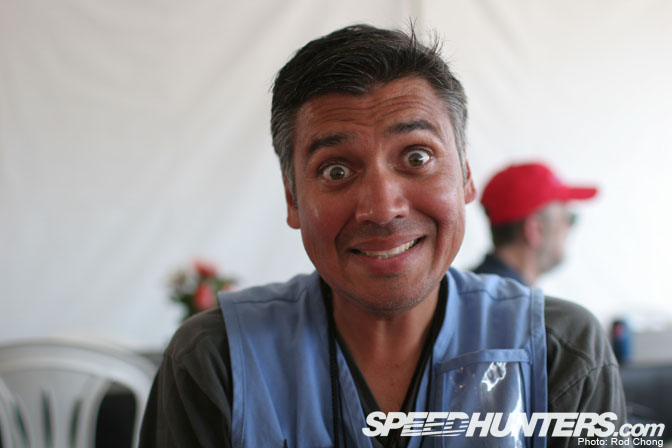 …Formerly of Super Street/Riceboy fame, and now the man to know at Streetfire.net, the one and only John Naderi.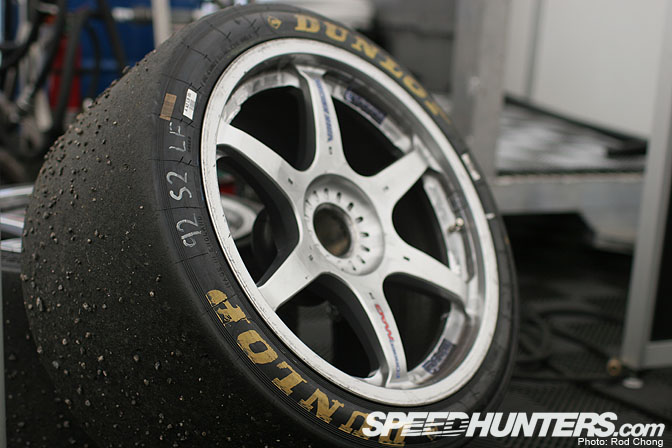 I mentioned to a few of the Rahal Lettterman Racing team members that it was very cool they are running Rays Racing wheels, but I'm not sure they understood what I was referring too…. Anyway I'm sure some of you would like to admire the BMW's wheels so I took this snap just for you …..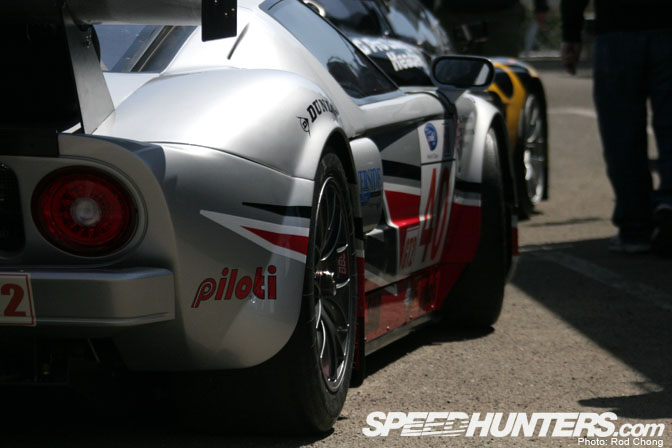 It's quite interesting to me just how different the spectator experience at the Grand Prix is from the previous week's Formula D event. This felt much more like the American motorsports establishment at play….. there were no DJ's pumping out basslines in any of the team garages this weekend… I'm pretty sure that Team Falken would have been thrown out of the event if their DJ, Arnell had set up his system next to the Porsche.
The coolness of the GT cars more than made up for the lack of urban flare though… well at least to a hardcore Le Mans fan like me…..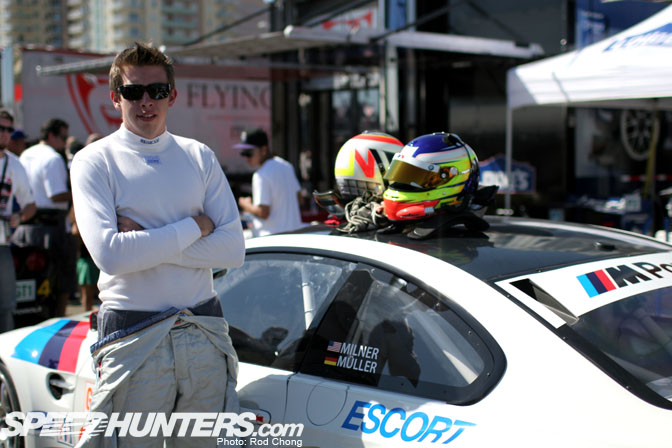 As the cars and teams lined up to exit the ALMS paddock for one last time, we took the opportunity to wish Tommy Milner luck and thank him for putting up with our cameras!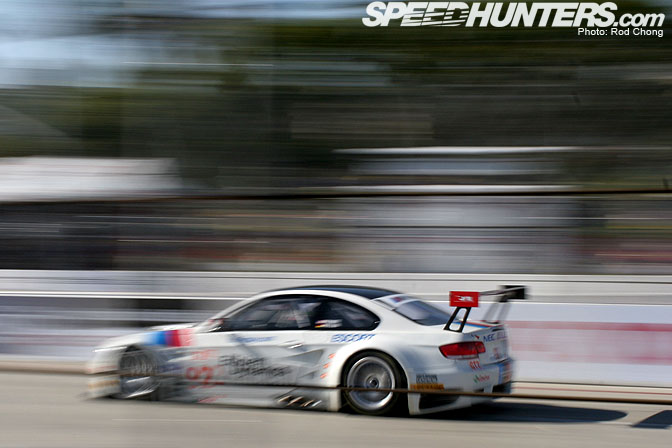 We have blast off!… Here's Tommy piloting his M3 weapon at speed down the main start-finish straight a couple of laps into the race.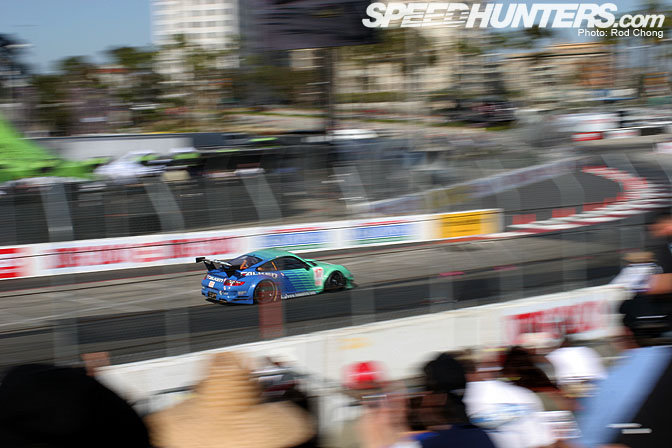 The Falken Porsche races through what was previously the Formula D Long Beach drift course. In this case sideways = bad.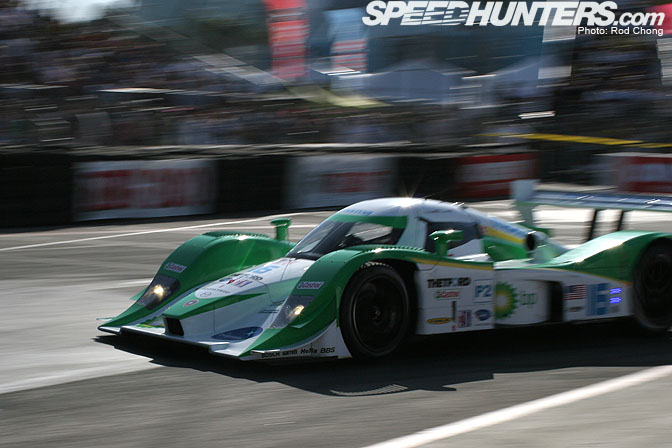 The Mazda P2 coupes are very pretty cars; it's a shame they are restricted in speed this year from challenging the P1 cars…. not as good for the racing show IMO.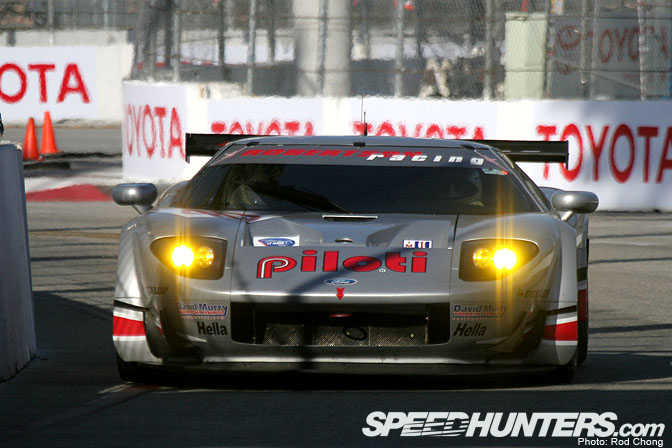 This Ford GT is the same car that carried the Falken flag last year. Not the fastest GT2 on the track, but the roar of its V8 brought joy to my soul.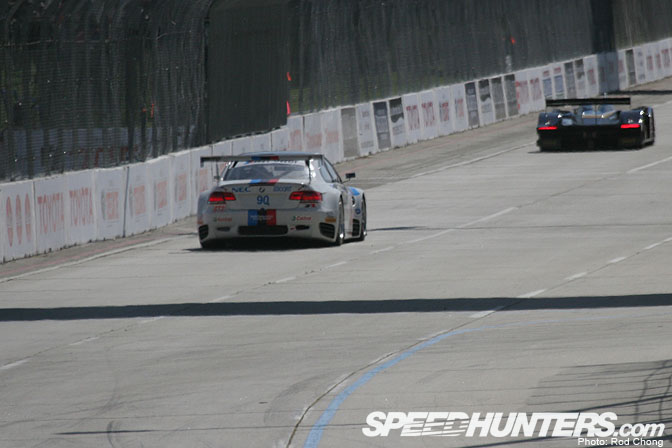 Here the BMW M3 GT2 accelerates out onto Long Beach's long blast down Shoreline Drive.
Ok that's it for my Long Beach coverage. Mike has a few more stories to tell before we move on to get more of our April Drift features completed.
:R