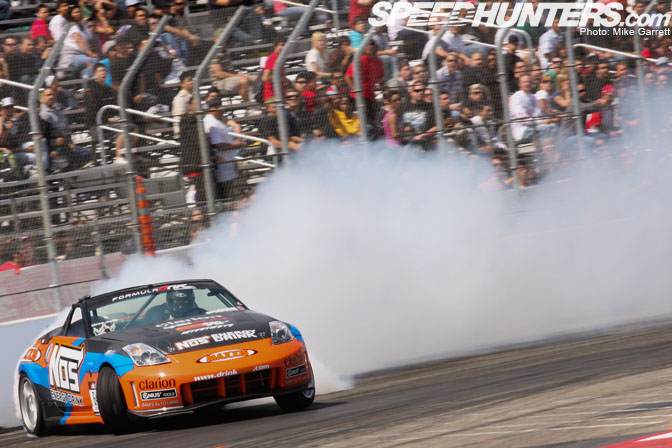 Last weekend's Formula D event in Long Beach was a groundbreaking one in the fact that it introduced the new 32-car tandem format, something which was first seen at the Red Bull Drifting Wold Championship last year. Last night Rod showed an interesting perspective with his view from the judging tower, and now it's time to head down to track level for a look at some of the highlights of the Top 32.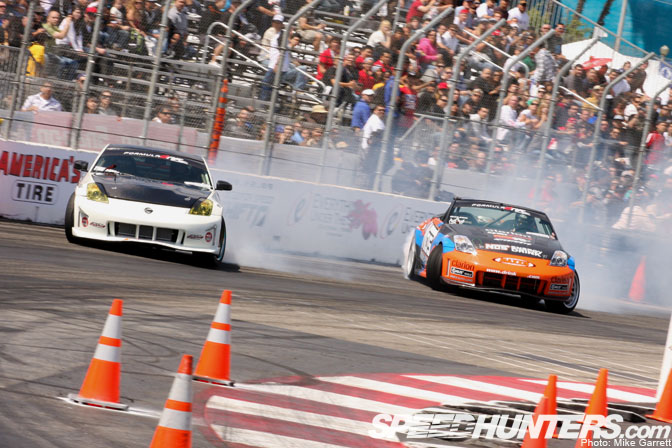 The first tandem match of the day put top qualifier Chris Forsberg against newcomer Chris Waldin in a battle between two 350Z's. Since this match put the number one qualifier against the 32nd qualifier, there would obviously be a big difference in technique. As you can see in the opening shot (If I remember right, Waldin spun on the first part of the track), Chris Forsberg was in control throughout the match, easily advancing to the Top 16.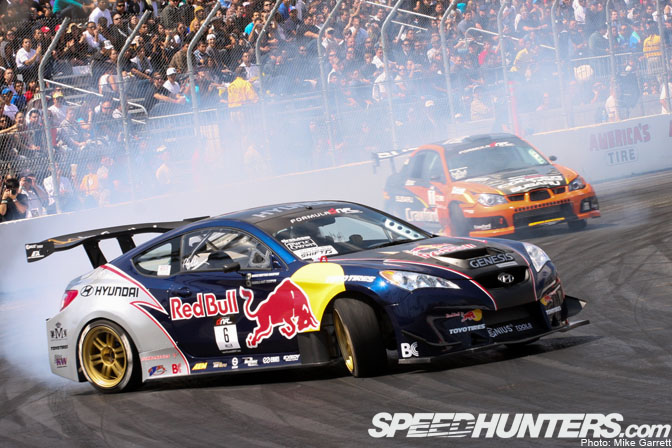 The next match would turn out to be one of the biggest upsets of the day as Rhys Millen and his new Hyundai Genesis Coupe faced the Subaru Impreza of Stephan Verdier. Most would expect an easy win by Rhys but Verdier was right there with him the whole time, and it would take a One More Time for the judges to reach a verdict.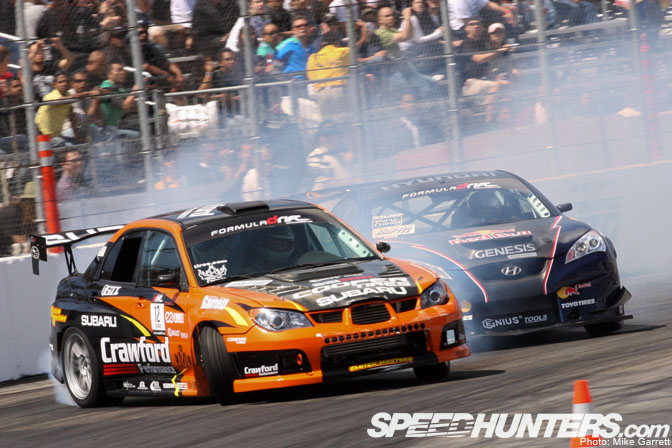 Verdier simply out-drove Rhys, and after the second match he was declared the winner. The first event for the Red Bull Hyundai Genesis turned out to be a short one…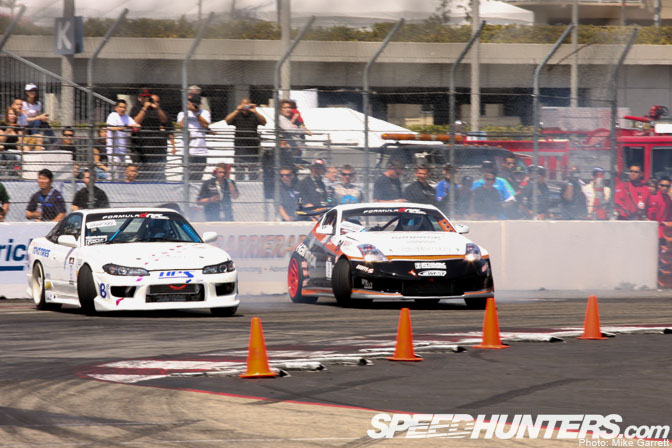 Next up was Robbie Nishida in his Hankook 350Z vs. Michihiro Takatori, who was driving an S13 for this round. As you've heard, things were going well for Robbie all weekend and he quickly advanced to the Top 16 after this match. Perhaps Takatori was struggling with the new LHD car?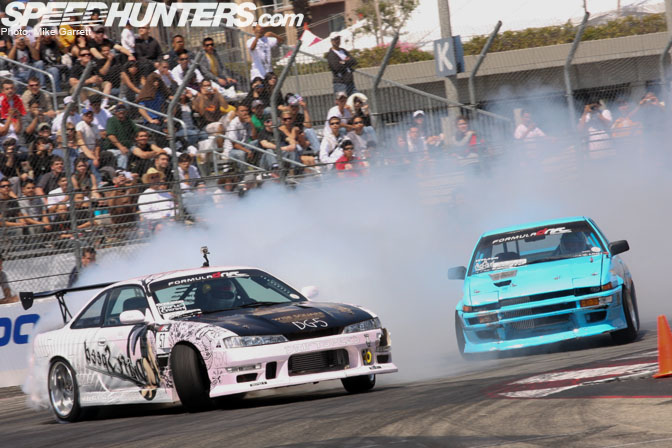 Next on the track were Quoc Ly and John Russakoff. This was another exciting match that took a second go to declare a winner. In the end Quoc in the S14 was able to come out on top of John's S2000-powered AE86.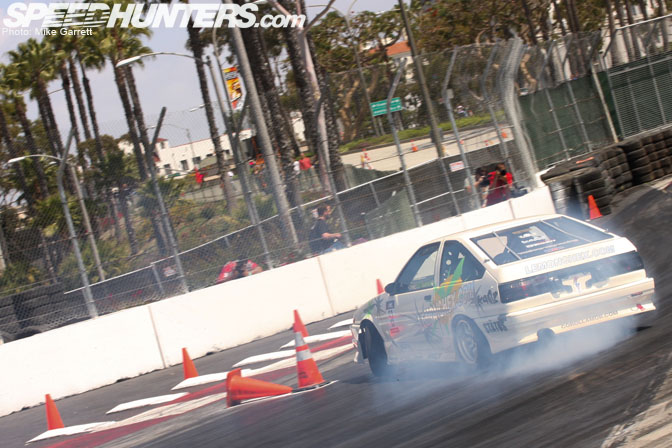 The next match saw a pair of Japanese drivers go at it when Kazu Hayashida faced Yasu Kondo. Kazu's S15 experienced mechanical trouble from the start, so it turned into a bit of a solo run for Kondo in his AE86.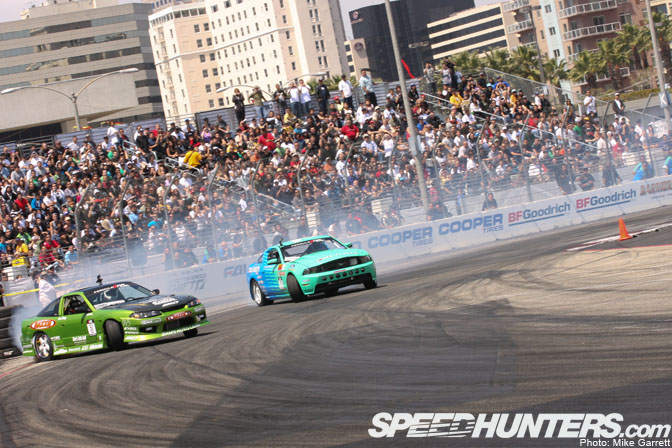 Vaughn Gittin Jr. and Joon Maeng were up next. Joon has been one of the top up and comers in FD, but he didn't have quite enough to get past Vaughn Gittin Jr. and his Mustang.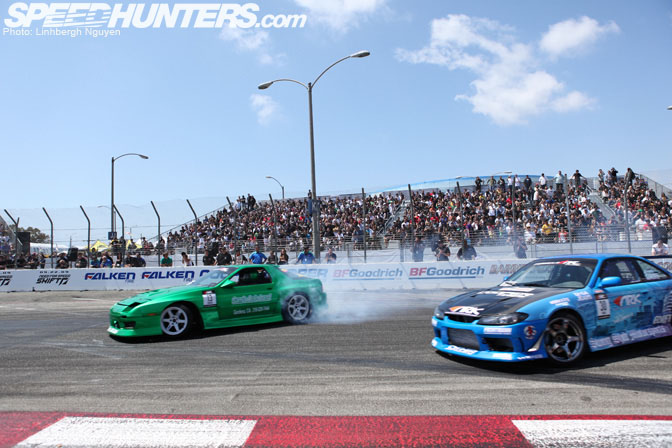 The next match-up in the Top 32 put Casper Canul's S14 against crowd favorite Justin Pawlak in his FC3S.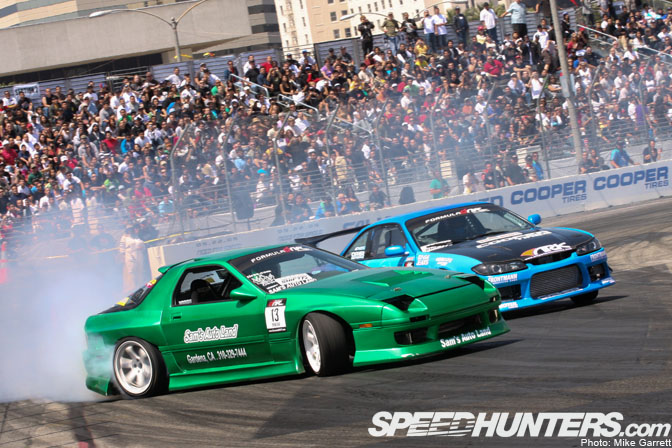 JTP continued with the awesome driving that we saw in qualifying and practice, taking a much more aggressive line than Casper.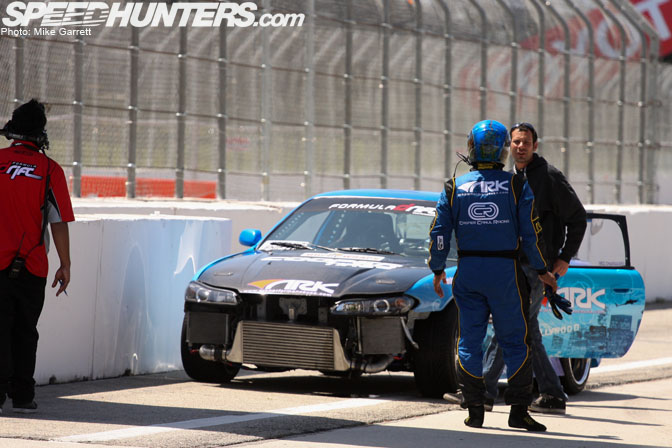 Casper actually ended up spinning during this run, which caused an oil leak from the front end of his S14. His day was over.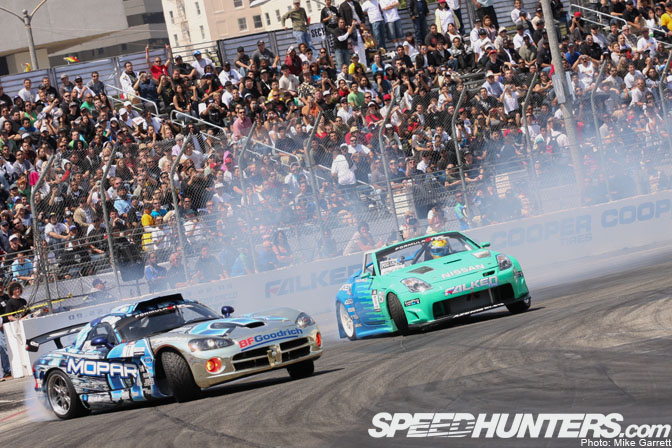 Next up was the battle between Sam Hubinette and Tyler McQuarrie. Rod was able to capture some nice shots of this run his vantage point in the judging booth. As you read, Tyler would end up spinning when Sam got hard on the brakes in the last hairpin.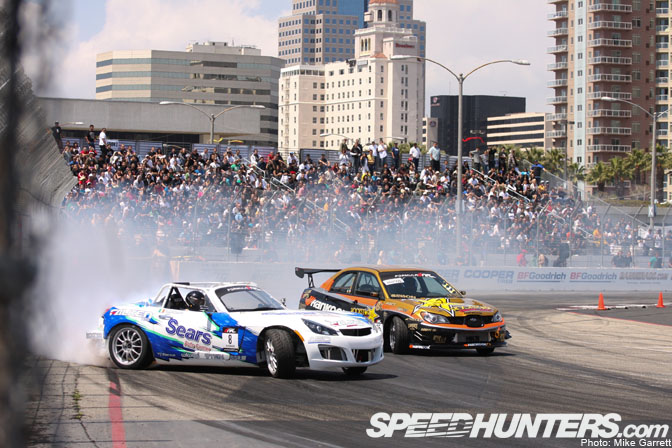 The next match interestingly saw the two Irish drivers of Formula D facing each other – Darren McNamara in the Saturn Sky vs rookie Eric O'Sullivan in a Subaru Impreza. The LHD Impreza is a big change from Eric's AE86 back in Ireland, and D-Mac was able to exploit this weakness to beat his fellow countryman. There's no doubt Eric will come back stronger at the next round now that he's had some seat time in the new car.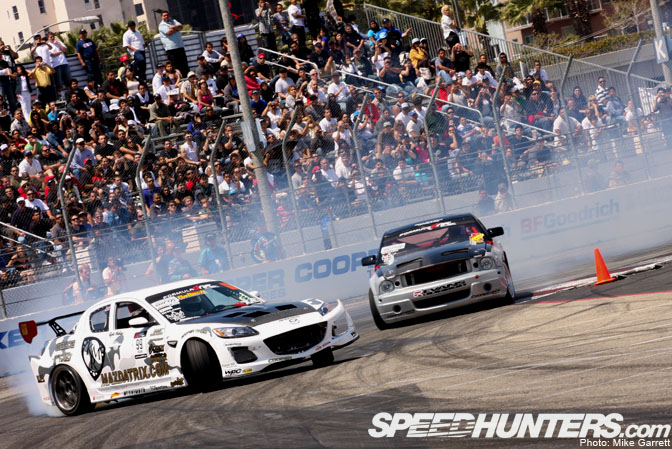 The next battle was between Kyle Mohan in his new Mazda RX8 and Tony Brakohiapa in his Mustang. If you look at this photo taken during their second run you'd think Mohan would have the advantage, but when he was following Tony he spun the RX8 in the same hairpin area that claimed so many victims throughout the weekend. Tony B and the Mustang would advance to the Top 16.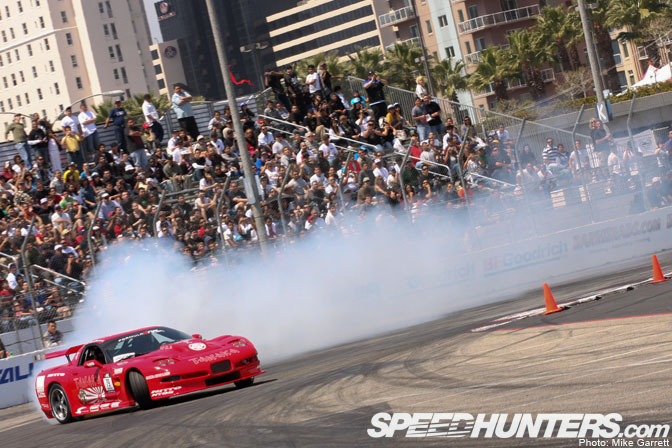 Next up was a match that everyone was waiting for – Conrad Grunewald vs. Matt Powers. Some might have questioned to the usefulness of his slammed suspension set-up, but Matt's biggest disadvantage came not from his suspension but from his lack of horsepower. His turbocharged KA was totally outrun by Conrad's V8 Corvette As the photo shows, Matt's S14 is nowhere to be seen here!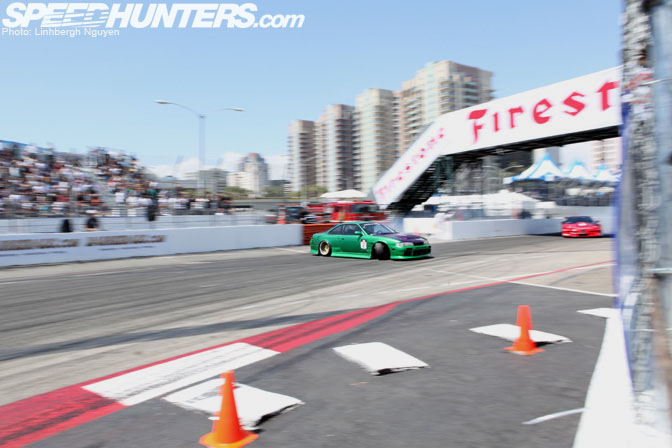 When it was Matt's turn to lead, he was basically in a "nothing to lose" kind of position, so he tried for a big entry at Turn Nine.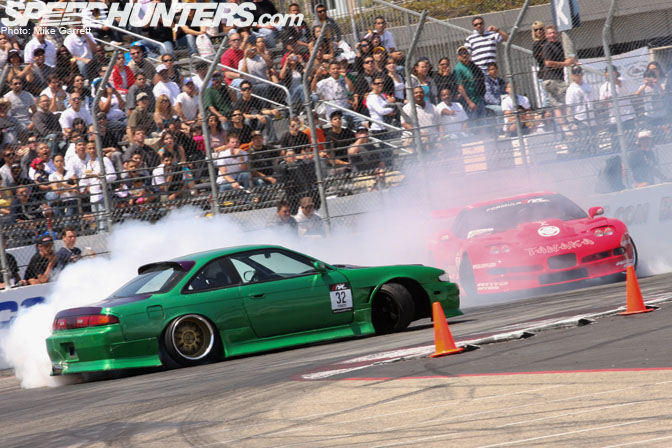 Unfortunatley, it was a bit too aggressive and he sealed his fate with a spin….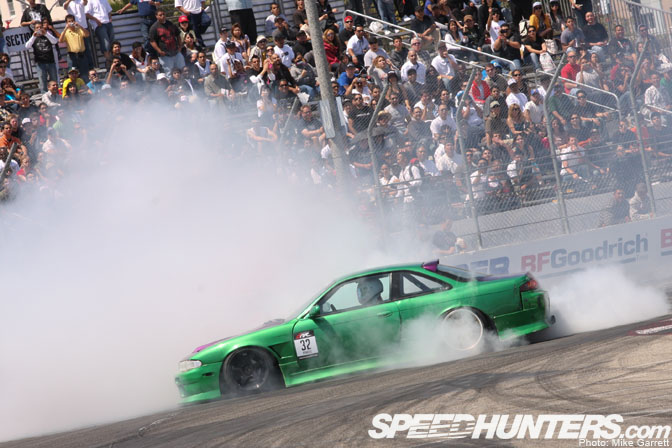 We'll all be waiting to see Matt in action again at another FD event soon.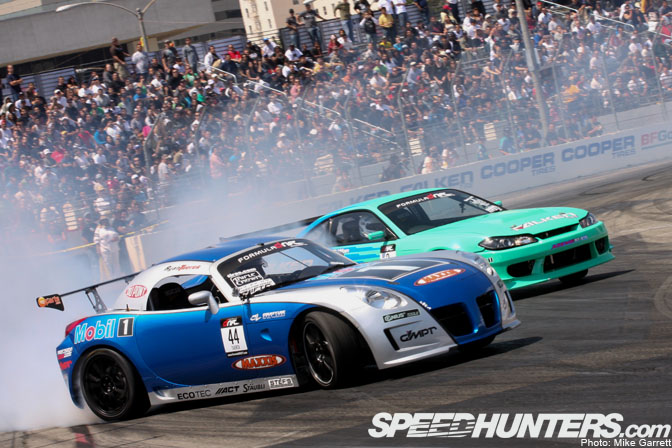 The next match was between Ryan Tuerck and Calvin Wan. If you read my Falken report yesterday, then you already know how this ended up.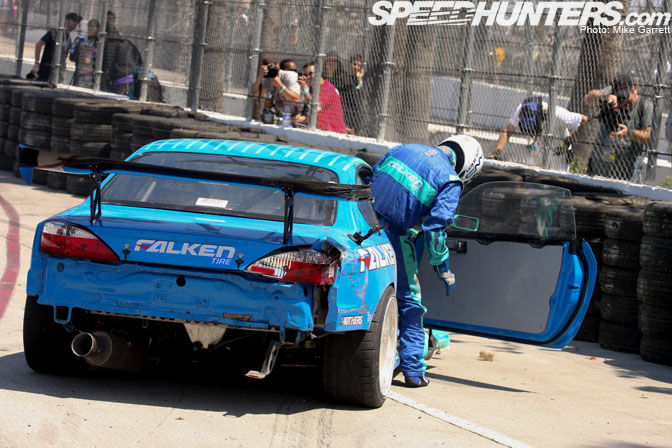 Calvin sadly hit the wall, which was a less than ideal ending for the debut of his new S15.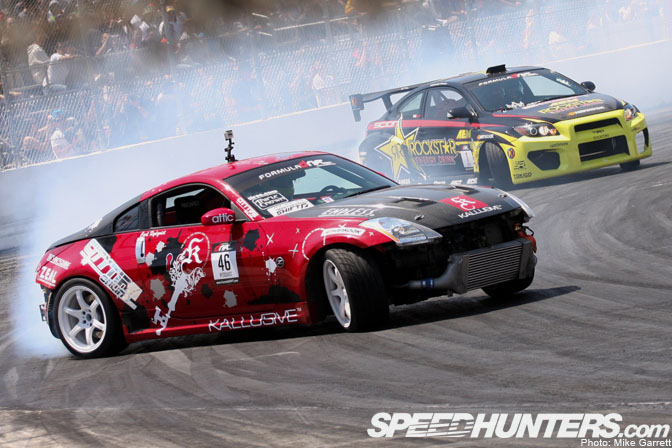 The 350Z driven by Carl Rydquist was a new entry for this event and he ended up going against Tanner Faust's V8 Scion during the Top 32. New car or not, Tanner is a tough opponent to face. The Scion came out on top of this one.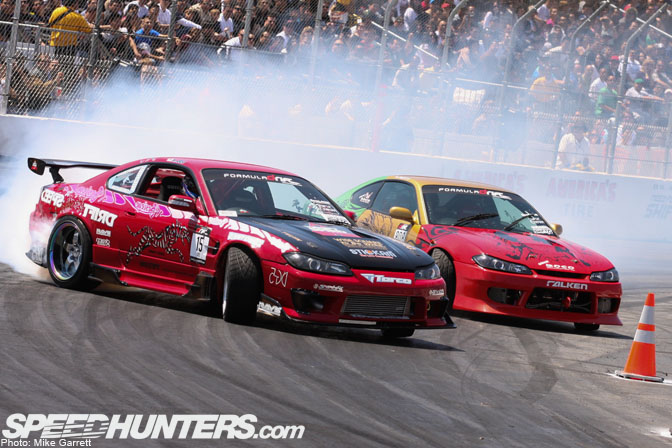 Next up was the "battle of the strawberries" as Ross Petty faced Katsuhiro Ueo. I was impressed with the Rossta S15 throughout the event, but here Ross fell victim to Ueo's well-honed driving technique.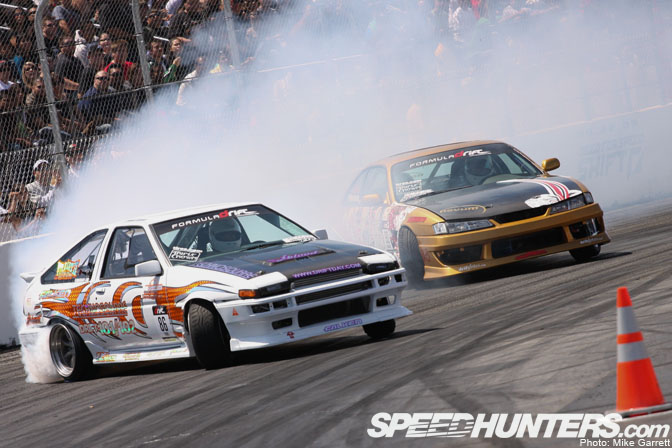 Next up was Taka Aono vs. Pat Mordaunt. Taka the veteran brought his A-game to Long Beach, earning the victory in this match against the much younger Pat. Isn't it great to see Taka still behind the wheel of his AE86 as we enter the sixth season of Formula Drift?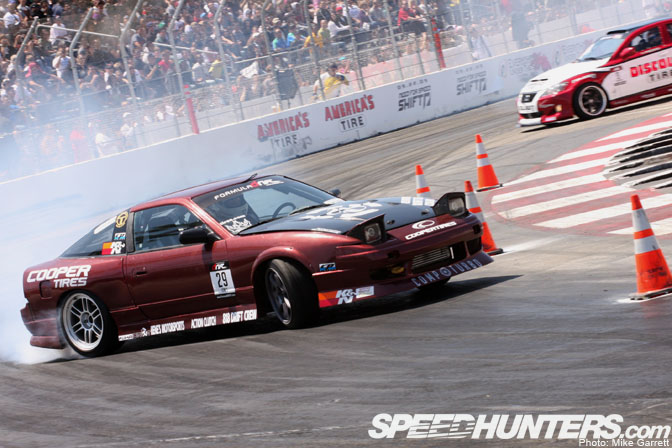 The final match of the Top 32 pitted Daijiro Yoshihara's Lexus against the 240SX driven by Jeff Jones. This was another upset, as Jeff and his Toyota-powered S13 moved on following Dai's spin in the IS350.
After an eventful Top 32 full of surprises and upsets, it was time to move on to the Top 16 and beyond. More on that next time!
-Mike Garrett