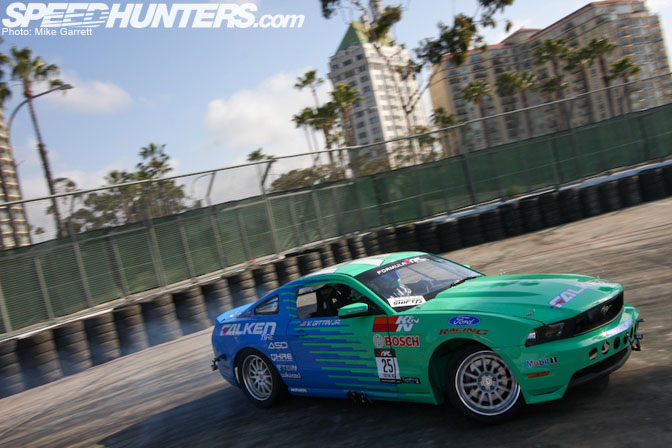 By now you've probably heard all about what happened at the opening round of the '09 Formula Drift series in Long Beach – whether it was through our trackside Twitter updates ,or from the other media outlets that were covering the event. Needless to say, there were a lot of big stories on the Long Beach waterfront this weekend, including the new competition format, new cars, crowd-favorite privateers, and of course the upsets that you read about during our live Twitter coverage.
Throughout the week we'll be posting detailed coverage of the event, but for starters I thought I'd do a quick story with some of the exciting scenes of Formula D Long Beach '09. In the opening shot you can see Vaughn Gittin Jr.'s 2010 Mustang GT, a car that you'll be seeing plenty of here on Speedhunters over the rest of this month and the rest of the drift season. Of all the big-name builds on the grid at Long Beach, there was something about this car that hit me in all the right places.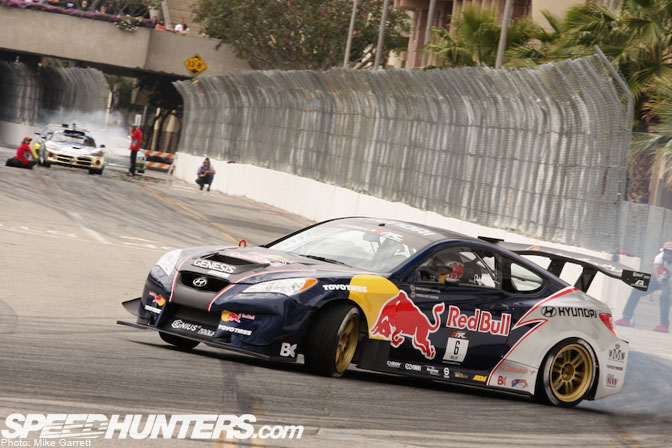 The most talked about car leading into the weekend had to be Rhys Millen's Red Bull Hyundai Genesis. This is the car that stirred up the drift community when it was unveiled, creating the most commented-on story in Speedhunters history.  I was actually quite impressed with the car, but it definitely wasn't a successful weekend for Rhys and his team. More on this later…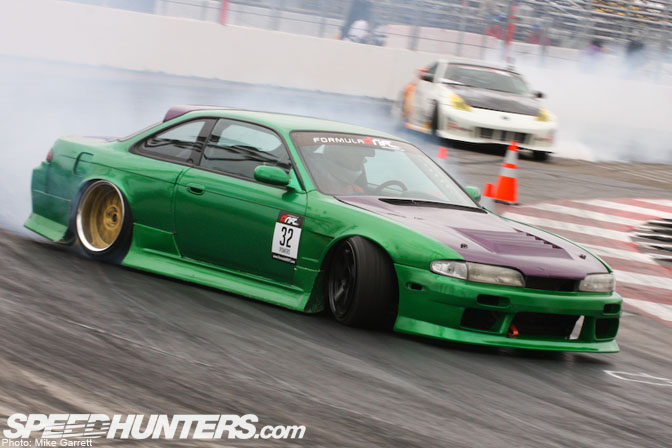 Matt Powers and his S14 have become quite the phenomenon lately, starting with the feature Linh posted on Speedhunters and then with his performance at FD this weekend. This guy should be an inspiration to everyone for his driving talent, his dedication AND his reluctance to alter his car's style to make it more "competitive"…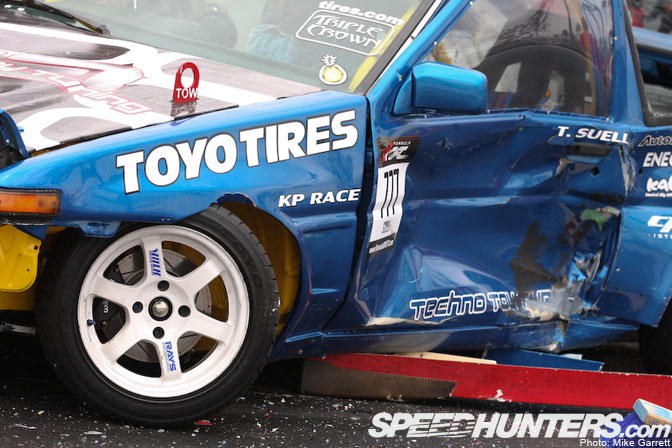 There were a few crashes over the weekend, with the biggest by far being the contact between Tommy Suell and Katsuhiro Ueo on Friday morning. As you can see, the damage to Tommy's AE86 was heavy. Fortunately Tommy's car is RHD so he was able to avoid to the brunt of the impact.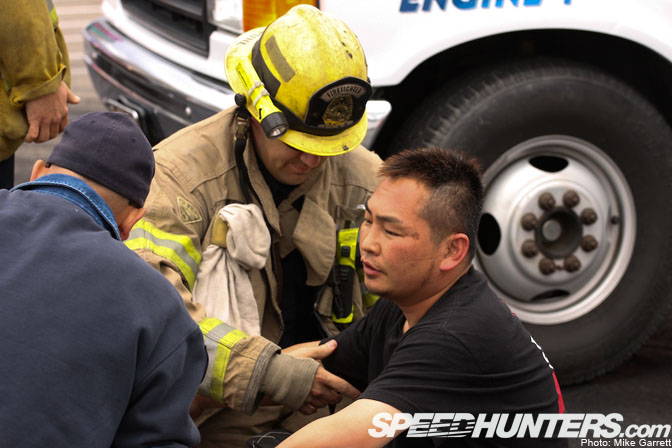 Ueo's car damage wasn't weekend-ending, but he was a bit shaken up after the hard hit.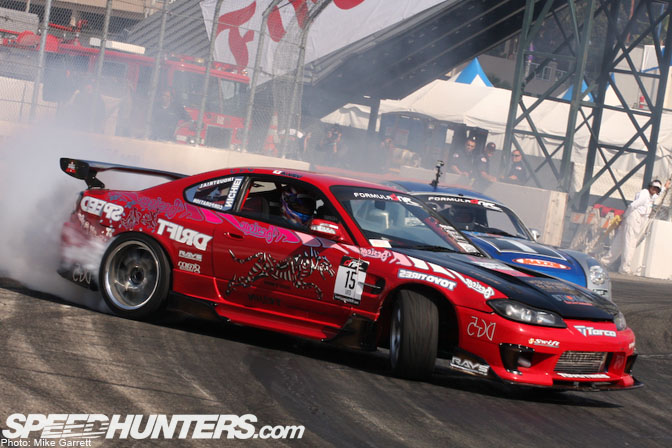 After the crash Ueo was right back at it, easily qualifying for Saturday's tandem round and impressing all with his crazy entries and ridiculous angle. Would you expect any less from a former D1GP champion?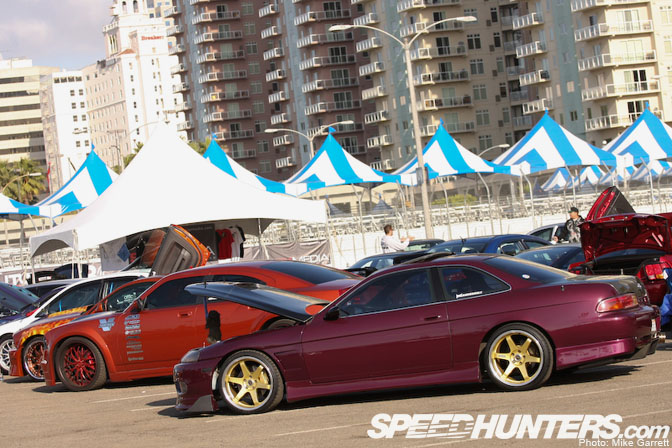 There was a lot of activity happening off the track as well, including the J-Tuned car show. The busy schedule and the need to "claim your spot" at the photo holes meant that there wasn't much time for me to have a close look at these static displays.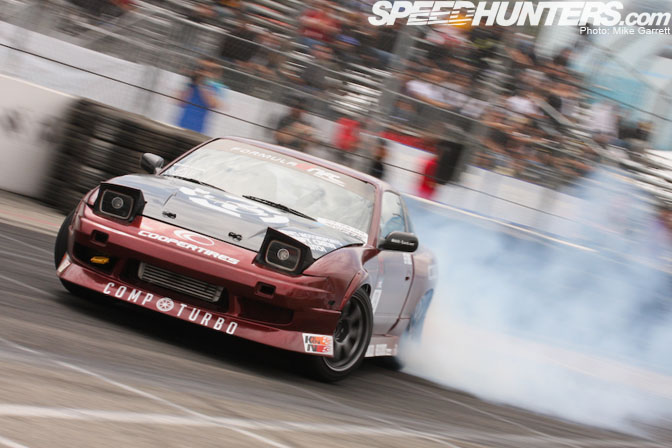 Another privateer who put in an awesome showing over the weekend was Jeff Jones in his 1JZ-powered S13. Not only was Jeff's driving top-notch, but the ear shattering sound of his Toyota inline six gave this simple-looking 240SX a lot presence on the track.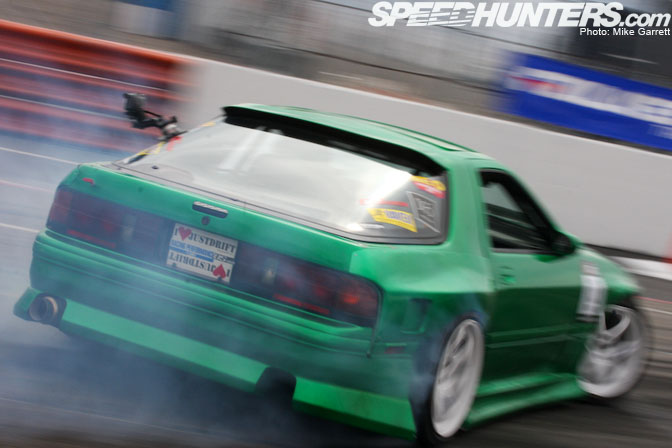 There really isn't anything that needs to be said about crowd-favorite Justin Pawlak. His incredible driving and sexy FC3S put a big grin on my face every time he made a run through the course. Although I'm excited to see his new Bergenholtz-built RX8, it was nice to see the tried and true FC in action one last time this weekend.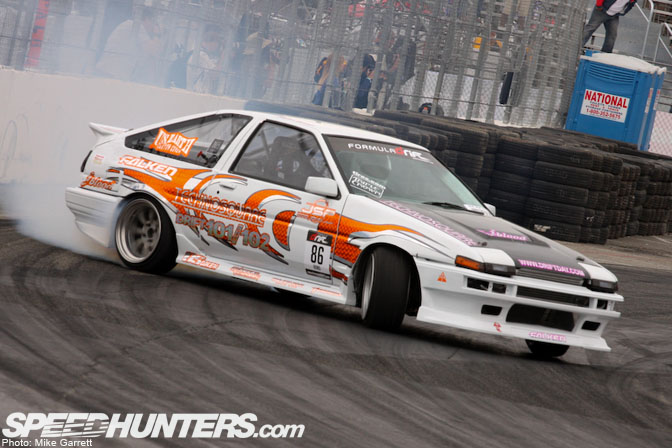 Veteran driver Taka Aono represented well in his repainted AE86. Taka displayed some incredible entry speeds during practice and qualifying and then proceeded with a very nice showing in tandem competition on Saturday.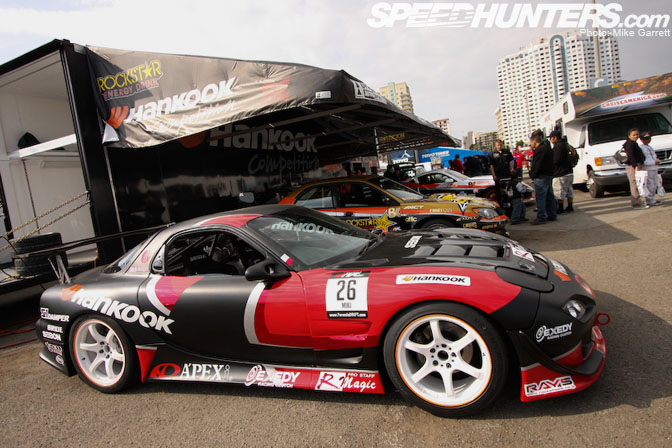 One of the "new" cars that has kind of slipped under the radar was Ryuji Miki's made-over RX7. Unfortunatley Miki had some trouble getting used to the new setup and wasn't able to qualify for the Top 32 on Friday. I'm looking forward to seeing this car on track more next time.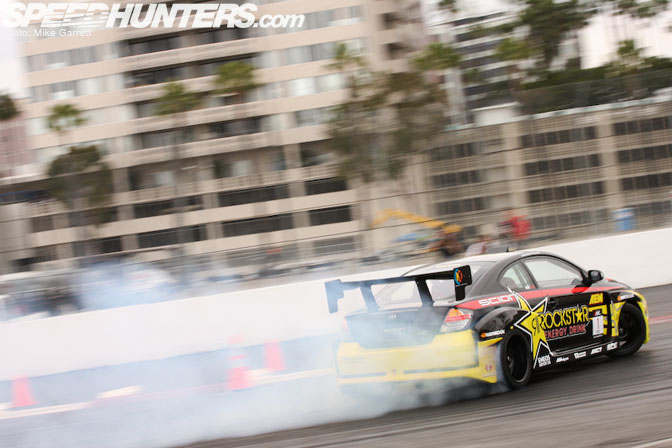 Tanner Faust had a great weekend considering it was the competition debut for his NASCAR-powered Scion tC. Tanner said he was having some issues with the tC's lack of steering angle, but you couldn't tell by watching him drive.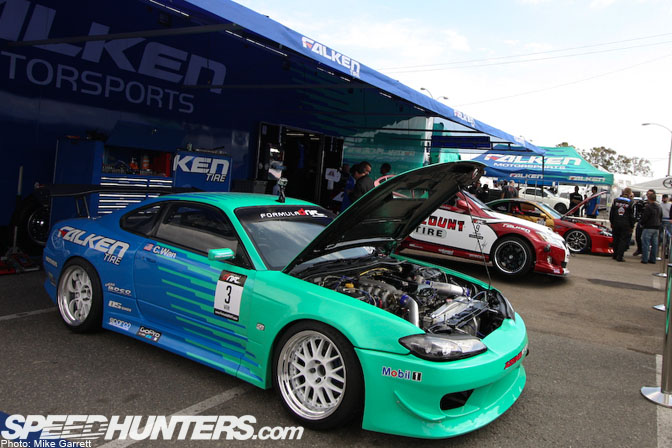 It was a big weekend for the new and improved Team Falken, with several new cars and new drivers hitting the track. I'll be covering Team Falken's adventures at FD Long Beach in a special story that will be coming soon.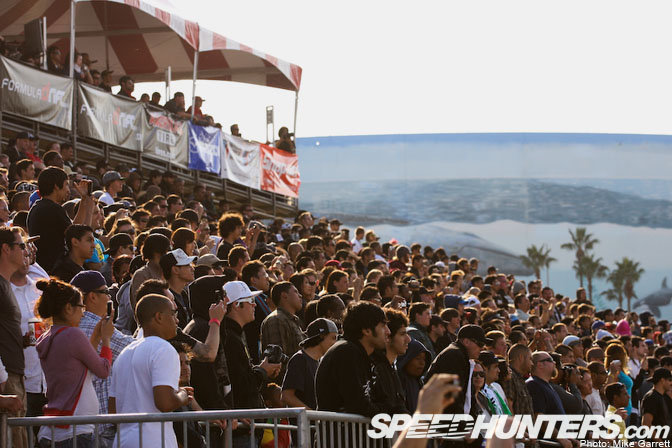 One of the things that struck me most at Long Beach was the level of energy coming from the fans in the bleachers – completely different from the reserved attitude you see at events in Japan. Vaughn Gittin Jr. was talking about how good it made him feel to hear to roar over the crowd over the screaming V8 in his Mustang as he made his runs.
We'll be back soon with much more from Formula D Long Beach.
-Mike Garrett