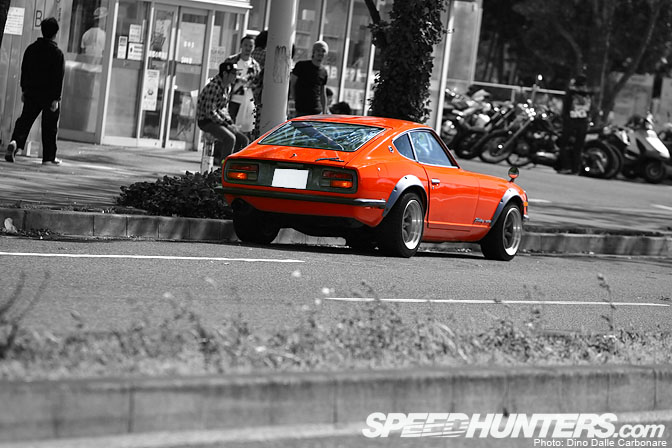 Joining all the custom American cars at the 2009 Mooneyes Nationals was a very impressive lineup of Japanese classic and modern rides. It all started out on the streets around the show venue, like the above Fairlady Z that was parked up in front of the convenience store, showing off its unmistakable lines in the warm morning light.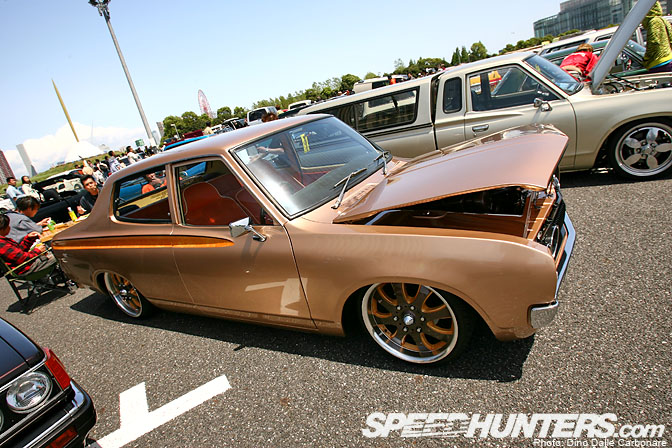 The selection was beyond vast with every taste being catered to.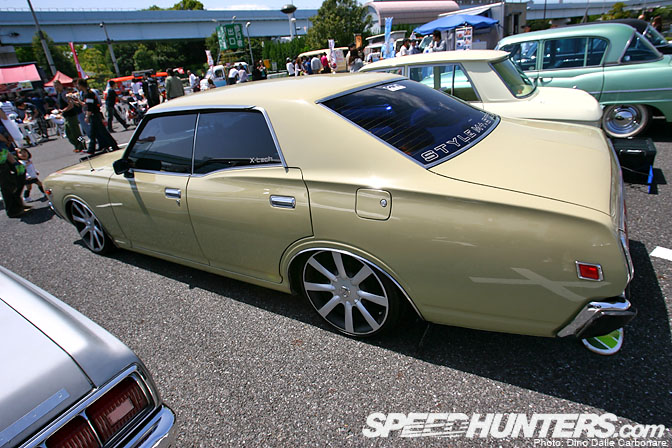 This Gloria 2800 SGL-E was tastefully done with a spotless body lowered onto modern Nissan wheels, matte black on the driver side, silver on the other.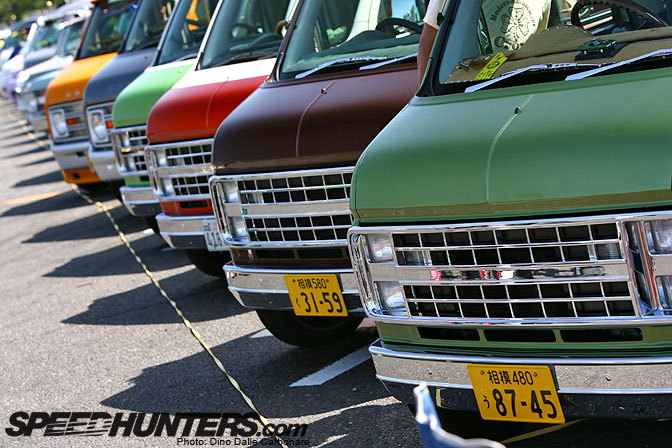 This is one way to inject some much needed manliness into little Kei-car vans! The Dodge Van front end conversion seemed to be a rather popular one, just look at the colorful lineup above!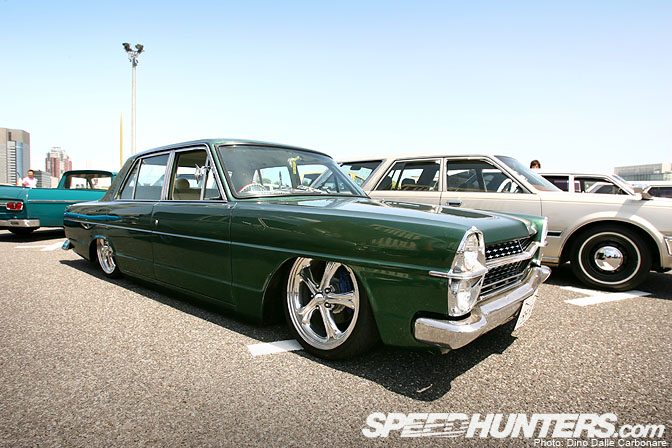 Classic American looks on a compact Japanese body, that is what the A30 Gloria Super DX had to offer. Looked superb slammed on big 18-inch billet wheels.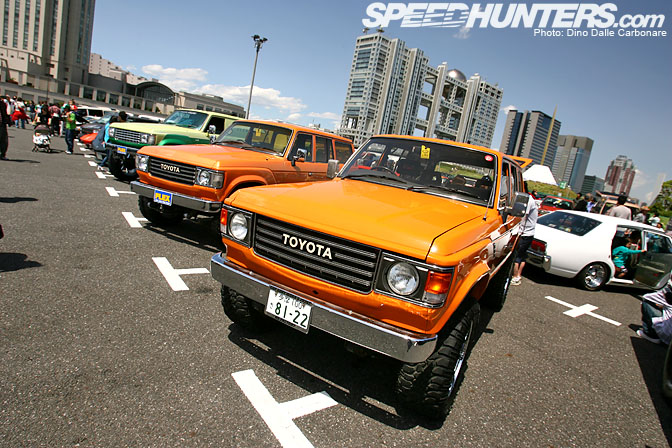 There is something so right about the look of an old Land Cruiser, so purposeful, so rugged, so basic in its design. This pair of orange examples were riding pretty high and wearing offroad tires.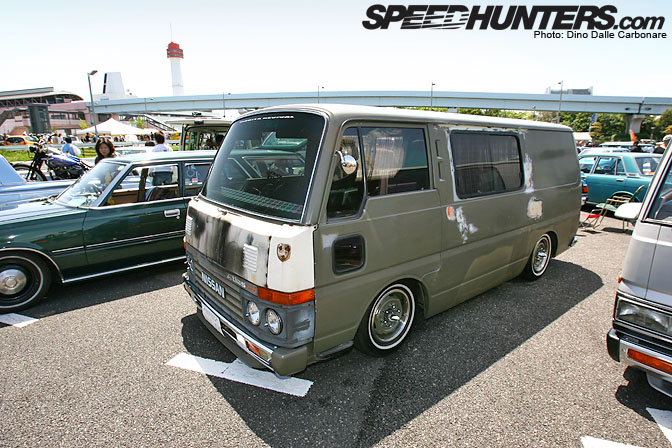 This is one that baffled me.  And old Nissan Atlas 200 that looked like it was rescued from a fire.  It was dropped onto some low-rider looking rims and obviously a work in progress with all the filler around the side window. I concluded it was probably a variation on the rusted out look we saw in Part 1 LOL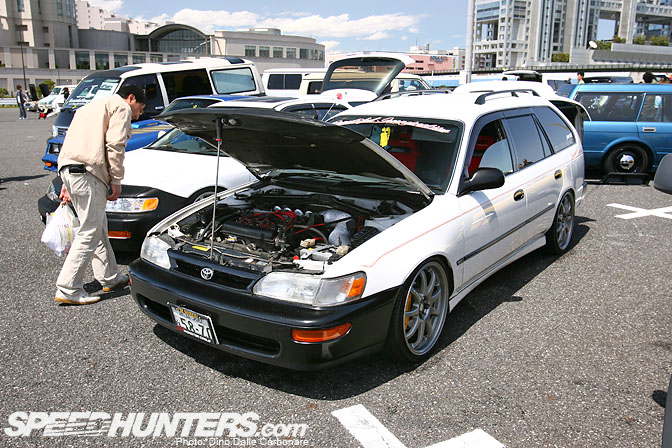 Performance always pays a big part in the Japanese car scene and at times you find impressively built motors in the strangest of cars.  The black-top 5-valve 4AG fitted to the Toyota Carina GT Wagon above was pretty highly tuned to develop a around 185 PS. Behind the silver Work wheels is a full Brembo braking kit with Ferrari F50 front calipers!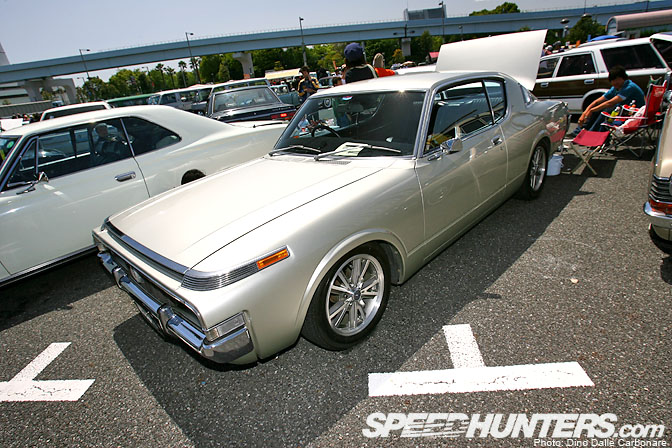 This MS75 Toyota Crown coupe has to be one of the nicest and rarest cars to come out of the 70s in Japan. I really like the high hood-line which creates a thin grille that wraps around on the sides leading to the side markers.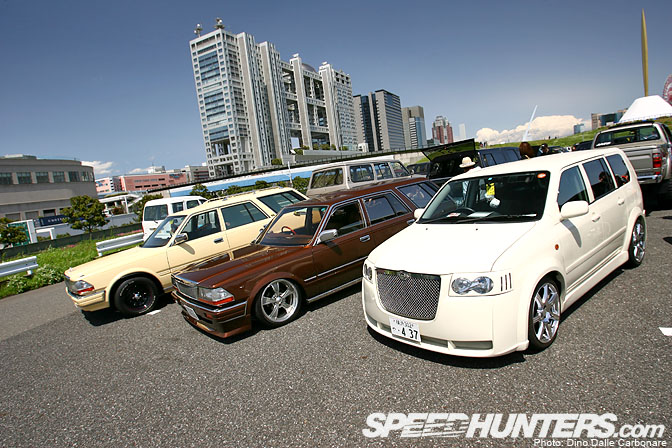 A selection of customized wagons. The white one sporting a 300-C front end conversion is actually a Toyota Probox, a vehicle usually chosen by plumbers, electricians not to mention company reps.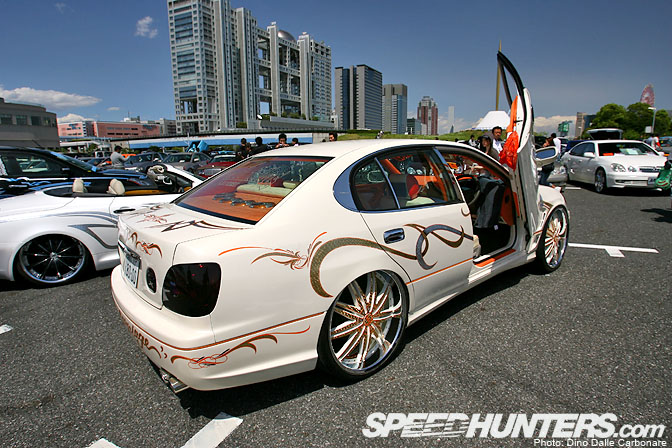 I couldn't believe the amount of work that went this Aristo, custom paint & graphics, custom interior with full audio and video, Lambo-style doors, 24-inch wheels….it all left me with one question, how much does it weight? The owner didn't have an answer for me unfortunately…in fact he gave me a strange look.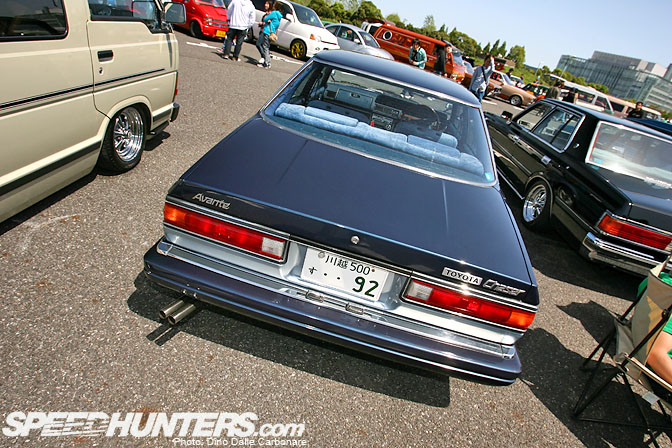 This is one generation of Chaser you just don't see much. This Avante model was spotless and seemed to be completely stock apart from the exhaust system and lower ride height.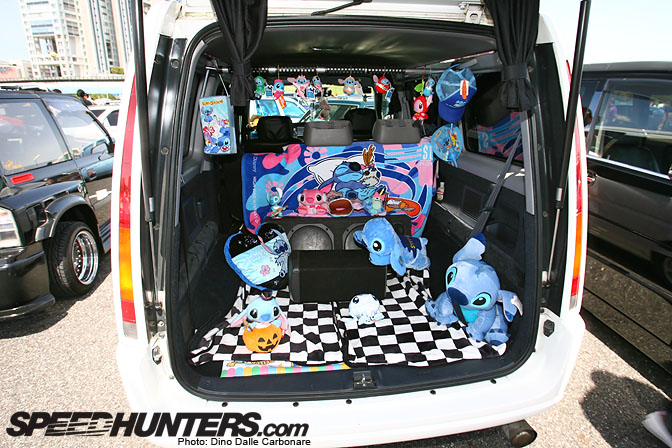 When I saw the interior of this Honda Stepwagon I decided to hang around a little to see if there was going to be a Lilo & Stitch puppet show!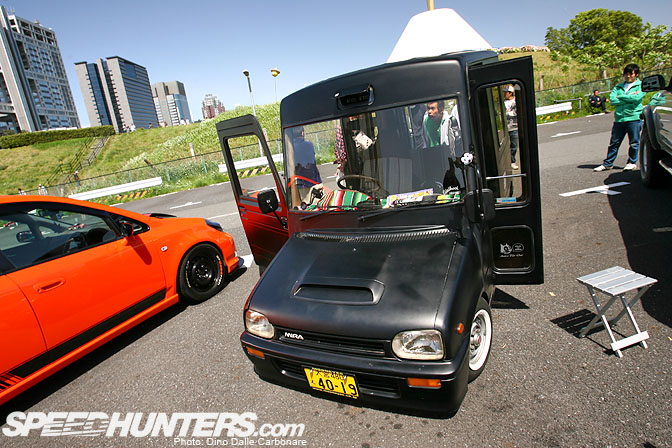 I think this curiously modified Daihatsu Mira used to be a flower delivery vehicle in a previous life.  Now it has gone for the Kei-hearse look.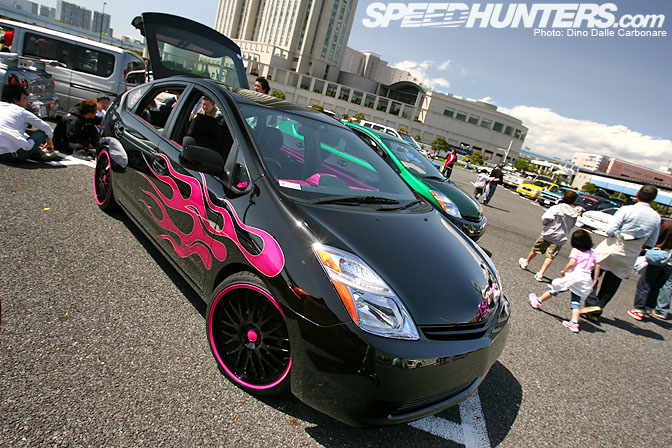 There you go, who said you can't be stylish if you drive a hybrid? However the huge wheels and sports tires may cut into your fuel consumption figures a little!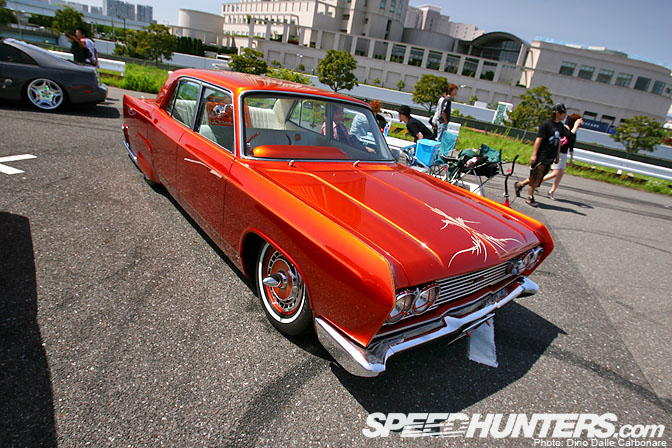 This pair of Mitsubishi Debonair's were the most extremely customized rides in the domestic area. Notice how the doors have been shaved and the rear wheel arches closed off for a sleeker look. Even the wipers were removed!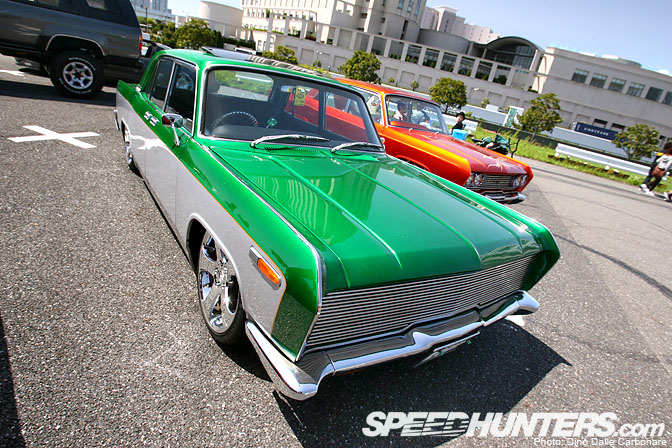 Bit of Dodge Challenger grill look for this one!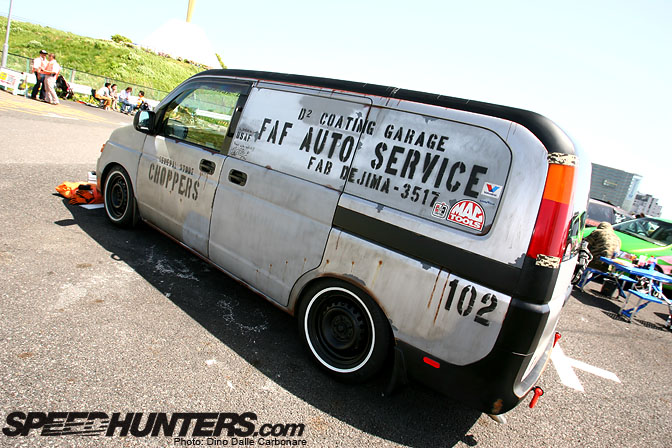 I though this Stepwagon was sporting an interesting look, definitely unique!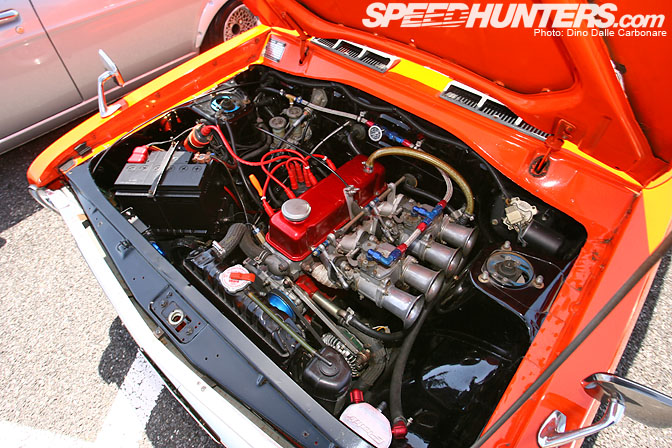 The little A12 in this B110 Sunny was running some nice open funnels on its twin carb set-up.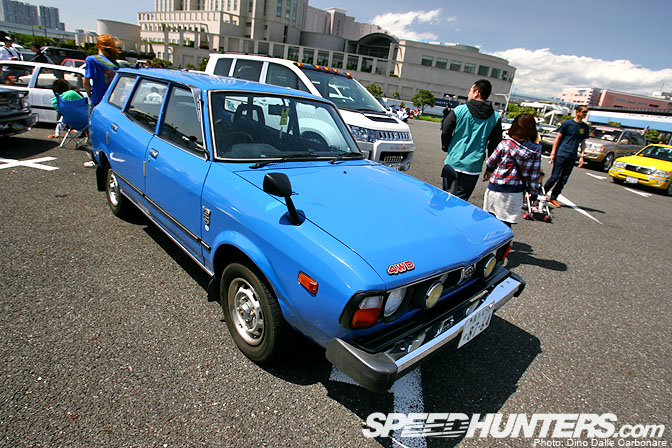 This is a rare one, a Subaru Leone 1600 4WD from 1974. The grandfather of the Legacy Wagon? More classic than custom. And take a look at that Hummerized Mitsubishi Delica in the background!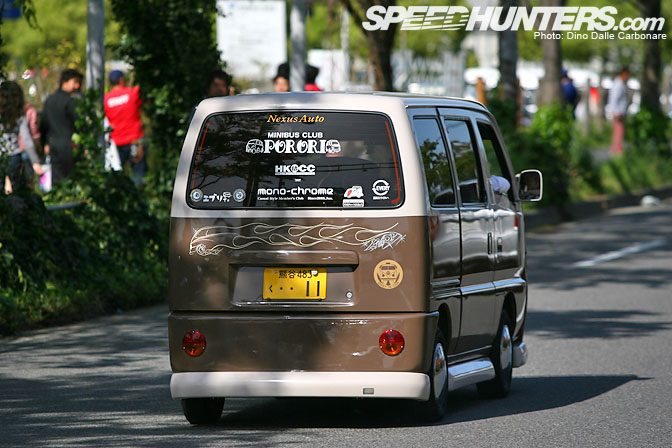 I think this final image closes the coverage of the '09 Mooneyes Nationals rather well. This is a scene that could only come from Japan!
Dino Dalle Carbonare