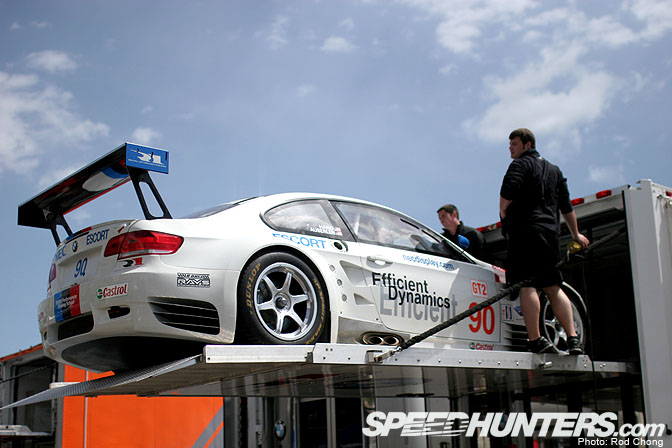 Ever heard the saying "You better treat people well on your way up, as they'll be the same people you'll see on your way back down"….  Interesting words, although perhaps it's not the best ultimate motivator to become a good, honest and helpful person in life…. In my opinion, you should always be truthful and straight forward with people as an end in itself, not just because there are consequences…. But it is true that you also really don't know where your pathway is going to pass another person later down the road so it's best to keep the good vibes rolling where ever possible isn't it?
So on this subject, I'm having a bit of a moment right now with crossed pathways… let me tell you a little story….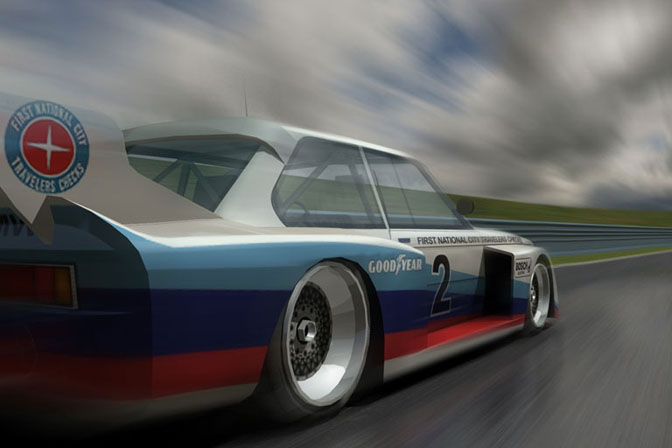 From around 2000 to 2004, I was heavily involved in PC race sim-modding and ran a mod crew called Virtua_LM.  We devoted ourselves to the recreation of GT1, Group C, GTP and Group5 mods for EA's PC SCGT and F1 games. Check out this 3D model of the IMSA spec McLaren BMW 320i Turbo which VLM cooked up many years ago.
During this time, I had regular contact with a young guy who used the online avatar name "Turbo Tom". He was big into the PC sim racing online community and a big fan of our work. As my career as a video game producer developed I gradually lost touch with Turbo Tom, but heard he started a professional racing career.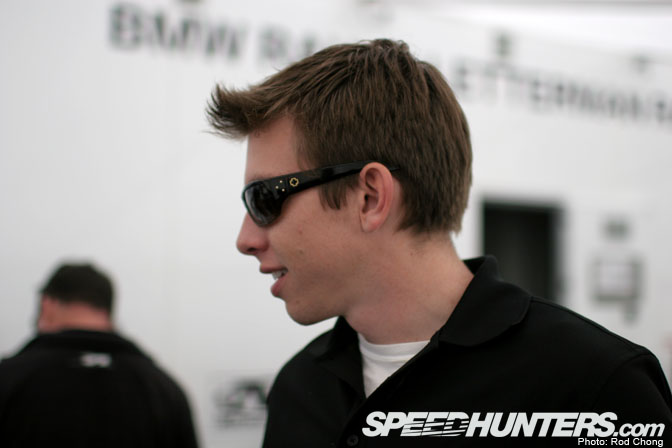 Fast forward 8 years and voila… I met him for the first time today as he is one of the drivers of the BMW M3 GT2 we've all been drooling over for the past while. We're going to be working with Tommy and Rahal Letterman Racing to shoot some more cool NFS film projects this weekend. Crazy!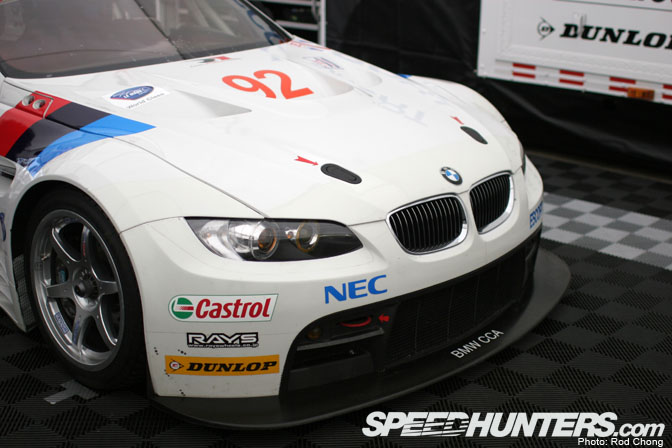 And this is his race machine…. Oh yes… life is good….. :>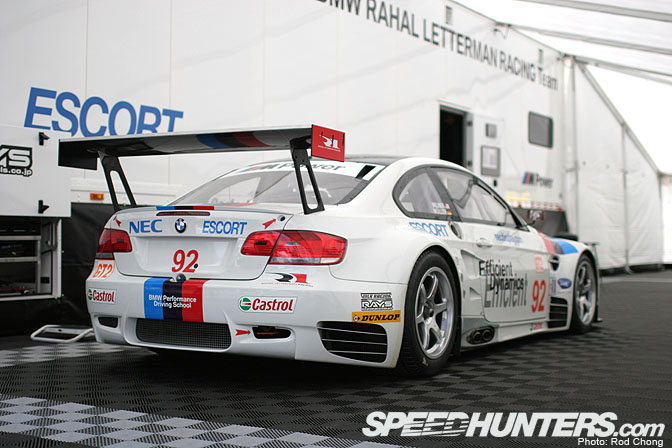 It's interesting to inspect high end GT racing machinery. Somehow they always have visual style about them, that is in no way compromised by function.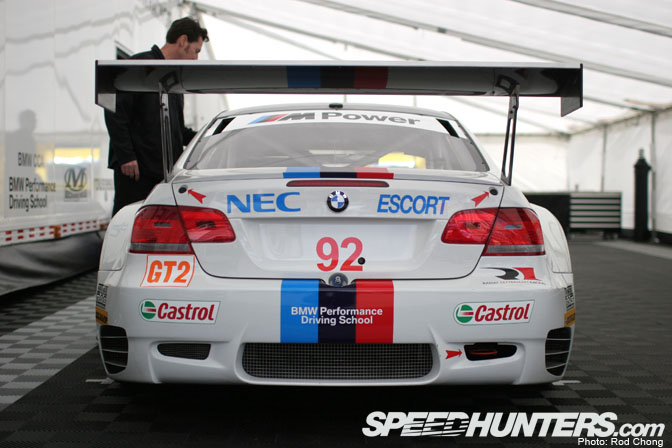 Form and Function achieve a perfect balance. There is nothing that the fashionistas can criticize here is there….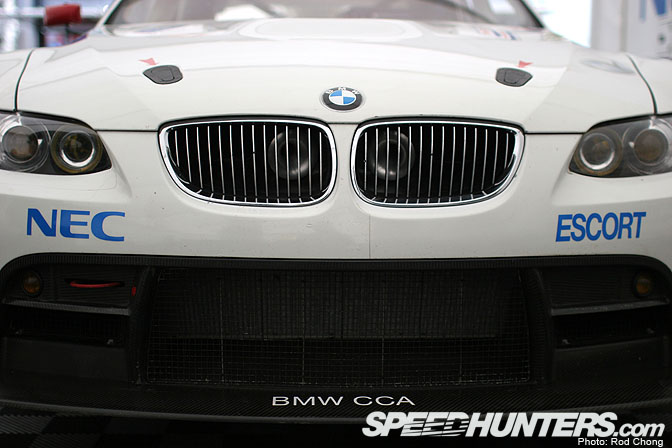 Check out those intakes hiding behind the twin BMW grills….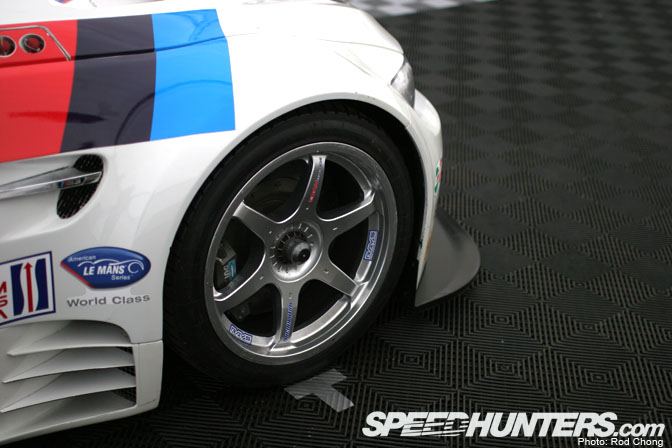 The Rays Rims are looking good…. you can see some effort has gone into venting air from the wheel well…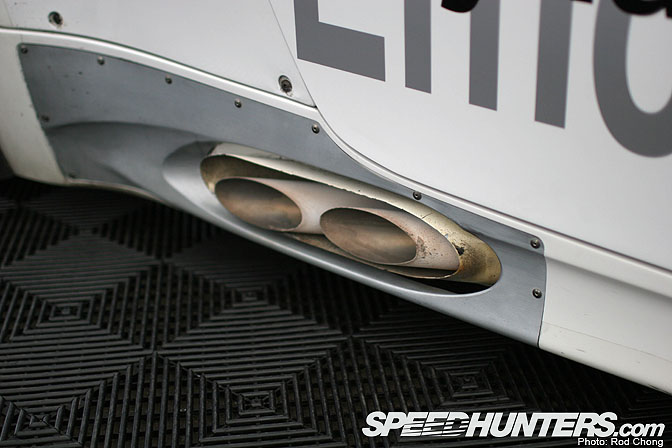 A heat shield surrounds the exhaust pipes on either side of the car….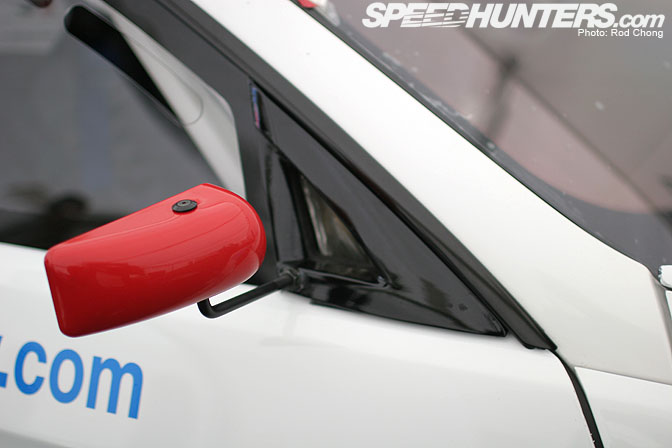 …. Hot air from the internal exhaust piping is vented at the front of the windows… a lot of effort has gone into keeping heat away from the driver compartment as per the new ACO rules regarding cockpit temperatures.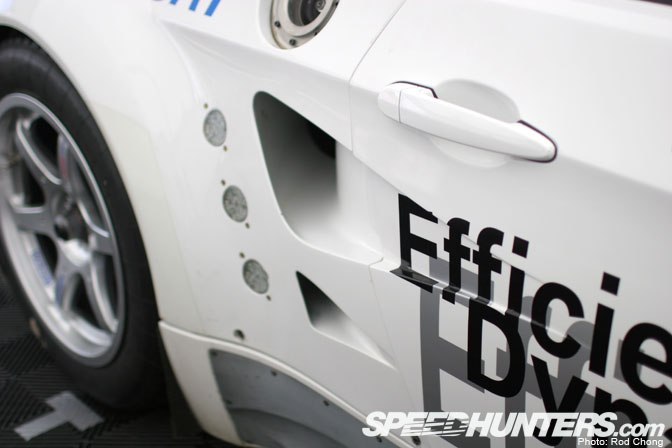 Did you know this car has a rear transaxle setup? This is a no compromise, full race car design… These ducts no doubt feed air into the rear transaxle cooling systems.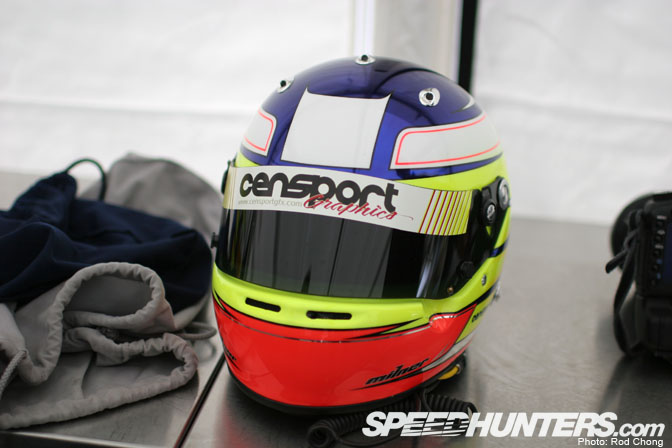 As I left the BMW paddock, film production company's task was to get Tommy's helmet ready with a HD POV Camera setup. The seating area in the BMW is a lot more restrictive than what we had to deal with last weekend with the Falken Mustang so some adjustments will likely need to be made.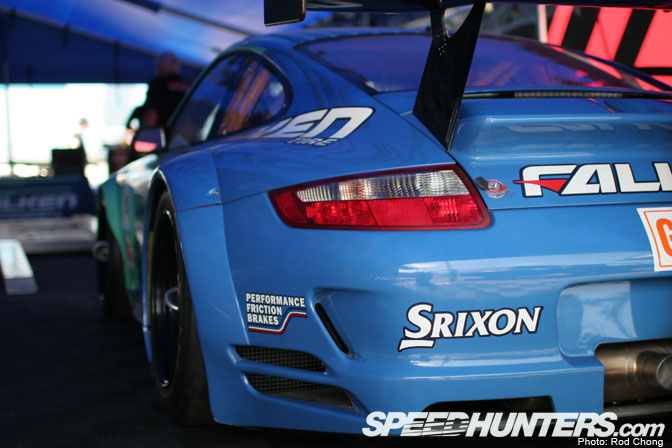 Speaking of Falken I swung by their pit area to have a look at the Porsche. This for the most part, is a completely different race team to the drift squad so a few of them were wondering who I was…. Why is the Chinese guy in the funny hat taking so many pictures of our car?….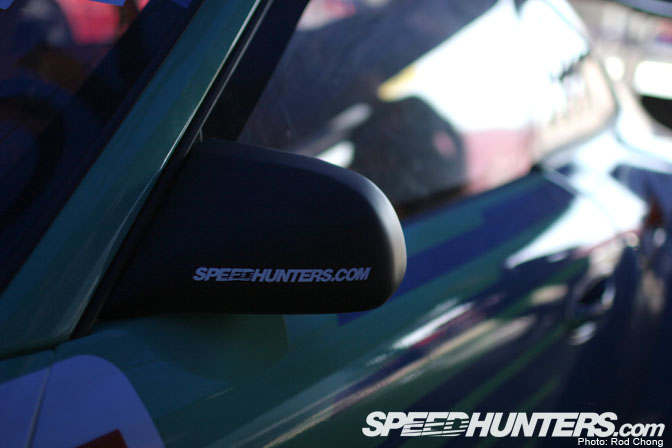 I pointed to the Speedhunters logo on the car and everyone calmed down though… all part of the family…..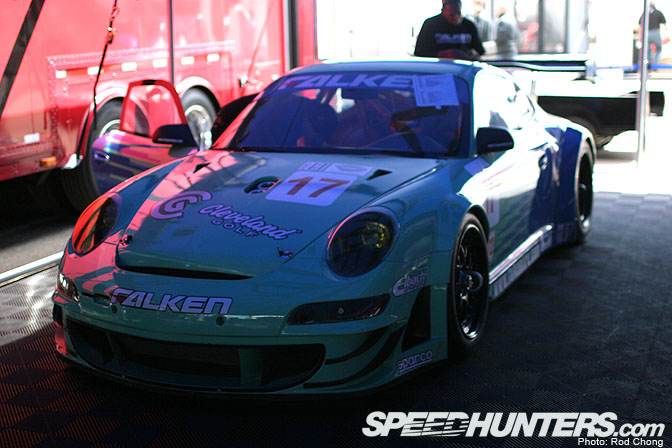 Porsche's 997 based GT3 RSR is an absolute thing of beauty.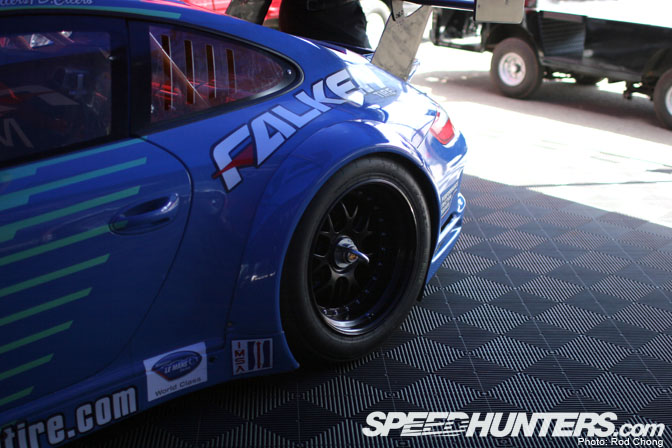 The Falken livery takes quite well to it…. I love the black rims too…. they add an extra ominous quality to any car IMO.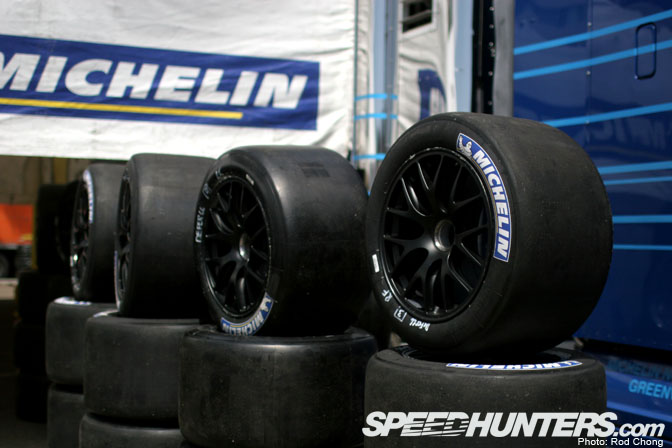 On the way out of the ALMS Paddock I took a moment to admire all the race tires stacked up in the Michelin area.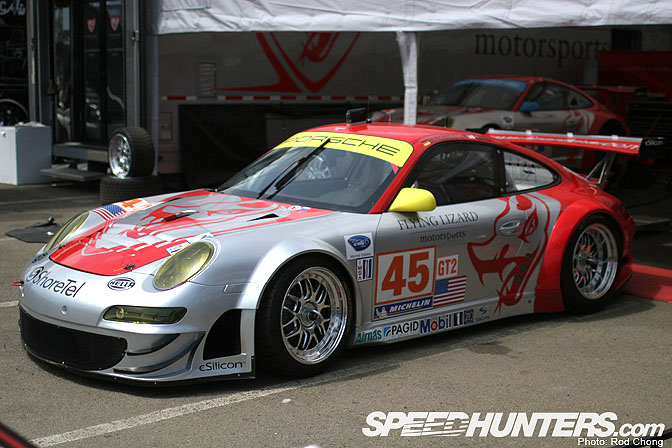 The Flying Lizard cars also look great… It's a fantastic livery design and colour combination.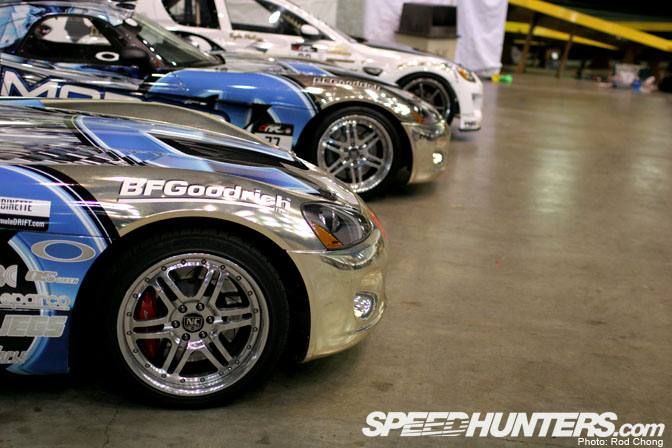 I decided to swing by the Formula D Team Drift paddock to say hello…… not too many people were around though…
Both of Samuel Hubinette's Vipers were out. I do like the idea of seeing two Vipers in team drift… that would be very cool!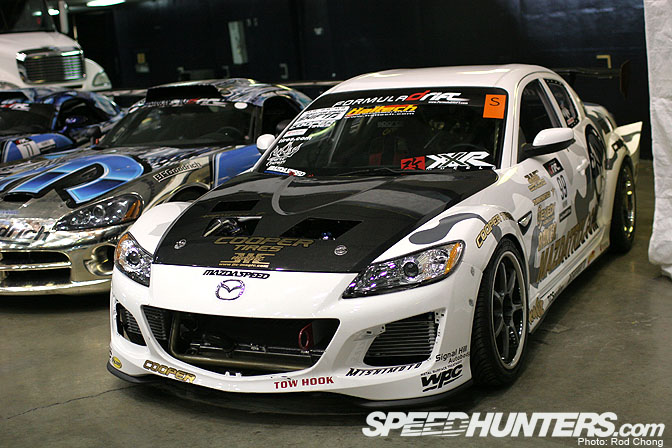 Looks like Kyle Mohan has elected to drive his RX8 this weekend… I would have expected him to have brought out the old FC….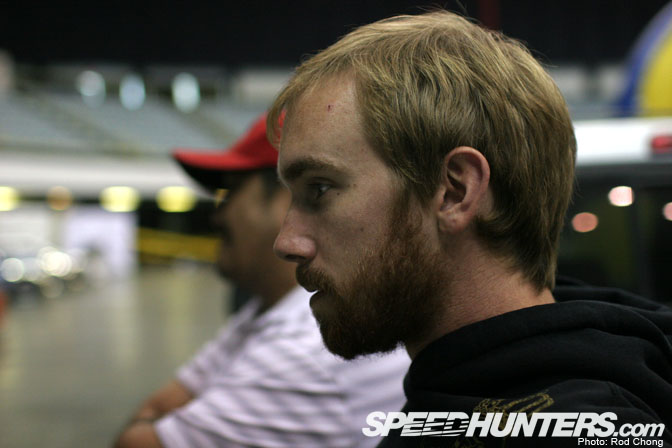 Chris Forsberg tells me that he'll be running with Kyle and drifter-turned-FD-Judge Tony Angelo.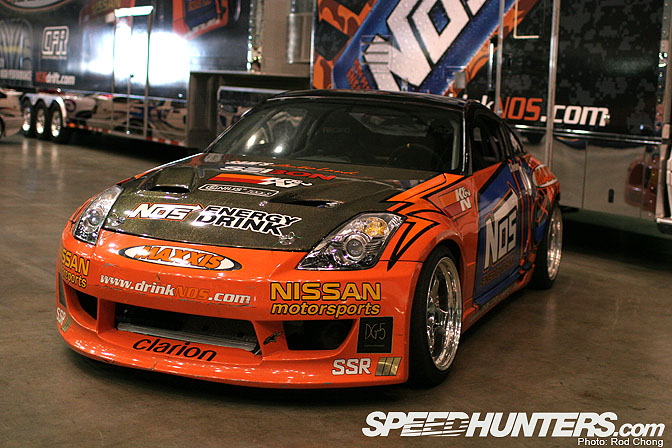 …. for him though, the team drift machinery will be the practice car….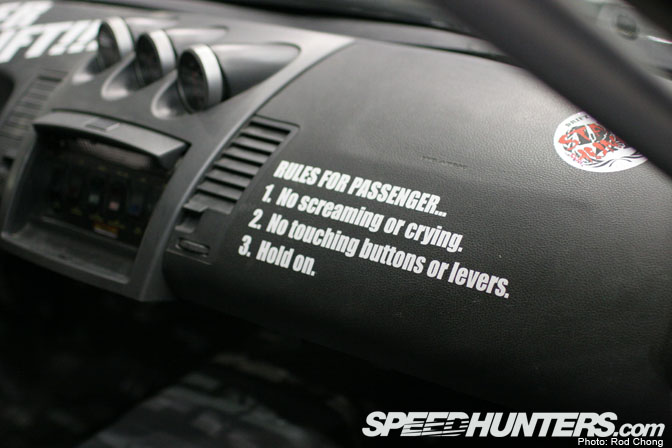 I love this…. heh heh heh…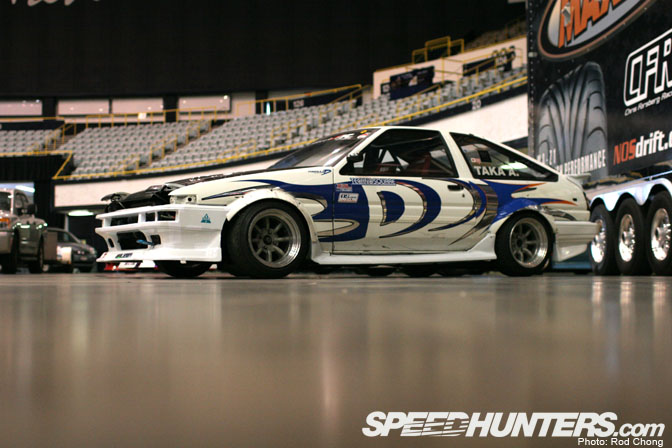 Looks like we'll have some AE86s running in triple drift on the weekend…. This is Taka Aono's B car…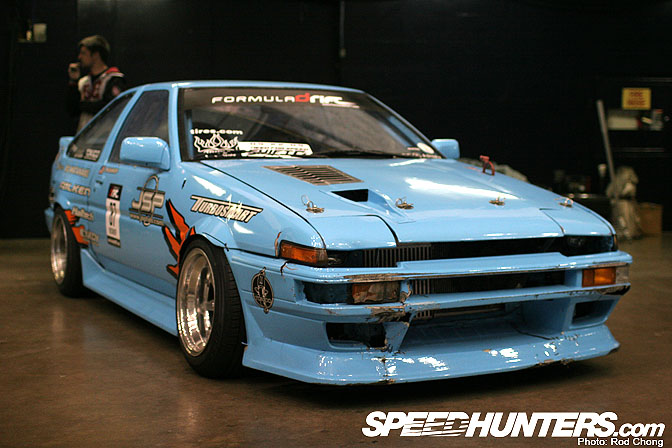 John Russakoff's Hachi looks ready to run….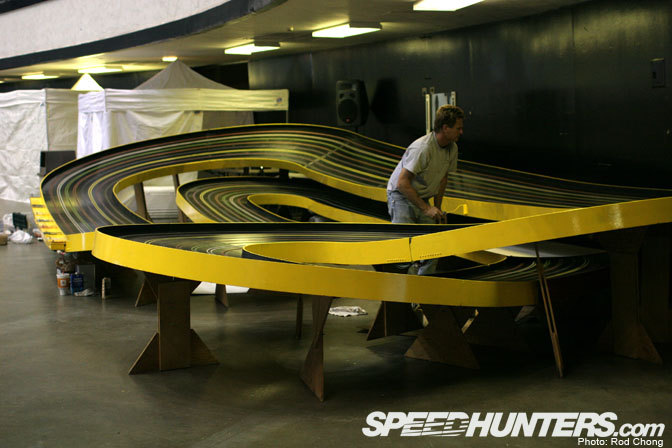 I spotted this old school slot car track being setup right next to the Drift Paddock… pretty sweet…. Slot cars used to be THE THING back in the day, but I seriously doubt there are as many of these tracks set up as their used to be.
None-the-less it's cool to see this art form still going….
Talk soon, in the meantime I'm going to be extra kind to everyone around me tomorrow….
:R
Toyota Grand Prix of Long Beach 2009 Coverage on Speedhunters