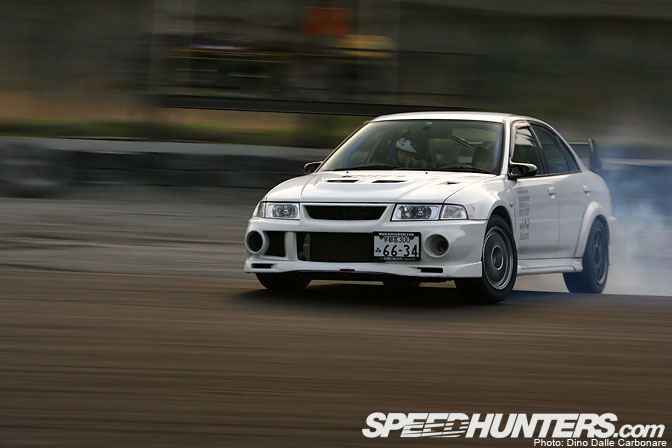 Along with all the girls competing in the Queen Battle there were tons of other drifters there to have some fun, and one guy that was stealing all the looks when out on track was Hitoshi Sato in his Lancer Evo 6. The technique was simple, major lift-off before the corner and something resembling a scandinavian flick, then as the car would snap sideways he wold get hard on the power and put down some seriously cool "zero-counter" drifts.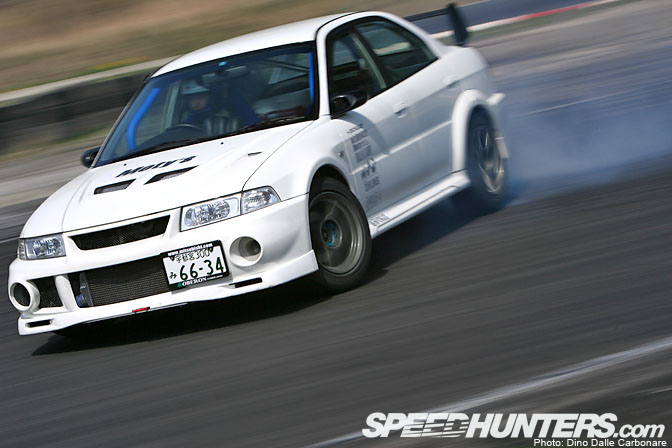 Taking a closer look at the car in the pits reveled he was running semi-slick rubber up front and what looked like aged, almost-vintage, crappy street tires at the rear. Kudos to this guy for throwing a rather unexpected twist into yesterday's line-up at Nikko.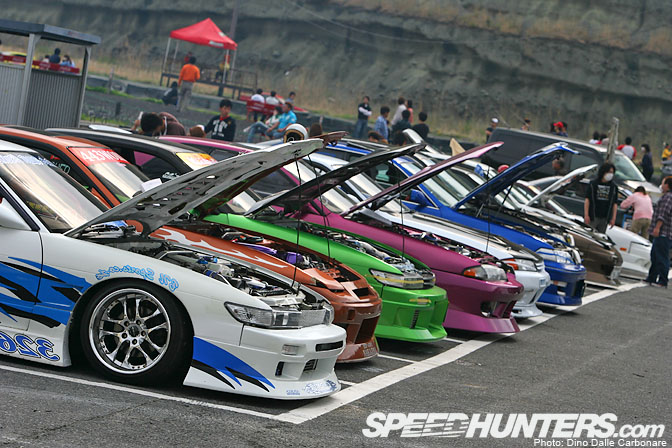 Just look at that color line-up! You can just about see the purple RB26 sticking out of the brown RPS13's engine bay, and that violet R32 was powered by a 1JZ!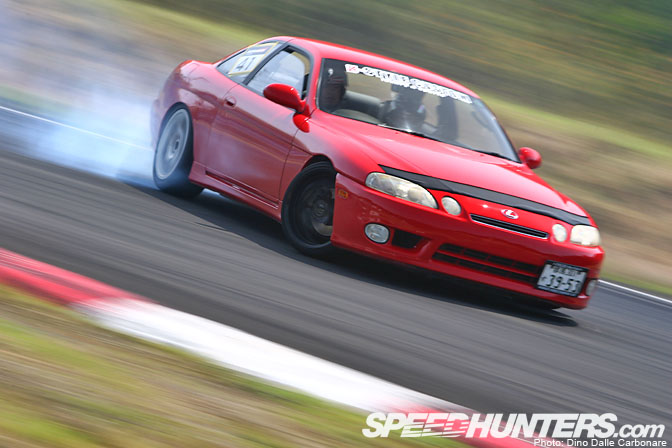 Here is another car I have a soft spot for, the JZZ30 Soarer. I would have done without the Lexus badges myself, but a stunning example nonetheless.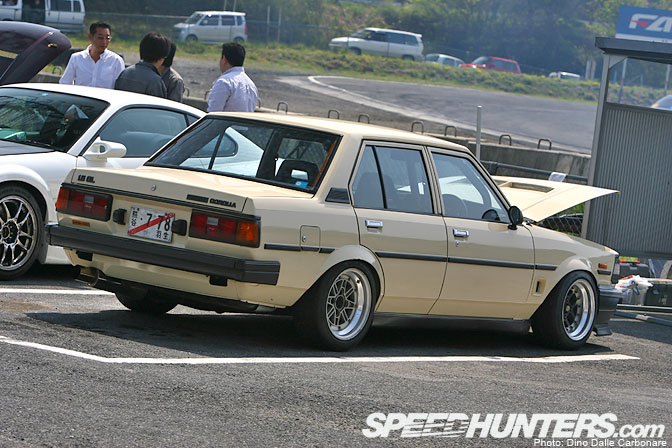 This Corolla was one of three 4AG powered machines on the day, along with a couple of AE86.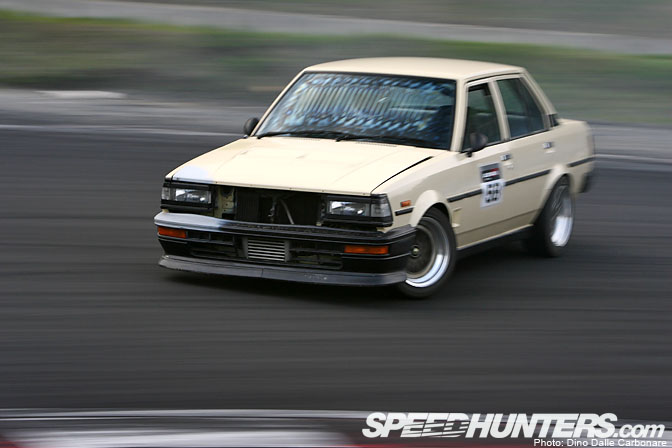 The supercharged 4AG-GZE did seem to provide enough power to hang the tail out throughout the 4-corner combo at Nikko. If you listened carefully enough you could hear the buzzing sound of the little roots-type blower.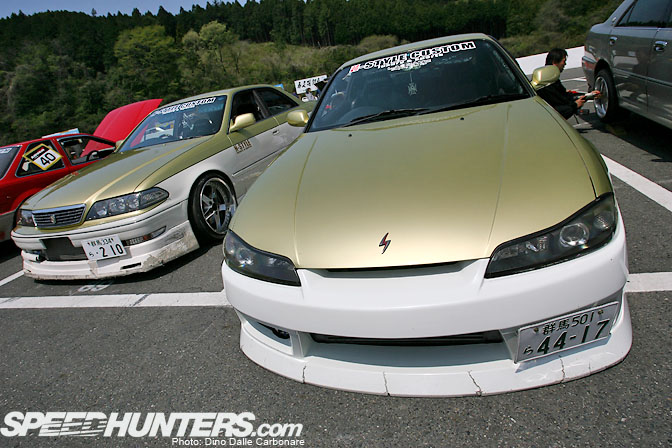 I posted a picture of this 2-tone S15 in yesterday's teasers, here it is sitting next to its JZX100 team-mate.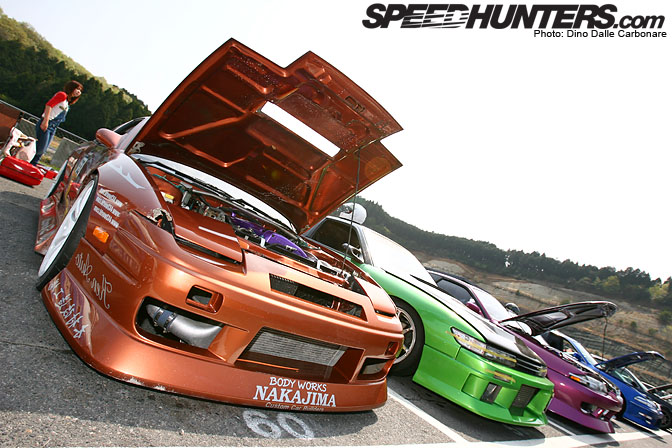 Here is a closer look at that RB26 powered 180SX built by Body Works Nakajima. Apparently the RB26 is only slightly modified, puting out around 400 PS at the top end, giving it very quick and powerful mid-range response.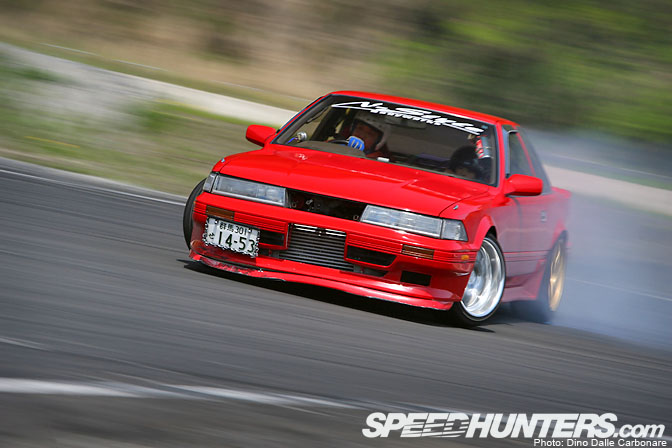 Here is Nakamura-san in the JZZ20 Soarer everyone liked in the first post. Yes a desktop is coming, don't worry!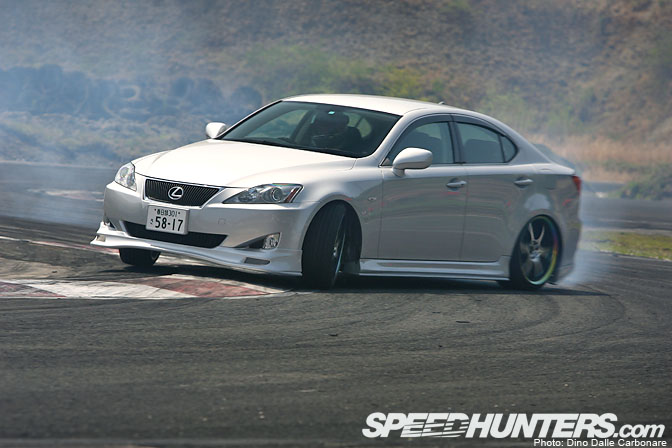 Remember I mentioned that Kazama's JZX110 suffered a little engine problem. Well he wasn't too depressed as he brought this Lexus IS250 to play with, an ongoing project he has been working on for a few months.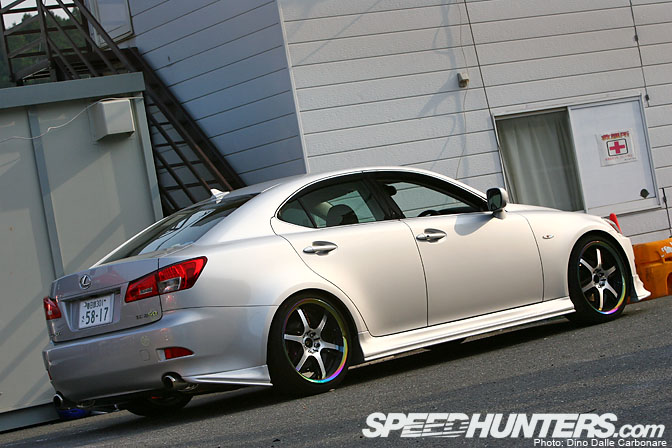 It looked so sweet sitting in the paddock, nicely lowered onto its Gram Lights 57A Accelerate Pro with the optional "titanium coating rim." I'm sure we will be seeing a lot more of this car in the course of the year.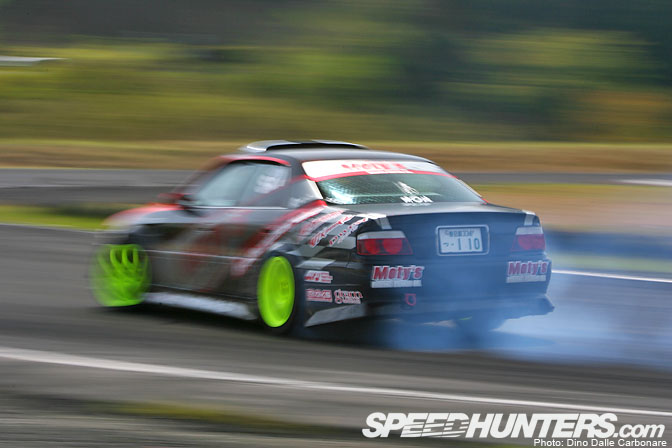 The Kazama line-up didn't end there as the D1-SL JZX100 driven by Ito-san was also out on track. I loved the stance of this Chaser, which was running a staggered set-up with a much wider track at the front.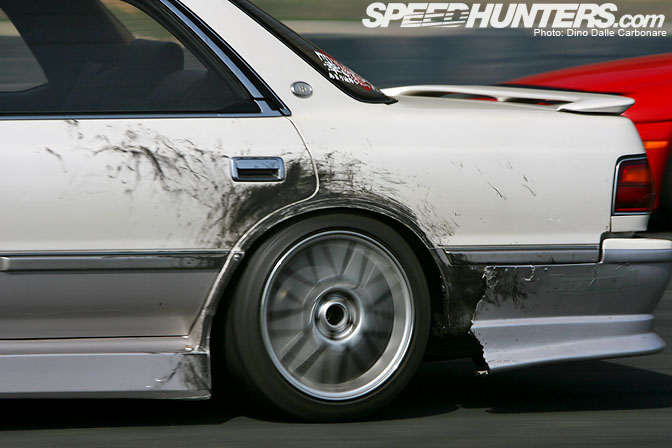 When you hear weird noises coming from the rear of your car it is always a good idea to slow-down, pull over and stop. The driver of this JZX81 MarkII didn't obviously care when he heard the delaminated rear tires shred the bodywork!  It's all part of the "look" I'm told!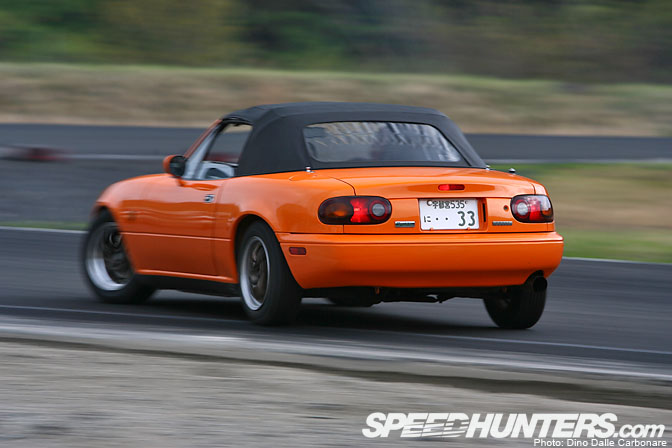 The variety of machinery at Nikko yesterday was truly vast with this local lady entering her orange NA8C into the contest. She seemed to be doing pretty well out on track but was obviously lacking the grunt to get some smoke trails going.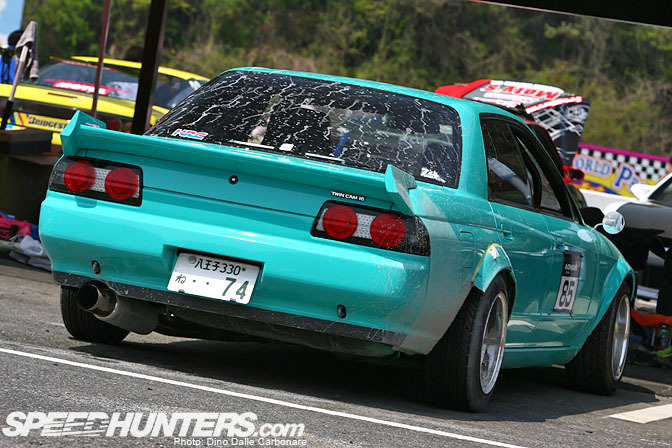 I like unique rides and this R32 really impressed me yesterday. That little "Twin Cam 16" under the trunk spoiler is there for a reason…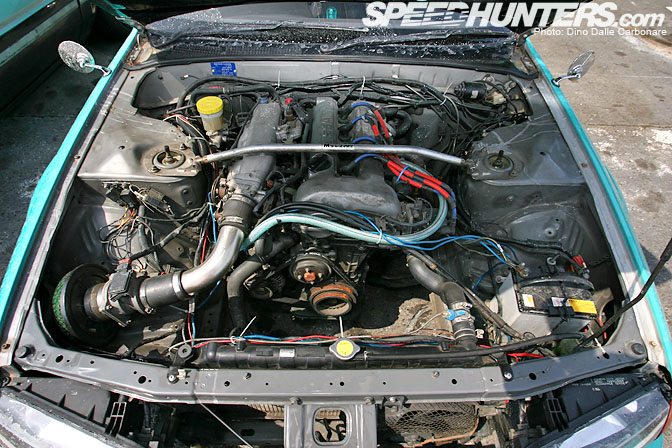 …as the motor sitting in the engine bay was an NA SR20, not an RB! The idea was to make a more balanced set up, but all that space up front would have been perfect for a nice "V-mount" intercooler/radiator set-up, all it would need then wold be a turbo and a "few" other bits and bobs.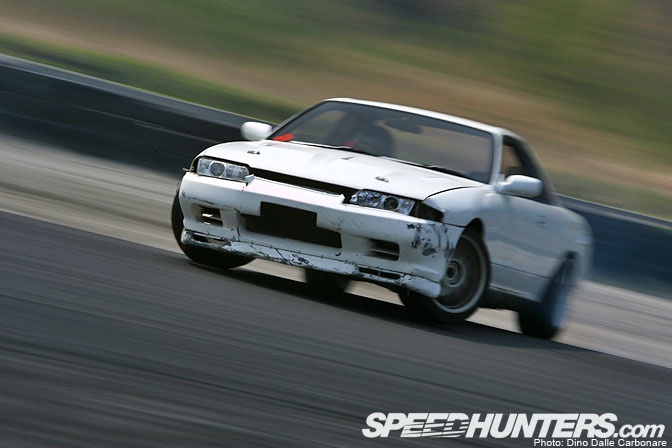 This battle scarred R32 was one ride I really liked, it served as great reminder that you really don't need to blow a lot of money on a drift car. Sure crazy paint jobs and 500 PS engine builds are nice, but if you are just out there to enjoy yourself this is all you would ever need. Oh yes, and a couple of tires…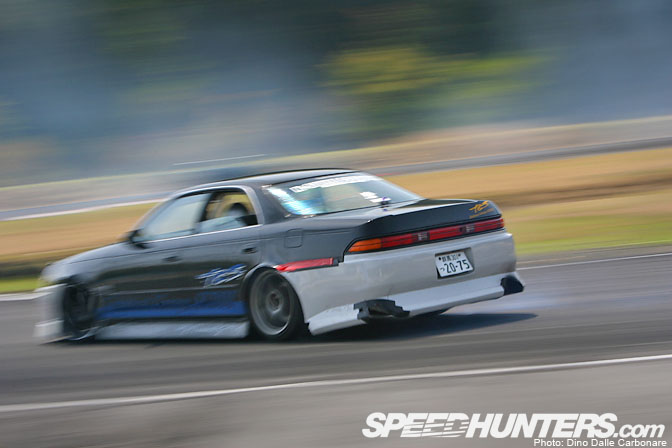 Once you step up from a nice entry level R32 you can always move onto a JZX90 like the MarkII TourerV above. Mid-nineties JDM sedan style at its best. Stay tuned for more coverage from Nikko and the drifting ladies.
Dino Dalle Carbonare