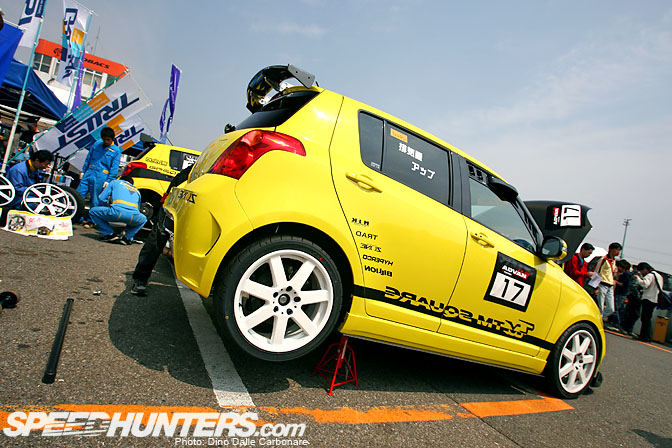 It wasn't all about turbocharged fury at the Hyper Meeting this year. Smaller cars like the TM-Square ZC31S Suzuki Swift above captivated the minds of those looking for more affordable cars to tune. The entry-level rally-car image the Swift has gives it quite a following in Japan and I have to say I quite like them too!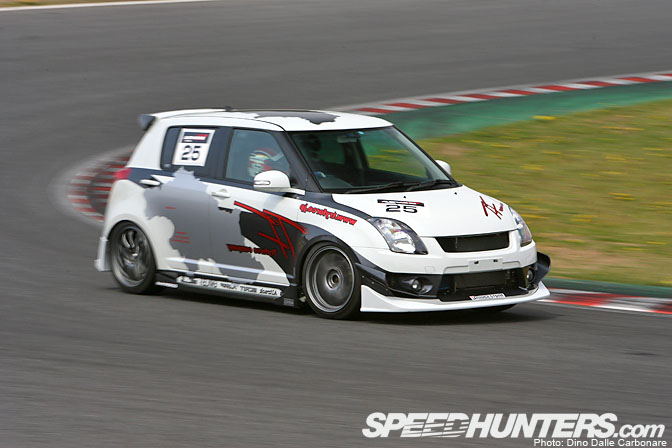 TryForce, who specialize on smaller cars like the Suzuki Jimny and Daihatsu Copen brought their Swift demo car sporting a very aggressive body kit with massive canards fitted to the front bumper. The little Swift managed to lap Tsukuba in 1'08"916, the second fastest Suzuki of the day behind the Trust Swift which managed a marginally quicker 1'08"754.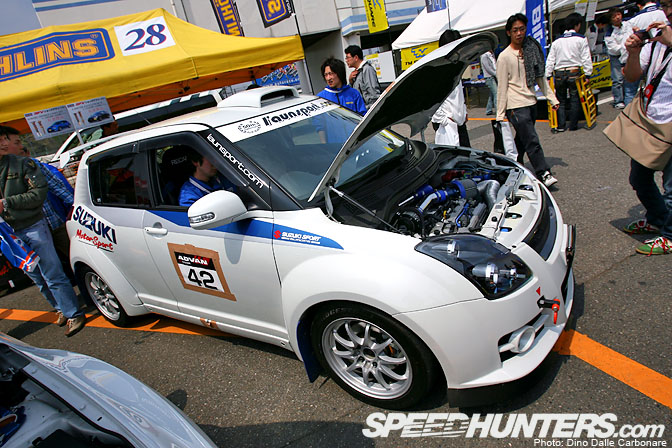 Check out the l'aunsport Swifts though, by far my favorite at the event. L'aunsport are the creators of some of the best WRC-look and inspired wide body conversions and the kit fitted to the little Suzuki really beefs up its presence. Just look at those front and rear fenders!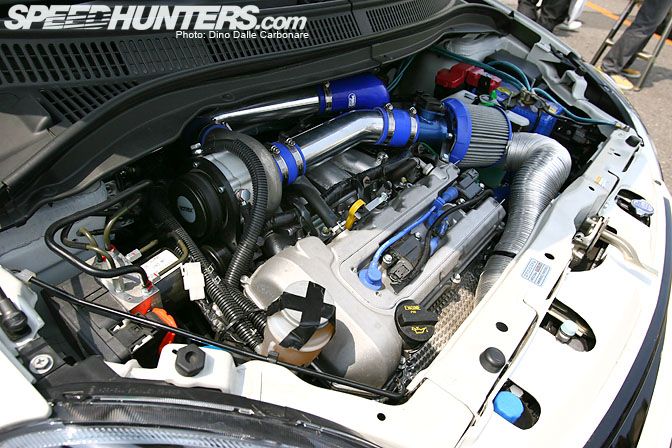 Under the hood a Rotrex supercharger boosts the power of the little 1.6L motor.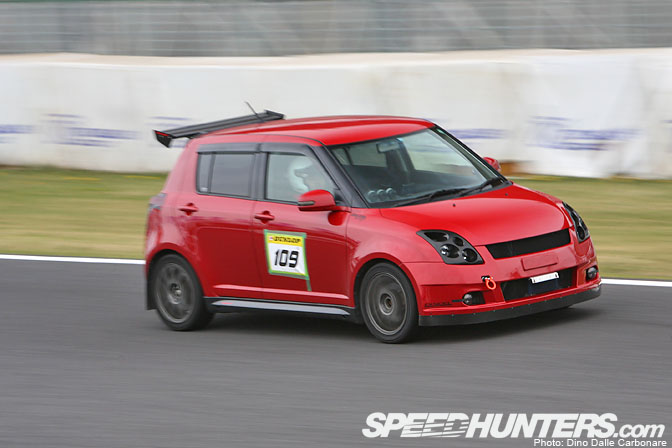 Private owners were allowed to take their cars on track in a series of soukoukai track-day sessions throughout the day, which included a group of Swifts and Colts. Check out the front light conversion on this red ZC31S.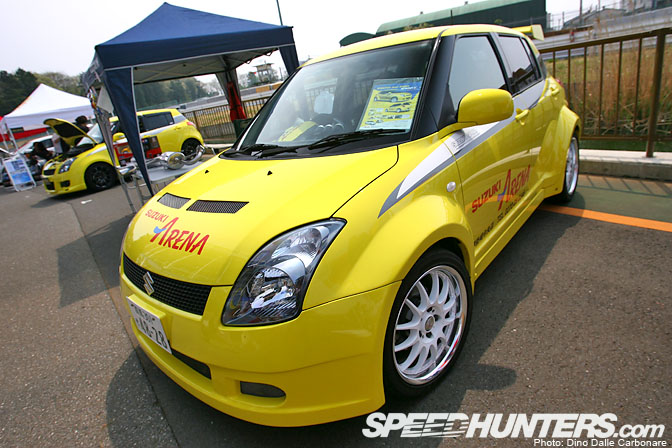 I think the l'aunsport kit is the wide-body conversion to have on a Swift as I you can see from this Suzuki Arena demonstrator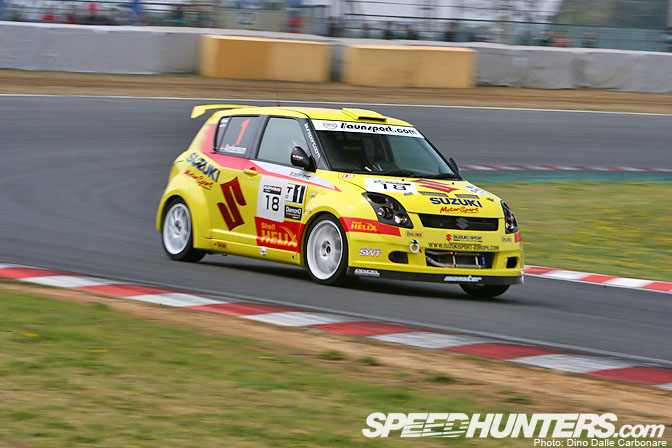 And again here on another l'aunsport demo car, one especially built for track and gymkhana. There are those headlights again, and check out the front mounted oil cooler, very Hakosuka!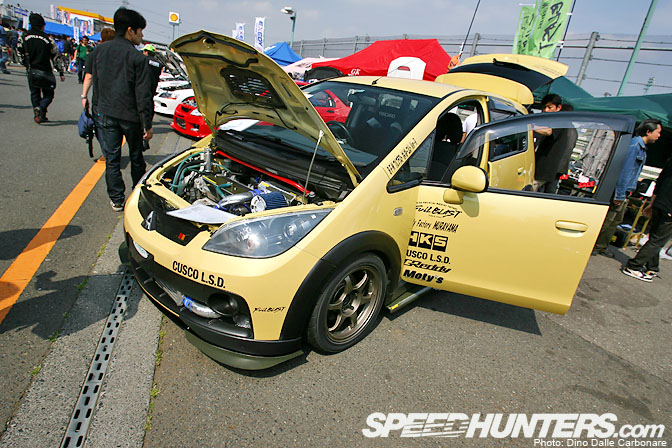 Joining the Swift was the Mitsubishi Colt Version R, or the Z27AG to the otaku's out there!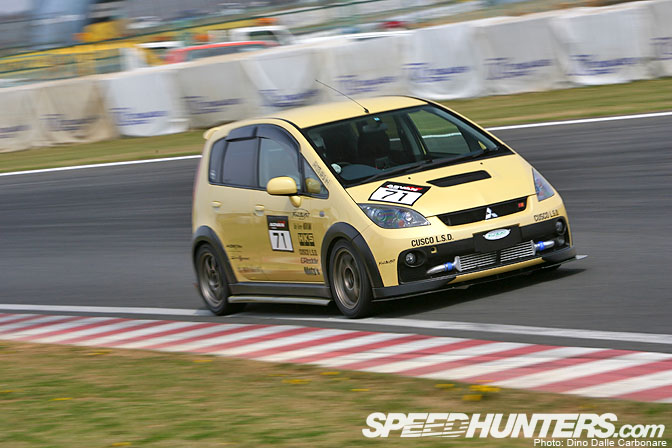 This example built by BFM Full Blast looked really planted out on track thanks to some HKS dampers. How cool is the little front mount intercooler! It was going hard around Tsukuba recording a best lap of 1'07"294, an impressive time for such a small car!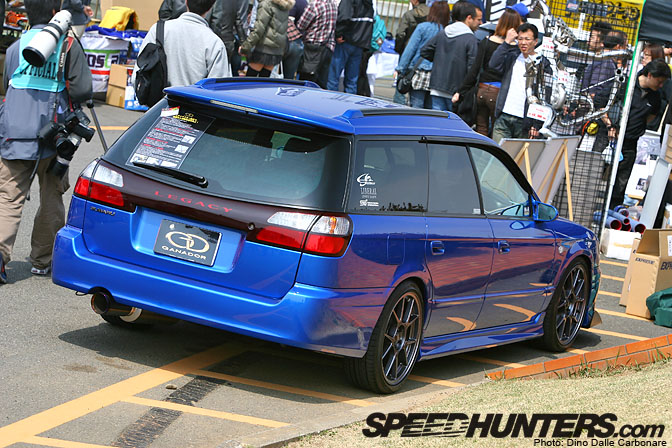 There was a noticeable lack of Legacy's this year, I put it down to them being a slightly more mature choice hence people not wanting to go crazy with them.  The BH5D above was fitted with a nice burbly Ganador exhaust system, which really enhances that old boxer sound. The newer flat-4 with equal length headers just doesn't have the same character!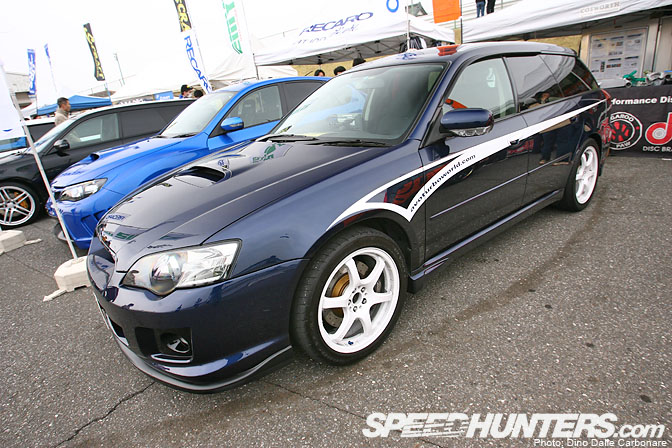 This 2.0GT Touring Wagon is the car Ross at AVO drives every day. It had no problem taking abuse out on track, even with the stock Bilstein suspension and ride height! You can just about see the DBA rotors at the front which are joined by 22B 4-pot calipers.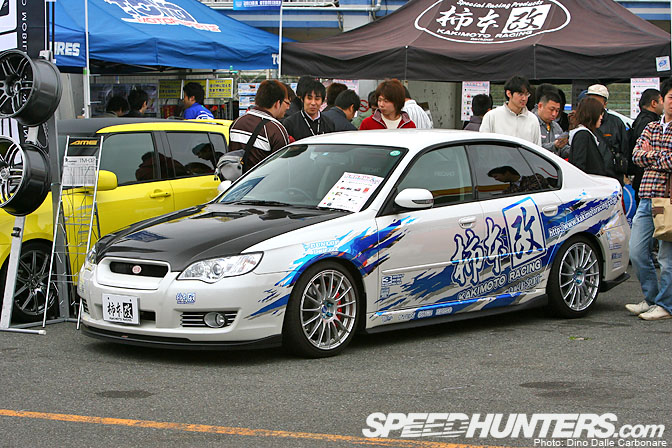 I took some time to look over the Kakimoto Racing Legacy 3.0R. The exterior is spiced up with an STi front lip and black underskirts for main skirts and the rear bumper.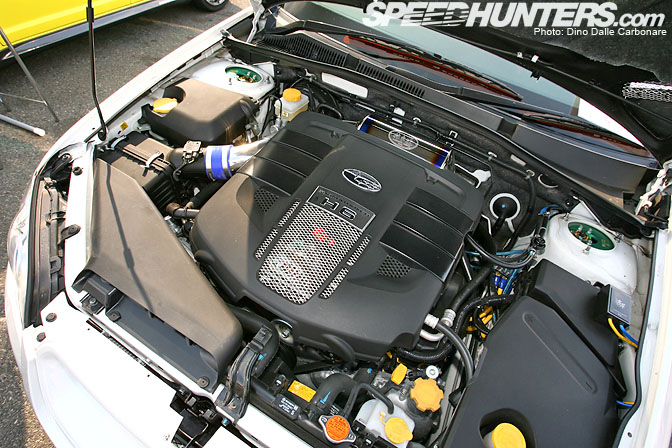 Under the hood the NA flat-six 3L lump, joined by a Kakimoto intake chamber and piping kit. This promises to give increased response and a slight bump in power. This is the same engine that is fitted to my Legacy Wagon hence the my interest in this demo car. It's not often you see the EZ30 fettled with.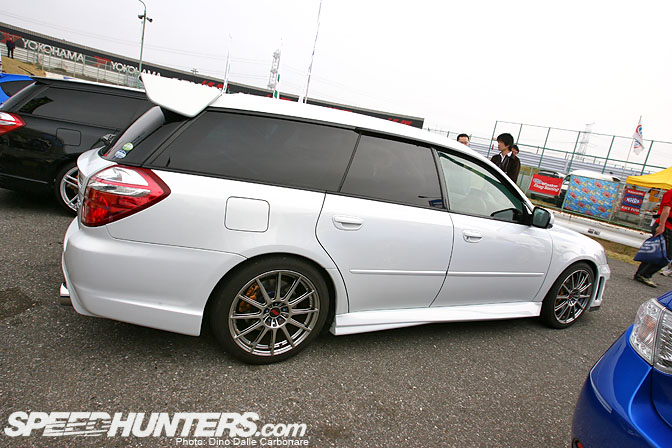 Burn-up's STi Legacy was spiced up with chunkier skirts and a massive roof spoiler. After six years the Legacy Wagon still looks pretty damn good. I can't wait to see what the new one will look like up close, it seems to be a bit awkward in the pictures Subaru have released.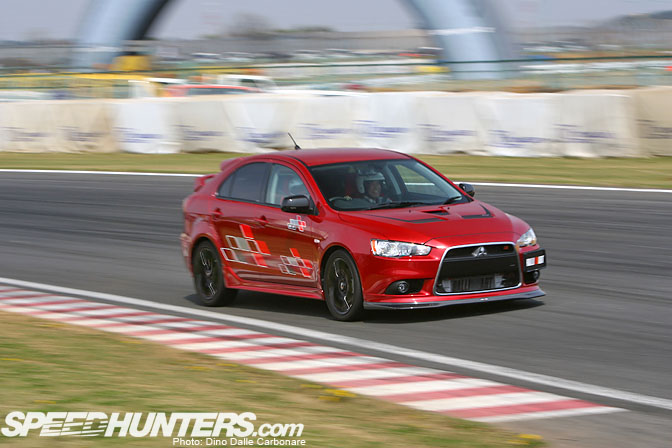 What was I saying about awkward? This is the hatchback version of the JDM Galant Fortis, the Sportback. Not sure what else to say so I will move along quietly…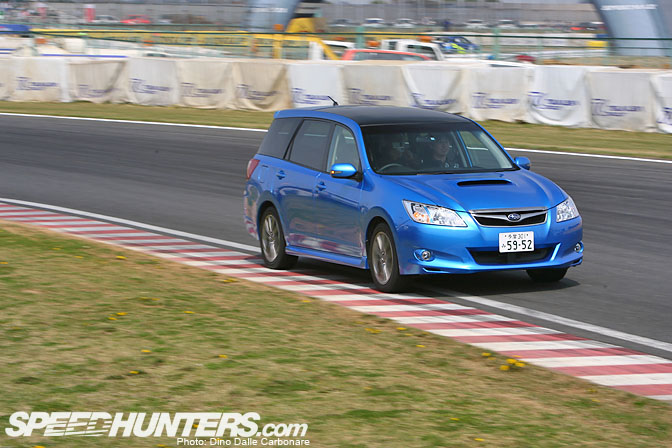 …to the Subaru Exiga. I drove this car around for a week back when it came out last summer and it is a pretty good car. For now it remains on sale only in Japan but it's practicality, coupled with its affordable pricing would make it a success in most markets. The 250PS 2L turbo from the Impreza S-GT (WRX outside Japan) is powerful, torquey and economical. What else would you want from a family wagon come minivan? Oh yes, a manual transmission would be nice!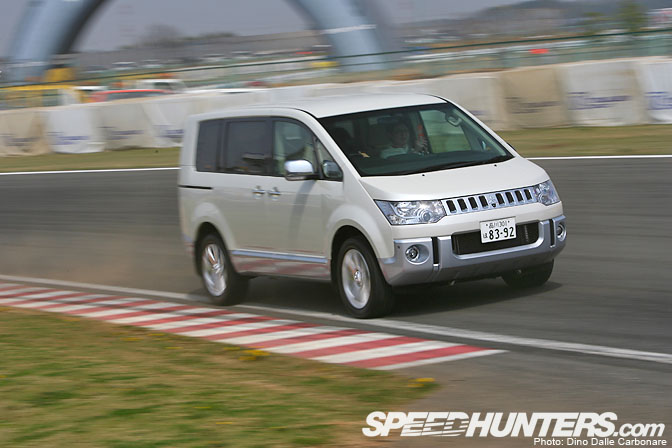 This Mitsubishi Delica D5 is what lucky Rev Speed Magazine competition winners were driven around in during the drift and race/rally car exhibition. The big AWD van has nothing in common with the tough-looking previous generation Delica, that really had character, this, well ehm it looks comfortable. Must have great visibility up there. There is one more post coming from the Hyper Meeting so stay tuned for more!
Dino Dalle Carbonare