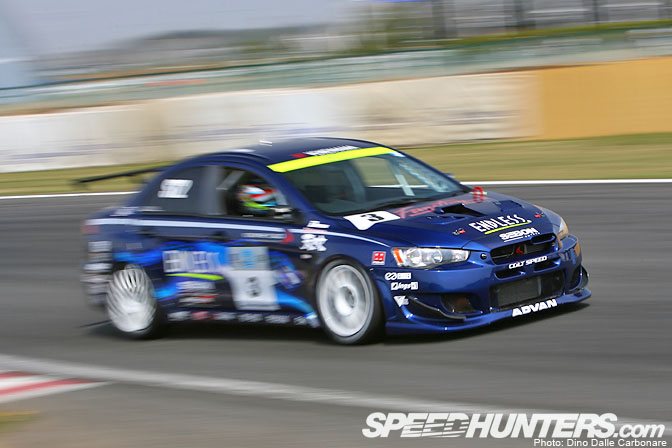 If there is something I really like about the Hyper Meeting it has to be the mix of race cars the organizers throw into the event. As an opening shot I chose this action snap of the Super Taikyu (ST) Team Endless EvoX, flying past me just before the main in-field hairpin.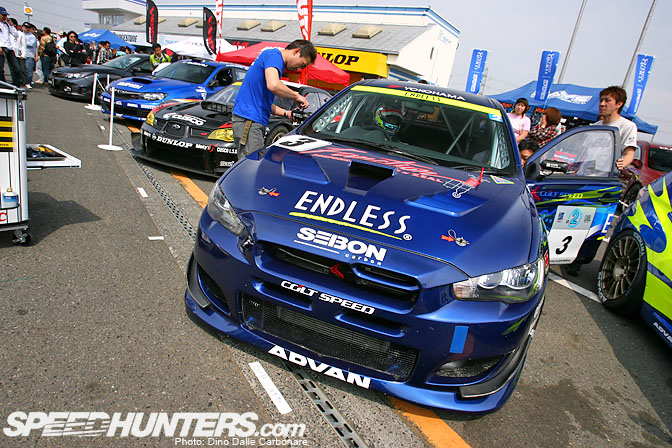 ST regulations dictate that the cars need to stay in a pretty "stock" state of tune, so it's all about fine tuning. The Evo's chassis is stiffened up with a beefy looking roll-cage, while the interior is all stripped out. Engine modifications are minimal with improvements done to the exhaust and intakes as well as some ECU tuning. Zeal dampers and an Endless monoblock brake kit exploit to the fullest the extra grip provided by the Advan slicks. I really like how the body is more aggressive but uses parts one could fit to a road going CZ4A!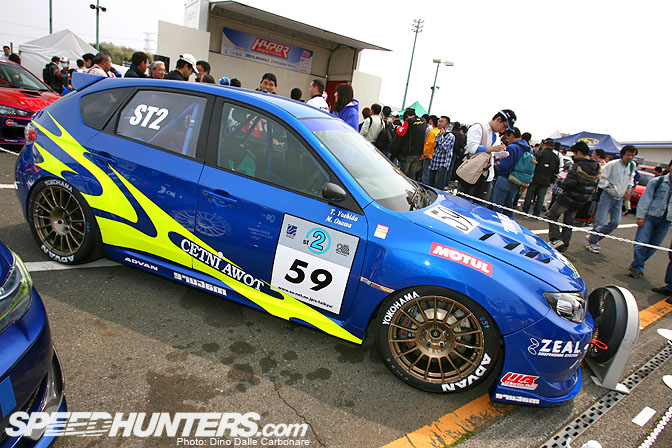 Same goes for the ST Towa Intec Impreza STi, which sports an upgraded front bumper and vented hood.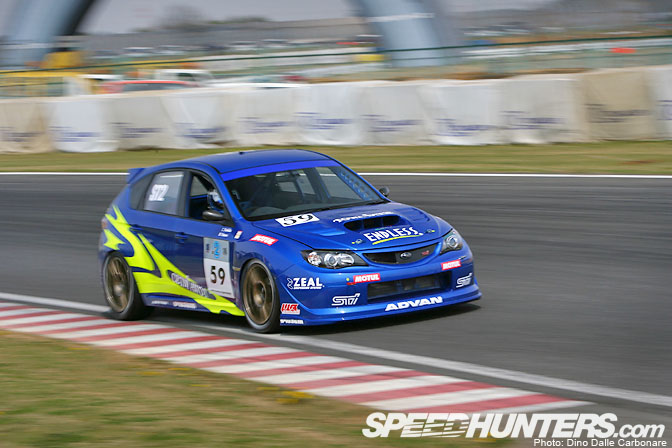 Here it is during the exhibition on track. Unfortunately these ST cars weren't going for times, but it would have been interesting to see how they would compare against tuner demo cars. Would the lack of power but higher grip from the slicks even out their performance?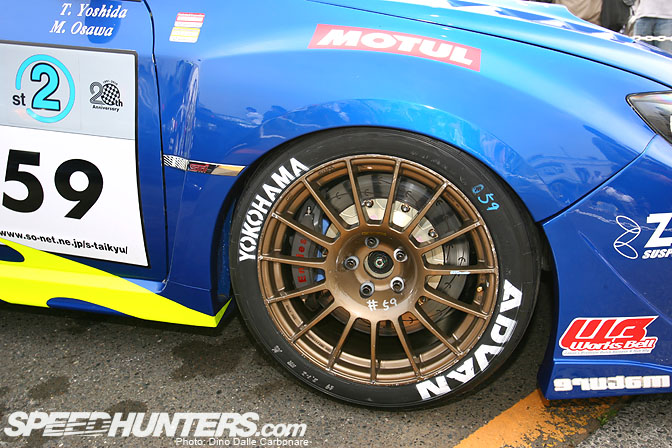 Here is a close up of the Endless 6-pot monoblock caliper and the E-slotted 2-piece rotors. Endless took over four years to develop these brakes, and they have come up with an amazing product. One of those front calipers weighs just 2.9 kg, which helps shave off a lot of unsprung mass.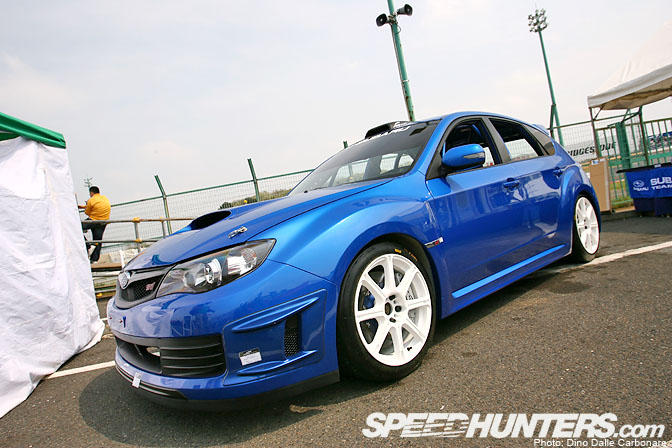 One of my favorite Impreza's of the day was this GRB from Arai Motorsport, the company set up by Japanese rally driver Toshi Arai. Looks so sedate with its almost stock body and white Work Emotion XC8's.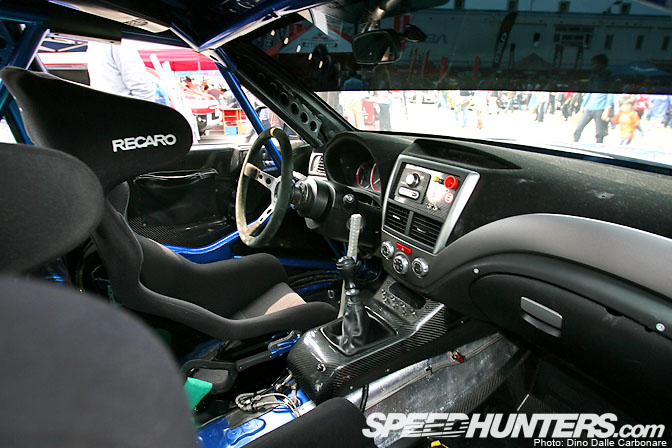 But inside it's pure rally car with a FIA approved roll cage, carbon center console, flocked dash and an hydraulic handbrake!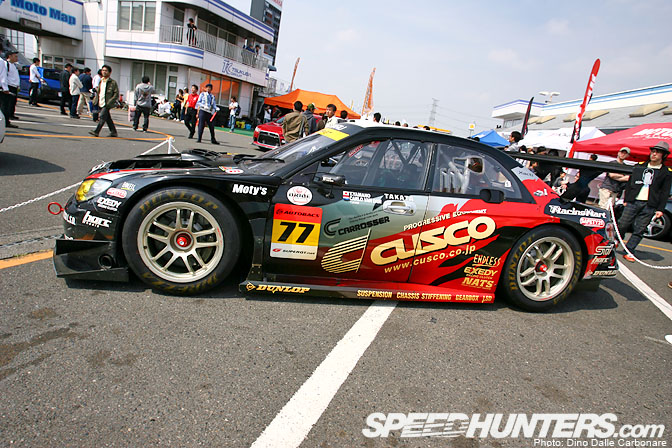 Here is a blast from the past, the Super GT GT300 Cusco racer. I have seen this car in action at Motegi and Fuji and have always thought it was one of the best looking cars in the series.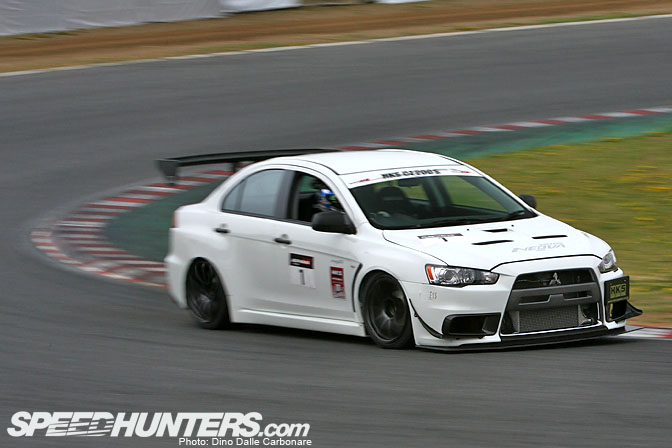 One of the most anticipated tuner cars at Tuskuba was the HKS CZ200S Evo X, driven by NOB Taniguchi. It managed a very quick 59"589 lap which is just shy of its 59"495 record. It was the third fastest car of the day just behind the JUN Evo X.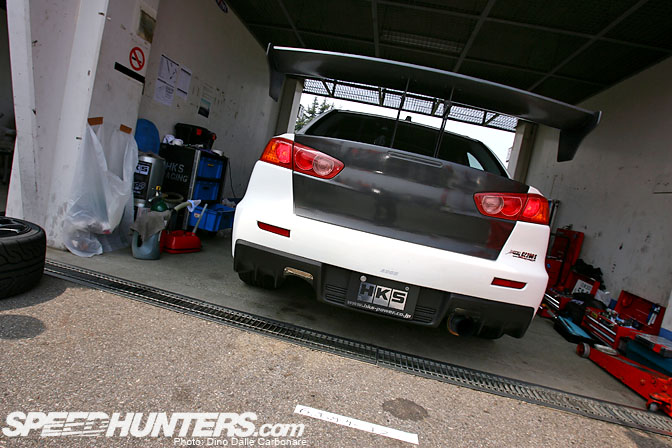 Since the last time it was seen at the HKS Premium day it has dumped the Esprit dry carbon GT wing for a one-off dry carbon monster of a spoiler made by HKS. The trunk is also dry carbon. Expect to see more HKS products for the 4B11 in the course of this year.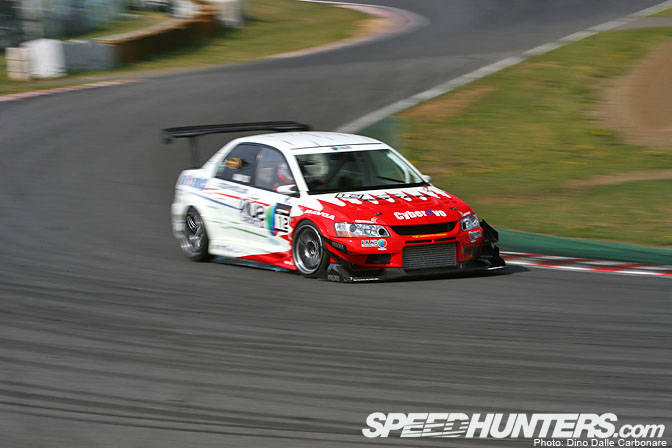 Seems whatever event the CT9A Unlimited Works/Cyber Evo participates in, it absolutely kills the competition. It was by far the fastest car of the day with a 57"346 lap, proving that the newer Evo X has quite a long way to before it can catch up with the previous generation cars. However I need to mention one thing, both the Cyber Evo and JUN Evo X were running on semi-slicks, while HKS were using Advan Neova AD08, a high-performance street radial. Had HKS opted for some A050 I'm sure they would have been well into the 58-sec bracket.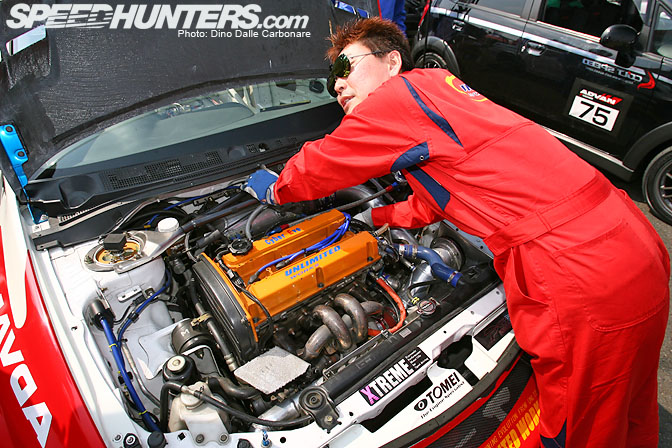 Here is Sato-san of Unlimited Works looking over the 4G63 powering the Cyber Evo.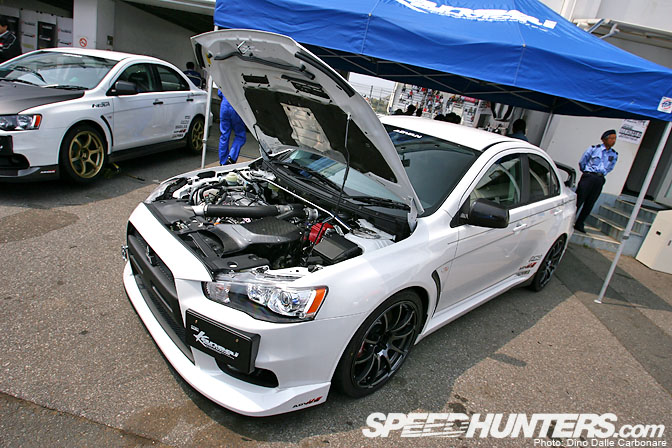 HKS Kansai Service put down a 1'01"590 lap with their fully street-legal CZ4A, sporting only boost up modifications, proving that these Evo X's are getting faster and faster.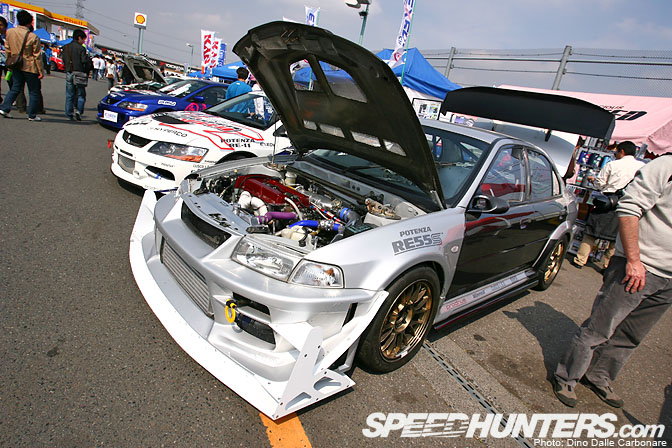 Although it didn't run, the stripped-out time-attack Evo 6 built by Bozz Speed was attracting a lot of attention. Hisada-san told us that he built the car for a customer and will be returning to Tsukuba this week to set it up and put down some times. His Evo 9 (next to the Evo 6) did a good job of going under the 1-minute barrier recording a 59"787 lap, again a street tuned car.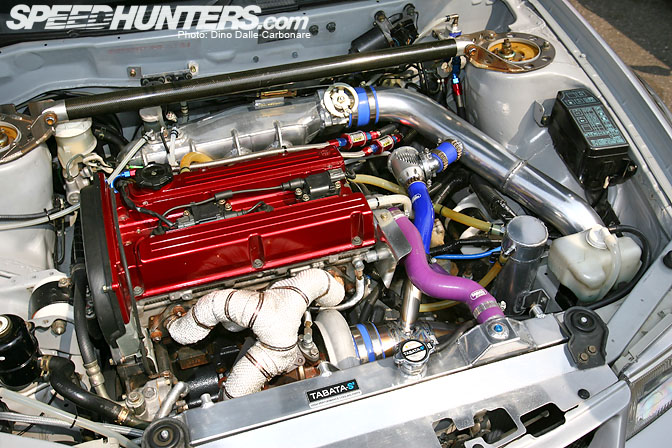 Here is the fully rebuilt 4G63 in the Bozz Speed Evo 6. You can tell from the wrapped headers that the car hasn't run much!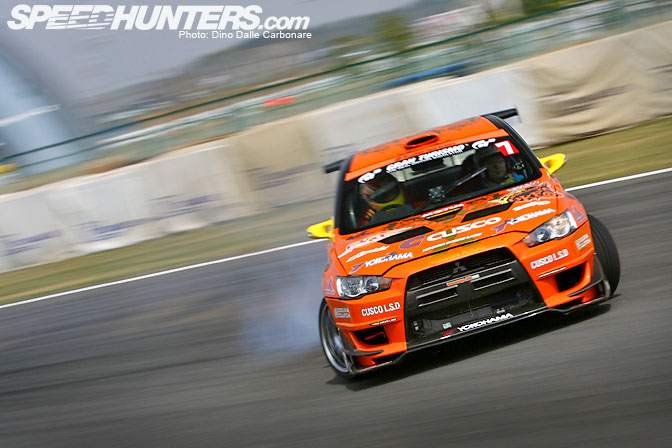 I promised some more drifting shots from Sunday and here they are. Tsukuba has to be the best circuit for drifting, I love how you can get full head-on shots of the cars as they head down to the main hairpin, totally sideways with full-lock dialed in. This is Kumakubo taking a very scared looking passenger for a ride!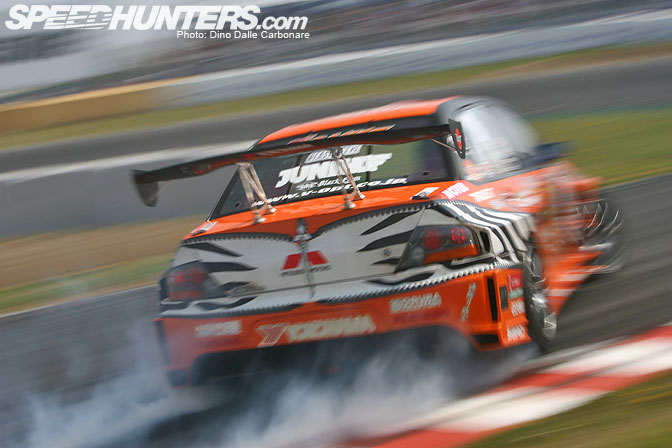 Rear shot of Suenaga as he lifts-off and enters the corner with a pull of the handbrake.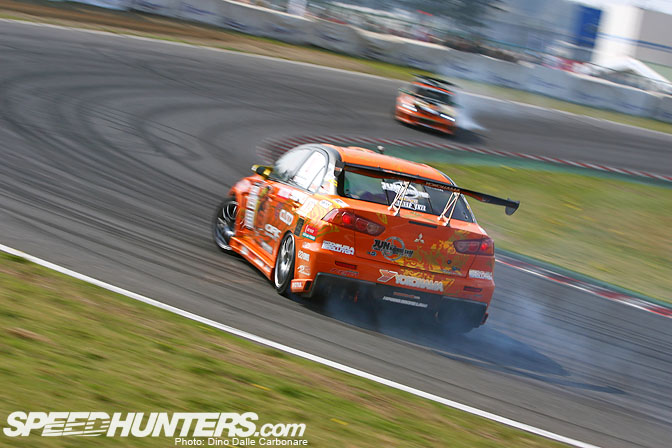 How is this for showmanship! Kumakubo and Tanaka drifting towards each other, coming from opposite directions. They met in the middle and kept drifting out of the corner! More from Tsukuba soon with a look at some other cars from the Hyper Meeting.
Dino Dalle Carbonare