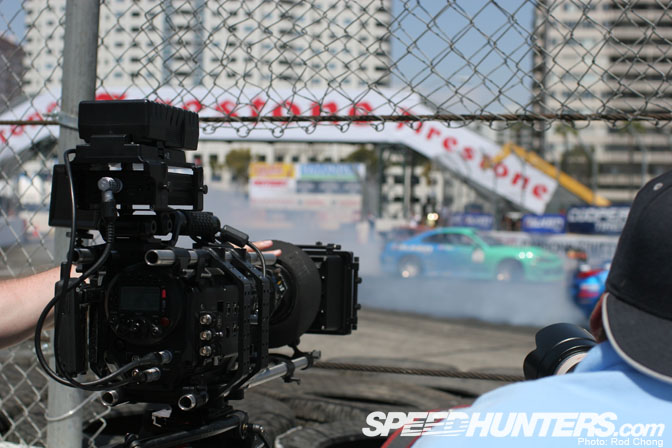 Boy I'm tired… I've been shooting photos non-stop since the Formula D event, and haven't had a moment to sit down to get any stories prepped for the site… Let's see here: on Sunday, Linhbergh and I went to El Mirage with the NFS Shelby Terlingua for an impromptu shoot, yesterday I shot at both the Twins Turbo and SO-CAL Speed Shops and then today it was a tour of Chris Rado's shop… Anyway, time to get some writing done before we get busy for the Long Beach GP setup.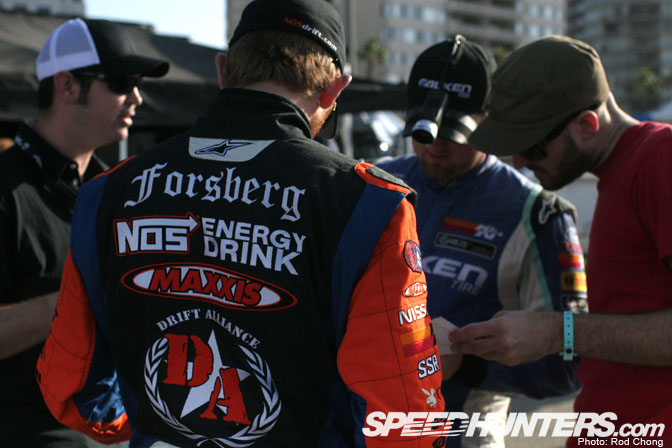 This past weekend, at Formula Drift Long Beach, my main focus was the
production of a new film project that Need for Speed and Speedhunters
are doing with four different racing drivers….
The first driver we are focusing on is Vaughn Gittin JR, together with his new Mustang drift car. We had him wired up with this prototype HD POV camera most of the weekend…. You could call it base-ball-cap-cam…. we also did something similar with his race helmet too.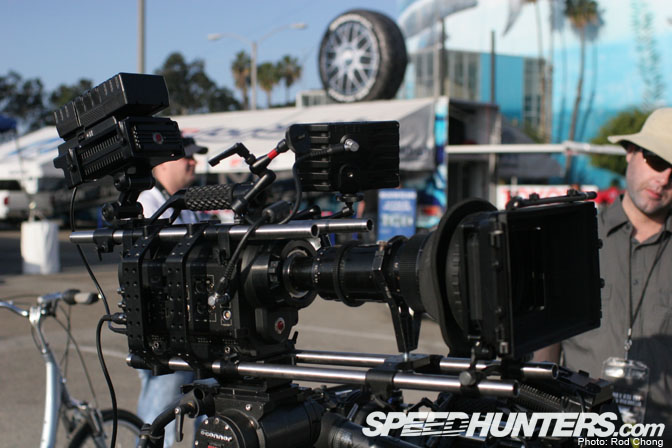 We also brought out some serious fire-power on the HD camera front: two of these Red Cameras…. they shoot 120 fps, which is going to net some seriously intense super-slow motion footage… you know how much I love slow motion drift footage…. (however pointless hahaha)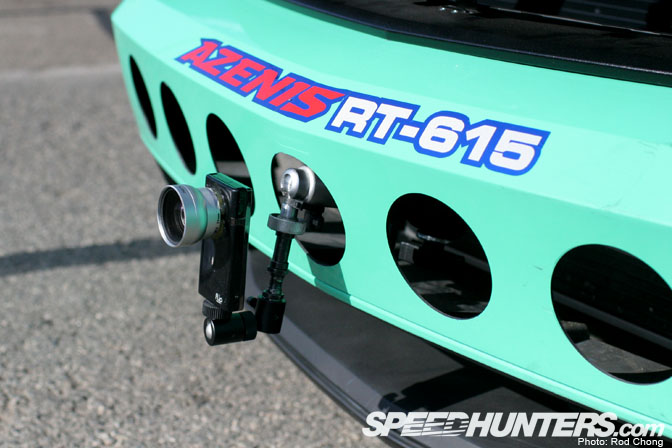 Here is another cool camera setup… the film production company had a stack of these solid state Flip-Cams which they mounted all over JR's car. I think we had around 4-5 of these things covering Vaughn's machine for some of his runs.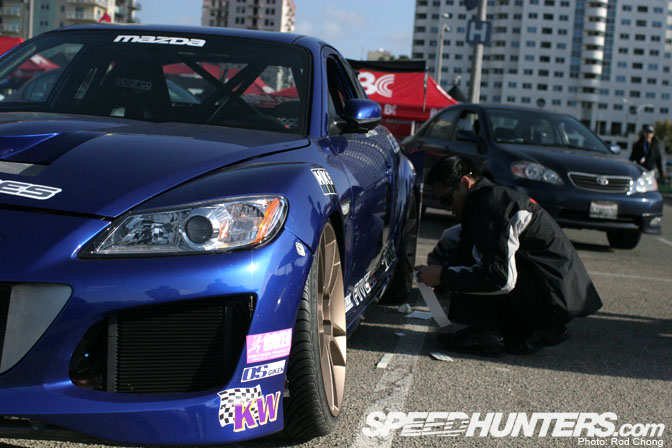 I was really quite impressed with the new Bergenholtz Racing RX8. The team was just getting the car ready for its public debut as I shot these snaps.  You can see them putting stickers on to the fresh paint…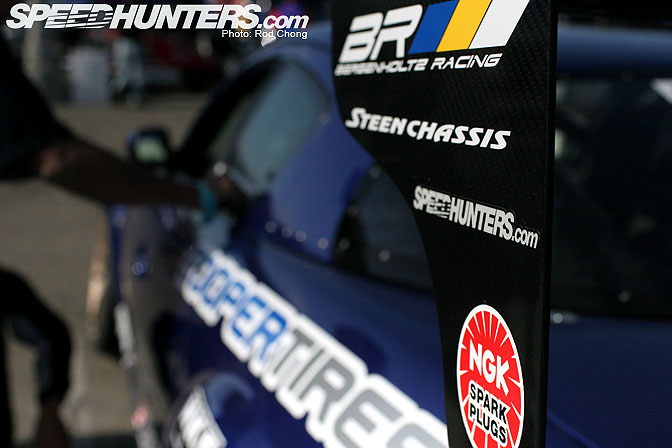 It was a good moment for me to pass Ron Bergenholtz some Speedhunters stickers!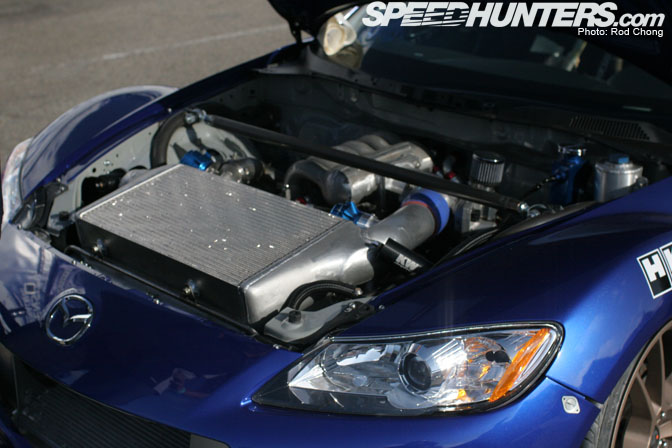 The fabrication and design on the car is second-to-none. You really have to hand it to the drag racing teams in Formula Drift: they have amazing race car design and fabrication skills!
Ron Bergenholtz said they'd start the car out with around 550 bhp and go up from there… it's capable of a putting out quite a lot more power if needed.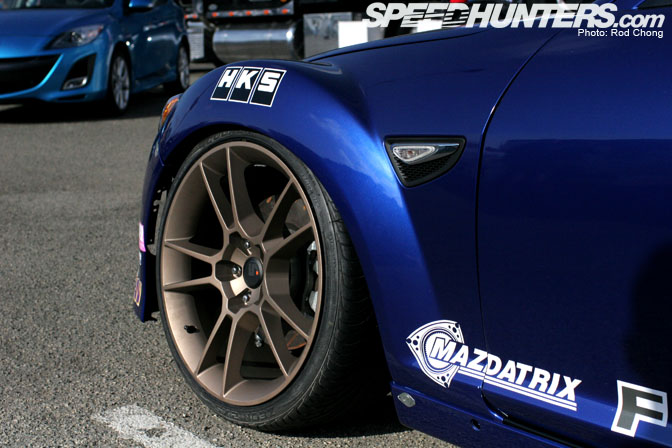 One thing that makes this car stand out for me, is just how low it sits compared to a lot of other Formula D cars. From what I can tell, there are a few different philosophies in FD surrounding the height of a car's center of gravity. A lot of teams are going for a higher CG to allow the car to roll and transfer weight. Bergenholtz are doing the opposite, with a low slung machine.
It uses custom front hubs to allow for a low ride height while maintaining optimal suspension geometry.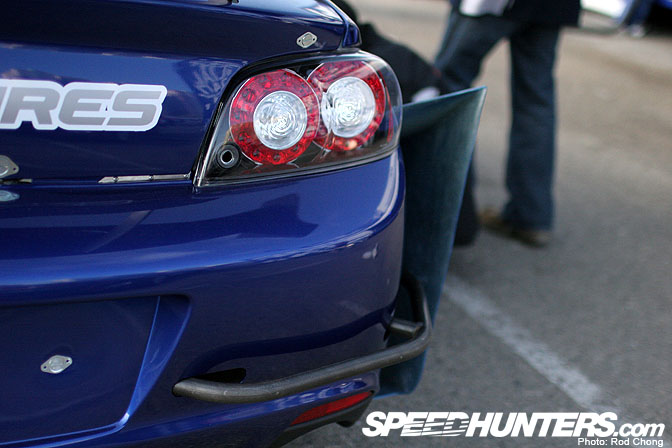 Here's the big secret Antonio was hinting at in his preview of this car: Shock absorbing rear nerf bars. This should allow Justin Pawlak to rub up against barriers (within reason) without the car getting damaged or sucked into the wall. It's an interesting and innovative concept.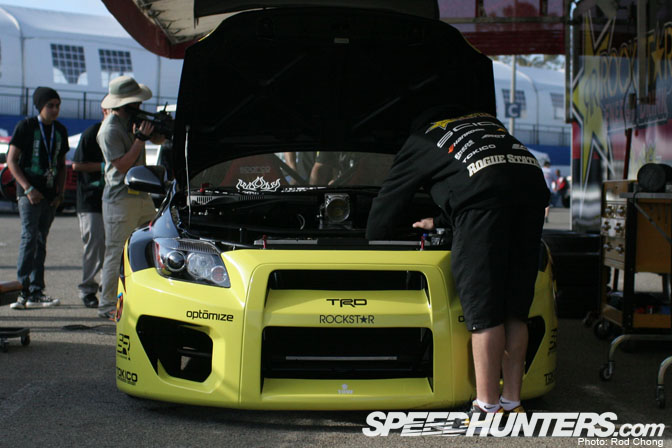 I was also curious to have a look at the new Papadakis Racing creation. The car looked rather impressive on track for such a new machine.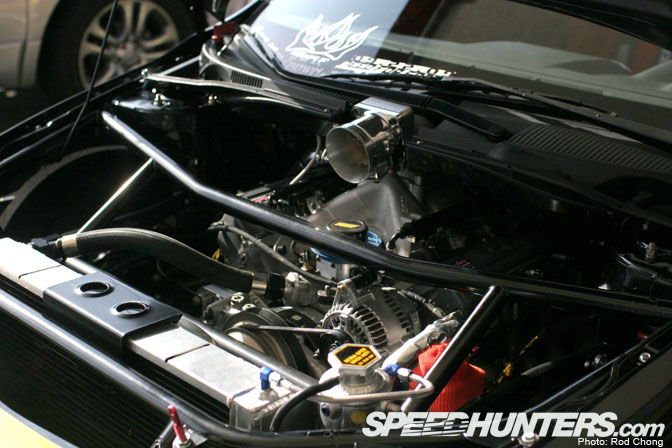 Here's a look at the engine installation and the NASCAR TRD engine. The Scion is quite a radical build, but it certainly works straight out of the box.
I'm sure some of you will be alarmed by the site of a V8 engine in a Scion tC, but personally I am deeply saddened that Stefan has hidden our Need for Speed logo underneath his windshield wiper….. hmmm….. ;>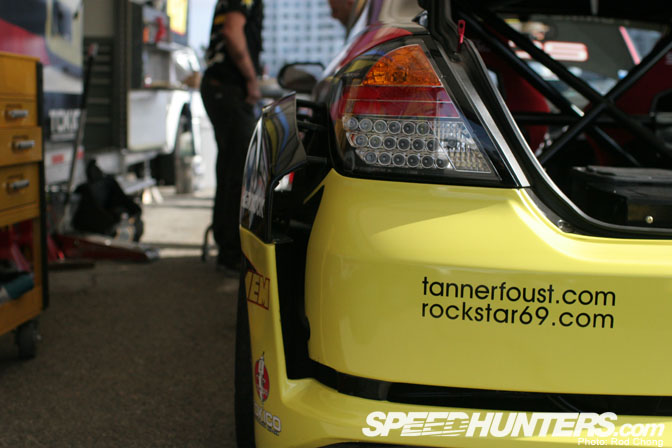 Moving around to the back of the car, I thought you'd like to have a look at the wide body setup… look at the gap between the body and the fender.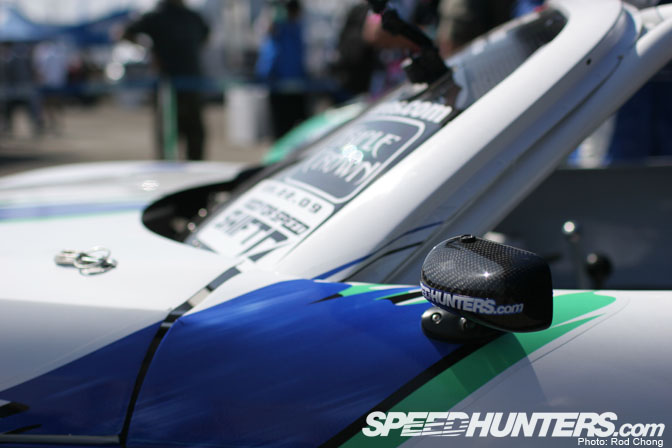 Now this is how you represent!… Speedhunters FTW!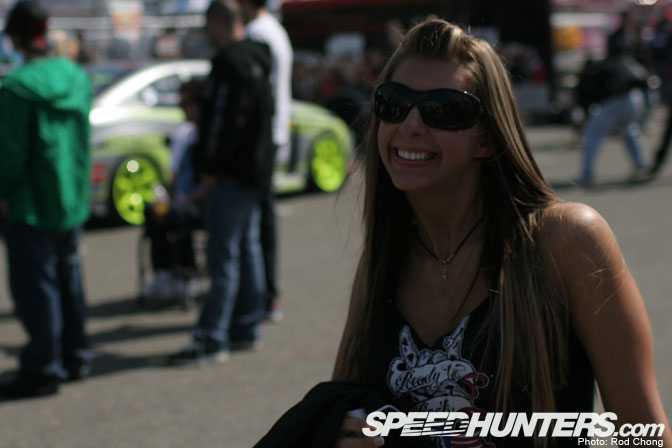 Hey Abigail!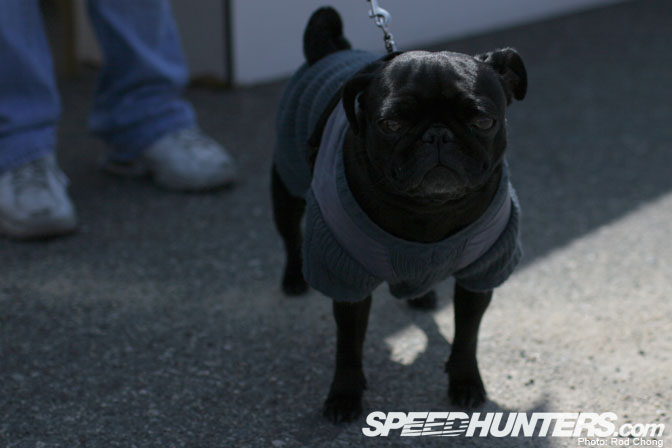 I'm not sure this little guy was enjoying the sound of the screaming race engines too much…. Sure is cute though.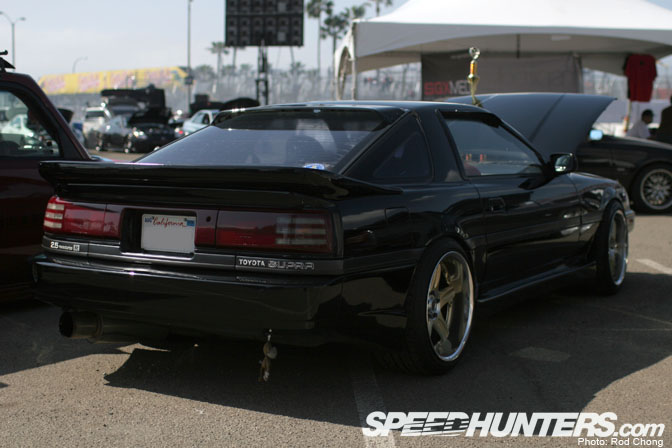 I had a quick look at the JTuned show a few hours before the gates opened… This Supra really caught my attention….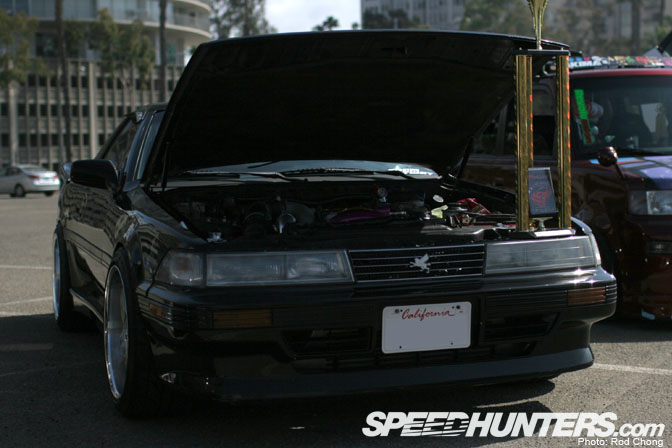 Mostly because the front end has been converted to a Soarer face… very cool idea! Should we call it a Soarpra?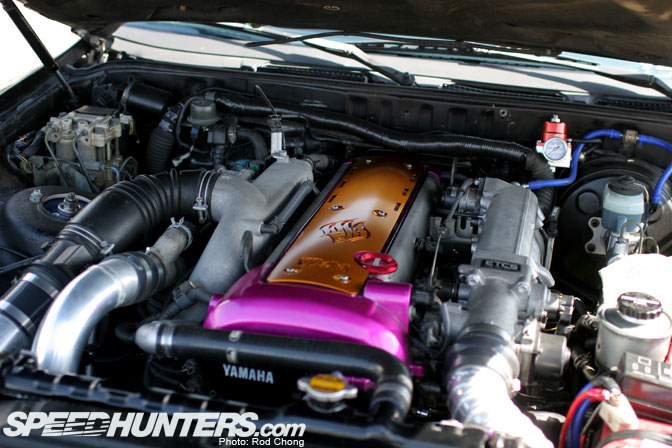 The engine was pretty clean too.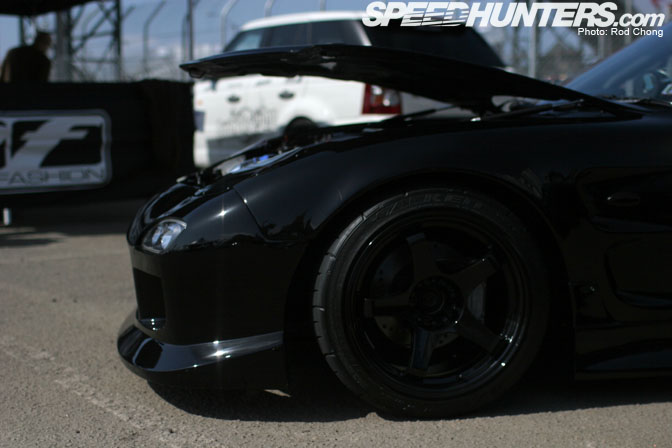 Another show favourite was this exceptionally shiny FD: The black surface looks like liquid night…. BTW Linhbergh is talking about shooting this car so hopefully we'll see it featured in full Lin-Vision ™ very soon.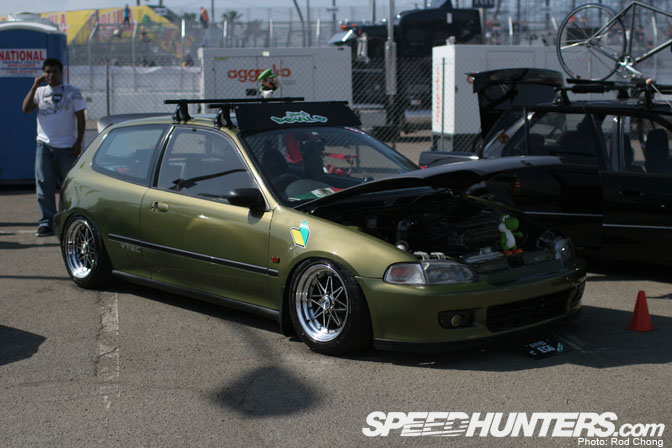 I liked the overall style of this Civic… I was later talking to Linhbergh about this car but he said the wheels are not legit? Can you tell from this shot?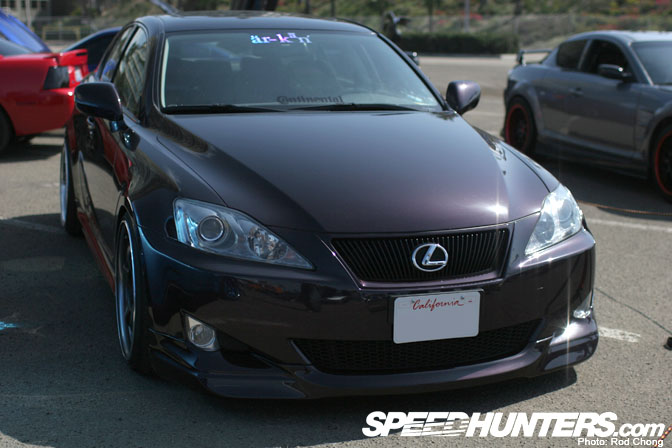 Another fav was this clean IS.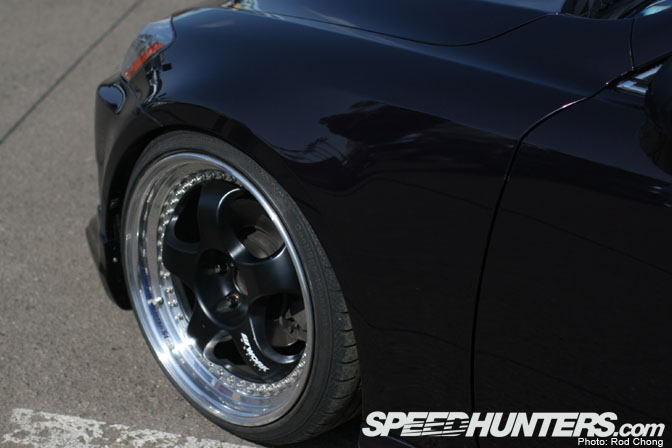 No nonsense: good wheels, and good stance… that's a recipe for success in my books.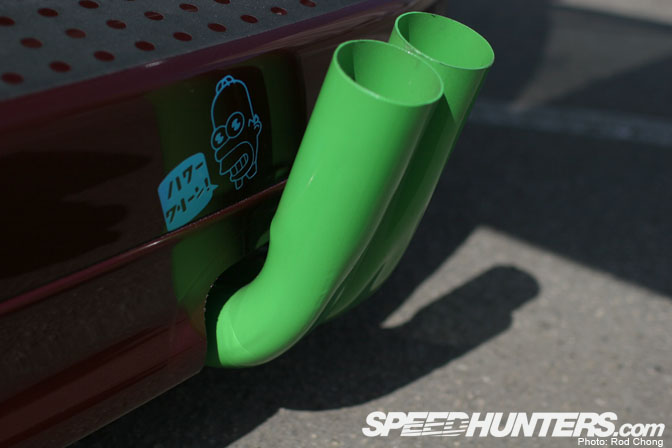 Hmmmm… I wonder what Homer is saying there….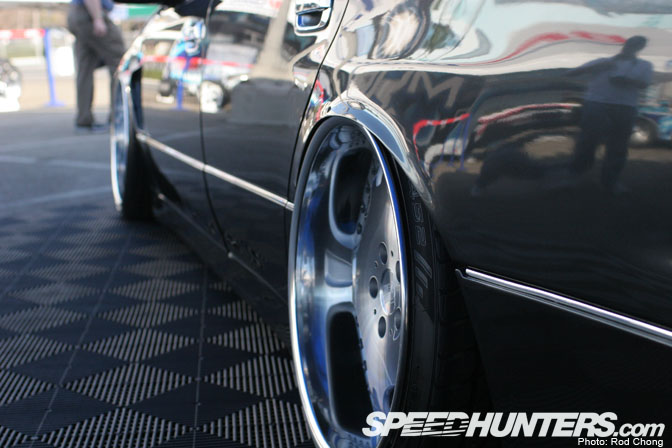 The winner for top wheel setup of the day went to the Lexus at the Falken trailer. As they say in NorCal: Hell-a-Flush….
:R