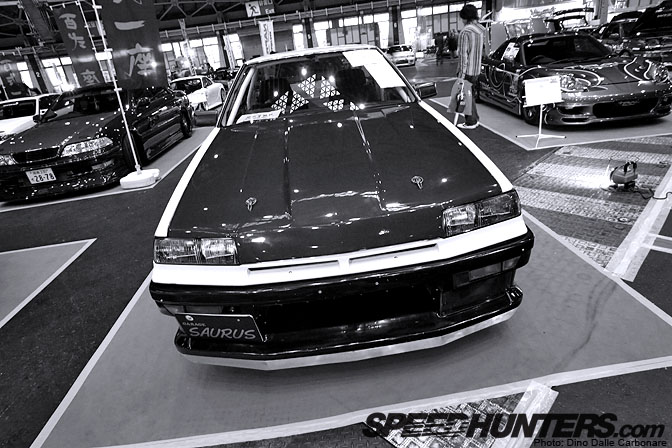 Here is another selection of wild rides from the Exciting Car Showdown. The black & white opening shot above is of the Saurus DR30 Skyline, winner of the JDDA 10-second class. This car comes from an era before the RB-series of engines, so it is powered by the old FJ20DET 4-cylinder lump. It has been stroked to 2.4L via an OS Giken kit and is blown by a Trust T88-33D-15 turbine, which allows it to develop an impressive 756 PS and a healthy 82 kgm of torque at a pretty high 6,050 rpm. As you can imagine this car is pretty fast in a straight line, recording a 330 km/h top speed on a recent Option Magazine story (may-2009 issue).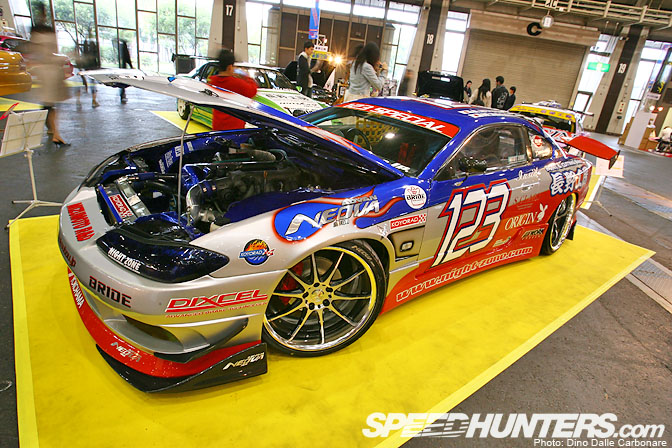 From the R30 onto something a little more modern, the "Wild & Low Wild Chop Top" S15 Silvia (it's mouthful isn't it!). The front windscreen remains the same size but the pillars have been bent backwards to create the new roofline, while a good portion of metal was cut away to connect the whole thing up.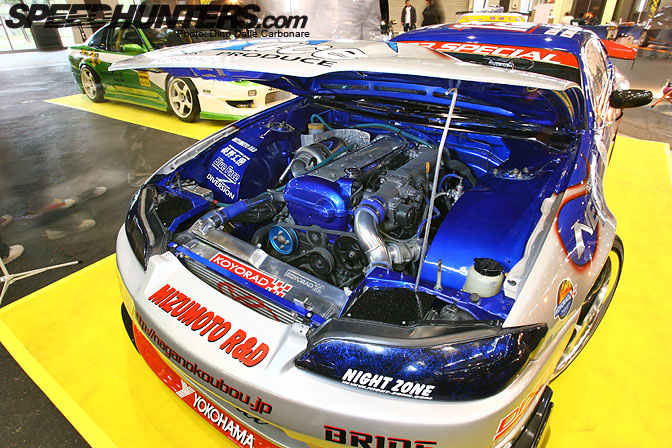 On top of the chopped roof, this S15 puts down 600 PS to the rear wheels thanks to the 1JZ swap!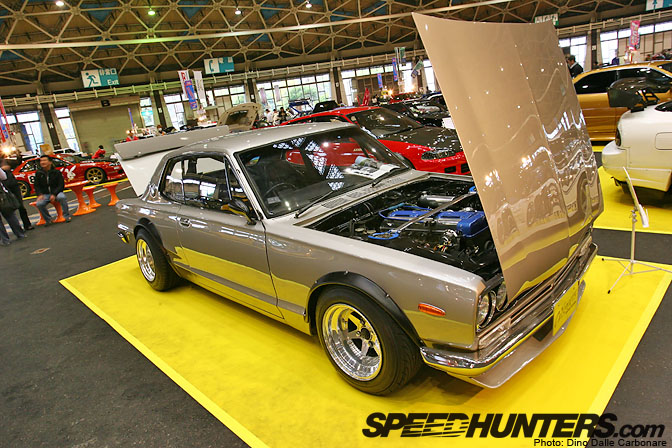 And on the subject of engine swaps check out this KGC10 Hakosuka built by the guys at C&Y.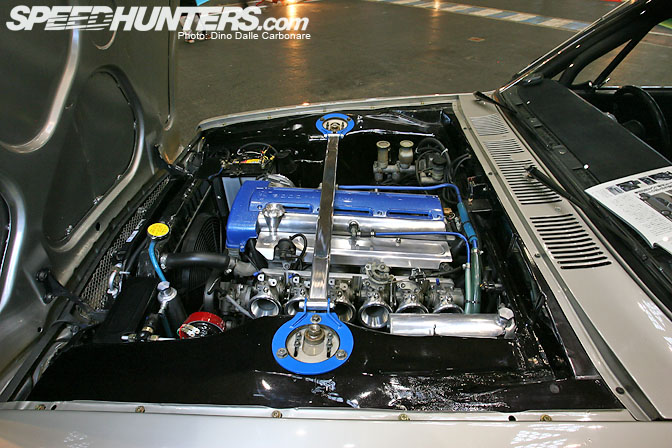 The super-clean exterior is complimented by an impressive engine conversion, thanks to an individually throttled 2JZ-GE pushing out 230 PS. This build is all about character and with this NA 2JZ this Skyline must have plenty of it. Another to add to "must-hear list!"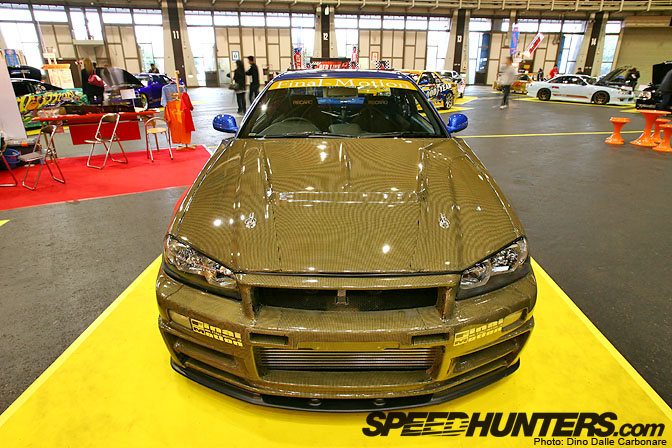 Being an R34 owner I had to post some pictures of the mighty GT-R, and this one from Final Motion was looking very special with its carbon-Kevlar front end. Thanks to Tomei internals and a TD07 turbine this san-yon was built for response, but still manages to put out 630 PS. You can't see it in this picture, but it also sports a side-exit wastegate dump-pipe, not exactly road-legal…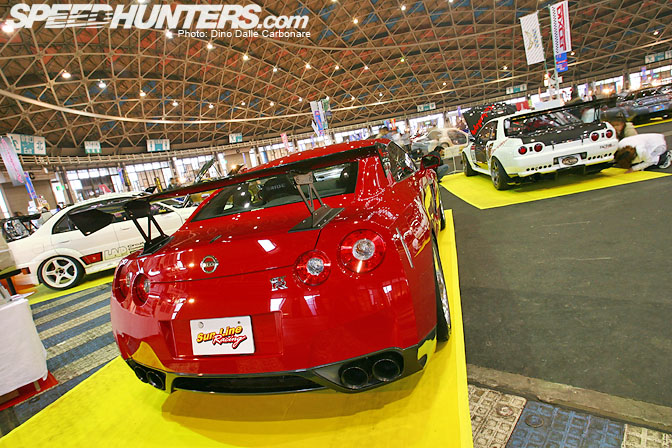 There were plenty of new GT-Rs too, and I'm happy to see that the aftermarket for the R35 is growing steadily. This is the Sunline Racing demo car fitted with their new carbon GT-wing.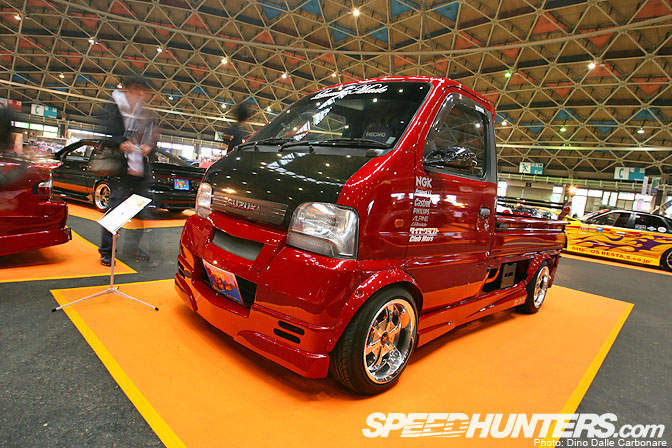 Now don't laugh at this drift-spec Suzuki Carry Kei-truck that was on display in the Drift Tengoku area. Seriously! The owner and builder of this contraption has the right idea, as being a pick up there is hardly any weight over the rear wheels, perfect to get the tail out. To make sure there is enough power on tap the little K6A engine has been tuned to develop 100 PS.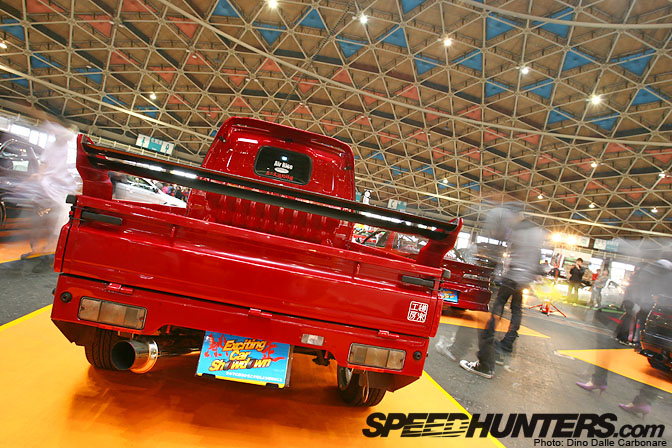 Check out the massive silencer sticking out of the back, and the double wing spoiler. Ok now you can laugh!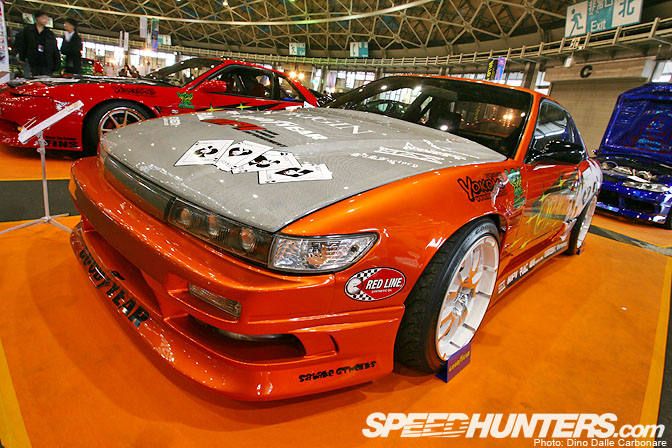 So many cars at the show were painted in candy orange like this Origin S13.  Don't know why, but a drift car in orange, just looks sooo right.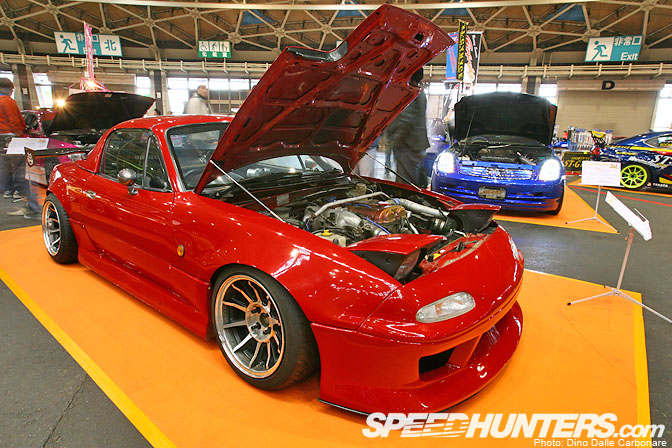 I couldn't keep my eyes off this turbocharged NA6CE Roadster with its ground-hugging aero and low-mounted GT wing.  The 15-inch BigEnd Barrel wheels have a very aggressive offset at the rear, but IMO could be pushed out a bit more up front.  Not often you see a Roadster built for drifting.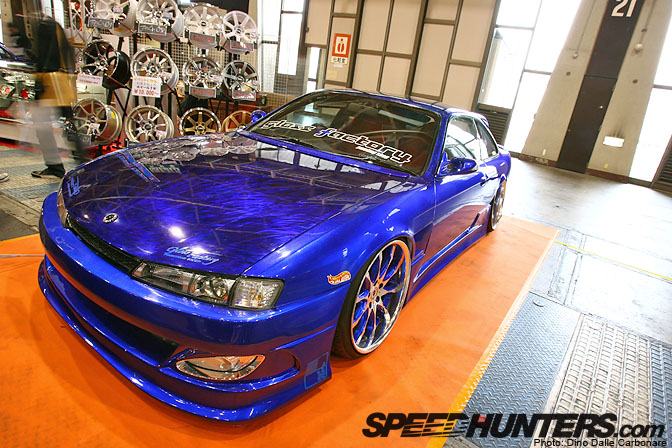 My friend is building an S14.5 and thinking of painting it Bayside Blue.  This one built by Origin and painted by Glass Factory should give him a good idea of how his own Silvia might look.  The marble effect on the hood was pretty impressive.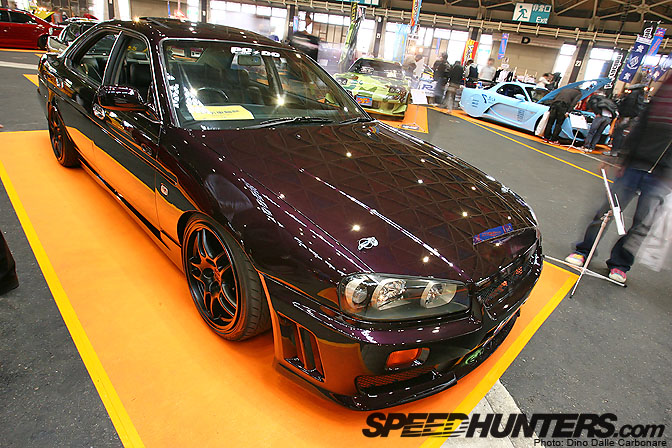 And getting back to conversions, I thought this C35 Laurel looked really cool with an ER34 Skyline front end. Hinting at the Skyline connection is the Midnight Purple II paint job.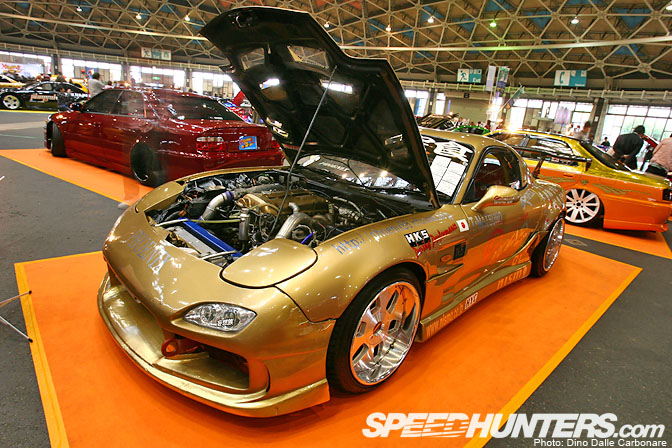 Yep that is an SR20 in an FD3S, probably a lot more reliable than a buzzing Wankel (the rotor heads will kill me for saying that LOL!). This drift RX-7 is built by Real Engineering and Auto Shop Phoenix and was first shown at the 2005 Tokyo Auto Salon.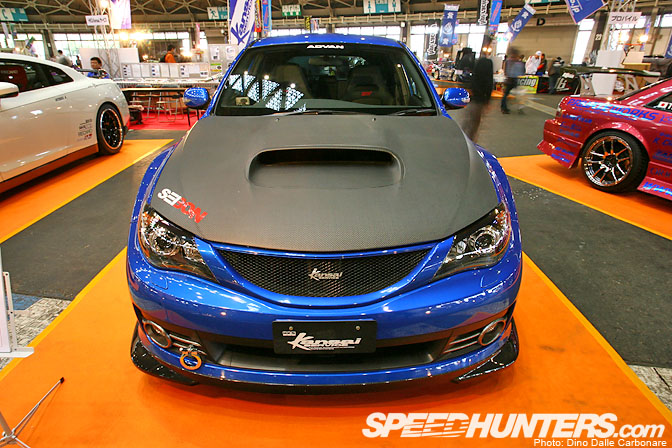 There were some more track oriented cars too at the Exciting Car Showdown like this HKS Kansai Service GRB STi Impreza. Same car we saw in January at TAS, still wearing the matte finish Seibon carbon hood. Looking forward to seeing this thing blasting around Tsukuba at this Sunday's Hyper Challenge. Plenty of action coming from that event soon!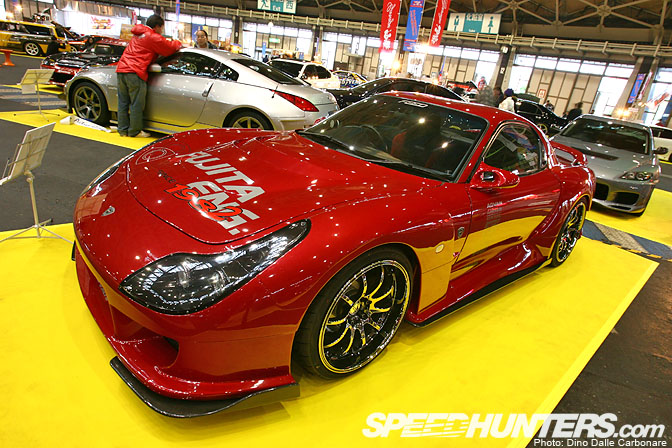 TVR or RX-7? I don't care what people say, but I think this Fujita Engineering FD looks so right with these headlights.  What do you guys think?  FDs look sweet with any light conversion I guess!  Next up, a look at the drift cars from the show, after all April is Drift Month here at Speedunters!
 Dino Dalle Carbonare