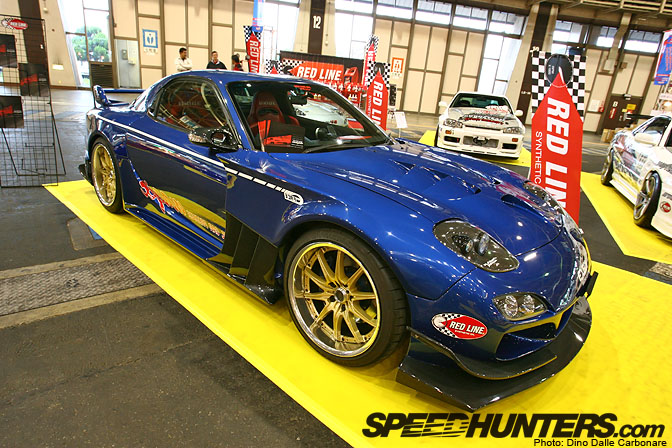 After taking a look at some of the best drift cars from the Exciting Car Show in Nagoya, I think it would have been a sacrilege not to dedicate a post to all the lovely grip-oriented machinery that was on display. First up, the Magic RX-7 on the Red Line Oil stand, which was fitted with their newest wide-body kit. I love how angular the front fenders are and the way they integrate into the side skirts with those three carbon vents. Not sure how road legal the long protruding front lip/diffuser would be, nor those massive canards, but they sure look sweet!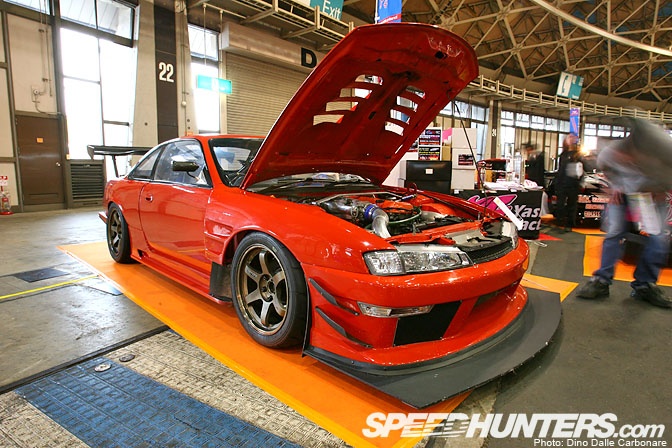 What was I saying about long front diffusers? This time-attack S14 from Yashio Factory is not road registered so there is no problem running that massive carbon chin at the front. The car actually belongs to a customer which has gone pretty crazy with the build.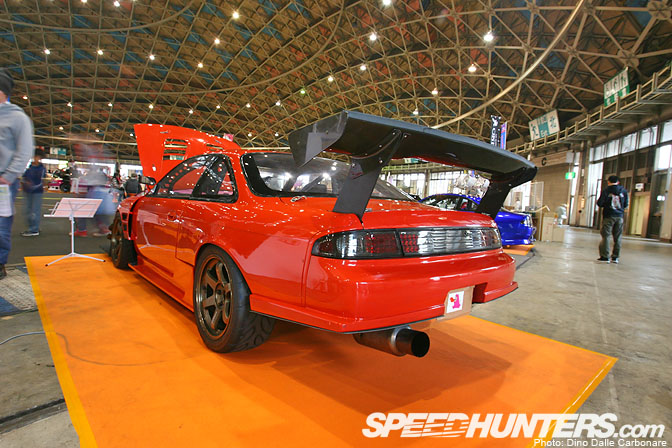 I've seen a few S14s with a cut off rear end like this, not sure what to make of it, looks very interesting to say the least. The carbon wing is actually fixed directly onto the chassis, judging by its size it must generate quite a few kg of downforce at speed.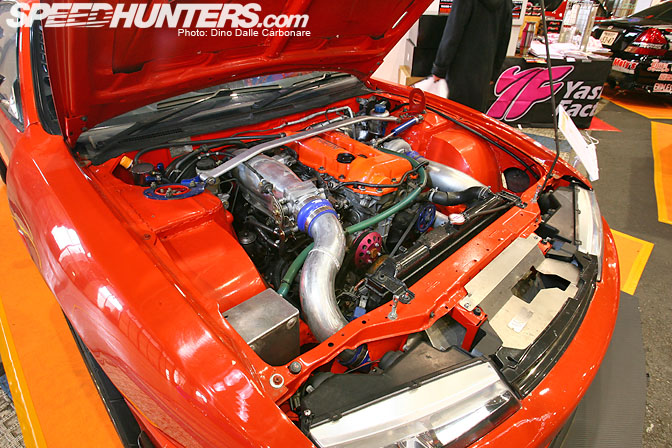 The SR20 develops 534 PS thanks to the HKS GT3037S turbine and is mated to a 6-speed HKS sequential, a gearbox I had the pleasure of trying out once on the Yashio Factory S15.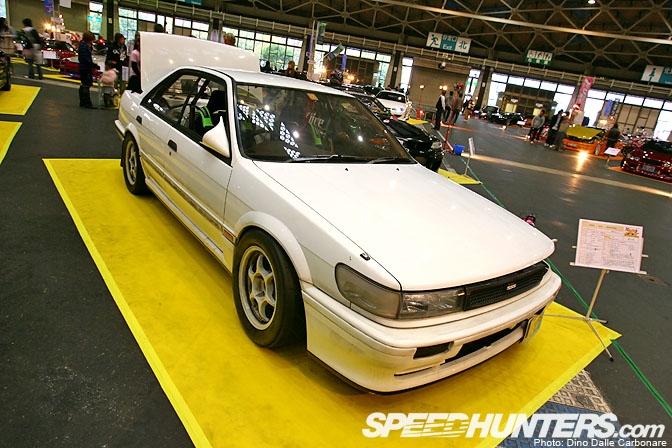 This RNU-12 Bluebird SSS is one car that was probably not getting the attention it deserved. Built by WDG Nishikawa it's sole purpose is to go fast on track and that is just what it does. It has borrowed lots of parts from other cars like the SR20DET, in place of the original CA18DET, R32 Skyline front brakes and aftermarket FC3S side mirrors.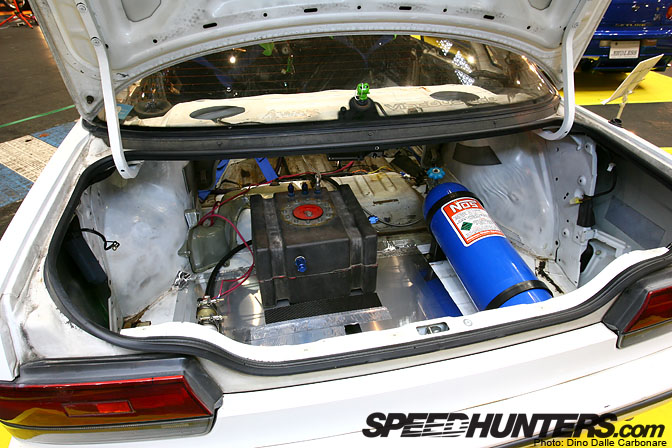 As you can see it has been totally stripped out in the pursuit of lightness, doing away even with the stock gas tank in favor of a tiny 30L race unit.  The 350 PS the SR20 develops can be helped along with an additional 40 PS squirt of NO2. Impul RS and semi-slick rubber are a perfect final touch.
There was hardly any information on this EG-6 but I thought it looked interesting with those weird bug-eyes. Engine is stock but is joined by a straight through 5Zigen exhaust, while the interior is stripped and fitted with a full roll cage. Racing Gear dampers and a Cusco RS LSD make sure it performs well around the track, as well as the odd touge.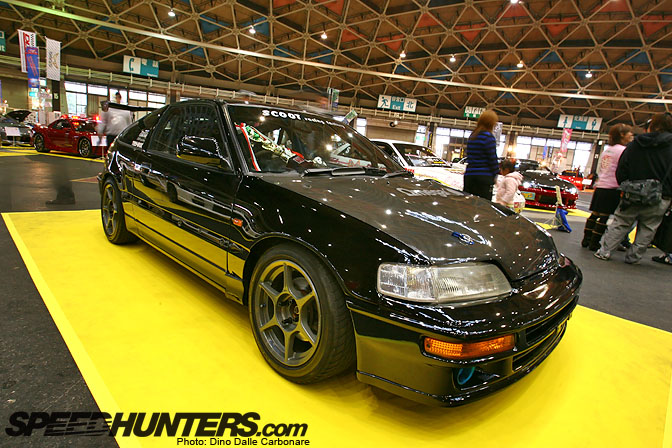 I have always had a soft spot for the EF8 CR-X, and this black example built by Scoot Racing Factory backs up its looks with a tuned 170 PS B16A.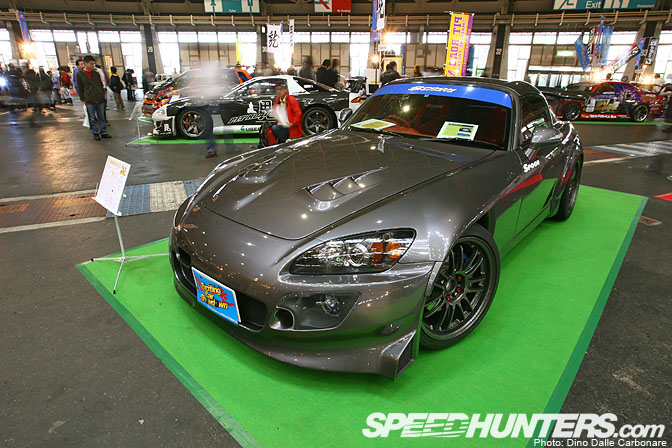 How can we talk about Hondas without showing at least one S2000, so here we go, the Spoon Sports demo car. Not a great fan of the hard-top look myself, but you can't argue with the 280 PS the fully rebuilt and blueprinted 2.2L Spoon F20C cranks out.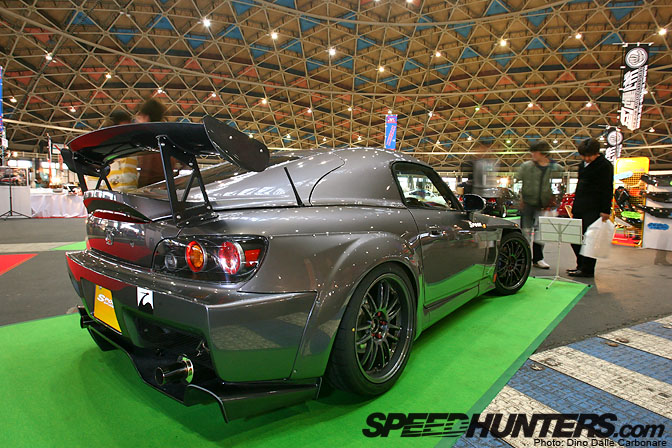 The lip spoiler, the GT wing and a the under diffuser are all there to keep the S2000 planted. Rays Engineering supplied the Volk Racing RE30 which are custom painted in dark metallic silver.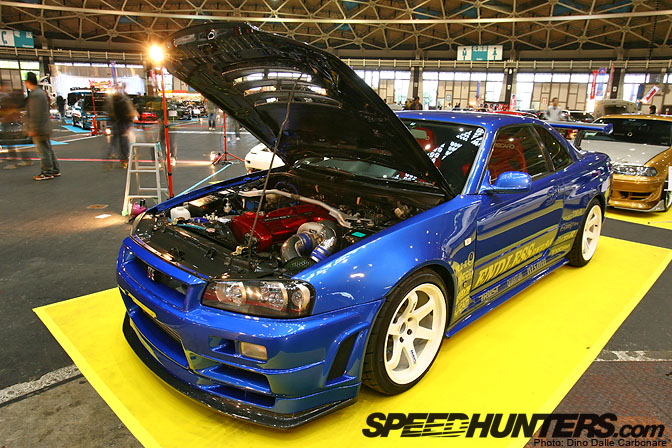 Now this, is what I'm talking about. The Endless built street/track BNR34 above packs a powerful yet responsive engine. The Tomei 2.8 L kit is joined by an HKS V-Cam system and a special Holset/Garrett T90-R turbine for a solid 700 PS. Every time I see the Nismo Z-tune fenders I wonder if I should fit them to my car or not? I have been trying to decide for years now. I simply must have the carbon wing-stays though!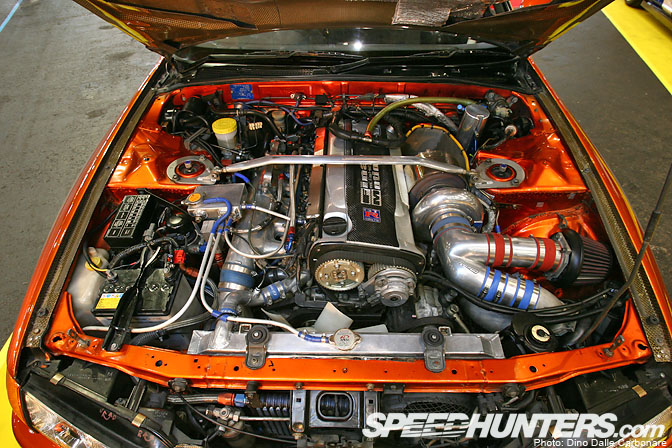 This is the RB27 in the Final Motion orange R32. Someone made a comment about wanting to see the engine in it, so here you go. Enjoy.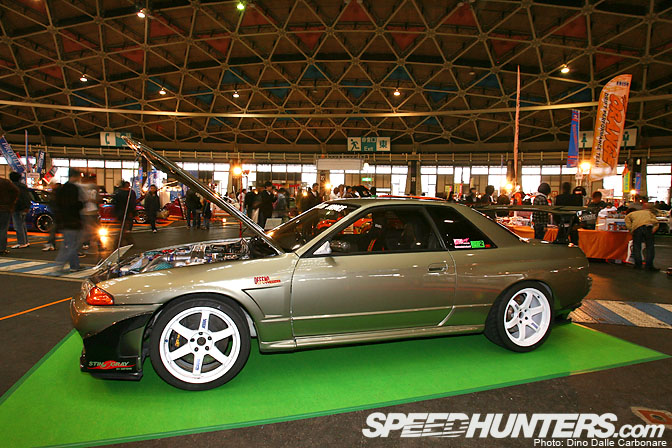 As much as I love the BNR34 I'm also a sucker for the 32s. This Garage Defend example was painted in the same Millennium Jade color as the "Nür" limited edition 34s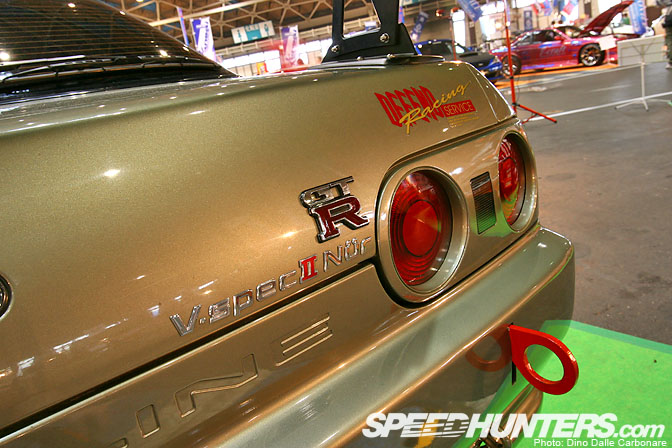 Which is why it was wearing a V-specII Nür badge I guess!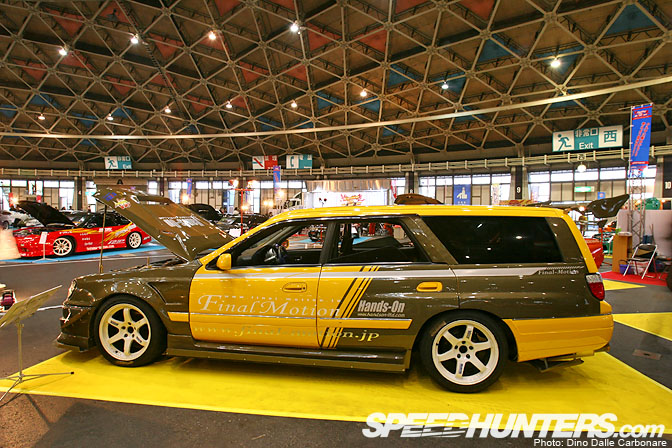 The carbon-Kevlar crazy people at Final Motion had so many cool cars on show like this M34 Stagea 260RS which was set-up for track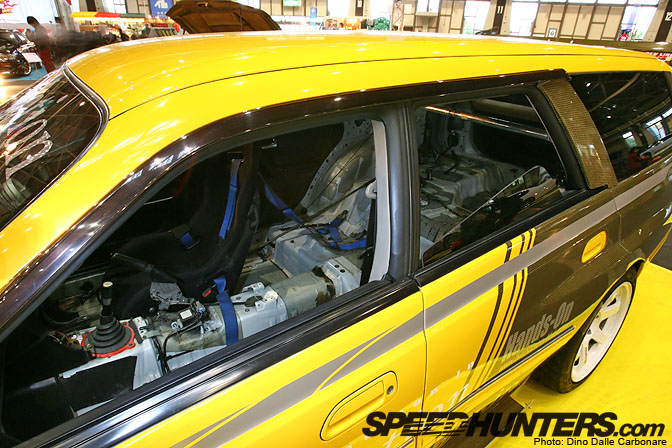 Which meant a tuned RB26 and a fully stripped interior. Not often you see gutted station wagons, looks a bit weird!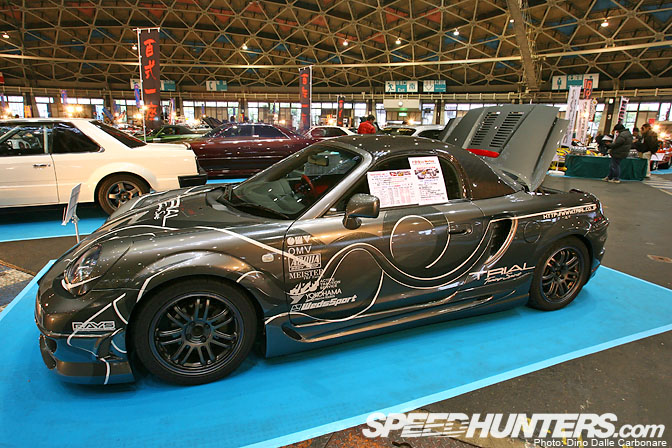 A lot of you spotted the Trial ZZW30 in the background of some other shots, so I had to post at least one picture to keep everyone happy. The Tryforce body kit and WedsSport SA-97F certainly give it an aggressive stance but the 1ZZ has been left untouched so it still produces around 160 PS.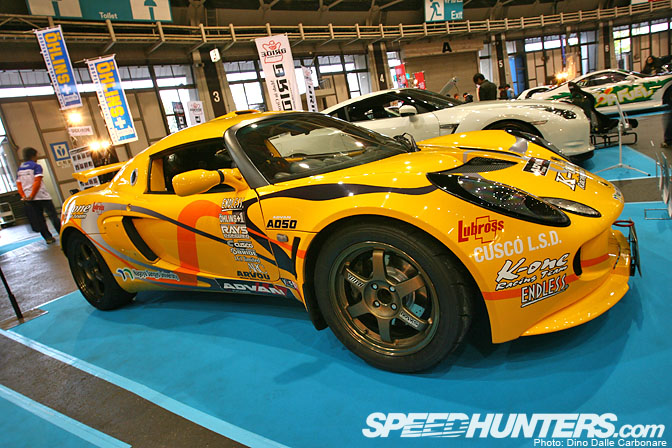 And as a final shot, another ride sporting a mid-mounted Toyota motor, the Car Life Revolution K-One Exige. This little Lotus is raced in the Japanese Gymkhana N3 championship and has been modified with a custom plated LSD and a super-short final drive, just what you need to pirouette around cones. Make sure you check back for the final installment from the Exciting Car Showdown where I'll be taking a look at some new cars, as well as some older ones.
Exciting Car Showdown in Nagoya
Dino Dalle Carbonare