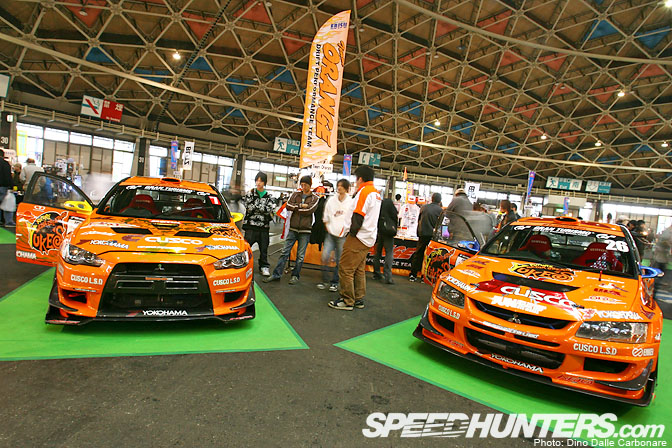 Time now to take a look at some of the best drift cars that were on display at the Exciting Car Showdown in Nagoya this past week-end. Kumakubo and Suenaga brought their Team Orange Evos all the way down from Nihonmatsu in Fukushima for the crowds to drool over.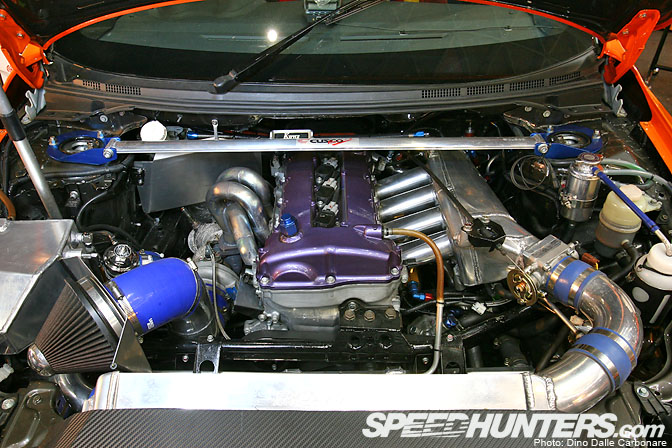 Finally had a good look at the Evo X's engine bay, and as you can see it is nothing short of totally impressive. Koyama-san at JUN did an amazing job with the 4B11, tuning it to deliver 580 PS and a very strong mid-range which tops out with 58 kgm at 5,000 rpm. The all-aluminum 4-cylinder was rotated 90º counter-clockwise, to fit it into its new longitudinal position.  The same was done to the 4G63 in the Evo 9 two years ago. A custom JUN 2.3L stroker kit helps spool up the Trust TD06 turbine which is bolted unto a custom exhaust manifold.  On the intake side, a custom plenum with big mechanical single throttle feeds the engine with cooled air from the front mounted intercooler.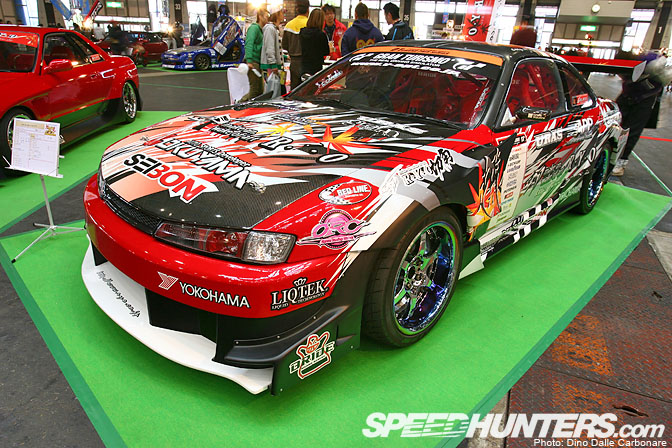 Next to the widebody R32 at the RYO stand was the shop's new D1 S14 Silvia. It's just been finished and will hopefully enter competition from Round 2 in Autopolis on the 26th of this month.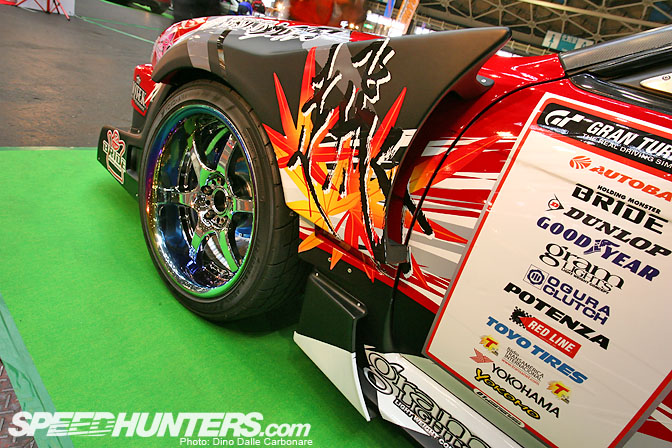 I've never seen front fenders as extreme as these, RYO definitely have some bosozoku influences!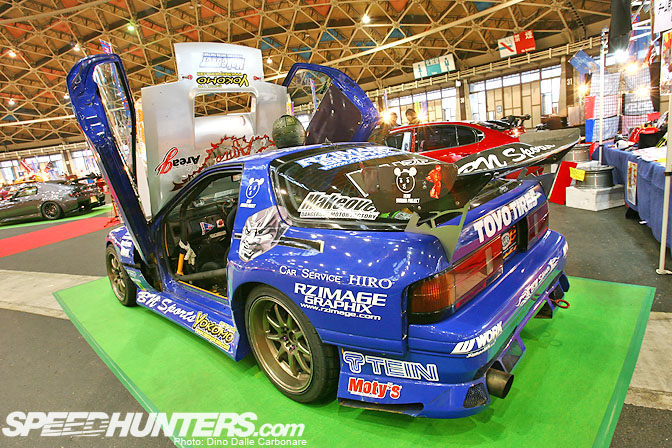 I laughed when I saw Drift Samurai's FC from this angle. It looks like it's flashing someone, with both vertical doors opened and the hood up right against the windscreen!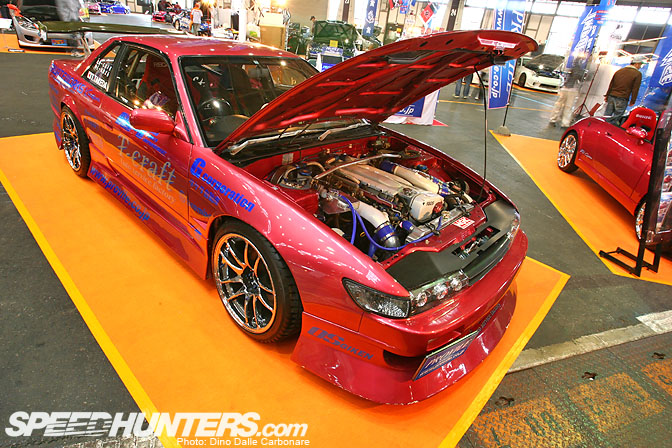 This Provile T-Craft S13 is one I really liked. The exterior was wearing the Origin Aggressive Line kit and finished off in a deep metallic shade of metallic pink. Behind the chrome Work Emotion CR Kai are BNR34 Brembo calipers front & rear.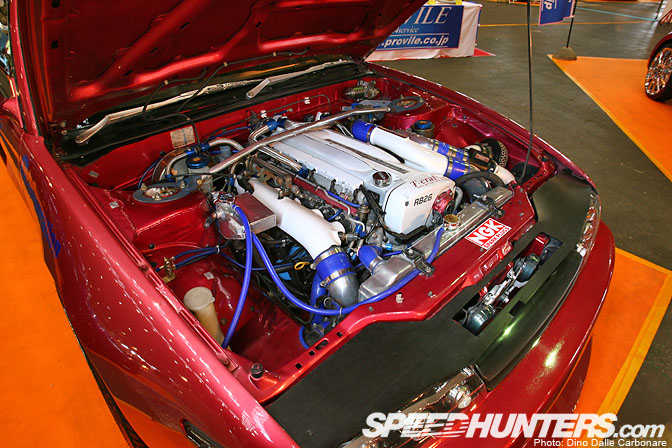 Joining the GT-R calipers is the RB26 which has been fitted very cleanly into the engine bay. The white engine covers look great but might be difficult to keep clean!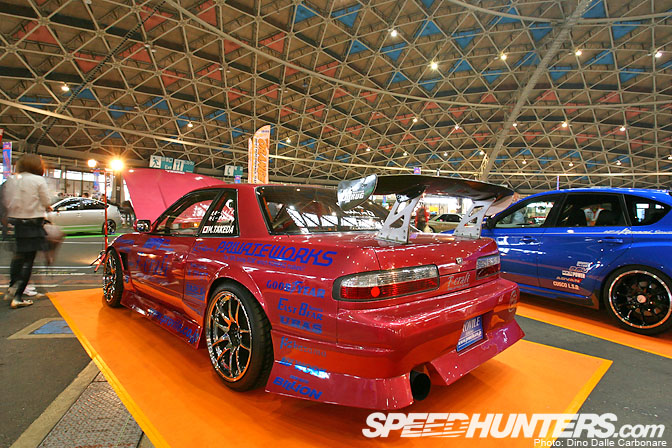 I'm a sucker for the S13 rear end, I think it just looks so JDM, and the Provile Siliva's high-mount rear spoiler makes it look even better. To freshen up the interior an S15 dashboard was fitted.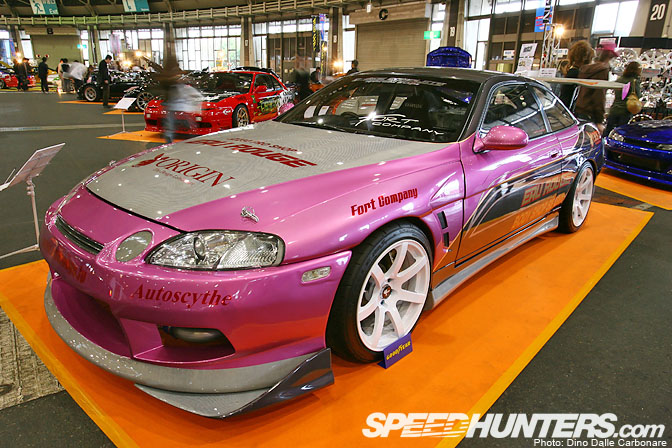 Here is another Origin-kitted drifter, finished off in a slightly lighter shade of pink. This JZZ30 Soarer was also fitted with a silver-carbon hood, lips spoiler and under-canards. Not sure what to make of these parts, I think I prefer the regular shade of carbon.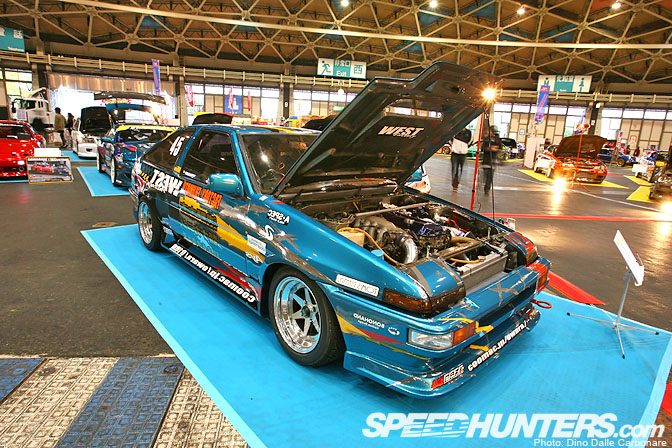 As we have seen everyone went engine-swap crazy at the 2009 Exciting Car Showdown. The West Factory AE86 above was fitted with a conservatively tuned SR20DET running an HKS GT2540 turbocharger helping it develop 310 PS. This is one way to keep the AE86 competitive in drifting, as top level cars get more and more powerful.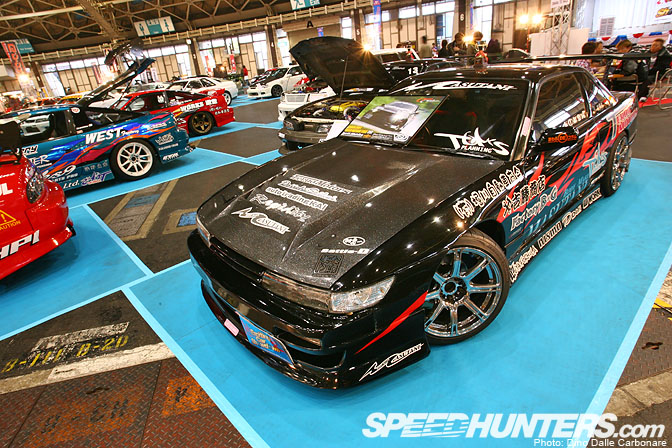 I know I posted a lot of S13s, what can I say, I just love the retro-look! Check this one from Bodymake Masutani, it had a really interesting hood painted in flaked metallic silver which made it look pretty unique.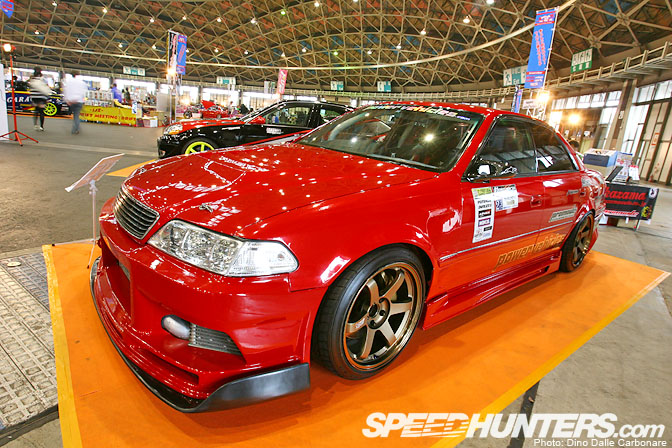 Andy from Powervehicles.com managed to get his "bad-boy" Corona Mark II (as he calls it) back from the paint shop. The car was painted in the Powervehicles signature red flake ready for the 2009 D1 season. Next Sunday, Andy will be trying to qualify at the D1 divisional round up in Ebisu.  Best of luck to him, we all know he has the skill to make it.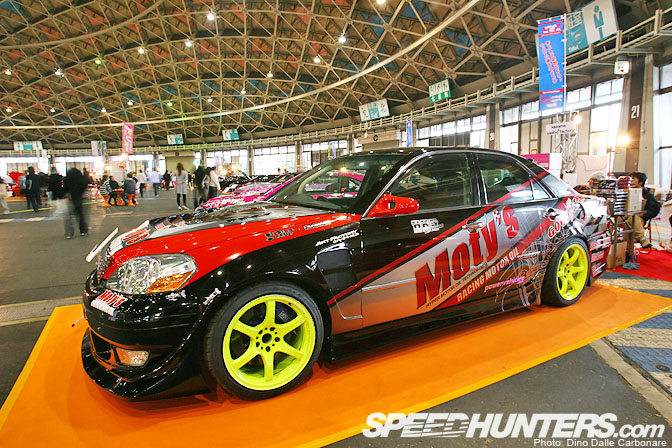 And here is one JZX110 MarkII we will be seeing in action at Nikko next week. Kazama from Kazama Auto has just finished wrapping his car in the new 2009 sponsor graphics. Stay tuned for more on this car.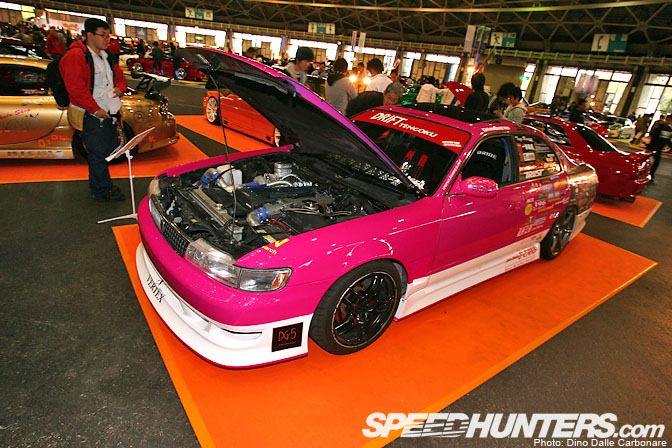 This pink JZX90 is the official Drift Tengoku magazine drifter. Over the years it has received a lot of abuse but it is still going strong. I have never seen it looking so clean, usually it's held together with zip-ties and Drift Tengoku branded tape!
Now that Orido has the NATS sponsored Aristo to drive in D1 what will become of the ST Garage 2JZ powered Lexus IS? I hope this car gets more use this year, not just in exhibitions.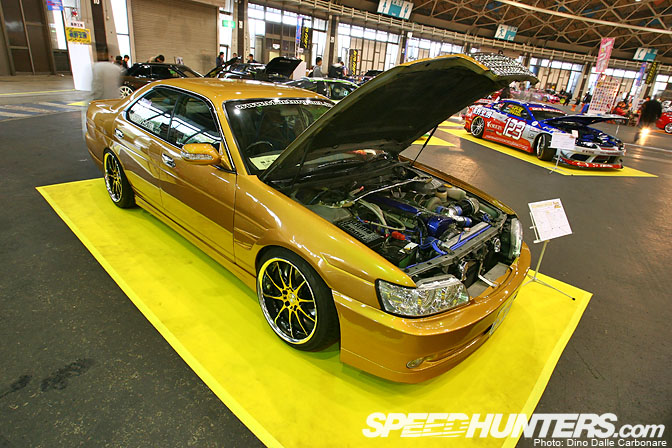 Garage LFW's C35 was looking a bit sedate, until I looked under the hood. Powered by a 600PS RB26 this Laurel is a bit of a sleeper. Like I always say, never underestimate cars in Japan as you never know what they are running!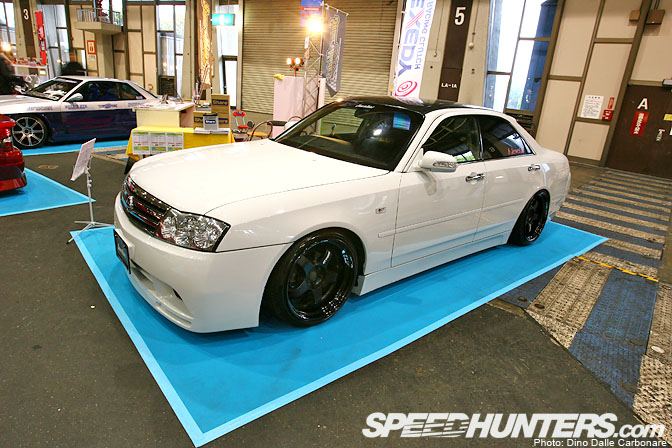 Which also goes for this, the Super Made Y34. I loved the way the dark Work Meister S1 contrasted against the white body.  This VIP looking Gloria is actually built for drifing, and is powered by a 380 PS SR20!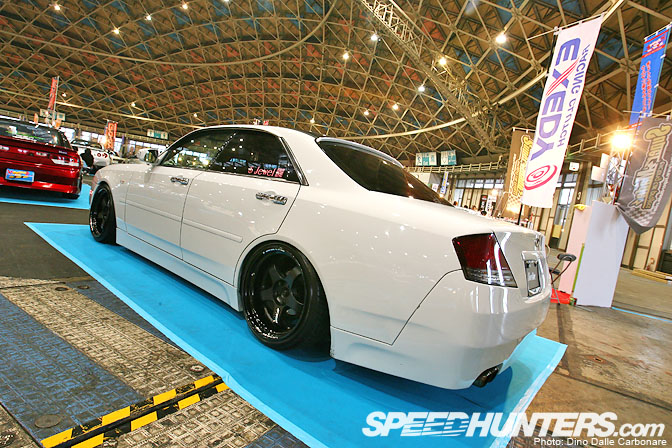 How cool do those wheels look from this angle! I couldn't stop thinking about this car after the show, it is just so unique. Anyone else like it as much as me? Stay tuned for a look at some grip cars next.
Exciting Car Showdown in Nagoya – Teasers
Exciting Car Showdown in Nagoya – PT1
Exciting Car Showdown in Nagoya – PT2
Dino Dalle Carbonare