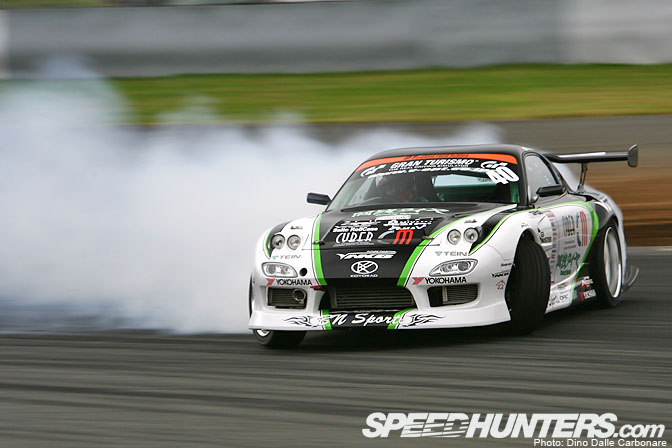 When Rod told me my first month here at Speedhunters would be a drift month, I was pretty excited. Over the years I have shot my fair share of drift specific cars, but in the last year or two it seems shops have just gone crazy. D1 is in the middle of a power war it seems, with the top teams coming up with more highly tuned engines every season.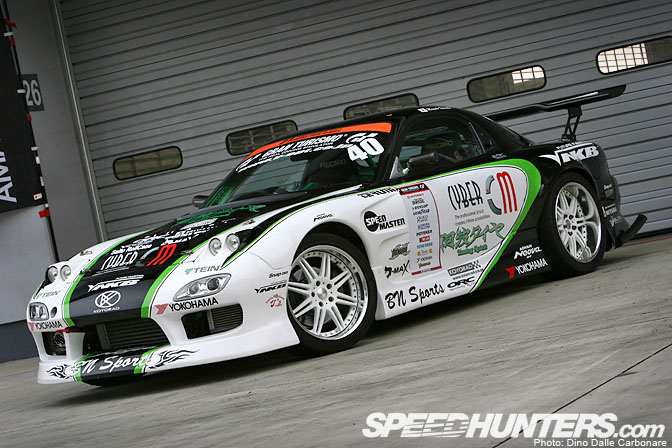 To keep up, smaller and less financially backed teams are doing the best they can, and one perfect example is the AWA Tire FD3S you see here.  Jeroen did a spotlight on this car a while back but I though it would be a good one to take a closer look at.  
This Hiroshima based shop has worked hard to come up with something unique for Fujinaka to drive, a car that can keep up with the monster machinery driven by the top seeded drivers.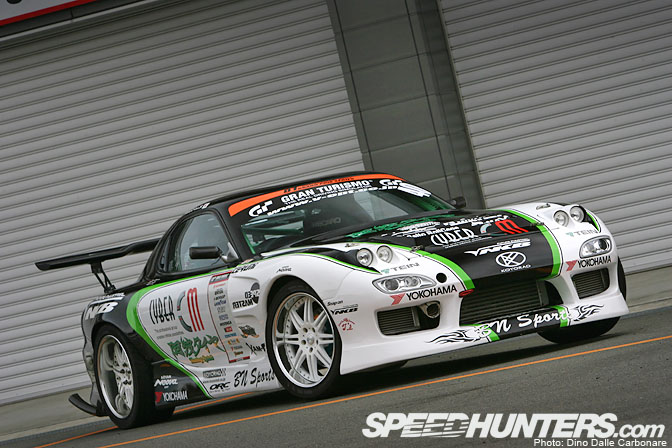 The guys at BN Sports have supplied AWA Tire with some awesome body parts like the front and rear bumpers as well as the side skirts.  The front wider FRP fenders are from D-Max and feature some pretty aggressive air outlets, in true D1 style.  But check out those blistered rear arches, if their cool profile wasn't hidden away by the black body-color they would really stand out.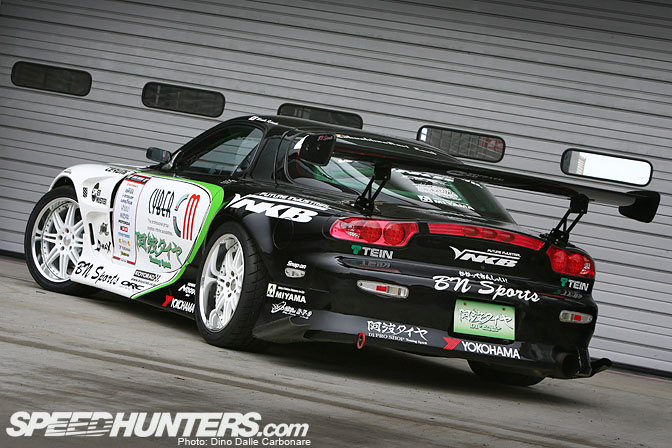 Helping keep the rear end under control when drifting on high-speed tracks like Fuji Speedway, where I took these pictures, is the adjustable GT-wing, as well as some RE Amemiya vortex generators on each side of the bumper. LED conversion laps have been added to modernize the rear of the FD.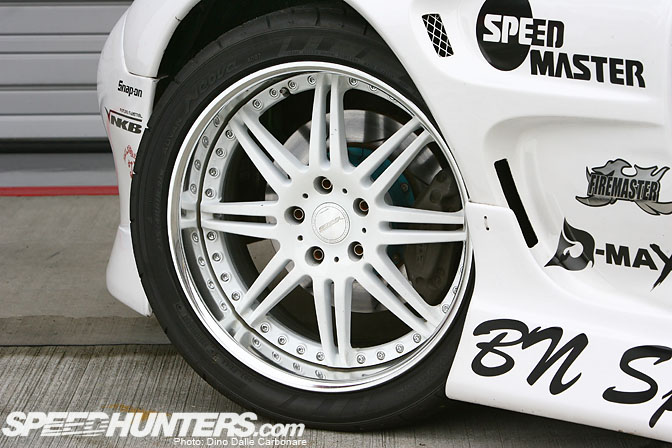 The main sponsor of the AWA Tire team is Seiken NKB who have supplied their Elite 8 split-rim wheels, 18-inch in size and custom painted in white.  They are wrapped in sticky Advan Neova AD07 tires.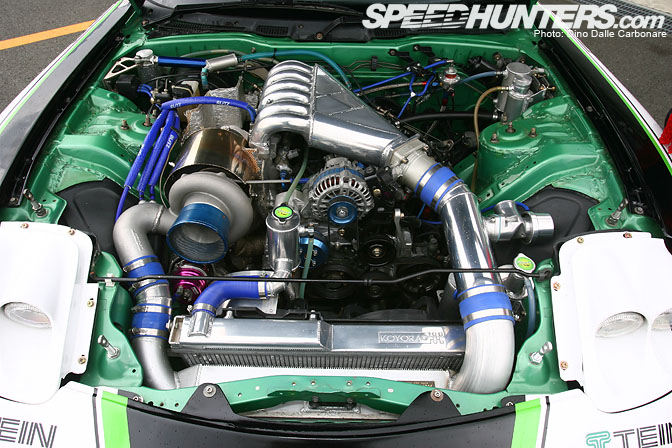 The first time I saw this FD in action I knew there was something special under the hood.  Just look at that masterpiece!  The 20B was taken from an old Cosmo, rebuilt, and custom fitted. Helping it deliver close to 650PS is the massive turbine from Trust.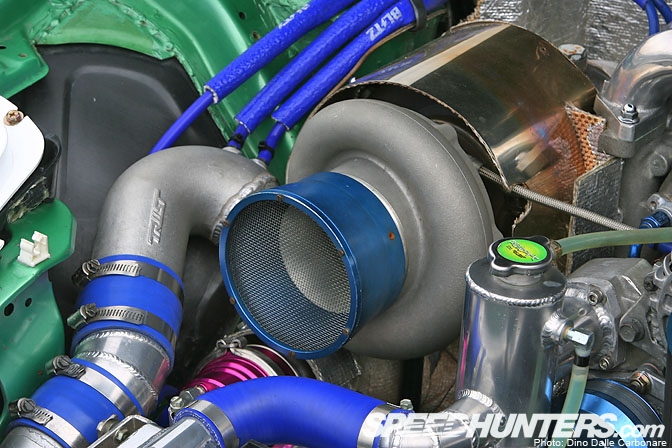 Here is the T88 in full view, doing away with any type of filtering and simply protected by some metal mesh!  You can just about see the HKS GT external wastegate which, like the turbine, is fitted onto the custom stainless steel exhaust manifold. The main mechanic who was showing me the car, told me he had to fabricate everything by hand including the large diameter front pipe and the titanium exhaust system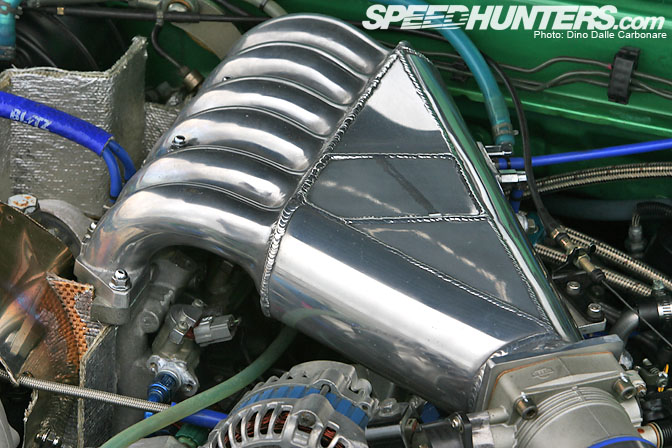 To help flow an equal amount of air into each of the three rotor's intake ports, a one-off aluminum plenum was created.  This, along with the T88, are the two things that really stand out when you take a look at the engine bay.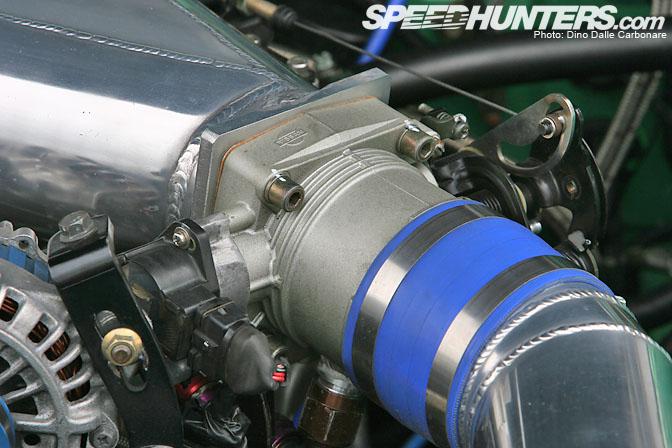 The big Nissan/Infiniti Q45 mechanical throttle is one of the most popular parts used in any kind of high-power engine build.  When you want to flow lots of air nothing can touch this thing!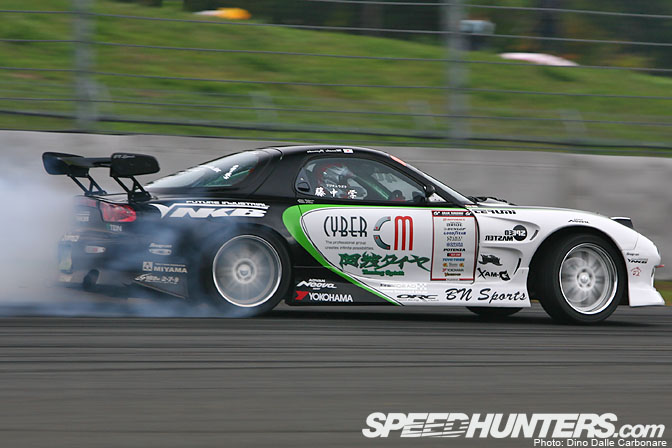 Out on track, the AWA Tire FD emits the most unique engine note ever heard in D1.  The 3-rotor buzz is one of my favorite sounds and as you can see in the picture above the soundtrack is usually accompanied by a nice blue trail of burned Neova rubber.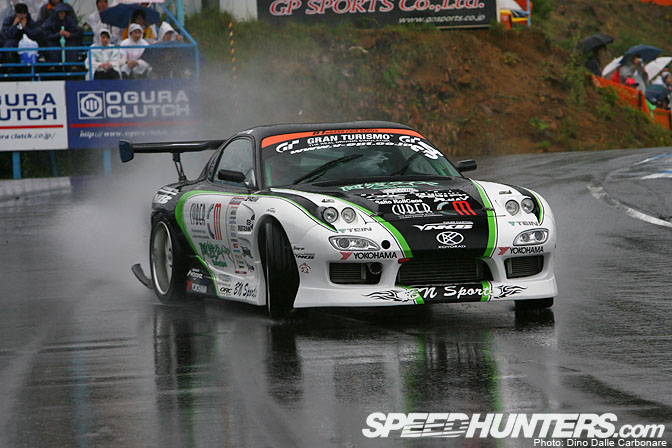 More water spray than smoke at Ebisu last year though, as the heavens opened and drenched us all.  I recall getting soaked all the way through to my underwear!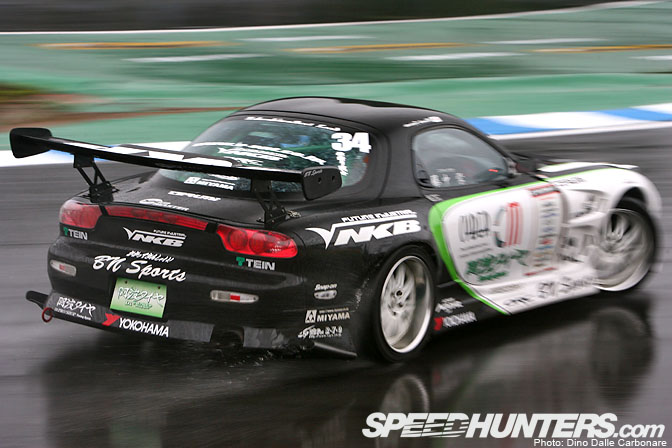 I'm hoping the AWA Tire FD and Fujinaka make it to a few rounds this year as I want to hear this thing zoom past me at full rpm!
Dino Dalle Carbonare