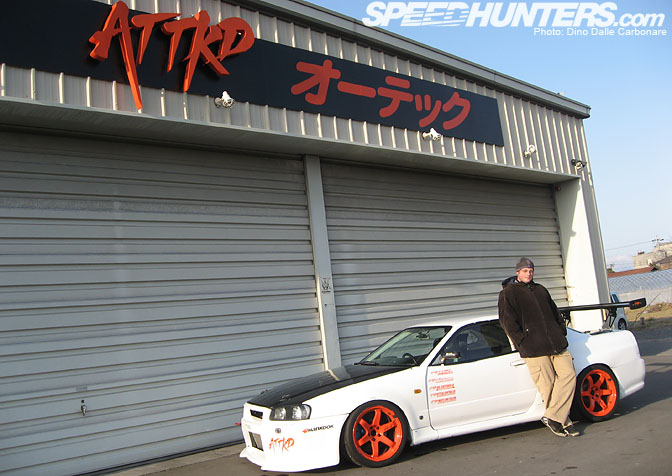 Greetings to all avid followers of Speedhunters. My name is Dino Dalle Carbonare and I'm a car addict.  It all started when my parents took me to see a hill climb race when I was just four, back home in Italy. After seeing, hearing and smelling those awesome metal contraptions shoot up the mountain road, my young mind was captivated and from that moment on, I knew I wanted to be around cars for the rest of my life.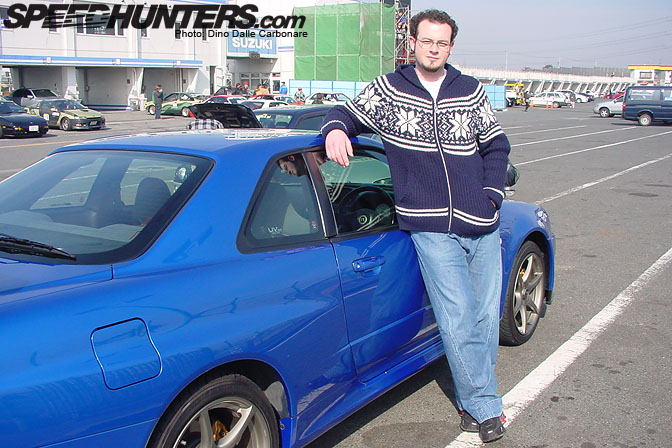 Growing up in the UK broadened my horizons, compared to Italy, there was a far wider variety of cars to see and admire. Every weekend my brother and I would rush down to the local newsagent and go through every car magazine we could get our hands on, and drool over the latest supercars to hit the scene. Back then F1 races were a fun way to spend a Sunday afternoon in front of the TV, and despite their dismal performance at the time, I was always a die-hard supporter of Ferrari, even while living in the same town where Williams F1 had its headquarters!  In fact I used to play around with my RC cars next to their offices!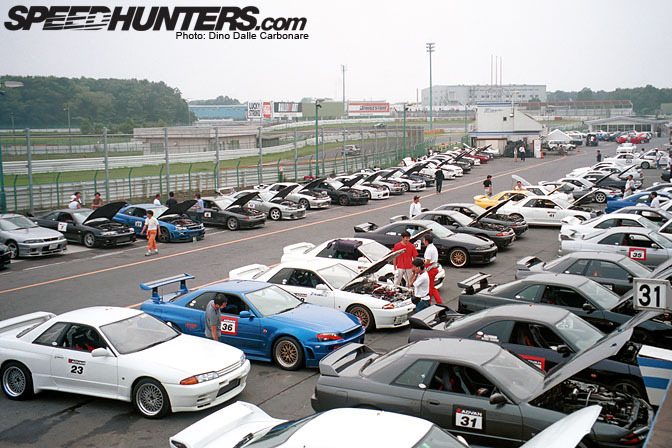 It wasn't until I moved to Japan in 1993 that my passion transformed itself into an obsession. Japanese performance cars were very rare back in the UK, but it was the beginning of the "golden era" with the BNR32 having hit the streets just a few years earlier. As a 17-year old car crazy kid I think there was no better place to be in the world. Just walking down the streets of Tokyo I was constantly amazed at the exotics that would drive by or simply be parked along the sides of the road.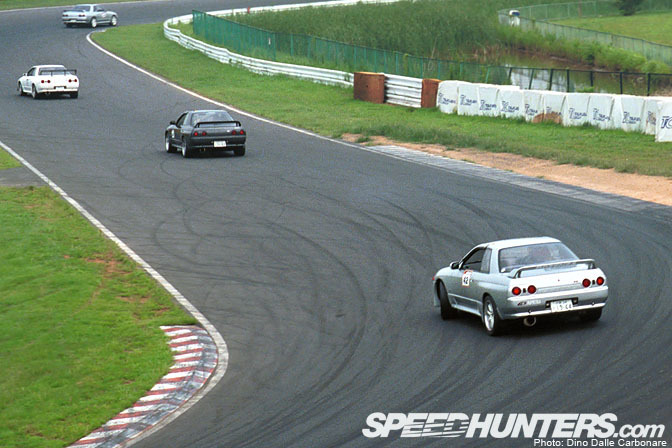 I recall to this day the first time I laid my eyes on an R32 Skyline GT-R, a car the British media had already began to talk about in awe before I had left. It just looked so purposeful, so aggressive with its blistered fenders, I became an instant fan. It wasn't until 1995 when a friend of a friend took me out for a ride in his brand new R33 GT-R. Despite being only a few months old the car was already modded with a massive Midori exhaust system, an ECU upgrade running more boost and a bigger capacity intercooler. The first time he pinned his right foot to the floor I was literally shocked. I'd never experienced such raw power. I was immediately hooked, and I decided then and there that some day I would have a GT-R of my own.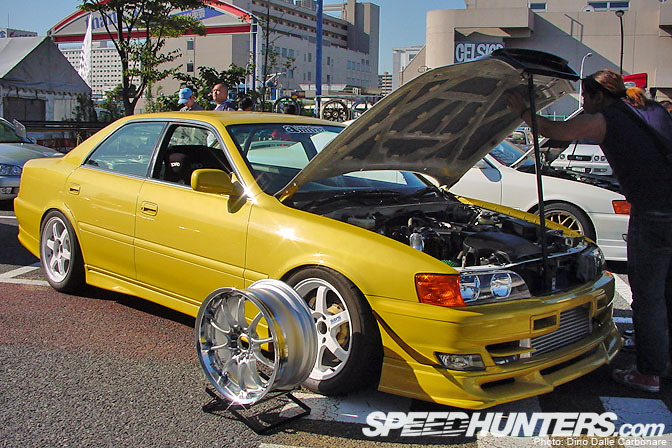 It was around that time that I experienced Daikoku Parking Area for the first time, and I vividly remember tons of Japanese supercars like Supras, RX-7s, Skylines, Z32 Fairladies using the massive car park as a kind of pit-stop before hitting the wangan for some more high speed racing. The atmosphere was electric.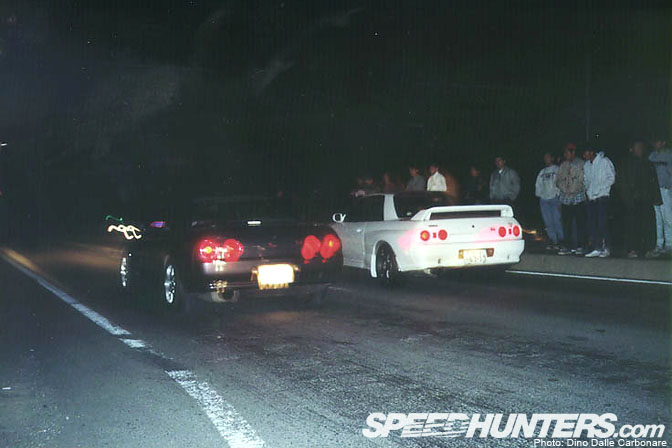 Most weekends I would head back to my parent's house in the countryside of Ibaraki-ken, where a slightly different car scene existed. This was the era of illegal drag racing, and the Ibaraki boys were out in huge flocks every Friday and Saturday night. The picture above is one I took way back in the mid-nineties with a point and shoot film camera. I really had no clue how to take pictures back then, as you can obviously see for yourselves! My brother and I were regulars taking in all the action, from GT-Rs launching off the line with revs bouncing off the 9,000 rpm limiters, to JZA70s and Z32s struggling for grip. The police would come once in a while to scare everyone away, but it was only a matter of time before the dispersed crowd would re-group and the action would kick-off again! It was then where I got my first exposure to drifting, the real stuff, on public roads. Just up the road from where the drag crowd did their straight-line thing, another more hardcore group was busy practicing the art of sliding on a narrow winding road. During the day it was used by farmers to head down to the rice fields in the valley below, but at night it became the playground where burgeoning drifters could prove their mettle. It was a hoot watching these crazy guys sacrifice their car's bodywork in the name of drifting, but at times someone would manage to string a coupe of left to right transitions and it made it all worth it!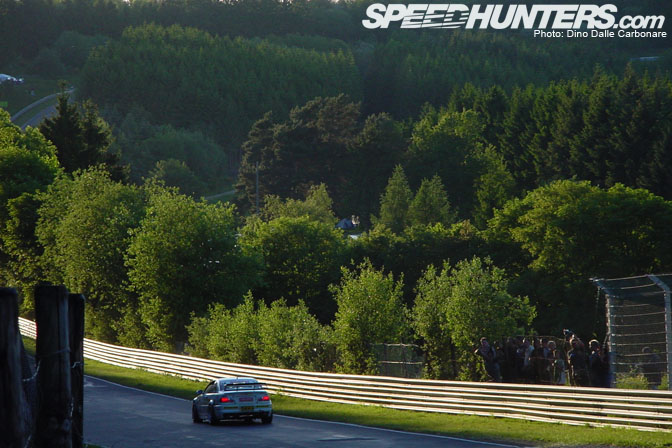 I left and returned to the UK for university, but that didn't stop me from going back three-four times a year during my brakes.  It was at this point that I realized that the car-scene correspondence from Japan to the rest of the world was somewhat lacking, and that a great opportunity existed. So once I returned back "home" with my economics degree I decided to take on something totally different.  I got myself a camera and began heading to all the events I could afford to go to. This is where it all started for me.  Fast forward a few years and I have to say I feel privileged for being right in the middle of the best car-culture any country has to offer (IMO of course!).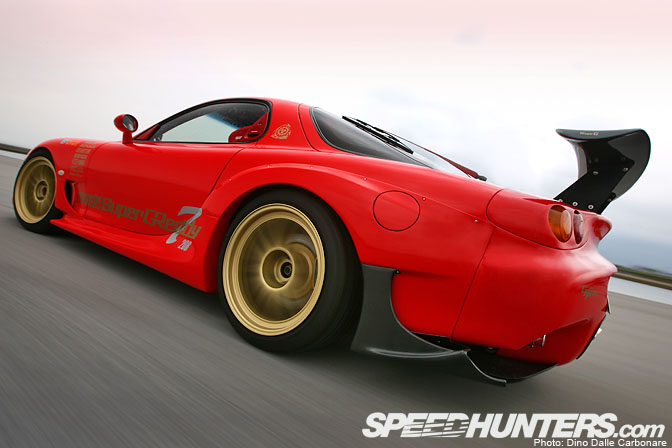 Over the years I have shot the best tuned machinery Japanese tuners have created, and have met some incredible people along the way.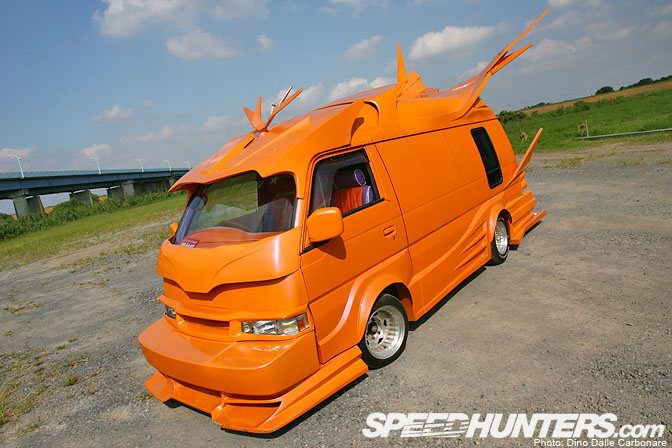 As you can see from the above shot I try to diversify, as there are so many different car cultures and styles to look at here in Japan. This crazy bosozoku van is just an example (more on this soon!)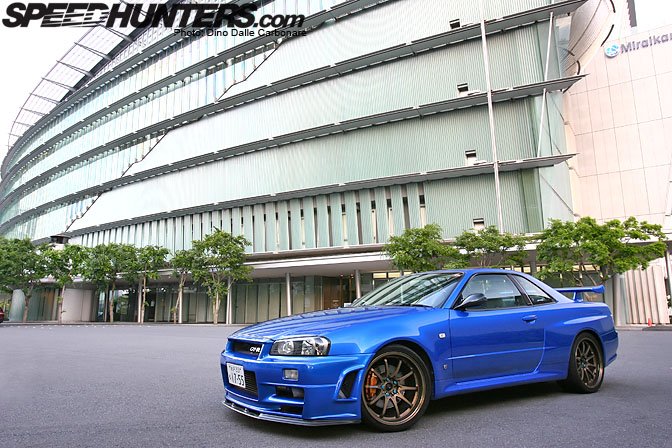 My passion for the GT-R continues and I have enjoyed driving one on a daily basis for 10 years now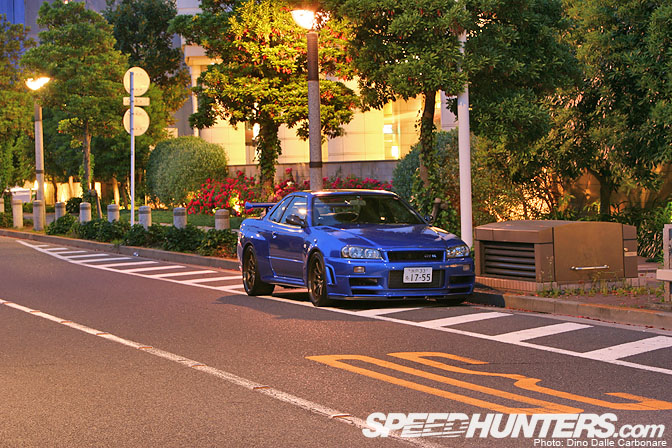 Here is another shot I took a few years ago on the deserted streets of Odaiba. Number plate is different now, I have the cool "34" one now, a must have for any otaku!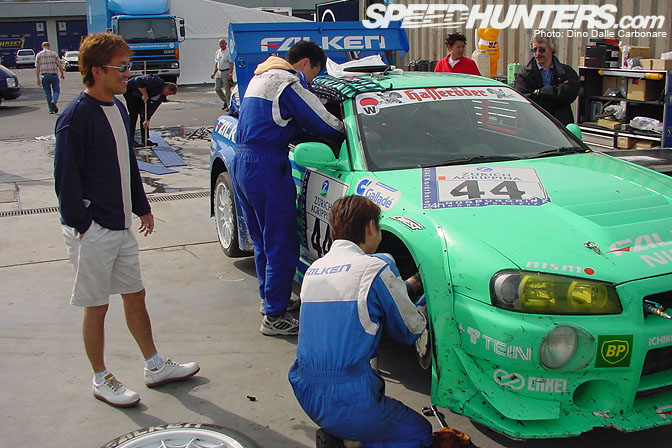 This is a snap of Kinoshita standing next to the Falken GT-R in the Nurbugring paddok after the 2002 24h race.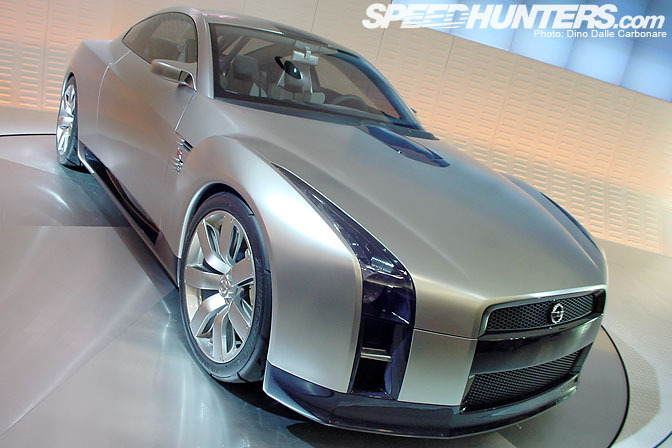 I was always interested on what Nissan was going to come up next after the BNR34.  Here is a picture of the 2001 Nissan GT-R Concept taken at the Tokyo Motorshow.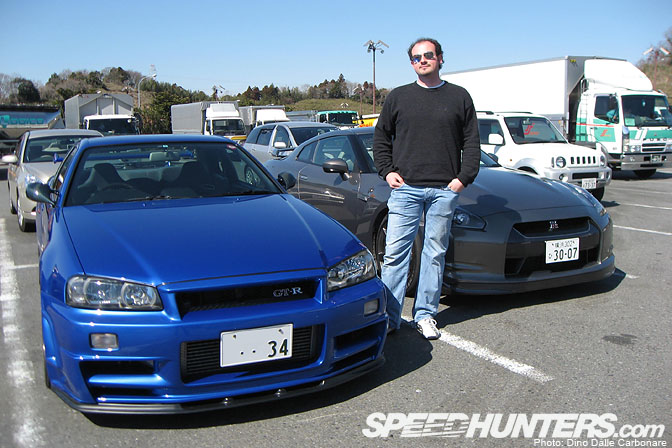 I was one of the first to sample the new R35 GT-R back in '07 and had a blast comparing it against other supercars, as well as my own R34 (notice the new plate!)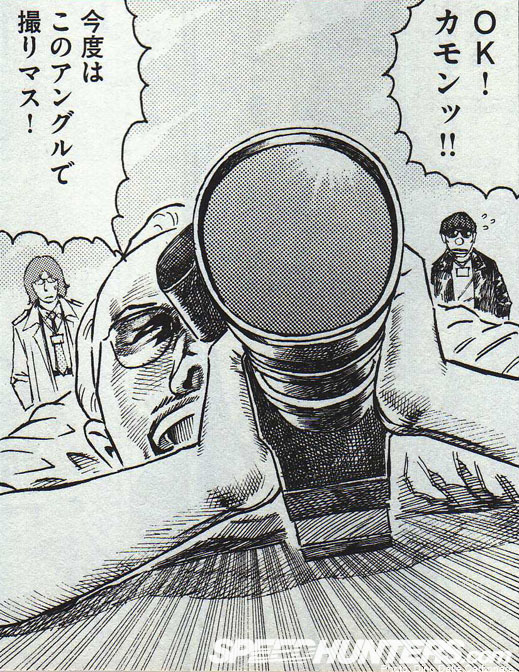 In summer of '07, a few months before the car's launch at the Tokyo Motorshow I was among the first to shoot the unmasked R35  A privilege that led me to become the inspiration for a manga character in the "GT-R Great Taro Revolution" comic book that details the development of the R35.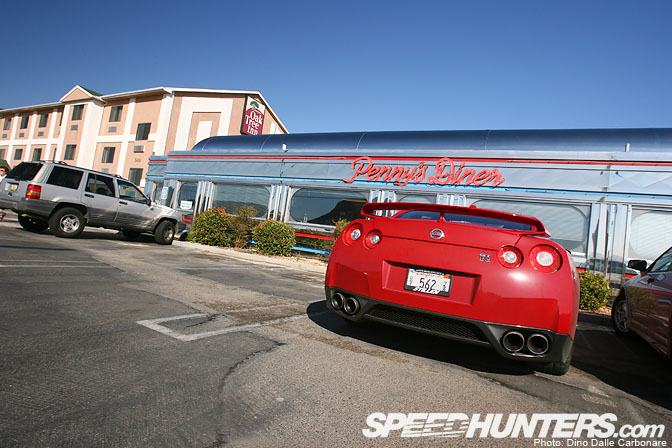 Last fall I drove a US-spec GT-R from LA to Las Vegas for SEMA and took in some great sights…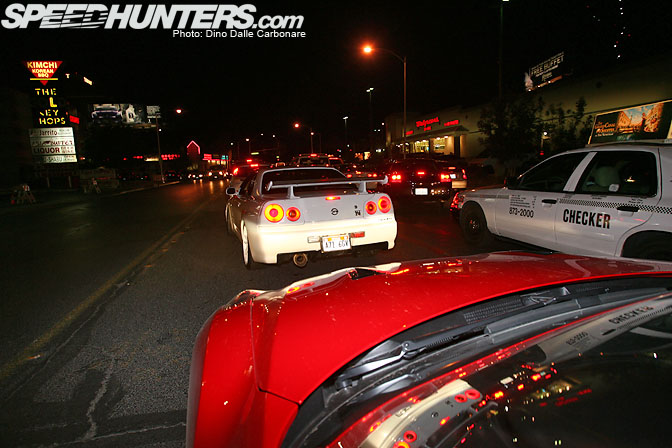 …including seeing a white R34 GT-R on the way out of the show parking one night!!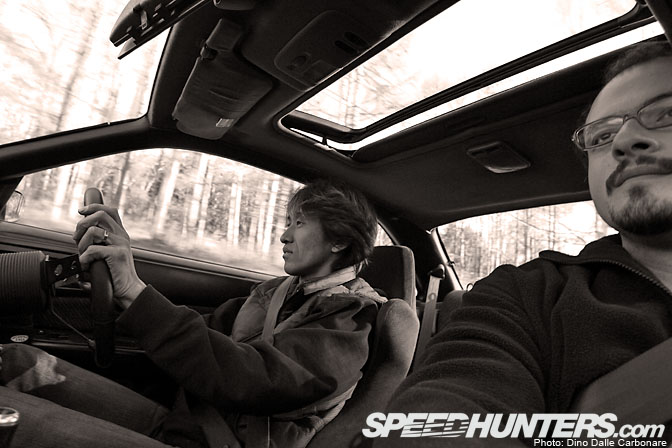 Then there is of course the drift scene, one that I have been covering since the whole thing turned professional earlier this decade (God that makes me sound old!). The most memorable experience I have had to this day was riding shotgun with D1 Champion Kazama, who after a shoot and an interview took me out with his beater S14 on the mountain roads of Nagano where he proceeded to drift non-stop for half an hour. It took me 6-months to wipe the grin off my face.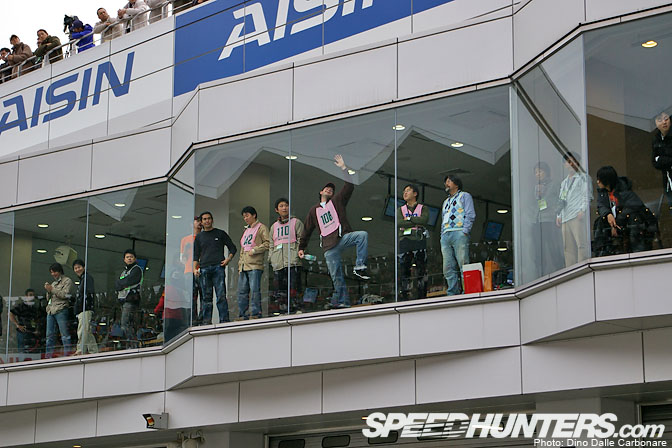 Here is a shot a friend took a few years back at Fuji Speedway. The idiot in the middle would be me. Anyway it is time to stop rambling on and say that I'm very pleased to be joining the dedicated team here at Speedhunters.com. I hope you will all enjoy reading the contributions I will be posting starting this April.
Dino Dalle Carbonare