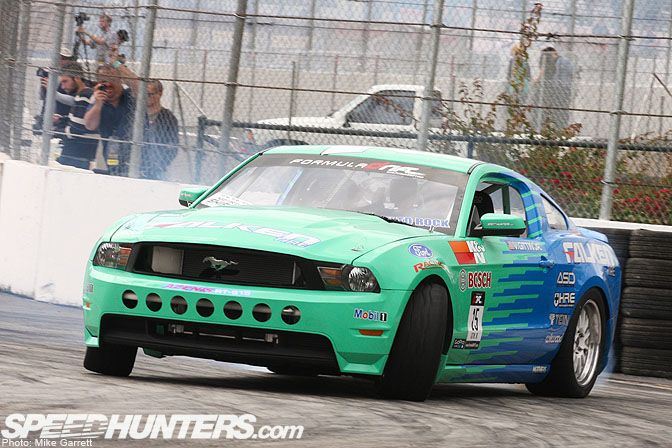 No doubt you've already seen plenty of photos of Vaughn Gittin Jr.'s 2010 Ford Mustang competition drift car, but I thought could add a bit American flavor to our drifting features this month with a closer look at this unique beast. After being teased by videos earlier in the year, I couldn't wait to finally see this car in person during the Formula D Long Beach event earlier this month. The first exposure I got with the car was when JR took it out for practice on Friday morning. While drifting, the car moves more like an AE86 or Silvia than a V8-powered muscle car. A lot of this is due to JR's driving technique, but the car has also been built with an emphasis on agility. While a lot of the big engined cars in Formula D dip in and out of the throttle while drifting, JR keeps the throttle on the Mustang mashed as if he were running a 9000 rpm four cylinder instead of supercharged V8.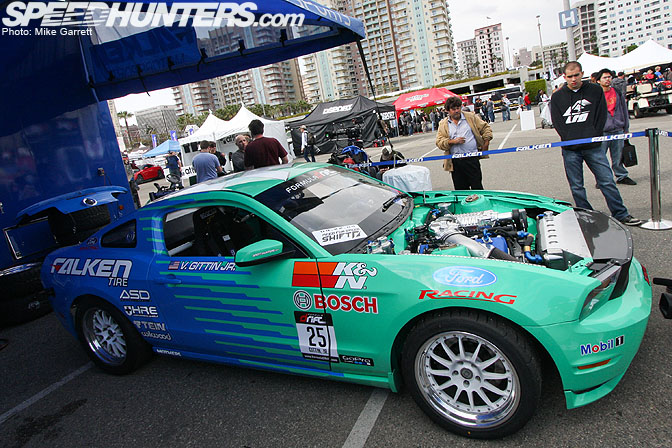 A bit later when I made it over the Team Falken pit to have a look at the car, I was genuinely amazed with what I saw. From a distance the car looks like a typical stock-bodied Mustang as it lacks a rear spoiler or other aero modifications, but a closer looks reveals just how thoroughly this car was put together. Like the Mustang he drove in the past (and a few of the other Team Falken drift cars), the new Mustang was built by Autosport Dynamics in Charlotte, North Carolina.
This what's responsible for the angry roar that comes out of the Mustang as it's drifting –  a supercharged Ford Racing "Aluminator" DOHC V8 that makes about 700 horsepower. Should you want to recreate this setup for yourself, you can purchase an identical Aluminator crate engine from the Ford Racing Catalog. I think it's nice that the Mustang keeps some ties to the production model, something that can't be said about some of the other factory-backed cars in Formula D…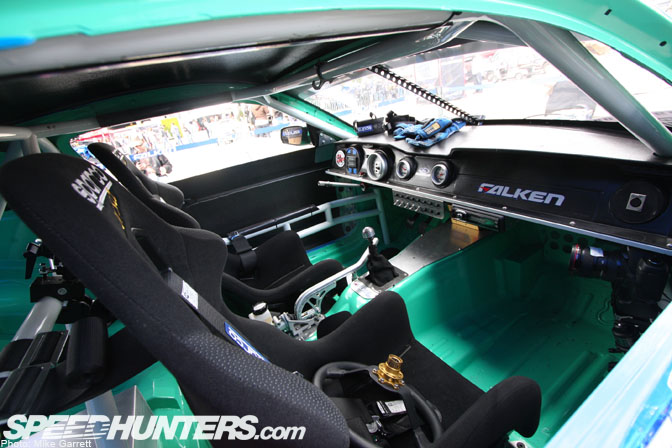 The cockpit is 100% competition spec with a full cage, custom dash, removable steering wheel, and a pair of Sparco bucket seats – everything you need and nothing you don't. If you look closely though, you'll see a stereo mounted there under the dash. I'm sure regularly pumps out tunes from Motley Crue.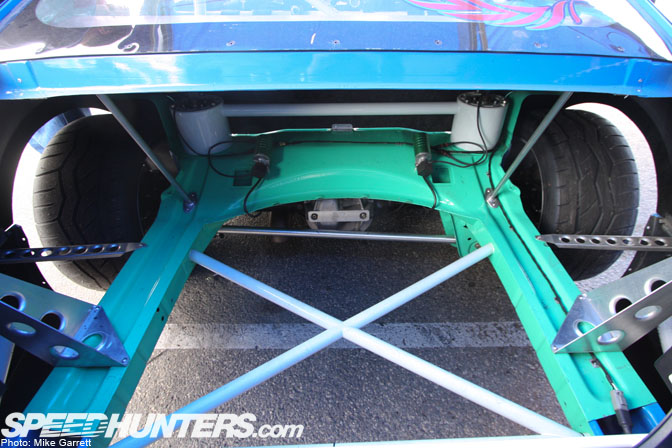 When the new Mustang drift car was first unveiled last year, like many others I doubted claims that car only weighed around 2,500 lbs. After getting a closer look at the car in Long Beach, I see no reason to doubt that figure. With the full dry carbon body and the extensive weight reduction throughout the chassis, you can see where all the excess fat was trimmed. It's actually a bit startling to look in the "trunk" and see this…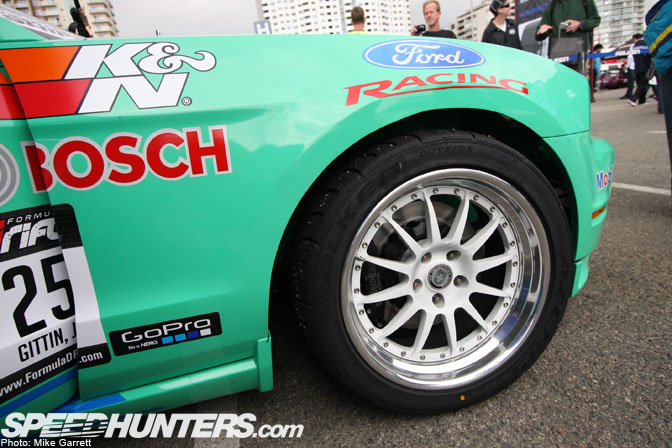 For the wheel and tire setup, there's a set of 18" HRE Comp21 wheels with Falken Azenis RT-615 tires. Some might like to see a bigger wheel and tire combo, but the 18" size performs well and I actually think the meatier sidewall fits right in with the rest of the car's looks. You can see the Wildwood brakes peeking out from behind the wheel.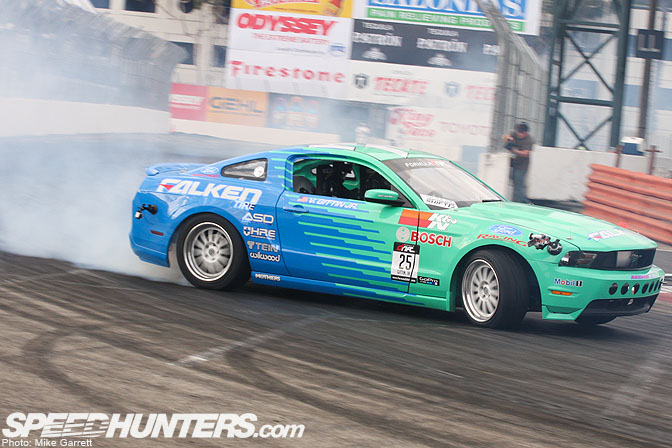 In the end, everything comes together to make a car that's extremely-well engineered, very fast, and surprisingly nimble, all while managing to have it's own unique style. Throw in Vaughn Gittin Jr.'s aggressive drifting technique and you have one of the best things going in American pro drifting today.
I can't wait to see this car in action again at Road Atlanta in a few weeks.
-Mike Garrett