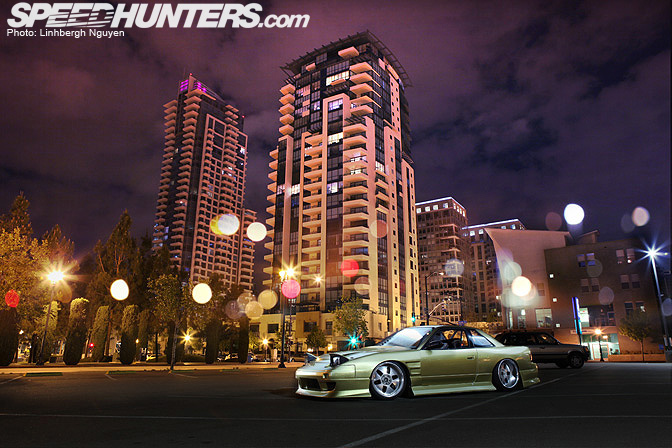 Take a moment to gander at the utter ridiculousness of this car. It is
stupid slammed, it is has a set of absurdly vulgar wheels, an equally
ludicrous body kit on it, and on top of all that, an absolutely silly
gold flake paint job. This Nissan 240sx, in all conventional wisdom,
makes absolutely no sense and should never have been crafted. It is not
a normal car, this is a ricer's car. Tommy Roberts, the owner, and
creator of such rock star stupidity, is a true ricer.
But, you know what? This car is a perfect example of rice done right.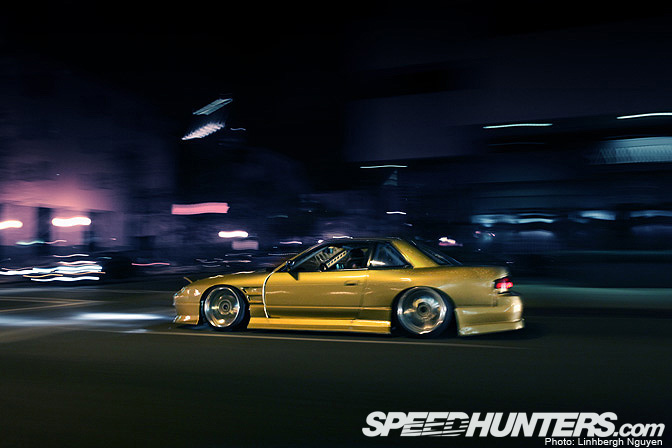 But how is this car rice done right? Well, much like his very good friend, Matt Powers,
Tommy understands that drifting is all about style, and not works drift
cars that have wheel gaps the size of the English channel.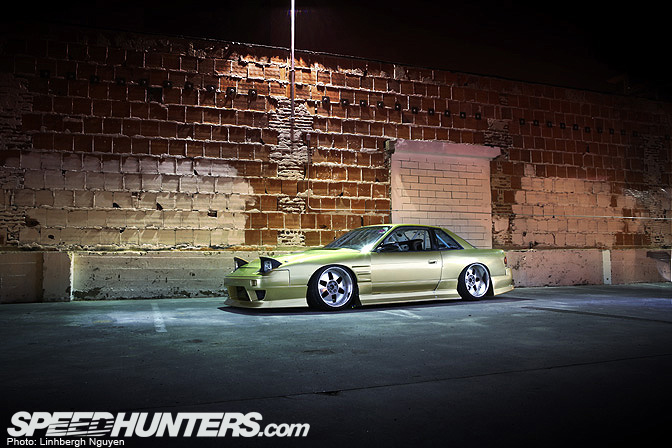 Seeing the car, in all its epic slamness, rolling around the mean
downtown San Diego streets was a real delight. His car was more than
slammed; it scraped every little rock and pebble, while beheading
various species of insects with its stance. The car tripod-ed in and
out of the gas station, laid countless amounts of frame, and had to be
"hidden" from the police with our camera car.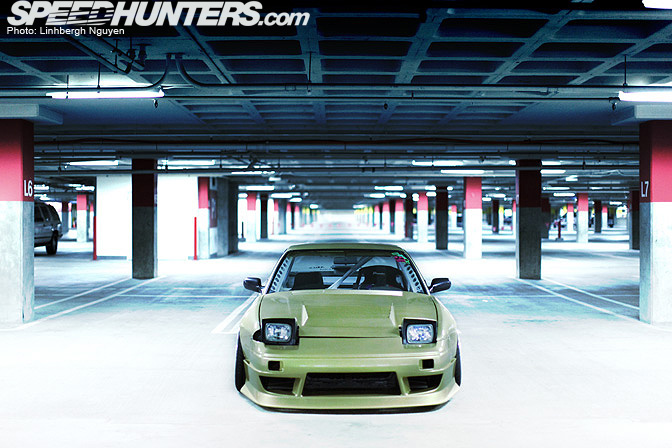 We extended a brief apology to Tommy for asking him to drive his caged
and noisy drift car all around downtown, but he replied "it's cool, I
used to daily it like this."
That phrase alone shows how
dedicated he is to his style. He even shared a quick story about how
his dad borrowed the car from him and got pulled over, getting off with
a ref-ticket.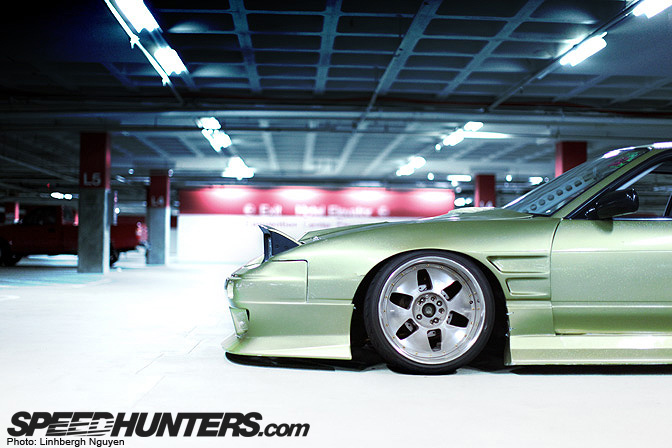 So what's running under the hood? There's not a lick of nitro methane,
direct port nitrous injection or even titanium valve springs. This rice
monster does not have a premium built SR-20 but instead, Tommy keeps it
real with the car's original heart, a KA24DE motor that is turbocharged
with a ball bearing GT2860rs turbo! I don't want to forget to mention
that Tommy is also running an eBay manifold which he has been running
for the past two years. Clearly, there has not been any danger to that
manifold. So, let's not discredit eBay parts just yet! He won his D1GP
invitational with such parts.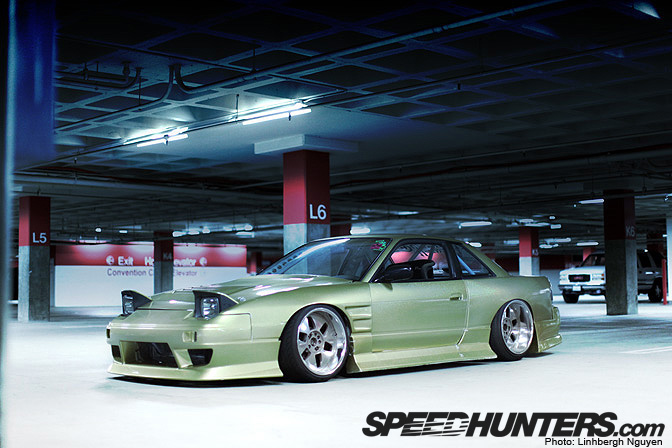 Let that be a lesson to any aspiring drifter; it doesn't matter what
parts you have on your ride HKS, ARC, Cusco or Taiwan special, as long
as it works and gets your ricer butt to the track!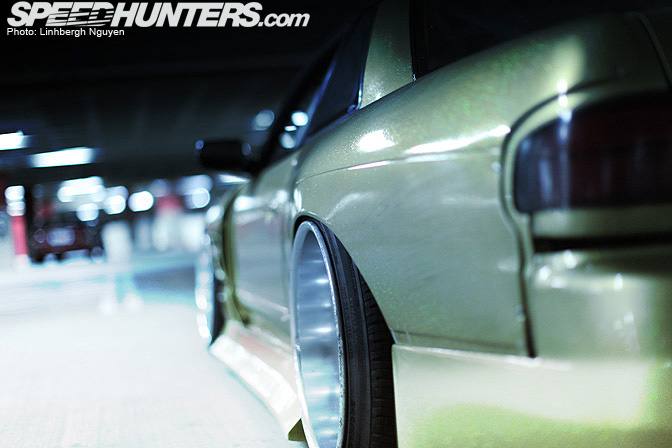 So deep, so deep!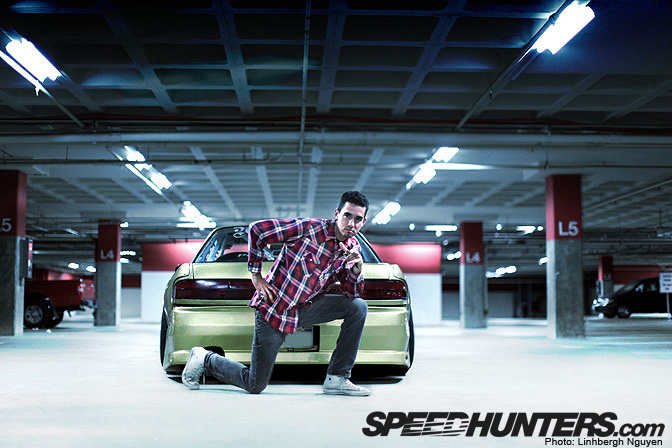 There's something about this group of drift buddies from sunny San
Diego that is highly attractive. It could be the fact that these guys
live life hard, their cars look hard and they drive them just as hard
–if not harder. But guys like Tommy and Matt are a rare breed. They
know that a life worth living is a life where you grab every moment you
can, make the most out of it, and never take it too serious.
So,
come out to the D1GP event in Anaheim, California, to cheer on Tommy
Roberts and Matt Powers on Friday for the qualifying round! You just
can't ignore epic rice.
-Linhbergh Nguyen
Speedhunters Matt Powers' Nissan 240sx Feature
Special April Drift Features on Speedhunters
Complete Spec List:
Engine:
– KA24de, GT2860rs turbo
– forged pistons
– stock internals
– Sard 555 injectors, Z32 MAF
– Custom piping from Parts Shop Max
– tuned by Jim Wolf Technology.
Suspension:
– Parts Shop Max Coilovers
–
Parts Shop Max Super Angle Knuckles
– Parts Shop Max hydraulic E-brake
– Tomei 2 way lsd
– Ikeya formula tie rods
Exterior:
– D-Max Type 3 Body kit except for a random temporary rear bumper
– D-Max hood and front fenders
Wheels & tires:
-SSR Vienna Kreis

-Fronts are 18×9.5 -10 offset with 225/35r18
-Rears are 18×12 -14 offset