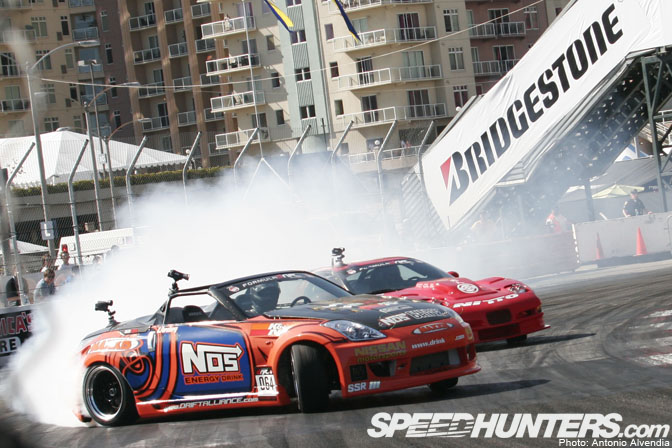 You have already seen our preview stories on the upcoming European drift season and the 2009 Japanese D1GP series, so now let's continue with a preview of the 2009 Formula Drift season, which will kick off in just over two weeks on the famous street course in downtown Long Beach. 2009 marks the fifth year of Formula D and there are a lot of changes this year for both the series and its drivers.
Schedule-wise, 2009 looks very similar to last year. Here's a quick rundown of this year's points schedule-
Round 1 – April 10th and 11th – Streets of Long Beach
Round 2 – May 8th and 9th – Road Atlanta
Round 3 – June 5th and 6th – Township Raceway Park New Jersey
Round 4 – July 10th and 11th – Las Vegas Motor Speedway
Round 5 – August 7th and 8th – Evergreen Speedway, Monroe Washington
Round 6 – September 12th – Infineon Raceway, Sonoma, California
Round 7- October 16th and 17th – Irwindale Speedway
The biggest change for the 2009 Formula Drift series is the move to a top 32 tandem competition format, instead of the top 16 format that's been used in the past. The new format should be a way to add some more excitement to each round, as we saw during the Red Bull World Drifting Championship last November.
And now let's take a look at some of the new cars for '09 and other stories to look for this season. There isn't room here to look at every single new car for 2009, but this should cover the bulk of them.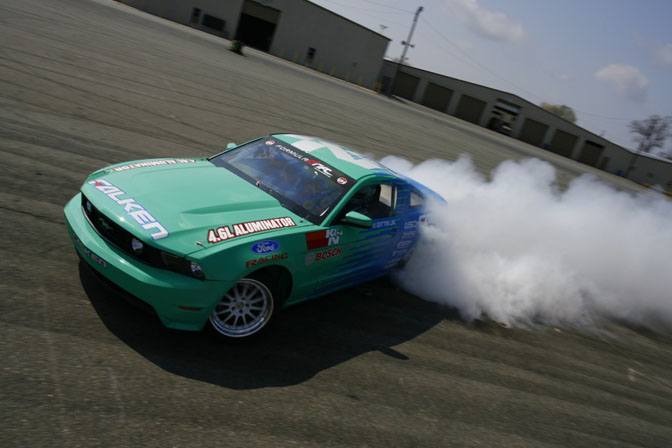 When it comes to pure momentum, I don't think there's any FD driver looking as good right now as Vaughn Gittin Jr. is. He's coming off his incredible Japan tour and his new 2010 Ford Mustang GT drift car is dialed in and ready to rock for the '09 season. As long as there are no reliability issues with the car, the 2009 season could very well be JR's for the taking.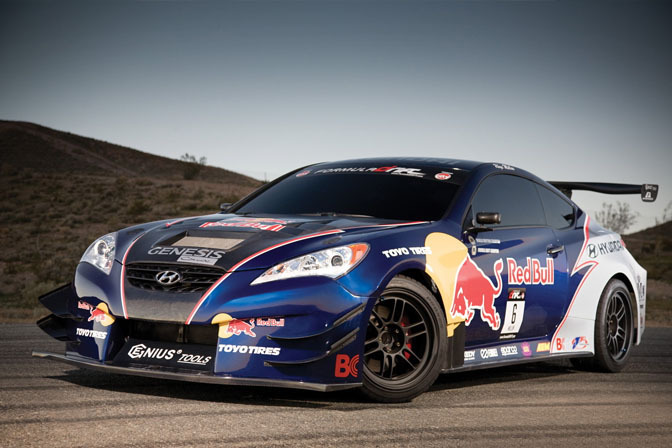 Ah yes, the car that stirred up quite a bit of "discussion" here last month – Rhys Millen's Hyundai Genesis. All arguments about the car aside, it's always difficult transitioning from a proven car like Millen's old Pontiac Solstice to an all new one (let alone a car like the Genesis that no one's ever drifted before). All eyes will be on Rhys this year to see how he does in Hyundai's first ever rear-drive sports car.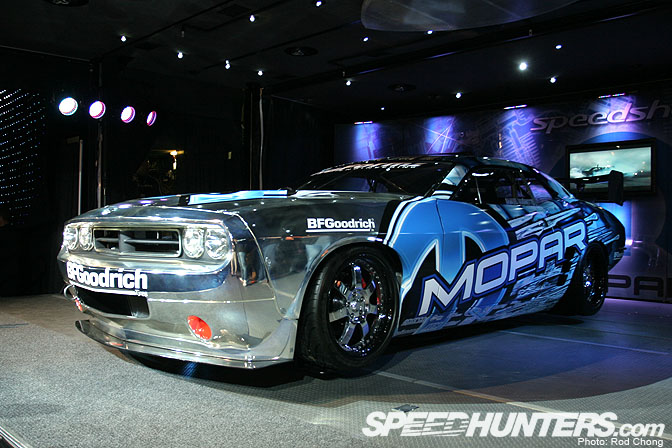 For 2009 Samuel Hubinette will be saying goodbye to his Viper and jumping behind the wheel of this all new Dodge Challenger. Just like his four-door Charger a couple years ago, the large Challenger should be big change from the Viper that he drove last season.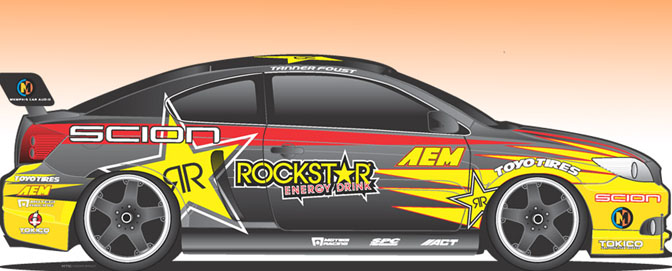 One of the biggest car changes for 2009 will be '07 and '08 FD champion Tanner Foust's move from his proven Nissan 350Z to an all new,rear-drive converted Scion tC. Alongside Ken Gushi's Scion tC (which is getting a makeover for this season), Tanner's new car will make for two rear-drive tC's in the Formula D Field.
With all of the top-ranked drivers switching to new and unfamiliar cars for this season, this might be the perfect opportunity for some of FD's other drivers to step it up onto the podium.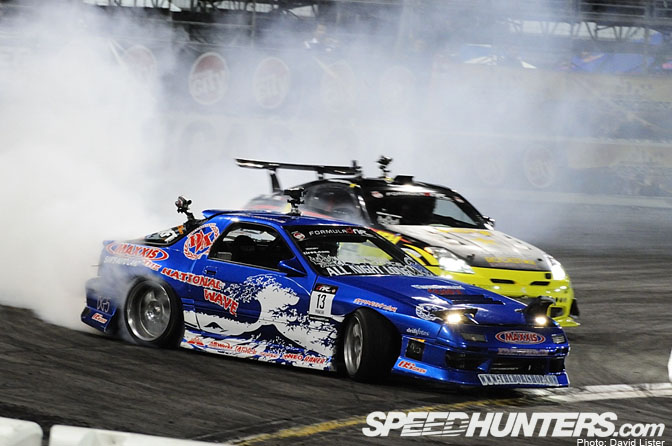 Justin Pawlak should be on track to to have a kick ass season in '09, as anyone who remembers his battle with Tanner Foust during last year's Irwindale finale can attest.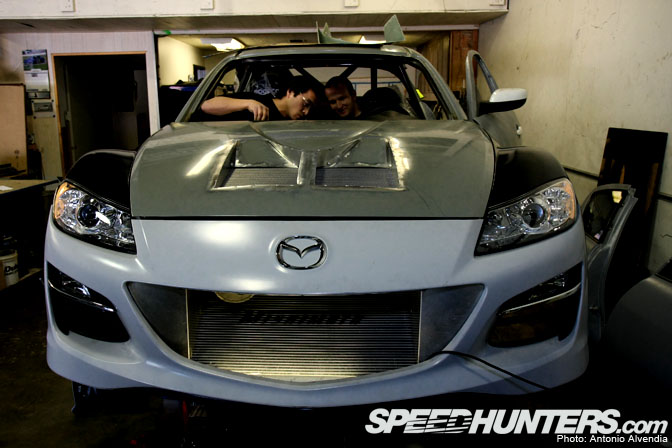 For this season, JTP will be behind the wheel of the all new three-rotor turbocharged RX8 being built by Bergenholtz Racing. In case you missed it, check out Antonio's story on this car right here. In addition to JTP, former FC3S pilot Kyle Mohan will also be in a new RX8 this year. Along with Tony Angelo's car, there will be a nice showing of RX8's this year in Formula D.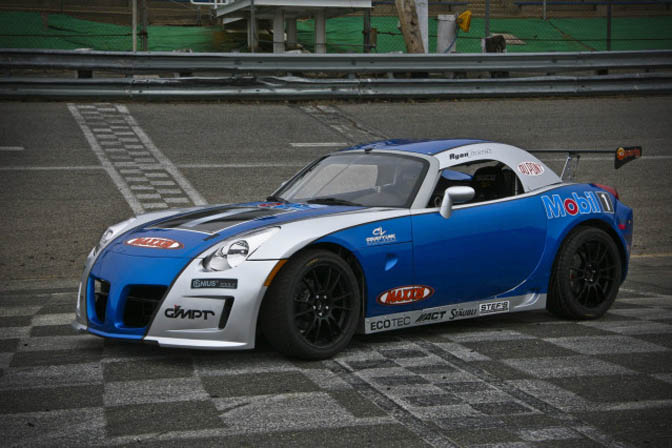 Ryan "Hampshaa" Tuerck and the Gardella Racing team will also be out for blood this year in the new and improved Pontiac Solstice, which I highlighted on Speedhunters last week.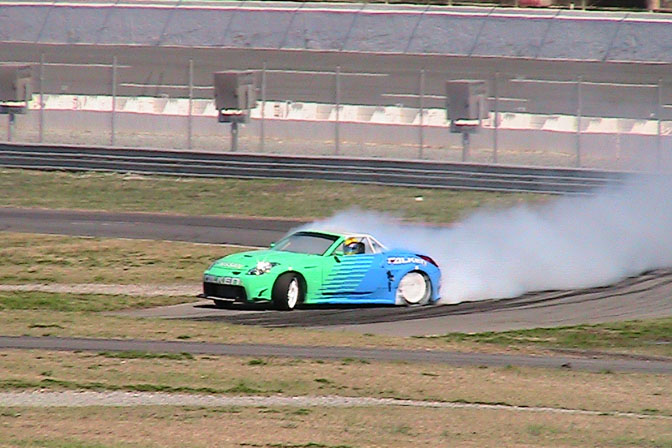 We also have the rest of the new Team Falken cars for 2009, including Tyler McQuarrie's V8-powered 350Z roadster…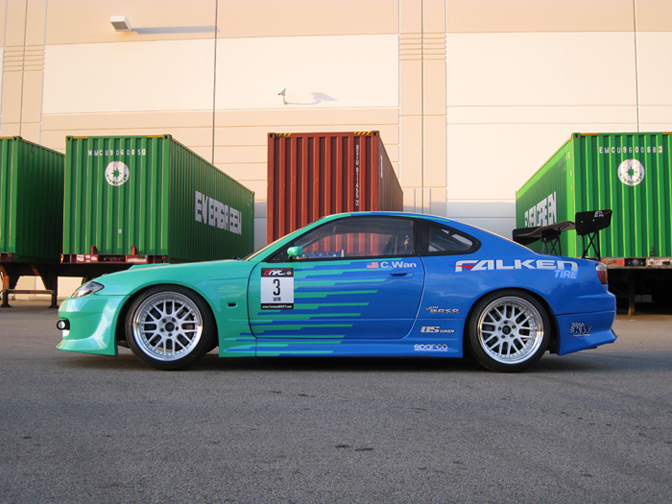 …and Calvin Wan's S15 Silvia, which he talked about recently in a Speedhunters blog post . Another new Falken car to be on the lookout for is Daijiro Yoshihara's Lexus IS which is, being completed right now.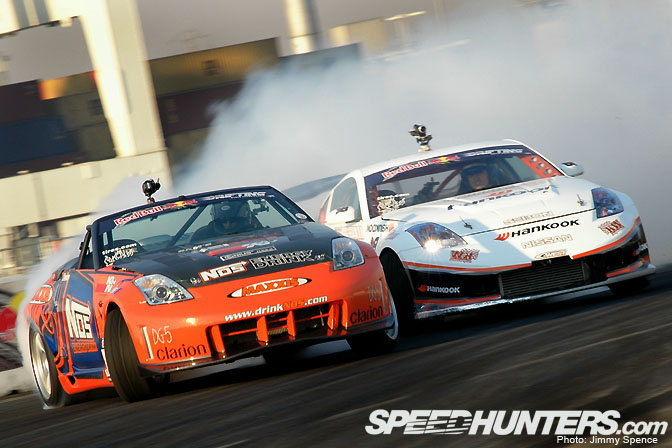 More drivers who could have big seasons in 2009, Chris Forsberg in the NOS 350Z vert, and Robbie Nishida who we expect to be back in the Hankook Z.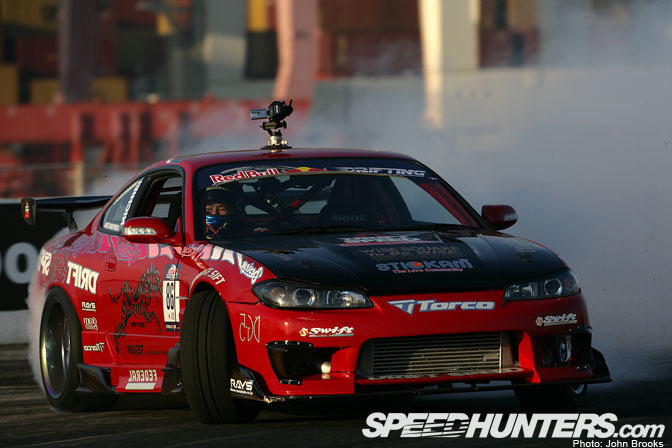 Recently, we have also heard that former D1 champion Katsuhiro Ueo will be appearing in Formula D this year in the Drift Speed S15 Silvia, as he did during the Red Bull WDC. Ueo should make for a fantastic addition to the FD roster with his years of drifting experience and of course his wild entries.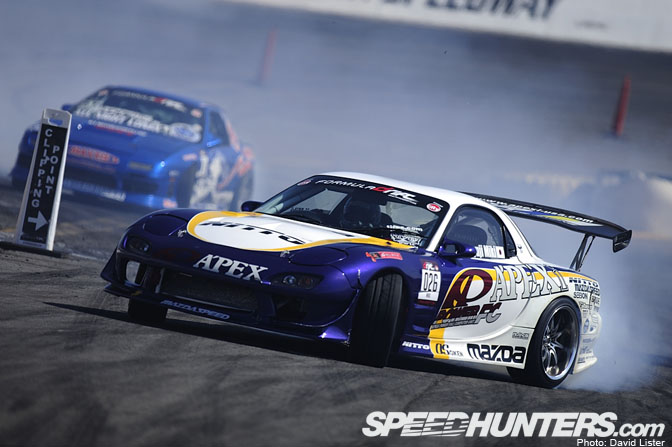 Another former D1 champion, Ryuji Miki will also be back this year behind the wheel of a redone version of the Apexi FD3S RX7.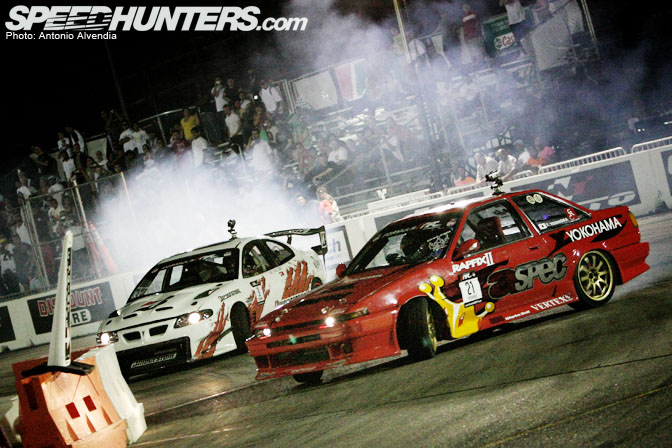 Another Japanese driver that we'd like to see back in Formula D this year is Toshiki Yoshioka, who had a memorable win last summer in Vegas with his AE86. How cool would it be to see Toshiking competing stateside this year in his Lexus SC430?
Other Japanese drivers to watch this year will be Kenji Yamanaka and Kazu Hayashida, who are said to be running a pair of S15 Silvias built by Signal Auto in Japan.
Finally, Ireland's Eric O' Sullivan will also be shaking things up in this year with a rear-drive Subaru Impreza.
These are just some of the things to look out for during the upcoming season of Formula D, which should be an exciting one to say the least. Next weekend I'll be heading to the FD Tech Day in SoCal to get a closer look at some of the new cars for 2009.
Anyone care to share their picks for '09 FD champ?
-Mike Garrett