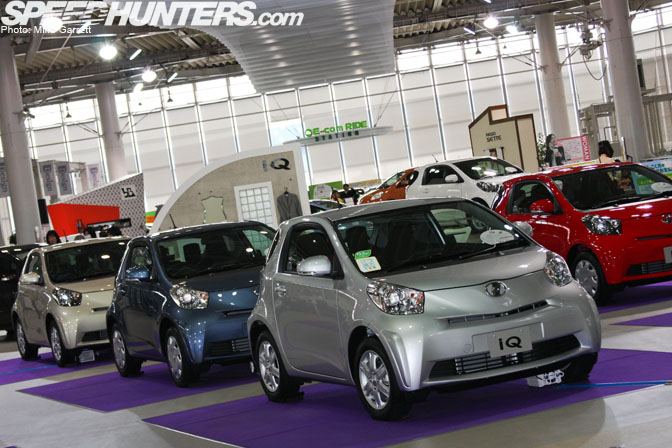 If you've been reading Speedhunters for a while, then you might remember that I did a short story about Toyota's "Megaweb" in Odaiba last year. In case you haven't heard of it, Megaweb is a huge showroom where you can check out the latest Toyota models and even test drive them around a special course that's setup outside. It's a worthy stop for any car enthusiast who's visiting Tokyo.
With it being Toyota month and all, I figured it would be a good time to take another trip to Megaweb to see if there was anything new. Visiting Megaweb is also a great way to get a look at Toyota's current JDM car lineup.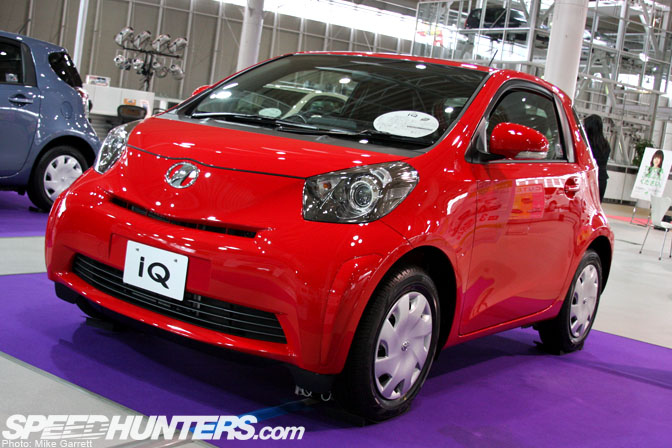 The most hyped up Toyota in Japan in right now is the iQ. Besides the ones I saw at Tokyo Auto Salon, I've seen several iQ's on the road and have been looking forward to getting a closer look. Fortunately there were several iQ models on display at Megaweb.
When I first saw photos of the iQ, it did nothing for me. In stock form the car still looks a bit funny, but with an open mind you can see there's some potential for coolness here.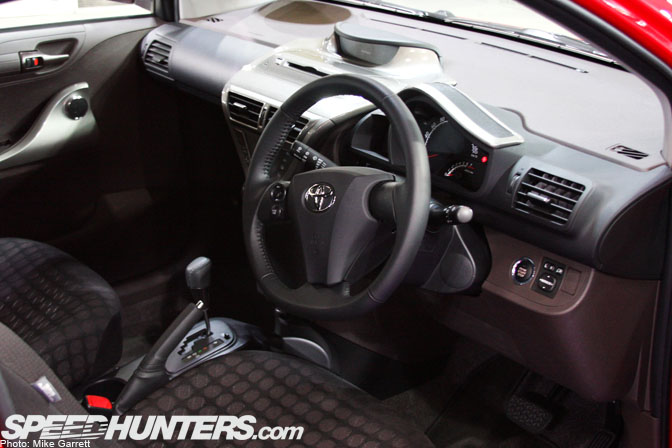 The interior is basic of course, but it's actually pretty roomy given how small the car is. Toyota claims it can carry four people though I'm not sure I'd want to be stuck in the backseat of this car for every long. I'm happy to see that Toyota is moving away from the "gauges in the center" dash layout you seen in their other small cars. I also thought the iQ's steering wheel looked pretty nice for a car of this type.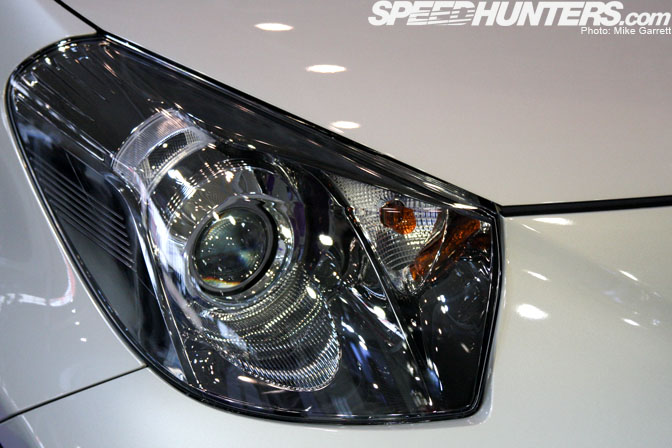 Even though the iQ is one of the cheapest Toyotas you can get, it's still packing some higher end features like projector headlights. With more people downsizing their cars, it's getting more common to see "economy" cars loaded with stuff that could once only be found on expensive luxury or sports cars.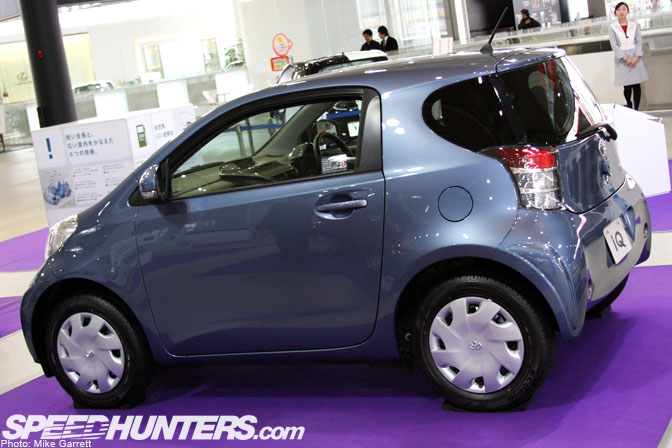 The current JDM model iQ's are powered by a tiny 1.0L engine that makes only 68ps. Word has it Toyota will be importing the iQ to the United States as a Scion model that uses the  same 1.5L engine from the Yaris. I'm not sure if I'd want to have an iQ as a highway hauler, but it sounds like it could be a cool city car or a very fun autocross weapon with its short wheelbase and wide stance.
Judging by the iQ's seen at Auto Salon this year, I'd expect to see some interesting things from this car.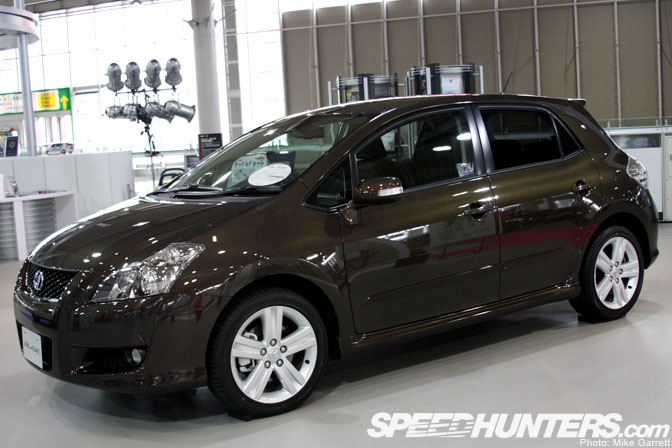 Besides the iQ, I also took a look at some of the other new Toyotas on display at Megaweb. The car you're looking at right here might be the fastest Toyota sold in Japan right now – the Blade Master G. It looks your typical midsize hatchback, but you can get it with a 280ps 2GR-FE V6. I'd say that's lots of power for a Corolla-based FF hatchback.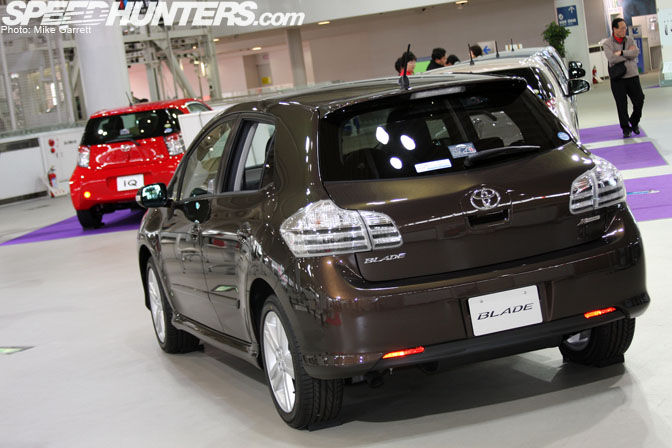 The exterior of the Blade is pretty aggressive by modern Toyota standards. The all-clear tail lamps look they came off the Lexus RX SUV.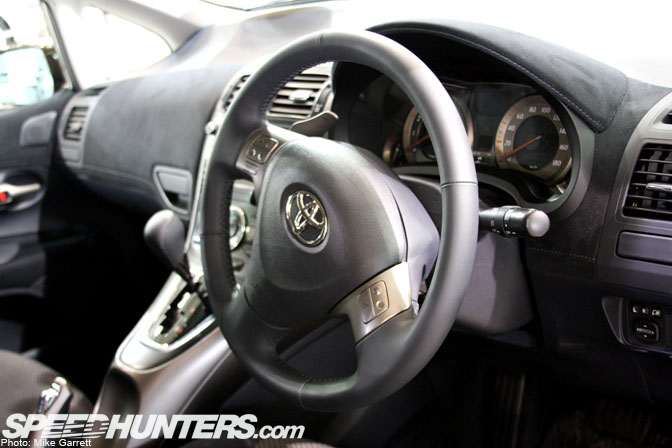 The part of the Blade that impressed me most was the interior. Modern Toyotas aren't really known for their "sporty" interiors, but this Blade had nice-looking alcantara material on the seats, door panels, and even the dashboard.
For some reason the V6 Blade hasn't really caught on among tuners here in Japan. I suppose it occupies a strange place in between small compacts like Fit and Vitz and purpose-built performance cars like the Evolution and STI. I wonder how the Blade Master G would go over on the US market?
The Vitz (AKA Yaris) has been one of Toyota's best selling cars in Japan for years. This particular model is from the "Chambre a' Paris Collection". I'm not really sure what that means, but I bet your significant other would like driving this car.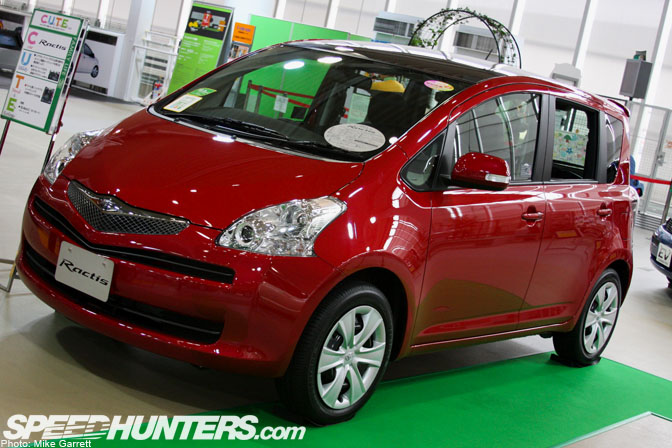 As you can see, the Japanese auto market is flooded with five-door hatchbacks of all shapes and sizes. This is one is the Toyota Ractis. I've always liked the styling on these, but I can't recall seeing many fixed-up versions around. I'm trying to imagine what it would look like slammed on some Work Eurolines…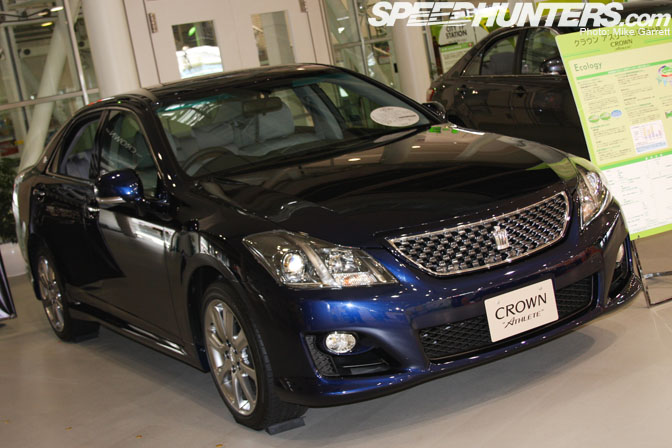 Ah yes, the Crown Athlete. If I could have any of these new Toyota models for myself, I'd probably choose this car.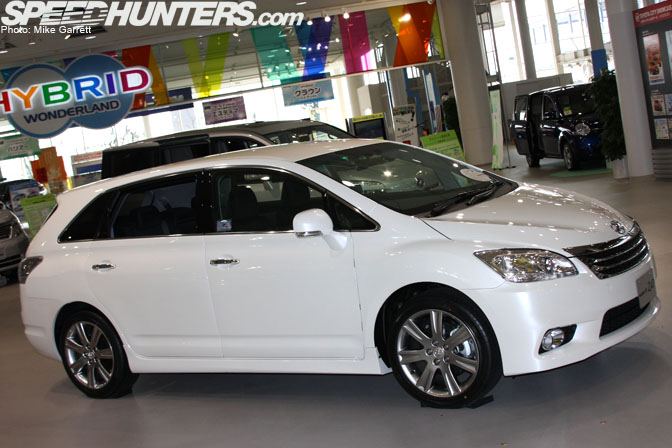 Here's another people mover, the Marx X Zio. In my eye it looks like someone took a normal minivan and chopped the roof several inches.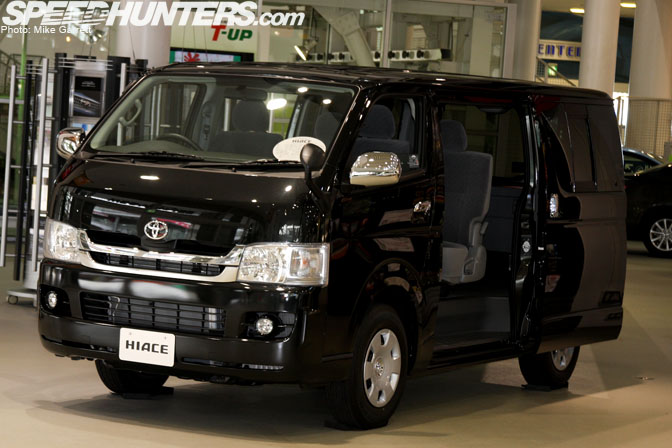 And finally, the classic and boxy Toyota Hiace – the official work vehicle of Japan.
Now I'm just waiting for the day when one can get walk into Megaweb and play with all the buttons inside the new Toyota FR sports car…
-Mike Garrett