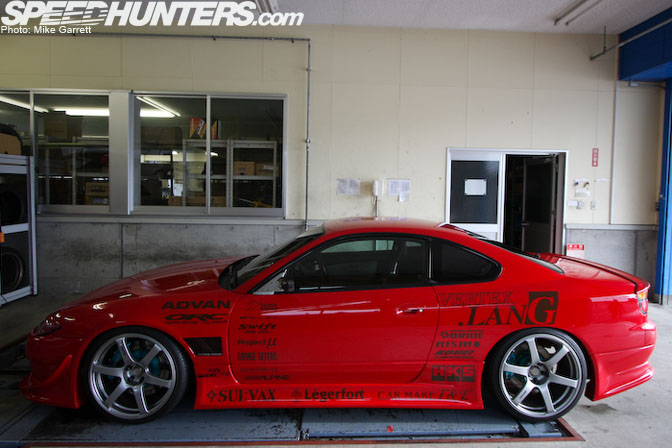 Less than a week from now I'll be back home in California eating at my favorite burger joint for first time in nearly a year and a half, but right now I can't think about that stuff too much as I'm trying to focus on keeping the posts coming while at the same time helping the wife with moving preparations and last minute packing.
For this post, I want to quickly share with you something I spotted last week when I was visiting HKS. As Saitou-san was showing me around the place, we walked by one the company's many R&D garages where I caught a peak of this red S15 Silvia sitting within.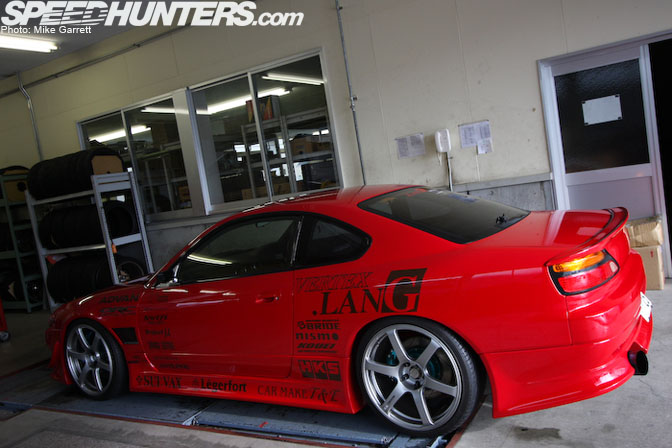 I immediately recognized the car and before Saitou-san could say anything, I was instinctively heading towards the gleaming red Nissan.
"Oh yeah, Nobuteru Taniguchi's personal S15 Silvia is here right now", he said. I asked if it was OK to snap a couple quick pics, and he said it was cool as long as I edited out the license plate number.
We don't want any crazy JDM stalkers showing up at NOB's pad, right?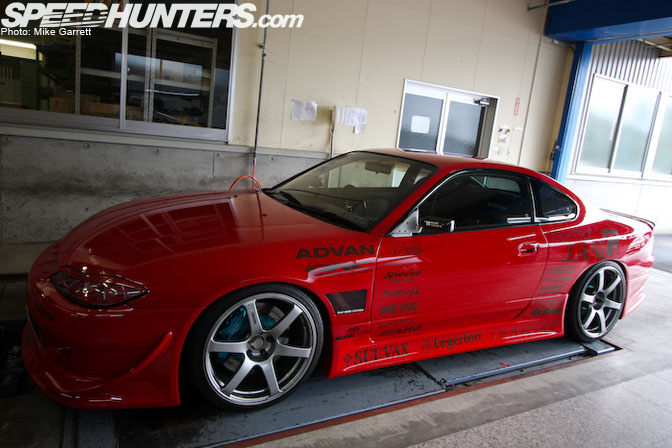 I don't think I'm alone when I say that this car sets the standard for what a street-going S15 should be. Fantastic style and balanced performance in a road legal car that's clean enough to be showroom new. What more could you want?
If we did a top ten list of the best Silvias of all time, where would this car rank? I'm thinking top three without a doubt….
Automotive-wise, Japan goes through fads faster than a confused teenager, but I know that in 30 years from now this car will be looked at in the same light as a Hakosuka GT-R or S30Z on a set of RS Watanabes.
Timeless.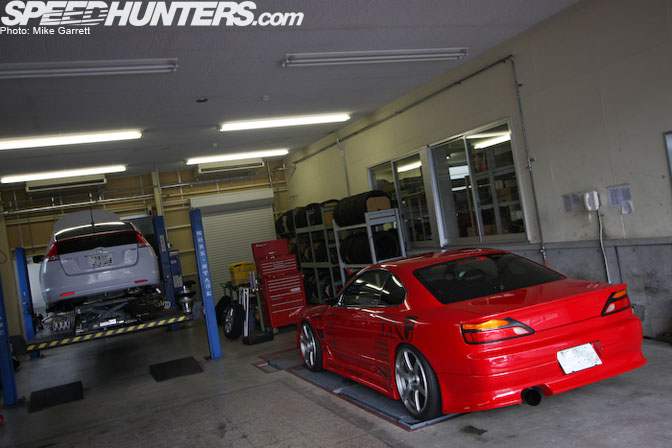 If you can take your eyes off the Silvia for a moment, I want to see if anyone can identify the car on the lift on the background.
Ok, have to go for now. The guys from the secondhand shop are coming right now to take away to the table I'm sitting at!
-Mike Garrett