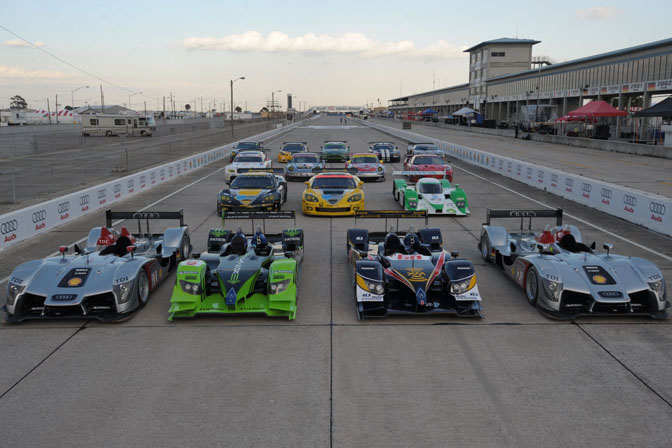 You may have noticed, we are fans of the American Le Mans Series here at Speedhunters! The 2009 season kicks off this weekend at Sebring in Florida.
We have John Brooks out in his natural habitat, at the track, so stay tuned for more images and stories over the next few days and have already posted a number of articles this month. We also introduced highly respected Sportscar author, Janos Wimpffen to Speedhunters this week, with a couple of retrospective posts on Sebring.
Back to the present, time to refresh everyone's memories of the ALMS and introduce you to the Class of 2009.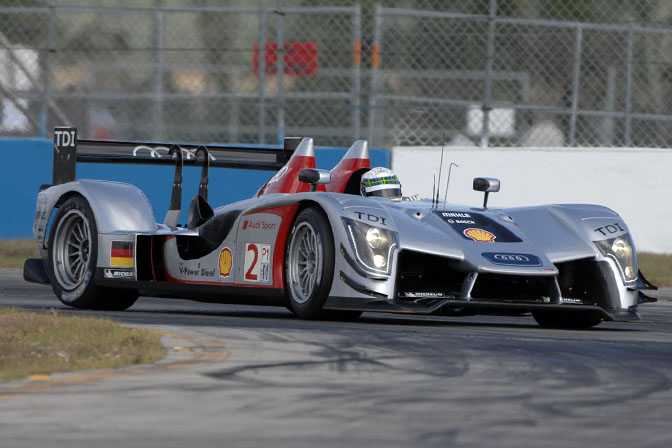 The 2009 Season will consist of 10 races across North America. The opening round at Sebring is a true endurance event, running 12 hours. A tough introduction for new drivers, teams and cars.
The series also includes 'blue ribbon' events at Long Beach, Road Atlanta (Petit Le Mans) and Laguna Seca. The series has late spring break for the few lucky ALMS teams to take part at Le Mans.
The American Le Mans Series has four classes. Two prototype and Two 'GT' classes. Prototypes are your traditional style of Endurance Sports cars. Custom built machines which can be open or closed cockpit.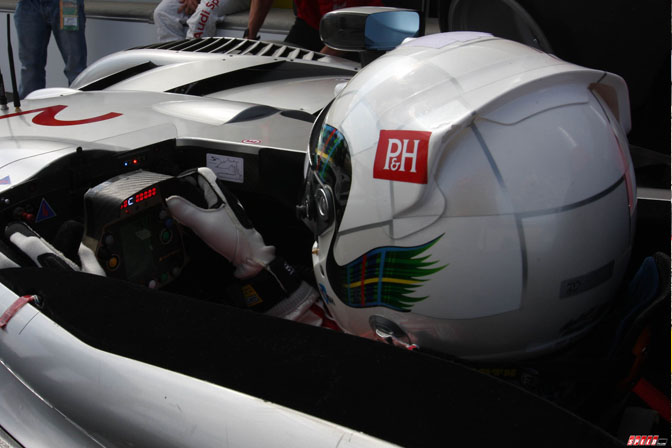 Open cockpit has benefits in quick driver changes and visibility.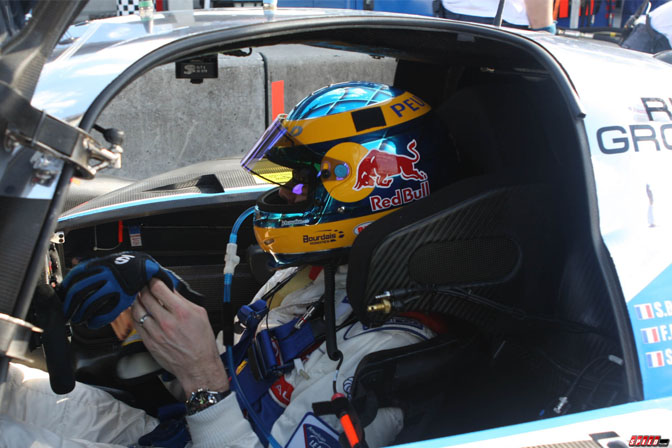 Closed cockpit is more aerodynamic.  Visibility is a big issue due to the thick A-pillars.
The majority of teams run open cockpit cars, but Peugeot (above) and Dyson, with the Lola Mazda are running coupes.
The two prototype classes look very similar, but there are small differences under the skin. LM P1 is the premiere class. The cars have 700bhp (P2 has 550bhp) and a little heavier and larger more powerful engines than LM P2.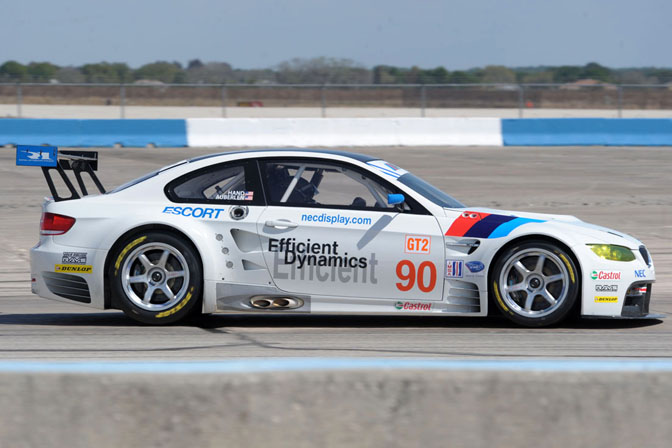 GT cars are closer to the sports cars you see on the road, but on close inspection, they are fully-fledged race machines. GT1's have 600-650bhp while GT2's have 100-150bhp less and are a little closer to production cars. GT cars can also be picked out at night by their yellow headlamps.
So, we'll start our run down of the cars, from the sharp end of the grid with the P1 brigade.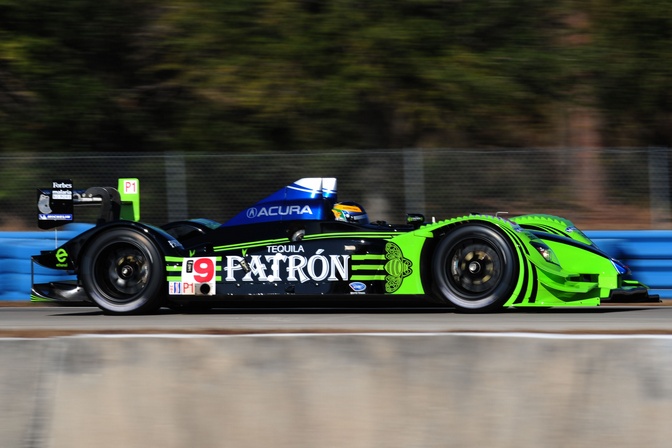 Acura are the main full time entries in LMP1, having developed a radical new car with Wirth Research, as they move up from LMP2.  Patron Highcroft Racing and XM de Ferran Motorsport and will be racing the new car, designated ARX-02a. You can read more on the stunning Acura in our feature from last week.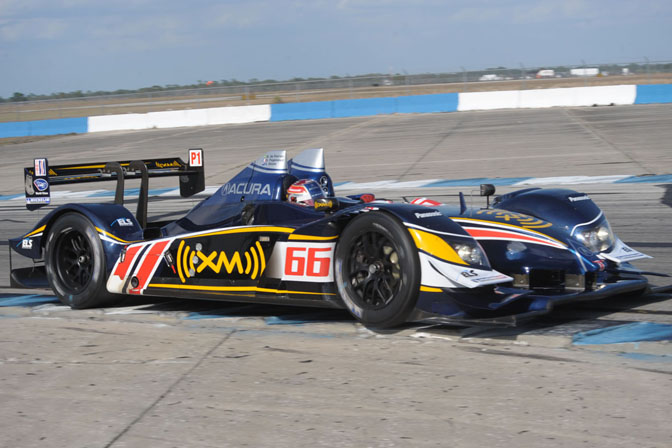 Acura had a tough winter testing season with a number of issues on the radical car. The team, and tyre manufacture, Michelin, still have to get the front tyres (which are actually rear tyres!) working effectively.
As front and rear tyres are produced to work differently, this could be a steep learning curve, which could hamper Acura earlier on the season.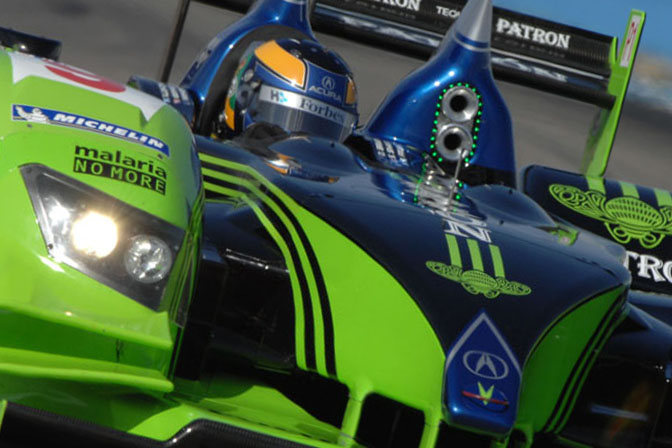 Acura's trump card is David Brabham, one of the very best endurance racers in the business. So much so, that the Patron Highcroft driver has been snatch up by Peugeot at Le Mans!
'Brabs' will be joined by Scott Sharp and for Sebring, ex IRL champion, Dario Franchitti.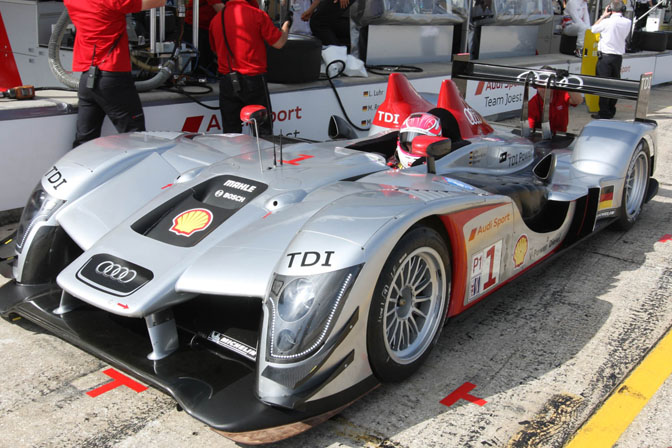 Acura are joined at Sebring by Audi and Peugeot with two cars a piece.
Audi are debuting their all new R15 TDi racecar. Despite winning the last nine ALMS championships, Sebring is the only ALMS race confirmed. Rumours circulate the German manufacture may return for Petit and Laguna at the end of the season.
Both cars are potential race winners, but the No2 car of Capello, Kristensen, McNish (below) has the best driving combination in the field.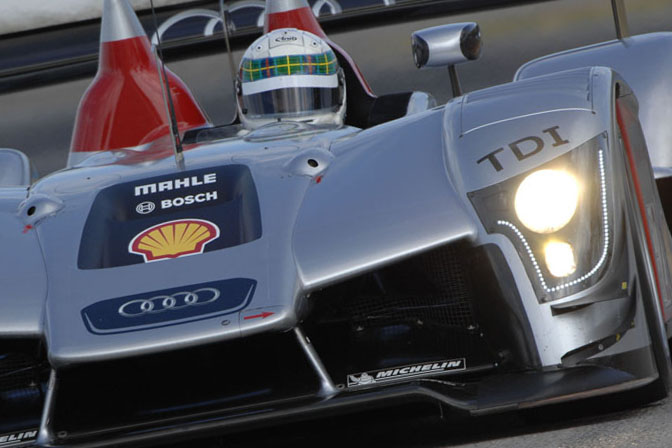 In testing in Europe, and earlier this week in Sebring, the Audi's have been extremley quick. They could walk away with this….but it is an all-new car and it has few miles under their belt. A 12 hour race is a tough introduction.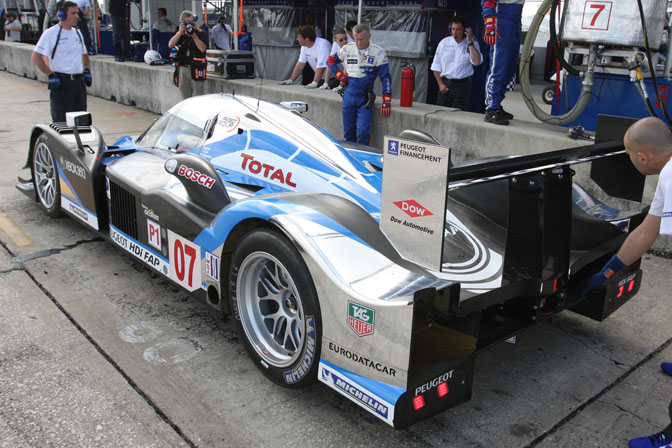 Peugeot bring two of their 908 HDi FAP Turbo Diesel cars across the Atlantic. With no real presence in North America, Peugeot say they are using this event just as a test for Le Mans. We will see.
2008 saw lots of tactical errors and mistakes, but Peugeot now have another year of experience under their belt. Peugeot have been quick in testing topping the time sheets yesterday.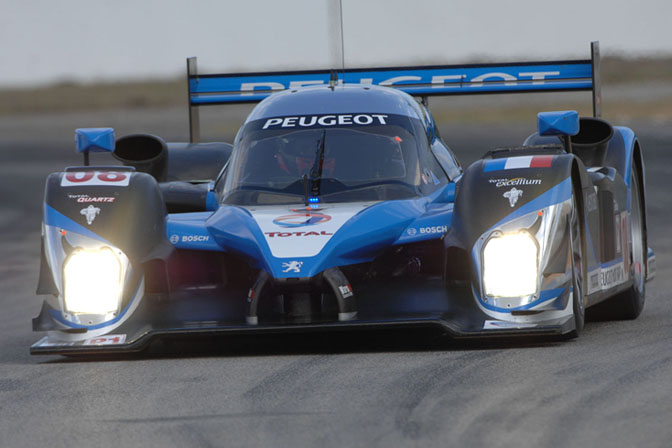 Peugeot haven't had it easy this week. Formula 1 driver, Sebastien Bourdais damaged the No 8 car on Tuesday and was repaired, but dramas for the other car when a crack was found in the tub.  The team did investigate sending a tub over from France (which would result in having to miss qualifying), but Marshall Pruett is reporting in his Speed TV blog, that Peugeot are working with an American constructor to repair the tub.
Once Audi and Peugeot return to Europe, Acura should walk LMP1 during the season as the remaining entries are privateers. One of the privateer Lola's could spring a surprise at Sebring. A tried and tested car is a valuable commodity in a 12 hour race, when surrounded by so many new machines.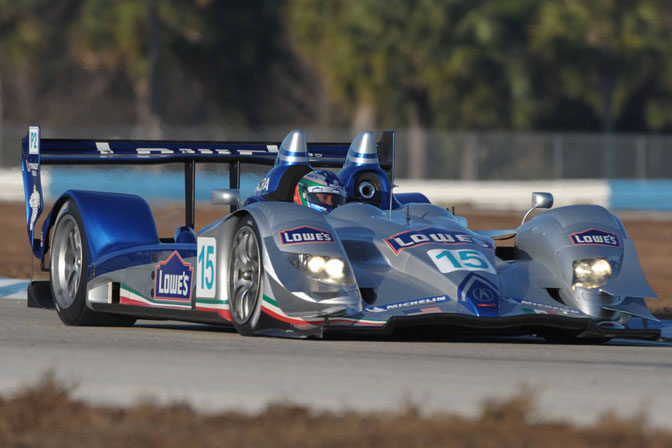 Consistency could also be the right choice for Fernandez Racing Acura in LM P2. Unlike the other Acura teams, the Lowe's sponsored team chose to stay in LM P2 for the 2009 season.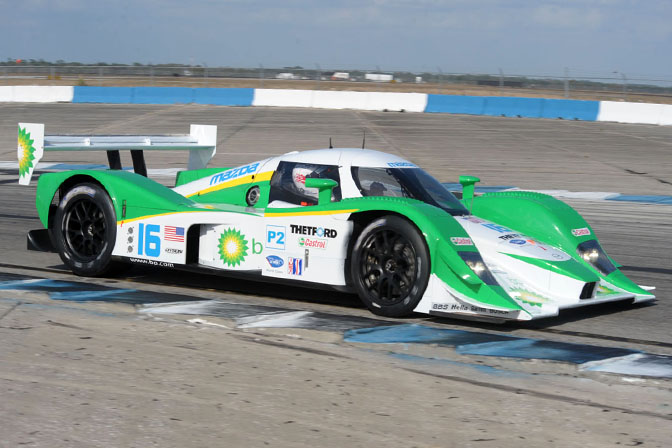 They are joined in LM P2 by two fantastic looking Lola Mazda Coupe's, now run by Dyson Racing. Dyson are still understanding the Lola Chassis (one 2008 and one 2009 version) and the Mazda engine, so any reliability issues could hand the Sebring P2 win to Acura.
As the season progresses expect Dyson to excel. Dyson are experts at turning privateer or semi-works cars into race winners.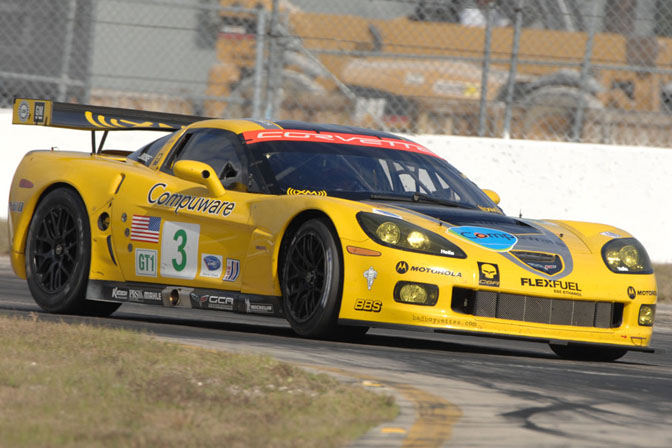 The GT1 class, at least in its current form, is on the way out. The loud works Corvettes will be racing teach other for the first half of the season before launching their new GT2 Corvette race car after Le Mans.
Two great driver line ups in the Corvette. 2008 GT1 champions, Jan Magnussen and Johnny O'Connell are joined by 2008 Le Mans GT1 winner, Antonio Garcia, while the sister car has Olivier Beretta, Oliver Gavin and Marcel Fassler in a new all-black livery. Maybe the two liveries is an attempt to hide the fact, its the same team competing against each other!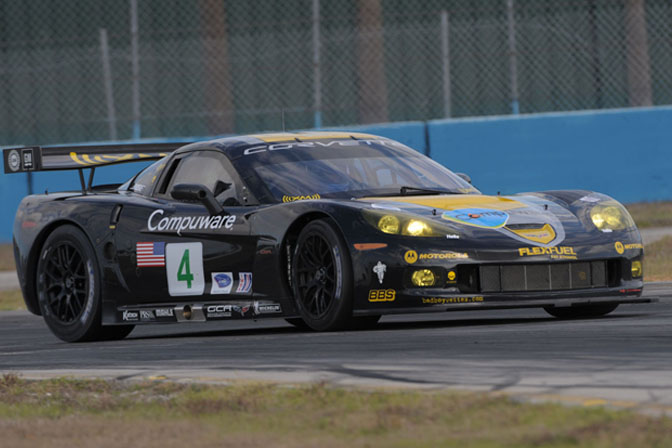 Always been a big fan of Gavin from his days of British F3, so I personally hope the #4 car beats the sister car.
GT2 will be a tough to crack for Corvette when they join later this year. New car, tight budgets with the financial issues surrounding GM, and  the small matter of Porsche, Ferrari and now BMW to surpass.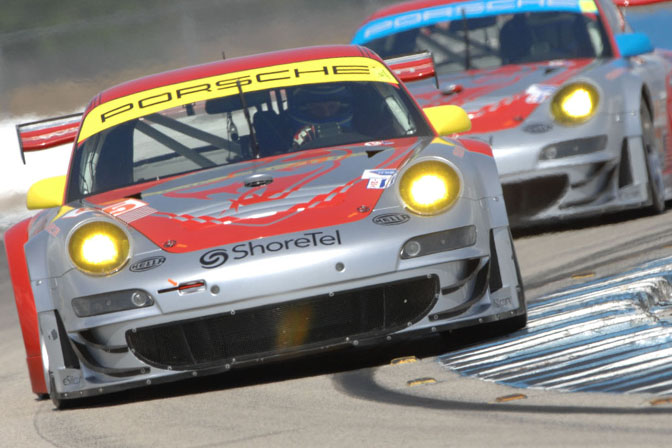 The GT2 class at Sebring has a great line up and any one of six or seven cars could win at Sebring. This could be the pattern for the whole season.
In the Porsche camp we have three teams at Sebring. Farnbacher-Loles, Flying Lizard and VICI Rcing. All have really great driver line-ups, Michelin tyres and 2009 chassis for the two 'F-L' teams.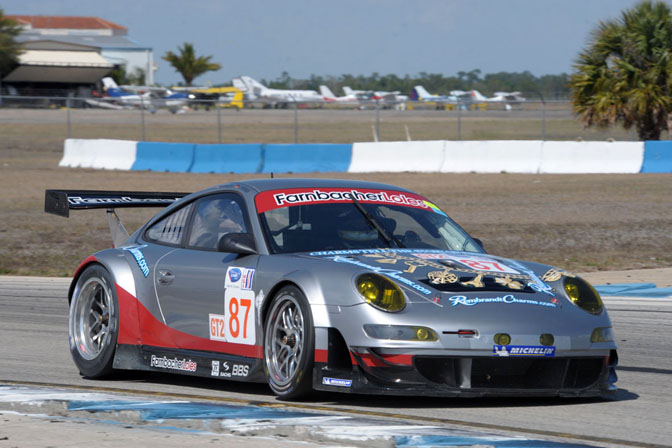 The Farnbacher Loles car has Dirk Werner, current GT2 champion, Wolf Henzler and Richard Lietz on board.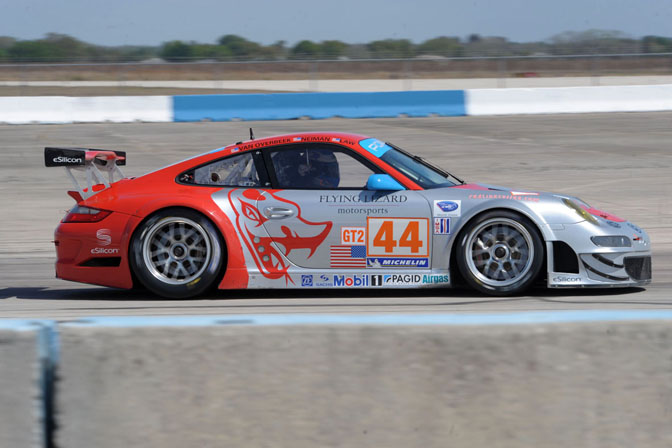 In the Flying Lizard camp,  Team owner Seth Neiman is joined by regular, Darren Law and Johannes van Overbeek in car No 44, while their second car has the other 2008 GT2 champion Jorg Bergmeister joined by ex Penske Porsche racer, Patrick Long and Marc Lieb.
VICI Racing haven't been seen testing this week, which could put them at a disadvantage this weekend. It appears their plans to race 2009 chassis have been delayed and they will continue with 2008 cars, which are still being prepared.
Porsche Supercup Champion Richard Westbrook and Porsche specialists Marc Besseng and Lance David Arnold are in one car while the second car has Nicky Pastorelli, the legendary Hans Joachim Stuck and his son Johannes.
The Porsche line-ups are VERY Strong.
An additional Porsche 911 GT3 RSR will appear later in the season. More on that soon….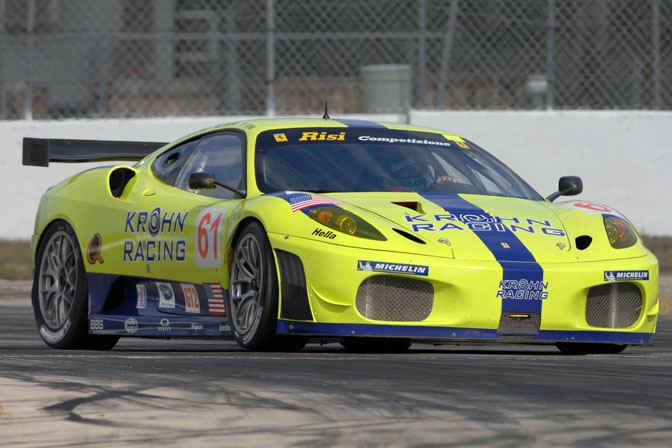 Three Ferrari's are entered for Sebring. Risi Competizione have two cars entered, one in Krohn Racing livery and one in the traditional Ferrari Red.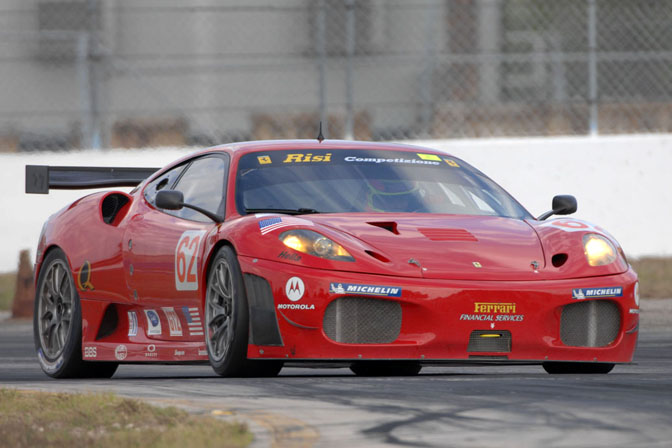 Risi had a tough year in the ALMS last year, despite winning the GT2 class at Le Mans. The team will be looking to re-take the title from the Porsche crowd.
AF Corse, under the name 'Advanced Engineering Pecom', come from Italy with racer and WRC rally driver Luis Perez Companc leading the team. This Ferrari has been quick in testing and has been successful in the FiA GT championship so they may spring a surprise.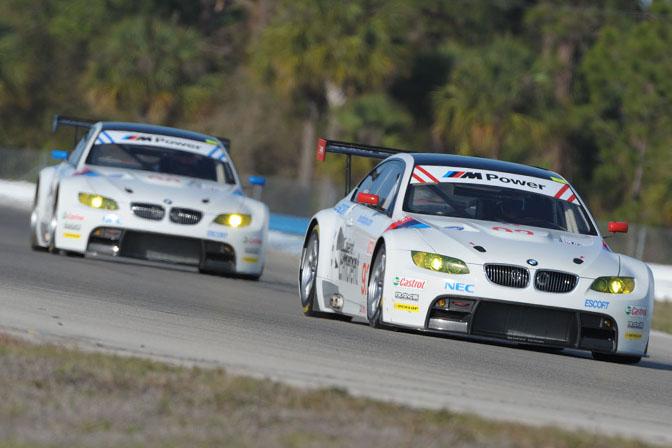 Porsche and Ferrari have added competition from BMW in 2009, with two works entries from Rahal Letterman Racing.
The two M3 machines still need development, so don't expect class wins yet, but BMW never enter a series just to make up the numbers. It won't be long before they win their class.
Unusually, both cars are only running 2 drivers per a car for this endurance event, while most other teams run three.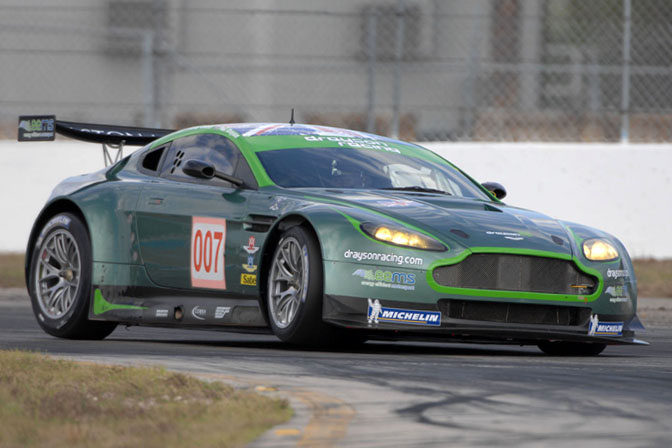 Aston Martin return, at least for Sebring, with Drayson Racing.
Lord (Paul) Drayson, a serving 'Minister of State' in the UK Government is back with regular team-mate Jonathan Cocker. They are joined by Rob Bell for Sebring.
Drayson Racing will contest the full-season in the Le Mans series in Europe and also have an entry for Le Mans.It is unclear if they will re-appear in the ALMS, but they have a busy season ahead in Europe, even before you consider the Government responsiblities.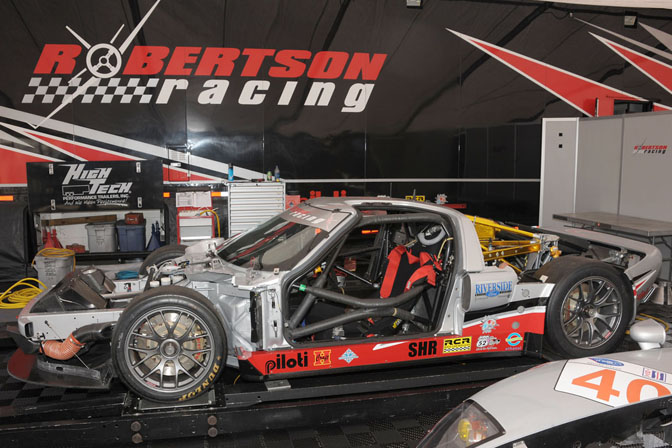 Corvette, Panoz, Ford…..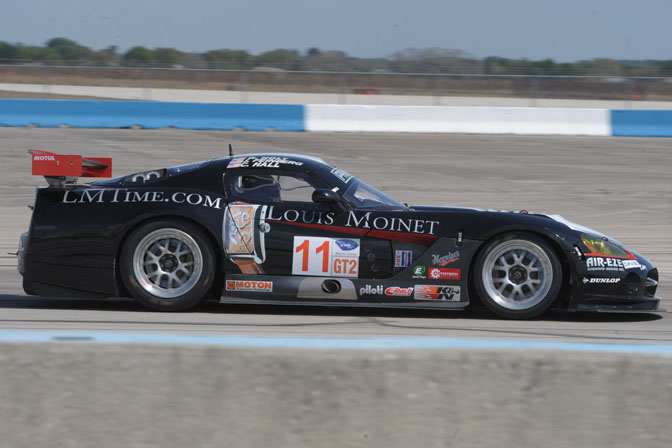 ….. and Dodge are also represented in GT2 with privateer entries.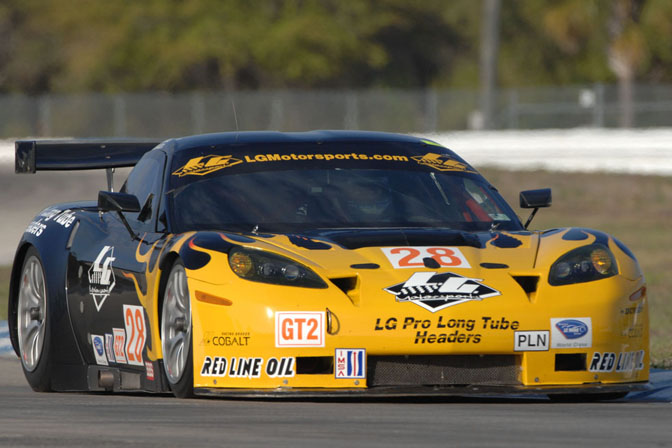 The LG Motorsports Corvette is a non-works car developed independently of GM by Riley Technologies, and the team and has nothing in common with the GT2 works effort, due later in the season.
A long preview, but it is because it is a cracking line-up for 2009.
2009 ALMS Calendar
March 18-21  Mobil 1 Twelve Hours of Sebring, FL
April 3-5        Acura Sports Car Challenge of St. Petersburg,FL
April 16-18    Toyota Grand Prix of Long Beach, CA
May 15-17    Larry H Miller Utah Grand Prix, Toole, UT
July 17-18    ALMS North East Grand Prix, Lakeville, CT
Aug 06-08    Acura Sports Car Challenge, Lexington, OH
Aug 14-18    Road America 500, Elkhart Lake, WI
Aug 28-30    Mobil 1 Grand Prix of Mosport, Ontario, Canada
Sep 23-26    Petit Le Mans (10hrs), Road Atlanta, GA
Oct 8-10       Monterey Sports Car Championships, Laguna Seca, CA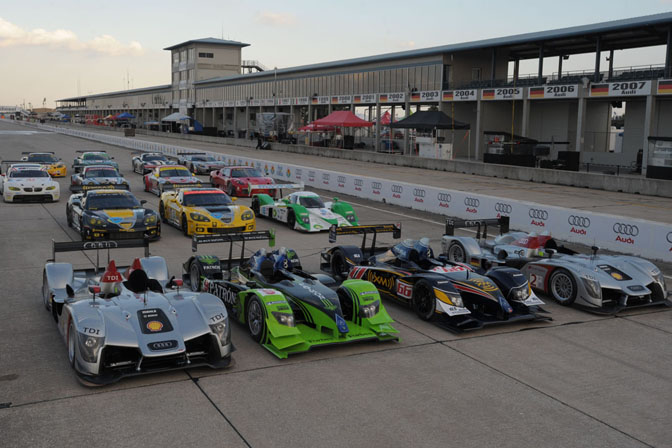 But, this weekend, possibly a one time opportunity to see Audi v Peugeot v Acura duel at the front.
It will also be interesting to see how quick the BMW M3 is compared to Porsche and Ferrari in GT2. The script for an epic race is about to be written.
Sebing has extensive Television and online commentary coverage. See our 'coverage' post for European and North American TV times, preview shows and documentaries.
RadioLeMans.com will provide you with full qualifying (this afternoon) and race coverage over the weekend, so make sure you check them out.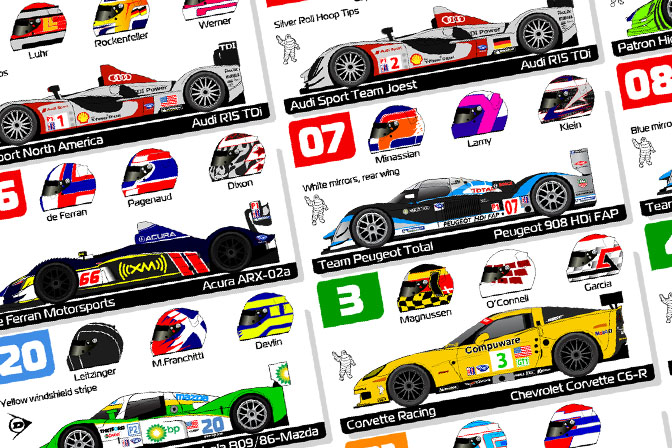 If you are at the circuit,  the computer or in an armchair watching the TV, you may find the ALMS Spotter Guide, which I have produced, useful. The guide is in conjunction with Radio Le Mans.com, Speed, Ten-Tenths forum and the ALMS.
The guide shows all the cars, teams, drivers, classes and tyre choices. You can download the guide here. Enjoy.
UPDATE: Peugeot repaired and back out today, ready for qualifying
-Andy Blackmore
Images: American Le Mans Series, SpeedTV.com
Speedhunters Sebring 2009 Features