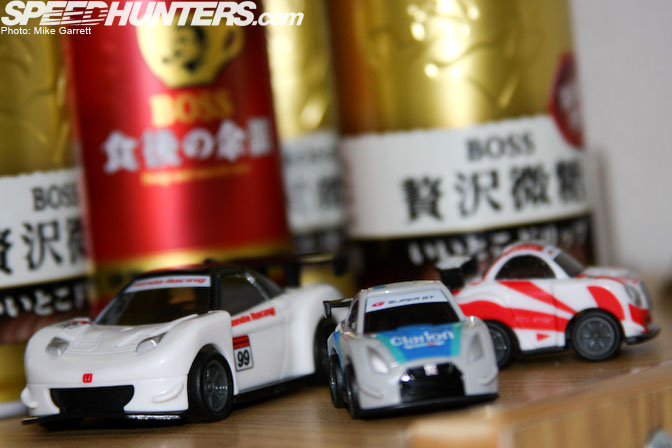 Yesterday I was browsing through the official Super GT website looking for news on the upcoming season when I found an announcement that Suntory has teamed with Super GT for a new promotion. Starting this week, selected cans of Boss Coffee will come with free Super GT mini-cars. Since this a "while supplies last" sort of thing, I quickly headed down to my local Family Mart to see what this was all about.
Sure enough I found a whole bunch of them sitting there in the coffee section. I ended up bringing home a few of them and thought it would make an interesting post as we look towards the start of the 2009 Super GT season later this month.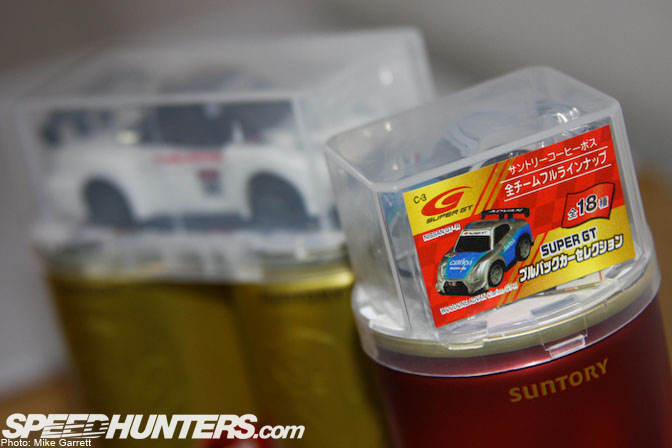 This is what they look like before you open them up. A simple plastic case attached to the top of a coffee can. For the price of about 120 yen, you not only get one of these Choro-Q sized cars, but also a delicious can of Boss Coffee. Can't beat that, right?
If you buy two cans, you get an even bigger (1/64 scale or so) GT500 car.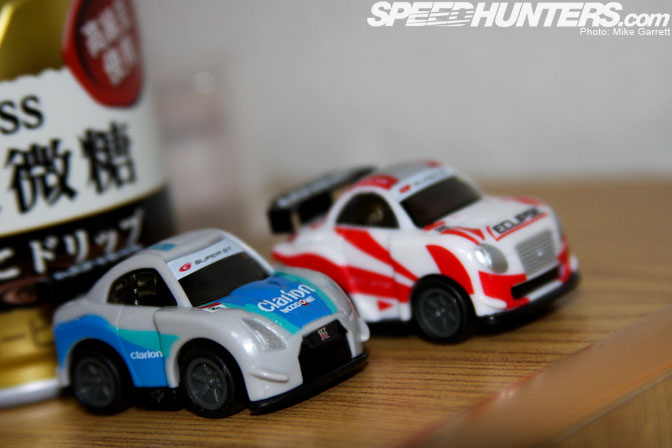 The Nissan GT-R, Lexus SC430 and Honda NSX are all represented, with about 18 different liveries in all. For the smaller cars I went with the Woodone Clarion GT-R and the Eclipse SC430. Obviously these aren't high quality replicas, but what do you expect for something that comes mounted on a coffee can (at no extra charge!)?
It's actually pretty common to find these kind of freebie collectables at Japanese convenience stores. You'll find everything including toy cars, miniature trains, anime figures, or other kinds of nerdy stuff.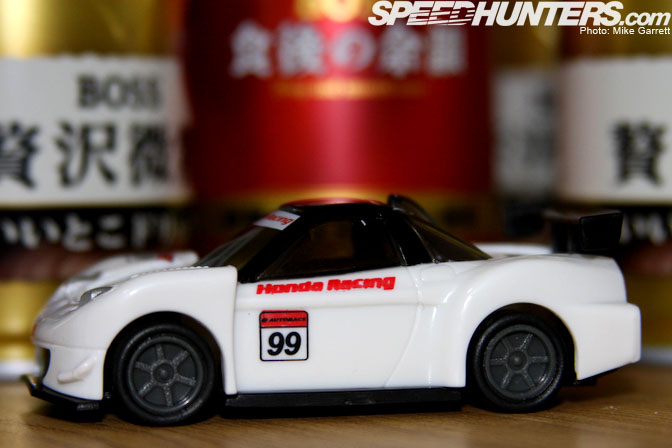 I thought it was cool that you can even get the test car versions, as shown here on the "big scale" NSX. They are also friction powered so you can send them flying down the floor if you'd like.
Being able to walk into the neighborhood convenience store and pick up cool stuff like this is another thing I'm really going to miss about living in Japan.
OK, time to go find some extra room in my suitcase for these babies…
-Mike Garrett