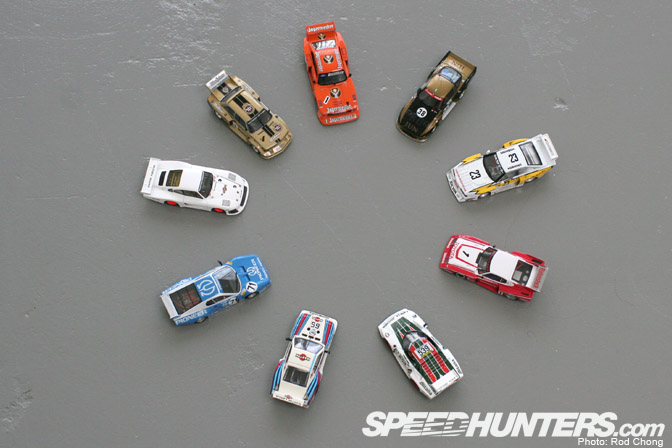 I find at most big racing events, the bits of car culture you see in the paddock and spectator areas are often just as interesting as the on-track action. It's here that you can get up close with the unique qualities of local automotive scenes. Sometimes when I'm wandering about these spectator areas I'll come across something that I will absolutely HAVE to bring home with me. It may be a book, a sticker, a magazine or just a photo opportunity.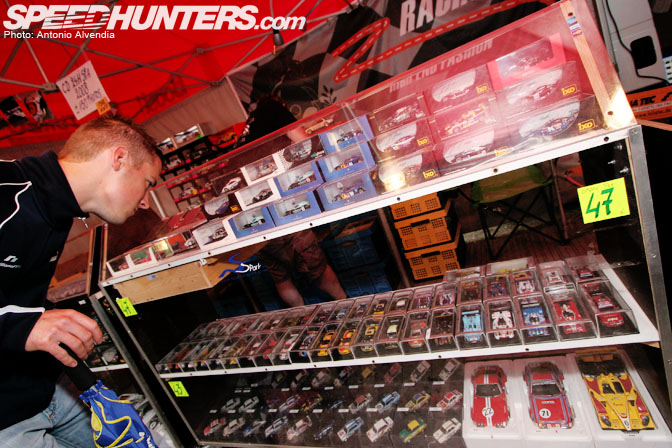 Last August, I was at the FIA GT 24 hour race at Spa-Francorshamps in Belgium with Antonio Alvendia and John Brooks, doing our usual photo and video coverage of the event for Speedhunters. I was casually looking through the stacks of 1/43 die cast cars at one of the many collectable booths which dotted the inner and outer paddock around the main pit area…. and I saw a something that made me stop in my tracks….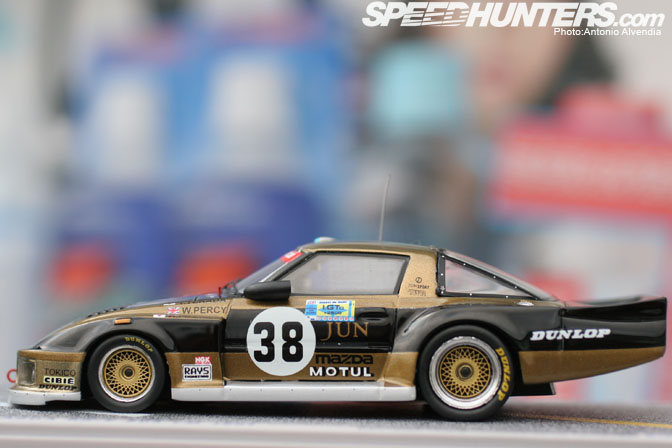 This little model car… It's a 1/43 die cast of the Mazda RX7 type 253 Le Mans race car… I was quite surprised to see that this relatively unknown race car would ever have been made into a model car…. but there it was…. On the spot I decided to start a collection of Group 5/IMSA GTX 1/43 scale models. These are my absolute favourite types of race cars, so why not? These little car models are sure as hell a lot less expensive to collect than 1/18 scale die casts and offer a much wider range of car types that their larger scale brothers.
So my collection was officially started!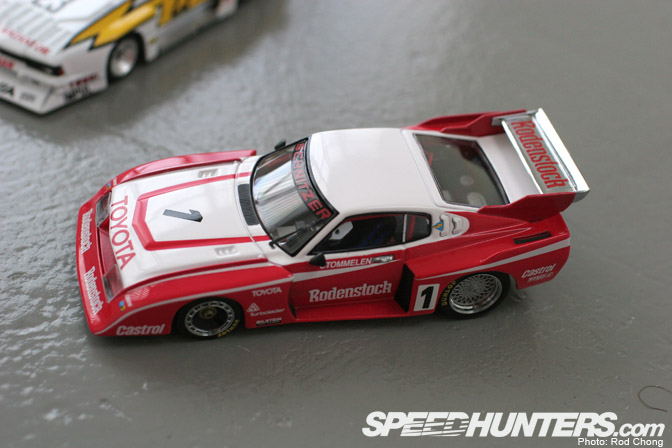 After Antonio and I finished our tour of Belgium and Germany, we flew to Japan… one of our first stops was an amazing five-storey Tokyo automotibilia shop called "Mr Craft". It's here that I found this 1978 spec Schnitzer Toyota Celica Group 5 racer.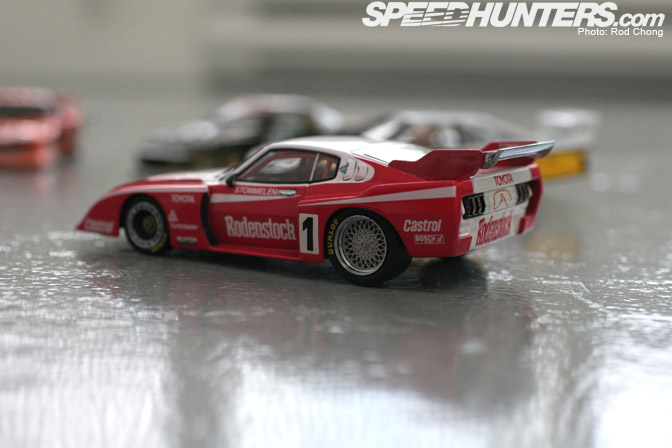 The model is from Ebbro. They have a few Group 5 cars in their Catalogue – a mix of European and Japanese race cars.
I quite like the wedge shape of this rare Toyota race car.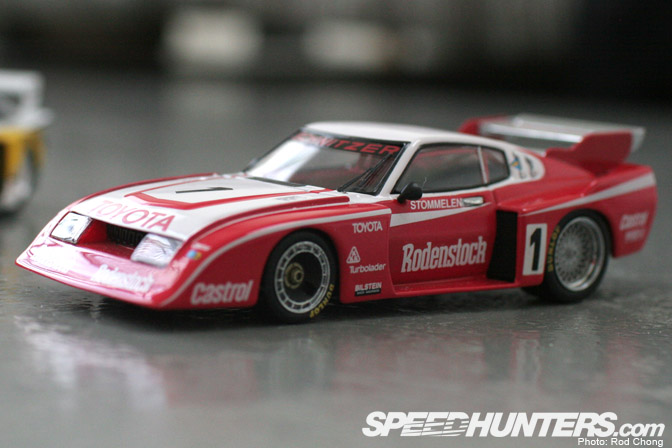 Ebbro have incorrectly modelled the rear wheel though… the center part of the wheel is too large. Compare them to the photos of the car in this recent Speedhunters article on the car to see what I mean.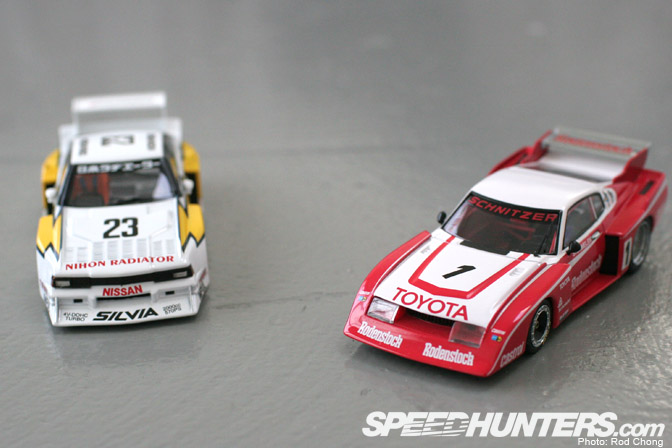 I also picked up this Ebbro 1982 spec S110 Sylvia model that day at Mr Craft…. Unlike the German built Celica, this vintage factory Nissan machine raced exclusively in Japan.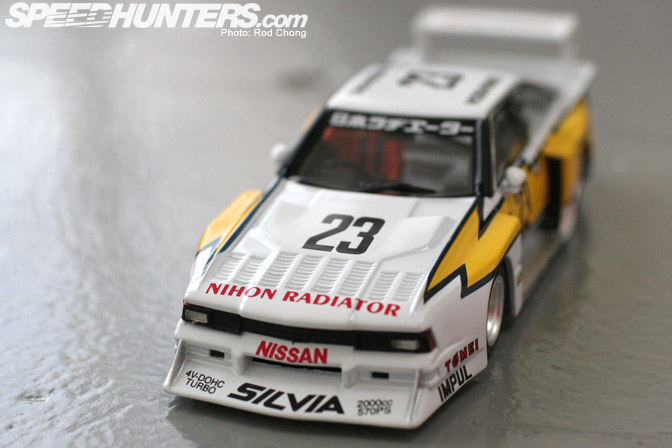 I am far from an expert on Japanese Super Silhouette racing from the early '80s. English literature from this Japanese racing era is almost non-existent, but if you want to read a little bit more about these cars Mike Garrett wrote this article here.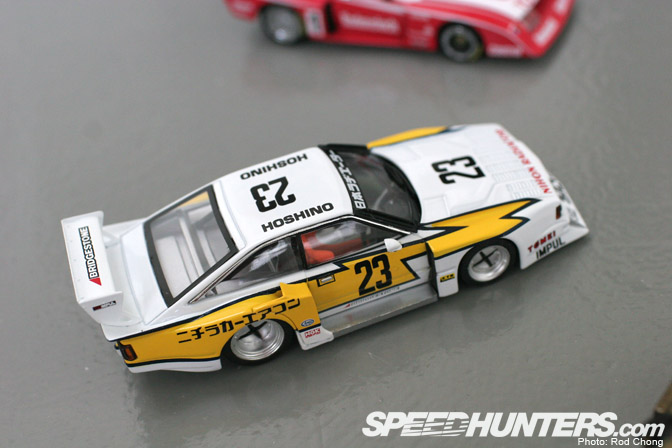 I'm not 100% certain, but I'm pretty sure the rear of the car has been extended into a bit of a whale tail….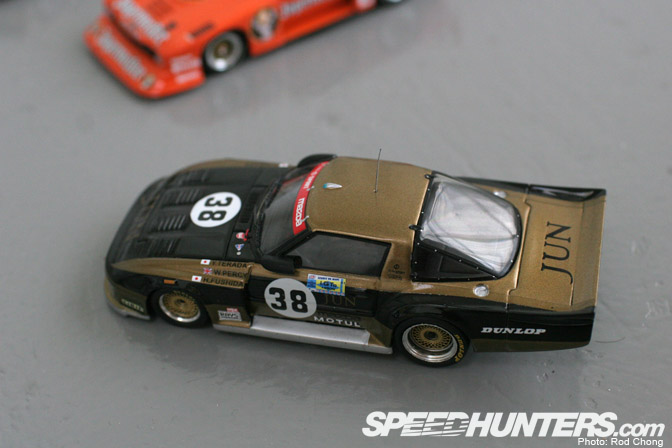 It's quite clear that this 1981 Mazda RX7 253 has been converted to a rather long and exaggerated whale tail.  No doubt the inspiration came from the Porsche 935-78 Moby D-i-c-k although for some reason Mazda chose not to run a wing on the cars in 1981. By the time they returned to Le Mans in 1982 with the Type 254, a wing had been added to the whale tail…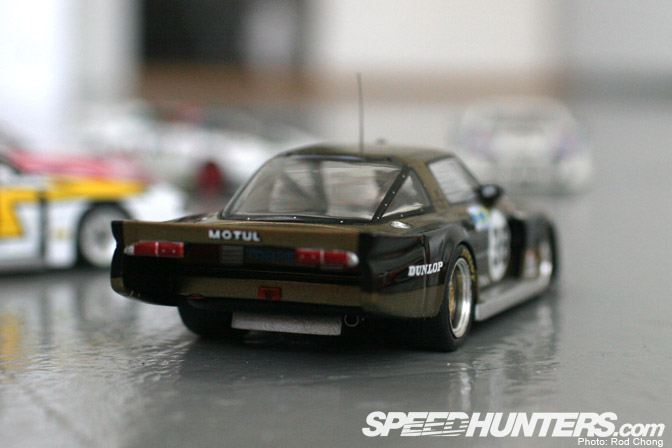 I've seen pics of some Bosozuku RX7s which run long tails like the 253…. would be funny to see them try to parallel park the street versions of these cars!
The rear wheels of this car are also incorrectly sized BTW! The 1981 253 only used 16″ tall rear wheels, not the 19″ wheels depicted on the model…. sheesh! Why can't these model companies get things right?!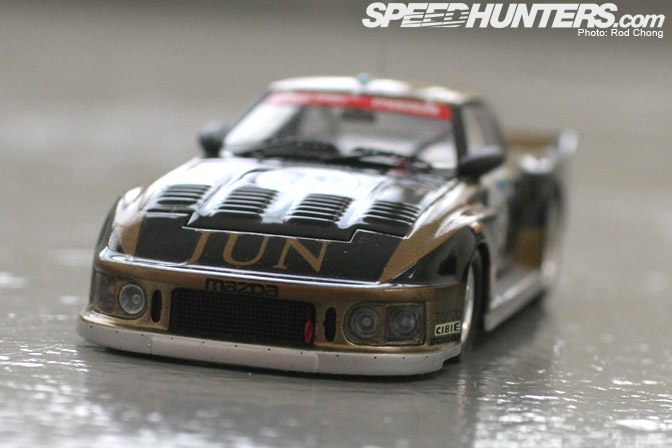 Those of you who have been with us for a while will remember that we confused the "Jun" logo on the front of the car with the Japanese tuning company and presented the model to Mr. Koyama for signing…. oops!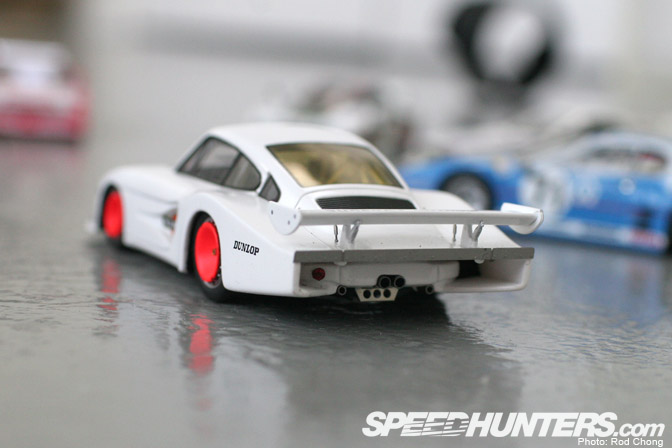 Speaking of whale tails, this car was the most radical of all Group 5 cars…. especially when you consider it was built as far back as 1978. It's the Porsche 935-78…. more famously known as the Moby D-i-c-k. I picked this car up a few weeks ago at Wilkinson's Automobilia in Vancouver.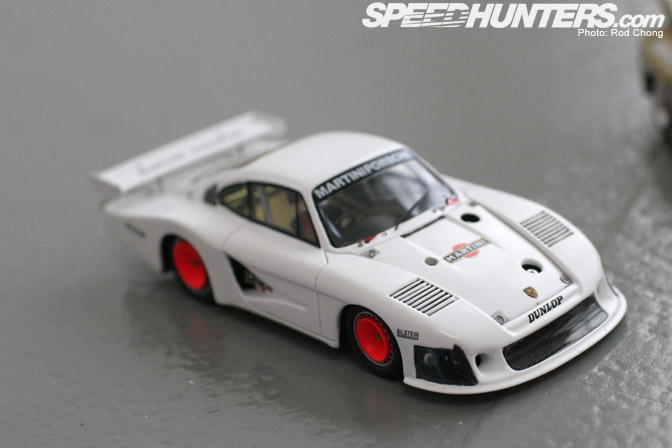 This model is manufactured by Spark and is a recent addition to their catalogue. It depicts the Porsche 935-78 as it was first tested at Paul Richard circuit in 1978. You'll notice that it replicates the full aero door covers and full width rear wing which were later ruled out by FISA.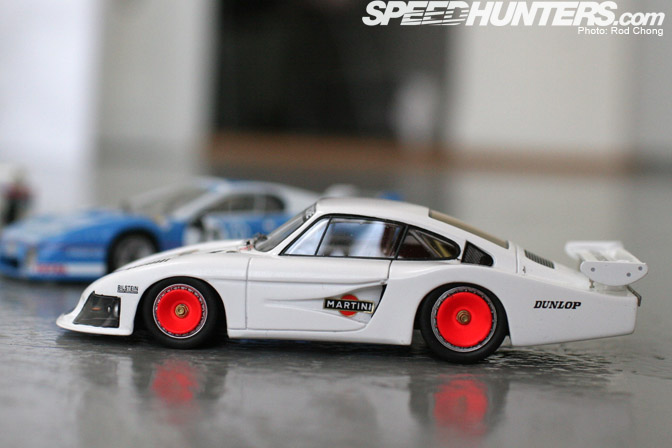 I'm quite impressed with the amount of detail on the 1/43 model, especially the area around the windows. The fitting of the glass to the body is very tight compared to some of the other models. I'd have to say this is the highest quality model in my collection.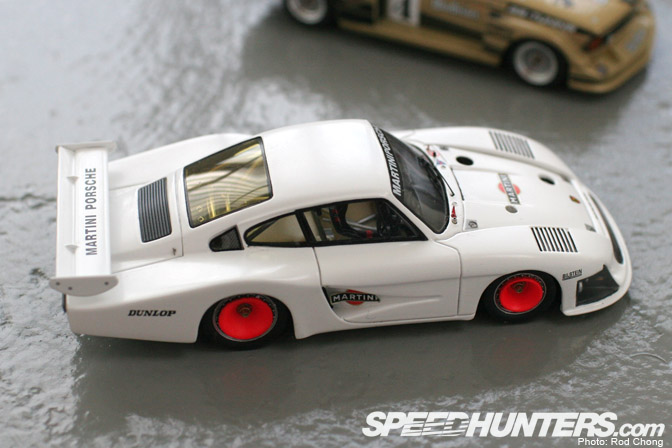 Also notice how the car sports a semi-gloss finish… this, no doubt, is a replication of how the car ran in its first test sessions..
Just in case anyone thought these small scale models are toys, I'll point out that the wheels do not turn on this car…. Any adult who may be tempted to play vroom vroom with this little machine will be strictly unable to partake in such child-like activity :>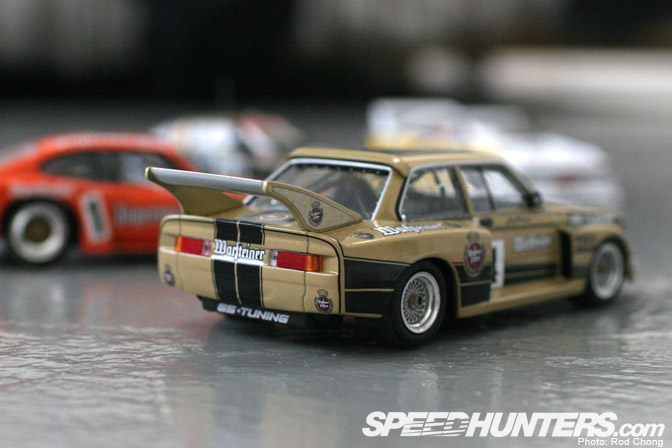 In keeping with the German theme here's a 1977 BMW 320i from the German DRM series. It's made by Minichamps in partnership with Paul's Automotive Art.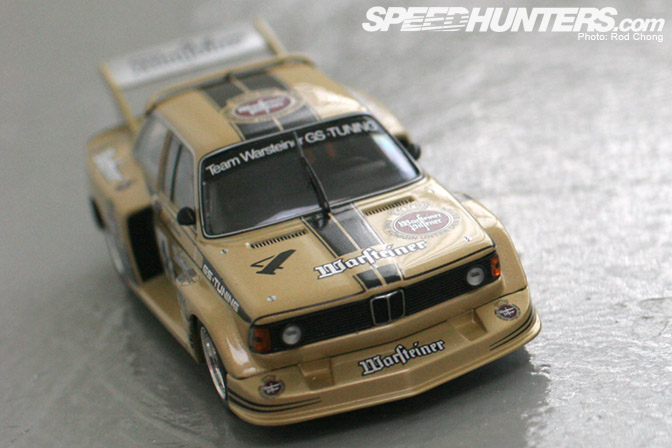 I also own a 1/18 version of this model…… We'll do a full feature on the Group 5 BMW 320s once we get around to BMW month later in the year.
Another German DRM car is this 1982 spec Zakspeed Ford Capri…. this is one of my absolute favourite race cars of all time.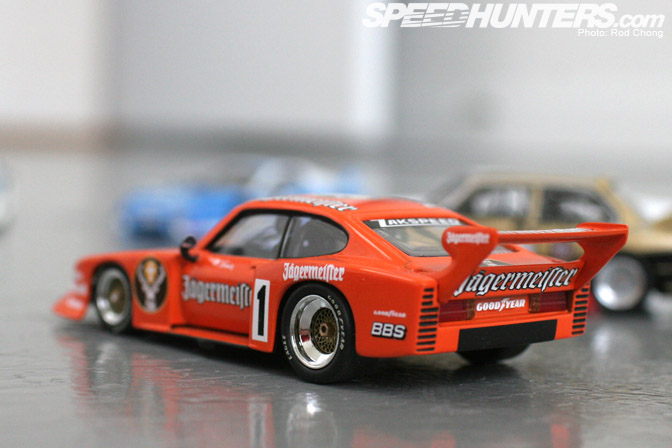 The Zakspeed Capri was the only car that could directly compete with the Porsche 935 on pure pace. Although the car only ventured outside of the German DRM championship a couple of times, it certainly left its mark on European Group 5 racing. The Zakspeed Capri famously took pole position for the 1981 World Sportscar Championship on the Nurburgring Nordeschleife (including the old start finish loop) with a time of 7:18,490…. this time was almost 9 seconds faster than the 2nd place qualifying Joest 936 replica and completely decimated the 3rd place qualifying time of 7:35,580  set by a Group 5 spec Lancia Beta Monte Carlo.
I'll have to do a full report on this car one day, but part of its secret for success was the placement of full-skirted venturi ground effects tunnels under the entire car. Unfortunately, these tunnels have not been modelled on the Minichamps model… the black paint on the bumper only gives a hint as to the existence of these aero devices.
If you think about the radical nature of these under-car aero devices, it makes you wonder why no time attack cars have ever tried out full ground effects doesn't it? Time Attack is relatively free of rules, so why not get more suction under the car like some of the old Group 5 monsters?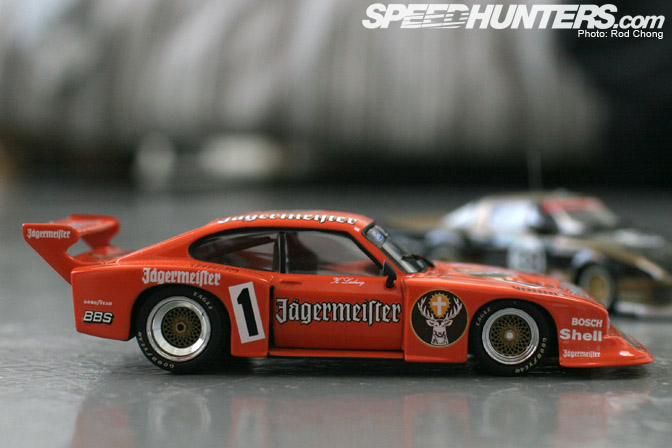 Remember me complaining about the incorrect rear wheels on the Schnitzer Celica Turbo? Well, this is what they should look like. The center piece of the rear BBS rims should be the exact same height as the front. Would be cool to see this wheel combination on a late 70s / early 80s street car, don't you think?
DRM Spec… a new style for old school european FR cars…..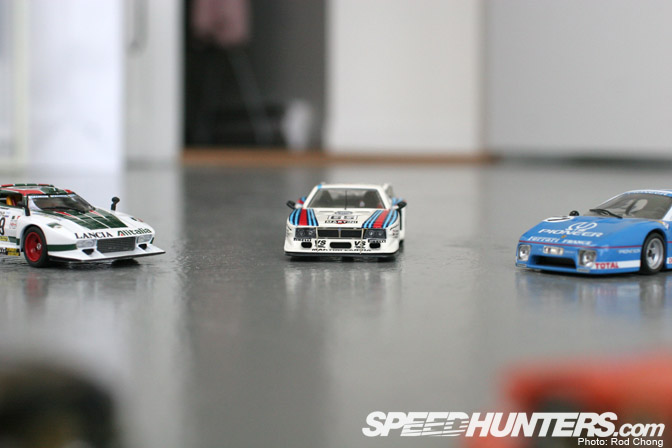 I also own three Italian Group 5 models… two Lancias and the Ferrari on the right.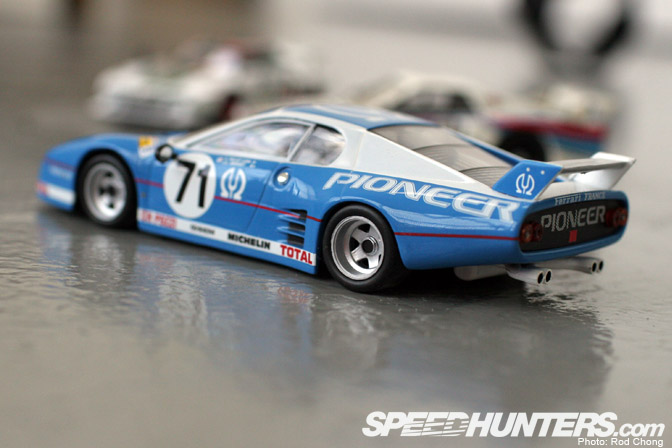 This is a Ferrari 512BB LM as it appeared at La Sarthe in 1982.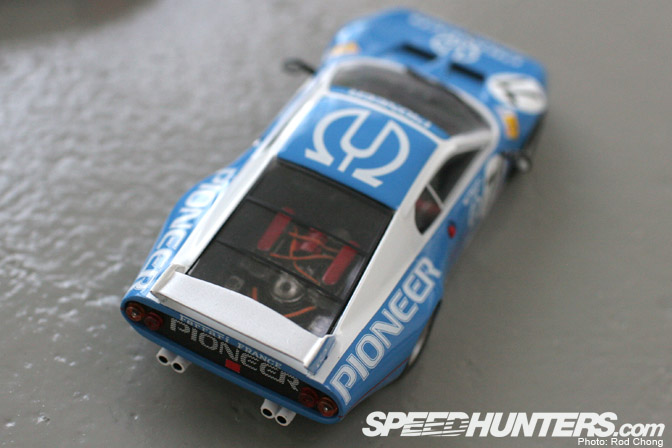 It's a beautiful car don't you think? If you want to see some real life pictures of this car have a look at this older Speedhunters story here.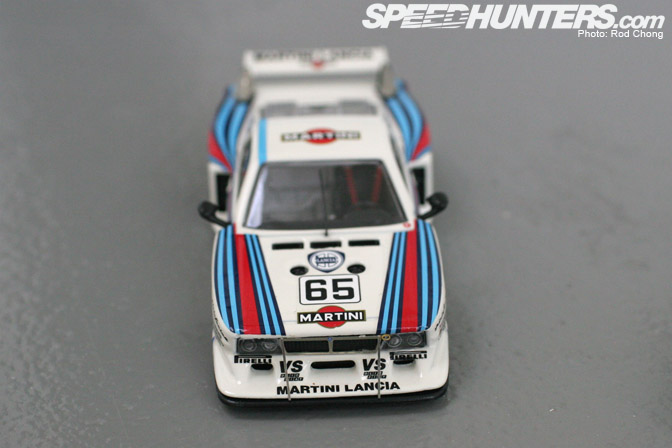 This Lancia Beta Monte Carlo Turbo is my most recent acquisition. It depicts the car as it raced at Le Mans in 1981.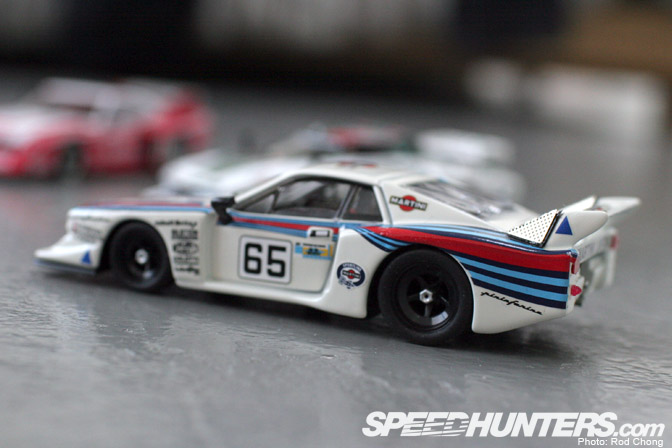 The Martini livery is definitely one of the most famous racing liveries of all time…. Just stunning…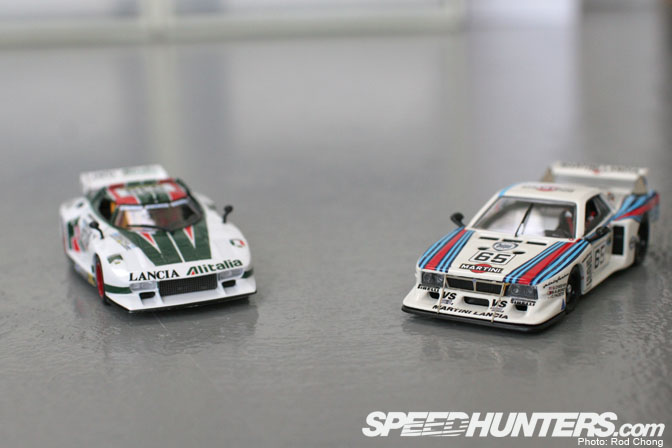 The Monte Carlo model is made by Italian company Best, and the Group 5 spec Lancia Stratos is made by Japanese company Kyosho.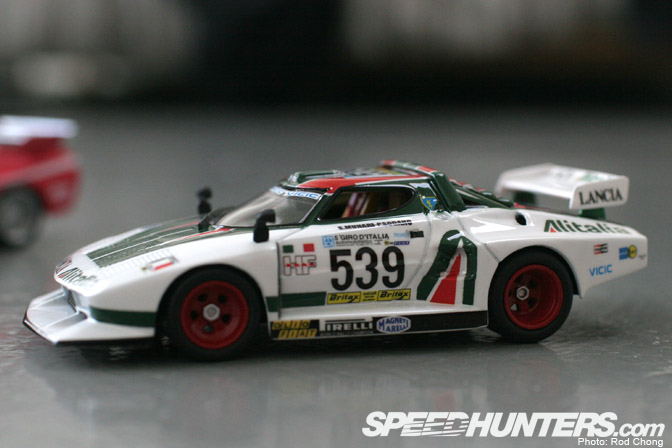 Are any of you guys familiar with the Group 5 Stratos?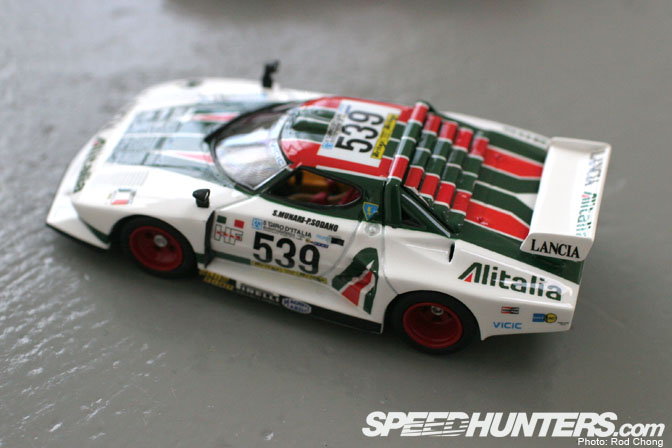 They were basically rally cars converted for circuit racing. This particular example shows the car at it ran in the Giro d'Italia which was a long, open road rally which ran across Italy…. some 935s also ran in this road rally if you can beleive that.
So that is how far I've progressed with my  1/43 collection. I'm sure on my next trip to a European race I'll be coming back with more models… will update you as the collection grows!
Question: if you were to make a 1/43 scale model collection (regardless of whether the models are available or not) what would it be? DTM? FIA GT? BTCC? WRC? D1GP? Formula D? WTCC? Le Mans? Top Secret Show cars? F1?
:Rod
Porsche 935 Retrospective Part1
Porsche 935 Retrospective Part2